Are dogs allowed in Glacier National Park? If you bring your dog, where are dogs in Glacier National Park welcome and safe? The answer is YES… BUT… Let's sort out the restrictions and help you plan a trip to Glacier that is fun for both you and your furry best friend.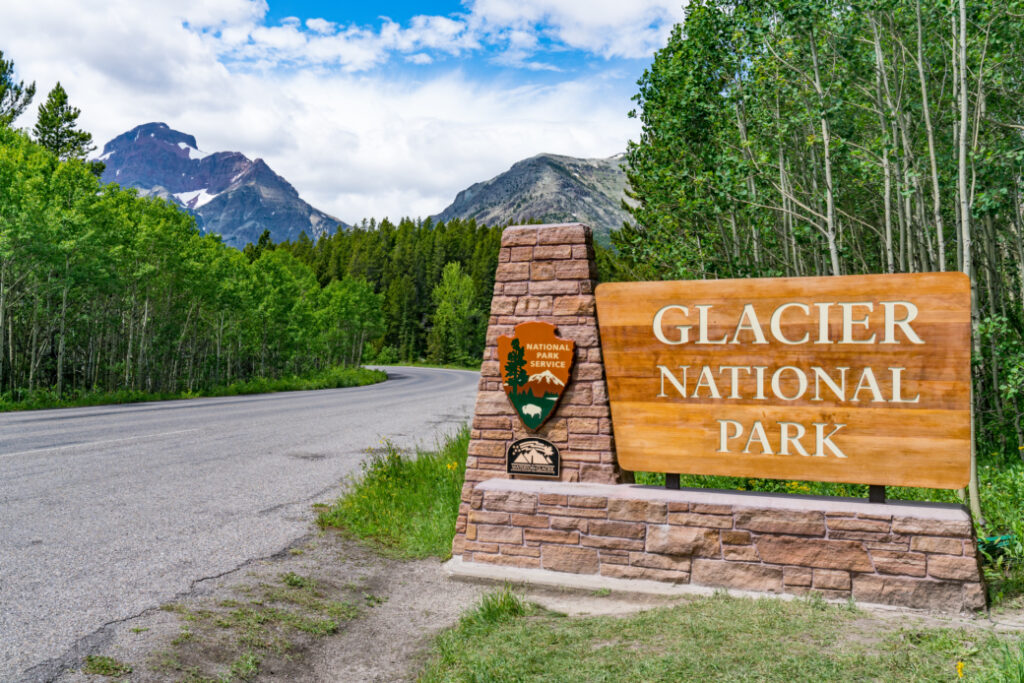 We just returned from a week of camping in Glacier National Park. Although we've enjoyed the park many times, this was the first trip for our dog, Charlie, to Glacier. I was a little apprehensive about this trip as Glacier National Park has a reputation for not being very dog friendly. I'm so glad I ignored the naysayers because this trip with our dog turned out to be amazing! Here are a few things to know about dogs in Glacier National Park so you can share your adventure with your best traveling companion.
Are Dogs Allowed in Glacier National Park?
Yes, there are many beautiful places where you can share your Glacier National Park experience with your dog. Dogs are welcome in all developed areas as long as they are supervised and on a 6' leash. That means your dog can join you in your car as you take in the astounding views. They can stretch their legs in campgrounds, picnic areas, and roadside pull-offs. They can also hop on boats on the lakes that allow motorized watercraft.
Your dog is not allowed in public buildings, hiking trails, or undeveloped areas. If hiking is your passion, we have some tips below so you can still enjoy hiking while visiting Glacier.
Most National Parks allow dogs but make sure you check out that park's rules before you go as they can vary. We found Rocky Mountain National Park's rules about dogs to be similar to Glacier's.
Where are Dogs Allowed in Glacier National Park?
Let's take a closer look at where dogs are welcome in Glacier National Park.
Glacier Allows Dog In Paved Pull-Outs and Parking Areas
Most visitors start their Glacier National Park Itinerary enjoying the scenic drive: Going To The Sun Road. It's the perfect way to get the lay of the land, capture unbelievably beautiful photos, and acclimate to the higher elevation. You'll find many places to stop where you and your dog can get out and enjoy the view. For ideas on how to keep your dog comfortable while you explore this highway, check out our tips for taking a road trip with your dog.
Dogs in Glacier National Park are Welcome In Designated Picnic Areas
Picnic Areas are a great place for your dog to get an extended stretch while you enjoy your lunch. These picnic spots not only have tables and toilets, they also are beautiful places to relax in Glacier National Park. The best news for your dog is that picnic areas are spread out throughout the park. Plan stops so your dog won't be cooped up in your car all day. Here's a list of picnic areas:
Apgar Lake Front Picnic Area (not allowed on the beach)
Avalanche Lake Trailhead Picnic Area
Near Fish Creek Campground
Sprague Creek, Near Campground
Bowman Lake
Trailhead of Sun Point Nature Trail
Rising Sun Area
Two Medicine Area
The trailhead to Swift Current Nature Tail
Enjoy The Villages in Glacier with Your Dog
Glacier National Park is home to 3 distinct villages that are dog friendly. Although dogs are not allowed in the buildings, there is plenty of room to walk your dog around the village. Feel free to grab a pup cup from the ice cream store and relax together in an outside seating area.
Apgar Village is a great place for dogs. It's a bit like walking through a small town with gift stores, dining, and motels lining the streets. Charlie loved her pup cup at Eddie's while we enjoyed our famous huckleberry pie. Then you can wander together down to the beach picnic area. The views of Lake McDonald are stunning. You can read our detailed description of Apgar Village here.
Many Glacier Hotel is tucked in along Swiftcurrent Lake. While most of the shops and restaurants are inside the resort, there is plenty of room to walk your dog around the exterior and on the road next to the lake.
Lake McDonald Lodge area is open for pet walking. In addition to enjoying a look at the exterior of the historic lodge, take a walk along the lakefront. You'll find a gift shop, camp store, and pizzeria.
Explore Around the Visitor Centers
While dogs can't go inside any of the 3 visitor's centers, all have great educational displays outside that you can enjoy while walking your dog. Park rangers often host additional programs outside the visitor's centers during peak days.
The Apgar Visitor Center and the St. Mary Visitor Center are your best bet for dogs because there is ample space and parking. We find the Logan Pass Visitor Center to be crowded which can be a challenge for most dogs to enjoy.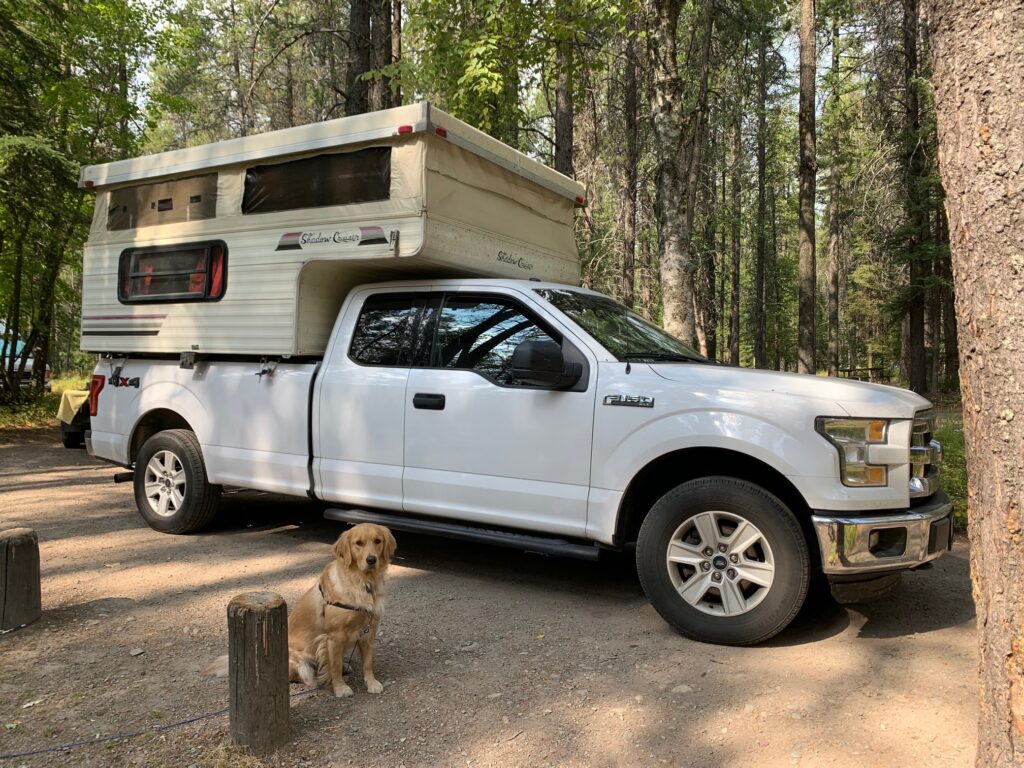 Dogs are Welcome In Glacier National Park Campgrounds
All 13 Glacier front country campgrounds welcome dogs. Read more about tips for camping in Glacier National Park here. We camped with Charlie in Apgar Campground and discovered a lot of other dogs camping with us. Just remember you can't leave your pup unsupervised in the campground. If your puppy is new to camping, here are some dog camping tips to prepare her for all the distractions.
The great thing about the campgrounds in Glacier National Park is that most sites are spacious so your dog will have a little room to wander within your campsite. We were able to keep Charlie on an 18' tie-out while we were in camp. She could follow our every move while we cooked dinner and relaxed by the campfire.
ALERT: Dogs Are Not Allowed in Back Country Campgrounds
Just as dogs aren't allowed on hiking trails, you also can't take your dog to one of the many backcountry campgrounds.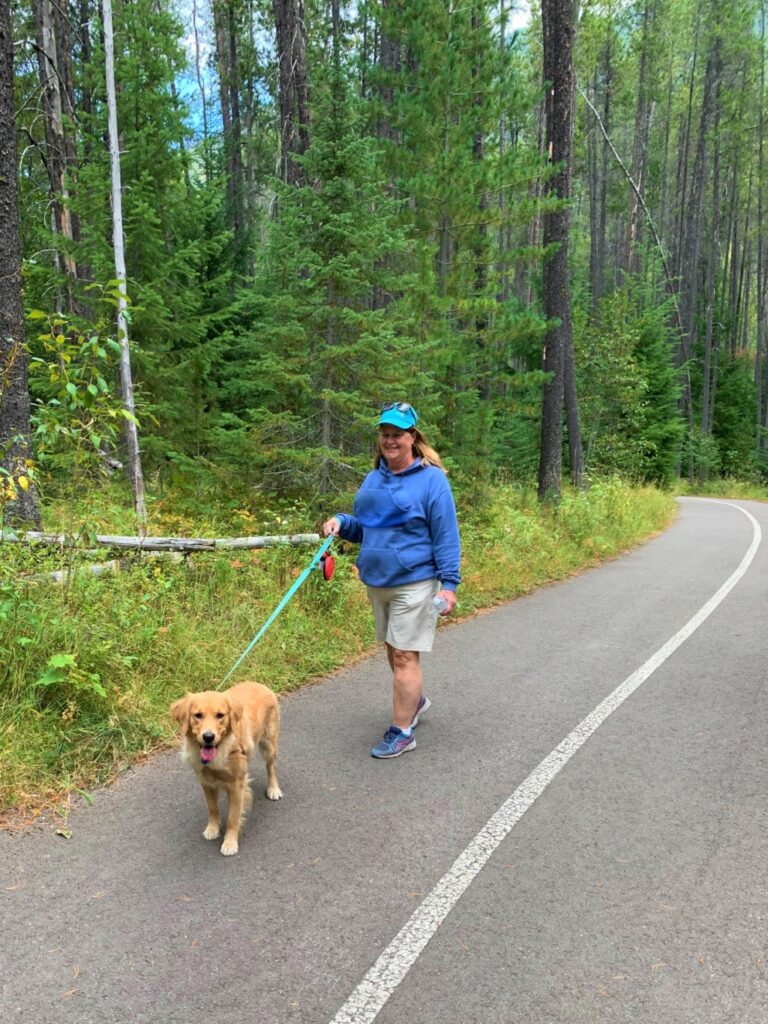 Hike with Your Dog on Apgar Bicycle Path
The only exception to hiking with your dog is the bike path between Apgar and West Glacier. When it is free of snow, leashed dogs are allowed on the trail. I'd suggest keeping your leash short as bikes will fly by and you'll want to make sure your dog doesn't tangle with one of them.
The bike trail is a lovely walk through wooded terrain. You can easily stop at the Apgar Visitor Center and Apgar Village along the way to extend your hike.
Dogs can Ride In Boats on Lakes that Allow Motorized Boats
To maintain clean water, dogs are not allowed in most streams and small lakes in Glacier National Park. However, if a lake has been cleared for motorized boats then your pup is welcome to hop in your boat or kayak with you. That would include Bowman Lake, Lake McDonald, Swiftcurrent Lake, and Two Medicine Lake.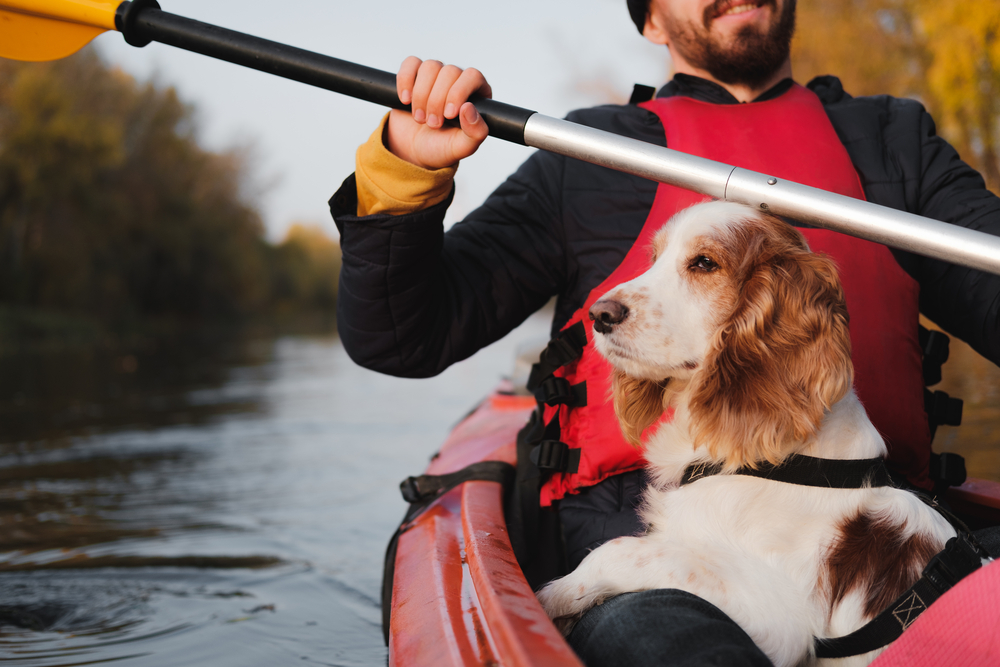 ALERT: Don't let your dog play in the water.
I know your dog loves water… but in Glacier National Park resist the urge for a water play day. He can only ride in the boat with you. Dog waste contains pathogens that can contaminate the water, introducing new diseases to the native animals in the park. Yes, critters in the park poop. But their waste is part of the existing ecosystem. They may not have a natural resistance to viruses and bacteria brought into the park from other parts of the country.
Where you can't take your dog in GNP
Inside buildings (like visitor centers)
Inside hotels and stores
On unpaved beach areas
On Hiking Trails or in the Back Country
Why all the limitations on Dogs in Glacier National Park?
Protect the Health of Native Wildlife – Most National Parks have restrictions on where dogs can travel to protect the health of the park's wildlife. It's not just your dog. It's because any animal coming from an area outside the park could bring in pathogens that the locals have no immunity from.
Maintain Natural Habitat – Try as you might, your pup will probably step off the trail. Each summer volunteers educate hikers on the trail behind the Logan Pass Visitor Center about the fragile life of the plants living in the tundra ecosystem. And each day, some hiker wanders off the path smooshing those tender plants.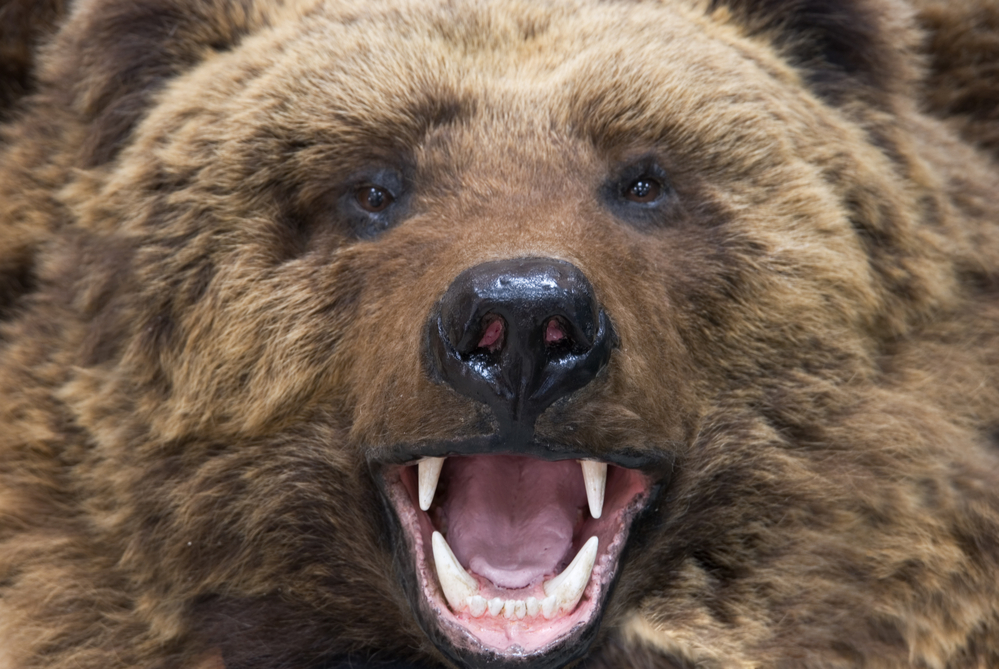 Safety of your Dog and You – Most human encounters with grizzly bears on the hiking trails result in the bear moving away. Given a choice, bears will usually avoid meeting people. However, dogs and bears don't share space quite so well. Big Sky Fishing describes the encounter between a grizzly and a dog best: "grizzly bears are the one animal that will not be swayed, cowed or bullied by an aggressive, barking, or defensive dog—regardless of the dog's size or breed… such behavior by dogs actually makes grizzly bears more aggressive."
Respect for Other Visitors – Glacier National Park is an extremely busy place. Most trails will be full of other hikers. And as much as you love your best furry friend, not everyone appreciates a dog in their space.
Service Dogs Can Go Where You Go in Glacier National Park
Service dogs are welcome in all of the places listed above plus all indoor facilities such as hotels, restaurants, and visitor's centers. Glacier National Park defines a service dog based on the latest updates under the American With Disabilities Act. Note: this does not include comfort or emotional support dogs.
I encourage you to read the full page of disclosures by the Park Service regarding service dogs in the park. Bears don't care about that service dog vest, so make sure you have safe plans for your day. You'll learn more about ensuring your safety and the safety of your important partner.
A Safety Briefing for Service Dogs Owners is Required before Hiking
Hiking in Glacier presents a wide variety of dangers that you need to consider before stepping on the trail with your service dog. There have been disastrous encounters between dogs and bears on the trail. See a park ranger at one of the wilderness permit stations for the safety briefing for service dogs.
You'll find wilderness permit stations at Apgar Backcountry Permit Center, St. Mary Visitor Center, Many Glacier Ranger Station, Two Medicine Ranger Station, and the Polebridge Ranger Station. You can find the hours rangers are available here.
How You Can Hike in Glacier National Park when Traveling with Your Dog
Without a doubt, Glacier National Park has some of the best hikes we've ever experienced in a National Park. So it's hard to visit without wanting to hit at least one trail. Unfortunately, there is no way around it: your dog can not hike with you except on the Apgar Bike Path.
Boarding Your Dog While You Hike
I'm the absolute last person to want to board our dog. If she's traveling with us, she stays with us, she is my baby after all. However in this case, either we didn't hike or we board her. And there was no way we were going to Glacier without one more epic hike completed!
After a lot of research, we chose to board Charlie in nearby Columbia Falls for a night so we could hike the Highline Trail and explore a couple of other short trails. It worked out very smoothly. We camped in Apgar so we would be close to the West Entrance. I got up early and drove the 25 minutes to the kennel. We hiked for 2 days and I then picked her up the next evening so she only had one overnight.
Traditional Boarding Options Near Glacier National Park
The best boarding options are all on the west side of Glacier National Park. And I was pleased they were well-reviewed and reasonably priced. If you are camping, that makes Apgar and Fish Creek campgrounds the perfect places to stay so you can easily take your dog to their sitter while you hike.
We chose Glacier Bark for 1 night and 2 days. They were so good to Charlie. The kennel was clean and they were loving.
These other kennels are close by and I've also seen great reviews for them:
Try Rover for Your Dog's Home away From Home
We had an amazing experience using Rover in Utah while on this road trip, so much so that Rover will always be my first choice when traveling. Maybe Charlie is spoiled, but she definitely does better loved up in someone's home than in a kennel. However, we chose not to use it for our hiking days in Glacier because there wasn't a sitter available that worked with our last-minute schedule.
If you aren't familiar with Rover, it's kind of like an Airbnb for dogs. Dog lovers sit for your dog in their home, treating your fur baby like one of the family. You can check out the Rover app here. (If you are new to Rover, this refer a friend link will give you a $20 coupon for your first booking – and I'll get a credit too.)
Don't Leave Your Dog in Your Car or Camper While you Hike
While not expressly forbidden (as it is in some national parks), Glacier park rangers strongly discourage leaving your dog in your vehicle while you hike. You might start your hike out on a cool morning, but temperatures can quickly climb as the sun beats down on your vehicle. Even on a cool day, the sun can increase the temperature in your car by 30-40 degrees.
Leaving your dog unattended in the campgrounds is prohibited.
Where Can You Hike with Your Dog?
While the only trail open to dogs in Glacier is the Apgar Bike trail, you can step outside the park to hike with your dog. Glacier National Park is surrounded by the Flathead National Forest where you will find 2,249 miles of hiking trails that allow dogs. You can find maps of Flathead NF hiking trails here.
The bigger question is "should you take your dog hiking?" near Glacier National Park which is prime grizzly bear country. Only you know your dog and how it might react in a bear encounter. We gathered great tips for taking your puppy hiking in this article.
Where to Stay When Visiting Glacier National Park with Your Dog
Many Pet-Friendly Lodging Available Near Glacier
While the lodges and cabins in Glacier National Park don't allow dogs (other than ADA service dogs), you'll find many dog-friendly cabins and motels in Columbia Falls and White Fish Montana, which are less than 30 minutes from the West Gate.
Outside the east side of Glacier, overall lodging options are relatively limited so dog-friendly places to stay are very slim. We have seen positive reviews for the Red Eagle Motel and RV Park by dog families but haven't tried it ourselves.
Can Dogs Stay in the Glacier NP Campgrounds
Dogs are welcome in all the front country campgrounds within the park. You'll also find a plethora of National Forest and private campgrounds on the west and south sides of Glacier that welcome dogs. I haven't been able to find a campground that didn't like dogs yet! We have great tips for Taking Your Dog Camping for the First Time if your dog is new to campgrounds.
If you want to stay in the park, Fish Creek and Apgar Campgrounds are our preferred choices because of the easy access to the Apgar Bike Path where you can take a long walk with your pup.
Suggested Itinerary for Glacier National Park with Your Dog
To recap, you can have an amazing time touring Glacier with your dog. Here's how I'd spend 3-4 days in Glacier with our dog:
Day 1: Take a day to enjoy a cruise with your dog over Going to the Sun Road together grabbing tons of unbelievable photos.
Day 2: Enjoy a gorgeous and relaxing day with a walk along the Apgar Bike Trail. Then wander through Apgar Village (of course getting a piece of huckleberry pie) and chill by McDonald Lake. Perhaps try kayaking the lake with your pup, rentals are available in the village.
Day 3: Board your dog for a day or night and take in your favorite hikes. For an all-day hike, try the Highline Trail. Or if you want a shorter hike so you don't need to board overnight, try one of these amazing day hikes.
Day 4: If you have an extra day, let your dog hang her head out the window and drive up to Polebridge. Here you can grab huckleberry bear claws and picnic at Bowman Lake. (Note Polebridge Mercantile asks that you don't bring dogs onto their grounds.)
More Frequently Asked Questions
Can I Take My Dog with me to Waterton National Park in Canada?
Waterton National Park is the Canadian sister park to Glacier. When the Chief Mountain Border Crossing is open, you can take your dog with you in most cases. Usually, you only need proof of rabies vaccination and a healthy appearance to cross the border. However, before you go double-check this Canadian Border web page before you go for any changes. Of course, you still need your passport. And note the border crossing is only open seasonally and for limited hours. You can get updates on border openings and closings here.
Can I Hike with my Support Dog?
Generally, support dogs are not allowed on hiking trails. Only dogs who meet the Federal Guidelines under the Americans with Disabilities Act are allowed on hiking trails. If in doubt, check in with one of the park rangers for more clarification.
Taking your dog to Glacier might not be the outdoor adventure you imagined. But with a little flexibility and creativity, you can have a memorable trip with your dogs in Glacier National Park.
It's a long drive to Glacier National Park so check out our Tips for a Successful Road Trip with your Dog before you hit the road.
More Info on Glacier National Park
Glacier National Park is Brad's favorite park, he's been visiting this park for 40 years. Even though Rocky Mountain National Park is my number one, Glacier is a really close second. It's so wild and gorgeous! Here are other articles we've written to help you plan your Glacier National Park Adventure:
---
The Authors: Hey, we are Ladona and Brad, avid campers and hikers. We are crazy about getting outdoors at every possible moment and have decades of experience exploring nature. Our current goal is to visit all 63 US National Parks and just completed #42. WooHoo! Our mission is to help you plan your own adventures and create memories beyond your imagination!