Hiking in winter can be a lot of fun, but it's hard to enjoy when you're freezing. The problem is that there are hundreds of hat choices. Trying to find the best winter hiking hats can make your head spin! Which one will keep me the warmest? Which ones have features that I need? What is the best material for a hat in winter hiking conditions?
To help you find the best winter hiking hat, we've put together this guide with reviews of our top 10 favorite hats and some tips on how to choose the perfect one for your needs.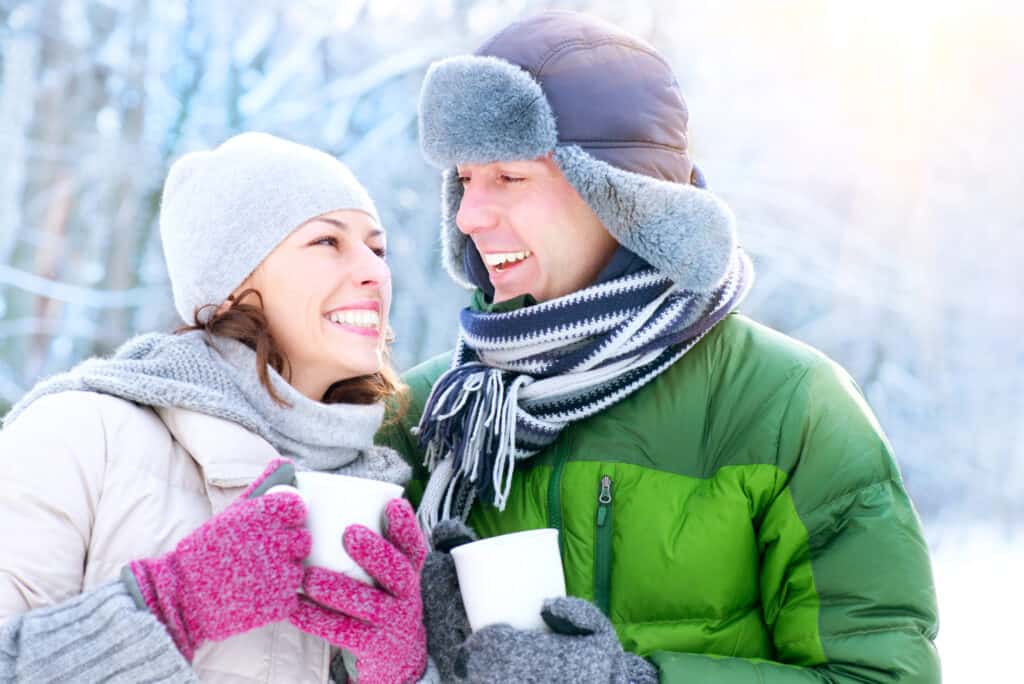 Our list covers everything from beanies to earflap hats, fleece-lined caps and balaclavas, so there is something for everyone! We've included links to where you can purchase our favorites to make it easier for you to shop. Some of these links are affiliate links which means we may earn a small commission.
Below you'll find full reviews on these choices, plus a few more winter hats that we love for cold-weather hiking.

Types of Winter Hats and What Each is Best For
There are many hats for winter weather, but we've narrowed it down to the four most popular hats for hiking: Beanies, Trapper Hats, Fleece-lined Caps and Balaclavas.
Why are hats so crucial for hiking in the winter?
It's important to wear hats when hiking in freezing weather because hats are part of your insulation system that keeps your whole body warm.
The best winter hiking hats help keep you warm in two ways: First, they prevent heat from escaping, which creates a layer of insulation between your skin and the cold air outside. Second, when you wear a winter hat, you protect your ears.
Hats Hold in Body Heat
When you are backpacking in winter, your body releases a lot of heat. The clothes you wear, including your winter hat, hold in that heat and keep you warm. Any uninsulated part of your body is a place for heat to escape. Hence, wearing a hat when hiking in cold weather keeps you warmer. All of your extremities are potential places to lose heat. That's why wearing gloves, mittens, and warm glove liners are also critical.
Conversely, if you get too warm while hiking removing your hat and letting a little heat escape is a great way to cool down a bit.
Hats Protect Your Ears
You must keep your ears covered when hiking.
"Ears cool down very quickly because they have no protective fat tissue. The nerves in the ear canal run unprotected under the skin and may react with a strong pain impulse to changing temperatures."

According to EHS Today
Furthermore, in frigid weather, the risk of infection in the ears rises due to reduced blood flow. Covering your ears is not only to keep you warm, but it will also help you avoid a lot of health problems.
Tips for Selecting the Best Winter Hiking Hats
To find the best hiking hats to keep you warm this winter, here are several things you should consider:
Fit is important. Make sure your winter hats fit snuggly and that it doesn't keep slipping down over your eyes. A beanie that is too snug might pop off the back of your head and do you no good. And make sure the hat comes down over your ears.
Material is another aspect to consider. You'll want a hat made of materials that wick away sweat and yet keep your head and ears warm. The most common fabrics in the best winter hats are merino wool, fleece and polyester. Wool will naturally insulate while wicking away sweat. For other synthetic materials, make sure you check the manufacturer's description to ensure the fabric accomplishes both goals.
Style is also important. You want a hat that not only looks good during outdoor activities but will keep you warm on those cold days. Be aware of your personal comfort. Some people don't like a tight fit, while others prefer that. Knowing that about yourself will help you select a winter hat you love.
The Warmth Factor is critical. You will want different hats for different winter weather. For example, a beanie is excellent for moderate winter temperatures, but you'll likely want to upgrade to a lined hat or trapper hat when temperatures drop into the teens. And if you are out in bitterly cold weather, there is nothing like the balaclava, which is made specifically for when you need maximum coverage.
Finally, make sure the hat is durable and can stand up to the wear and tear of your outdoor adventures.
There are so many styles of winter hats available that it can be hard to choose when you're in the market for a new one. If you are looking for something reliable, comfortable and affordable, look no further than this list! We've reviewed our personal favorites of the best winter hats that offer outstanding performance, warmth and comfort during winter hiking trips.
Reviews of The Best Beanies for Winter Hiking
Let's start with a look at our favorite beanies! A beanie is the most versatile type of winter hiking hat.
Beanies without a cuff fit your head snugly, which means you can layer another hat or helmet over a beanie for extra protection. Those with a cuff give you more flexibility for covering your hair and pulling it down closer to your face if the wind picks up.
A considerable benefit to beanie hats is they are lightweight and fold up into a small package which means you can always carry an extra one in your backpack. If you are surprised by weather changes or your beanie hat gets wet, you'll be prepared with a spare!
Beanies are the best winter hats for hiking in moderately chilly weather and are generally not the best choice for extreme cold unless you are one of those who build excessive body heat when hiking.
---
Smartwool Merino 250 Cuffed Beanie
FABRIC: 250g (midweight) Merino Wool
TYPE: Casual Beanie
BEST FOR: Moderate Weather
MEN/WOMEN/CHILDREN: Unisex Adult
SIZING: Head Circumference: 21.5 – 23.5″
COLORS: Black, Navy, Sunset Coral, Twilight Blue
About the Smartwool Merino 250 Cuffed Beanie
For those looking for a lightweight but warm option, the Smartwool Merino 250 cuffed beanie might be just what you need. This particular beanie hat is 100% merino wool which means it breathes well and wicks moisture away from the body. The result of using natural wool is an excellent compromise between warmth and comfort–perfect for chilly outdoor adventures! It also features cleanly finished seams so that the fabric sits flat without irritating your head. The double-layered construction offers maximum warmth, and the cuffed design helps to keep your ears warm. The Smartwool beanie comes in a variety of colors.
PROS and CONS of the Smartwool Merino 250 Cuffed Beanie
What we love:
The natural materials make this beanie very lightweight and comfortable. This Smartwool merino wool beanie is perfect for an active hike in moderate weather because it will quickly wick away sweat while retaining the heat your body is creating. I like the snug fit of the
that ensures your ears stay covered when you are hiking.
Things to consider:
This beanie will not comfortably fit larger heads. And if you don't like a snug headband feel, you should look at a beanie without a cuff. While this beanie style layers exceptionally well under a jacket hood by itself, it would not be warm enough for bitterly cold temperatures.
---
Columbia Trail Shaker Beanie
FABRIC: Polyester with Columbia Omni-Heat Reflective lining
TYPE: Casual Beanie
BEST FOR: Moderate Weather
MEN/WOMEN: Unisex Adult
SIZING: Head Circumference: Sm/Med 21 – 22″, Lg/XL 22 – 24 1/4″
COLORS: Indigo, Red, Plum, Black, Chalk, Gray, Navy
About Columbia Trail Shaker Beanie
Fitting snugly, this lightweight Columbia Trail Shaker Beanie is a comfortable addition to your outdoor gear for winter hiking. The exterior is made from polyester fabric, which dries quickly and feels soft against the skin. The Columbia Trail Shaker Beanie will keep you warm thanks to the lining of a patented heat management system, COLUMBIA OMNI-HEAT REFLECTIVE, that reflects your body heat back at you.
And, it won't turn into a sauna or make you overheat like other hats due to its breathable construction. Plus, the interior lining wicks moisture away from your skin to keep you dry. These beanie hats are machine washable, and air dry quickly.
Just an odd note, this hat comes in two unisex sizes for improved fit. However, Amazon has split the colors between men and women. Same hat, just different colors. Weird… I know!
PROS and CONS of the Columbia Trail Shaker Beanie
What we love:
It is hard to say if we love the fit of this beanie more or the unique patented lining that reflects back your body heat. Either way, the Columbia Trail Shaker is comfortable and warm for outdoor activities. This beanie is long enough to pull down over your ears, and it folds up to a tiny size that would fit in a jacket pocket for unexpected temperature drops.
Things to consider:
While the lining is an excellent material for reflecting heat back to your head, some hikers think that means it will keep them warm at frigid temps. This hat is too lightweight for those conditions. It works fantastically for moderately chilly weather.
---
The North Face Freebeenie
FABRIC: Acrylic
TYPE: Casual Beanie
BEST FOR: Mild to Moderate Weather
MEN/WOMEN/CHILDREN: Unisex Adult
SIZING: Head Circumference: 21.0 – 23.5″
COLORS: Yellow, Ochre, Gray, Thyme, Black, Brown
About The North Face Freebeenie
The North Face Freebeenie is perfect for casual hiking in mild winter weather. It's a stylish and practical way to keep your head and ears warm while hiking. Wear this versatile beanie uncuffed for a slouched fit or cuffed for a deeper fit, and the 100% acrylic fabric offers soft, lightweight warmth. Plus, the wide variety of colors means you're sure to find the perfect one to match your style.
PROS and CONS of The North Face Freebeenie
What we love:
These are good-looking and comfortable fleece hats. Not every winter hike requires intense insulation, especially if the temps are moderate and the sun is shining. This hat is perfect for those days. It fits loose enough on the skull to allow moisture to escape if you work up a sweat naturally, and the knit weave will keep you warm. Plus, with all the color selection, you'll look sharp.
Things to consider:
This is not the hat for an intense hike where you'll work up quite a sweat. It doesn't adequately wick away sweat and lacks that extra insulation layer. However, let's get real, not every hike is that intense. Sometimes we just want to take a walk in the woods.
---
Reviews of the Top Fleece-Lined Winter Hats for Hiking
Many hikers think a fleece-lined beanie is one of the best winter hiking hats for the widest variety of weather conditions. The lining adds extra warmth to the hat for outdoor activities. Fleece-lined hats should be long enough to provide good ear protection.
The outer layer of this hat style adds good warmth to provide more protection than the basic beanies above.
Everest Designs Classic Cable Beanie
FABRIC: Wool with Polyester fleece lining
TYPE: Fleece Lined Beanie
BEST FOR: Moderate Weather
MEN/WOMEN/CHILDREN: Unisex Adult
SIZING: Head Circumference: 21.5 – 23.5″
COLORS: Ivory with Brown Band
About the Everest Designs Classic Cable Beanie
Looking for a stylish and practical winter hat to keep you warm on your hikes? Check out the Everest Designs Classic Cable Beanie. This 100% New Zealand wool hat is handmade in villages surrounding the Kathmandu Valley of Nepal. The hand-knitted geometric pattern features a rugged knit cuff that makes it a timeless classic. The Classic Beanie's microfleece lining adds warmth and comfort that will wick away sweat if you get too warm on your hike.
PROS and CONS of the Everest Designs Classic Cable Beanie
What we love:
This is a super warm wool hat with a snug beanie fit. As someone who hates the cold on my sinuses, we love the little bit of extra length that allows you to pull it down over your earlobes and forehead.
The fleece lining not only improves the insulation factor but also separates the wool from your head, so you don't feel itchy when hiking. And not to be forgotten, this winter hat is extremely attractive!
Things to consider:
This 100% wool beanie will require a little extra care; you'll want to hand wash and flat dry to avoid shrinkage and snagging in the laundry.
---
FURTALK Fleece Lined Beanie Hat
FABRIC: 100% polyester
TYPE: Casual Beanie
BEST FOR: Moderate to Cold Weather
MEN/WOMEN/CHILDREN: Unisex
SIZING: Head Circumference: 21 to 24″
COLORS: 12 colors – pastels, earth-tones, black
About the FURTALK Fleece Lined Beanie Hat
The FURTALK Fleece Lined Beanie is a really warm hat at a bargain price. The fleece lining is soft and helps hold in your body heat on the coldest days.
The flexible fit is another feature that makes this beanie stand out from others—you can fold the edge into a close fit or leave it down for a bit of slouchiness. It comes in 12 colors ranging from soft pink or white to warm browns and blues.
PROS and CONS o

f the FURTALK Fleece Lined Beanie Hat

What we love:
There are several things you'll love about this beanie. First, although the knit provides a close fit around your ears and forehead, it is not as snug as many other beanies providing a comfortable fit. We also love that it can be pulled down on a really cold day to protect more of your face, or worn loosely. You'll find the weave of this hat thicker than most beanies providing more air pockets to keep you warm.

And as an outdoor enthusiast who loves a messy bun under her hat, the Furtalk Beanie provides that bit of extra space on top. You'll also appreciate that polyester is easy to machine wash keeping your hat fresh for your next adventure.

Things to consider: Polyester doesn't breathe as well as wool, so you may find this hat too warm for warmer winter days.
---
Reviews of the Best Trapper Hats for Hiking in Cold Weather
The old-fashioned trapper hats are among the best hiking hats for busy winter activities. Their traditional warm ear flaps and cozy faux fur liners give excellent protection in extreme environments. Although, today, you'll find many modern versions that provide warmth with polyester fleece lining the waterproof hood.
Outdoor Research Frostline Hat
FABRIC: [exterior] 100% Pertex Endurance 30D Nylon, [lining] 100% Polyester Fleece. [Face mask] Thermodynamic nylon, polyester
TYPE: Trapper
BEST FOR: Severe Weather
MEN/WOMEN/CHILDREN: Unisex Adult
SIZING: Head Circumference: Med 22.25-22.87″, Lg 23-23.62″, XL 23.87-24″
COLORS: Black, Blue
About the Outdoor Research Frostline Hat
The Outdoor Research Frostline Hat is made for extreme conditions in the great outdoors and does not disappoint. The water-repellent exterior fabric of this trapper style hat is woven from ultralight 30D Pertex Endurance fabric, which will keep dry in any conditions.  The Posh Pile fleece lining provides extra warmth and moisture-wicking insulation for the coldest climates. The fleece-lined ear flaps will keep you feeling warm and cozy in the strongest winds. The best part is that it doesn't overheat. Extra features like the foam brim and zip-out face mask make it an even better buy! Plus, you can adjust the fit with its drawcords or chin closure to customize it for any conditions.
PROS and CONS of the Outdoor Research Frostline Hat
What we love:
We love the hidden face mask feature in the Outdoor Research Frostline hat. It is zipped out of the way when you don't need it without adding a lot of bulk. (I bet you didn't even notice the zipper in the ear flap in the photo.) This hat is unusually lightweight for a trapper style hat, making it perfect for stowing in your backpack.
The water-repellent exterior of this trapper-style winter hat will keep you dry if snow turns to rain. Although this hat is easy to wear folded as a cap, I think you'll appreciate that it will keep your ears warm and provide face protection from blowing cold winds.
Things to consider:
In case you didn't notice, this hat lacks the sexy, rugged outdoorsy look of most trapper hats, but since it does the job, who cares! You should also consider that the face mask is lightweight, so a balaclava might be a better choice if you need full-face protection.
---
Stormy Kromer Northwoods Trapper
FABRIC: [exterior] 100% wool, [lining] 100% quilted nylon, faux fur ear flaps
TYPE: Trapper
BEST FOR: Extreme Bitter Weather
MEN/WOMEN/CHILDREN: Unisex Adult
SIZING: Head Circumference: Sm 21.5 – 21.9″, Med 22.25 – 22.6″', Lg 23.0 – 23.5″' XL 23.9 – 24.25
COLORS: Charcoal, Black, Red/Black Plaid, Forest Night, Charcoal/White Tartan
About Stormy Kromer Northwoods Trapper
We had to include one classic trapper hat in this list to provide the most protection, even in the most severe cold. Our choice is the Stormy Kromer Northwoods Trapper! This hat is equipped with faux fur ear flaps that can be snapped closed to keep your head and ears warm, and the quilted Lamilite insulation will help to keep your head warm even in extreme weather conditions. Plus, with its stylish faux rabbit fur trim and your choice of 5 wool blend plaid fabrics, this hat will help you stay looking good even when the weather is terrible. Cut and sewn in the UP of Michigan, the high-quality craftsmanship behind this trapper will serve you for many years.
PROS and CONS of the Stormy Kromer Northwoods Trapper
What we love:
This is one hot trapper hat (and I don't mean sexy). It is for those frigid days when you are trekking through the Northwoods. The extra insulation layer in the crown lining will ensure you don't lose any heat in sub-zero temperatures. At the same time, the snug earflaps will keep you warm.
Things to consider:
The only downside to this amazing hat is that it is dry clean only. Your best bet is to make sure you turn your hat inside out after a day of hiking to dry the interior lining and keep your hat fresh.
---
Reviews of the Best Balaclava for Bitterly Cold Weather Hiking
When you think of balaclavas, bank robbers might come to mind. But these face masks are much more important to you when it comes to protecting your face while hiking in severe cold. Balaclavas keep the head, face, and neck warm and protected against the wind and low temperatures. Many balaclavas fit under jacket hoods, a heavier hat, or helmets easily. Balaclavas are great for protecting the face and ears from frostbite. The essential features of balaclavas are warm, windproof, and moisture-wicking.
BlackStrap Hood Balaclava Face Mask
FABRIC: [face fabric] 80% nylon, 17% elastane, 3% other, [lining] 100% polyester
TYPE: Balaclava
BEST FOR: Moderate to Severe Weather
MEN/WOMEN/CHILDREN: Unisex Adult
SIZING: n/a
COLORS: Over a dozen colors and designs
About the BlackStrap Hood Balaclava Face Mask
This cleverly-constructed facemask is perfect for keeping your face protected and comfortable on the mountain. The patented Exo-Hinge construction of the BlackStrap Hood Balaclava makes it easy to pull the face mask down or up. Seamless single-layer construction on top of your head and neck lets you wear this balaclava comfortably under a beanie or helmet. The nylon outer layer is naturally water-resistant and will repel rain if the weather changes.
You'll find this very lightweight balaclava perfect for tucking into the pocket of your winter jacket, ready to go anytime. And you'll enjoy the selection of over a dozen colors and fabric patterns. The lens-safe fabric is also UPF 50+ rated for sun protection, quick-drying, and machine washer/dryer friendly. The patented Tri-Blend Fabric is a 4-way stretch fabric that is moisture-wicking, and the Hood Balaclava is made in the USA.
PROS and CONS of the BlackStrap Hood Balaclava Face Mask
What we love:
What's not to love about all the vibrant color and fabric color choices? Although if you prefer not to be in the spotlight, you'll find this face mask in standard black. You'll appreciate the lightweight fabric that allows it to easily pack or fit under a beanie or helmet while protecting your face from bitter winds. Overall this is an excellent addition to your winter hiking wardrobe.
Things to consider:
You'll probably not wear this balaclava alone except on sunny days. A cozy jacket hood or beanie on top will keep you comfortable since it is lightweight. However, that lightweight flexibility is exactly what makes this face mask a pretty amazing fold-up balaclava.
---
Seirus Hoodz Balaclava
FABRIC: 200 wt. Performance fleece
TYPE: Balaclava
BEST FOR: Moderate to Severe Weather
MEN/WOMEN/CHILDREN: Unisex Adult
SIZING: Head Circumference: Sm/Med 21.25 – 22.75″, Lg/XL 22.75 – 24.25″
COLORS: Black
About the Seirus Hoodz Balaclava
If you're looking for an easy-to-adjust hood, neck warmer and face mask all in one, the Seirus Hoodz Balaclava is a great option. Made from 200-weight Polartec® performance fleece, this hood is perfect for frosty weather. The integrated adjustable fleece mask can be worn around your neck, pulled up over your head or paired with goggles for complete coverage. You'll find independent drawcords for adjusting the mask and hood separately so you can get a very snug fit when the winds blow.
And because it's 100% polyester, the Hoodz Balaclava is durable and will last. This facemask only weighs 3 ounces and packs very compactly to fit in your pack when you're not wearing it.
PROS and CONS of the Seirus Hoodz Balaclava
What we love:
The fleece in this balaclava is super soft against your face while protecting you from wind and wicking away sweat. It's fast-drying too. It fits very comfortably as a neck warmer, so you won't feel like being strangled when you don't want the hood and face mask up. And we think you'll like the independent sets of pull cords, one for the face mask and one for the hood, that allow flexibility in the fit depending upon the weather.
Things to consider:
This face cover is a little bulkier, best for wearing by itself. Although you could comfortably pull a jacket hood over it, it's going to be too snug for a beanie or helmet on top.
---
Outdoor Research Ninjaclava
FABRIC: [exterior] Nylon, [lining] Motion Fleece (polyester)
TYPE: Balaclava
BEST FOR: Severe Weather
MEN/WOMEN: Unisex Adult
SIZING: Head Circumference: Sm/Med 21.5-22.87″, Lg/XL 23-24″
COLORS: Black and Pewter
About the Outdoor Research Ninjaclava
Just as the name suggests, the Outdoor Research Ninjaclava has a sleek ninja-like fit. It snuggly wraps around your face and head to keep you warm in the winter cold. This balaclava is made of nylon on the outside and lined with Motion Fleece soft against your face. Most importantly, the flat seam construction shapes the face mask to fit closely and prevents any irritation of your skin. It is moisture-wicking and breathable. It's also machine washable, so you can easily keep it clean and fresh.
And if that's not enough, the silicone prints around the eye-opening keep your goggles in place. Plus, the overlapping design covers your nose and face and can be peeled open easily when heat builds up.
You'll also find the Ninjaclava available in kid's sizes to keep the whole family toasty.
PROS and CONS of the Outdoor Research Ninjaclava
What we love:
For bitterly cold weather, the Ninjaclava will keep you nice and warm as it envelopes your head and face. The nylon shell is wind and water-resistant, making this an excellent choice for really cold days.
Things to consider:
Designed for cold winter sports, this balaclava may be too hot if you get a good workout on your hike and build up body heat. That doesn't mean you don't take it if it's cold; just be prepared to switch out to a light beanie if you get too sweaty.
---
How to Measure Your Head for Hats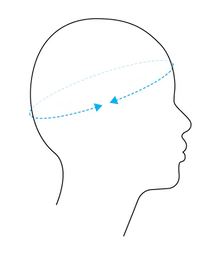 You measure your head for hats around the part of your head where your hat brim sits. The most accurate way is to use a seamstress tape measure. But… if no one sews in your house that might not be so easy. I can picture you trying to wrap a wooden ruler around your head. 😁 Not so good! In that case, I've found it works well to measure the bottom of your favorite ball cap which has more flexibility than your head so a variety of measuring tools could work.
How Many Winter Hats do you Need?
As I was working on this review for you, I pulled all my winter hats out of the closet to see if I could answer that question. For me, it was four. Oh, I have over a dozen different hats for wintery weather, but I only wear 4 of them consistently.
Cold weather hiking will bring different conditions every time you go out. Is it windy? Wet snow? Frigid? Sunny? Just as you wouldn't go into winter with a single shirt, you need choices depending on the conditions. Here's what you need in your hat wardrobe:
One for mild winter temps, when the wind is calm, and the sun is shining. (Oh, what an amazing day to hike!) A beanie is perfect.
One for when you know you'll get all hot and sweaty on the trail. Usually, a moisture-wicking beanie works well for this.
One for blustery days that protects your ears and forehead well and has an extra layer of insulation. This is where fleece-lined beanies or trapper hats come in.
One for the bitter cold. This is where a balaclava becomes essential
And one extra compact beanie to tuck into your backpack for the unexpected.
Seriously, a winter hat is not that expensive. Also, grandmas and aunts like to give them as gifts, so put your favorites on your Christmas list. Building a diverse supply of hats should not be difficult.
Frequently Asked Questions about Hiking Hats for Cold Weather
How to Care for Your Winter Hiking Hat
You can work up quite a sweat when hiking, and your hat is absorbing a lot of that moisture. So, by all means, wash that hat occasionally, or it will get super gross.
Most synthetic blends like nylon and polyester can be machine-washed and dried. My fleece beanie has gone through the regular laundry many times and looks as good as new.
Merino wool hats will have a longer life if you wash merino wool properly. You can machine wash them in cool water and hang them to air dry (avoiding hot dryers).
Loosely woven styles and merino wool will benefit from being placed in a small laundry bag when washing, so the threads don't get caught on the zippers and velcro of other fabrics.
How to Layer Hats for Winter Hiking
Typically, you wouldn't wear more than one hat at once. However, if you are hiking in frigid weather or changing elevations (in or out of the mountains), you may need to layer your hats. Layering a beanie under other winter hat styles is usually the most comfortable and provides the most insulation. In addition, when layering winter hats, remember that they should fit snugly. Otherwise, you will lose the insulating benefits.
Layering all your clothes when planning what to wear when hiking in winter is an essential step to keeping warm and safe.
Why do you need a hat when your jacket has a hood?
A jacket hood works best as an extra layer over a beanie or fleeced-lined hat. When a jacket hood is pulled up over a snug hat, it creates an extra layer of insulation needed for cold winds. A jacket hood is usually water-repellant and will keep you dry if snow turns to cold rain.
Wearing only a jacket hood as your hiking hat usually isn't as comfortable as pairing your jacket with a separate hat. Cold air can blow in around the hood. And you will want the flexibility to use your jacket zipper to vent when you get too hot. Also, you may get sweaty enough from your workout that you want to take your jacket off, enjoying the warmth of your other insulating layers, and then you'd be without a hat. Finally, a jacket hood often reduces your peripheral vision because it sticks out beyond your face, whereas a snug hat won't.
Wrapping Up Your Winter Hat Choice
As you can see, there is a lot to consider when choosing among the best-hiking hats. For winter activities, you need more than one hat in your wardrobe to select what you will wear according to the weather. You should also always have an extra warm hat packed in your hiking gear or folded in your jacket pocket if the weather changes or the hat on your head gets wet.
The best winter hiking hats provide protection every day during outdoor activities. They will keep your head warm and dry so you can enjoy your day hiking in good warmth and comfort.
---
Getting ready for a winter hike? Here are some of our other guides to the Best Winter Hiking Clothes. Check them out so you can keep super warm on the trail!