Winter hiking is a magical time to enjoy outdoor adventure. But cold hands can ruin your fun. Not only are you incredibly uncomfortable, frostbite damaging your fingers is a very serious risk. If you want to enjoy winter activities make sure you have high-quality gloves that will keep you dry and comfortable in the cold. In this article, we share the best winter hiking gloves and the pros and cons of each.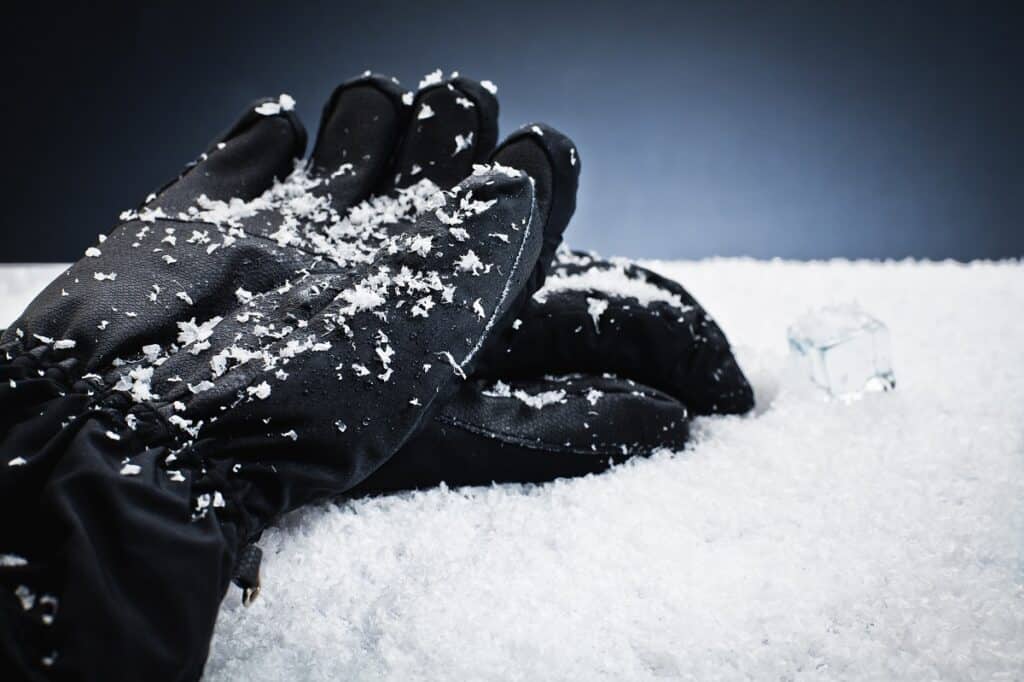 Winter snow and cold doesn't stop us from getting outdoors. Brad and I love to hike, snowshoe, and cross-country ski in the winter. And we both really appreciate gear that keeps us warm and toasty in the cold. When properly dressed for an outdoor adventure you can be as comfortable as you would be on a warm summer day. In fact, we wrote a complete guide to what to wear when hiking in cold weather.
In this guide to the best gloves for winter hiking, we'll teach you how to find the perfect gloves for your needs and budget. We'll also share our top picks with you so that no matter what kind of gloves you prefer. We are confident that there will be something here just for you! To make shopping easy, we've included links to where you can buy these gloves. Some links are affiliate links which means we may earn a small commission.
Why Winter Hiking Gloves are Important
If you are like our family, you have a whole box of assorted gloves in the hall closet. So why can't you just grab the thickest pair and go? A pair of mittens that you might use when shoveling snow or those sharp-looking leather winter gloves you use for driving won't suffice during a long hike.
Why are Hiking Gloves Different?
When you are winter hiking you are exposed to the cold for a much longer time than during most other activities. You need the best winter gloves that will keep your hands warm the whole time.
You will probably also work up a little bit of a sweat when you get moving. You'll want gloves that wick away sweat to keep your hands dry and comfortable.
And then you'll stop to enjoy the view, and your hands will get cold as your body cools down. That means your gloves need to adjust with your body temperature.
Winter hiking gloves are designed specifically for keeping your hands safe and warm in extended cold weather.
Types of Hiking Gloves for Winter Weather
There are three types of winter gloves: liner gloves, shell gloves, and mittens. The best hiking gloves can be either shell gloves or mittens, depending on your preference. What's important is that the gloves keep you warm like our TOP CHOICE: Burton Gore-Tex Gloves and Mittens
✔ Shell gloves are the most common type of hiking glove. They function independently or can be worn with a liner glove to provide extra warmth in cold weather. They're also more durable insulated gloves than other types of winter gloves.
✔ Mittens can keep your hands warmer than any other type of glove because the heat from all four fingers collects in one pocket. However, you'll have less dexterity than provided by a traditional glove.
✔ Liner gloves are thinner and lighter gloves, often made of merino wool. Worn under a shell mitten or glove, liners add extra warmth. We like that a liner glove allows you to take off your outer glove without directly exposing your fingers to the cold. We deep dive into our favorite liner gloves in this article.
An interesting specialized glove called a Lobster Glove is a cross between a glove and a mitten. It has a separate pocket for your index finger in addition to the thumb pocket, while the last 3 fingers are in a mitten pocket. It looks a little weird, but some hikers find it to have better dexterity than mittens.
Below you'll find complete reviews of the best winter hiking gloves and more of our top choices designed for different hiking situations.
Review of the Best Winter Hiking Gloves
Here are our top choices for hiking gloves that will keep you warm in winter weather, from extreme cold trails to those sloppy snowy days.
Burton GORE-TEX Gloves and Mittens – Best Gloves for all Winter Activities
About Burton GORE-TEX Gloves and Mittens
The most impressive feature of Burton's GORE-TEX gloves is Burton's DryRide technology. DryRide insulates your hands while very efficiently wicking away sweat. Burton uses this technology in most of their outerwear to keep you dry and warm while active outdoors.
The exterior fabric on the shell of these warm gloves is waterproof. They use a waterproof gore-tex membrane that sits between the outer and inner layers to ensure the gloves are both waterproof and windproof. And at the innermost layer, you'll find a cozy brushed microfiber lining. The soft fleece lining is "fixed," which means when you pull out your hand the lining stays in place rather than pulling out with your hand.
The fingers of this glove have Screen Grab technology to control your touchscreen devices with any finger. The palm has a "sticky grip," to keep your trekking or ski poles from slipping as you hike. The Burton Glove has Ergonomic Pre-Curved Fingers for greater dexterity. You'll also find a heater/vent pocket in the back of the gloves. There are 2 cinch points: first at the wrist and then at the end of the gauntlet cuff. In addition, you'll find a removable wrist leash that ensures that your gloves stay attached to you.
Each pair of Burton Gloves and Mittens includes a removable liner four-way stretch fleece gloves that are also touchscreen compatible. That means you can wear them alone or together for greater levels of warmth. You can even machine wash these gloves when they get dirty. Lastly, these gloves come with a lifetime warranty.
PROS and CONS of the Burton GORE-TEX Gloves
Pros:
We love that the Burton GORE-TEX gloves and mittens are designed with a very active cold weather day in mind and at a moderate price. When on a day-long hiking adventure, these gloves will keep you super dry and warm. Additionally, they are comfortable to wear in freezing temperatures.
I also like that Burton put a lot of thought into how to help you adjust for body temperature changes in multiple ways in this design. When you are hiking in winter, you are just as likely to be sweaty from the activity and sun as you are to be freezing from damp dropping temperatures. You can quickly adjust your hand temperature by wearing it with or without the glove liners. Then the heat pack pocket also doubles as a ventilation pocket due to the mesh lining. And lastly, using 2 cinch points on the cuffs allows you to snug up or ventilate as needed.
Cons:
The fit on these gloves is snug to keep your fingers warm, so make sure you use the sizing chart and measure. If you guess, you'll probably guess wrong and miss out on how comfortable the Burton gloves are. Also, the synthetic leather palm likely won't hold up to the abuse of rough surfaces like bouldering or bushwhacking through the trail undergrowth.
---
Outdoor Research Carbide Sensor Gloves and Mittens – Runner UP
About Outdoor Research Carbide Sensor Gloves and Mittens
These high-end gloves feature waterproof, windproof, and breathable shells. A GORE-TEX insulation layer delivers maximum cold weather protection. Additionally, the soft goat leather palms provide a tactile grip with touchscreen compatible index finger area and thumbs to operate devices without removing the mittens. The Outdoor Research Carbide Sensor Gloves and Mittens also have a soft suede nose wipe on the thumb for added convenience.
The Ladder-Lock wrist cinch is equipped with Arcade Belts elastic webbing for durability and warmth. And the SuperCinch™ gauntlet locks in heat and seals out the cold. Additionally, the gloves have removable leashes to ensure they stay on your wrists when removed from your hands. Pull-on loops help the mittens and gloves go on easily, while clips keep them together when packed away.
PROS and CONS of the Outdoor Research Carbide Sensor Gloves and Mittens
Pros:
The gloves and mittens from Outdoor Research are the Cadillac of winter gloves and will keep you super warm in the harshest weather. The layers of insulation are well thought out to ensure maximum warmth. Not only that, but they also look sharp.
They have naturally curved fingers and a soft brushed built-in lining that makes for a comfortable fit for all winter sports. The goat leather palm ensures a firm grip on trekking poles, and the index finger and thumb work well with electronics.
Cons:
The Carbide Gloves and Mittens are probably not the best gloves for someone who is extremely sensitive to cold as they don't have a pocket for a heat pack, and they would be a tight fit for an extra liner. However, because they are so well designed for warmth, an average person will find these more than enough for a cold day of hiking. Also, be aware that these are premium products, and the price reflects the level of quality you'll get in these gloves.
---
Dakine Gore-Tex Gloves and Mitts – Best Value
Dakine Sequoia for Women and Dakine Titan for Men
About The Dakine Gore-Tex Gloves and Mitts
For great value in Gore-Tex gloves and mittens check out the Dakine Sequoia for Women or the Dakine Titan for Men. Most importantly, they are lined with Gore-Tex + Gore Warm technology to keep your hands warm and dry while winter hiking.
These gloves and mitts feature rubber-tec palms for a sure grip and rugged durability. You'll find water-resistant zippered stash pockets on the backs of the mittens where you can tuck in heat packs. These also feature removable wrist leashes.
The durable gloves and mittens both come with a pair of removable liners: the Storm Liner Gloves are one of our go-to glove liners for warmth and functionality.
PROS and CONS of the Dakine Gore-Tex Gloves and Mitts
Pros:
First, we love the price below many of the other top gloves for extreme cold weather hiking. When you consider that the Storm liner gloves are included, this is quite a bargain. Best of all, both the gloves and mittens are super warm and durable.
Cons:
When using the liner with the gloves or mittens, it's a pretty snug fit, so the liner glove tends to pull off with the outer glove. Of course, it's a quick recovery, but it would be nicer if the liner glove stayed put.
---
Marmot Expedition Mitt – Perfect Midweight Mitten
About Marmot Expedition Mitt
If you're looking for a less bulky winter hiking mitten, the Marmot Expedition Mitt is a great option. It features Marmot's MemBrain, which is waterproof and breathable. The Primaloft Gold insulation keeps your hands toasty while reducing bulk. The DriClime wicking lining is super soft.
There is a snug-able wrist strap and gauntlet drawcord to keep snow out while you are hiking. And the palm is a slip-resistant washable leather that is reinforced for durability. This mitten should keep you warm in fairly cold weather. And you can comfortably add your own glove liner inside if you want even more cold weather protection.
PROS and CONS of the Marmot Expedition Mitt
Pros:
We like the slimmer fit of these mittens, which are not as bulky as you find in many other well-insulated mittens. We're ok with the fact that liners are not included as we definitely have our favorite glove liners.
Cons:
While these are the perfect mittens for women who hate cold hands, the sizing is only available in men's. So ladies, make sure you measure and check the chart before ordering.
---
Black Diamond Arc Gloves – Great Midweight Waterproof Glove
About Black Diamond Arc Gloves
The Black Diamond Arc Gloves are a great midweight waterproof glove. The woven nylon shell is water-resistant, and they are made with Black Diamond's proprietary 100% waterproof BD.dry™ insert to keep your hands dry. These gloves dry quickly if they get soaked by slushy snow and water.
They're also lined with 40 g Thinsulate® insulation and have fixed tricot linings to keep your hands warm in temperatures ranging from 15-40 degrees F. The Pittards Oil Tac leather palms and capped fingers provide durability and help reinforce the construction. Best of all, the Hook-and-loop closure with gussets at the wrist keeps the gloves secure for a snug fit.
PROS and CONS of the Black Diamond Arc Gloves
Pros:
Not every day on the hiking trail is extreme weather, and for moderate winter temperatures, these are cozy gloves. One of the challenges we find with temps in the 30s is everything gets slushy, so even the best waterproof gloves find a way to get wet on an active day. The Black Diamond Arc Gloves will dry quickly due to the breathable BD.dry™ membrane.
The Arc Gloves are comfortable to wear with the snug fit we like. The Thinsulate insulation provides the perfect warmth for a sunny hiking day.
Cons
While the perfect gloves for moderate winter weather, don't try to make these work in sub-zero temps.
---
The North Face Etip Recycled Gloves – Lightweight for Chilly Day Hikes
About The North Face Etip Recycled Gloves
We like The North Face Etip Recycled Gloves for those winter days when you need hand protection, but the temps are not extremely cold. Made of 93% recycled fabric, these gloves are weather-resistant and durable. The double-knit soft fleece glove is quite cozy. And the Radiametric Articulation keeps your hands in their natural, relaxed position, improving blood flow and warmth.
The best feature is that these gloves work amazingly with your phone. All 5 fingertips are touch-screen compatible, allowing you to use your phone without taking your gloves off. And the silicone gripper palm ensures that you won't drop your phone again. If you want to take pictures on your hike, these gloves are perfect.
PROS and CONS of The North Face Etip Recycled Gloves
Pros:
For casual Hiking on sunny winter days in the 30s, this is our go-to pair of gloves. They provide just the right amount of warmth for an active hike and breathe well so your hands won't get sweaty. You'll love how well they fully function with your phone, meaning you can snap pictures all day long without dropping your phone. These gloves would also work well as a liner under a pair of mittens if temperatures drop.
Cons:
These are not fully waterproof, although they are water-resistant and fast-drying, so if you have your hands in the snow much, they are not the best choice.
---
How to Choose a Glove Based on Your Needs
Now that you know the different types of gloves, how do you choose the best hiking gloves for you? Here's a list of things to consider when you select hiking gloves.
What kind of climate you'll be hiking in? If you're in a cold environment, you'll need something more heavy-duty than if you're in a milder climate. Wet weather will make waterproofing a critical feature.
What activities will you be doing while wearing your gloves? If you plan to do a lot of dexterity-requiring activities like setting up camping gear or putting on snowshoes, you'll need a pair of shell gloves that allows for good grip and movement.
Fit and comfort are essential when choosing gloves for winter hiking. Often this is a case of personal choice; for example, Brad doesn't like the loss of good dexterity with mittens and will only use them in extreme weather. In contrast, I love the warmth of a pair of cozy winter mitts over a pair of merino wool liner gloves for almost all conditions.
Finally, consider your budget. Quality gloves can range in price from as little as $50 to over $100, so it's crucial to find the right balance between durability and cost. Yes, cheaper gloves are available, but be careful because you usually get what you paid for when you get into the super-cheap choices.
A Winter Glove Layering System is Critical for Cold Weather Hiking
There are 2 parts to a good winter glove layering system: the outer shell and the liner.
The job of your outer shell gloves is:
to stop moisture from the outside, to stop snow or a light rain from soaking your gloves. A shell glove or mitten should be waterproof to keep outside moisture from getting to your hands.
to insulate your hands and hold in your body heat. The level of insulation to protect from the cold varies between glove styles. Which ones you choose will depend upon weather conditions and your propensity to feel cold.
The job of your glove liner is:
to add a snug layer of insulation, just the same as your base layer shirt protects your core.
to wick away sweat from your hands. Once you get moving on the trail, you will build up body heat and sweaty hands. (This is even true for someone like me who always has "ice cube hands".) The best liner gloves are very efficient at wicking away sweat from your hands and breathing to allow air movement to dry that moisture.
and a removable liner provides a lightweight pair of gloves for when you get too hot or to protect your hands when you need to send a text, and your thick gloves are in the way.
We prefer a system that uses a separate glove liner plus an insulated shell glove or mitten.
Some hiking gloves have a built-in liner that forms the first insulation layer. The upside of a built-in liner glove is that you have all your pieces in one place, so there's less risk of losing your liners. However, a built-in liner is not flexible with your gloves if you get too hot or your gloves get wet, so this type of glove is generally not our first choice.
Always carry an extra pair of glove liners
And there's a third piece to this layering system. You should always carry an extra pair of glove liners in your backpack. Glove liners are compact and easy to carry, making them the perfect backup solution. If you lose your gloves or get soaked, you'll still have something to keep your hands warm.
Some of the best hiking gloves come with removable liners, while others depend upon selecting your liners separately. It doesn't matter which you choose as long as the glove liners are high-quality, moisture-wicking, and breathable.
Are Gloves or Mittens better for Hiking?
Ask a group of hikers this question "Which is better, gloves versus mittens?" and you'll get very split results. That's because, for many hikers, the choice between mittens or gloves for hiking is very personal. Here are a few things to think about as you choose the best option for you.
How much dexterity do you need? If you're going to be cooking and setting up camp, then mittens might not work for you because they don't allow for the same range of motion as a shell glove would. Usually, gripping trekking poles with mittens is very easy. So if you can deal with not holding things like pencils, picks, or ice axes with mittens, then they can be a good choice.
How prone are you to having cold fingers? This is my most significant reason for choosing mittens whenever I can give up a little dexterity. I have cold hands ALL THE TIME. How about you?
What are the weather conditions? Without a doubt, mittens will keep you warmer than gloves. So in the case of extreme cold, mittens should be your first choice.
Features of the Best Hiking Gloves for Winter
Before you purchase your new gloves or mittens, here are a few features you should know more about:
Shell Materials and Durability
The best shell glove has waterproof material on the exterior. It should both wick away sweat and insulate your hands from the cold without getting wet and losing its insulation value. If your glove or mitten gets even a little damp, it will lose most of its heat-holding ability.
Most good hiking gloves use nylon for their outer shell material. Nylon is also used in many lower-priced gloves because of its durability and wide availability.
Insulation Layer
The insulation is the layer between the waterproof shell and the lining of a hiker's glove or mitten. You will find these three are the most widely used in the best hiking gloves.
Thinsulate – This is synthetic insulation made by 3M with an excellent warmth-to-weight ratio and water resistance.
Primaloft – This is a synthetic insulation that also has an excellent warmth-to-weight ratio and water resistance. Like Thinsulate, Primaloft can be found in different grades, and you will discover higher grades of Primaloft used in ski gloves.
GORE-TEX – This membrane is used for winter gloves and mittens because of its superior waterproofing and wind resistance. You'll often find other insulation layers combined with Gore-tex for the best combination of waterproofing and warmth.
Waterproof (vs. Water Resistant)
The best winter gloves have a waterproof shell that keeps your hands the driest. The waterproof exterior makes it hard for snow to penetrate the glove or mitten. However, you need to combine that waterproof exterior with a liner for wicking moisture away from your hands if you start to sweat, so you don't create a sauna.
Breathable and Quick Drying
Gloves that are breathable and quick-drying are essential when hiking because your hands sweat a lot when you hike. The more your hand's sweat, the wetter they get, which can lead to cold hands or genuine discomfort. The best winter gloves are made of fabrics with wicking properties that will draw moisture away from your skin and help it evaporate quickly, so your hand stays dry and comfortable for an extended period.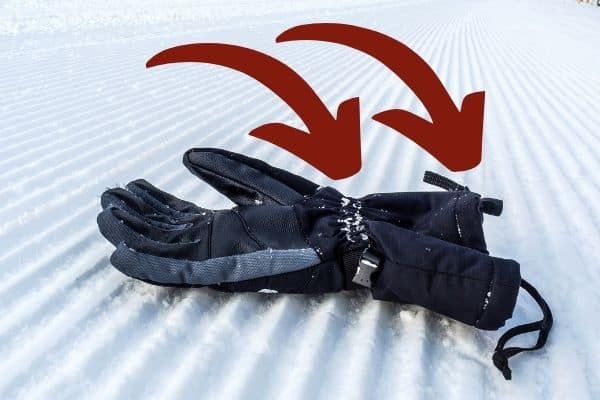 Easy to fasten
Look for winter hiking gloves that are easy to fasten. If the straps on your gloves aren't easy to fasten, it can make putting them on and taking them off tough. This can be incredibly frustrating during winter hikes when your fingers are already cold. Gloves that are easy to fasten have these features:
A hook and loop strap at the wrist to help keep snow out of your gloves.
One-handed pull cinches at the wrist and gauntlet.
Quick-release latches so you can easily remove them.
Dexterity
When selecting the best hiking gloves, consider how much dexterity your gloves will have. Gloves with a lot of insulation will be bulkier and have less flexibility. This can make them harder to use when you're putting on your backpack or taking off your rain shell. Dexterity is vital for activities like using trekking poles or cooking at night while camping.
Budget
The cost of a good pair of winter hiking gloves will depend a lot on the quality of the materials. A membrane that keeps your hands dry will add to the cost. Gloves with several layers of insulation cost more than single-layer gloves because it takes more material to make them thick.
Sizing and Fit
You will want to buy gloves in a size that fits you. Some brands may fit smaller than others, so it's important not to rely on knowing your exact glove size. Use the manufacturer's size chart and compare the length of your hand for the best fit.
Weight and bulk
The weight and bulkiness of the gloves you choose are important because you'll likely find that you don't wear your gloves all the time. As the sun warms up the day or your hands get sweaty, you will probably take off your gloves and switch out to a lighter glove or only wear your glove liners. The last thing you want is a pair of gloves that won't store easily in your backpack.
Cuffs
Gloves for winter activities have two cuff styles:
Over the Cuff (gauntlet style) – Over-the-cuff styles are the best for extra warmth. This style layers over your jacket sleeve and seals in your wrists with an insulated sleeve. However, most protective gauntlet gloves are also bulky. Hikers tend to shy away from bigger gloves if the winter weather is moderate.
Under the Cuff – Under the cuff styles, either meet or slide under your jacket sleeve. They are less popular for frigid weather, although they tend to be less bulky.
While over-the-cuff tends to be the top choice for extreme cold, many under-the-cuff gloves also work well in the cold. For many hikers, wearing the cuff style is based on personal comfort preference.
Also, look for wrist cinches in the best hiking gloves. These allow you to pull your glove tight around your wrist in extreme cold.
Other design features
A few other features are expected in the best hiking gloves that are pretty nice to have, although not critical. They make your life easier!
Glove Clips: This feature is great for clipping your gloves together, so you don't lose them while they are off.
Leather or Reinforced Palms: Leather or palms reinforced with a textured material provide grip and durability.
Touch Screen Compatible: Touch screen compatible gloves mean you can use your smartphone without taking your glove off, which is perfect for those winter selfies!
Warmer Pockets: Many of the best hiking gloves have a pocket where you can insert a chemical warmer to create more heat. My favorite winter mittens have a zippered pocket for a warmer, and I love using that option when it is super cold.
Wrist Leash: A wrist leash is a small loop attached to the glove that you can use to attach it to your sleeve, so it doesn't get lost when you take it off. Yes, exactly like what your mom used when you were a toddler. Except, in this case, you might be saving a $100 pair of gloves.
Suede Nose Wipe: Some gloves have a special material built into one of the thumbs or fingers so you can wipe your nose when it's super cold. Yes, I know… kinda gross when you are thinking about it in your warm living room. But that doesn't change the truth that cold noses drip, and a soft nose wipe is just part of life.
Frequently Asked Questions
How to Care for your Winter Hiking Gloves
The best winter hiking gloves are machine washable, but it is important to check the label of your specific outdoor gloves before you toss them in the wash. Most will be ok in cold water with a mild detergent. Hang dry or tumble on low heat only if necessary.
What about Battery Heated Gloves
There are a variety of winter gloves that are heated and designed to keep your hands warm and cozy without the bulk. Heated gloves provide heat by a rechargeable lithium battery.
One of our favorite examples of a heated hiking glove is these Akaso Heated Gloves that will keep your hands warm for a couple of hours. Unfortunately, battery-heated gloves aren't going to keep you warm all day, but if your hands suffer when it's freezing, they might be just the ticket to getting outside and enjoying nature for a while.
The biggest risk of heated gloves is that the battery dies while you are out. To counter, make sure you select heated gloves that have an insulation layer and are water-resistant so you have moderate protection until you can get back to the base. Of course, it's best to always have a backup pair in your pack!
---
You can find more product reviews for winter hiking gear here:
---
If you're looking for a way to keep your hands warm and protected this winter, we highly recommend that you invest in the best hiking gloves. We've included our favorite picks so that you can find the perfect pair of gloves or mittens that will work for Hiking and all the other outdoor activities you love. The key to the best winter hiking gloves is finding a glove with an insulation factor and enough dexterity to do whatever type of activity you enjoy most.
---
The Authors: Hey, we are Ladona and Brad, avid campers and hikers. We are crazy about getting outdoors at every possible moment and have decades of experience exploring nature. Our current goal is to visit all 63 US National Parks and just completed #42. WooHoo! Our mission is to help you plan your own adventures and create memories beyond your imagination!