If you've never used glove liners before, you are in for quite the treat. The warmest glove liners will help keep your fingers toasty in the coldest weather. The idea is to use a snug, warm, breathable fabric against your skin and then layer thicker waterproof gloves over the top. It's a lot like long underwear for your hands. The result is the perfect insulation layer that keeps your fingers toasty.
You'll also love wearing the warmest glove liners because it gives you a lot of flexibility with temperature changes. Hiking, skiing and snowshoeing all tend to build up body heat on a sunny day which means you'll enjoy the ability to remove or add layers on your hands. So combining liners in your gloves with toasty waterproof gloves is perfect.
And if you are like many of us who love to take pictures and videos of our outdoor adventures, thermal glove liners are perfect. Some of the best glove liners are designed to be used with electronics, so you can get your shots or send your texts without fully exposing your fingers to the frigid air. Just slip your outer gloves off and your have a protective layer on your hands while using your phone or camera.
Below you'll find the list of the warmest glove liners. Meanwhile, we are going to share a lot of research to help you decide what's best for you.
How to Choose the Best Glove Liners:
There are a lot of things to consider when choosing your glove liners. You can find everything you need to know to make a smart decision in the guide below. To make it easy for you, you'll find links to where you can purchase each of the top choices for glove liners. Many of those links are affiliate links which means we could earn a small commission if you make a purchase. However your warm hands are what is most important so we've spent a lot of time researching to find the best choices for you.
Best Fabrics for Glove Liners:
The most important consideration is what type of fabric is used to construct. Most of the best liners for gloves are made from merino wool or from technical synthetics. A few quality liners are made from silk.  It really makes a difference in what you need from your glove liners which is a better fabric. Let's look at those fabrics:
Merino Wool Glove Liners
Merino Wool is known by all outdoor experts as the premium fabric for the clothing items that sit next to your skin (like glove liners). It is naturally temperature regulating, it wicks moisture away from your skin and it's odor resistant.
Most important, the weave of merino wool threads results in thousands of mini air pockets in the fabric. These air pockets work just like home insulation holding the natural warmth of your body against the skin of your hands.
The con of using merino wool for glove liners is it is only moderately durable. For use as a glove alone, the fabric needs to incorporate synthetics like nylon or polyester to increase its strength. You would not want to wear your 100% merino wool glove liners by themselves while being very active as they will snag and tear. However, they are perfect by themselves for light activities such as walking, snapping pictures, and digging through your backpack. It's also very easy to wash merino wool glove liners if they get dirty.
Best use of merino wool glove liners: If you want an extremely cold-weather glove liner, your go-to would be merino wool glove liners like the Icebreaker 260 Tech Glove Liners. During frigid cold, you will likely keep your gloves on over your glove liners most of the day so the stress on the wool fabric will be limited. In exchange, these wool glove liners will keep your hands dry through their superior natural wicking ability. Dry hands equal warm hands. The natural insulation of merino wool will keep you toasty when combined with a top layer of quality winter gloves or mittens.
Silk Glove Liners
Glove liners of silk aren't that much different than merino wool when considering the warmth and insulation effects. An all natural fabric, silk is highly absorbent like wool and will keep your hands dry and warm. It also has a high insulation factor similar to wool.
That said, there are a couple of important differences between merino wool and silk to consider when making your choice. First is the texture. Although merino wool is incredibly soft, nothing will beat the soft feeling of silk against your skin. The second difference is in durability. Silk will definitely snag easily as it has light durability. You would not want to wear silk liner gloves by yourself for much more than grabbing a quick photo.
Best use of silk glove liners: Silk glove liners work amazingly in cold weather when combined with a sturdy outer glove. If you like snug exterior gloves, you'll find silk glove liners are the perfect match. A silk liner like Browint Silk Liners for Gloves will just slide right on! Most people who use silk glove liners use them because they have sensitive skin that doesn't like the touch of merino wool liners. For durability merino wool will win hands down over silk.
Technical Synthetic Glove Liners
Glove liners made from synthetics are pretty amazing glove liners. The technology varies with each liner's fabric blend, but at a high level, they are engineered to do everything natural fabrics deliver plus improved durability and weatherproofing. From personal experience, I don't feel that the synthetics are quite as warm as merino wool or silk. However a high-quality synthetic fabric liner comes pretty close.
Best use of technical synthetic glove liners: If you want a lot of flexibility with your glove liners, a glove liner made from synthetic fabrics will hold up much better. They usually have superior durability that allows greater usage without an exterior glove. Synthetic glove liners often are semi-water repellent, which you won't find with merino wool or silk, so if you are out on a cold wet day they will definitely keep you warmer in the long run. They are also perfect for when you need just a little bit of warmth which is why I keep a pair in my pack for spring and fall hiking.
So which fabric makes the warmest glove liner?
The answer depends upon your usage. We like to use a merino wool liner on really cold adventures where we know it's going to be cold all day. And we love our Under Armour glove liners for times we know those outer gloves are going to be going on and off. Most people shy away from the silk glove liners unless they love the texture because they aren't as durable as merino wool or synthetics. Let's get real, glove liners are not that expensive so consider getting more than one pair and be ready for warm hands no matter what the situation.
Quick side note, avoid cotton glove liners like the plague. Cotton is wonderfully absorbent but it also doesn't dry quickly. So that means if your cotton gloves get wet you will have wet hands all day. Wet hands will suck the heat right out of your whole body.
Important Features to Consider:
✔ Touch Screen Compatibility is critical. It seems like a little thing, but when the wind is blowing and the temp is freezing you will be glad you have a warm layer on your hands when you pull out your phone to take that amazing picture of your friends on the trails. Generally, electronic compatibility is in the index finger and thumb. It is achieved with conductive threading woven into the fabric. Watch out for gloves that claim compatibility but only have a little bit of rubber on the finger tips as they won't hold up long.
✔Anti-Slip Palms should be considered if you think you'll often use your liner gloves without your regular gloves for activities like skiing where a tight grip on your poles is essential. This is achieved by adding small nubbing or a patch to the palm of the glove. For other activities that don't require that level of snug grip, it becomes a personal preference. Some people find the anti-slip feature uncomfortable rubbing against their regular gloves. And that's all the more reason to have more than one pair of glove liners that match up to your planned activities.
✔ A Snug Fit of thin and lightweight glove liners is what makes them work. Loose glove liners negate all the benefits of a glove liner. At the bottom of this article, you can find some advice on how to order the best fit. Every brand is a little different so it's always important to measure.
✔ Stretchy Cuffs will protect your wrists from the cold and to make it easy to pull on and off. It's better to have your glove liner a little bit longer than your actual gloves. Then if snow accidentally gets into your gloves, you have protection of that tender spot. Some glove liners will also come with a little pull tab to help stretch them over your hand.
✔ Comfort Construction design that allows full dexterity, you want to feel like you have no glove on at all when moving your hand. The best glove liners should feel like a second skin. Also, be aware of cheap glove liners where seams rub against your skin. Winter chaffing can be painful.
✔ Wicking and Breathability are the most important consideration. Sweaty hands mean your gloves will need to move (wick) that moisture away from your skin so your hands stay dry and warm. Breathability means air moves in and out of the fabric which will keep your hands from sweating so much in the first place.
✔ Water Repellent glove liners is another one of those features that it depends upon how you are going to use them. For the most part, water-repellent fabrics aren't great for wicking and breathability. And that is the primary purpose of glove liners. Your exterior gloves should be doing the job of repelling water for you, not the thin liners in your gloves. However… there are times when you want a lot of flexibility with taking your exterior gloves on and off and water-repellent glove liners would then be very valuable. The key is to make sure the liner gloves have proper technology in the design of the fabric so that you aren't in effect wrapping your hands in plastic bags. We'll talk about a few of those as we look at the liners made of technical synthetics.
✔ Clips are commonly found on glove liners. These allow you to hook both gloves together for storage. You know, it's kind of a nice feature when you drop your gloves into storage at the end of the season. No more orphan gloves, right? But seriously it's not a feature that should make or break your choice of liners.
✔ Pricing – Glove liners are fairly inexpensive, usually in the $15 to $40 range depending upon your fabric choice. Because of the low price consider getting more than one pair so you have the right kind to match how you want to use them.
Top Merino Wool Glove Liners
You will be super warm with merino wool glove liners covered by a quality winter glove or mitten. Merino wool is without a doubt the best material for your base layer as it provides dependable insulation layers. It quickly wicks away sweat from your hands to keep you dry. And the fabric is quick drying if it does get wet.
Warmest Merino Wool Glove Liners: Icebreaker 260 Tech
FABRIC: 95% Merino Wool, 5% LYCRA.
TOUCH SCREEN COMPATIBLE: Yes, Fingertip: 76% Polyester, 17% Nylon, 7% LYCRA
QUICK-DRY/ WICKING: Naturally wicking
ANTI-SLIP PALM: No
CLIPS: No
SIZES: XS to SL
PRICE: $$$
---
Top Pick for Durable Merino Wool Liner Glove: Smartwool Liner Gloves
https://www.avantlink.com/click.php?tt=el&merchant_id=e295c418-295a-447c-b265-734e25f82503&website_id=9eca4720-f4b5-4c61-9fa4-1d8ffd5e32b3&url=https%3A%2F%2Fwww.rei.com%2Fproduct%2F191835%2Fsmartwool-liner-gloves%3Fsku%3D1918350003%26store%3D180&ctc=glove-liner
FABRIC: 45% Merino Wool, 45% Acrylic, 9% Nylon, 1% Elastane
TOUCH SCREEN COMPATIBLE: Thumb & Index Finger Tip: 95% Polyester, 4% other fiber, 1% Elastane
QUICK-DRY/ WICKING: Naturally quick drying and wicking
ANTI-SLIP PALM: No
CLIPS: No
SIZES: S to L
PRICE: $$
PROS: You'll love the stretch and snug fit you will get from the blend of merino wool with synthetic fibers. Smartwool Merino Wool Liner Glove has all the benefits, super warm and moisture-wicking, of merino wool. You will feel the difference in these liner gloves! And by adding Acrylic and Nylon Smartwool has made these glove liners super durable. Touch screen compatibility is through fibers knit right into the thumb and forefinger.
CONS: Make sure you measure for fit before ordering. A snug fit ensures these liners will easily slide into your gloves and that the touchscreen fingertips will line up correctly.
---
Best Value for Merino Liner Glove: Pure Athlete Glove Liner
FABRIC: 45% Merino Wool/45% Acrylic/10% Nylon
TOUCH SCREEN COMPATIBLE: Yes, silver yarn woven into thumb and forefinger
QUICK-DRY/ WICKING: Naturally wicking/quick drying
ANTI-SLIP PALM: No
CLIPS: N
SIZES: S to L
PRICE: $
PROS: For less than $15, the Pure Athlete Wool Glove Liner is quite the bargain when it comes to keeping your fingers warm. With the blend of merino wool and acrylic, you'll find these gloves snug and durable. The silver yarn woven into the fingertips is very effective for using touch screens.
CONS: Personally, I'd like to see the cuff sit a little longer on the wrist. However, a lot of folks like having their liner glove neatly tucked into their glove and prefer this length.
---
Warmest Glove Liners from Versatile Synthetics
Although merino wool is our top go-to for warmth, there are so many situations where you need a glove liner that is more durable. And that is where some of the best synthetic glove liners come in. In these, you find so many more options such as waterproofing and no-slip palms that you will want if you choose to wear your liners solo. Here are our top choices.
Best Overall Synthetic Glove Liner: Burton Power Stretch Liner Gloves
FABRIC: 84% polyester/16% spandex with spandex palm
TOUCH SCREEN COMPATIBLE: Yes, touch pads
QUICK-DRY/ WICKING: Yes
ANTI-SLIP PALM: Yes
CLIPS: No
SIZES: XS to XL
PRICE: $$
PROS: The Burton Power Stretch Glove Liners are perfect to add warmth and wick moisture under your shell gloves. The polyester blend naturally breathes keeping your hands comfortable. What we love most about the Burton Power Stretch glove liners is the 4-Way Malden Powerstretch Fleece Shell that makes these windproof as well as water-resistant. The Sticky Icky Grip Palm not only improves your contact with electronics but also makes holding on to hiking or ski poles easier. The Power Stretch glove is pre-shaped to fit the curves of your hand for supreme comfort.
CONS: The fleece shell will pill after being pulled in and out of an outer layer of gloves. Although it doesn't affect the fit of warmth, some people don't like that look.
---
Best Heavyweight Glove Liners: Outdoor Research Vigor Sensor Gloves
FABRIC: Double-layer fleece: ActiveTemp exterior fleece of 93% polyester, 7% spandex and ActiveTemp interior fleece of 100% polyester.
TOUCH SCREEN COMPATIBLE: The thumb and index finger have a touchscreen-compatible fleece.
QUICK-DRY/ WICKING: ActiveTemp thermo-regulating technology
ANTI-SLIP PALM: Yes
CLIPS: Yes
SIZES: Womens S to L, Mens S to XL
PRICE: $$$
PROS: The thermal liner in Outdoor Research's Vigor Sensor Gloves will keep your hands warm and dry. Their ActiveTemp technology is designed to auto-regulate your hand temperatures. Since they have a double layer of fleece, they will keep you a little bit warmer than other liners when used alone. The touchscreen fleece fingertips work fairly well for quick access to those selfies!
CONS: A little thicker glove liner due to the double layer of fleece, but designed to easily tuck into gloves or mittens. The cuffs are pretty snug to keep wet and cold off your hands, but you may have to tug a little to get these on your hands.
---
Best Lightweight Glove Liners for Moderate Cold: REI Liner Gloves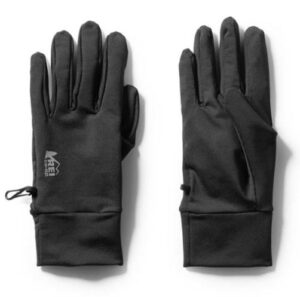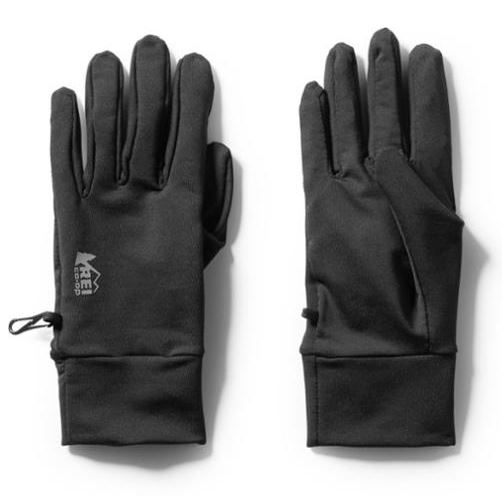 FABRIC: 64% nylon, 22% polyester and 14% spandex. The palm is 65% polyester, 25% nylon and 10% spandex.
TOUCH SCREEN COMPATIBLE: Yes
QUICK-DRY/ WICKING: Yes
ANTI-SLIP PALM: No
CLIPS: Yes
SIZES: XS to SL
PRICE: $
PROS: The REI Glove Liners are best for moderately cold days. They work extremely well with cameras and phones so you can get lots of pictures without cold fingers. The fabric blend will wick away moisture and keep your hands dry. To top it off, the price is very reasonable for a high-quality glove liner.
CONS: Unless you are one of those people (like my husband) who holds heat well, these are probably not your best choice for extreme cold. They will keep you warmest when temps are moderately cold.
---
Best Waterproof Glove Liners: Under Armour Liner 2.0
FABRIC: 87% Polyester, 13% Elastane
TOUCH SCREEN COMPATIBLE: Tech Touch print on thumbs & fingers
QUICK-DRY/ WICKING: Yes
ANTI-SLIP PALM: Yes
CLIPS: Yes
SIZES: XS to XL
PRICE: $$
PROS: The Under Armour 2.0 Glove Liners are my absolute favorite for cross country skiing or snowshoeing. Your hands tend to get really warmed up when working the poles so I kick off the outside gloves pretty quickly. The waterproof glove liners are protected by UA Storm finish which repels water and snow keeping you dry from the outside, while still breathing to wick away sweaty palms.
CONS: For activities or extreme cold when you won't be taking your exterior gloves off often, the grip palm fabric reduces the ease of sliding your gloves on and off.
---
Most Comfortable Liner Gloves: Dakine Storm Liner Gloves
FABRIC: 94% Polyester, 6% Elastane, Fleece Cuffs
TOUCH SCREEN COMPATIBLE: Yes
QUICK-DRY/ WICKING: Yes
ANTI-SLIP PALM: silicone gripper palm pattern
CLIPS: Yes
SIZES: Men XS to XXL, Women
PRICE: $$
PROS: For a wonderfully comfortable fit, check out the Dakine Storm Liner Gloves for Women and the Dakine Storm Liner Gloves for Men. The 4-way stretch material ensures a snug fit. With separate sizing specifically for men and women, you will get a more custom fit.  The snug fit also ensures the touchscreen pads are aligned correctly for the effective use of your phone. Most of all you will love the fleece cuff to keep your wrist warm and keep other layers from rubbing uncomfortably against that tender skin.
CONS: Although these are great for casual wear by themselves, they lack water-repellent features that would make them good for snow activities without a waterproof outer glove.
---
Best Heated Glove Liner: Seirus Thermax Glove Liner w/ Heat Pack Pocket
FABRIC: Shell: 100% NylonPalm Patch: 100% PVCLining: 100% PolyesterInsulation: 100% Polyester
TOUCH SCREEN COMPATIBLE: No
QUICK-DRY/ WICKING: Thermax material is dry wicking
ANTI-SLIP PALM: No
CLIPS: No
SIZES: S to XL
PRICE: $
PROS: If your fingers are never warm, then try the Seirus Innovation Thermax Glove Liner. There is a nifty pocket in the back of the glove to tuck a heat packet. Thermax trademark material is moisture-wicking and will keep your palms nice and warm.
CONS: For high levels of activity you might find having the heat packet in the glove liner instead of your glove too warm. However for many less aerobic activities, like ice fishing and light hiking, these liners are perfect for people who struggle with cold hands.
---
Silk Liners for Gloves
Without a doubt, nothing will feel as good against your skin as silk. And silk is just as good as merino wool at wicking away sweat and keeping you dry. However, silk is fragile. So unless you have very sensitive skin you are usually better off with merino wool or synthetic liner gloves.
Best Overall Silk Glove Liners: Browint Cold Weather Glove Liners
FABRIC: 100% Mulberry Silk – Cuffs Polyamide with Elastic Fibers
TOUCH SCREEN COMPATIBLE: No
QUICK-DRY/ WICKING: Naturally wicking and quick drying
ANTI-SLIP PALM: No
CLIPS: No
SIZES: Unisex S to XXL
PRICE: $
PROS: We love that the Browint Silk Glove Liners are woven a little thicker than most silk gloves which means they will hold up a little better than others. However caution that silk is fragile and any silk glove will snag and tear under heavy use. The stretchy cuff is superior to what you see with most silk liners, keeping wrists warm and snow out. You'll also appreciate the wider variety of sizes. Best of all these are very reasonably priced and well worth trying out your first pair of silk glove liners.
CONS: Even with the thicker weave, you likely won't be happy wearing these without an exterior glove unless it's just for light activity like walking or driving. As with all silk, they will snag easily.
---
Softest Silk Liner for Ladies: Terramar Thermasilk
FABRIC: 100% Silk
TOUCH SCREEN COMPATIBLE: No, although thin enough to work with some phones/apps
QUICK-DRY/ WICKING: Yes, Ec2 Quick-Dri Thermoregulation Comfort Technology
ANTI-SLIP PALM: No
CLIPS: No
SIZES: S to XL (Suggested for ladies with smaller sizes, but perfect for small-handed men also)
PRICE: $
PROS: Available in both white and black, Terramar Sports Thermasilk Glove Liners have exactly the feeling that you'd expect from silk. Soft and smooth. Terramar uses a technical weave to enhance the natural quick drying of silk to keep your hands dry inside your gloves. That means your hands will also stay warmer. The 2-inch stretch cuff will make it easy to slide your hand into your exterior gloves without snagging.
CONS: Silk is such a perfect fabric for a liner inside your gloves, but these are so lightweight you won't be happy with them if you ever plan to wear them alone due to snagging and thread pulling. Silk is meant to be a base layer for your gloves.
---
Most Form Fitting Ladies Silk Liner Gloves: Seirus Arctic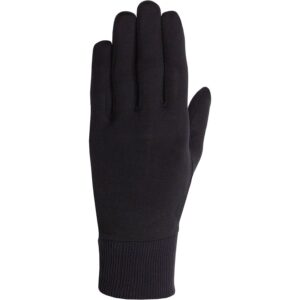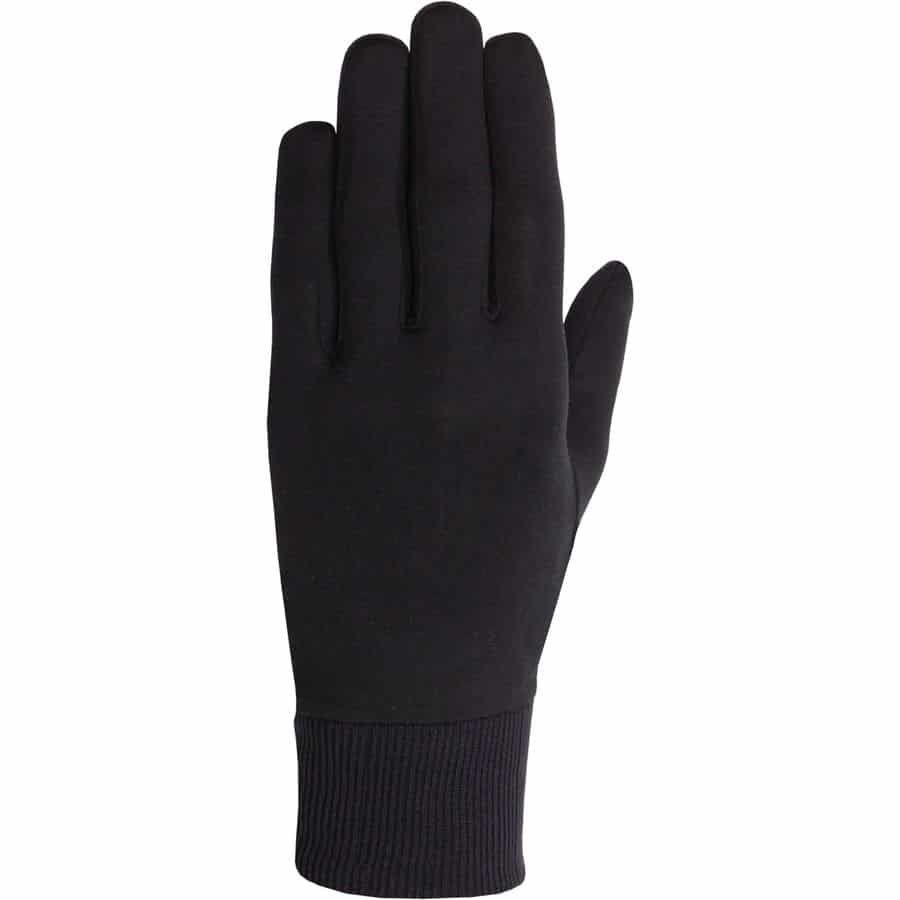 FABRIC: 100% Silk
TOUCH SCREEN COMPATIBLE: No
QUICK-DRY/ WICKING: Naturally wicking and quick drying
ANTI-SLIP PALM: No
CLIPS: No
SIZES: Ladies XS to SL
PRICE: $$
PROS: Designed specifically to fit the long tapered fingers on a ladies hand, the Seirus Arctic Silk Glove Liner easily slides into your gloves to keep your hands warm.
CONS: These are very thin so will need to be paired with really warm outer gloves in cold weather. In that case you'll really appreciate that they wick away sweat and dry quickly.
---
Glove Liners for Kids
It's particularly tough to keep kids in glove liners as they have a tendency to lie stuff down and then forget it. So you want a pair of glove liners that they will never want to take off to start with. And a pair that isn't terribly expensive while still doing a great job of protecting their tender fingers. You'll love these 2 choices!
Most Durable Choice for Kids Glove Liners: Burton Screen Grab
FABRIC: 4-Way Stretch Dryride Thermex
TOUCH SCREEN COMPATIBLE: Yes
QUICK-DRY/ WICKING: DryRide Thermex fleece wicks away sweat
ANTI-SLIP PALM: Yes
CLIPS: No
SIZES: Kids S to L
PRICE: $
PROS: We really love the Burton Screen Grab Glove Liner for kids. First you'll enjoy the selection of many different colors and patterns, no more fighting over which pair is whose (or is that only our kids?). Burton's special DryRide fleece is designed to trap in warm air, while also wicking away sweat to keep their hands nice and dry. The suede palms help with grip as well as great touchscreen compatibility. These fit snug and will easily slide into a warm pair of gloves or mittens.
CONS: There's not much to dislike about these glove liners. Except maybe the ability to glue them on so they don't get lost!
---
Best Silk Glove Liners for Kids: Terramar Kids Thermasilk
FABRIC: Silk
TOUCH SCREEN COMPATIBLE: No, but thin fabric so will work in some cases
QUICK-DRY/ WICKING: Naturally wicking and quick drying
ANTI-SLIP PALM: No
CLIPS: No
SIZES: Kids S to XL
PRICE:$
PROS: You know how sweaty busy little hands can get inside well insulated mittens, well the Terramar Kids Thermasilk glove liners are the perfect match. They will easily slide into a heavy glove or mitten and keep their hands dry. Wet hands lead to cold hands, so keeping hands dry will keep your child so much warmer.
CONS: Silk is more fragile than other fabrics and doesn't work well as a stand alone glove, only as a glove liner.
Don't Forget your Head and Feet
Keeping all your extremities warm when winter hiking is key to a comfortable hike. Make sure you have a winter hiking hat that fits your hiking style. Warm dry boots combined with merino wool socks will take care of your feet.
Frequently Asked Questions about Glove Liners:
What are glove liners?
Glove liners are lightweight gloves that can slip in and out of heavy weight winter gloves easily. They provide an extra layer of insulation, just like thermal underwear, snuggly against your hands.
Do glove liners work?
Yes, Glove liners work very well to help insulate your hands during cold weather. The best glove liners wick away moisture to keep your hands dry. They also hold in the heat to keep your hands warm. By using 2 layers, the glove liner and your regular gloves or mittens you create a warm envelop around your hands.
How do you size glove liners?
Usually 2 measurements are used, first measure around your knuckles and then from your wrist to the tip of your middle finger. However, every manufacturer has their own sizing chart. Don't assume that sizing is the same from glove liner brand to the next. It only takes a second to get this measurement. If you don't have a seamstress tape measure, just use a string and then stretch it out on a ruler.
How do you care for your glove liners?
Glove liners, no matter what material they are made from, can be hand washed or machine washed in cold water. They should always be air dried, never dried in a clothes dryer or by placing near a fire.
Should you use Mittens or Gloves as your outer layer?
We find mittens over glove liners a little warmer since the warm air is completely trapped around your fingers. However you give up a lot of dexterity with mittens so most people prefer using a glove.
If you are looking for other ways to stay warm, check out our guide to the best merino wool base layers for women. You'll discover more about the luxury and warmth of merino wool against your skin!
You will probably want more than one pair of the warmest glove liners in your winter wardrobe. Merino wool is such a natural solution for keeping warm in the coldest of weather that you'll never want to do with out once you try a pair. But as we pointed out, many liners made of synthetic blends are durable and will last for many years. I'm sure you'll find exactly what you need in this list! Don't forget to save this to your favorites Pinterest board so you can find this list again.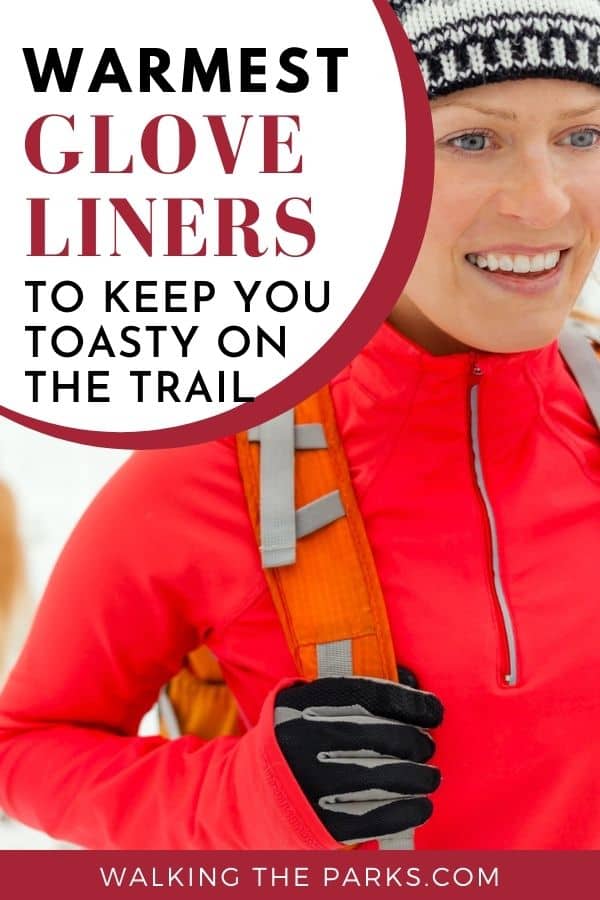 Originally posted November 9, 2020. Updated for 2021.