Let's get real… being active in cold weather when you feel nice and warm is a lot of fun. You can really enjoy everything from building a snowman to skiing the slopes to mountain snowshoeing. But cold weather when you are shivering and frozen to the core really sucks. For women, the difference between comfort and pain is in how and with what you layer your clothes. And the most important thing is to start with the best merino wool base layer for women.
We are going to walk you through why merino wool should be your go-to fabric for a base layer. Also, I've included links to where to purchase these great tops and bottoms to make it easy for you to find the best deals. These links are affiliate links and if you make a purchase I may make a small commission.
Exactly What is a Base Layer?
So, what exactly is a base layer and why is it so important when hiking? Well, a base layer is essentially a layer of clothing that lies the closest to your skin. It serves two main functions
First, a base layer provides an insulation layer. One that holds in your natural body heat. But at the same time breathe so you don't overheat.
And a base layer also absorbs and then evaporates any sweat so that you don't walk around with a soggy piece of clothing all day (which is never a great experience).
Base layers, by their very nature, are thin and lightweight. They are designed to fit snug so you can add one or two other layers of heavier clothing on top without bunching and chafing. A base layer is vital as it helps to keep the cold, harsh air at bay and helps you to maintain a constant comfortable body temperature.
Why does Merino Wool make the Best Women's Base Layer?
Although there are several really good synthetic base layers that we like, nothing ever seems to beat a merino wool base layer for comfort and warmth.
As the name suggests, Merino wool base layers originate from the Merino sheep. Several hundred years ago, humans discovered this wonderful fabric and we have been using it to stay warm and cozy ever since.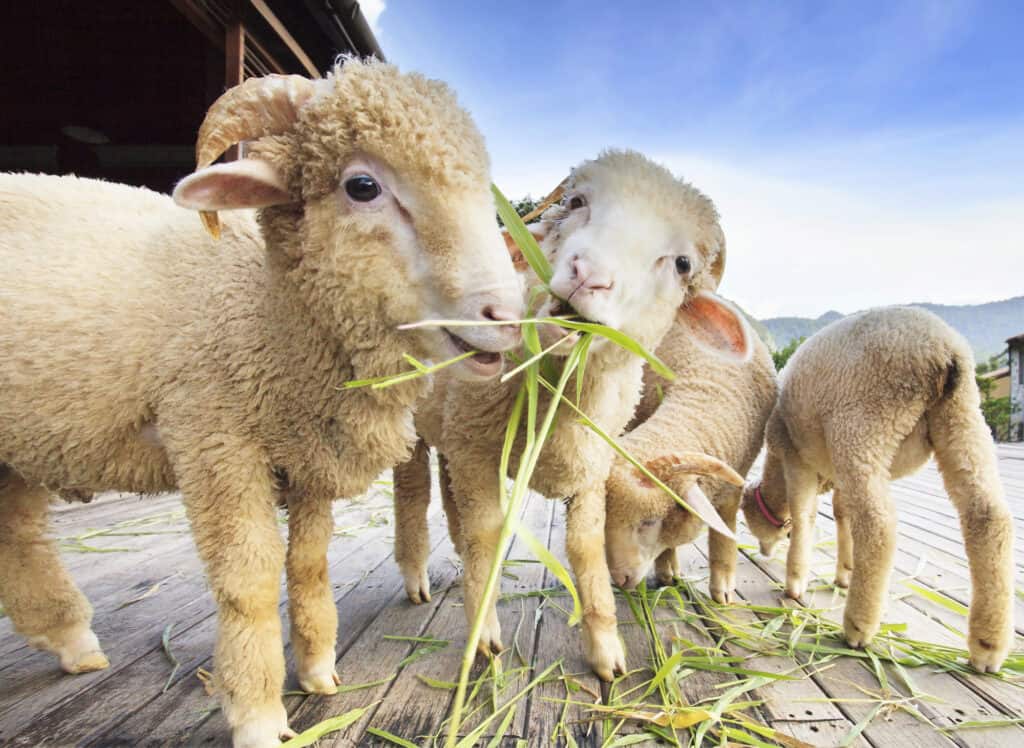 Top Benefits of Merino Wool in Base Layers for Women
Merino Wool is Warm, Moisture Wicking and Quick Drying
It's impossible to separate these three benefits in women's merino wool base layer because there is a cause-and-effect relationship between all of them. The science behind Merino wool is quite interesting because it contains tiny air pockets that effectively draw any excess heat away from your body, keeping this heat in the woolen fibers.
If you can imagine the feel of synthetic fabrics trapping the heat against your body like saran wrap compared to a warm, fresh out of the dryer towel against your skin. In the first case when heat is trapped against your body you also trap your sweat and then comes that gross sticky feeling. In the second case, the warm towel pulls the moisture away from your body while holding warmth against your skin.
The difference between merino wool and that warm towel is that merino wool also dries quickly.
So a merino wool base layer will absorb the sweat from your skin, move it away from your skin and then quickly dry. If you've had a long day of hiking in cold weather, you know all too well how easy it is to build up a sweat. And then when you stop moving, that sweat can quickly cool against your skin and the chills start.
Merino wool is exactly what you need to never have this problem again.
Merino Wool is Temperature Regulating
That means it is warming in the cold, and cooling in the heat. Sound a little far-fetched, right? There are two reasons why.
The first is the insulation factor of those air pockets not only works to hold in the heat but also repels heat in the summer. Think about your house insulation, which is based on the same air pocket technology. It keeps the heat in your house in the winter. And in the summer it reflects off the heat of the sun.
The second is the evaporation rate of the moisture absorbed into the merino wool. The warmer the outside temperature, the quicker the moisture evaporates and cools your skin.
That's why when you come inside from a good winter workout with a merino wool top you will cool down quickly. It's also why merino wool tops work extremely well for summer activities when you face ever-changing temperatures, such as a mountain hike.
Merino Wool is Soft Against Your Skin
We love a Merino wool base layer because it has a wonderfully soft texture. The fabric is non-abrasive and doesn't irritate the skin and it is also great for folks with sensitive skin. This is because the wool from the merino sheep is longer and finer than from any other sheep. The fine strand weaves into a very soft fabric.
Also, Merino wool lasts longer than other fabrics since those long fibers are very strong, making it less likely to develop holes.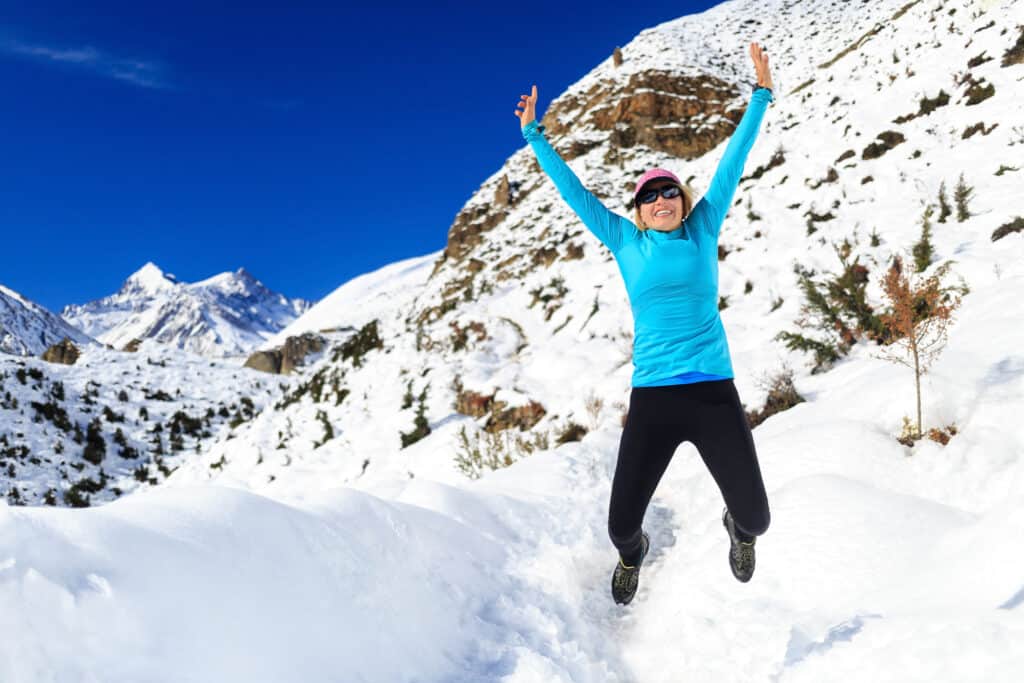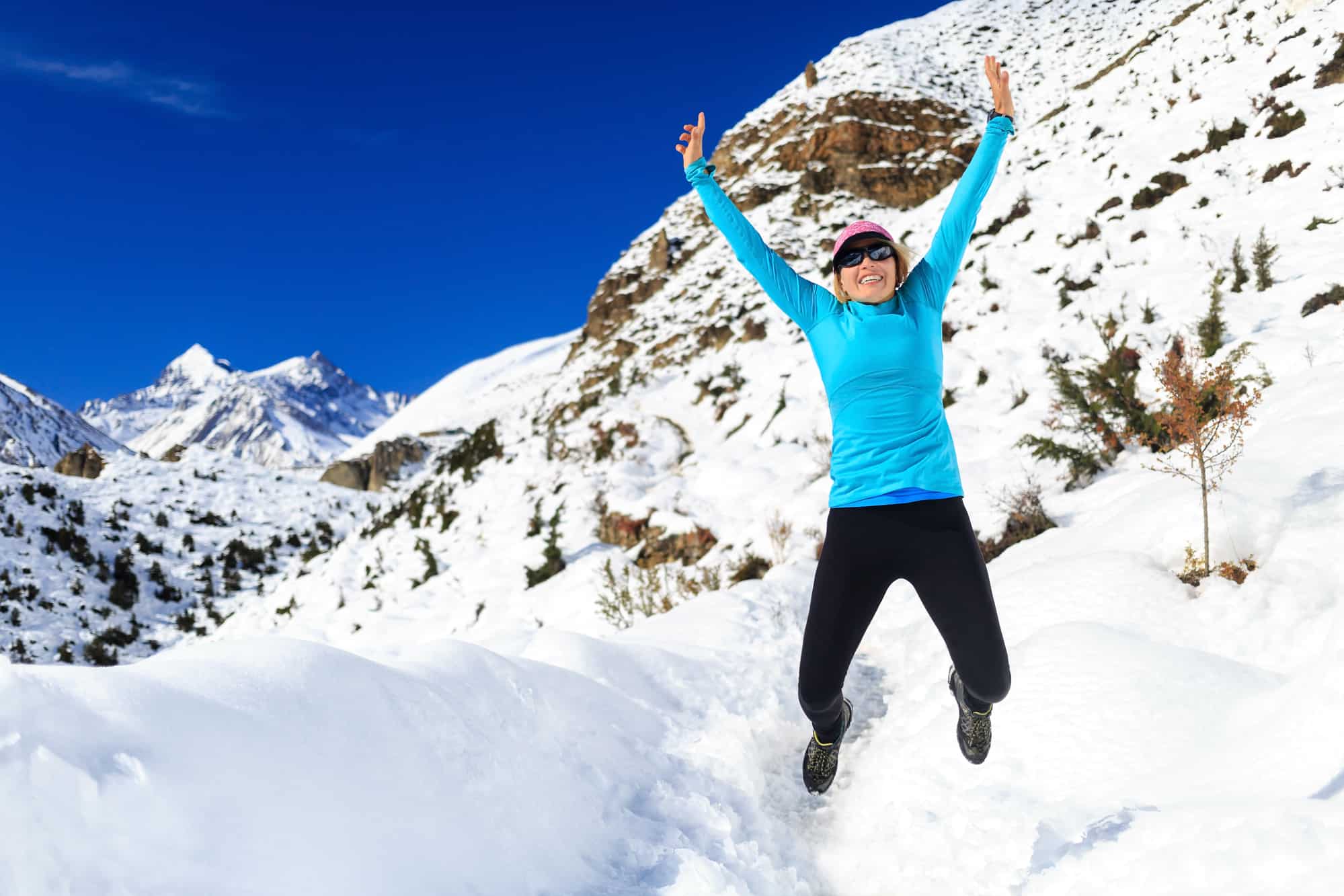 Merino Wool Doesn't Get Sweat Stink – You Can Wear it for Days
Another interesting characteristic of Merino wool is its natural antibacterial nature. This means that it won't keep any nasty body odors within the fabric and you also won't have to wash it as often. Not sure I could go that long, but I'm sure you have read stories of hikers wearing their merino wool for weeks without washing and still no stink. And when it does come time to wash your merino wool base layers, it is super easy.
Merino Wool has a Natural Ability to Protect from the Sun's Harmful UV Rays
Why does that matter since your base layer sits underneath another layer of clothes? You will find days on the trail where the sun beating against the bright white snow combined with your movement leaves you very warm.
And there is the biggest benefit of a quality wool base layer, You can strip right down to the base layer and look good, feel good, and still be protected.
We also love the fact that Merino wool is 100% biodegradable and it will naturally decompose back into the earth when disposed of. Not that you'll be tossing your women's merino wool base layer soon. Merino wool clothing lasts practically forever when given proper care.
How to Select the Best Material Density (and why it's so important)
Women's merino wool base layers come in various densities or thicknesses. Generally speaking, the denser the Merino wool fabric, the warmer it will be. That's because as the yarn is woven into thicker fabrics, the amount of air pockets increases which in turn means the fabric increases the insulation factor.
Each wool base layer top and bottom are tagged below with the weight of the fabric, you see it listed as 150g or 200g, etc. The smaller the number the lighter the weight of the fabric.
Which weight fabric is perfect for you depends on both what body temperatures you find comfortable, what additional layers you will add plus the weather conditions. Everyone is different. So use this as a guide to get started and adjust as you learn more about your body.
Seriously everyone should have at least 2 tops in different weights to be ready for any season.
Lightweight Merino wool in the 100-180g range, feels great when worn as you can barely even feel that it is on. A top like Smartwool's Merino 150 tends to be perfect for all three seasons spring, summer and fall. It's perfect for times of the year when temperatures fluctuate. Where part of the day you need something to keep you warm (think mountain elevations or cool nights) and something that keeps you cool other parts of the day when the sun comes beating down.
Midweight Merino wool in the 200-280g range will provide you with plenty of warmth and gives high thermal insulation. A top like Icebreaker's merino base layer at 200g is versatile, keeping you warm on a busy winter day. This is generally the weight of a wool base layer used for winter activities. Of course, you are going to add additional layers on top to create even more air pockets and insulation.
Heavyweight Merino wool, over 300g is rarely used in base layer tops. The fabric starts becoming too thick to comfortably fit under your other layers. However, if it is bitterly cold and windy you might want to grab a pair of thermal underwear bottoms at this higher rating. That's because people tend to use multiple top layers, but usually only 2 layers for bottoms.
If you are planning to be out in extreme temps without the benefit of the sun to warm you take a look at Meriwool's 400g thermal underwear for women or you can find a wide variety of sizes in the Minus33 Merino Wool 809 Kenai Women's Expedition Weight Bottoms also with 400g weight.
Quality merino wool base layer tops and bottoms also look good when worn without a top layer so you can strip off your top layers when the sun pops out and be super comfortable.
However, one word of caution, merino wool leggings and tights lack the durability required for a hard day on the trails because the fabric will tear if caught on rocks or branches. If you need bottoms that will hold up by themselves, you'll want to look at some of the top leggings made of nylon and polyester.
Your choice of fabric weight will also depend on how you exert yourself as the more active you are, the less dense you will need your fabric to be.
Here are the best women's base layers in
ORDER OF WARMTH FACTOR

:

Base layers can take you from cool summer mornings to frigid winter days. It all depends upon the fabric weight. Here's our list of top women's base layers starting from the lightest weight to the heaviest.
✔ Best for Summer's Fluctuating Temps: Smartwool Merino 150
WEIGHT: 150g – Lightweight
FABRIC: 87% Merino Wool, 13% Nylon
MOISTURE WICKING: Yes
THUMB-LOOP: No
COLORS: Black, Navy, Gray, Pink, Teal
SIZES: XS to XL
PRICE:$$
GUESSETED CROTCH: Yes
INSEAM (Based on Med): 31-32″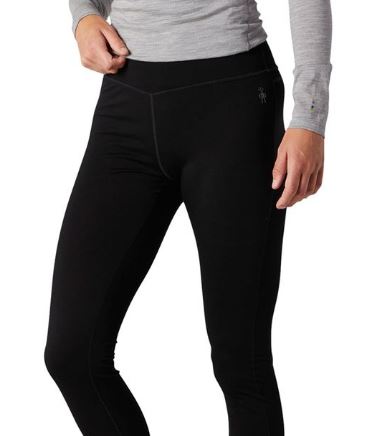 PROS: The Smartwool 150 Base Layer impressed us with the thought that went into the design specifically for women's comfort on the trail. The raglan sleeves of the Smartwool Merino 150 mean no shoulder seams that could rub against your backpack's shoulder straps avoiding an unwanted hot spot. The side seams wrap to the front creating a feminine silhouette.
Even the design of the crew neck was well thought out, being a little deeper than the traditional crew so it won't show under sweaters. Durability is the forefront of the design with Core Spun technology wrapping merino wool around a nylon core for durability. The Smartwool 150 Base Layer Bottoms feature a soft 1.5″ waistband to avoid binding and rubbing as you are moving.
CONS: Although this wool base layer is very attractive worn alone, it is very thin so be fully aware that your bra and panty color might show right through.
---
✔ Best 100% Merino Lightweight Women's Base Layer: REI Co-op Merino 185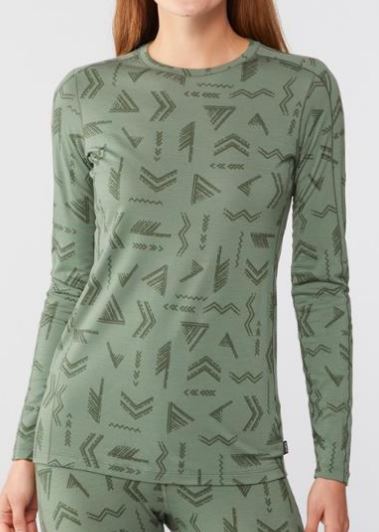 WEIGHT: 185g – Medium/Lightweight
FABRIC: 100% Merino Wool
MOISTURE WICKING: Yes
THUMB-LOOP: No
COLORS: black, teal, orange, olive print
SIZES: XS to XL
PRICE:$$
GUESSETED CROTCH: Yes
INSEAM (Based on Med): 31″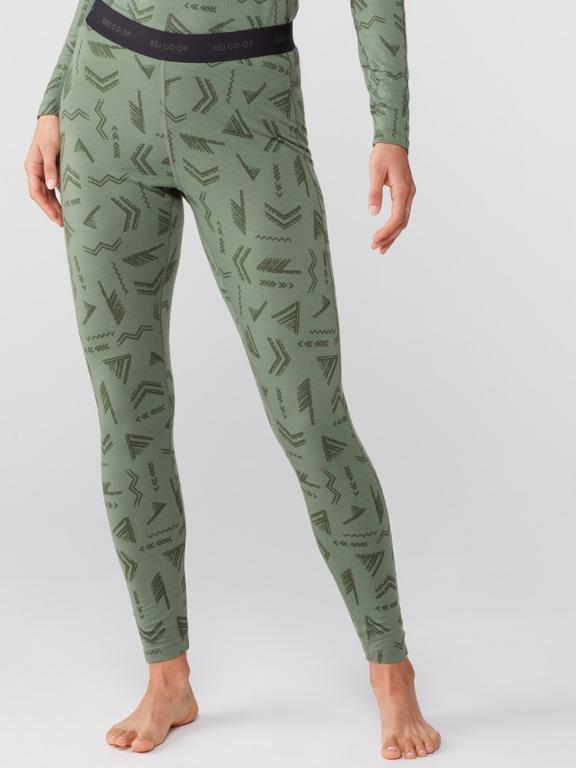 PROS: There is a lot to love about REI Co-op's Merino 185. First, it looks good, especially the olive pattern, when you strip off your heavier layers after a long hike. It is extra-long which helps it stay tucked in when you are active or will cover your bottom if you don't like showing your hinny curves in your leggings. You'll be comfortable on the go with the flat seams and merrow stitch construction that eliminates chafing.
This shirt also features underarm gussets to allow a full range of movement. This warm cozy top is available in short sleeves also including plus sizes. The Matching REI Co-op Bottoms bottoms feature a gusseted crotch for comfort and are available in the same colors for a put-together look!
CONS: This REI base layer will be a little warmer than the Smartwool listed above.
---
✔ Women's Medium Base Layer with Lots of Options: Icebreaker Oasis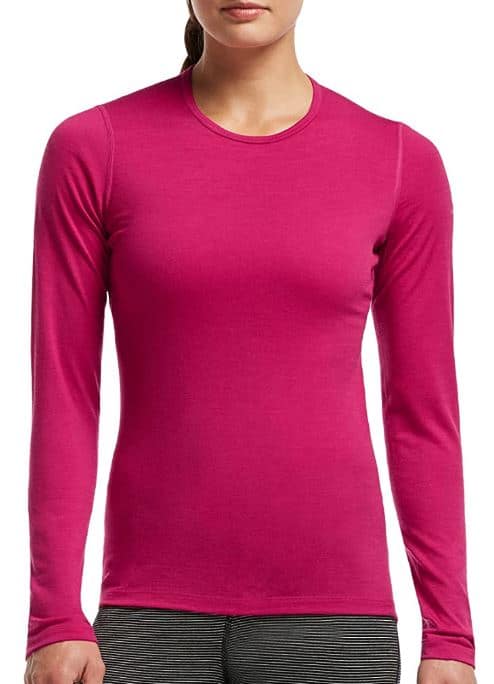 WEIGHT: 200g – Midweight
FABRIC: 100% merino wool
MOISTURE WICKING: Yes
THUMB-LOOP: No
COLORS: Over a dozen amazing color choices
SIZES: XS to XL
PRICE:$$
GUESSETED CROTCH: Yes
INSEAM (Based on Med): 31-32″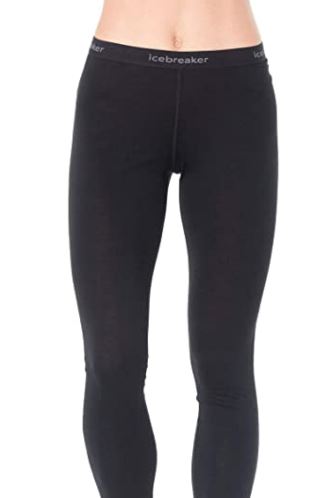 PROS: The Icebreaker 200 Oasis base layer woman's top has a unique gusset under the arms that allow the shirt to easily move with you when you are really active. Imagine no binding under your arms with walking with poles, climbing or even skiing. They've also smartly moved the shoulder seam towards your back to avoid rubbing. We also love the color selection in the tops. The Oasis base layer leggings fit snuggly to allow for easy layering.
CONS: This is listed as a year round base layer, but seriously a 200g wool is going to be way too warm as a base layer on a summer day. It might work well for cool summer evenings alone.
---
✔ Biggest Color Selection in a Midweight Base Layer: Merino.tech 250
WEIGHT: 250g – Midweight
FABRIC: 100% Merino Wool
MOISTURE WICKING: Yes
THUMB-LOOP: No
COLORS: 13 colors
SIZES: XS to XL
PRICE:$
GUESSETED CROTCH: Yes
INSEAM (Based on Med): 31″
PROS: If you want to get out of the rut of black and white long underwear, the Merino.tech Midweight Base Layer is the place to go! You can choose from over a dozen colors from cobalt blue to magenta to traditional black. BONUS: For a limited time Merino.tech is including a pair of merino wool socks with each purchase. What a sweet deal is that! With 100% merino wool, you should stay warm and cozy in these women's merino wool base layers.
CONS: I noticed several complaints about sizing. I think women are used to adjusting the size they order because so many products for hiking are unisex. These shirts are cut specifically for a lady's shape so order the sizes you normally order for fashion clothing.
---
✔ Best Fit for Full Figured Ladies: Minus 33 Ossippee Midweight Base Layer
WEIGHT: 230g – Midweight
FABRIC: 100% Merino Wool
MOISTURE WICKING: Yes
THUMB-LOOP: No
COLORS: 11 great colors, some with 2 tone pattern
SIZES: XS to 3XL
PRICE:$$
GUESSETED CROTCH: Yes
INSEAM (Based on Med): 29-31″
PROS: Not only is the Minus33 Ossipee base layer top warm and cozy, it is beautifully designed for a woman's figure. The use of princess seams down the side creates a feminine shape.  No more looking like you borrowed your guy's shirt! Even better this women's merino wool base layer is available in sizes up to 3XL. The sleeves are slightly longer to allow tucking into your gloves which means you won't have snow up your sleeves. The Minus44 Ossipee bottoms feature a nice snug fit to keep you warm.
CONS: While this base layer shirt uses a traditional shoulder seam which we usually are not a fan of, they've done a great job with the flatlock seams to ensure no chaffing from backpacking straps.
---
✔ Softest and Coziest: Ibex Woolies 2 Baselayer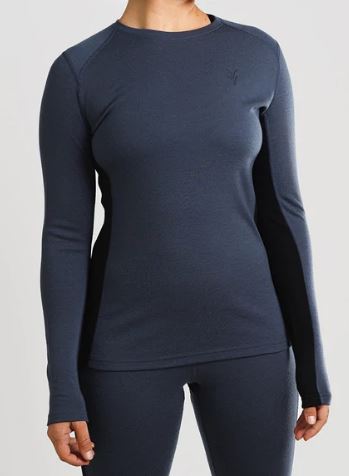 WEIGHT: 240g – Midweight
FABRIC: 100% Merino Wool
MOISTURE WICKING: Yes
THUMB-LOOP: Yes
COLORS: Chocolate, Purple, Navy, Black
SIZES: XS to XL
PRICE:$$$
GUESSETED CROTCH: Yes
INSEAM (Based on Med): 29″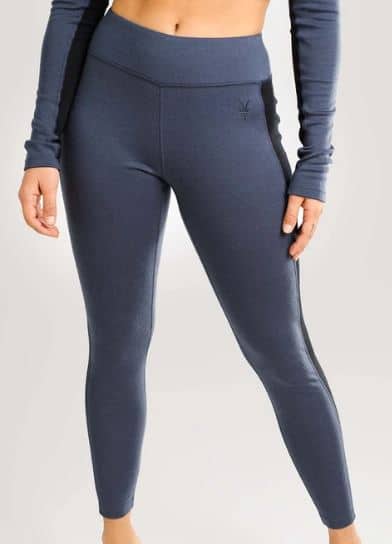 PROS: The Ibex Woolies 2 are incredibly comfortable to wear, with a very soft finish that you will love feeling against your skin. However, the best thing about these 100% merino baselayers is the high-quality construction that gives you clothes that will last for many years.
The Ibex Woolies 2 crew has offset seams so your pack and shirt seams aren't rubbing on top of each other and the neckline is double stitched so it won't stretch out with wear.
I particularly like the way the thumb loops are basted shut upon delivery of this top so you have an option to use them or leave them sewn closed. The Woolies 2 pants feature the same thoughtful design for comfort with a gusseted crotch and comfy yoga-type waistband.
CONS: These are a little more expensive but you can tell the difference in the quality of construction so well worth the investment.
---
✔ Most Durable Mid-weight Base Layer: Backcountry Spruces Merino Base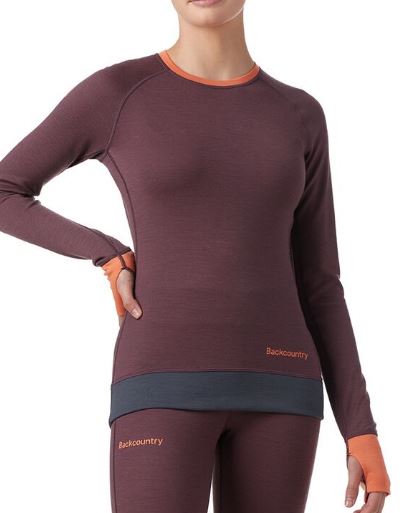 WEIGHT: 240g – Medium-weight
FABRIC: 91% merino wool, 9% nylon
MOISTURE WICKING: Yes
THUMB-LOOP: Yes
COLORS: Huckleberry, Ebony and Blue with a contrasting bottom band
SIZES: XS to XL
PRICE:$$
GUESSETED CROTCH: No
INSEAM (Based on Med): 30″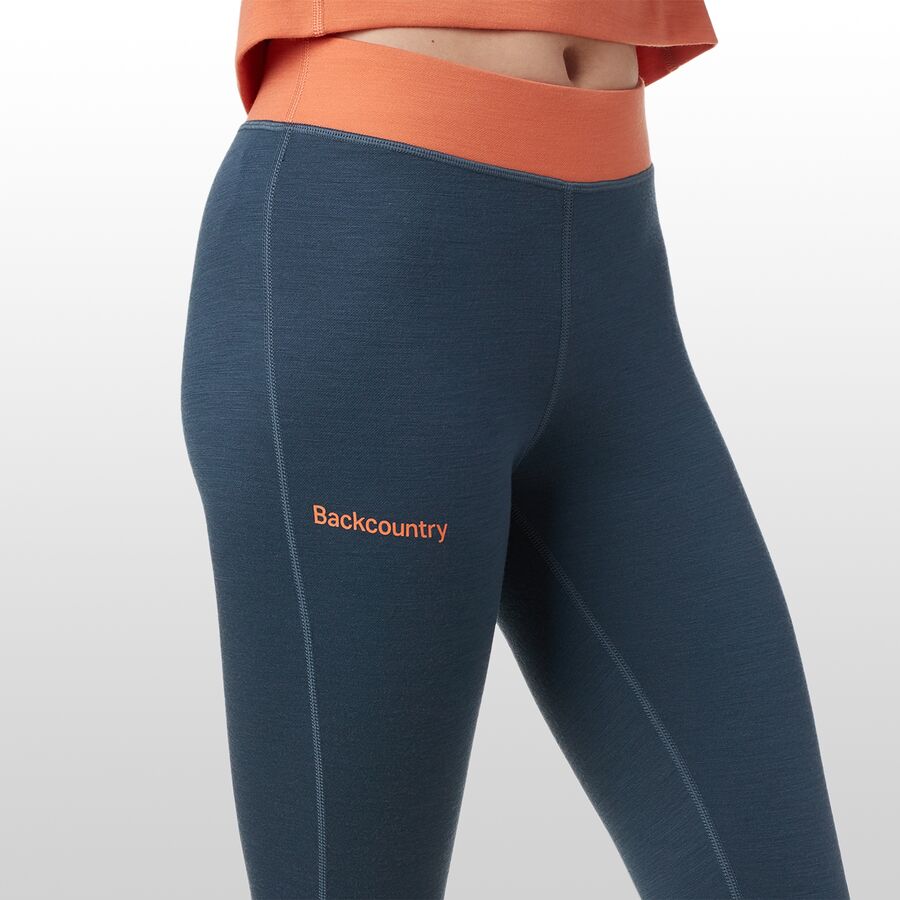 PROS: This Backcountry exclusive Spruces base layer is really smart. The extra-long sleeves have a thumb hole with extra length beyond to easily tuck into your gloves and protect your wrist from the cold. They've incorporated raglan sleeves so there is no seam rubbing at the shoulder.
For a little bit of fashion flash, Backcountry has added a contrasting fabric at the bottom of this lady's merino wool base layer. Not only does it look good, it helps keep your shirt tucked in on an active day. The touch of nylon in both the top and the Spruces base layer bottoms results in a very durable layer that will hold up well with many uses.
CONS: Designed for a snug fit to keep you warm, watch sizing if you want a little extra room. And as much as we love the splash of color in the band, you might find it rubbing if worn with a really snug top layer.
---
✔ Best Bargain Mid-Weight Merino Base Layer: MeriWool Thermal Base Layer
WEIGHT: 250g – Middleweight
FABRIC: 100% Merino Wool
MOISTURE WICKING: Yes
THUMB-LOOP: No
COLORS: 9 great colors including heather and sky blue
SIZES: XS to L
PRICE:$
GUESSETED CROTCH: Yes
INSEAM (Based on Med): 29-31″
PROS: At almost 1/2 the price of most women's merino wool base layers, the MeriWool Thermal Base layer top is a pretty amazing deal. We also love the wide variety of soft colors that are available in addition to your traditional black and gray. You'll find the top has pull-forward side seams to reduce underarm friction between layers.
CONS: So let's be honest, with the lower price comes an occasional manufacturing flaw requiring a return was mentioned in several reviews. With Amazon's great return policy, you might find it worth a little risk to save a lot of money.
---
✔ Best High Neck Base Layer for Superior Protection: Icebreaker 250 Vertex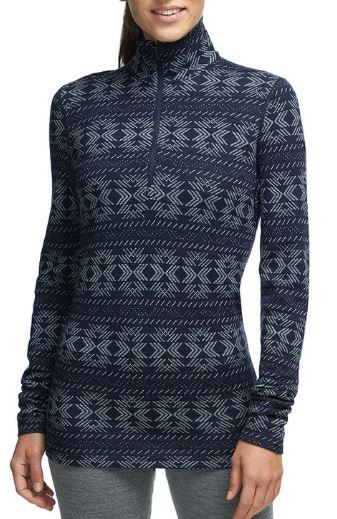 WEIGHT: 250g – Midweight
FABRIC: 100% Merino Wool
MOISTURE WICKING: Yes
NECK: High Neck with 1/2 zipper
THUMB-LOOP: Yes
COLORS: Red, Green, Black, Navy Pattern
SIZES: XS to XL
PRICE:$$$
GUESSETED CROTCH: Yes
INSEAM (Based on Med): 29″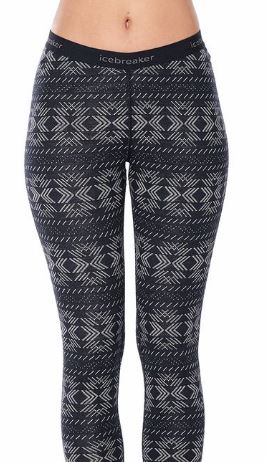 PROS: We love the 1/2 zipper in the Icebreaker 250 Vertex base layer top that allows you to easily adjust your body temperature. Keep this merino wool base layer zipped up to hold in all your body heat, but get a little too warm in the sun you can easily cool off.
The offset shoulder seams reduce the risk of chafing and the gusseted underarm leaves you plenty of freedom to move. The drop-tail hem gives you a little extra length which is nice to cover your backside when you strip down when you come in to sit by the fire. The matching Icebreaker 250 Vertex leggings really pull together the total look. Long underwear never looked so good!
CONS: Not everyone likes a high neck base layer, so think about your personal style. I prefer to not mess with scarves so this is perfect for me.
---
✔ Best Heavyweight Bottoms: MERIWOOL Heavyweight 400g Thermal Pants
WEIGHT: 400g – Heavyweight
FABRIC: 100% Merino Wool
MOISTURE WICKING/BREATHABLE: Yes
COLORS: Black
SIZES: XS to L
PRICE:$$
PROS: As we mentioned, most people don't like a heavyweight top for a base layer. They prefer something lighter and then use multiple layers to keep warm so they can add and subtract as their activity level fluctuates. However, bottoms are a different story and when you only have 2 layers. Although a 200-250 weight merino wool is plenty warm when you are active hiking or skiing, there are definitely times you'll want something extra. These Heavyweight Merinos Wool Base Layer pants from Meriwool are super warm and cozy.
CONS: I'm disappointed that these thermal pants don't come in larger sizes. For XL or plus sizes, you can switch over to the men's Meriwool Pants.
Features We Evaluated in Our Selection of the Best Base Layer
In addition to the warmth factor we've already discussed, there are several other features we evaluated that impact the comfort of the best base layer for women. Let's take a look:
Ease of layering the base layer with your outerwear
You want your base layer to fit like a second skin so you don't feel like the little brother Randy in A Christmas Story who can hardly move after all his layers. Cuffs at the wrist and ankles that are snug will make it easier to pull on sweaters and pants without your base layer bunching up.
Longer sleeves or sleeves with a thumb loop are great for keeping your sleeves in place when you pull on your next layer. If you've ever tried to reach up your sweater to pull down your long underwear sleeve you know exactly what I mean!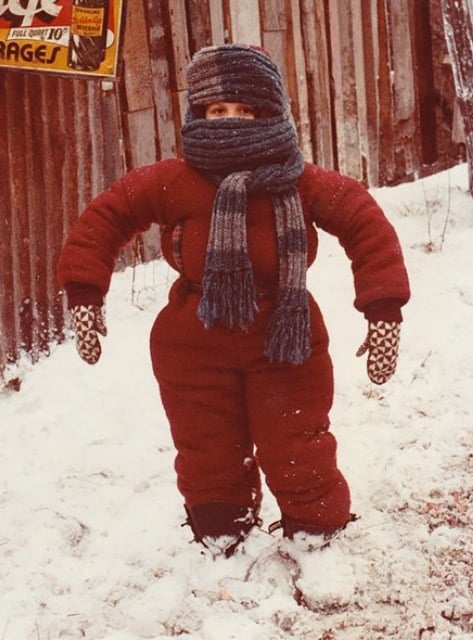 Stretch for Freedom of Movement
The whole reason you are outside is to be on the move, so you want your thermal underwear layer to move with you. You don't want it to bunch under your arm or in your crotch.
The key to movement is in gusseting. That is when seams are laid out to allow an extra piece of fabric in those areas that move a lot that can stretch with you. Additionally, merino wool naturally stretches and moves with you.
Durability for a Base Layer that Will Last for Years
The long strands of merino wool make it strong when woven into fabric. You'll also find some companies add a bit of nylon, one of the strongest fibers, to their merino wool base layers to add strength to the fabric.
Breathability and Moisture Wicking to keep you Dry During a Workout
The last thing you want is to get sweaty and have all that sweat held tight against your skin. Yuk! Merino wool is superior at moving moisture aleway from your skin (wicking) and quick drying.
No Chaffing and Rubbing Seams to Avoid Rashes and Raw Skin
The most important feature in eliminating raw skin is flatlock seams. Those are seams that are folded over each other so there is no raw edge. All the base layers we selected feature flatlock seams.
The other factor to consider is the placement of seams. Some shirts move the seams off the shoulder so you can comfortably carry a backpack. Other shirts use forward or princess seams that eliminate your arms rubbing that seam as you move your arms with walking sticks or ski poles. And those gusseted arms and crotches play an important role in reducing seams rubbing tender body parts.
Neck Style of Base Layer Top for Comfort and Ventilation
The most common neck style in base layers is a crew top. That's because a crew top easily layers under other clothes. However, when working outside in cold weather I love a high-neck top like the Icebreaker Vertex Top, one that you can zip and unzip to manage your temperature when you've been super active.
Women who don't like tops that hug the neck will love the alternate choices of the Icebreaker Oasis Top which is offered also in a V-neck and a scoop neck.
Finally, when it comes to Merino wool base layers, size is very important. If possible, try a few garments before buying them to make sure that they fit perfectly. As a general rule of thumb, a snug fit (but not so snug that you can stretch) is great if you'll be hiking out in the cold, while a looser fit is ideal for warmer conditions.
Frequently Asked Questions:
If Merino Wool is so Great, Why Bother With Anything Else?
For most people who choose a synthetic fabric for their base layer, it comes down to price. Merino Wool base layers tend to run almost twice the price of high-quality synthetic women's base layer tops. Don't get me wrong, there are some pretty amazing non-wool base layers available. For example, my husband loves his non-merino Under Armour Cold Gear Long Sleeve Shirt for ice fishing. I picked it up on sale for about $40, whereas most merino wool tops will run $80-100.
But don't sweat the price if you really want merino wool. We found a great bargain in the Meriwool 100% merino wool midweight base layer for about $60.
What is the difference between men's and women's base layers?
The differences between men's and women's base layers are all around the shape of our figures. A man's top has a rather straight shape while a quality woman's top will have seaming to allow for your bust and hips. However, if you like a very slim fit, there's no reason to not try out a man's base layer top. As for bottoms, well many men's base layers have the extra opening for you know what. That means extra fabric that you don't need to have bunching under your clothes. Women's bottoms are also shaped for a woman's fuller hips.
What does layering mean when using a base layer?
Layering your clothes means wearing 2-3 different clothing articles each layered on top of the other. Each layer serves a different purpose as we explain in our Guide to What to Wear for Winter Hiking. For example, the base layer is your primary insulation layer. If a mid-layer is used, its purpose is to allow adding and removing layers to accommodate changes in weather. A top layer is usually designed to be rugged, wind resistant, and often waterproof to handle tough trail conditions and keep you dry.
How do I Care for Merino Wool Base Layer
You can machine wash your Merino Wool Base Layers at a cool temperature. Hot water will probably cause some shrinkage. Don't use harsh cleaners like bleach. Merino wool naturally repels stains so you don't need that extra stress on the fabric strength.  Also, don't use any fabric softeners which tend to coat the fibers and reduce the ability of the wool to breathe.
I like to air dry my merino wool clothes because you will get a longer life out of them without the heat of the dryer. The fabric is quick-drying and ready to go the next morning. However, if you need to machine dry, remember no fabric softener sheets and dry on a delicate setting. The dryer is where shrinkage will happen.
Reminder, merino wool is naturally antimicrobial. That means it repels bacteria and fungi that make clothes stinky. So you can wear something many times before you need to wash it. Less washing, the longer life of your investment in high-quality merino wool base layers.
Does Merino Wool Itch?
Merino Wool is not itchy like regular wool. That's because the fibers are longer and finer, which means they will bend as you move and as they wrap around your body. Other wools have short, heavy fibers which don't bend as easily. And because they are short they tend to poke you.
If you have a new merino wool shirt that feels a little bit itchy, wash it in cool water to remove any of the small broken strands that occasionally happen in the production process. Drying in a hot dryer will also cause the fibers to break. All the more reason to air dry.
Does Merino Wool Shrink?
If not properly cared for merino wool clothing items will most likely shrink. With a little care, you should never have a shrinkage issue. The good news is that it isn't that hard to take care of your investment in your merino wool base layer. Always wash in cool water and never dry in a hot dryer. It's that simple.
Do you wear regular underwear with a base layer?
It's really a matter of personal preference and comfort. A base layer top has no support for the girls so most hikers and skiers will choose a supportive merino wool or bamboo bra when they are planning an active day. When it comes to bottoms, a properly snug-fitting base layer legging or tight won't require another layer of underwear. However, you might want to wear a pair of lightweight hiking panties designed to wick away sweat for a bit of coverage when you return for the night and want to strip out of all your layers.
Don't forget to grab a pair of liners for your gloves for yourself. It's another base layer we often forget until our fingers are freezing. You can find everything in our complete Guide to the Warmest Glove Liners.  Also check out our Guide to the Best Winter Hiking Hats to keep super warm.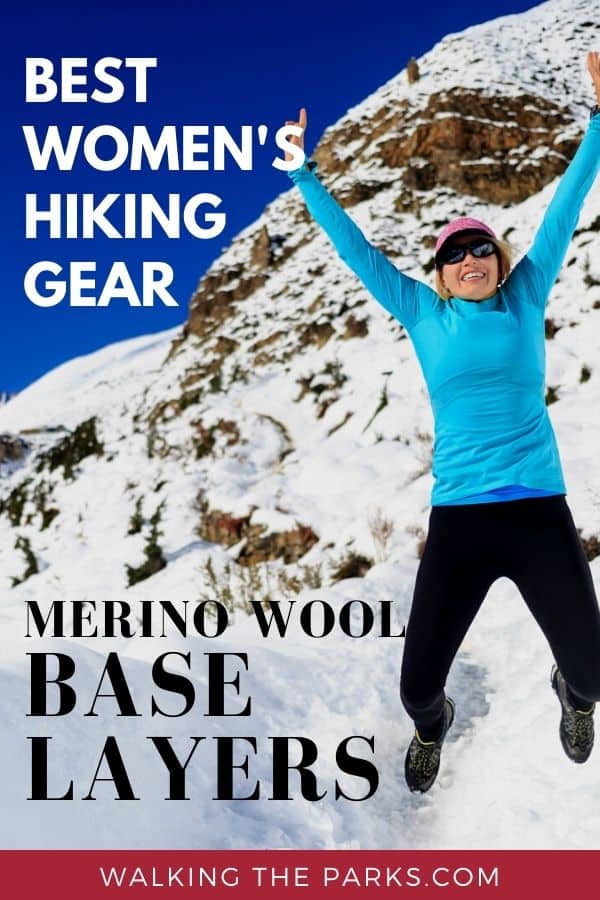 Once you have found the best women's merino wool base layer for you, it will bring a whole new dimension to your hiking and you will wonder how you ever coped without it!
This article was originally written on October 16, 2020. However, it has been recently updated to ensure you have the most current information.