Everglades National Park is huge. It covers 1.5 million acres with miles upon miles of rivers and coastlines. As you plan your Everglades National Park itinerary, you'll find it's near impossible to explore the whole park in one day. But have no fear! We are here to help you create a vacation plan that will provide an amazing Florida Everglades experience rather you only have one day in the Everglades or if you have 2 to 3 days.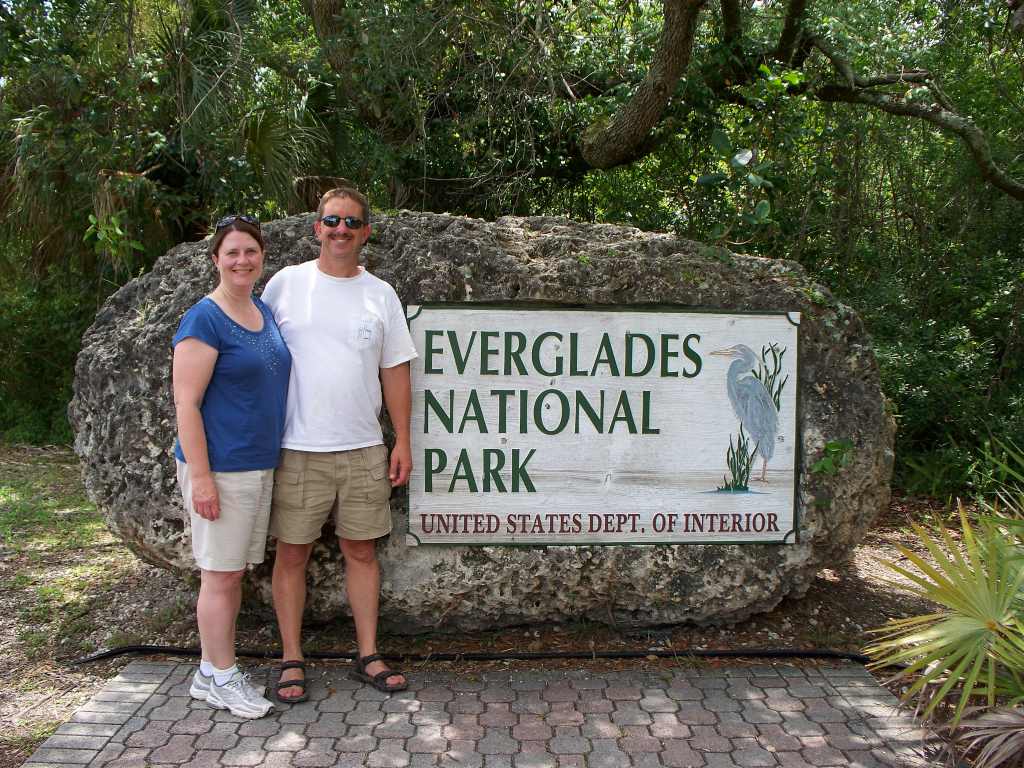 Crossing much of Southern Florida, the Everglades is the largest subtropical wilderness in North America. We usually picture it as the land of swamps and alligators. But there is so much more to this diverse park. There are actually 9 different ecosystems here and each is home to unique plants and wildlife.
The Everglades is known for its slow-moving, shallow river system, fed by the Kissimmee River and Lake Okeechobee, draining into Florida Bay. These waterways are endangered as water has been diverted away from Southern Florida for other use.
This post contains affiliate links to make it easier for you to find the products I have mentioned. You don't pay any extra and in some cases I could earn a small commission.
About the Four Areas in Everglades National Park
To help you get a lay of the land and prioritize your adventure here's a quick overview of the 4 major areas of the Everglades.
Gulf Coast
This area of Everglades National Park is located on the western side of the park and is characterized by its coastal ecosystems. Here you'll find beaches, mangrove forests, and saltwater marshes. 
In this area, the most popular activity is to explore by boat or kayak. The Ten Thousand Islands are mangrove islands that are home to a plethora of wildlife. Or you can travel down the Wilderness Waterway and backcountry camp your way to Florida Bay.  
Sadly the Gulf Coast Visitor Center in Everglades City was so damaged by Hurricane Ian that it is not currently open. A temporary station has been set up to assist you as needed, but you'll not find much else. The parking lot and the canoe and kayak launch are open. And Everglades Florida Adventures continues to offer boat tours and rent canoes and kayaks from this location.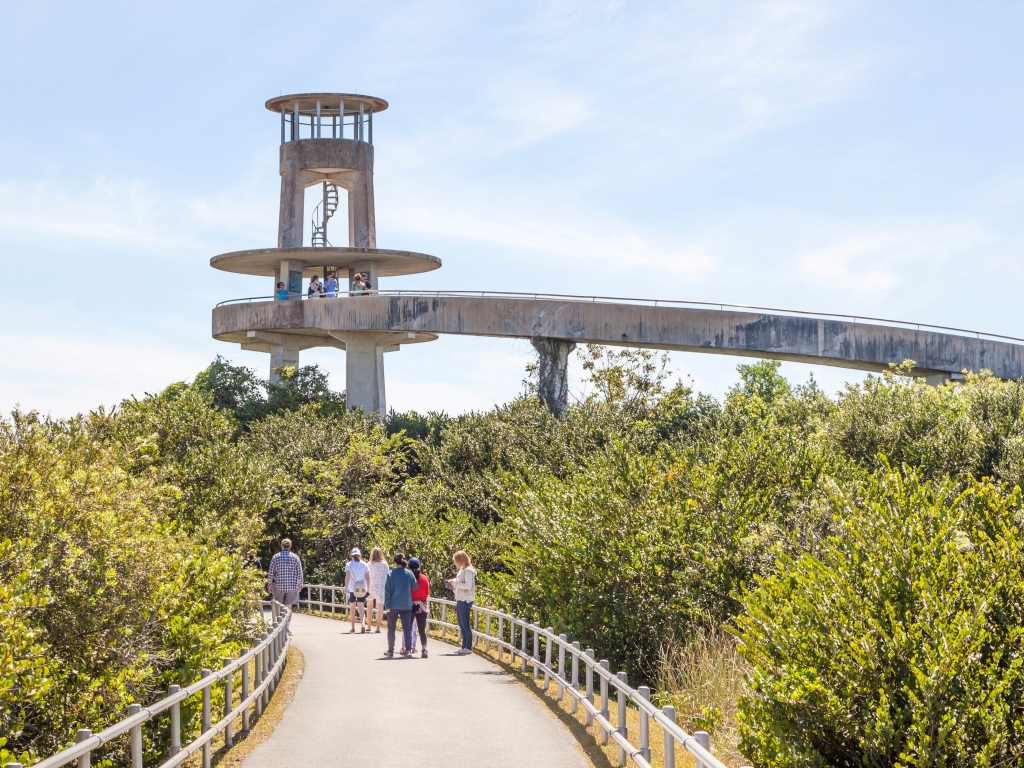 Shark Valley
Located in the northern section of the park, Shark Valley is a unique area comprised of extensive sawgrass prairies. This area along the Tamiami Trail is also home to a large population of alligators.
The Shark Valley Visitor Center is a busy place, filled with great educational displays. It is the hub for many popular activities. Visitors can explore this area by hiking or biking on a 15-mile loop trail, with ample opportunities for wildlife viewing along the way. You'll also find the infamous airboat tours in this area of the Everglades.
Royal Palm
The Royal Palm area is located in the northeastern section of the park and is home to some of the most popular hiking trails in Everglades National Park. This area is also home to the park's main visitor center, the Ernest F. Coe Visitor Center, where you can watch a short film about the park's flora and fauna, and browse through exhibits that highlight the park's ecology.
Visitors can explore one of the most popular trails, the Anhinga Trail, which winds through a sawgrass marsh and provides ample opportunities to view wildlife such as alligators, herons, and turtles.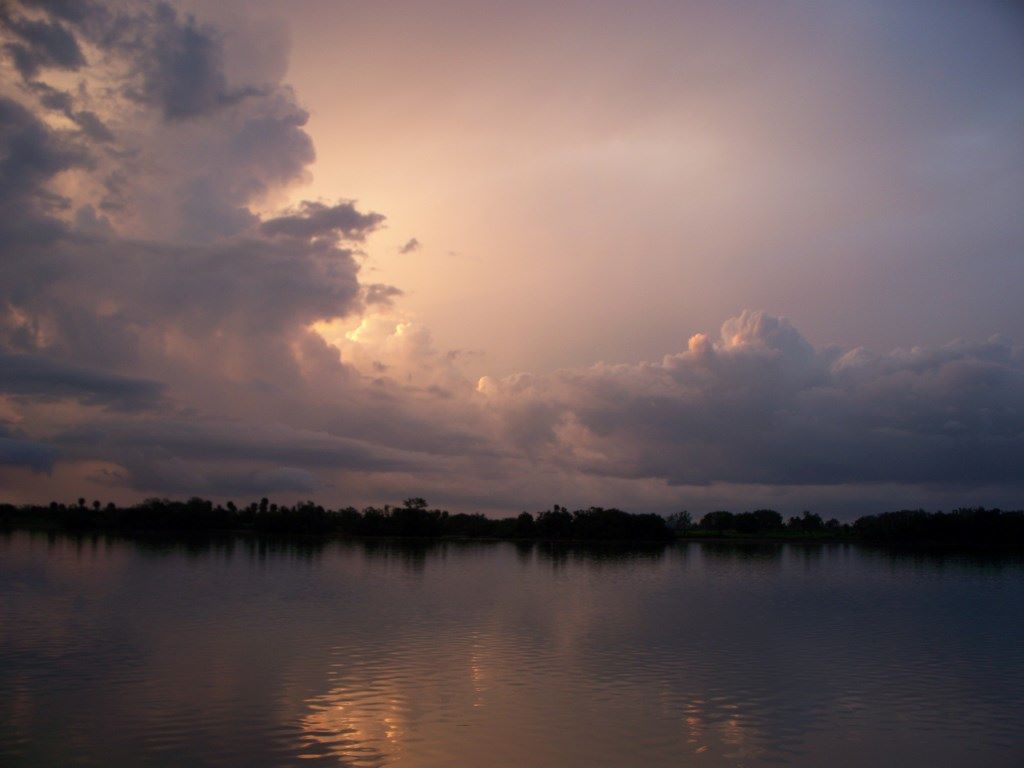 Flamingo
The Flamingo area is located on the southern tip of the park and is known for its diverse marine ecosystems, including seagrass beds, mangrove forests, and shallow bays. 
Visitors can enjoy activities such as kayaking, fishing, and camping in this area, and can also take a boat tour to see dolphins, manatees, and other marine life. This area is also a popular spot for birdwatching.
The Flamingo Visitor's Center, as well as a lodge and campground, is home in the Flamingo area of the Everglades. 
One Day in Everglades National Park Itineraries
Because the Everglades are so big, it's impossible to see the whole park in one day even if you are willing to exhaust every minute of the day. So we've created 2 different 1-day itineraries for you based on where you are spending the night. After that, you'll find our 2 and 3-day itineraries for those of you who want to explore every inch of The Everglades.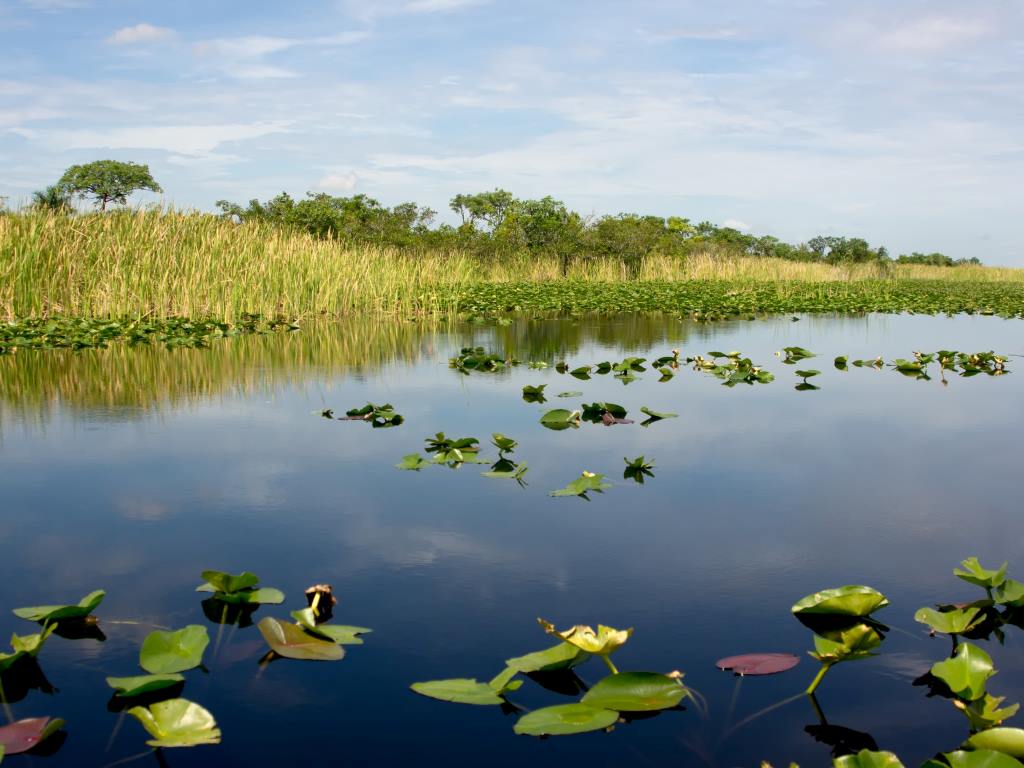 Here's a quick glance at the Everglades itinerary. You'll find detailed descriptions of each item in the itinerary below. 
One Day Itinerary: From the East including Homestead, Florida City, Miami
During our first trip to the Everglades, we were based out of Miami. It's crazy how easy it is to get from that robust city to the wilderness of the Everglades in under an hour.
Here's the perfect one-day itinerary from the Homestead Entrance to Everglades National Park. You'll have an experience to remember. You'll find detailed descriptions of each of these things to do below.
Start at Ernest F Coe Visitor Center
Walk Long Pine Key Trail
Lunch at Long Pine Key Picnic Area
Pa-hay-okee Overlook (Trail)
Explore Nine Mile Pond (canoe rental Dec 1- April 15)
Boat on Florida Bay: Canoe or Kayak, Boat Tours, Rent Boats
Picnic Dinner at Flamingo
Wrap up with a Gorgeous Sunset over the Bay
Note, it will take you about an hour to drive the 40 miles back out of the park when you end your day. After a full day exploring the Everglades, that drive back to Miami (a total of 2 hours) felt really long. There is a hotel and campground at Flamingo if you want to extend your stay and enjoy that gorgeous sunset. 
One Day Itinerary: From the West including Everglades City, Naples, Fort Myers, Tampa
Our second trip to Everglades National Park was a day trip from Fort Myers. It's an easy drive to explore the Western and Northern edges of the park.
Start at the Shark Valley Visitor Center
Explore the Shark Valley Bicycle and Tram Trail, including the 45-foot observation tower.
Walk Nature Trails near Visitor Center: Bobcat Boardwalk and Otter Cave Hammock
Take an Airboat Ride and Explore Wildlife Park
Lunch – Restaurants at the Airboat Park or Picnic at Shark Valley
Head back to Everglades City for an afternoon on the water: Rent Kayak or take Boat Tour through Thousand Islands
If time allows, stop at Big Cypress Bend Boardwalk on your way home. It's managed by Florida State Parks and a great boardwalk experience through the Everglades.
Note, during the spring break season the Shark Valley Visitor Center is overwhelmed with visitors between 10 am and 3 pm so plan to arrive early.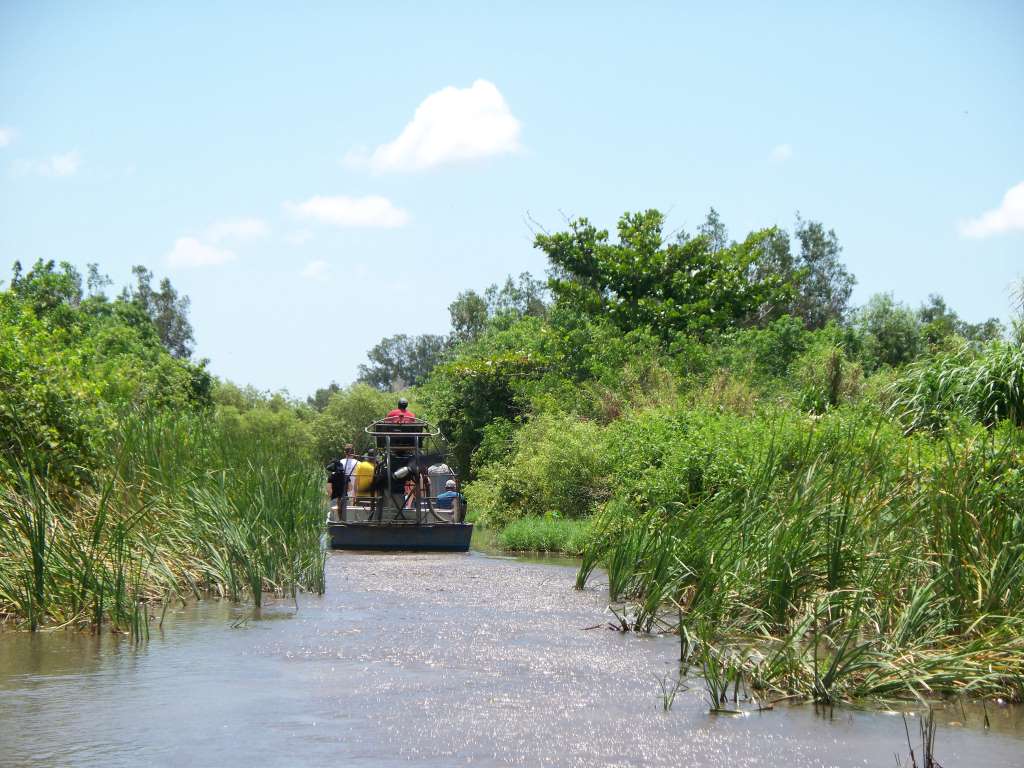 Two-Day Itinerary for Everglades National Park
If you have two days in the Everglades, you'll be able to cover a lot of ground. Our two-day itinerary is a combination of both of those listed above, just slightly modified to make sense for travel time.
Two-Day Itinerary Starting on the East Side of Everglades
It's very easy to combine the one-day itineraries for an incredible two days. 
Start with the eastern day 1 above with no need to modify that day. 
For your second day start your day at the farthest point in Everglades City with an early boating adventure. Then work your way back to Shark Valley and end with your incredible airboat ride.
Two-Day Itinerary Starting on the West Side of the Everglades
If you are starting from Western Cities, you can make a few changes to the one-day itinerary for an amazing trip:
On the first day, drive the longest part first which is to go all the way to Flamingo. Then work the Day 1 itinerary in reverse. That way if you are having too much fun and fall behind, you can cut short some of the nature hikes on your way back. 
Then on the second day, enjoy Shark Valley and your airboat ride in the morning. Then go boating through the Thousand Islands in the afternoon.
Three-Day Itinerary for Everglades National Park
This is my favorite itinerary. If you have 3 days in the Everglades you will have the best trip of all. The only significant modification is to add a one-night stay at Flamingo and combine it with both of the one-day itineraries. You have your choice of camping or staying at the lodge. This itinerary works well no matter which side of the park you start your adventure.
Top Things to Do in Everglades National Park
Everglades National Park, located in Florida, is a vast and diverse ecosystem with many different and unique opportunities for exploration and adventure. When planning your itinerary, here are some things to do in the park that you should not miss:
Visitor Centers
There are 4 visitor's centers in Everglades National Park. One for each area of the park. The most interesting centers are the one at Shark Valley and Ernest F Coe Visitor Center at the Homestead entrance. Here you'll find videos and interactive displays about the Everglades wildlife and eco-systems. Unless you need ranger assistance, I'd suggest skipping the visitor center at Gulf Coast and Flamingo.
Airboat Rides
Taking an airboat ride might sound a little cheesy, perhaps more of a goofy theme park ride than a real-life experience. However, it was our favorite thing to do when we visited the Everglades. In fact, we did the airboat tour 2 different times! 
A tour with an authorized guide company is the best way to kick off your itinerary for the Everglades. You'll explore the park's expansive marshland and see a variety of wildlife, including alligators and wading birds.
Authorized Airboat Tour Companies
The tours listed below are the only ones authorized to enter Everglades National Park. The other tours you see advertised may operate on private property or may tour into Big Cypress National Preserve.
All three of these tours companies are pretty amazing. They've been selected to partner with the park because they go above and beyond in respecting the Everglades while providing a fun experience for visitors. You'll also find restaurants and live wildlife exhibits at all three tour companies.
Nature Walks: 
The park has over a dozen short nature walks that offer up-close views of the wildlife and plants that thrive in the Everglades. Many of these walks have educational signs that provide information about the flora and fauna visitors encounter along the way. For example, while walking on one of the nature trails, we felt child-like delight as we watched a turtle laying eggs under one of the walkways. These small events make a trip to the park truly memorable.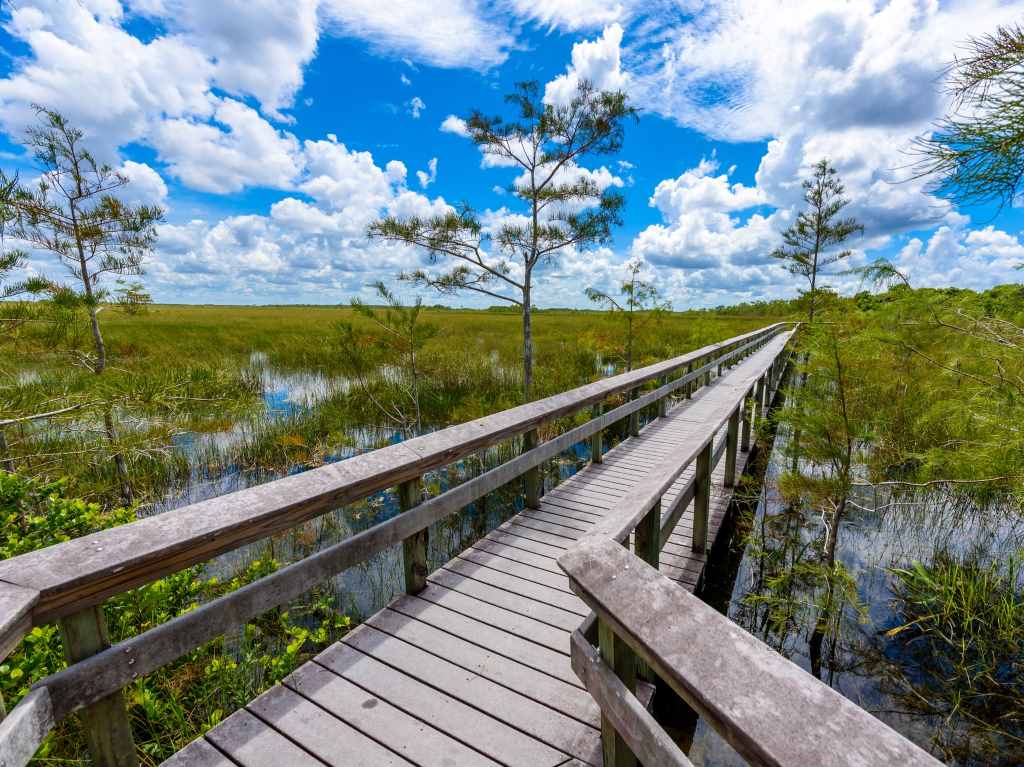 When planning your itinerary, these short walks are perfect for adding flexibility to your day. Since they are usually a 15-45 minute experience you can add and subtract them as your day progresses. However, don't stop at just one walk and think you're done. There's always something different at each stop so cram in as many as you can. Here's a list of the Interpretive Nature Walks in the Everglades:
Royal Palm/Pine Islands Area Nature Walks
Shark Valley Nature Trails
The only nature trail in the Gulf Coast area is on Sandfly Island which can only be reached by boat.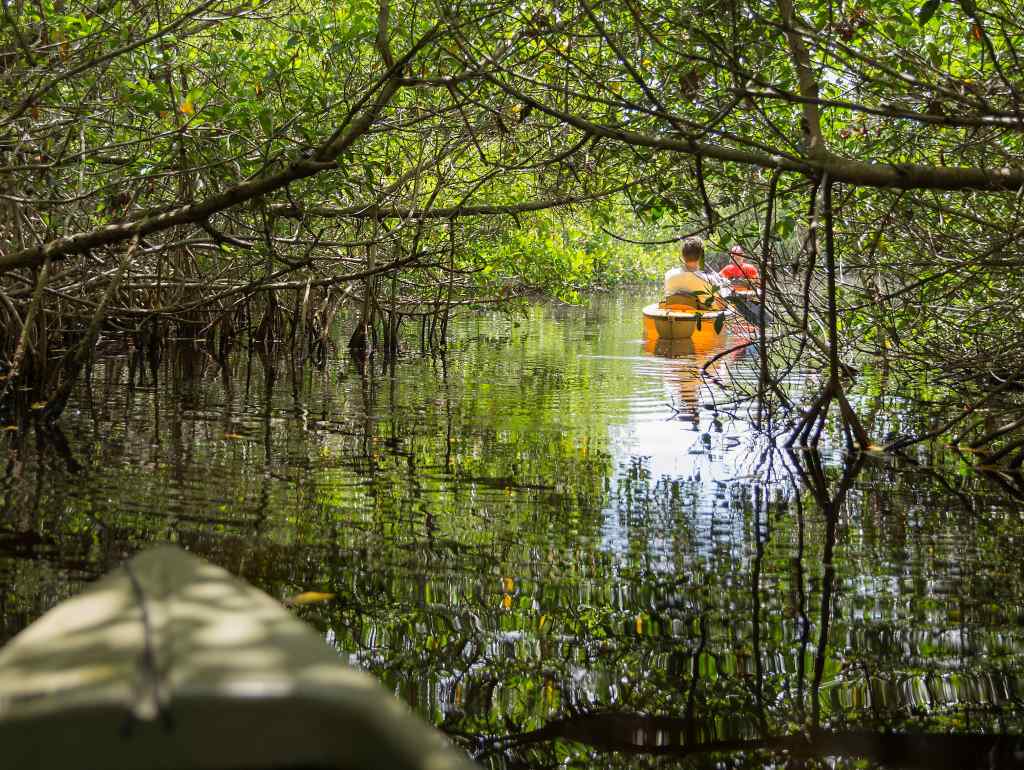 Canoeing/Kayaking: 
Canoeing or kayaking through the Everglades is one of the best ways to see the park's beauty. And the Everglades waterways are the only way you can explore deep into the park. Feel free to bring your own or rent one at either the Flamingo Visitor Center or the Gulf Coast Visitor Center. It's a good idea to make a rental reservation.
In the Flamingo area, Nine Mile Pond Canoe Trail is a popular loop trail for beginners. December through April you can rent canoes and kayaks at this location (reservations suggested). Or you can join a naturalist on a guided tour along this trail.
And on days when the winds are mild, paddling around on Florida Bay is a lot of fun. There are several more challenging canoe trails in the Flamingo area if you want to take your adventure up a step. Rentals are available from Flamingo Adventures
In the Gulf Coast area, novice paddlers can try the Sandfly Loop which takes you to a small island with a nature trail. However, for most trips beyond that you are paddling through the Ten Thousand Islands and some experience with nautical maps is critical. Rentals are available from Everglades Florida Adventures.
For those of us who don't have a lot of experience with nautical maps or if you have little to none kayaking experience I'd highly recommend you go out with a tour guide. In addition to the risk of getting lost or stuck, there are a lot of scary things in the swamp for the first time visitor.
There are several very family friendly tours where not only do you get the safety of an experienced guide, you'll get the inside scoop about the Everglades. One of the highest rated for people with no kayak experience is the Mangrove Tunnel Kayak Eco-Tour that takes off near Everglades City.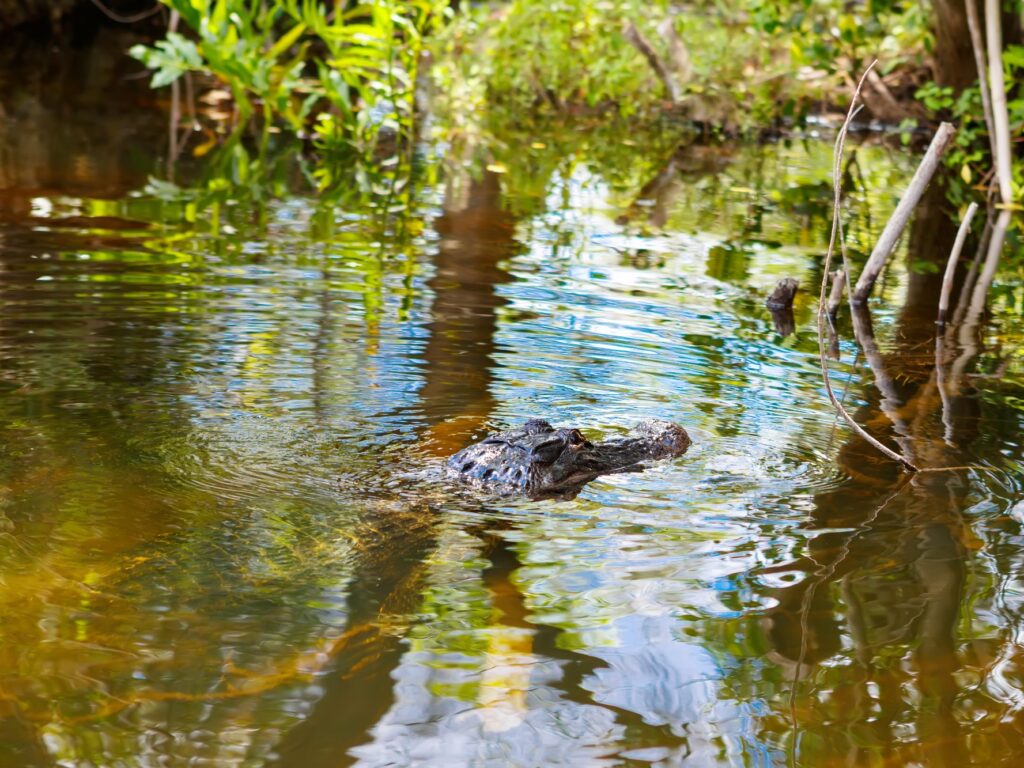 Backcountry Kayaking and Camping
Going backcountry in the Everglades is incredibly different than the National Parks in the mountain states! Here you need a canoe and a waterways map instead of a hiking map. If you want to include backcountry adventure in your Everglades National Park itinerary it's important to review the detailed wilderness information available and plan your trip carefully including making advance reservations.
For a beginner's level guided tour, the Everglades Institute offers an overnight educational program for school groups and clubs.
Tram Tour:
The park offers a 15-mile tram tour through Shark Valley, where you can walk up a tower that has views of up to 20 miles in all directions. The tower provides a bird's-eye view of the park's expansive marshland and diverse wildlife.
Biking:
Everglades National Park has five bike trails, each through a different area of the park and ranging from three to 16 miles long. The Shark Valley trail is the most popular for families because it is easy to access the paved trail. You can join a ranger-led bike tour, or explore the trails on your own. Bike rentals are available at Shark Valley and at Flamingo.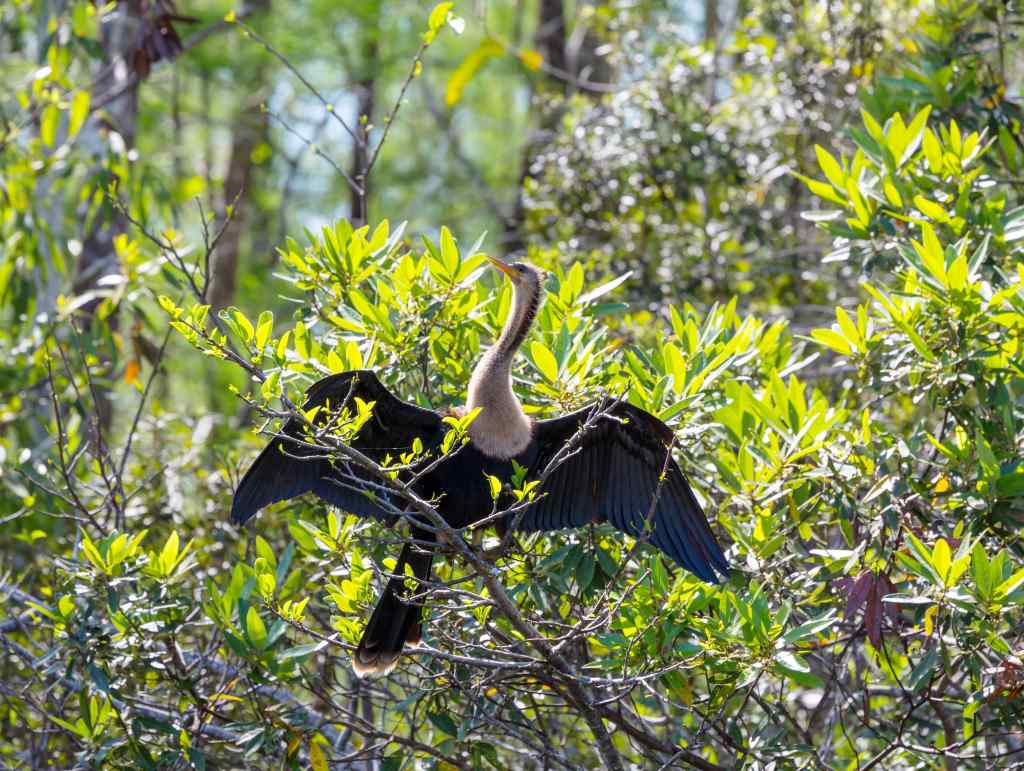 Bird Watching:
With over 350 species of birds in the park, bird watching is a must-do activity. Even if you're not an avid bird watcher, you'll be amazed by the sheer number of birds in the park. From the Homestead entrance, almost any pond will provide ample opportunities to observe interesting birds. And Shark Valley is always a busy birding location.
Most mornings there is a ranger led walk along the Anhinga Trail where he'll help you spot the birds that thrive here. If you want to do something really cool, join a photography birding tour. It will take you via boat through the ten thousand islands where you'll get some amazing pictures.
Boat Tours:
Flamingo Marina offers boat tours that take you through the park's waterways. We took a wildlife tour of the bay and saw a variety of marine life, including manatees and dolphins. Boat tours of the Ten Thousand Islands are available from Everglades City.
Fishing:
Fishing is a popular activity in the Everglades, with 1/3 of the park covered with salt water and most of the rest consisting of freshwater streams and rivers.
Geocaching:
Geocaching is a fun and educational activity that is popular in the park. Park rangers manage the geocaching program to ensure it is an educational opportunity for visitors. (Note – Private geocaching isn't allowed in National Parks.)
Nearby Places to Visit
Southern Florida is an interesting place with many other things to do. It's easy to fill a week or two exploring all the unusual places.
Biscayne National Park
Don't miss an afternoon at Biscayne National Park while you are so close. It's located a few miles from the Everglades outside of Homestead, Florida. Biscayne is almost completely underwater and one of the best places to snorkel the Florida Coral Reef. We combined our visit to the Everglades with a day in Biscayne.
Big Cypress National Preserve
Big Cypress is one of the 11 National Park Sites in Florida. It sits just North of the Everglades and is full of wildlife and opportunities to explore. It adds almost 800 acres to the swamps that have been preserved in Southern Florida.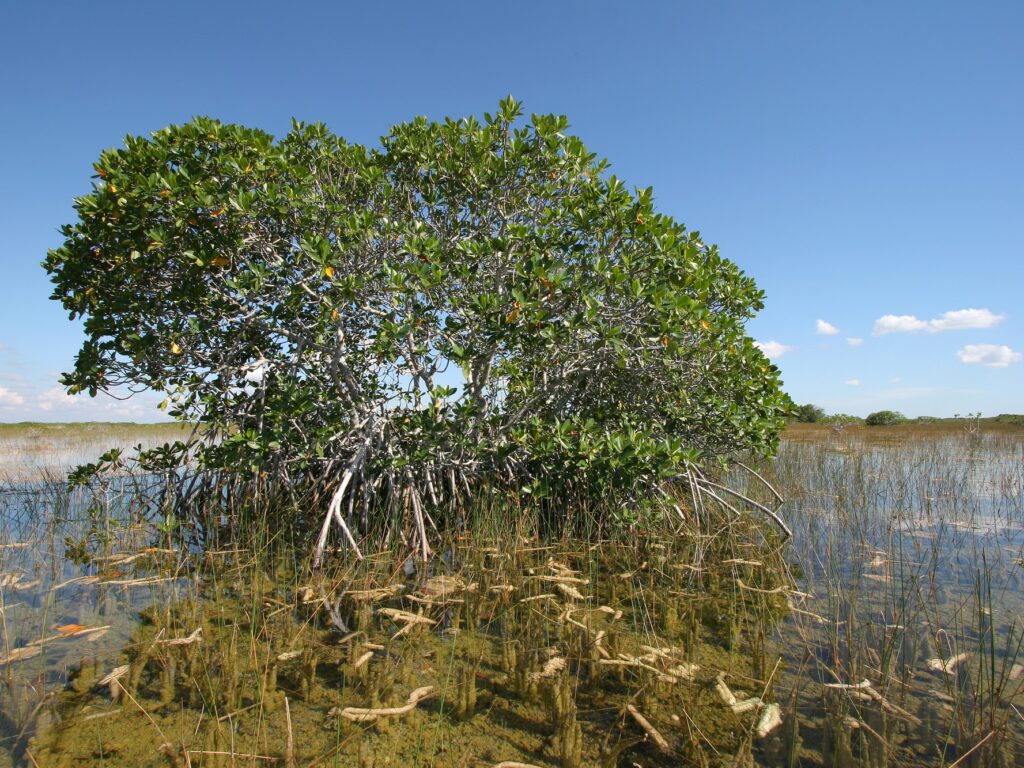 Where to Stay When Visiting the Everglades
Everglades Lodging
In Park Hotels
In 2005, two hurricanes destroyed the Flamingo Lodge in Everglades National Park. Since that time construction has been underway to build new lodging in the Flamingo area. At the time of this writing, the new lodge wasn't open yet but you can check here for updates. It's a pretty cool complex that is utilizing recycled shipping containers turned into hotel rooms.
Hotels Near Everglades National Park
If your goal is to follow the 2 or 3 day itinerary for the Everglades, then you'll find staying near Homestead the most convenient. Homestead offers a wide variety of lodging choices from major brand motels to adorable rentals. Just watch out for race weekends when Homestead fills up with fans and hotel prices jump. You can check availability and prices for Homestead Lodging here. Some people enjoy staying in Miami with access to the airport and more nightlife. That only adds an hour to your drive to the park.
Or if you are a Gulf Coast aficionado, there are several waterfront options in Everglades City. Naples and Fort Myers are also close enough to make a day trip to the Everglades.
Everglades Camping
There are a variety of camping options for visitors to Everglades National Park
In Park Front Country Campgrounds
In Everglades National Park you'll find 2 campgrounds, both accessible through the Homestead Entrance to the park.
Long Pine Key Campground is just a few miles into the park, near the Ernest F. Coe Visitor Center. It's a beautiful wooded campground without many amenities and is only open November 1st through April 30th.
Flamingo Campground is about 20 miles into the park near the Flamingo Visitor Center. It offers a variety of campsites, from full hookups to rustic so make sure you check your campsite details before you book. It's open all year.
Both of these campgrounds are managed through a concessionaire, Flamingo Adventures, and reservations are suggested.
In Park Backcountry Camping (Wilderness Camping)
For a camping adventure that can't be duplicated anywhere, go backcountry in the Everglades. The only way to access these campsites is to canoe or kayak to them on the Wilderness Waterway. It takes a bit of planning to put together this type of trip, so if it's your first time make sure you read through all the info on the NPS website and book your campsites on Recreation.gov.
Campgrounds Near Everglades National Park
Nearby you'll find 8 campgrounds in the Big Cypress National Preserve that offer a variety of front country services. You'll also discover private RV campgrounds near Everglades City and Homestead.
Tips for Your Everglades Itinerary
Best Time to Visit the Everglades
The best time to visit Everglades National Park is in the Winter when it's fairly dry. The winter season runs from December to Mid-May with temperatures in the 70s during the day and 50s at night. You'll also find the most activities scheduled in the park during the winter months.
Summer, which is from June through November brings a lot of rain to the Everglades. Summer is also hurricane season and the Everglades are right in the path of many of these storms. Temperatures tend to be in the 90s with high humidity. Our first trip to the Everglades was in mid June and even though it was hot and humid, we found it a great time to visit. Crowds are down and we often had the place to ourselves. Just be prepared with plenty of water and plan to take it slow when visiting in the summer months.
How Long Should you Plan to Stay
While a 3 day Everglades Itinerary is ideal, it's worth exploring the park even if you only have 1/2 day to visit. If you have the flexibility, I'd suggest you plan at minimum a day and a half.
Packing List for Your Everglades Itinerary
Keep in mind that the park is huge and access to resources is very limited so pack everything you will need for your time in the park. That would include:
One Gallon of Water per person per day
Sun Protection, including a wide brimmed sun hat and sunscreen
Long sleeves and long pants are recommended for both sun and mosquito protection. Look at REI's sun protected clothing line for ideas.
Mosquito Repellent – this is not the time for whimpy solutions. The mosquitoes are fierce in the summer.
Food and Snacks – You'll find a couple snack bars in the park but they have limited hours and selection so pack a cooler and plan to picnic.
Frequently Asked Questions about Everglades National Park
Is it safe to visit Everglades National Park?
Yes, it's safe to visit the Everglades. However there are dangerous and aggressive wildlife in the park, especially alligators. You need to always be aware of your surroundings and give wildlife plenty of space.
What should I wear when visiting Everglades National Park?
Even though it will be warm in the Everglades, you should wear long pants and a long sleeve shirt to protect yourself from insects and sun. Look for lightweight SPF clothing. You'll also need a hat for sun protection.
Can you drive through Everglades National Park?
There are 2 main roads through Everglades National Park. Tamiami Trail (highway 41) crosses the top of the park East to West. And the drive inside the park from the Homestead Entrance to Flamingo. Each is a beautiful drive with opportunities to stop and explore.
Are Dogs allowed in Everglades National Park
Dogs are only allowed in parking lots or in the campground of Everglades National Park. They are not allowed on any of the nature trails or backcountry. The biggest concern is that alligators can't tell the difference between your pet and their dinner. And that's not the only danger in Everglades to dogs.
A few last thoughts about your Everglades National Park Itinerary
A visit to the Everglades should be on the bucket list of everyone who loves being outdoors. A visit from a few hours to a few days will leave you amazed at the elements of nature in a swamp. Using our Everglades National Park Itinerary as your guide, you are on your way to discovering more than you expected!