From winding rivers to serene lakes, America's national parks have got it all. But when it comes to kayaking in National Parks each one has its own personality. That's why we've compiled this list of the best in the US. 
Some of these national parks have been chosen for their stunning views, their challenging routes, or their diverse waterway travel experiences. Whatever you're looking for in your kayak adventure, you'll find it here.
Best 7 National Parks for Kayaking
Kayaking in any beautiful river or lake is a memorable experience. However, knowing which National Parks are the best for safety, wildlife observation, swimming, and hiking is the key to planning the perfect water route for you and your paddling buddies.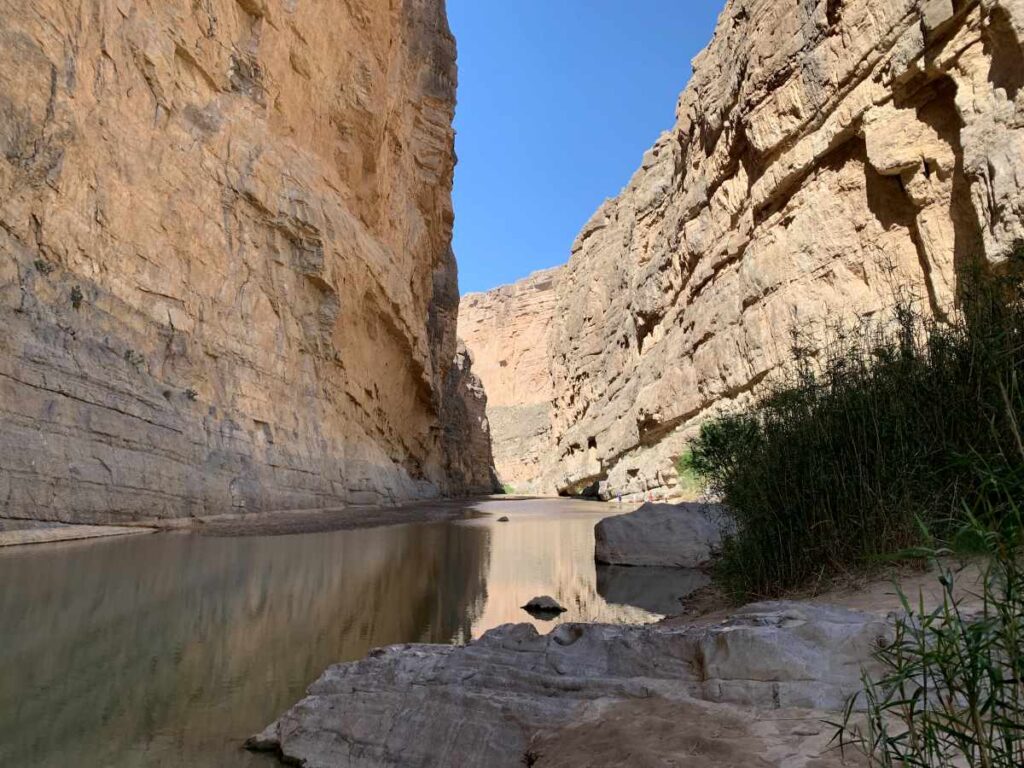 #1 Big Bend National Park, Texas 
Over in Texas, we have the Rio Grande River that gives way to Big Bend National Park—a southwest kayaking pilgrimage that takes you through incredible canyons and deserts as far as the eye can see.  Everything really is bigger in Texas, and in the canyon, it's deeper, too. Some of the canyons go up to 1,500 feet deep, so you only get a sliver of light on wintery or overcast days. While most of the river is an easy float, you'll also come across a variety of stretches with different rapids, with Class I-III being the most common here. 
If you kayak down the deepest channel of the Rio Grande, you'll also cross the Mexican/US border several times. But you don't need your passport as long as you don't land on the Mexican side of the riverbank! A backcountry permit is required for all river use, rather a week-long trip or just for a few hours.
Pro tip: The best time of year to kayak across the Big Bend National Park is in the spring or fall. That way, you can take advantage of warm days and cooler nights without the threat of winter cold or summer extreme heat.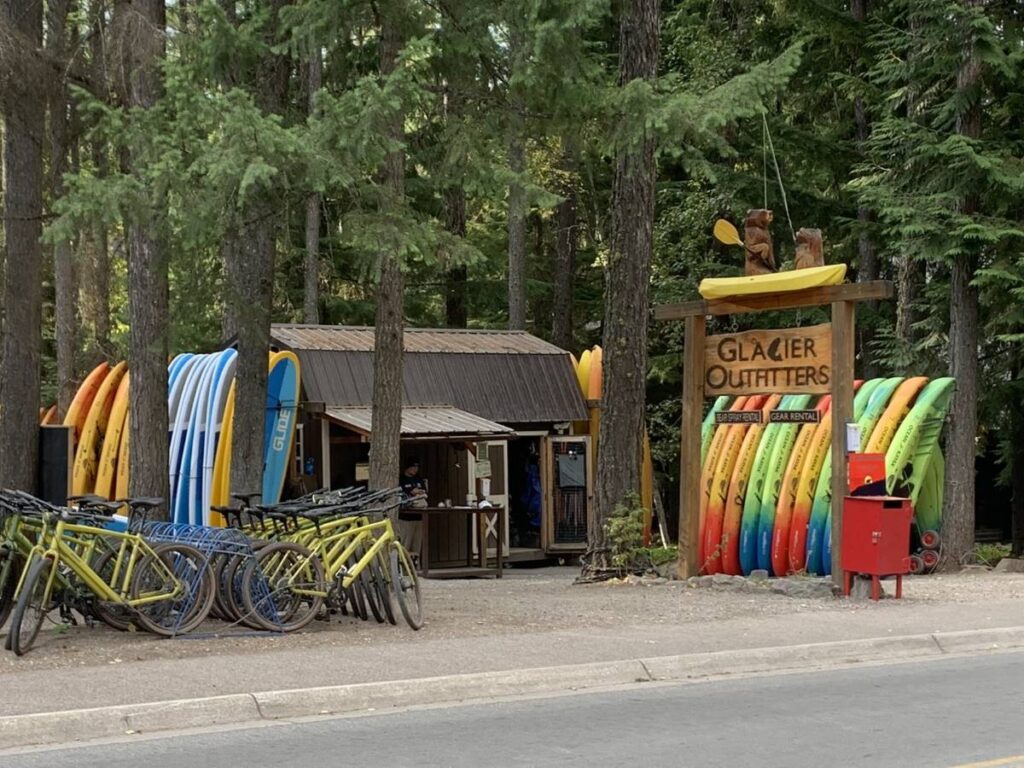 #2 Glacier National Park, Montana 
When most people think of US National Park kayaking, they think of Glacier. With over 700 stunning alpine lakes and iconic Going-to-the-Sun-Road, this park is an adventure.
Recreational kayaking is enjoyed on most lakes. Based on your experience kayakers choose from the popular McDonald Lake where you can rent kayaks at the resorts to remote Kintla Lake in the North Fork area where you'll likely have the lake all to yourself.
The Middle Fork Flathead River borders the West side of the park, making Glacier National Park absolutely glorious for experienced kayakers. The rapids range from Class I to III, with early June usually featuring the roughest conditions.
Just remember: When you arrive at Glacier, your kayak will go through a mandatory (and 100% free) inspection for aquatic invasive species. So make sure your kayak is clean! 
Locals also recommend that you opt for kayaking across this NP between early summer and mid-fall. That'll ensure that all the ice is truly gone, making for a smoother kayaking journey. 
#3 Grand Teton National Park, Wyoming 
Grand Teton should be on every kayaker's bucket list. It is home to some of the most diverse and serene rivers in the US, including Snake River, String Lake, Jackson Lake, Jenny Lake, and Leigh Lake.
Kayak rentals are only available on Jenny Lake, obviously the most popular spot in the park for its stellar views of the Tetons. Jackson is by far the longest, reaching 15 miles in total, so it is best suited to experienced kayakers who are fit and can handle changing conditions with ease. 
White water rafting is best on the Snake River just South of the park. The rapids vary between Class I to III, but during the spring runoff in June, they can get up to a Class IV as it gets rough.
The water found in this NP is crystalline and perfect for quick dips in between rigorous paddle sessions. Don't forget to go online and get a boating permit before launching your own kayak.
Expert tip: Definitely bring your wetsuit or swimwear if you're up for the frosty water!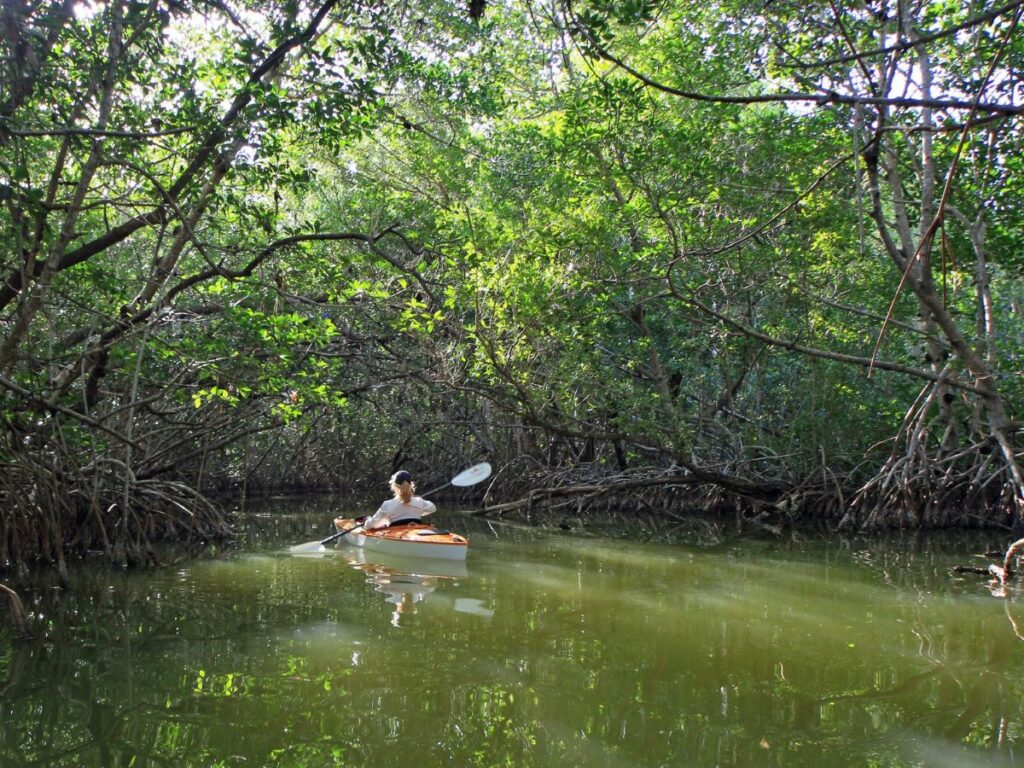 #4 Everglades National Park, Florida 
Florida's iconic Everglades National Park offers a diverse ecosystem and unforgettable views. Kayaking and canoeing are the best way to see this unique park as much of the area is underwater. Here they have waterway trails instead of hiking trails!
Aptly named, the green water glades of this park seem to go on forever, giving you an endless supply of beautiful, tranquil views to soak up while you paddle. This is the perfect beginner kayaking spot, as there's no rough water and no real rapids to navigate. In fact. Some of the water is as smooth as glass.
Caution: As it's Florida we're talking about here, be warned: alligators, manatees, and many different bird species are likely to accompany you on your way. But don't panic. They're generally happy to leave you alone as long as you leave them alone. Best brush up on your wildlife knowledge before you paddle off!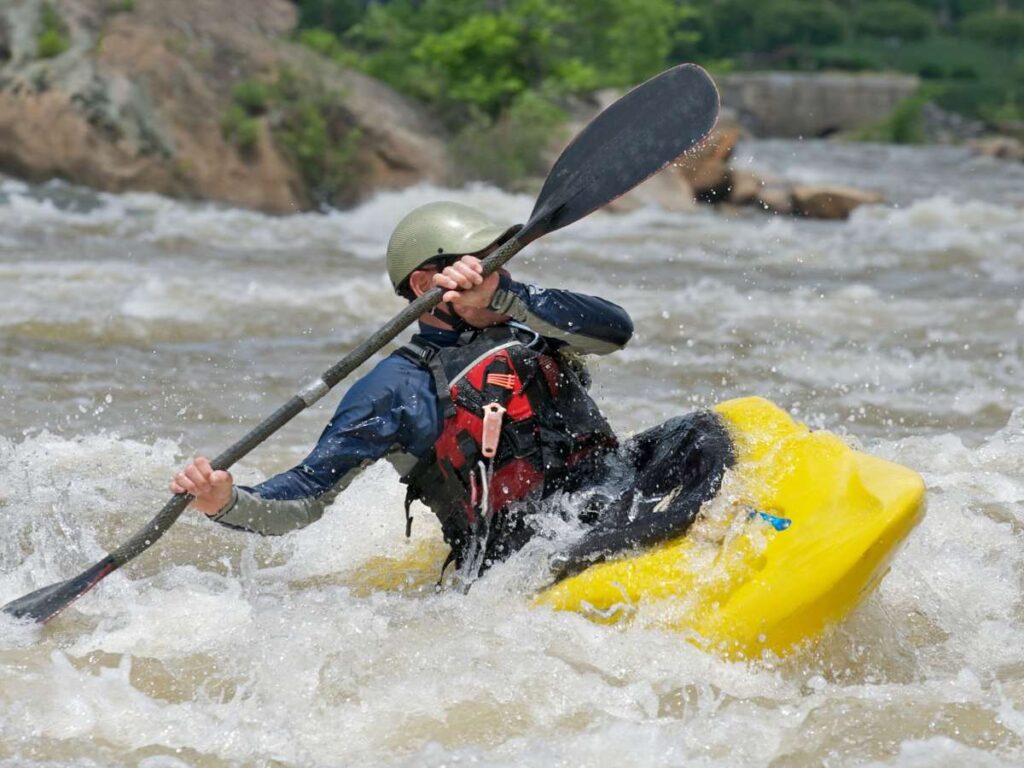 #5 Grand Canyon National Park, Arizona 
The big GC! This is undoubtedly one of the greatest and most visited national parks in the world, and it's easy to see why. Majestic swaths of rock, great water quality, and stunning views are just some of the reasons why people love to kayak in this NP. The water also has a slightly milky blue hue that makes it incredibly unique and magical-looking.
The Grand Canyon has some rough and ready Class IV and V rapids that are only suitable for experienced paddlers. Kayak Guru's rapid classification guide explains why this is the case and highlights the importance of knowing about water conditions before you set out.
Hint: If you're a novice kayaker, book one of the guided tours to ensure you can safely navigate these challenging waters. This is not a trip for beginners.
Permits to travel the Colorado River through the Grand Canyon are required and issued on a lottery system. Dates go fast so this is a trip that needs to be planned well in advance.
#6 Isle Royale National Park, Michigan 
Fun fact: Isle Royale is an archipelago with 450 mini-islands to explore, making it one of the most unique and intriguing places to kayak in the world. 
With the incredible Lake Superior (the name speaks for itself) and dozens of smaller inland lakes, you'll never run out of things to see or places to go within this NP. Plus, the water is generally quite calm unless it's windy or the weather is bad, so rapids are not something you'll need to navigate.
Something else that makes Isle Royale exciting is that you need to access it by ferry from Grand Portage, Minnesota. It's the perfect trip to stretch out over a few days for a truly unforgettable paddling experience.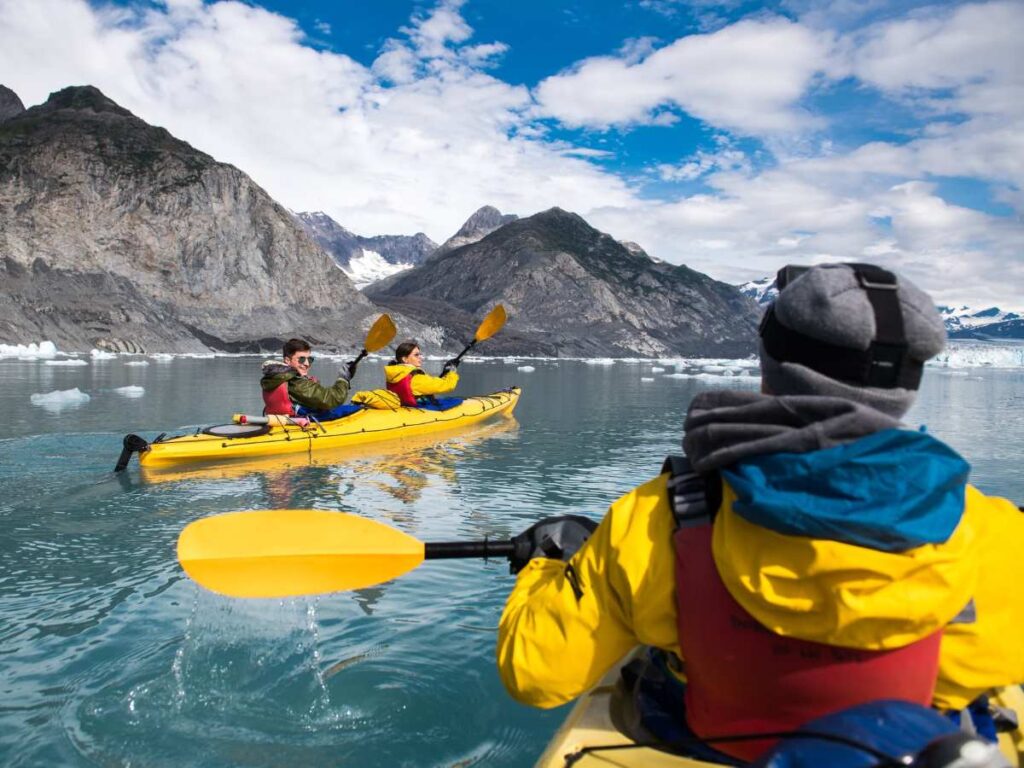 #7 Kenai Fjords National Park, Alaska 
If you like the frigid, beautiful environment of cold Alaska, the Kenai Fjords are a must-do for any avid kayaker. With rustic, snow-capped mountains surrounding you from every angle, the fjords offer towering glaciers and peaceful valleys that get rave reviews from all over the world. 
You'll want to don a wetsuit when paddling this icy waterway. In the summer months, you'll find pieces of calving glaciers floating in the water around you, so it's like kayaking in an ice bucket.
Experienced sea kayakers will find this an exhilarating adventure. However, the waters in the bay can be rough and this is not a trip for a beginner to take without the aid of a guide.
Keep an eye out: The Kenai Fjords National Park is home to playful sea otters and seals. If you're lucky, you might even see a whale.
8 More Ideal Places for Kayaking in National Parks
Dozens of other US National Parks have great opportunities for kayaking. Here are a few more that we think you should keep in mind when planning your water adventures.
#8 Channel Islands National Park
The only way to get to Channel Islands is by boat. This is sea kayak adventure only for the most experienced and strongest kayakers as the ocean waters are challenging.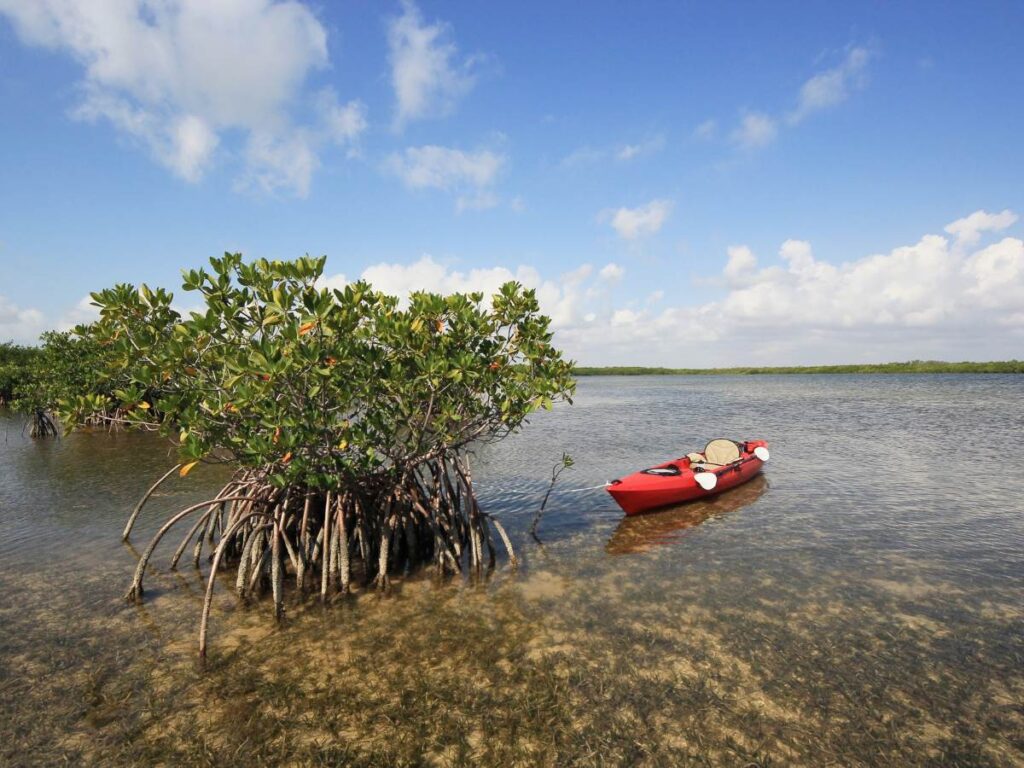 #9 Biscayne National Park
While snorkeling Biscayne Bay is the most popular thing to do in the park, you'll find kayaking ranking a close second. Since most of the park is underwater, a kayak takes you close to the mangrove shores where you can explore gorgeous natural fisheries.
#10 Great Smoky Mountains National Park
While kayaking within Great Smoky Mountains National Park isn't a thing, just outside the park you'll find world-class whitewater. Rivers range from a gentle class I to a screaming class V.
#11 Canyonlands National Park
Canyonlands National Park is a place to find both extremes of kayaking. Above the confluence of the Green and Colorado River you can flatwater kayak as a day trip or enjoy camping over several days along the river. After the confluence, things get wild with class III to V rapids.
#12 Voyageurs National Park
Voyageurs National Park is part of the boundary waters between the United States and Canada. The connecting lakes and streams are the perfect adventure for kayak explorations.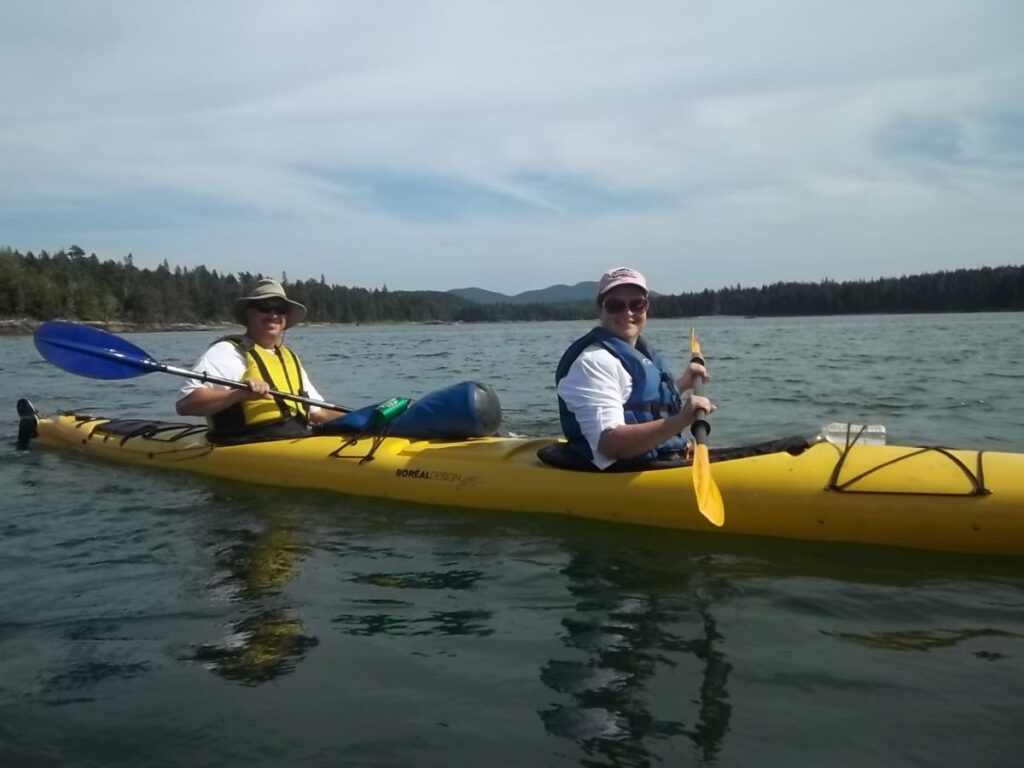 #13 Acadia National Park
Kayaking on one of the ponds within Acadia National Park is the perfect way to relax and explore. Or for the more adventurous, try sea kayaking along the park shores.
#14 Virgin Islands National Park
As you likely did not bring your kayak with you on your flight, you can rent kayaks at Cinnamon and Maho Bays. A day of kayaking in Virgin Islands National Park will take you to some of the most beautiful spots in the park.
#15 Mammoth Cave National Park
Over 30 miles of the Green and Nolin Rivers run through the Mammoth Cave National Park, providing an abundance of kayak opportunities. The Green River is primarily easy flat water for a relaxing day while the Nolin can run fast when it rains or water is released from the dam.
Paddle Through The Best National Parks
Finding your favorite kayaking spot may become a lifetime challenge. But not when you do your research beforehand. 
If you love kayaking in national parks but aren't sure where to start, we hope this helps you find the waterways that best suit your level of experience and personal paddling preferences. 
---
Hey, if you love water adventures check out the following posts: