The Redwoods are on our National Park Itinerary for next summer so when Kendra offered up the story of this beautiful hike I just knew you would love it also. The James Irvine Trail sounds like the perfect hike to experience this very unique area.   Ladona
---
Falling in Love with the Redwoods
Redwood National Park is an awe-inspiring place to visit. You can't be among these timeless trees and not become a changed person. After spending a day here, you will fall in love with these majestic giants.
When I visited the Redwoods with my family, I found the best way to experience this area was by hiking away from the crowds. Even though there are many hikes to choose from, we will focus on the James Irvine Trail that begins at the Prairie Creek Visitor Center. This was my favorite hike during our visit since you are exposed to some different landscapes the park has to offer. It is an out and back (easy to moderate hike) totaling 9 miles. The elevation gain is 450 ft.
Redwood National Park Brief Overview
The Redwoods are located along the California Coast within 3 State Parks and 1 National Park. The California Department of Parks and Recreation and the National Forest Service manage all 4 areas together. The correct title for this park is Redwood and National State Parks (RNSP).
You will find this area biologically diverse with landscapes from old-growth forests, prairies, oak forests, beaches/coastlines and river-ways.
Prairie Creek Visitor Center
To get to the Prairie Creek Visitor Center, head south on Highway 101 from Crescent City. Pass the town of Klamath and continue 13.5 miles, turn west onto Newton B. Drury Scenic Parkway. Follow the parkway for 8 miles to the visitor center.
This is a busy area, especially later in the day. An early start to your hike will ensure a parking spot and allow adequate time to complete the James Irvine Trail . There is minimal parking at the visitor center, but vehicles are allowed to park along the Parkway. A few facts about the Prairie Creek visitor center:
Hours are 9:00 am-5:00 pm
They have maps of the area (definitely get one of these)
There are restrooms and a picnic area
Elk Meadows sits here where you will most likely see Roosevelt Elk
Pets are not allowed on the James Irvine Trail
It is open year round
Elk Prairie Campground is nearby
Hike James Irvine Trail
To get to the trailhead, follow the nature trail that begins right next to the visitor center. It will loop around and arrive at a fork in less than 0.5 of a mile. Take the right fork onto the James Irvine Trail: it is 4.5 miles to Fern Canyon. If you walk out to the beach, add another mile to your round trip pedometer
Through the Forest to Fern Canyon
It won't be long until you are the only one on the trail and the peace of the Redwoods begins to descend upon you. This is a quiet forest, there are not a lot of birds making noise and on the day we were hiking there wasn't even a breeze. I had a strong sense of reverence as I walked through the old growth forest.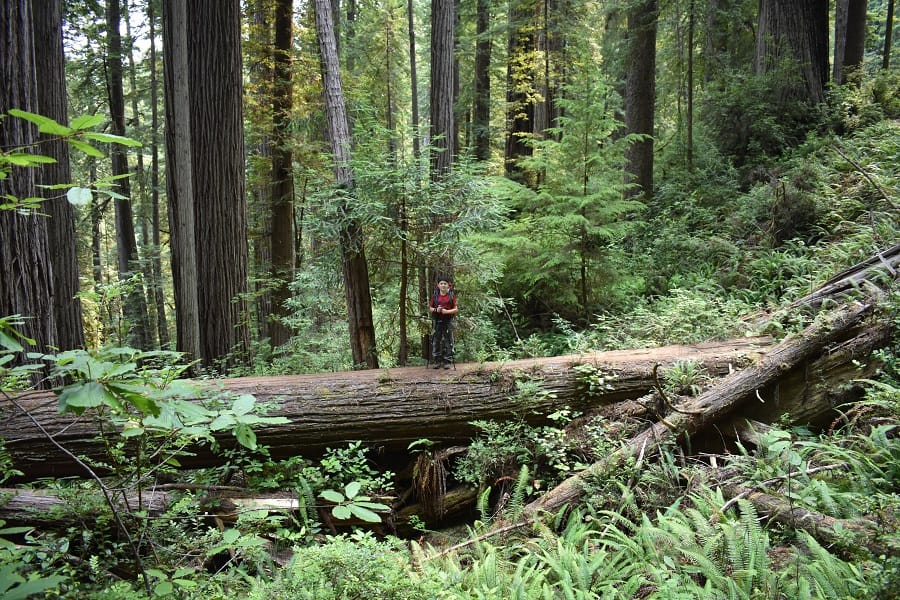 You will enter the new growth forest along this route which has a different impression. After meandering through both forests the old saying that trees can talk takes on a whole new meaning. These forests are full of energy and are very much alive.
The foliage is thick so there is no way a person could accidentally wander off-trail. The trail is wide in the beginning and narrows the farther you get from the trailhead. A person with an interest in botany would love to view the different types of plants through here.
As you get closer to Fern Canyon the forest takes on a feeling that you are in a prehistoric dimension. Everything is covered in moss, there are downed and decaying trees, and spider webs are everywhere. The forest has a deep, earthy smell that is not unpleasant. Along this portion you hike along Godwood Creek and once you reach Fern Canyon you come to Home Creek.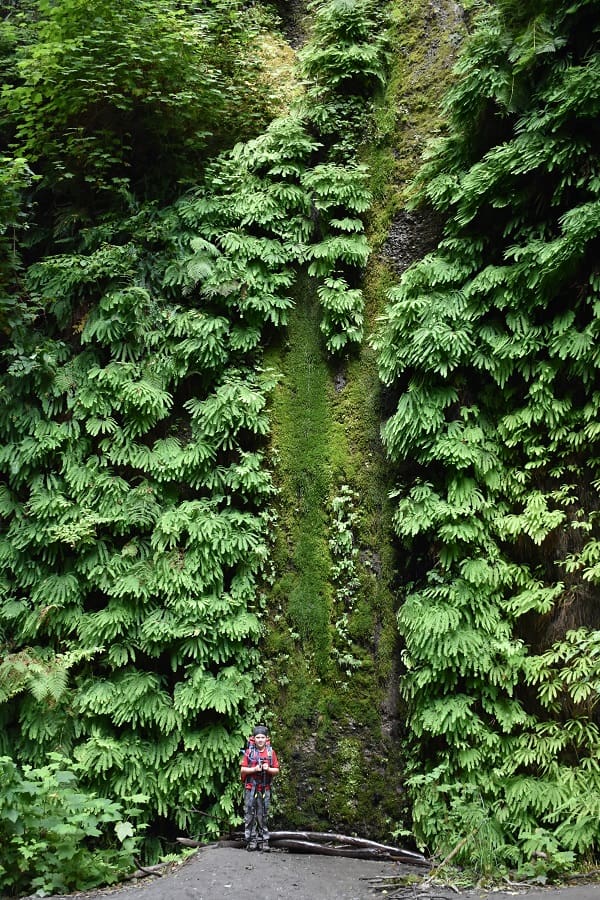 Watch Out For Dinosaurs
As you descend to Fern Canyon, the walls become higher and reach their peak at 50 ft. This world famous canyon is where they filmed portions of Jurassic Park. You will understand why it is so popular, the ferns growing on the walls are beautiful as they sway in the breeze. There are many people who access this trail from the Fern Canyon Day Use Area. This was by far the busiest portion of the James Irvine trail.
There are a few areas where you have to cross the creek with the use of 2×8 boards. Luckily, the creek is not deep. The canyon is 0.5 mile in length and you can turn around at any point. Since you are so close to the beach, I would recommend continuing to the day use area and over to the coastline.There are restrooms and picnic tables here. It would be a great stopping point for lunch before you head back.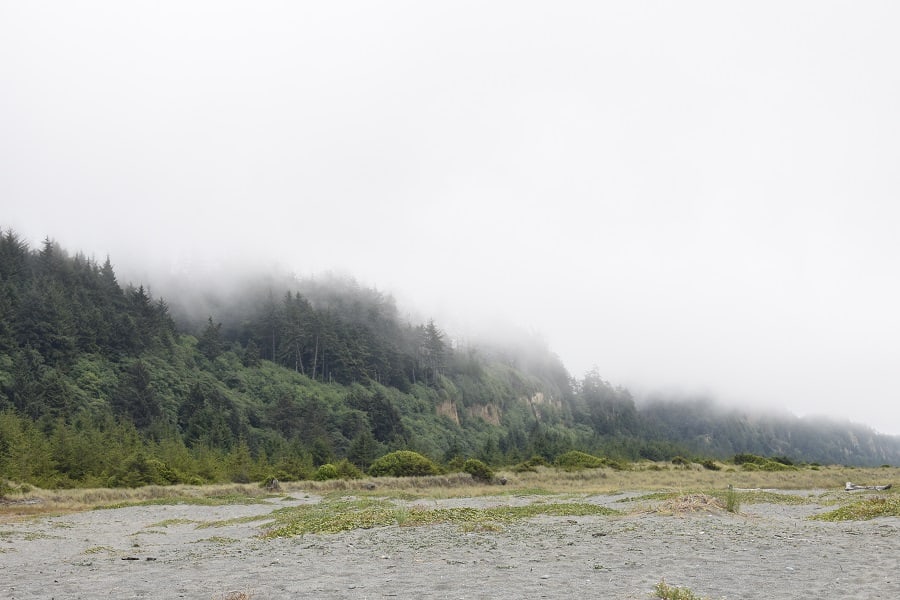 When we were on the beach, the fog began to roll in, causing a dramatic effect along the bluffs. While we sat and ate our snack near the rolling waves, we were fortunate to see seals feeding in the water close by. I could have sat there and watched them for hours.
Another option is to have someone meet you at the day use area with a vehicle if you don't want to hike back the way you came.
Things to Know about James Irvine Trail
Remember to follow be a conscious hiker and follow the Leave No Trace Principles
Bring water, snacks, lunch and a camera
Be prepared for rain, it rains on and off quite a bit here
Take your time and enjoy the scenery
Average time to hike is 5-6 hours round trip
Keep your eyes peeled for the large banana slugs
Stay on the trails to

reduce soil compaction

which affects the trees
The James Irvine Trail is one of the most memorable hikes I have been on. I can see why many people protect this area so fiercely. There's a magical quality to this place and by the end of your visit you want to do everything in your power to protect it for future generations. This experience will provide perspective about appreciating the natural wonder of the Redwoods for what it is and what it can provide.
---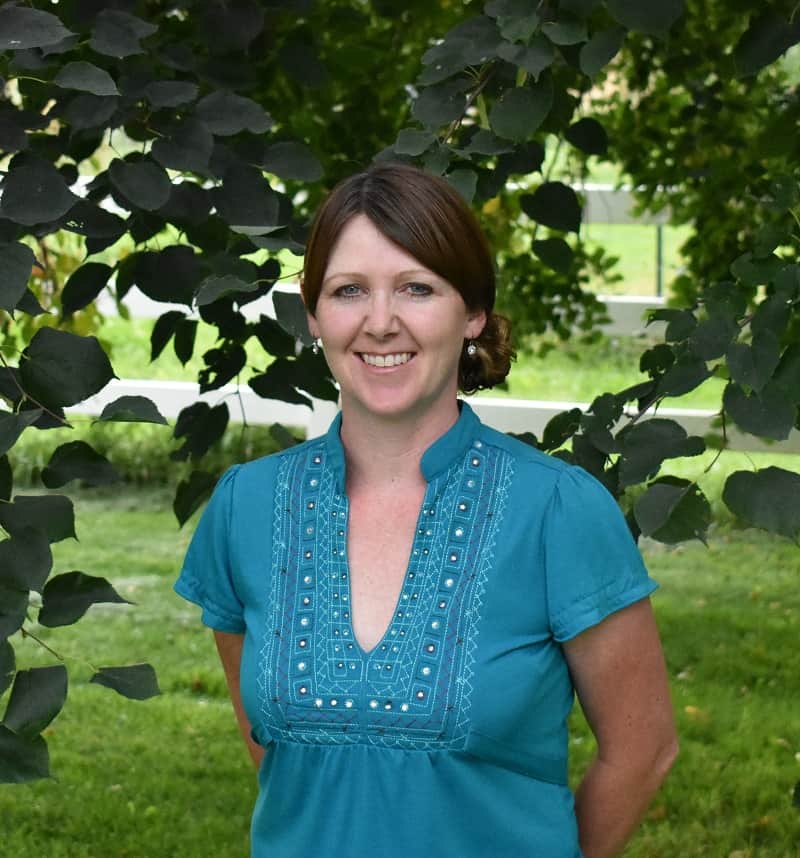 Kendra Meador is a freelance writer with a passion for the outdoors. She specializes in content related to hiking, backpacking, camping and conservation. When not writing, you can find her exploring the mountains of Idaho with her husband and two boys. Learn more about Kendra at wildinspiredlife.com.
---
If you have a favorite hike in the Redwoods, we'd love to hear about it in the comments below. We just might add it to our itinerary for our Redwoods National Park trip next summer! Don't forget to pin Kendra's story to your vacation board so you can grab it quickly when you hit the road.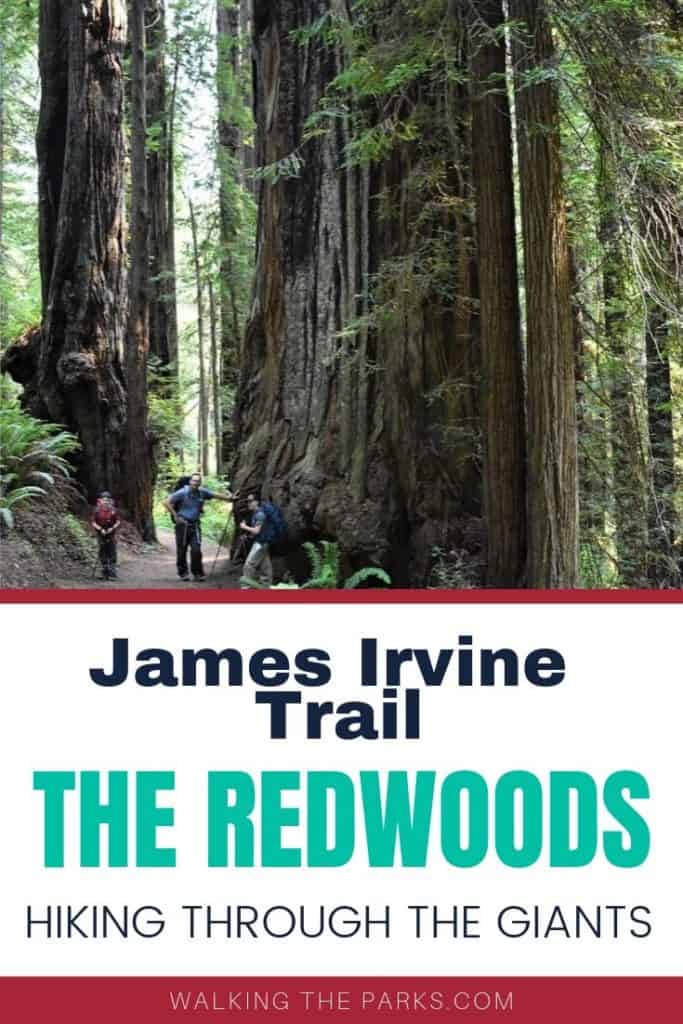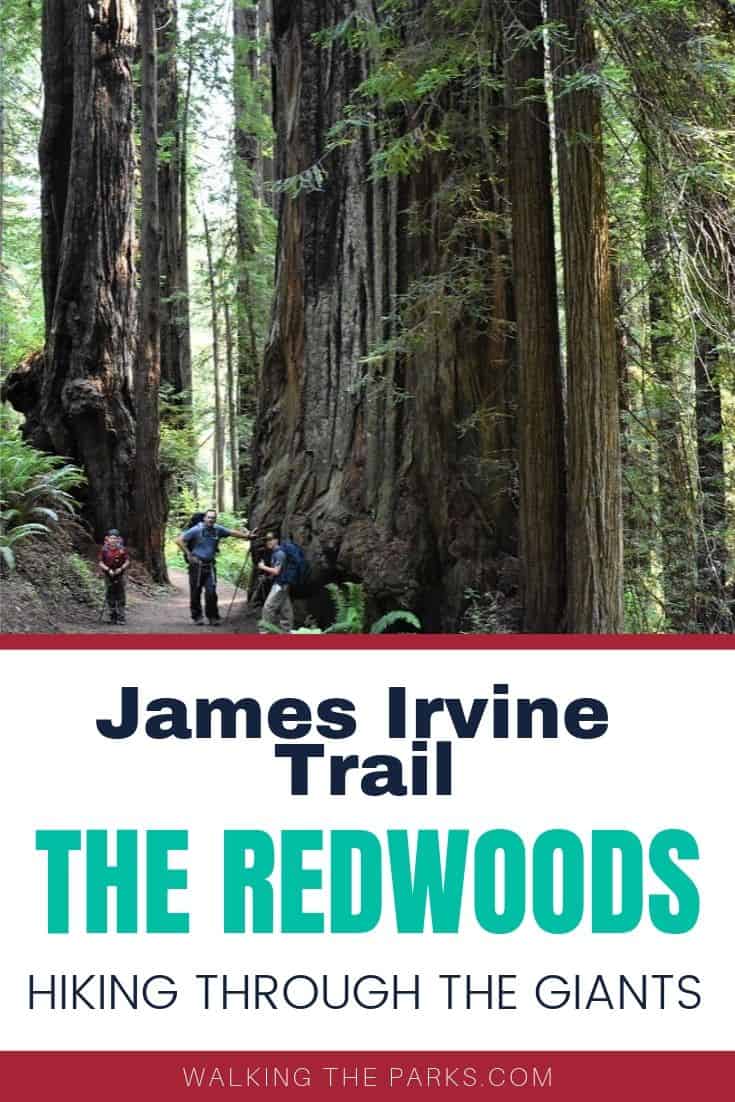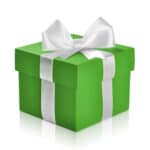 Looking for gift ideas for your favorite Hiker? Check out our Unique Guides!