We caught a glimpse of Mt Rainier poking above the clouds as we flew into Seattle the day before and were anxious to get on the ground to explore this beautiful National Park for the first time. If this is your first visit you are in for quite the treat. Mt Rainier National Park boast incredible beauty and diversity. We put together a pretty incredible trip so I wanted to share our Mt Rainier things to do list with you. You'll be so glad you added these to your Mt Rainier itinerary.
#1 Wander Through Historic Longmire District
Plan a brief stop at the Longmire District. What you will learn about the park's history at this stop helps provide a very appreciative perspective to the rest of your visit.
To bringing visitors to this area to enjoy hot springs, the Longmire family built guest cabins and a hotel. Over time the area has changed but what does remain are several interesting architectural buildings. You'll enjoy a stroll through the Longmire museum which shares the early history of this area.
Also home to the National Park Inn, a cozy 25 room hotel that is open all year round. Often the road past here is closed in the winter due to snow so this is a great winter resting place. In the winter Longmire is a great place to start a snow shoeing or cross country skiing adventure.
Unless you are planning to hike one of the trails that start near Longmire, you probably won't want to spend more than 30 minutes in the Longmire District.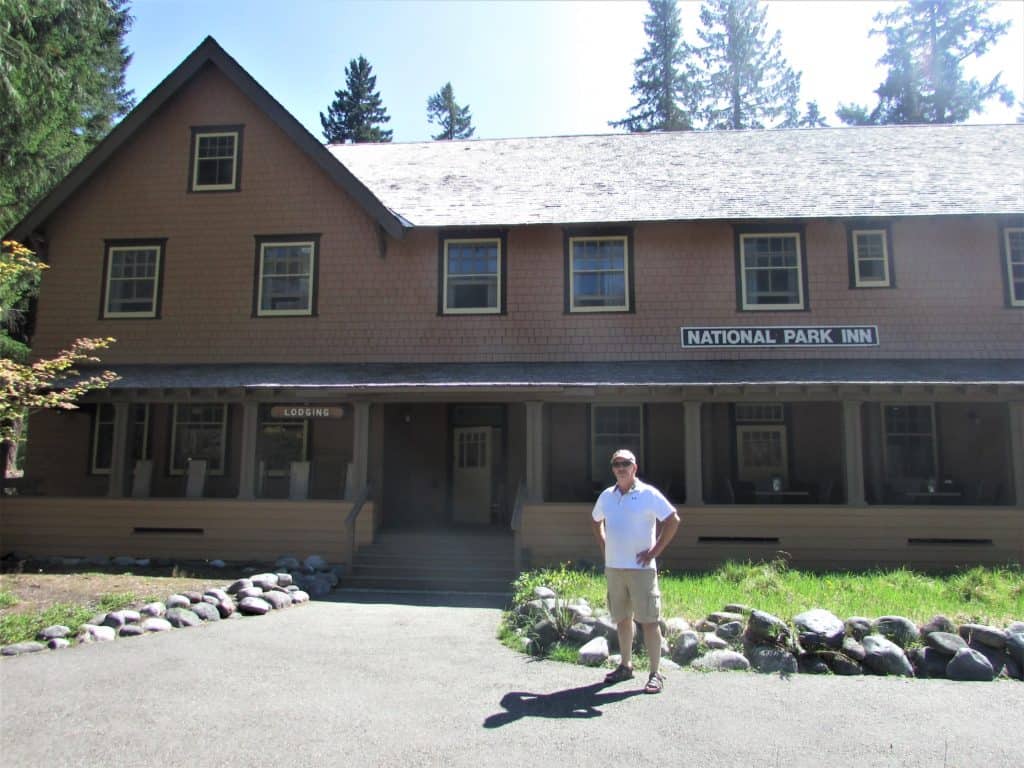 #2 Enjoy a Cup of Coffee on the National Park Inn Porch
Well, maybe you'll want to take a few extra minutes in Longmire and enjoy a beverage on the National Park Inn Porch. You'll fall in love with this open porch and comfy chairs.
#3 Discover Mt Rainier Paradise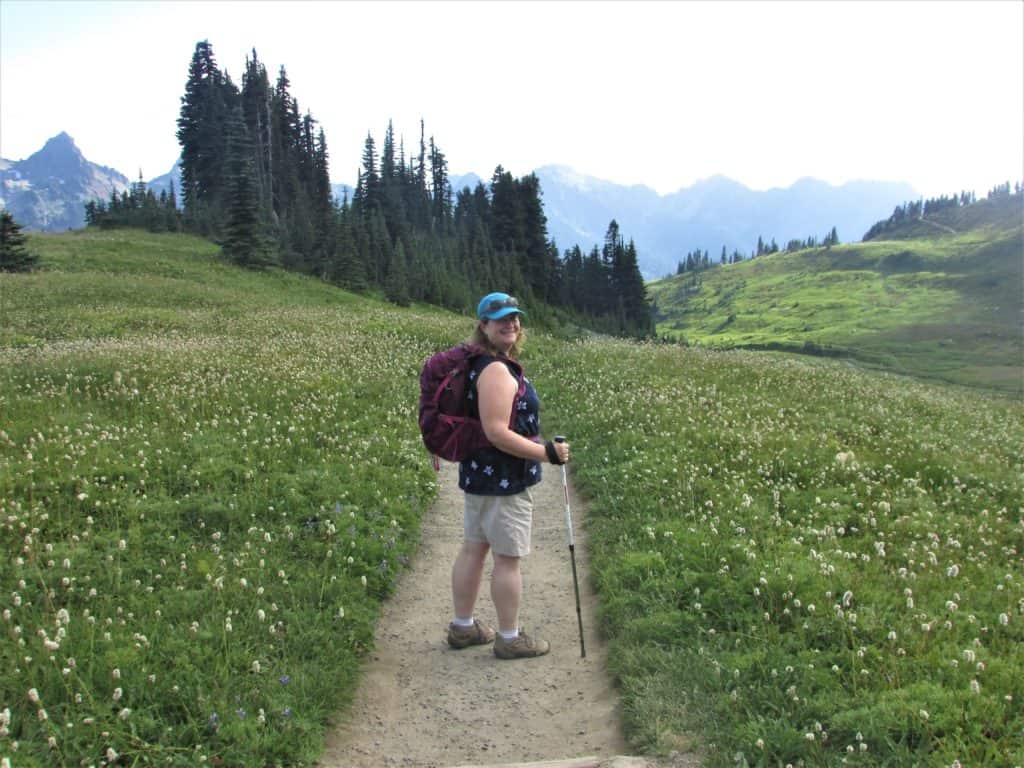 Everyone we asked before our trip said "don't miss Paradise".
It is truly glorious in all its summer beauty. During our August visit the fields in Mt Rainier Paradise were full of wildflowers and there was an abundance of critter activity making it a very special place. Yes, there is a reason why this was the top recommendation.
However, I have mixed feelings about Paradise in Mt Rainier.
Why the hesitation? The place was beyond packed. We've visited some pretty crowded spots in other National Parks but this was the worst I have ever seen. I actually told Brad that I wasn't even going to consider a hike here when we saw the mass of people on the mountain side.
His cooler head prevailed and we headed into the visitor center to get some advice. The ranger told us that the crowd was due to a "bear jam". There was a black bear entertaining the crowd as he feasted on berries. She sent us off on a section of Skyline Trail to Myrtle Falls.
The trail was busy, but a normal level of busy, not the crazy crowd we saw from the parking lot. Sharing the highlights of any National Park is to be expected at one of the most popular locations.
And I'm so glad we stopped! It was beautiful.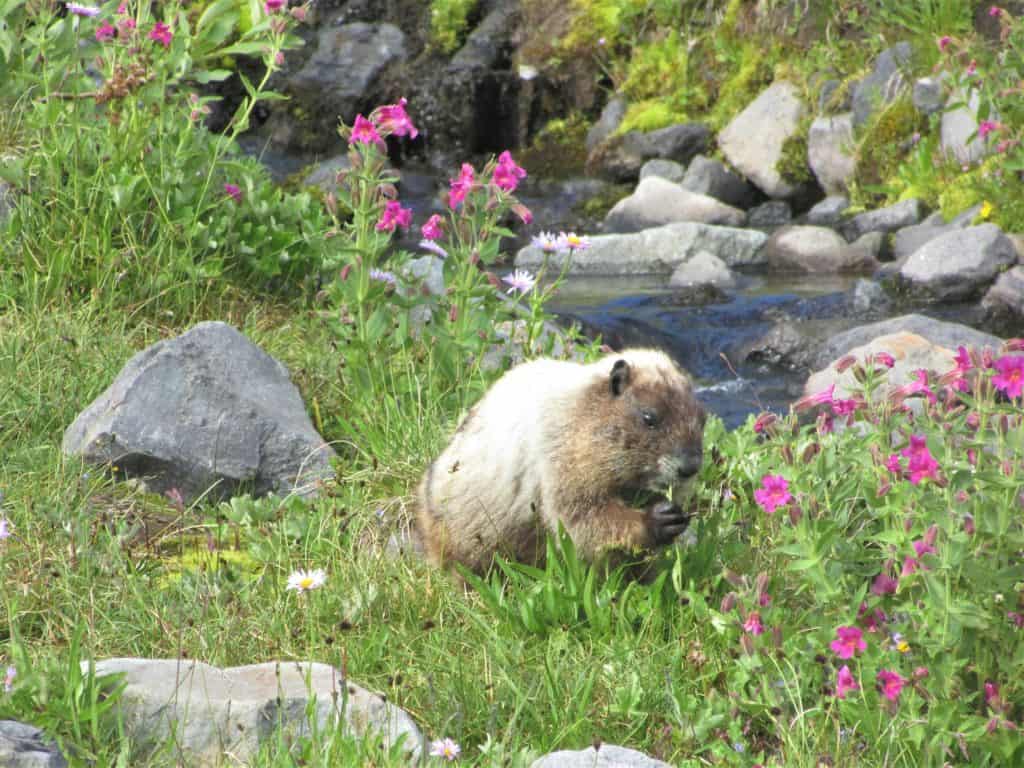 Wildflowers were in bloom all around us. Marmots came out to feed providing quite the entertainment. And then as we worked our way down another black bear popped out on the mountain side snacking on some berries. What more could you ask for?
So yes, without a doubt put Paradise on your list of things to do in Mt Rainier. However if you can avoid the weekend and mid day you will find less crowds. There are several amazing short and long day hikes out of this area. If you don't hike, the view of the mountainside from the visitor's center is stunning.
#4 Take a Break on the Veranda of the Mount Rainier Paradise Inn.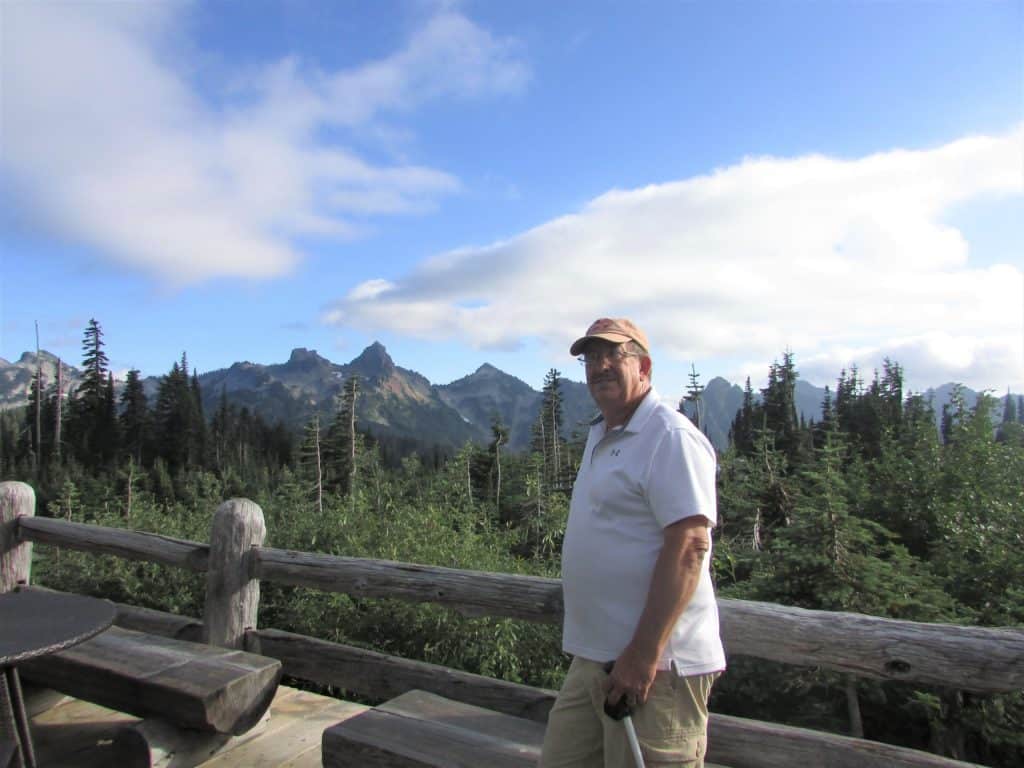 Pop into the Paradise Inn while you are here. Being an overnight guest here is a real treat and because the demand is so high, Paradise Inn reservations must be made far in advance. However the lobby, restaurant and Veranda are true public areas that you won't want to miss. The Paradise Inn veranda is a great place to grab a beverage and relax while breathing in the beauty of this place.
You'll love the architecture of the Paradise Inn. The rustic-style inn opened in 1916. As you walk into the great room you'll find a large timber frame exposed on the interior. These timbers were selected from the park forest and hauled by horses to the construction site. Since then there have been multiple additions and updates to the Inn, but to this day the grandeur of the original design has been retained.
  Quick Tip  Think about packing a picnic. Restaurants/snack bars are very limited and will be crowded during lunch time. We like to visit the National Parks restaurants to have a beverage or a light snack during less busy times. They always have amazing views and architecture.
#5 Meet True Giants in the Grove of the Patriarchs
Whoa! You won't believe how big these trees are… they give a new meaning to the word HUGE. This easy hike through 1000-year-old Douglas firs, western hemlocks, and western red cedars must be on your list of things to do in Mt Rainier. Hiking in the Grove of the Patriarchs was my second favorite stop in Mt Rainier (number 1 is still to come – keep reading!).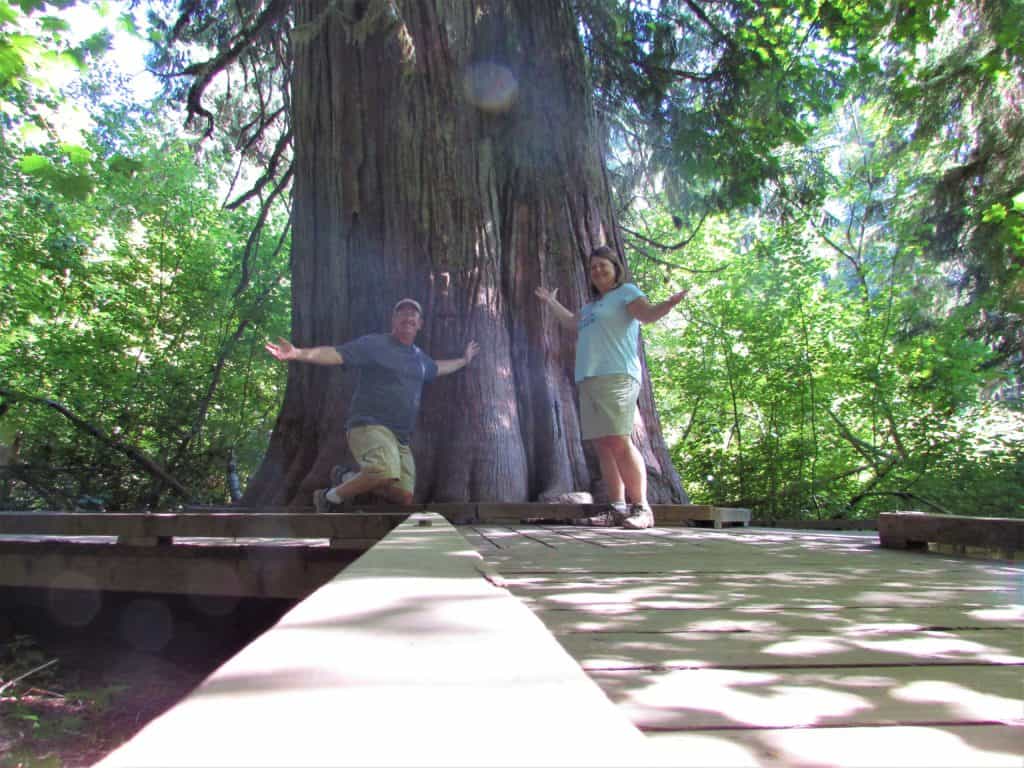 The trail is magical, as moss hangs off the giant trees along the trail. The suspension bridge over the Ohanapecosh River adds a bit of mystery. Then you will follow a loop trail through these magnificent trees. Make sure you have your camera, this is one picture that will be on your Christmas Cards!
Although it is a popular and busy hike, the fact that it is less than an hour round trip hike keeps traffic moving in and out. You'll find the trailhead in the Southeast corner of Mt Rainier near the Stevens Canyon entrance.
# 6 Uncover the Story of Glaciers at Mt Rainier Sunrise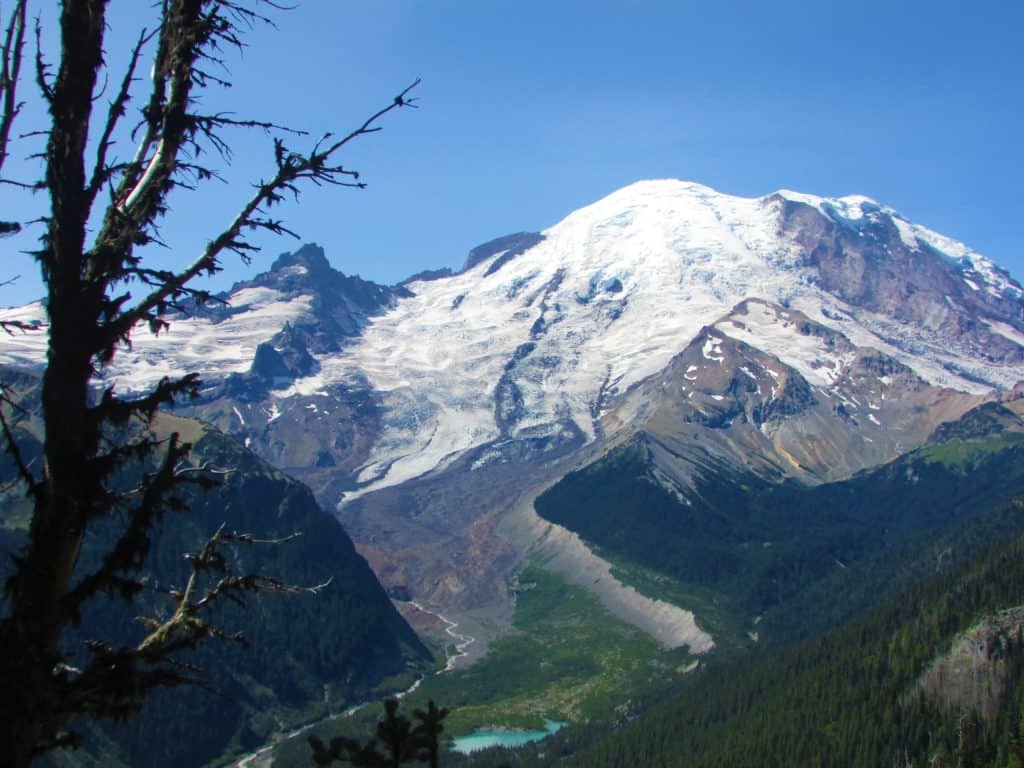 The Sunrise area might be the 2nd most visited section in Mt Rainier, but it is first in my heart. Our hike along Silver Forest Trail was like walking through a wonderland. Wildflowers covered the mountainside and the view of Mt Rainier and Emmons Glacier in the distance was amazing.
Corny as it was, we couldn't help but sing a little of "The hills are alive with the sound of music …." as we walked along.
This area has the most amazing hikes for everyone. The Silver Forest trail we fell in love with was an easy 2 mile round trip on a fairly level path. You'll also find several great moderate and challenging hikes that trailhead out of Sunrise, all leading to wonderful views of Mt Rainier and the surrounding valley. For a moderate 1/2 day hike try hiking the Mount Fremont Lookout Trail.
We enjoyed a quick stop in the visitor center where you can learn about the famous glaciers that can be found here. Rangers are available to give advice about hikes. The visitor center is only open July through September.
At 6400 feet, Sunrise is the highest point you can drive to. The roads and services are only open once the roads are cleared and before the snow flies again, so figure late June through late September. Yes, that is a very short summer!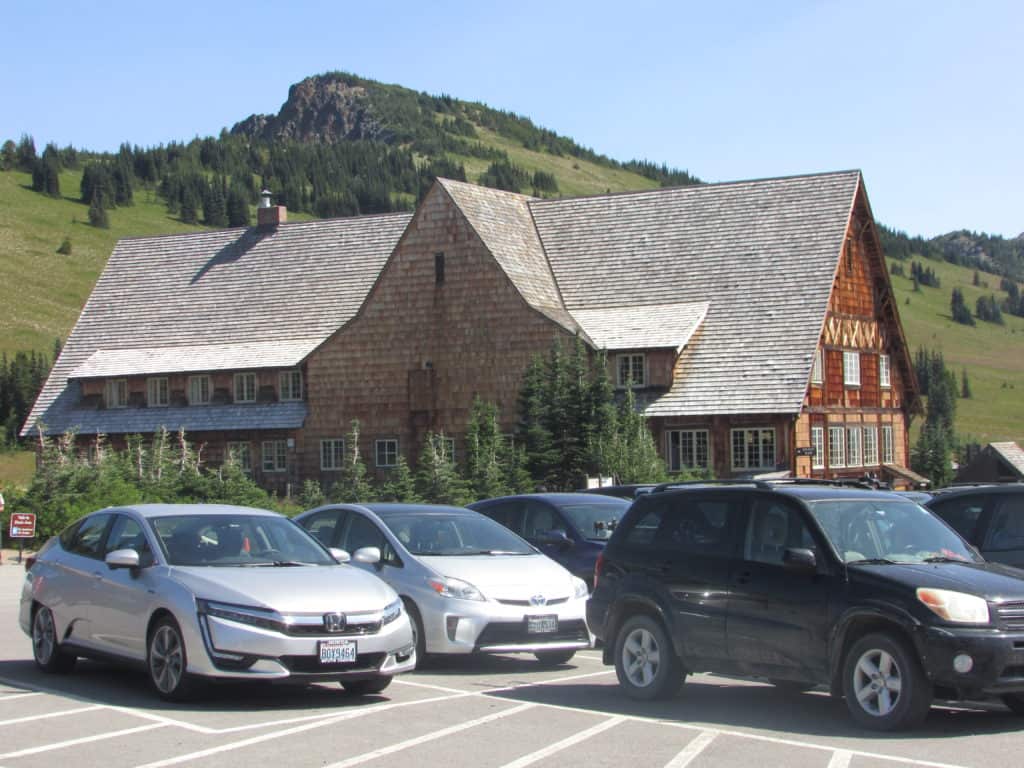 #7 Shop and Grab a Snack at the Sunrise Day Lodge
The Sunrise Day Lodge is the cutest building with an extensive gift shop that you will enjoy. Next door you will also find a small snack shop that serves sandwiches and treats during the summer.
  Quick Tip  If you don't have a National Park Annual Pass, hang on to your receipt. During this day we passed through an entrance gate 3 different times. There's a lot of land to cover in Mt Rainier National Park!
#8 Visit One of 150 Waterfalls
Mt Rainier is known for massive amounts of snow. In 1971 Paradise held the World Record when 1,122 inches fell. Yes, you heard correctly, the WORLD record. That means a lot of snowmelt in the spring which in turn explodes into over 150 rushing waterfalls. Whoa… that's a lot of Mt Rainier waterfalls!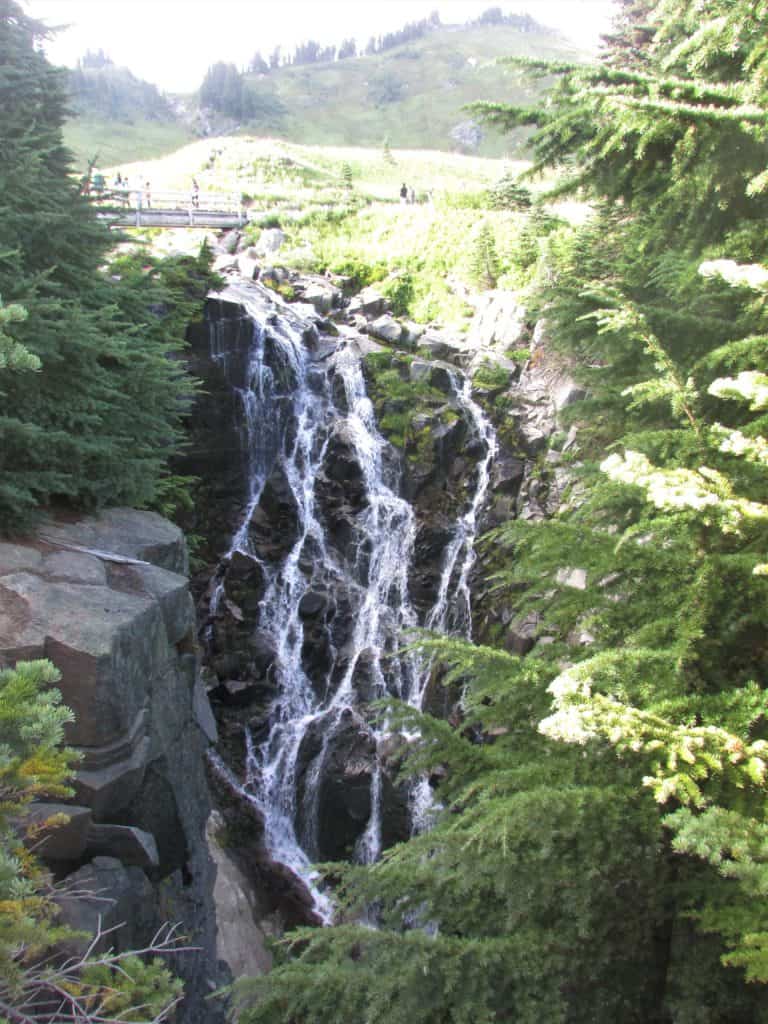 A great resource for the most accessible waterfalls is on VisitRainier.com, where they share how to find many of the best known.
#9 Check out Some of the Best Mt Rainier Hikes
With over 275 miles of maintained trails there is something for every hiker in Mt Rainier. Rangers at each visitor center will be happy to supply you with the local map for that area. Or you can download those Mt Rainier hiking maps before you go.
Quick Tip  Make sure you have a good daypack for your hikes. Mt Rainier rangers urge you to be prepared when you hit the trail. We have a great detailed article about tips for picking out the best daypacks for women hikers here.
Because time was short we limited ourselves to 3 fairly easy day hikes:
Silver Falls Trail at Sunrise is a fairly easy day hike with amazing views of Mt Rainier and glaciers. It wanders through wildflower fields that dreams are made of.
Grove of the Patriarchs Trail which was a hike so unique that I gave it a listing of its own! See #5.
Skyline Trail to Myrtle Falls in Paradise. A fairly busy trail but one we loved. It's an uphill climb to the Falls, but not too difficult making it a great family hike. Marmots and a black bear entertained us.
If you are looking for a more serious hike there are plenty of choices. Both for long day hikes and multi day back country trips. The National Park Service has a great chart here where you can see miles and more details to help you plan your trip.
Mt Rainier Day Trip from Seattle
So what is there to do in Mt Rainier if you only have one day? A lot of folks visit Rainier as a day trip from Seattle since it's only a 2 hour drive. Even though we camped the night in the park, we did all of this in 24 hours.
So take out our time at the campsite it was about 12 hours on the go. It'd be a long day, but definitely, it's doable to make this itinerary a Mount Rainier day trip.
Mt Rainier Tours from Seattle
So you might be wondering about Mt Rainier tours from Seattle. It only makes sense for Seattle visitors to avoid renting a car by hopping on a tour and leaving the driving to someone else. One thing you should know is there is zero transportation in the park itself. So you will want a Mt Rainier tour that makes stops at all the sites you have earmarked as favorites. Here is a couple that you should take a look at if you want to have a great trip:
Mt Rainier Day Trip: This is a 10-11 hour trip with pick up at many downtown Seattle hotels. What you'll like about this one is the smaller, super comfy bus. All the tour guides have rave reviews that you should check out!
Hike Mt Rainier with Wine Tasting Tour: A really exciting all-inclusive offer that takes you to a unique spot in Mt Rainier for a hike and ends your day at a winery. How cool is that! This 10-11 hour Mt Rainier tour from Seattle uses a more intimate 8 passenger van and will pick up at downtown Seattle hotels.
Bus Tour of Mt Rainer: If you are looking for a low-cost traditional bus tour of Mt Rainier then this is the one for you. What you'll like about this tour (in addition to the low price) is that it does a great job of providing a comfortable trip through Mt Rainier National Park. This particular tour also offers Chinese-speaking drivers.
Fun Facts about Mount Rainier
It was the 5th designated National Park, established in 1899. I find it extra special because Mt Rainier National Park and I happen to share a birthday!
With 236,000 acres within its boundaries, Mt Rainier National Park is about ½ the size of Rhode Island and twice the size of the city of Chicago.
There are 25 named Mt Rainier glaciers.
Wildflowers are most spectacular mid-August. They are quickly replaced with beautiful fall colors.
Mount Rainier is an active volcano. It may be 1000 years since the last eruption but that doesn't mean it won't erupt again.
Don't Make our Biggest Mistake When Visiting Mt Rainier
We entered Mt Rainier on a Sunday afternoon, which you would figure would be the end of the weekend and folks would be exiting not entering.  Right? Wrong! We tuned in to the radio station for Mt Rainier Visitor Updates as you will see posted along the Nisqually entrance and were clearly told to avoid that entrance due to long wait lines.
The Mt Rainier National Park service recommended looping south and coming in through the Stevens Canyon entrance.  Did we listen? Nope. Were we stupid? Yup!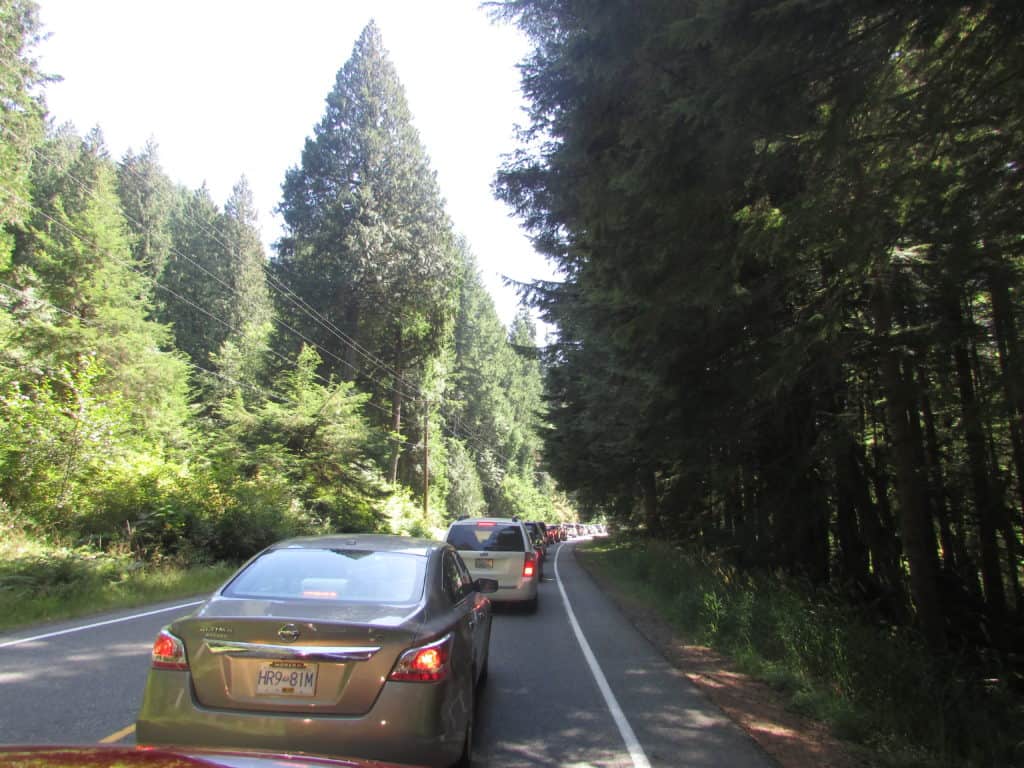 This is what we looked at for almost 2 hours before ever entering the park. UGH! So seriously consider popping down South to the Stevens Canyon Entrance when you plan your list of things to do in Mt Rainier.
On the map, it looks like a lot of wasted miles. But know it is a pretty drive that will actually get you into the park faster. And you'll be enjoying that list of things to do in Mt Rainier much faster than this guy.
Don't forget to save this to your vacation dream board on Pinterest. And if you have a favorite thing to do in Mt Rainier please share it below in the comments. We'd love to hear from you!