Nestled in Northern California, Redwood National Park beckons with its towering giants among the ancient forests. With this Redwood National Park Itinerary we are sharing the perfect roadmap for your adventure. 
Join us as we navigate through the must-see attractions. We also share a few hidden gems, and a lot of practical tips to enhance your Redwood National Park adventure. In reality you could spend a lifetime discovering interesting things to do in Redwood National and State Parks. But if you only have 2 to 3 days, this itinerary for the Redwoods is perfect. 
This was our first stop on our California National Park Road Trip where we toured 8 National Parks. We spent almost 3 days exploring Redwood National Park. And without a doubt it was my favorite park on this road trip. Talk about setting the bar high right from the beginning!
About Redwood National Park
Redwood is a relatively young National Park, established in 1968. What makes it unusual is that the National Park surrounds 3 California State Parks that date back to the 1920s. Combined they create a unique National Park experience. Each California State Park is unique:
Jedediah Smith Redwoods State Park is nestled in the North near the Oregon border. It protects 10,000 acres of old growth coastal redwood forests, some 2,000 years old and 350 feet tall. The Smith River flows freely through the park.
Del Norte Coast Redwoods State Park is just to the south and encompasses dramatic coastlines and lush redwood forests.
Prairie Creek Redwoods State Park is home to the majestic Roosevelt elk who live in meadows surrounded by giant redwoods. The coastal beaches are gorgeous with nearby fern covered canyons. 
The National Park and State Parks are co-managed which is why you usually see the park area listed jointly: Redwood National and State Parks. When the National Park was established it allowed for greater preservation of ancient redwood forests by expanding the borders of the area already protected by the state of California.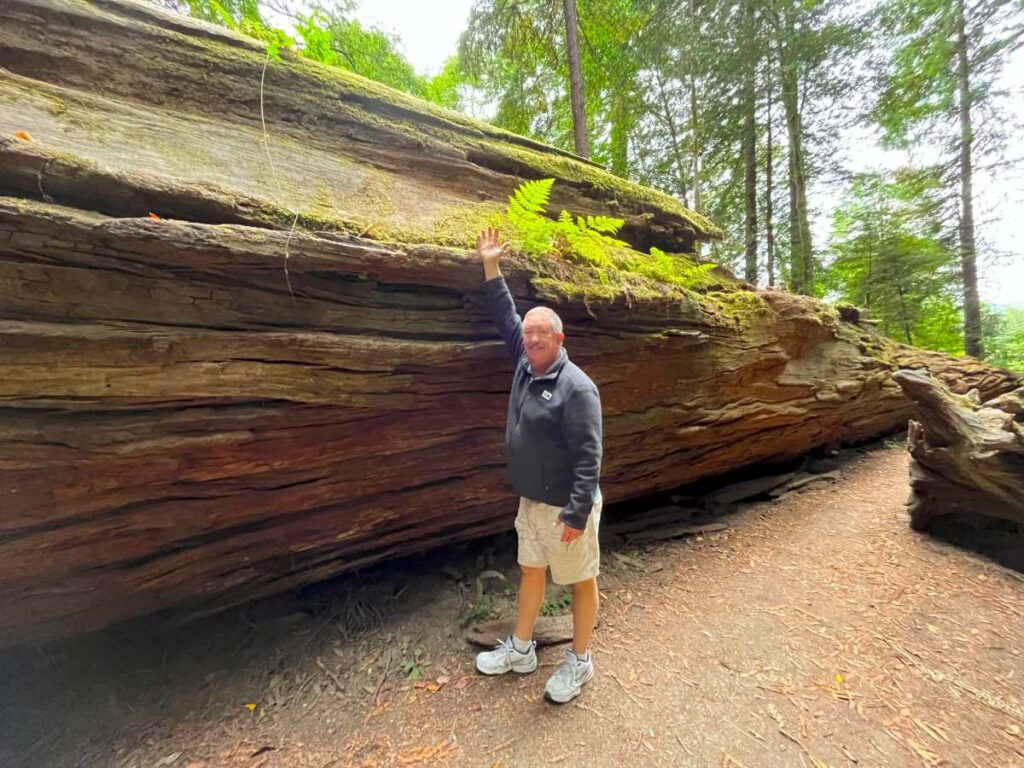 Where is Redwood National Park?
Redwood National Park, along with the three Redwood State Parks, are located in Northern California. They start near the California border and follow the coast along highway 101 about 70 miles. The two biggest areas of the park are:
At the top of the state where you'll find Jedediah Smith and Del Norte Coast Redwoods State Parks.
And at the Southern end of the park which also includes Prairie Creek Redwoods State Park.
The balance of the park follows the Pacific Coast connecting these two larger areas.
Fun Facts about Redwood National Park
Here are a few facts about Redwood National Park you should know before you go:
Redwood National and State Parks are home to the tallest trees on Earth. The coast redwood can reach heights of over 300 feet. That's the length of a football field!
Some redwoods in the park are estimated to be over 2,000 years old, making them among the oldest living things on the planet.
The tallest known living redwood, named Hyperion stands at 379.7 feet tall. Unfortunately due to past human abuse in the area, it is not accessible right now. The good news… there are a lot of nearly as tall trees that can be easily seen in this park.
A popular destination within the park, Fern Canyon is a lush canyon with walls covered in ferns and mosses, featured in the movie "Jurassic Park 2: The Lost World."
The park is a sanctuary for Roosevelt elk, with some of the largest herds in California roaming the area.
Redwoods have thick, fire-resistant bark, which helps them survive wildfires, a crucial adaptation in the park's ecosystem.
Redwood National and State Parks, along with three other parks, were designated as a UNESCO World Heritage Site in 1980.
While Gold Bluffs Beach is surrounded by bluffs of golden colored stone, it is actually name for miners who sought their fortunes here during the California Gold Rush.
The park's remote location makes it an excellent spot for stargazing, with minimal light pollution.
The cone of a redwood tree is the size of a large olive and the seed no bigger than a tomato seed. And from that grows a giant tree.
Entrance Fees, Reservations and Permits
There is no entrance fee to enter Redwood National Park. However there are several areas that require a permit or reservation before you can use the area. As fees change yearly, I'll include the links so you can get the most current information.
Jedediah Smith Redwoods Day Use Area: A day use fee per vehicle for the picnic area, beach and river access is required. Federal America the Beautiful passes or California State Park Annual pass can be used to wave the fee.
Gold Bluffs Beach and Fern Canyon Day Use Area: To limit usage, reservations are required from May 15th to September 15th. Reservations can only be made on-line and in advance.  A day use fee per vehicle will also be charged unless you have a America the Beautiful or State Park pass. Note if you have a campground reservation at the beach you don't need a separate Day Use.
Tall Trees Trailhead Day-Use: A free permit is required to access the road that leads to the Tall Trees Trailhead all year around. The permit must be ordered online and in advance.
Maps for Redwood National Park
If you want to print a map at home, the most convenient is this PDF map that prints on an 8.5 x 14 (legal) paper. However be aware that because the park is long and narrow this map will be small. You might find it easier to read if you print the North Half of Redwoods map and the South Half of Redwoods map separately. 
The park warns that GPS based maps often take you off your planned path because there are so many logging roads (nearly impassable) and remote towns. I'd suggest taking a look at the route your GPS gave you and make sure it makes sense on a paper map before moving forward. 
Our Recommended 2 Day to 3 Day Itinerary for Redwood National Park
Any itinerary for Redwood National and State Parks has two goals: first embrace breathtaking views of the old-growth redwood forests and second discover the stunning coastline of Northern California.
We completed this itinerary over 3 days which I share in detail in the guide below. However, we also chose to move at a relaxed pace. If you have 2 full days you could easy complete this itinerary. Our recommended itinerary is a little bit different than what we actually did because after finishing our 3 days in the Redwoods there were a few things I do differently. You get to learn from our experience! 
Day 1 Itinerary
Jedediah Smith Redwoods State Park
If you spent the night in Crescent City (our recommendation for non-campers) follow hwy 199 to the Jedediah Smith Redwoods State Park Northeast corner. If you camped in this state park (like we did) then you are already here.
Start your day with a quick stop at the Jedediah Smith Redwoods State Park Day Use Area and get your first taste of these giant trees. Plus you can enjoy a bit of beach time on the Smith River.
Stop at Hiouchi Visitor Center, including a short nature trail and picnic areas.
Head to Howland Hill Road. The entrance is outside the park so get directions at the visitor center. Howland Hill Road is an amazing scenic drive in itself that will take several hours. You can see our detailed description below. There are several hikes along this road, do at least one of them so you can truly experience the redwoods!

Stout Memorial Grove is an easy 0.6 mile walk through stunning old growth Redwoods. 
Grove of the Titans another easy walk through humongous trees, but a little longer at 1.7 miles round trip.
Boy Scout Tree Trail is for the more adventurous. It's a moderate 5.5 mile trail through insanely large redwoods ending at Fern Falls. 

Howland Hill Road will end near Crescent City for hotel options. If you are camping, look at Mill Creek Campground in Del Norte Coast Redwoods State Park or head further South to Prairie Creek State Park for camping.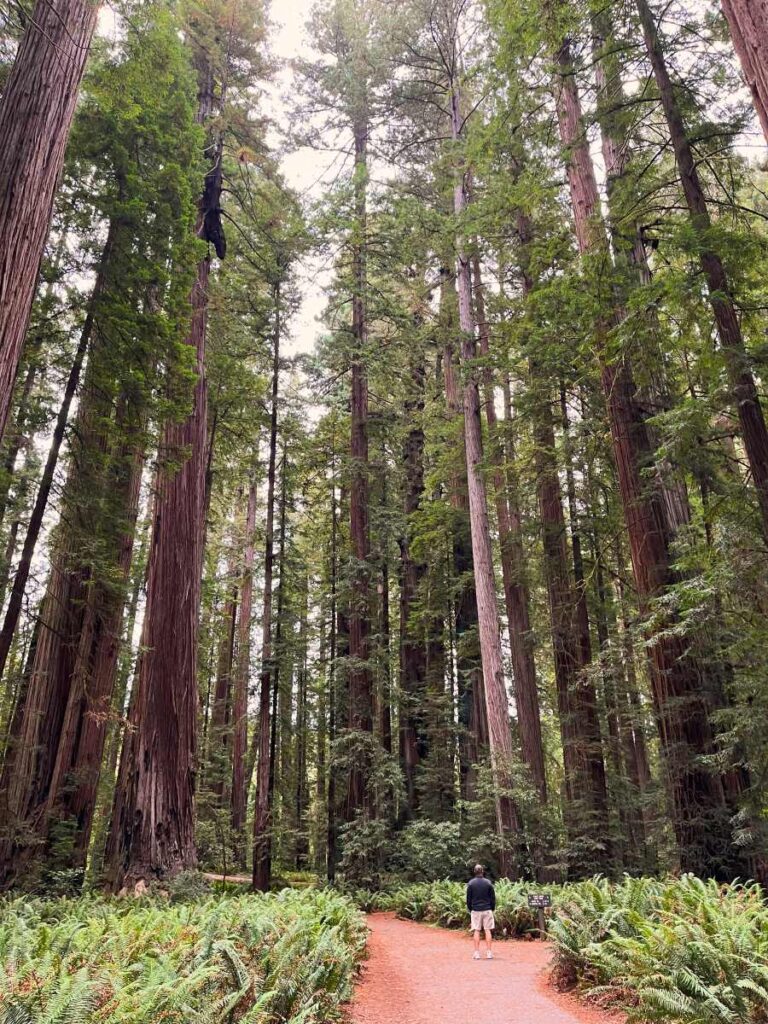 Day 2 Itinerary
Elk Prairie State Park
Drive along Newton B Drury Parkway, a gorgeous scenic drive through redwoods with hiking trail access. While the undergrowth further North was thin, here it is full of ferns and short brush. Trails to check out:

Ah Pah Trail is a short nature walk. 
Big Tree Loop, a 3.2 mile walk in the woods is fairly easy that combines several trails (Prairie Creek and Cathedral Tree Trails) to create a loop along the scenic drive.
Or for a more challenging 8 mile hike, the Rhododendron and Foothills Loop will share more diversity among the redwoods as you change elevation.

Visit Fern Canyon and Gold Bluffs Beach. Get your reservation well in advance as this area has limited access. It was one of my favorite places so in my opinion it is worth the effort to get a permit. If you camp at Gold Bluffs Beach, no additional permit is required.
Settle in at the Elk Prairie Visitor Center in the early evening to watch for Roosevelt Elk in the open field.
Day 3 Itinerary (optional)
Make one last stop in the park on Bald Hills Road. It is not an easy road to drive. Vehicles over 22 feet and trailers are not allowed on this road. It tends to get rougher the further you go. But there are a couple pretty cools stops here:
Lady Bird Johnson Grove on Bald Hills Road, a gorgeous 1.5 mile nature walk.
If you have time for a truly memorable 4 mile hike, continue on to Tall Trees Trail. Note you need an advance permit to access the road that leads to the trailhead. 
Finish your day at Humboldt Lagoons State Park. While not officially within the National Park, you shouldn't miss the 32 mile scenic drive on the Avenue of the Giants home to the largest remaining stand of virgin redwoods in the world. it's a great place to end your trip exploring the coastal waters.
How many days do you need in Redwood National Park?
You can explore both the redwood groves and the coastal beaches in 2 to 3 days. That would include scenic drives and a few short hike. If you want to add in an epic hike like Tall Trees Trail or the James Irvine Trail, add another day to your trip.
How This Redwoods National Park Itinerary Played Out for Us
When it comes to an itinerary, the rule is to be flexible. And for us that was definitely the case in actually implementing this Redwood National Park itinerary. We left Crater Lake that first morning with plenty of time to get in a full day in the redwoods. Except for… forest fires!
Due to the Smith River Fire, we were delayed along the highway for quite awhile. So our first day was shortened which meant cramming in a lot on our second day. It all worked out! And it was interesting to pass through the fire zone and watch the clean up crews. That's a hard working team.
First We Explored the Redwoods
Arriving from the North on highway 199 and our first stop was the day use picnic area near the Hiouchi Visitor Center. We stood back in awe at the size of the redwood trees in this little park. Little did we know that there were even bigger trees waiting for us. 
After a quick check in at our campsite and the visitor's center we headed to the Stout Memorial Grove. Redwood trees tower over as you walk this easy ½ mile loop. It's hard to process the size of one of these magnificent trees until you walk next to one that has fallen. Imagine a tree as long as football field lying there!
The next day we returned and drove Howland Hill Road. Brad declared this road to be one of the best National Park scenic drives, only second to Glacier's Going to the Sun. Since we've explored over 40 National Parks, that was a very bold recommendation from him. As you weave between gigantic Redwoods, you can reach out your window and touch the trees.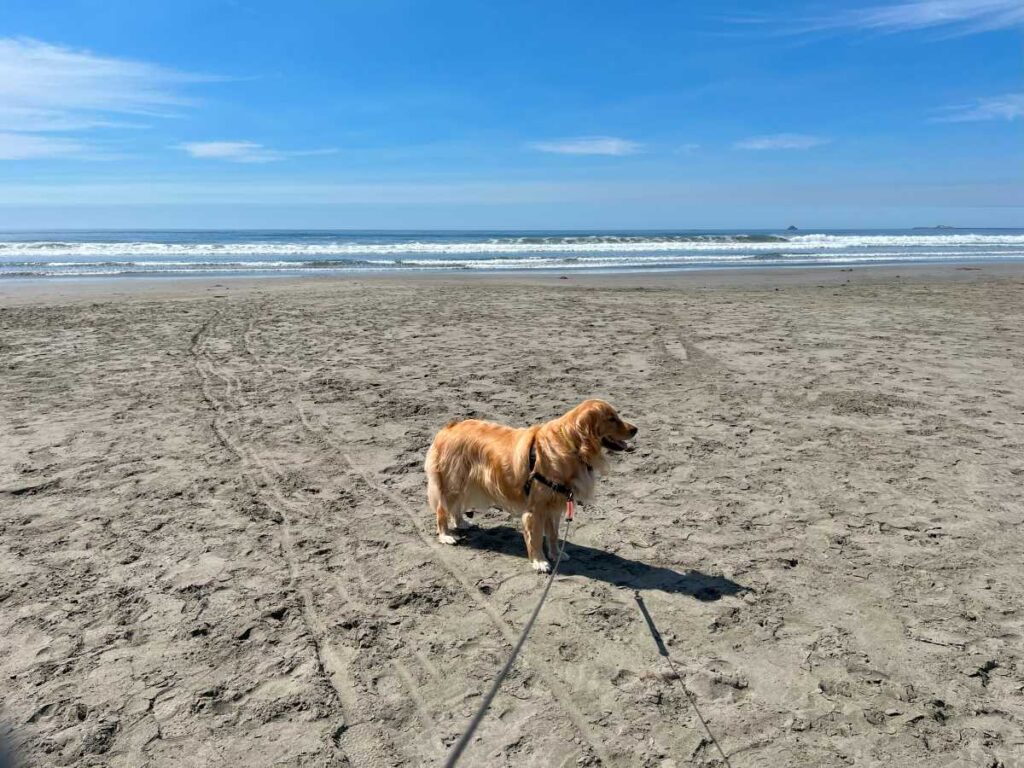 Then We Discovered the Beautiful Beaches
The afternoon of Day 2 found us heading for the coast. As much as I loved the earthy feeling of the Redwood forests, the beaches were my place of joy. The beaches of Northern California are a little different than the image you might have from the old beach party movies. The average temperature of the Ocean in this area is in the 50s year around so you might not want to take a swim. And most of the year the breeze is too cool for sun bathing. However, the beaches were perfect for a day of relaxing, sandcastle building and walking along the ocean.
Crescent Beach
There are dozens of places to access the beaches just off the famous Highway 101. We stopped for a picnic lunch at Crescent Beach, pausing to watch Roosevelt elk grazing along the entrance road. Since it was a weekday, not many people were around so it was easy to explore and walk Charlie (our pup) along the water. Surprisingly she did not freak out over the big waves as she had in Florida. Hmm… maybe there's something different here?
Prairie Creek Redwood State Park
We spent the afternoon meandering along Highway 101, stopping at various overlooks. Arriving at Prairie Creek Redwood State Park, we drove along the Newton B. Drury Scenic Parkway.  This gorgeous 10 mile drive is meant to be taken at a meandering pace so you can embrace the beauty of the old growth grove.
You'll find a lot of pull offs along this road with multiple hiking trailheads such as the popular Big Tree Trail and the more challenging James Irvine Trail. We also made a short stop at the visitor center, where crowds had gathered for an early evening chance to watch elk grazing in the meadow.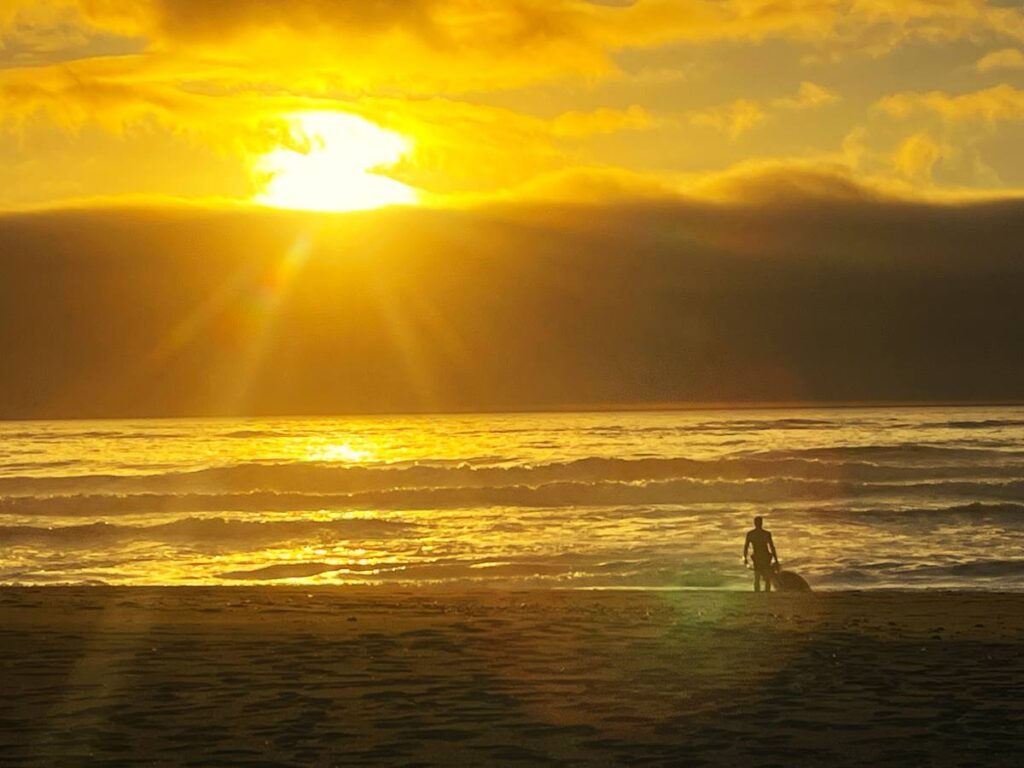 Gold Bluffs Beach
We didn't stay long to watch elk because I was completely focused on getting to nearby Gold Bluffs Beach Campground before sunset.
Well, we had to work for the prize. The road to the beach is narrow, steep and only one lane in most places. With lots of hairpin curves it took us about ½ hour to drive the 6 miles down to the beach.
We had the most amazing campsite, right on the beach with a full beach view. The campground only has 24 spacious sites so we felt as if we were on our own private beach. After a quick dinner, we grabbed a bottle of wine and chairs and moved closer to the water to await sunset. Our entertainment was birds searching for crabs, giant crashing waves, a couple crazy guys kayaking the waves (brrrr) and a single family digging in the sand. Paradise!
Alert: Gold Bluffs Beach and neighboring Fern Canyon have restricted access so if you are considering a stop here, make sure you have read the most recent reservation and vehicle limitations. 
Fern Canyon
A hike through Fern Canyon started our third day. Since dogs aren't allowed on the trail, we started early so Charlie would be cool in the truck. First I must share that the road to get from the beach to the trailhead is an adventure in itself. Brad love putting the truck into 4 wheel drive and splashing through the creeks that cross right over the road.
Alert: If you don't have a high clearance vehicle check with rangers on the water levels over the road before driving in. You can alternatively park at the beach day use area and hike in.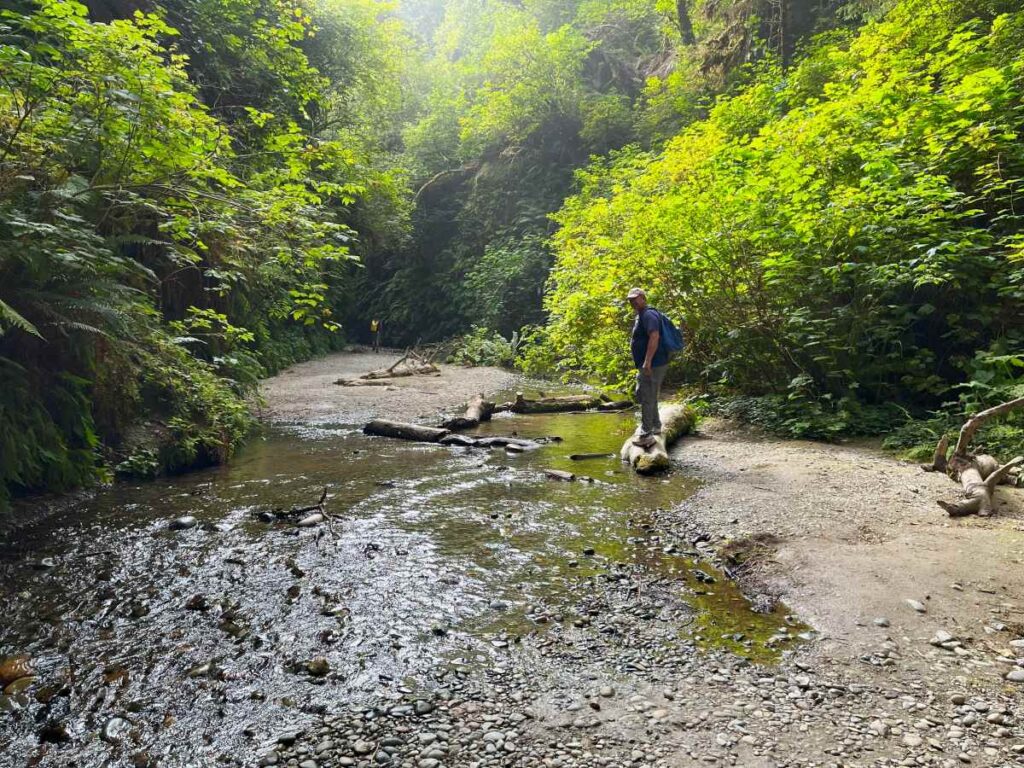 While you may have seen the canyon in one of the Jurassic Park movies filled with dinosaurs, in real life it is much more like a fairly land. The canyon walls are covered with ferns while trees tower over you. There is no marked path, instead you wade through streams and hop over downed tree trunks as you traverse the canyon. When the sun trickles over the canyon walls, you fully expect elves and fairies to appear out of the mist.
Insider Tip: Wear waterproof shoes as there is no avoiding getting your feet wet. I wore a pair of machine washable slip on shoes with a good tread, while Brad wore a pair of waterproof hiking boots. I wouldn't suggest flip flops as the trail is rough. Hindsight I would have taken my Tevas, my favorite water sandal, but alas, due to limited camper space they were still at home.. 
At the end of the canyon you are greeted by an optional route with stairs that take you to a trail that looks over the canyon and loops back to the beginning of the trail. If you are up for a short climb, it's worth it. 
Lady Bird Johnson Grove
We made one last stop to gaze at the enormous redwoods before heading to Lassen Volcanic National Park. That was at the Lady Bird Johnson Grove. It's located about 3 miles from Highway 101 on the Bald Hills Road. 
This is the spot where President Nixon dedicated the grove to Lady Bird Johnson in recognition to the conservation initiatives she led. The trail is a 1.5 mile nature hike through old growth redwood trees. It's a beautiful family hike. 
There are markers along the way where you can listen to a narrative on your phone explaining the history and growth cycle of redwoods. Make sure you download the tour onto your phone from the NPS app before you head up Bald Hills Road as there was no cell service there. I was disappointed that I hadn't planned ahead and missed the audio tour as I walked the trail.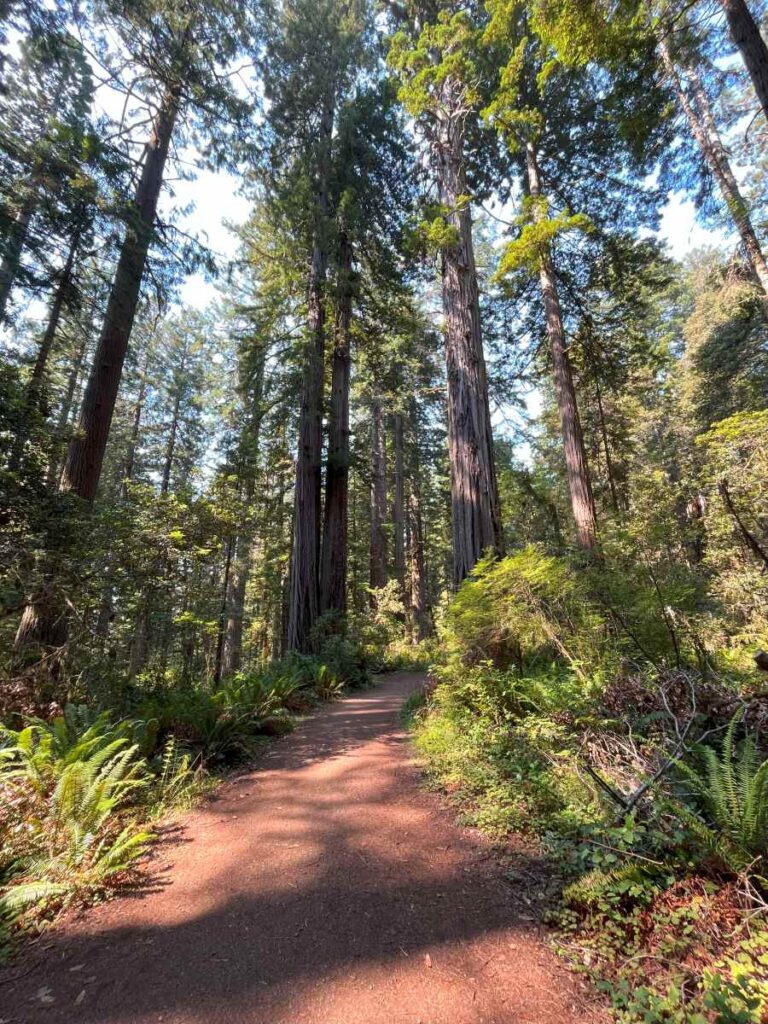 Note, the 3 miles on Bald Hills Road to the grove is up a steep grade with sharp curves so not recommended for RVs or trailers. Also there is no parking for oversize vehicles. It was a challenge fitting our full size truck in the lot. 
If you are up for challenging scenic drive, continue on Bald Hills Road. At about the 7 mile marker you'll find the entrance to the Tall Trees Grove trail. Make sure you get a permit from the visitor center before you start the drive as it is a locked gate. Time ran out for us so we skipped this extra jaunt. And we skipped the last stop in our recommended itinerary to Humboldt Lagoons State Park.
More About Things to Do in Redwood National Park
Redwood National Park Scenic Drives
There are 3 scenic drives in Redwood National Park and each is a little bit different. Let's take a look:
Howland Hill Road
This is one of our all time favorite National Park scenic drives. Howland Hill Road weaves through gigantic old growth redwoods for 10 miles. You can reach out and touch the trees, they are that close to your vehicle. 
Most of this road is the original 1850 stagecoach trail. And even though Howland Hill Road is a two-way road, much of it is narrow and one lane. That means you'll spend a lot of time backing up and pulling over to allow an on-coming car to go by. Plan at least an hour for this drive. 
Of course you should get out of your car and try a few of the hikes which could make this drive a full day adventure.
Stout Memorial Grove is a must stop. It's a very easy 0.5 mile loop walk where you'll experience the peace of the redwoods.
Grove of the Titans via Mill Creek Trail. Mill Creek is a longer all day hike. But you can pop onto the trail from Howland Hill and take the short hike to the Grove of Titans. And the name says it all. You'll find giant trees!
Boy Scout Trail to Fern Falls is about a 6 mile round trip hike that is moderately difficult. It is a gorgeous walk through the trees.
Because of the tight fit, RVs and vehicles pulling trailers shouldn't attempt this drive. Seriously, there are too many places you just won't fit. We felt a little cramped with our full size pick up.
Newton B Drury Scenic Parkway
For a modern drive that can accommodate any type of vehicle hop off Hwy 101 onto the Drury Scenic Parkway. Located in Prairie Creek State Park, this 10 mile drive wanders through huge redwoods. There are ample places to pull off and touch the trees. And you'll find several amazing hikes that trailhead along this road.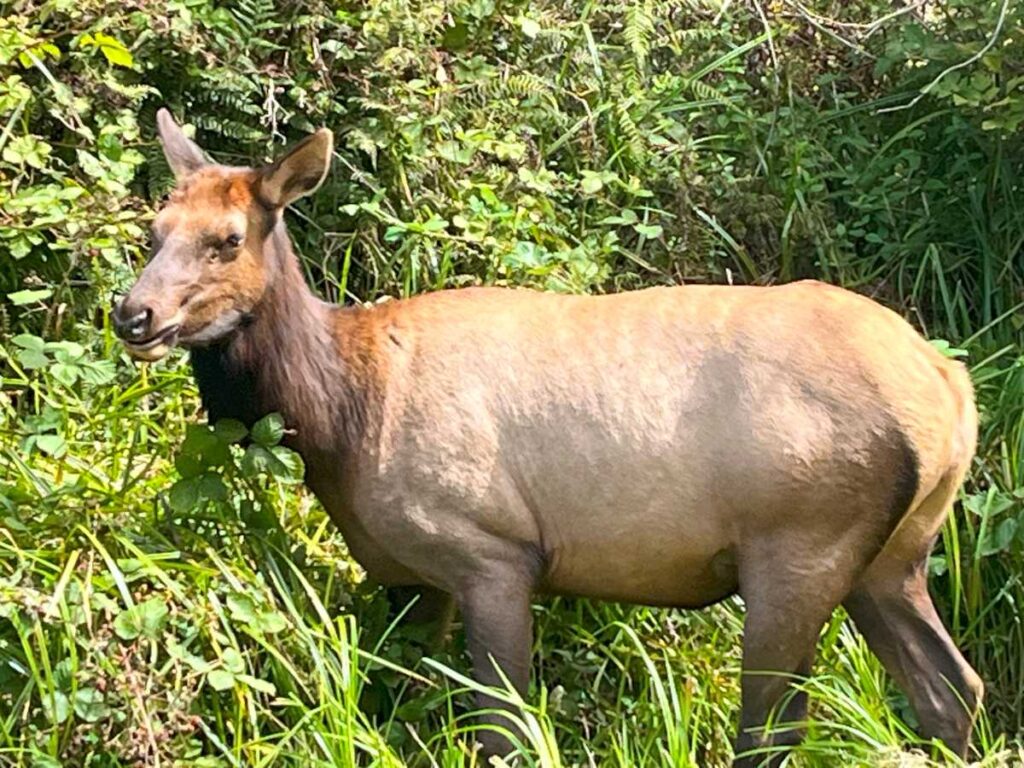 Watch for Roosevelt Elk, especially in the early morning or late afternoon. While they tend to gather in the open field at the visitor's center on the South end of the drive it is possible to see them anywhere along this road.
From October through May, the road is closed on the first Saturday of each month for biking and hiking. The blacktop, wide road provides a very accessible opportunity for everyone to get close to the big trees!
Bald Hills Road
There are several memorable hikes along this road that make it worth the journey. However, if you are not planning to get out of your car, my recommendation is to skip this drive. You'll have a better up close experience with redwoods on one of the other drives.
The best hikes include:
Lady Bird Johnson Grove, where she dedicated the national park in 1968. It's an easy 1.5 mile loop. Make sure you download the nature guide for this hike before you drive up here as there is no cell service.
Tall Trees Trail, which requires an advance online reservation. 
Lyons Ranch Trailhead where you'll find an abundance of wildflowers in the spring.
Bald Hills Road is another one of those roads with tight spaces. So it's also not recommended for vehicles over 22 feet or towing a trailer. At the beginning it has a steep 15% grade with very tight curves. You can leave your trailer at the Redwood Creek Trailhead if you want to give this road a try.
Highway 101
Even though it's not an official scenic drive in the Redwood National Park, I have to include Highway 101 in the list. As you travel 101 between the larger areas of the park don't hesitate to enjoy a pull off to a beach or overlook.
Where are the Tallest Redwood Trees
Coastal Redwoods are the tallest trees in the world, with a large number well over 300 feet tall. The prize for the tallest tree of all varies from year to year because growing conditions allow one to grow faster than another. Also the tops of trees have been known to break off in high winds. 
According to the National Park Service. The current tallest Redwood tree is 379 feet tall, located in the Redwood Creek watershed. It's exact location is not publicized in order to preserve the tree.
However, don't be disappointed as you will see a lot of trees over 300 feet as you follow our Redwood National Park Itinerary!
What's bigger? Sequoia vs Redwood
That seems to be a popular question! Redwood Trees are taller. Sequoia Trees are bigger in diameter and have greater total volume.
Beaches in Redwood National Park
Two beaches are within the park area. Both have a day use fee:
Crescent Beach on the North end of the park, near Crescent City. The beach has easy access from Highway 101 with a fairly large day use parking area. We had a great lunch here and loved exploring.
Gold Bluffs Beach near the Elk Creek Redwoods State Park Visitor Center.This beach has both a campground and day use area. However, you need an advance permit to enter the area. Permits are only available online. Warning… Davison Road to Gold Bluffs is narrow with a lot of switch backs. RVs and trailers are not allowed on this drive.
If you want to get away from the crowds, try hiking a section of the Coastal Trail. The trail follows the beach for most of the 70 miles of the park. You can walk a short section as a day hike and discover remote beaches. Or, get a back country permit to hike and camp longer distances.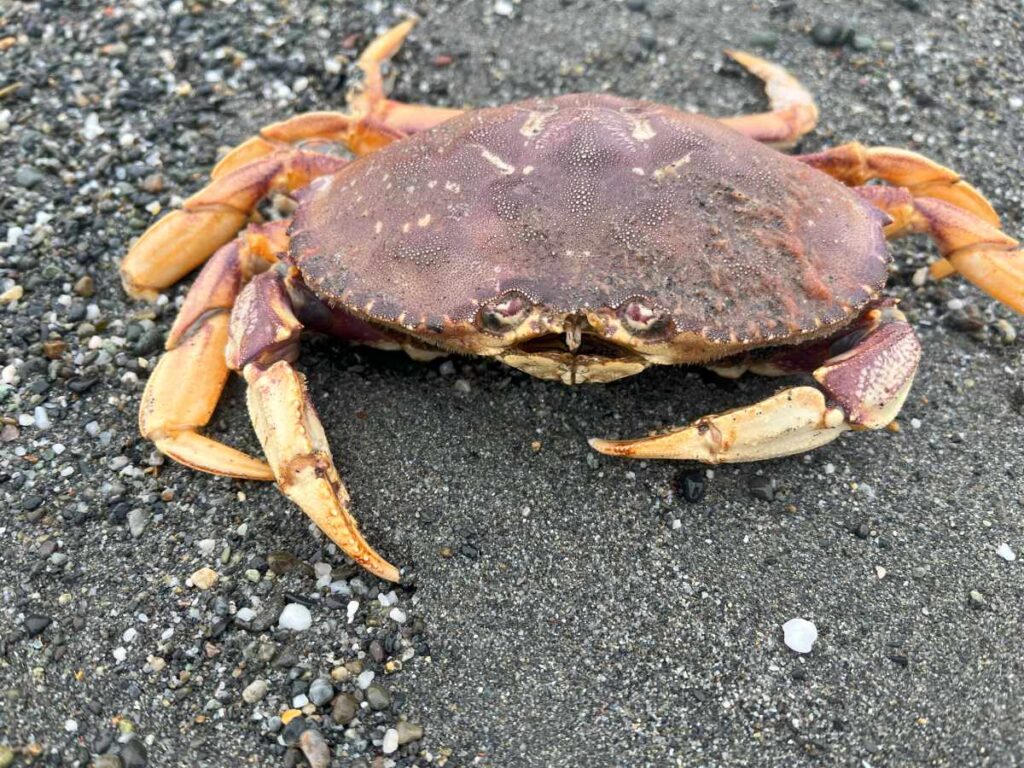 Add Wildlife Watching to Your Redwood Itinerary
Those big trees aren't the only thing happening in the park. During our 3 days, we saw harbor seals playing in the ocean and Roosevelt elk leisurely walking across the road. I'm happy to report we missed the black bear that visited our campground the night before. We watched shore birds crabbing and discovered sand dollars at the beach. 
As you can imagine, birding is a favorite activity among the redwoods with 280 species recorded in the park. Just as popular is exploring tide pools, where you can find colorful sea creatures like anemone, seastars and a variety of crabs.
How to Get to Redwood National Park
Driving is your best way to thoroughly explore Redwood National and State Parks. There are a few small tours out of Crescent City if you don't drive, but the choices are very limited. 
Where is the Closest Airport?
Crescent City is home to a small regional airport that only offers flights to San Francisco (Oakland). To fly to a major airport where you can then rent a car, check out San Francisco or Portland, Oregon. Each is about a 6 hour drive to the park. 
Road Trips to Redwood National Park
San Francisco to Redwood National Park
A lot of people make a 2 to 4 day road trip from San Francisco. It's about a 6 hour drive from the city with gorgeous scenery along the way on the coastal Highway 101. San Francisco is an easy city for flights from around the country. Visitors can easily combine other California National Park Sites, such as Muir Woods, with their road trip for an amazing outdoors experience. 
Seriously consider renting a campervan in San Francisco for this road trip. We saw hundreds of rentals while we traversed the state's National Parks. Our favorite is Travellers Auto Barn, which we used on our Arizona National Park Road Trip, because there is no additional mileage charge. We loved that camper!
Portland to Redwood National Park
The 6 hour drive from Portland to the Redwoods takes you through the mountainous Umpqua National Forest. Visitors choosing this route to the Redwoods often add a couple hours to their drive and swing through Crater Lake National Park in Southern Oregon. 
Nearby National Parks Road Trip
If you have 5-7 days to explore, consider doing a loop that includes Redwood National Park, Lassen Volcanic National Park and Crater Lake National Park. That loop works well from either San Francisco or Portland airports. It's only about 5 hours between each park.
Where to Stay When Visiting Redwood National Park
Lodging Near the Park
The only lodging in the park are 8 camping style cabins, 4 in Jedediah Smith State Park and 4 in Elk Grove Redwoods State Park. If you are interested in those cabins, competition is fierce. You can only reserve online through the campgrounds and need to book as soon as they open up. 
The largest selection of lodging options are in Crescent City. That puts you right in the center of everything you'll want to see on your Redwood National Park Itinerary! See all the lodging options here. There are some really cool local inns just steps from the beach, like 
You might also want to check out local home rentals. My top recommendation is this dog friendly cabin a short walk from the beach.  Or check out this eco-friendly Sunset Sanctuary, where you can have your morning coffee on the terrace with a full view of the sea!
Camping in Redwood National Park
Out all of our 26 nights of camping on our California Road trip, 2 of our best campsites were in Redwood National Park. There are 4 campgrounds, all within the three California State Parks where you can make camping reservations. While all 4 campgrounds do allow walk up camping if there are open sites, they are usually fully reserved in the summer months. 
If you don't have a camper, think about a campervan rental. We saw these rentals in every campground throughout our trip. The nice thing about using one for Redwood National Park is that it fits on the narrow roads we mentioned above and in the smaller sized campsites that are prevalent.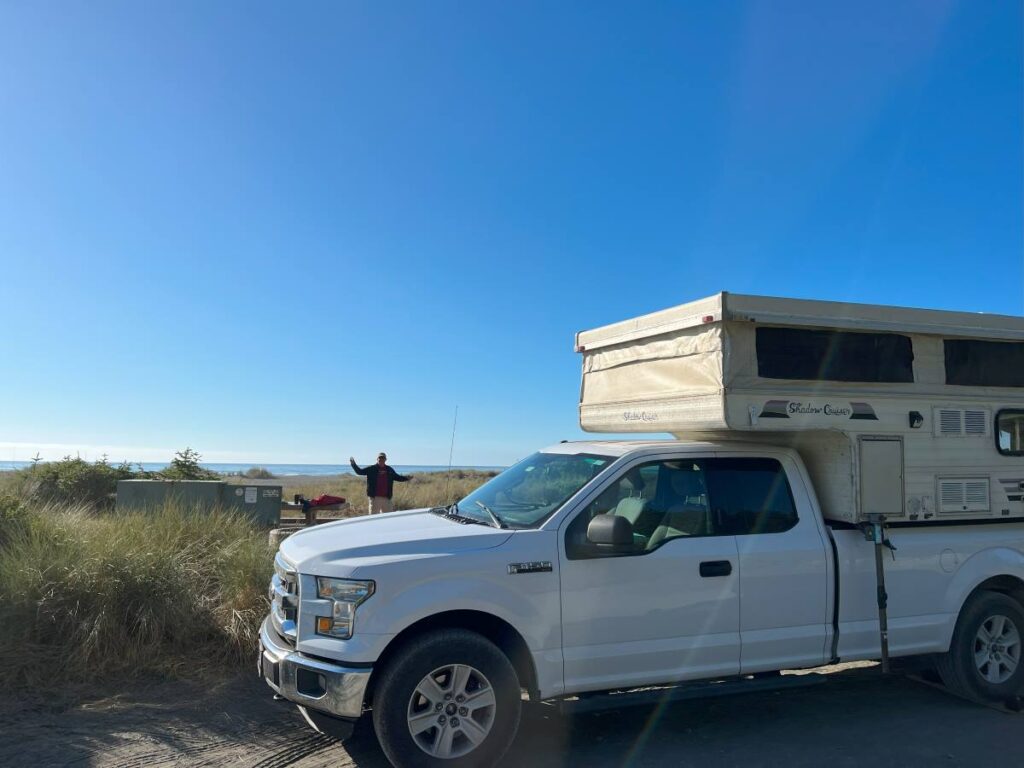 Gold Bluffs Beach
Without a doubt Gold Bluffs Beach was my overall favorite campground. It might just be my favorite National Park campground ever. Why? Because we spent a gorgeous night on the beach sleeping to crashing waves only 100 yards away. The beach is dog friendly. The campground is spacious. It even had nice toilets and solar powered showers which is pretty amazing for a remote campground.
But it might not be for you. Here's why:
It's primarily a tent campground. They do allow campervans and small RVs that can fit in a normal parking space. But definitely no trailers or larger RVs. So our truck camper just fit. 
A related point… trailers and large RVs are not allowed on the road that leads to the campground. Davison road is a steep narrow, often one lane road with sharp switch backs. So even if you are a tent camper, if you aren't prepared to drive this challenging road you might not want to camp here.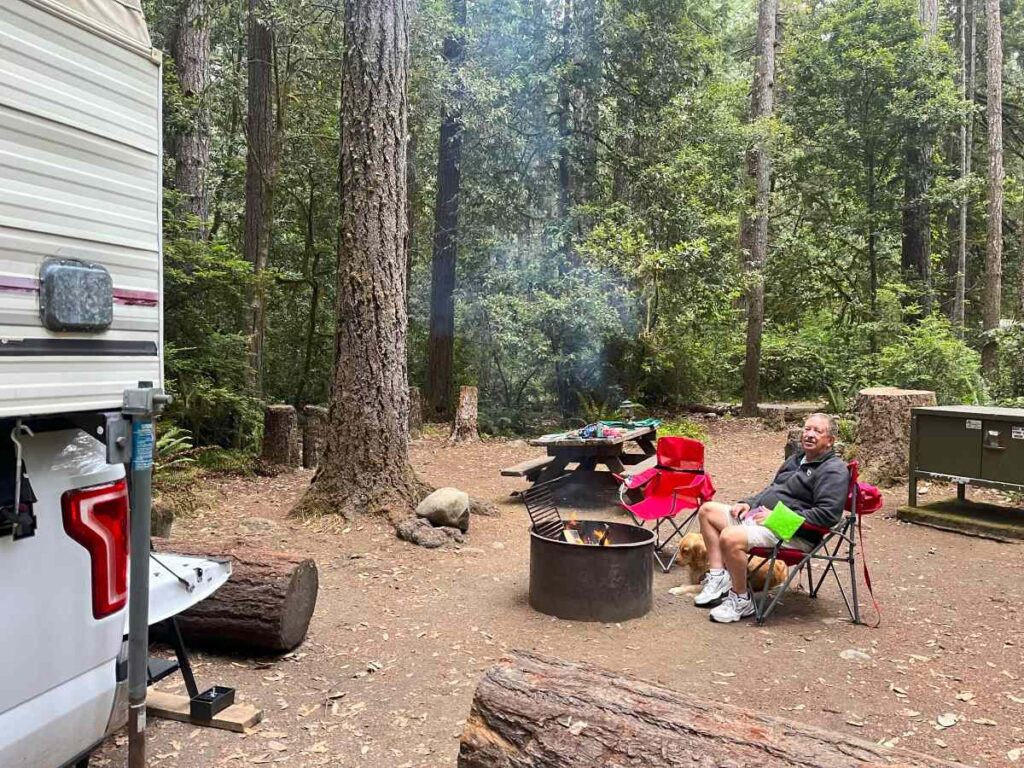 Jedediah Smith Redwoods State Park Campground
This campground is in my top 10 list of favorite campgrounds in National Parks. I loved sleeping deep in the redwood forest. In this campground you are surrounded by these giants. The camp sites are fairly private with bushes and trees separating you. This campground had really nice bathrooms and modern hot showers. 
Be aware of the size limit. It can only handle RVs up to 25 feet and trailers up to 21 feet. There is plenty of space for tent campers. There are no hookups, but water pumps for drinking water are available throughout the campground. 
Mill Creek Campground
Because of it's centralized location, Mill Creek Campground is a good choice for your visit to the Redwoods. It's located near Hwy 101 in the Del Norte Coast Redwoods State Park. Here you will sleep underneath towering maples and new growth redwoods. One of the rangers told us that Mill Creek is the most likely to have last minute campsites available. 
Mill Creek has 145 campsites, many of which can handle an RV up to 28 feet and a trailer up to 24 feet. You'll find hot showers and modern toilets as well as potable water. However there are no hook ups.
Elk Prairie Campground
Open all year, Elk Prairie campground is a gorgeous spot to spend the night. It's tucked in behind the visitor center where you are highly likely to find elk wandering through the campground in the evening. 
This is a smaller campground with only 76 sites. You will still find modern toilets and hot showers available. The maximum vehicle size is 27 feet for RVs and 24 feet for trailers.
Redwoods Camping For Bigger RVs and Trailers
As you can see, the park is not very accessible to bigger rigs. Your best bet for longer campers is to check out the RV parks in Crescent City where you can get full hook ups and have the perfect home base for your adventures into the Redwoods. 
Where to Eat While Visiting RNP
Bring a cooler. Places to buy food were few and far between on our Redwood National Park Itinerary. So pack a cooler with drinks, snacks and sandwiches and embrace a picnic under giant trees or on a beach.
Crescent City is the best place to stock up on lunch supplies. They have a variety of restaurants, from fast food to great dining, in town. 
Near the Hiouchi Visitor Center on Hwy 199 there was a cute diner, Hiouchi Cafe, with lots of outside seating. The ranger at the Visitor Center recommended them for a great breakfast.
And you'll find a couple of stops along Hwy 101 near Klamath River. 
What to Pack for Your Redwood National Park Itinerary
What clothes should you take?
Any trip to the Redwoods should start with a good rain jacket. After all you are in a rain forest here. October through April can bring 60-80 inches of rain. Summer is much drier, which is why we occasionally hear about fires in August and September. 
You'll also want a good pair of hiking shoes with waterproof soles. Many of the trails are rough and it's not uncommon to walk through shallow water. If you head to Fern Canyon, sturdy water shoes are a must.
Beyond that, think layers. Temperature during the days is usually in the 60s and nights in the 40s. Winter might be a few degrees cooler, but temperatures don't vary much with the seasons. We had slightly warmer weather during our September trip and I was comfortable in a t-shirt and fleece jacket. It's going to be windy at the beach so you'll definitely need a good jacket there.
You will not need a swim suit. That ocean is cold with water temperatures ranging between 49 and 56 degrees. Yes, that's fahrenheit so no exactly bikini conditions. 
Hiking Gear
What you need for hiking will depend upon what type of hikes you plan. Keep in mind that hiking in the woods means you may need long pants to protect your legs. You'll also want sturdy shoes for uneven surfaces. 
Check out our complete checklist for what to pack for day hikes. With that packing list you can match your plans to the right gear. 
Other Gear for Your Redwoods Road Trip
Folding Chairs because you are going to want to chill on the beach for awhile. You might also want to sit near the open meadow by the Elk Prairie visitor center so you can watch the elk that come out in the early evening.
Cooler of drinks, snacks and lunch. As I mentioned earlier there aren't a lot of eating options in the Redwoods. We have a lot of unique lunch ideas here. 
Mosquito Spray. They can be vicious during the rainy season.
Sunscreen. Even though the water is cold on the beach the sun is still intense reflecting off the sand. Protect yourself.
Cash. The day use areas that charge a fee are cash only.
Best Time to Visit Redwoods State and National Parks
Because the temperatures are moderate all year, you can visit the Redwoods any season. 
Winter: You may run into snow in the winter months, which only means you have to be flexible then. Winter is also the wet season so bring a good rain coat and nothing can stop you from enjoying this gorgeous rain forest.
Summer means more people. But the crowds here aren't nearly as crazy as you'd find in Yellowstone or Sequoia. It does mean you should get reservations for camping or hotels as early as possible. 
Fall and Spring are great times to visit. The number of people visiting are greatly reduced and the weather is amazing. Do check that places you want to visit are open. Some will close seasonally and others may close for seasonal repairs.
More Tips for Your Redwood National Park Itinerary
Download the NPS app before you go. Then download the self guided tours to your phone. Once you are in the park there usually isn't cell service and you won't be able to access the tours. I really missed out at Lady Bird Johnson Grove when I didn't know what each of the stops were all about.
Maps. Either paper maps or pre-downloaded maps to your phone/GPS system. The National Park Service warns in multiple places to not trust a GPS unless you look at the map to verify it makes sense.
A visit to Redwood National Park promises a journey into the heart of nature's grandeur. You'll embrace its towering giants, lush landscapes, and pristine coastline. Redwood National Park caters to every nature lover's soul.
This Redwood National Park itinerary serves as a roadmap to help you make the most of your time. Remember, this itinerary is just a starting point. You'll discover unexpected wonders around every bend. We hope you fall in love with this park. We did!