This post contains affiliate links to make it easier for you to find products I have mentioned. You don't pay any extra and in some cases I could earn a small commission.
We were sharing stories of our Gates of Lodore River Rafting trip with friends the other day, and on the way home Brad told me I looked so beautiful as my face lit up talking about rafting Lodore Canyon. Now what kind of vacation has that kind of emotional impact on you months after you have settled back into your normal routine! Don't you deserve that type of adventure?
Without a doubt we first think of the adrenaline rush that goes along with river rafting. Racing through white water, gripping tightly as the raft bounces forward, gets your heart racing! But if that is all you think a multi-day river rafting trip is about then you are selling the experience short.
Day 1 – Riding the Rapids in Lodore Canyon
Our trip started quietly, with a van ride from Holiday River Expeditions office in Vernal, UT to our put in point in Brown's Park National Wildlife Refuge in the SW corner of Colorado. It wasn't long before we passed through the Gates of Lodore where the Canyon Walls rose to 800 feet above us. The geological beauty is breathtaking.
River Rafting is a wonderful blend of hours of casual floating where you slowly unwind interspersed with short bursts of riding high adrenaline white water. Day 1 did not disappoint as we met up with Disaster Falls. In 1869 naturalist and explorer John Powell traversed Lodore Canyon. When his party met up with Disaster Falls, one of their boats crashed against the rocks. Although all 3 of the men and a keg of whiskey survived, they lost the boat and their supplies.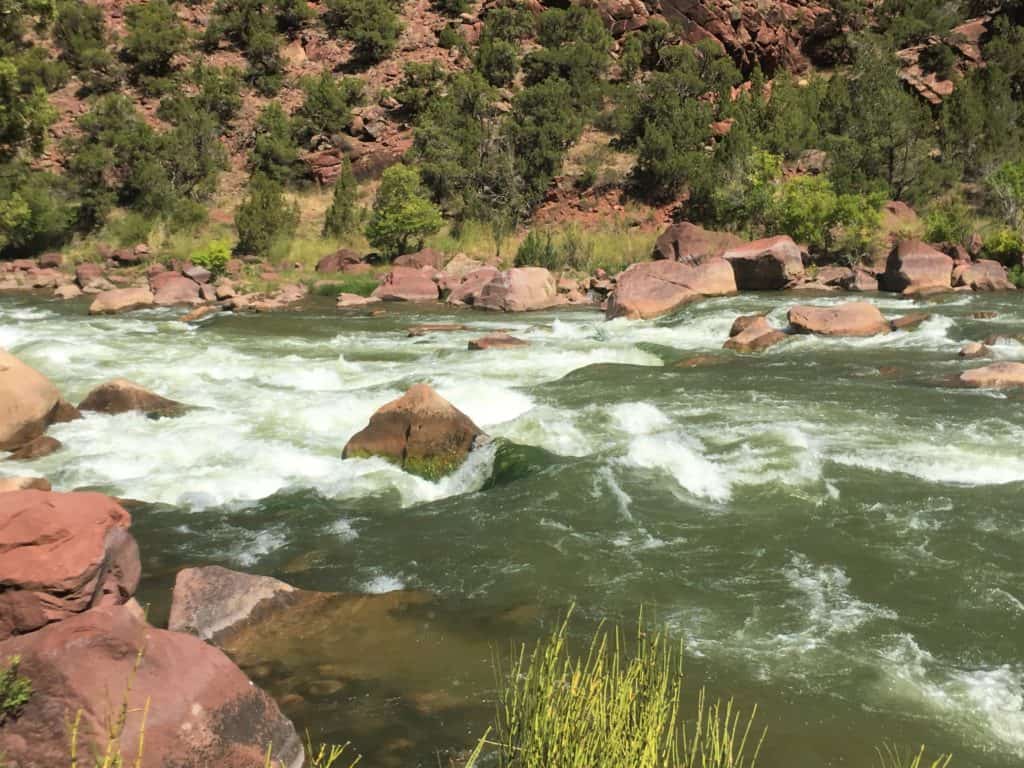 The only thing we lost in Disaster Falls was the stress that we brought with us. It just washed away with the first splashing waters! We laughed as we hung on tight and our guide expertly navigated our raft through the rocky water. Whitewater is definitely 10 times more fun than the best roller coaster ride.
The day on the river ended with an unimaginable night of star watching. The stars are extraordinarily bright in the rarely experienced dark skies. Venus, Jupiter and Mars were all visible in the night sky. The Milky Way created a sparkling carpet. We joined with our fellow travelers watching for shooting stars from the Perseid Meteor Shower that was active. No one wanted to leave the show and head to bed.
---
To get more information or to book this trip, check out this page on Viator's web site. That's where you can book a wide variety of adventures. I was glad to find that they were partnering with Holiday River Expeditions for this amazing Lodore Canyon adventure!
---
Our Guides Were Over The Top
Our guides, Rolf and Sam, were amazing. Most important they made us feel safe and continually demonstrated their prowess in expertly navigating the rafts through the many falls and whitewater sections of the Green River.
Ahh… But they wore so many hats with ease: Cook, Porter, Story Teller, Naturalist, Guide to Hidden Discoveries, and seriously anything else we needed. It may sound a little cliche but they truly took care of our every need.
Each day they prepared and served delightful meals, setting up a full kitchen for breakfast and dinner. The food was so good! Dinners ranged from steaks to spaghetti, breakfasts of eggs and pancakes, yummy shore lunches and great snacks for cocktail hour. With kids in the group they always made sure there were options to please everyone.
Day 2 – A Secluded Waterfall Hike
Mornings might have been my favorite part of rafting Lodore Canyon. There was no need to rush, so everyone took a little more time over their coffee while soaking in the river view.
Day 2 brought many more exciting rapid runs. Being the first to chart this river, Powell had the pleasure of naming many of the rapids and he was very creative with names like Harp Falls, Triplet Falls, and Hell's Half Mile. By the name, I'm pretty sure he found that last one quite challenging in their heavy wooden boats!
Unlike Powell, our rafts handled the rushing water extremely well. Sam told us the story of the company founder, Dee Holladay, who custom designed the rafts we were enjoying. Dee was an advocate for conservation of the rivers and was a leader in setting the "leave no trace" requirements for land management in the West. It was obvious our guides were passionate about ensuring that the land was maintained. Each camp was as if no one had ever visited before: clean when we arrived, clean when we left.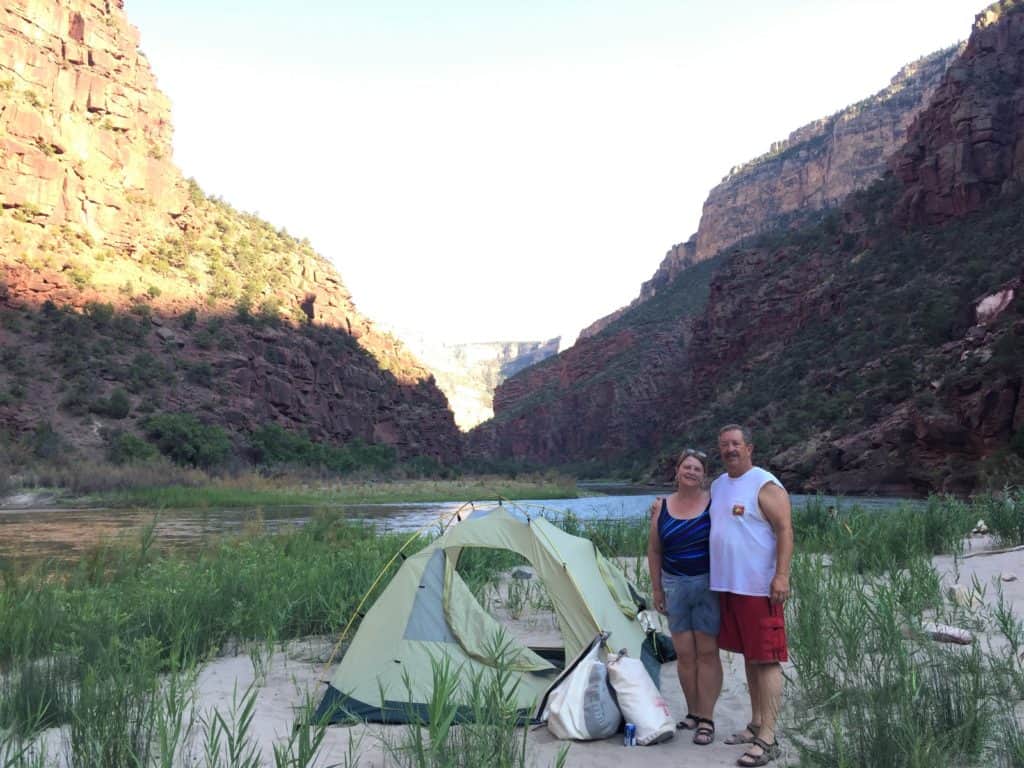 Lunch included a hike up a narrow path along the canyon wall to a very secluded waterfall. How cool is that. Actually it was very hot so we enjoyed a cool shower in the falls!
A little further down the river we stopped for the night where Brad and I selected "Beachfront Property" for our campsite. Try to imagine falling asleep to the sounds of the river rolling by. Amazing.
Our Fellow Travelers Were Delightful 
We traveled with the most wonderful people. I read many reviews before choosing our outfitter for rafting Lodore Canyon and camaraderie on these river trips seems to be the common theme. I guess people who love the outdoors tend to be genuinely nice people!
Our group was small, with only 2 rafts and 9 guests. (Most groups are larger.) One raft was home to a family with 3 boys. They were commemorating the eldest's launch to college. We shared our raft with father – son duo who had previously enjoyed river rafting. For both it was a rare get away without their wives so they could enjoy staying connected.
---
Our trip rafting Lodore Canyon was the finale of our Utah National Parks road trip. To read more about that check out our post: ARE YOU CRAZY ENOUGH TO VISIT 5 UTAH NATIONAL PARKS IN 5 DAYS? It's a not to be missed article if you are thinking about a Utah vacation!
---
Day 3 The Day of The Duckies
What is a Duckie you ask? Me too. I had never heard the term. They are inflatable kayaks. The guides broke them out and most of the travelers rotated time in the duckies throughout the day. I love to kayak on our little lake at home, but found the duckies a little hard to steer. But of course, Brad took that as a challenge and loved his time running through the rapids in his own private boat.
Fishing was on many minds. Our camp was on Jones Hole Creek which promised trout feed from the fishery 4 miles up the creek. The family of boys brought out their fly fishing gear and settled in at the little lake nature created where the creek met the river. Brad grabbed his rod and we joined the non-fishing folks for a hike up stream.
It was unbelievably hot and we were so relieved when we arrived at the "hot tub". Nature had carved out a pool, with various small waterfalls, that was perfect for relaxing and cooling down. From here the rest of the group followed the trail to view petroglyphs. We decided to slowly work our way back fishing.
Brad's Fishing Adventure
Brad caught a trout fairly quickly and we realized that we forgot a stringer. So I volunteered my sunglass tie and settled in on a rock as he continued to fish. I am so glad that my husband is obsessive about making sure he has proper license and understands fishing regulations.
Why?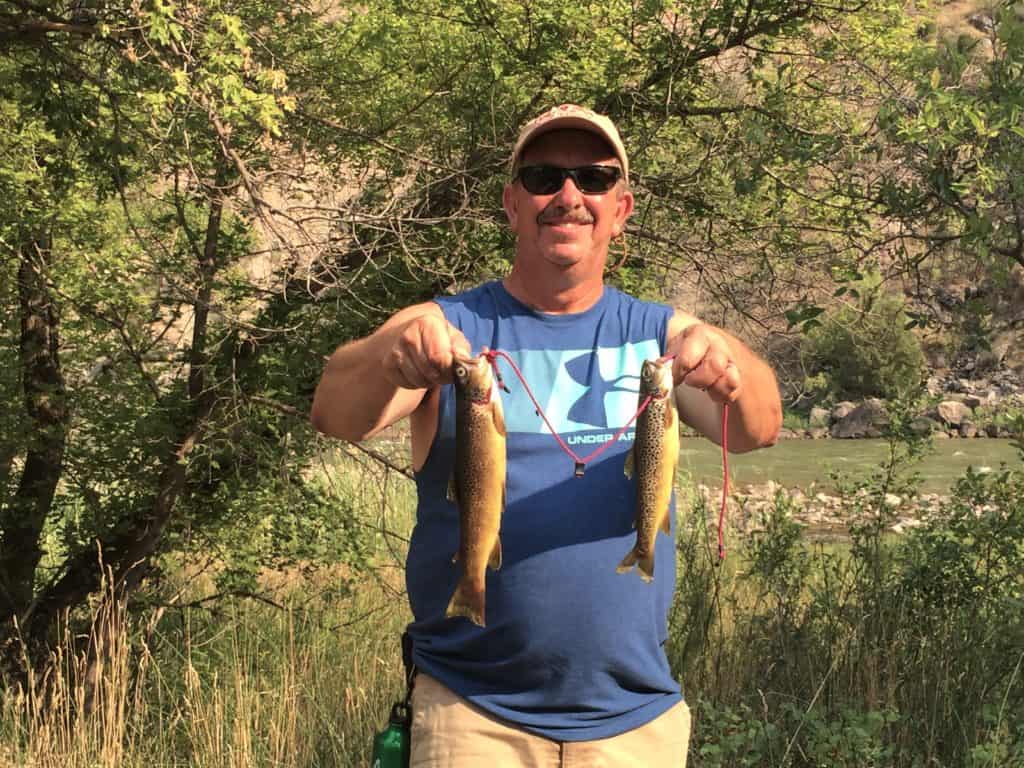 Because I'm sitting there holding a string with a fish on it and around the bend comes a ranger. Seriously, here in the middle of nowhere? He admired my fish and then chatted with Brad, checking his license. So lesson… if you plan to fish get your license! I'm sure the fine would have been ugly.
And here's how cool our guides were. They offered to cook our fish (he caught a second one) along with the night's steaks. Everyone enjoyed a bite of fresh trout!
After dinner, the boys played games on the beach and adults relaxed over the last of the cocktails. Can't you just picture yourself sitting there!
Day 4 – What do you call Perfection?
Peaceful!
That's the only word needed to describe our last morning rafting Lodore Canyon. By now any stress that we brought with us was long eradicated. It was so easy to live in the moment and enjoy the river.
The afternoon brought more rapids to seal the memory of the power of the Green River. And then it was take out time. The van picked us up and it was a short ride back to Vernal.
Should you make this trip through the Gates of Lodore? A big fat YES is my answer. I'm going crazy urging all of our friends and family to give a river rafting trip a try. I've never had 4 more relaxing, yet adventure filled, days in my life. We are already planning our next trip!
---
To get more information or to book this trip rafting Lodore Canyon, check out this page on Viator's web site. That's where you can book a wide variety of adventures. I was glad to find that they were partnering with Holiday River Expeditions for this amazing adventure through the Gates of Lodore!
---
While you are here, don't forget to pin this to your vacation adventure board so you have all the details when planning your trip! And we'd love to hear about your river rafting experiences in the comments below.