Unlike any other, hiking The Narrows in Zion National Park is almost completely a walk in a fast moving river. Seriously, the Virgin River is your trail! In some places the walls on both sides of you are over 1000 feet tall, while the river is only 20-30 feet wide. Without a doubt, the Zion Narrows corridor is an impressive site. The layers of reds, pinks and grays create a gorgeous pattern on the walls.
If you don't have the Zion Narrows hike on your bucket list, you need to pull out that list right now. You'll never experience anything else like it. We'll be telling stories of this hike for the rest of our lives!
The Narrows Hike Has A Difficulty Level for Almost Everyone
Brad and I love to work on crossword puzzles on our road trips. Perhaps you've noticed that in the puzzle book they rate the difficulty and depending upon your mood and your skill you can select how much effort you want to put into a puzzle.
Well, that's exactly how you will find hiking the Narrows. It's a hike that can easily be adjusted to fit a wide variety of hiking styles and feel like an adventure for every level.
In The Narrows, there is a hike for everyone, for every skill level, for every bucket of time available. On one extreme you can do the top to bottom hike which takes 2 days and special equipment. And on the other extreme, you can take a pleasant morning walk along a paved trail and then wade in the stream for a little bit to cool off. And then there's everything in between!
During our day of hiking The Narrows we encountered many families with small children as well as energetic 80-year-old grandmas, all enjoying the refreshing water and the intriguing views.
What is The Narrows Zion Hike?
In simplest terms, The Narrows were formed by the Virgin River cutting through the layers of sandstone that had been laid in this area over 250 million years ago. If you want to read about it in more detail check out the National Park's Zion Geology page.
The power of the river is evident in the tall canyon walls that climb straight to the sky all around you. Surrounded by these walls that are taller than many city skyscrapers, you are walking through an open tunnel.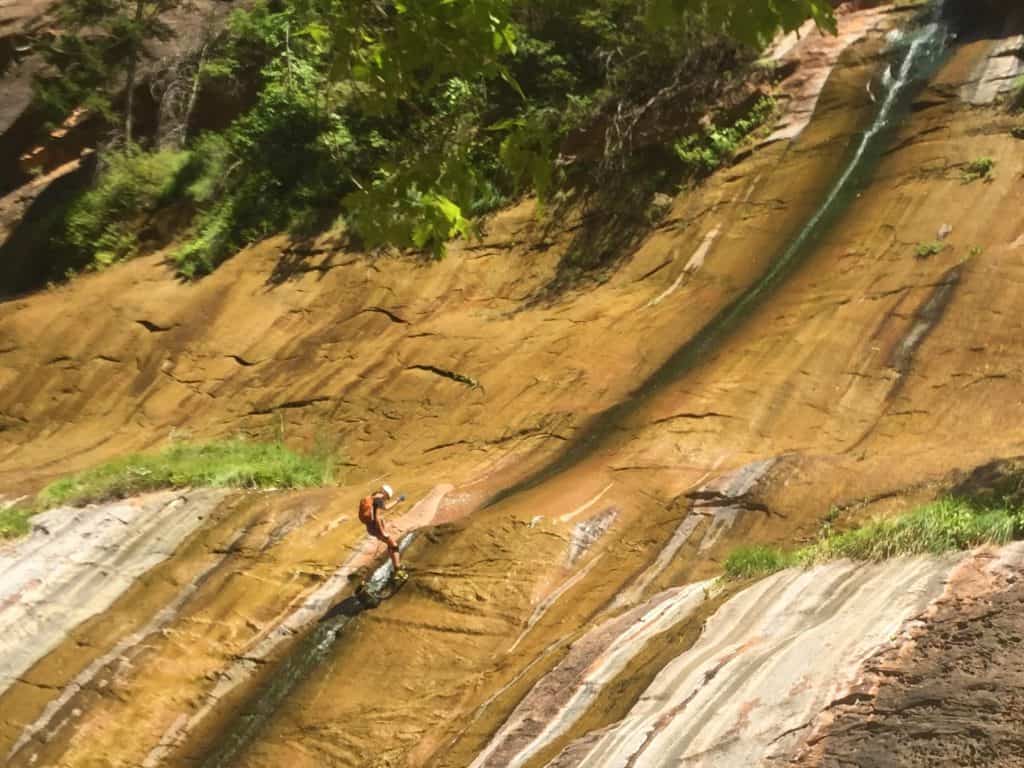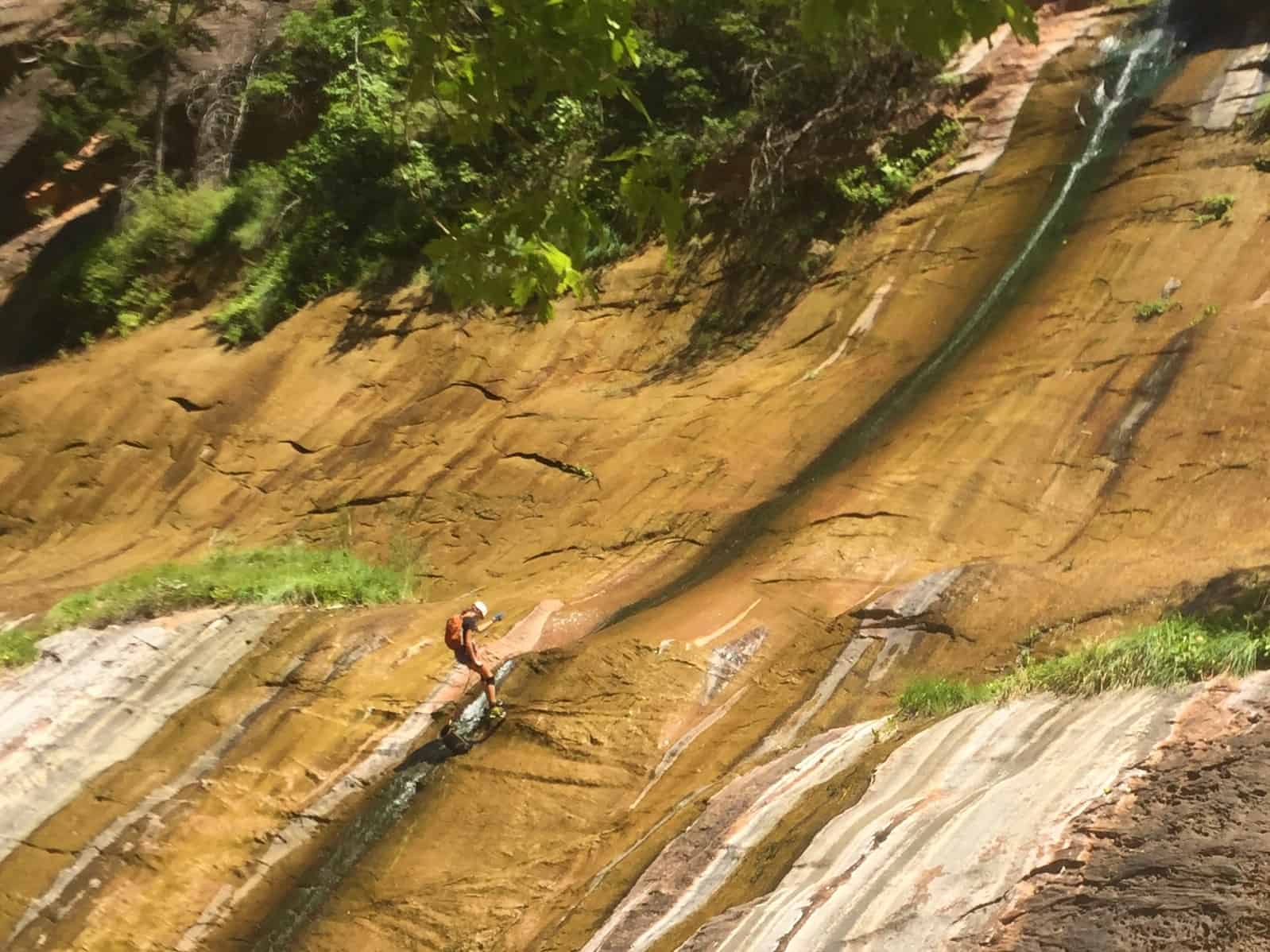 Hiking The Narrows
For day hiking, The Narrows adventure begins at the Temple of Sinawava, the last stop on the Zion Canyon Scenic Drive. Most of the year the only way to get here is by riding the Zion Canyon Shuttle from the Visitor's Center. You can learn more about using the Shuttle in this post.
During the winter months, you can drive your own vehicle to the parking lot nearby.
This is your last chance for a potty break so take it! I was very pleased to find "real" bathrooms at this stop. There are no bathrooms and no private places to sneak off to beyond this point. You will also find several water bottle refill stations. It's a lot more work to hike through water than on dirt so make sure you fill your bottles.
---
This trip made me realize I seriously needed a new backpack for day hiking. Check out our post where I compare the Top Day Packs for Women. 
---
From here we wandered down the Riverside Walk for one mile. The Riverside Walk is a great short hike all by itself. It's lovely paved, fairly flat walkway that follows the Virgin River. We found plenty of shade and places to stop to relax. Some families waded in the river along this trail to cool down.
Hiking The Narrows in August Might be the Best Time!
Our August day was hotter than blue blazes. I can't imagine a more perfect way to enjoy the amazing canyons of Zion during the summer heat than wading in cool water! We found hiking Zions Narrows in August to be amazing. Most of the summer and early fall bring warm days where wading in the water is a pleasure for the whole family.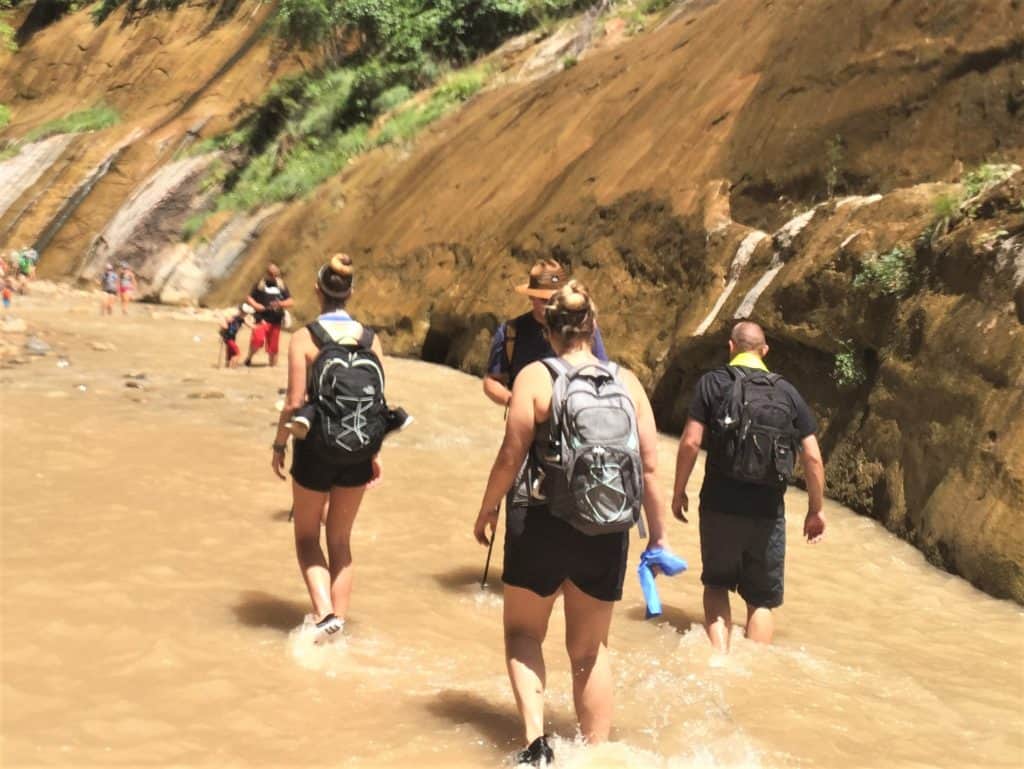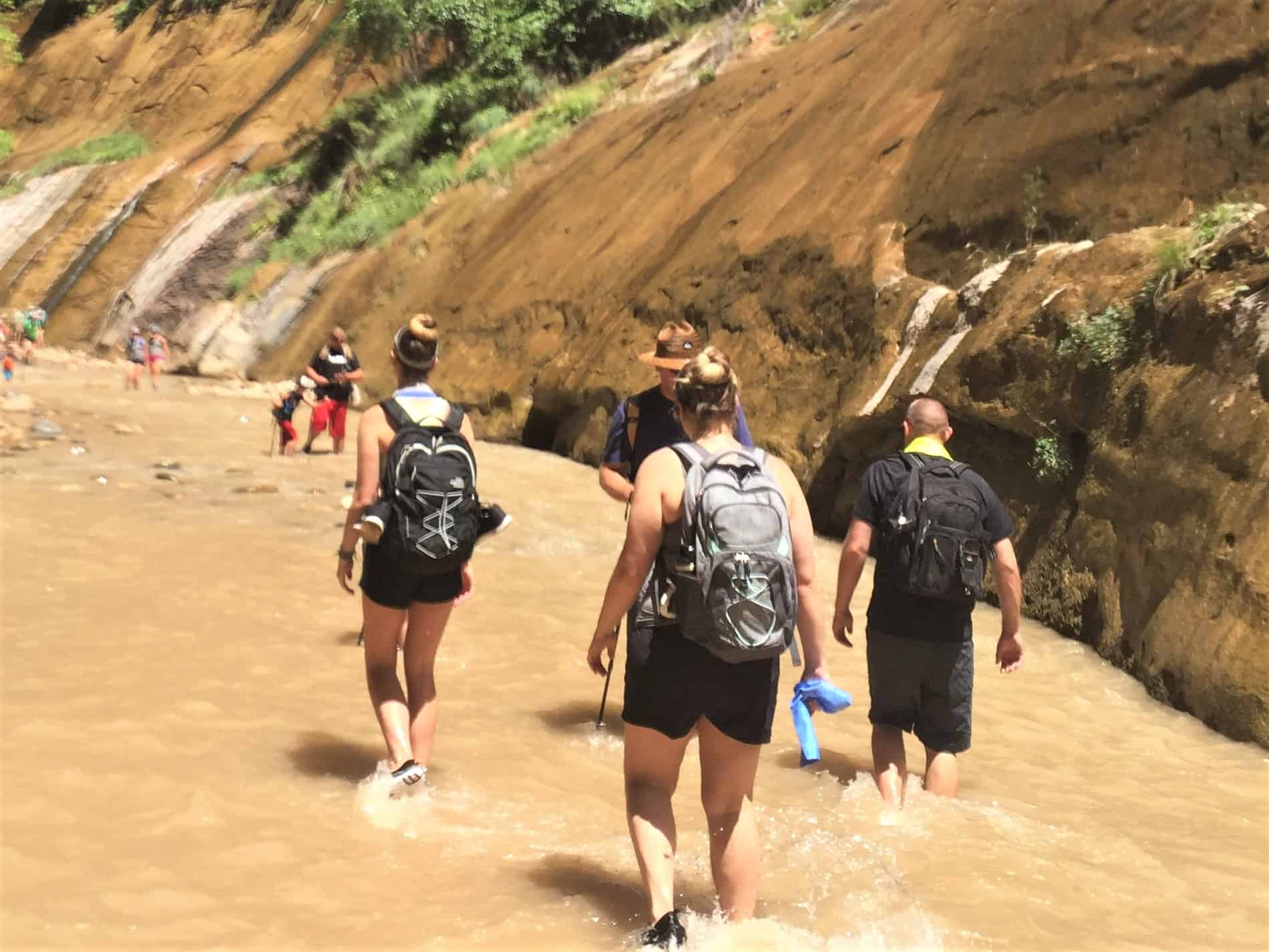 However, don't let colder weather stop you from hiking the Narrows. Kristin Luna, over at Camels and Chocolate, shares her story of hiking in November and loved it. Caution though, the water temp is cold enough that you will need wet pants to avoid hypothermia in the colder months. (Read on for the scoop on equipment.)
Our youngest daughter joined a group of friends for this hike in the spring and found having that extra gear a requirement as those melting snows from the mountain make the river quite cold.
Hiking from the Top Down – For the Serious Hiker
Although I'm focusing on day hiking The Narrows here, don't rule out the adventure of hiking The Narrows from the top down. It is a challenging 16 mile, 2 day hike requiring permits and extra preparation. Dave and Annie at Clever Hikers have a must read article if you are considering going all out on this adventure. They do a great job describing how to set yourself up for success on this amazing hike.
Wondering How Far To Hike Zion National Park Narrows?
That's an easy question! Hike as far as you want for as long as you want. The stopping point is about 5 miles in at Big Spring. Here you must turn around unless you have a permit. It's quite the workout to do the full 10 mile round trip day hike. Remember you are working against the current most of the time so plan a full day if you want to make Big Spring.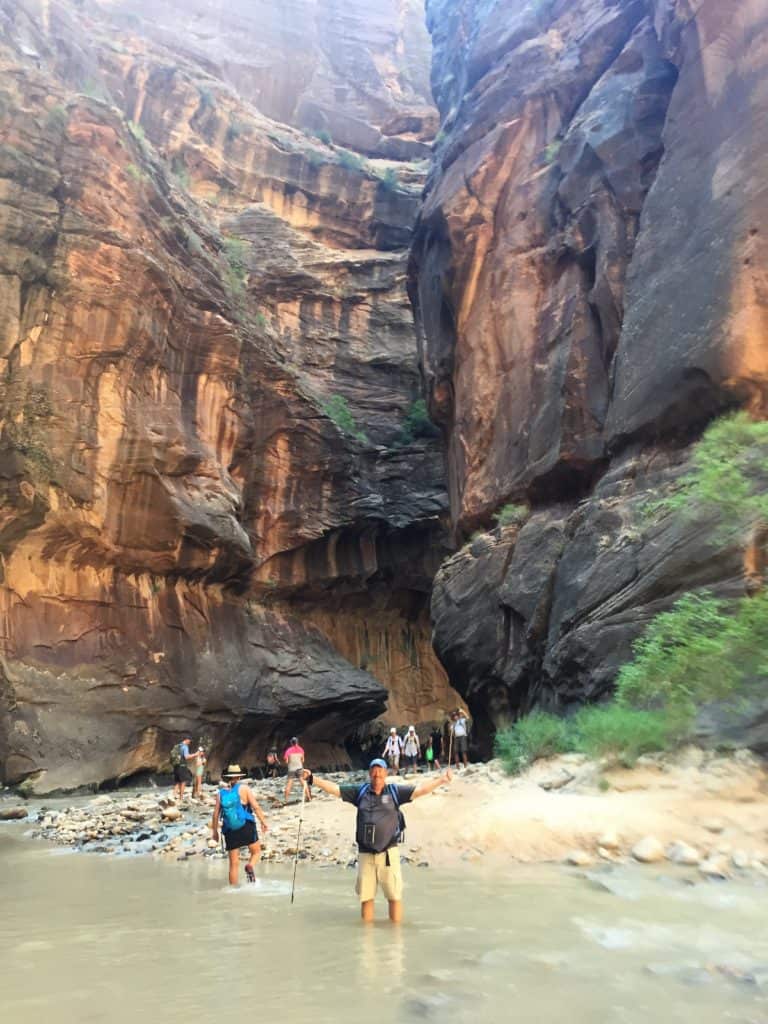 We chose to hike about 2 hours in, take a lunch break and then turn around. How many miles was it? I have no idea. It didn't matter. We were loving every minute of one of the best hikes in Zion.
I did find it interesting that unlike going up a mountain where the return down is much faster, the return hike in the Virgin River wasn't really much quicker. I think it's because you spend a lot of time making certain your footing is sure as you navigate the slippery rocks.
---
---
Be Aware of the River Current
As we boarded the shuttle, there was a big sign with the Virgin River current flow rate through The Narrows. Take note. According to the Zion Rangers, "When the river is running below 70 cubic feet per second (CFS), walking is moderately difficult" and above that is challenging.
We found our hike through the current very doable but I'd imagine that much faster would have been difficult for many of the hikers we saw that day.
Watch for Trail Closures due to the Narrows Flow Rate
Occasionally this route is closed to hikers so it's good to have an alternate hike in mind as you plan B for the day. Closures are posted at the shuttle stop. Why would they close: If the flow goes over 150 CFS they close The Narrows to hikers due to the danger of the current. The higher flow rates tend to be in the spring and right after a heavy rain.
Heavy rains can also bring flash floods. If there is a National Weather Service Flash Flood Warning, The Narrows will automatically close. Getting caught in The Narrows during a Flash Flood is a life threatening event because in many sections there is no safe ground to escape.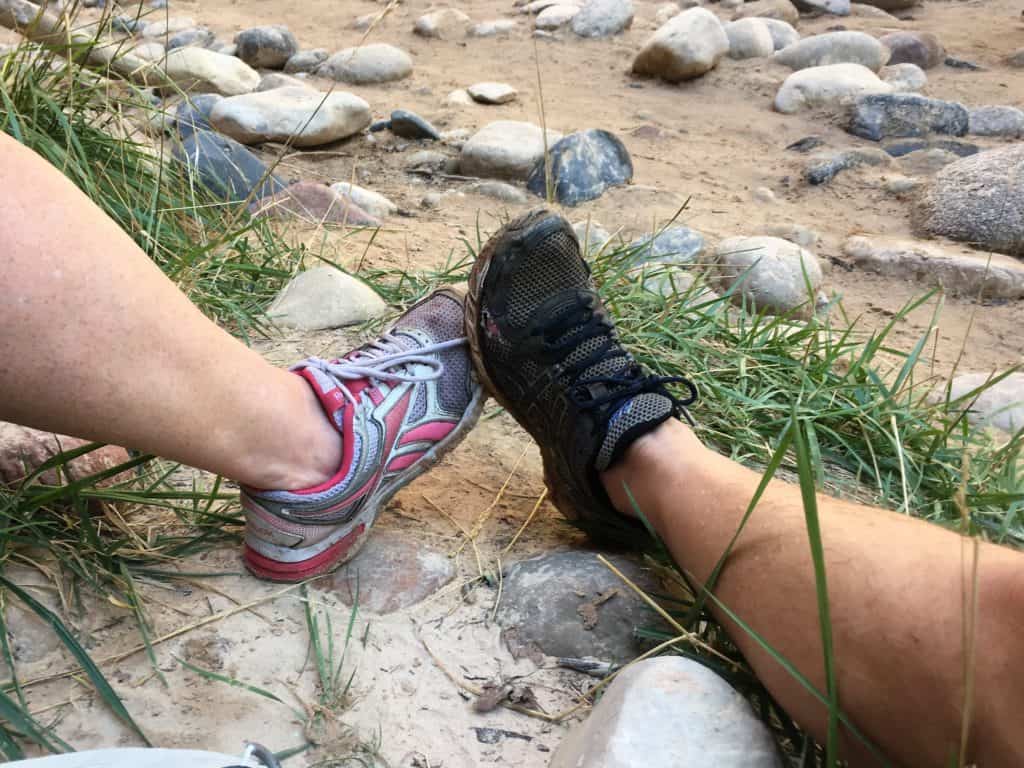 Equipment You Need to Hike the Narrows
Although we saw folks hiking the narrows with no special equipment, I'm certain you will have a much better experience if you come prepared. Here some equipment and things to consider:
1 You will definitely want some type of hiking pole. Between the current and the uneven rocky ground under the surface you will be extremely happy to have a "third leg" for balance. It doesn't have to be anything special. Brad and I split my set of regular trekking poles. They worked perfectly and would be my recommendation. However we saw many hikers using a simple wooden walking stick.
2 Anytime other than the heat of summer, wet suits are recommended. (See note below about rentals.) You will be knee deep in water most of the time and occasionally waist deep. Once the water cools down in the fall and through the spring snow melt the risk of hypothermia is real.
3 Shoes or boots appropriate for walking in the water. Let's start with what you don't want on your feet:
You don't want flip flops or open back sandals. The current is strong and will rip open back sandals off your feet.
You don't want open Toe Water Sandals. They are definitely better than flip flops, but you will bang up your toes on the slippery bottom.
You don't want soft soled water shoes. You will be walking on a rocky surface and by the time you return the bottom of your feet will be very bruised.
Beyond that we saw a wide variety of shoes for hiking The Narrows that worked. Everything from lightweight hiking boots to special water shoes. We took an old pair of tennis shoes solely for this hike and they worked perfect. (Don't forget a plastic grocery bag to stuff them in so you don't get the rest of your gear wet on the way home!)
4 Seriously consider a pair of neoprene socks (like you wear with a wetsuit or snorkeling). If I had a do over – that is the one thing I would have invested in. Sand settled into my tennis shoes and rubbed several spot very raw during the hike. The neoprene socks snug fit would have avoided that pain.
5 A pair of dry shoes or sandals for the shuttle bus ride back. If you aren't doing any additional hiking go for the sandal option to reduce your pack weight!
6 Lightweight backpack with snacks, lots of water and basic supplies. Protect everything from water! No one (well except the kids) plan to fall into the water, but it is so easy for one misstep to send you flying. We used good quality zip lock bags but in hindsight a small dry bag like you would use kayaking would have been useful.
7 The one thing we did invest in were iPhone dry bags with neck straps. We saw more than one wet camera. Ouch! I was so glad for the inexpensive purchase.
8 And of course take plenty of drinking water. This is quite the workout!
Just to sum up… any season other than the heat of summer it's important to invest in the right equipment. It's easy to rent in Springdale at Zion Adventures  or Zion Outfitters.  When it's really hot and you will cherish the cool water you can get away with just a trekking pole and old tennis shoes. You can also rent summer packages for this hike if you don't want to mess with bringing your own equipment.
We loved hiking The Narrows and wouldn't hesitate to do it again. It was definitely crowded in August but we decided to treat it like a big party and enjoy the energy. Our only regret was failing to stop at Zion Lodge on our return shuttle ride for a cold beverage. Next time!
Zion National Park was stop 2 on our Utah National Parks Road trip. Our favorite resource while on this Crazy Road Trip to Visit 5 Utah National Parks in 5 Days was first the Moon Utah Travel Guide to help us find interesting spur-of-the-moment side trips as we traveled from park to park.
For our Zion visit, we loved Lonely Planet's Zion and Bryce Canyon for getting into the nitty-gritty details. If you are planning to wander the gorgeous state of Utah we highly recommend that you check both out.
Don't forget to SAVE this post to your Pinterest vacation board so you can quickly access it as you are planning your Zion National Park Vacation! You won't want to miss hiking The Narrows. And of course, share your comments below!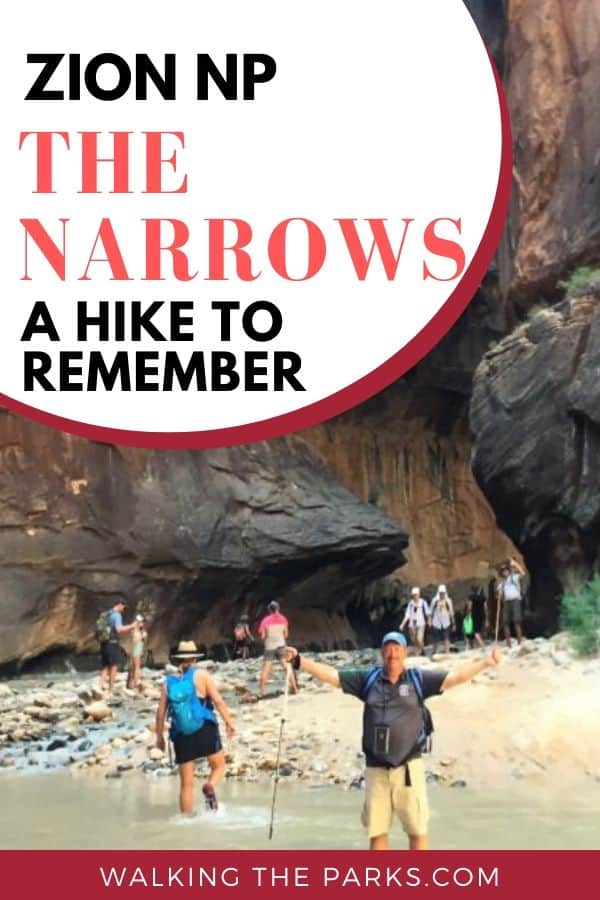 This post contains a couple of affiliate links to make it easier for you to find products I have mentioned. You don't pay any extra and in some cases I could earn a small commission.
---
The Authors: Hey, we are Ladona and Brad, avid campers and hikers. We are crazy about getting outdoors at every possible moment and have decades of experience exploring nature. Our current goal is to visit all 63 US National Parks and just completed #42. WooHoo! Our mission is to help you plan your own adventures and create memories beyond your imagination!