We asked travel writers, who regularly travel with their dogs, for their top tips for making sure your road trip with your dog will be an amazing experience. Here's what the pros have to say: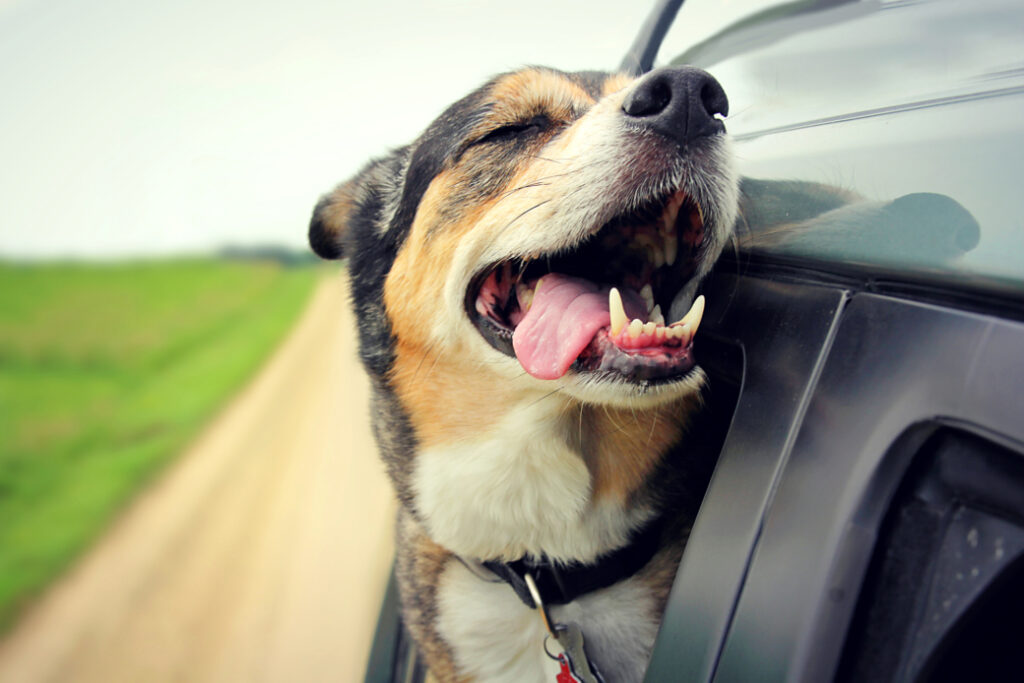 We just returned from an amazing 3-week road trip with our 18-month-old golden retriever as we visited Glacier and Great Basin National Parks. She loved camping and hiking in the western United States. I'll be the first to admit that taking a road trip with your dog can be challenging at times. This wasn't our first vacation with our dog and she's become a really good traveler. And yet, we had our moments…
So, I reached out to a group of travel writers who have taken their dogs all over the country and the world to get their best tips for taking a road trip with your dog. Here's what they had to share: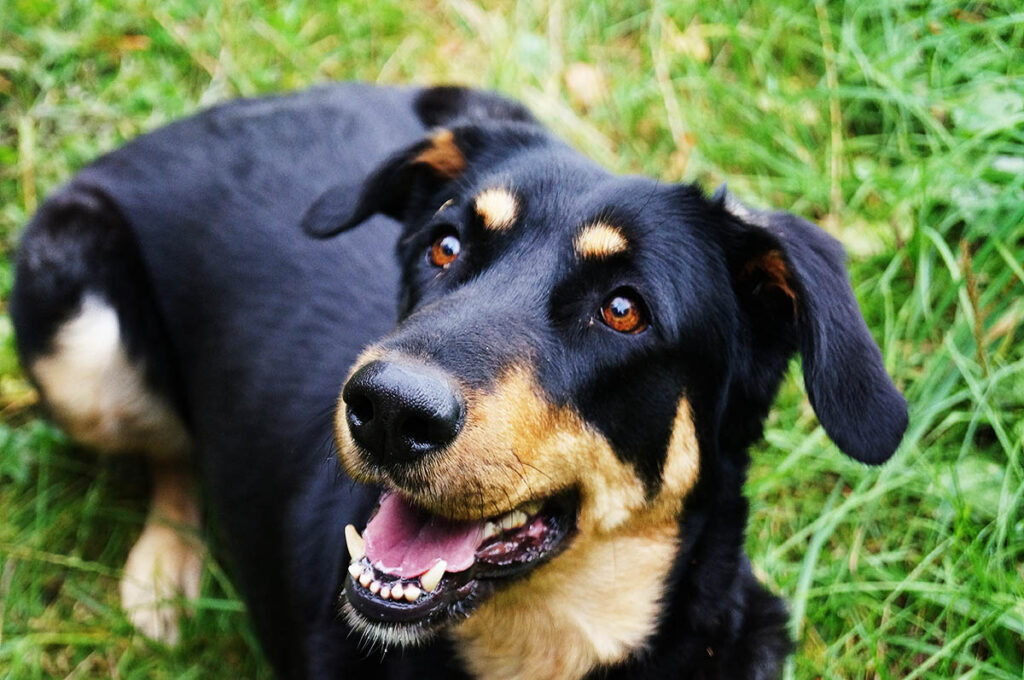 #1 Check Local Dog Rules Before You Go on Your Road Trip So Your Dog Isn't Left Out
by Paulina from the UK Every Day
Hera – the name of the most powerful Greek goddess is 3 years old German Shepherd and Rottweiler mixed dog breed. As much as dogs love to run free it is worth getting familiar with local regulations before taking your dog on a road trip.
If you are looking for a pet-friendly holiday, make sure to do a bit of research on the place that you are planning to visit. Not all beaches or parks are dog friendly. Some have time restrictions for dogs, especially during summer.
Thanks to many trips I have also realized that a short leash is one of the most important travel essentials for a dog. To protect nesting birds, livestock, and other wildlife that may be nearby, several locations require keeping a dog on a short leash when visiting.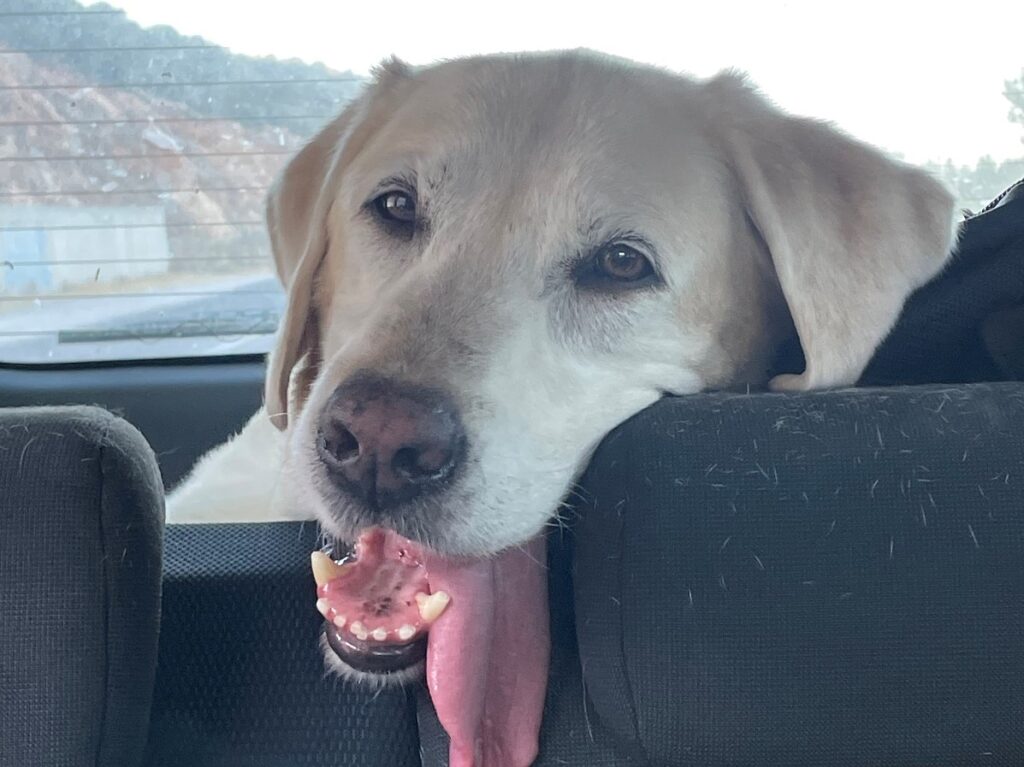 #2 Set Up Your Dog's Own Spot to Avoid Confusion and Anxiety
by Abbey from Trips on Abbey Road
This is Jake. He is a spunky but old yellow Labrador. On his last birthday, he turned 12 years old. He has had a special life and recently took a road trip from Portugal all the way to Croatia. One of the best tips I learned about traveling with him was to keep his car bed and toy in the same spot in the car and never take it out. This helps him to know that we are traveling together and that he always has a spot.
Because we are nomads we travel around a lot and he used to get so anxious when we were packing up to leave again. But, now that we leave "car bed and toys" in his spot then he knew he was always invited and would never be left out. Yes, he is spoiled rotten, but he is such a good boy that he deserves it.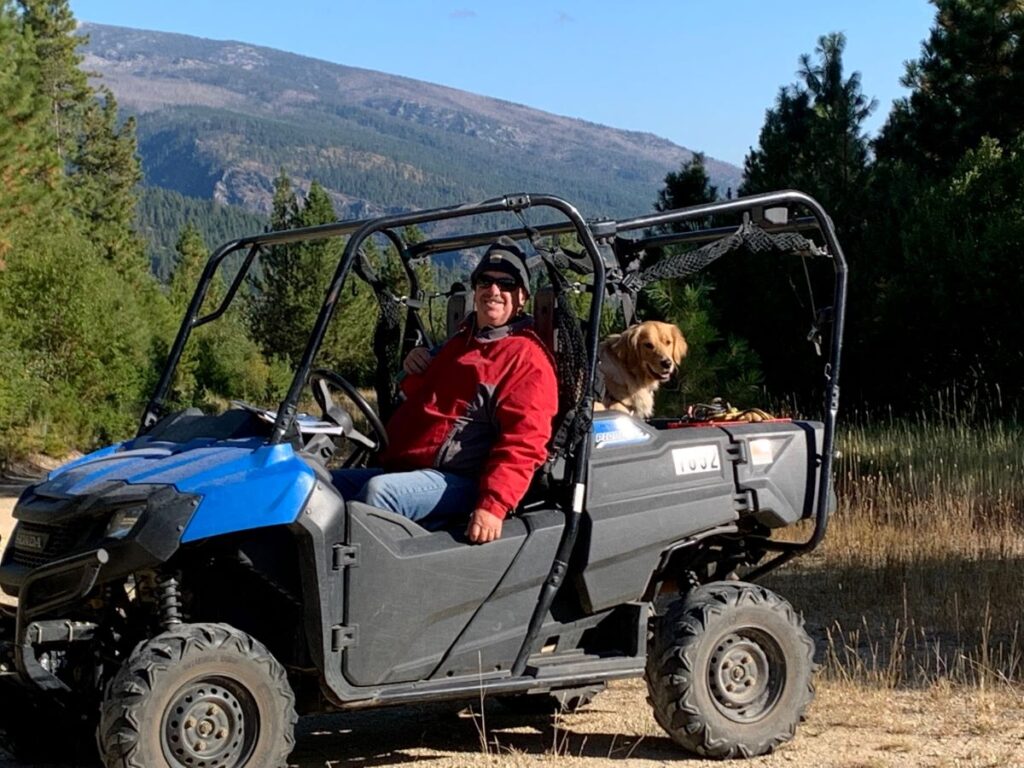 #3 Don't Risk Losing Your Dog on a Road Trip, Use a GPS Collar
from us at Walking the Parks
Our golden retriever, Charlie, is easily distracted by squirrels, deer, and laughing children. If she wanders off at home, I know she'll come right back to our front porch. But on the road… will she find us?
Of course, the best solution is to keep emphasizing training so she won't wander off and improving her recall response. In the meantime, to keep this nervous dog mom from losing her mind on road trips we invested in a Fi GPS dog collar. Even though we've not yet had to track her on a road trip, it's great peace of mind knowing our odds of finding her have greatly increased if she would wander.
Combining the GPS collar with microchipping and ID tags will definitely reduce your road trip stress!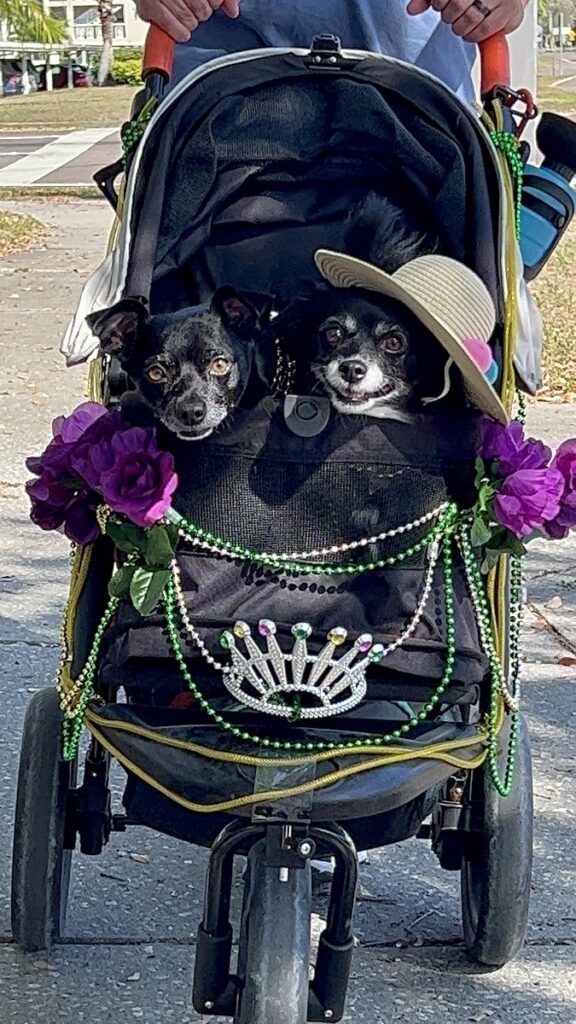 #4 Electronically Monitor Temperatures in Your RV When You Leave Your Pups Behind
by Angela of Fitting in Adventure
We travel nearly full-time in our RV with our two rescue dogs, Gracie and Loki. Temperature is important when traveling with dogs. The RV parks can have power that surges or fluctuates causing it to stop. Even some hotels can have temperature issues. While we seek to take the dogs with us on adventures, there are some places that are not appropriate or safe for them.
We travel with a Waggle device. This device allows us to leave and monitor the temperature, power, and humidity levels. It works via its own cellular program (approximately $100/year) so as long as your phone has a signal the device will be enabled. You enter the app to designate your temperature/humidity guidelines and give your text number(s) or email(s) for alerts. This device gives us peace of mind on road trips and is essential to traveling with dogs.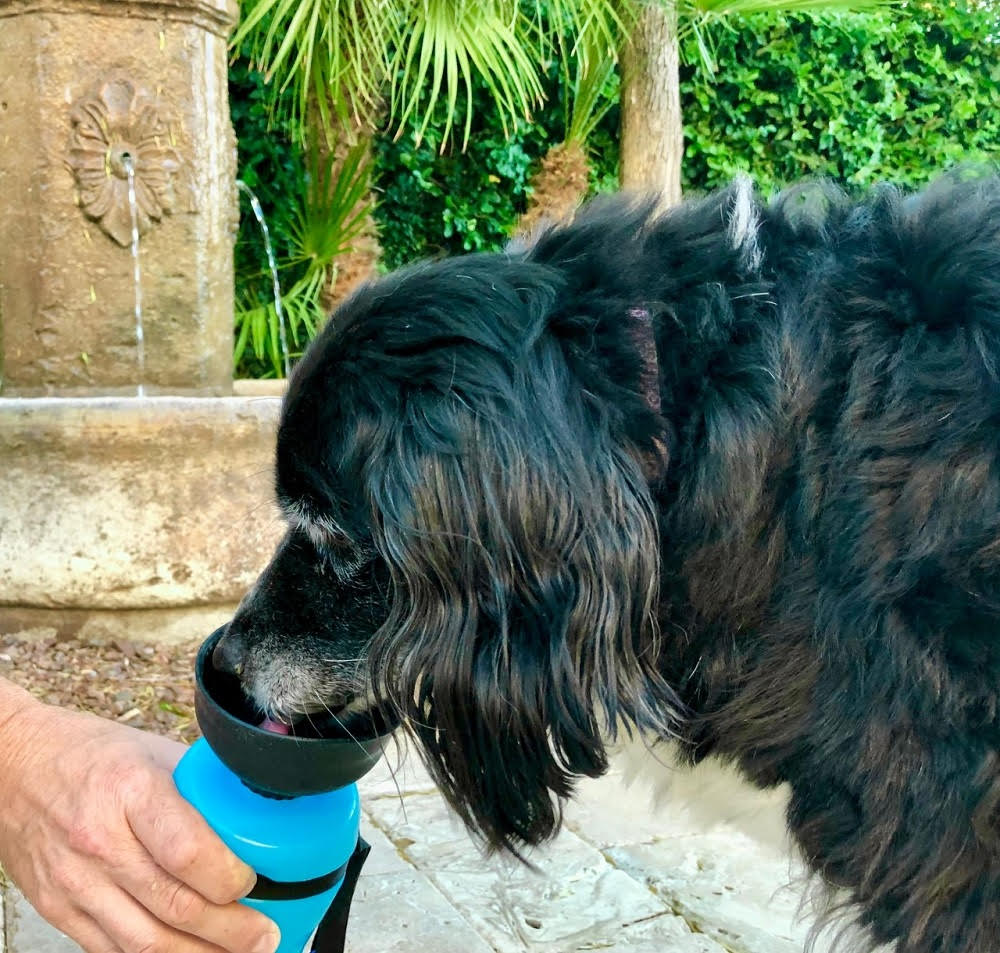 #5 Use A Doggie Water Bottle Instead of Bowls for Less Mess on Your Road Trip with Your Dog
by Lisa of Waves and Cobblestones
Our four-legged kiddos are Polly and Kelsey.  Polly is a 14-year-old Border Collie/Cocker Spaniel Mix, and Kelsey is a 15-year-old Australian Shepherd Mix. We've taken some long cross-country road trips with Kelsey and Polly. 
It's important to keep hydrated when traveling, and that goes for your dogs as well. Initially, we tried using Tupperware.  This works OK if you're at a rest stop – but not so well if you're in a moving vehicle (at least water doesn't stain).
Now we always travel with a water bottle designed for dogs.  The version we use has flexible plastic at the top that flips up to form a bowl. After use, the top flips down to fit snugly on the bottle.  It also has a straw so when you apply pressure to the bottle, water flows into the bowl, and when you release the pressure, it goes back into the bottle for later use.  There's also a locking mechanism to prevent spills.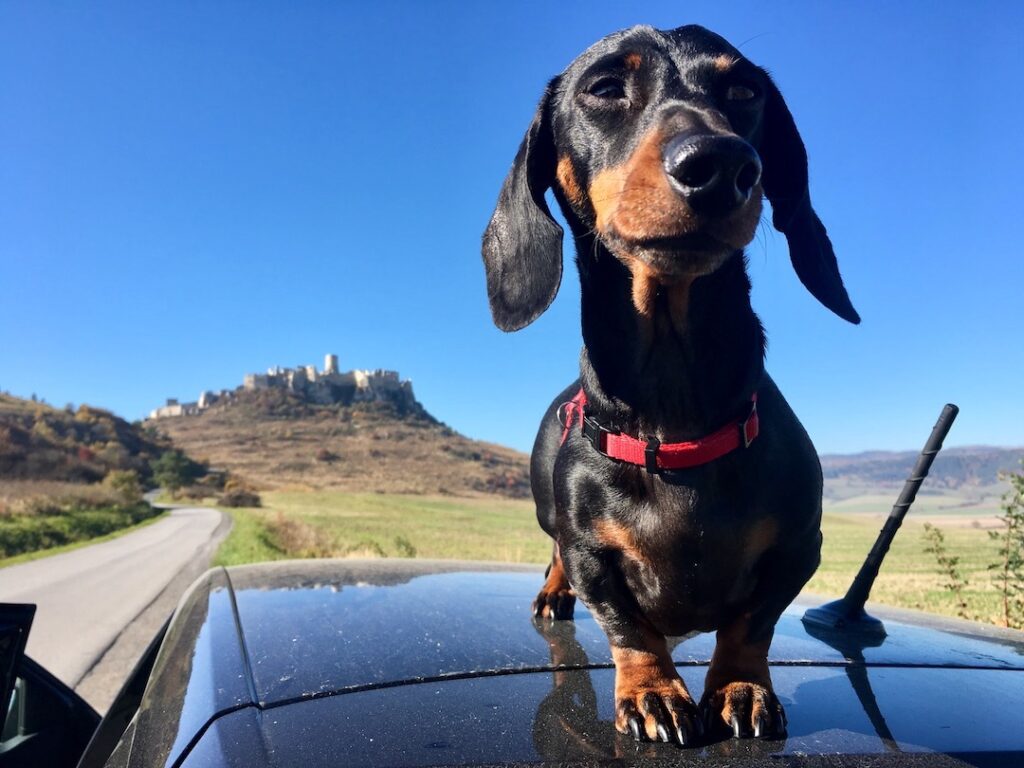 #6 Avoid A Carsick Puppy by Starting with Short Trips
by Shandos of Travelnuity
For many years I've traveled both in Australia and internationally with my dog, Schnitzel, a Miniature Dachshund who's nearly 10 years old. During our travels, we love to go on road trips, whether close to home or across country borders.
Road trips are one of the easiest ways to travel with your dog. Before you hit the road, make sure you take some shorter drives with your pup first. I was lucky that Schnitzel has always been fine in the car. But, there's nothing worse than dealing with a carsick dog when you still have hours to drive to your pet-friendly hotel or Airbnb booked for the night!
First, head out on a short drive to the local park or beach. Then gradually increase the distance of your drives (ideally with a fun destination), before you pack the car for a long road trip with your dog.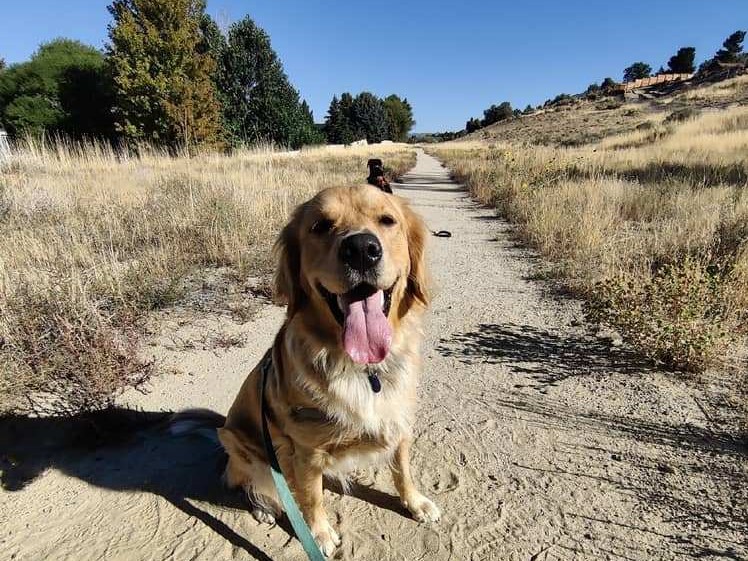 #7 Save a Photo of Your Dog's Vaccination Records on Your Phone
from us at Walking the Parks
Keeping a copy of Charlie's vaccination records on my phone has made taking a road trip with her one step simpler. I used that electronic copy for a quick upload when registering her for a day at a kennel when we wanted to hike the Highline in Glacier National Park. It was handy at a dog beach in Florida that did random rabies vaccination checks (yeah… really!). And if she ever had a vet emergency, I'd have her records easily accessible.
Even though the copy on my phone is the easiest to get to, not everyone will accept that electronic copy. Hence I also keep a paper copy in her toy bag and one in the glove compartment of each of our vehicles.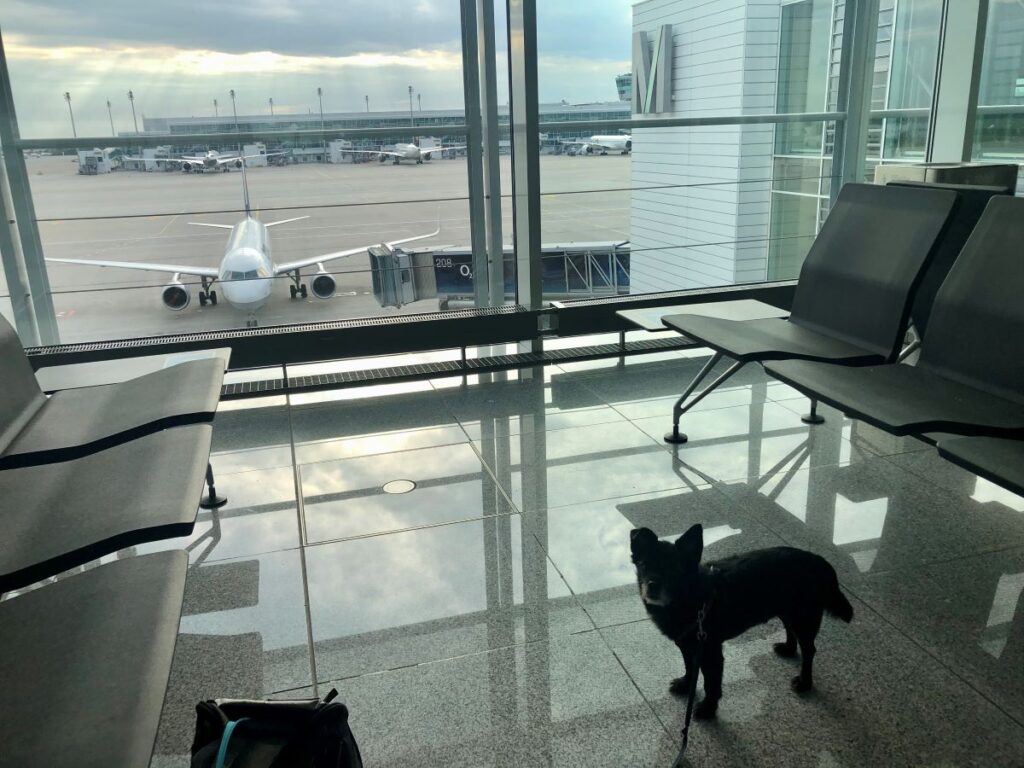 #8 Check Both Entry and Exit Requirements for Dogs When Traveling to Other Countries
by Suzanne at Suzanne Wanders Delhi
Watson is a 9-year-old Pomeranian-Maltese mix.  He's traveled to USA, Nepal, Georgia, Armenia, Egypt, India, and Canada.  
The most important thing when traveling internationally with your pet is to check the exit requirements for the country you are leaving and the entry requirements for the country you are traveling to.  In my experience, this paperwork is checked very carefully by airline staff at the point of departure and any errors or missing documents can result in your pet being denied onward travel.
Each country has different requirements, which can range from simple proof of rabies vaccines to government-certified Non-Objection Certificates.  Check government websites for information on the export and import of pets.  Don't forget to check your airline carrier's regulations also.  These can vary greatly depending on the airline.
It's also a good idea to confirm points of entry with a pet.  Not all countries allow pets to enter by land or sea and some countries only allow pets at particular borders or international airports.
Of course, make sure your pet is as comfortable as possible while in his carrier. An old piece of clothing that smells like you can help your pet feel more at ease. Also, ensure he has access to water and pee pads.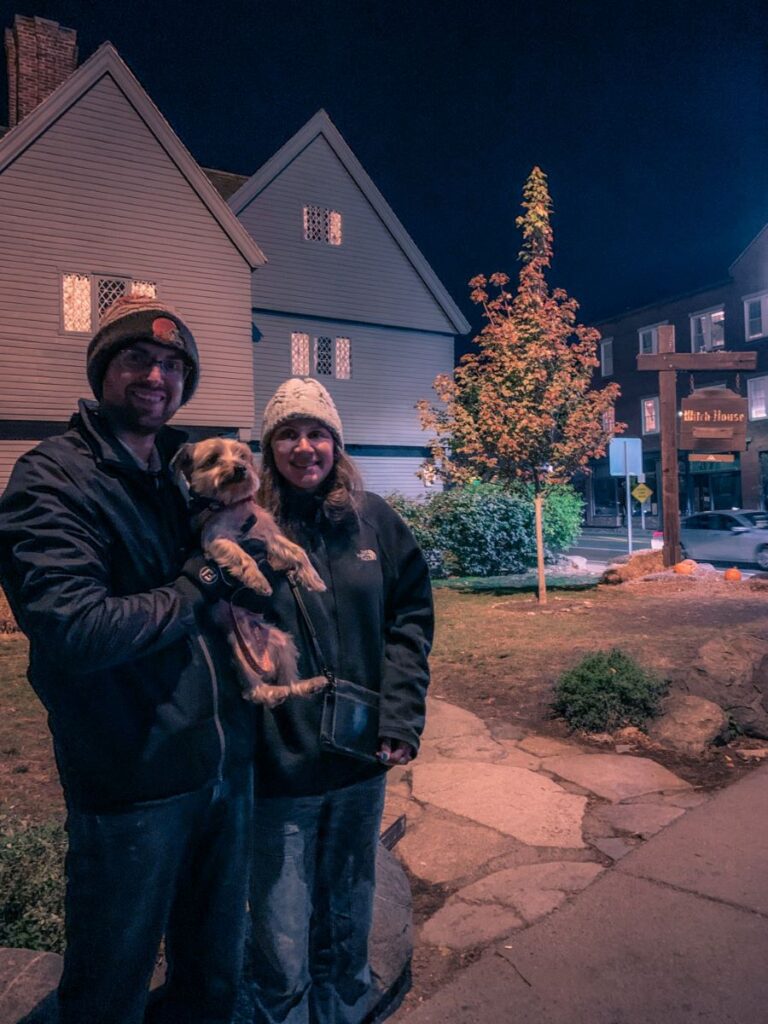 #9 Adjust Your Road Trip Packing Schedule for Anxious Dogs
by Theresa at Fueled by Wanderlust
My dog, Bennie, is a Yorkie rescue going on ten years old.  Recently, my husband and I have been frequently making ten-hour drives with Bennie between Ohio and Massachusetts for my husband's job.  Bennie is prone to anxiety, especially in situations where his routine is disrupted, which can cause him additional panting and whining.
Eventually, we realized that Bennie gets most alarmed when his bed and crate disappear into the car.  As a result, we began to do this step last, which gives his anxiety less time to build up and worsen.  Once we are all in the car together and cruising on the highway, he is more easily able to relax and nap during the ride.
#10 Use an LED Light Up Dog Collar at Night in Unusual Neighborhoods
by Ladona at Walking The Parks
It seems like no matter how well I plan, Charlie needs one more potty walk after dark when we are on a road trip. Lighting for those late night potty walks is incredibly unpredictable. We've walked many dark streets. I love using a LED light-up dog collar on Charlie so I can see where she is. And, cars will also see her!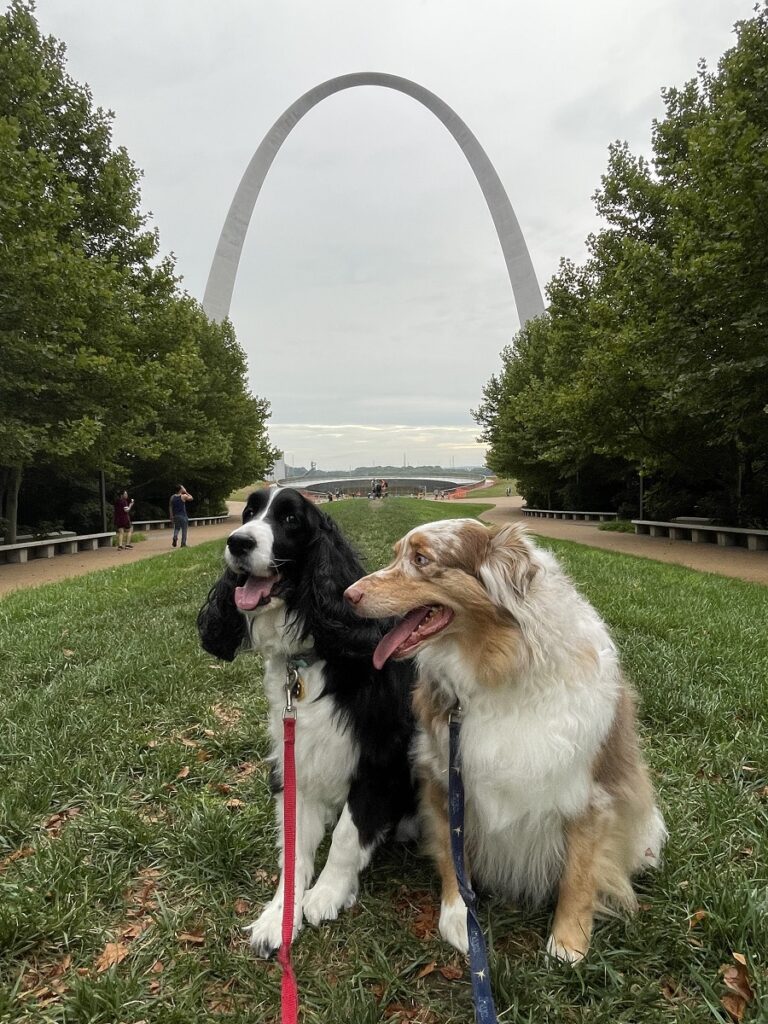 #11 When Staying in Hotels, Look for a Dog-Friendly Neighborhoods With Parks
by Tori at Tori Pines Travel
I have two sweet pups, Charlie, a five-year-old English Springer Spaniel, and Nala, a three-year-old Australian Shepherd. Charlie has anxiety about leaving the house, and as a young puppy, she would refuse to eat when we traveled. Nala's extremely full of energy and needs a lot of attention, so she has a hard time when we leave to explore for the day. But we love to travel, so we were not going to let these things stop us.
Make sure you pick a hotel with a great location. Find one in the heart of the city, close to the attractions you want to visit. This means less travel time and less time away from them when you venture out. Try to pick one close to a park. During our weekend in St. Louis, we got a room at the Hyatt Regency St. Louis At The Arch, which was located right next to the arch and the large park. It gave us easy access to bathroom breaks and long beautiful walks, to wear them out before we explore the town! This was great for our rambunctious pup Nala!
#12 Keep Your Hotel Stay as Home-Like as Possible for Your Pup
also by Tori at Tori Pines Travel
When your road trip with your dogs takes you to a hotel, bring things that comfort them or make them feel at home. For some dogs, like Charlie, that means bringing wet food to add to the dry food as an added treat! She never misses a meal that's topped with wet food, so we know she will be well-fed on vacation. But this also means you should bring their bed, toys, or other items that they use and love at home. They will be less anxious when you head out!
Finally, avoid any situations that might be scary or unusual to them while on your road trip. They're probably not used to being in a cold dark hotel parking garage, so if you can drop them off before you park, that's ideal. Also, some dogs might need to avoid elevators, or just might have to take time to get used to them. We learned this the hard way, the first time Charlie pooped right on the elevator carpet out of pure fear, and then we got locked out of the room while we were trying to clean it up. It was awful at the moment but definitely funny to think back on now.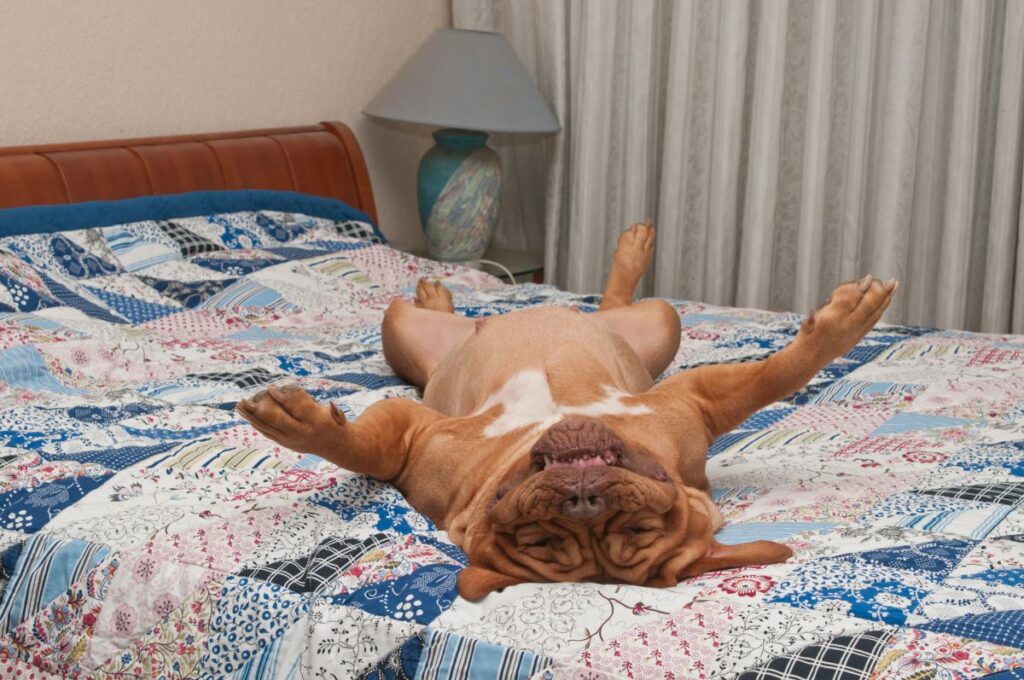 #13 Call Dog-Friendly Hotels Before Finalizing Your Booking to Ensure You Aren't Turned Away
from Brad and Ladona at Walking the Parks
We've found some hotels that are listed as dog-friendly, are really only friendly for little dogs. The size of dogs allowed can even vary within the same hotel chain. I'll confess we've snuck her in under the wire a few times, but I'm pretty sure Charlie won't pass for a 25-pound pup! It just takes a second to make the call and confirm your fur baby is welcome.
Rentals also often have a size restriction on their listings. If you are in love with a house, don't hesitate to reach out to the owner with more information about your pup to see if they will make an exception.
Also when booking you need to watch out for excessive pet fees at hotels. Personally, I like free, but I also know my dog will shed a lot so I'm ok with a small cleaning fee. But for $40 for one night… I'll pass and find another hotel.
#14 Keep Your Dog From OverHeating on Your Road Trip
from Ladona at Walking The Parks
The AKC reminds us that dogs don't sweat. When you are traveling with your dog there are times with it's just plain too hot for him.
Did you know the temperature inside a car with the windows cracked can rise 40 degrees within a few minutes in the sunshine? So even if it's a cool 60-degree day, your vehicle can quickly warm up to 100 degrees.
Keep water accessible and encourage your dog to drink often, even if it does mean you need to stop for potty breaks more often.
For dogs with long thick coats, you may want to get them clipped or trimmed before your road trip. Not only will this will help keep them cool, but it will also prevent ticks and other insects from getting caught in their fur.
Try a battery-powered fan to keep air moving during the day and cool your pup. They are great in the car, in hotels, and when camping with your dog.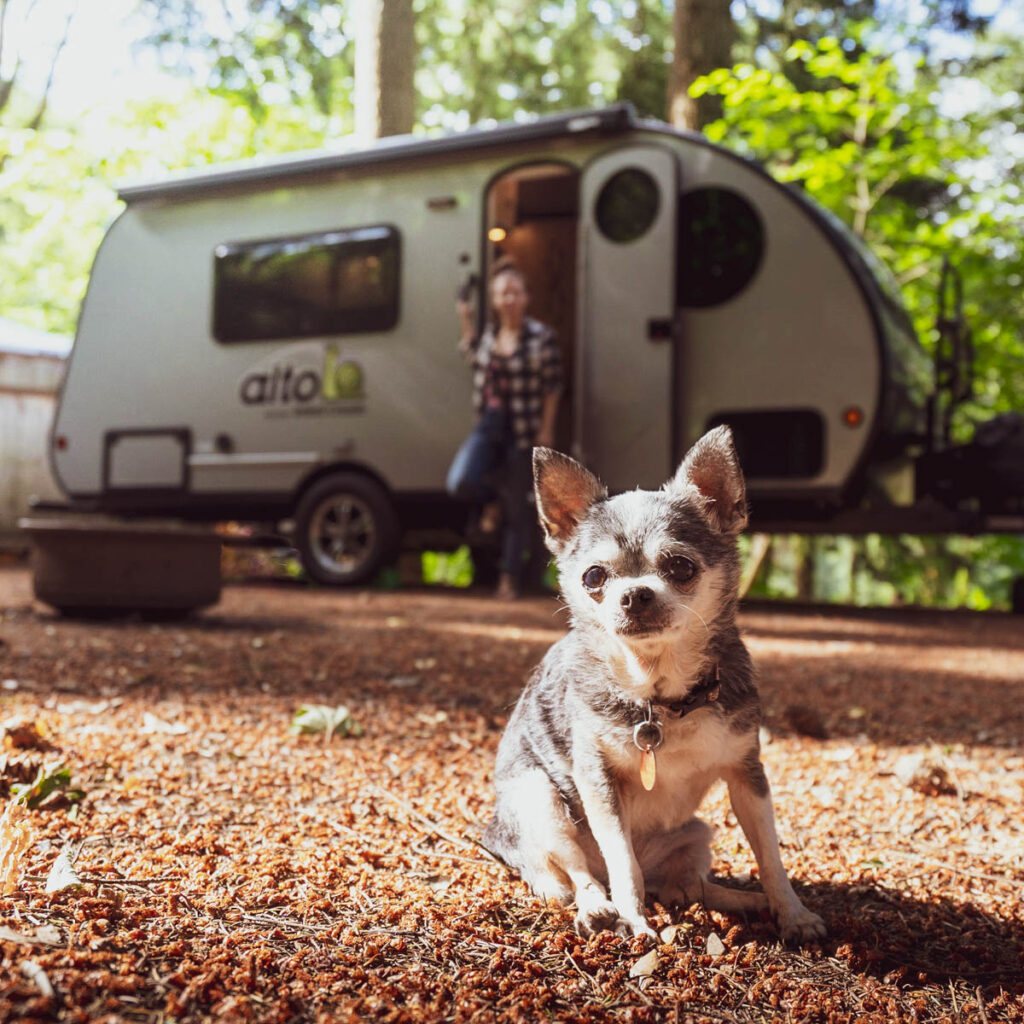 #15 Discover Dog-Friendly Restaurants and Breweries for High-Quality Time Together
by Jessica at Uprooted Traveler
My dog, Lexie, a 17-year-old chihuahua, is my road trip copilot. In fact, she's traveled with me for months at a time while I've lived in my RV and explored the western United States. One of the quickest things that I learned while RVing with dogs is to plan excursions to dog-friendly locations. Look for outdoor breweries or restaurants with patios, parks, and beaches. Using an app like Bring Fido makes it easy to check for places that welcome your dog.
Finding businesses that I can bring her to ensures I get to spend plenty of quality time with her while I'm traveling. She gets a change of scenery from our RV and an opportunity to explore, sniff, and interact with other people and dogs. Whenever I think of all the memories I've formed with her all over the country, from the beaches of Oregon to a brewery overlooking the red rock cliffs of Sedona, I'm so grateful I've been able to incorporate her into exploring this big beautiful world.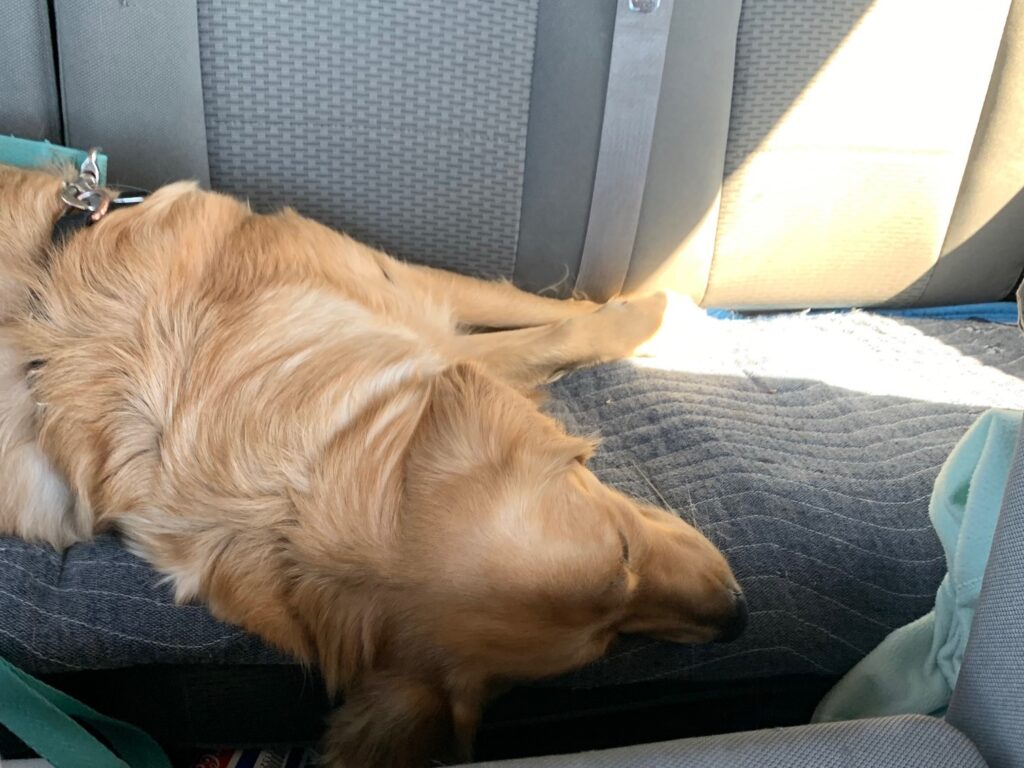 #16 Plan a Short Hike to Break Up Long Road Trip Days
by Ladona from Walking The Parks
Some days are grueling as we drive from sun up to sun down to get to our destination. Charlie is quite happy snoozing in the back seat all day with only quick potty stops. However, there is hell to pay when we stop for the night and she has a ton of pent-up energy. The solution: I look for a late lunch stop somewhere we can play hard or hike for 30-45 minutes.
City and state parks, just off the highway are great opportunities to check out a new space and stretch. It might be hard to give up an hour of road trip driving time, but it's worth it. And actually, I'm in a better mood after that good walk too!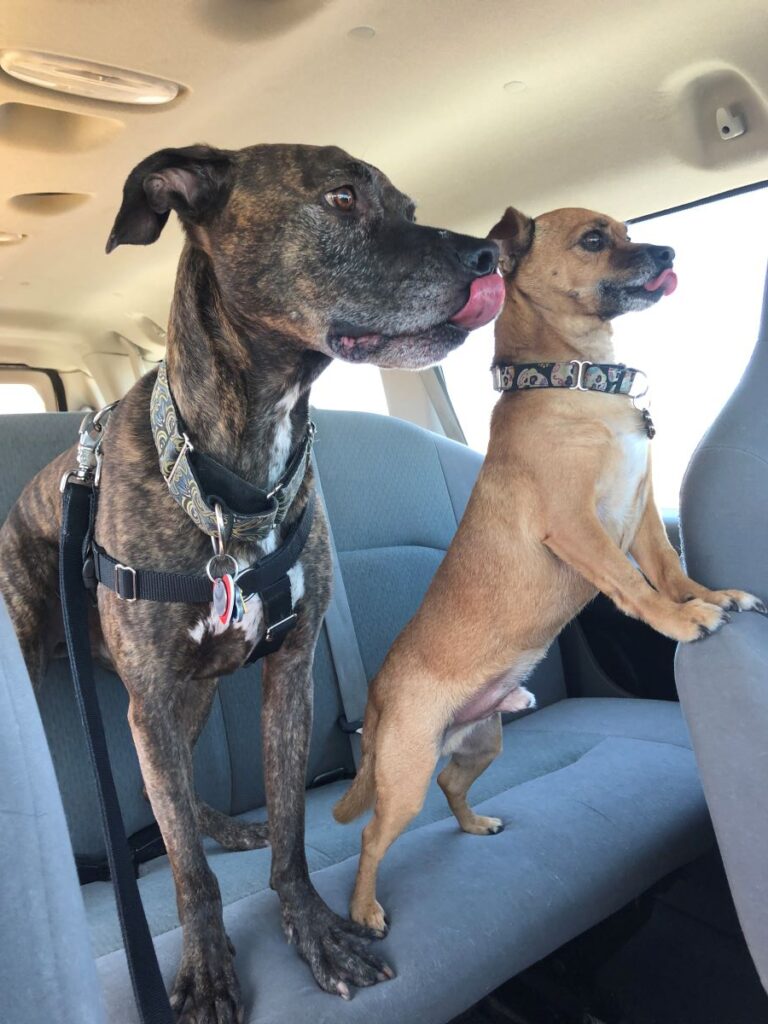 #17 Always Bring a Towel and Wipes
by Sam from My Flying Leap
Alright, let's get real for a moment—dogs are gross! I have two rescue dogs: Che is 12 and a boxer/pitbull mix, and Jagger is 7 and a chihuahua/pug mix. Don't get me wrong. I love my dogs and I'm obsessed with how perfect they are. But, they run by different rules than humans do and it can lead to some less than pleasant experiences.
My little dog loves to roll around on the ground. He loves rolling in the grass, and especially loves rolling in whatever disgustingness he can find—dog pee, bird poop, remains of an animal—the stinkier and grosser, the better. I still love him dearly, but getting caught off-guard at the start of a 7-hour road trip with my adorable little demon stinking of god-knows-what… ?! Yeah, not fun.
So, now that I've aired just a little bit of their dirty laundry, what do I do about it? I ALWAYS carry a towel and wet wipes with me on road trips with my dogs to clean up my little angels when they are truly disgusting. It's a good thing they are SO cute!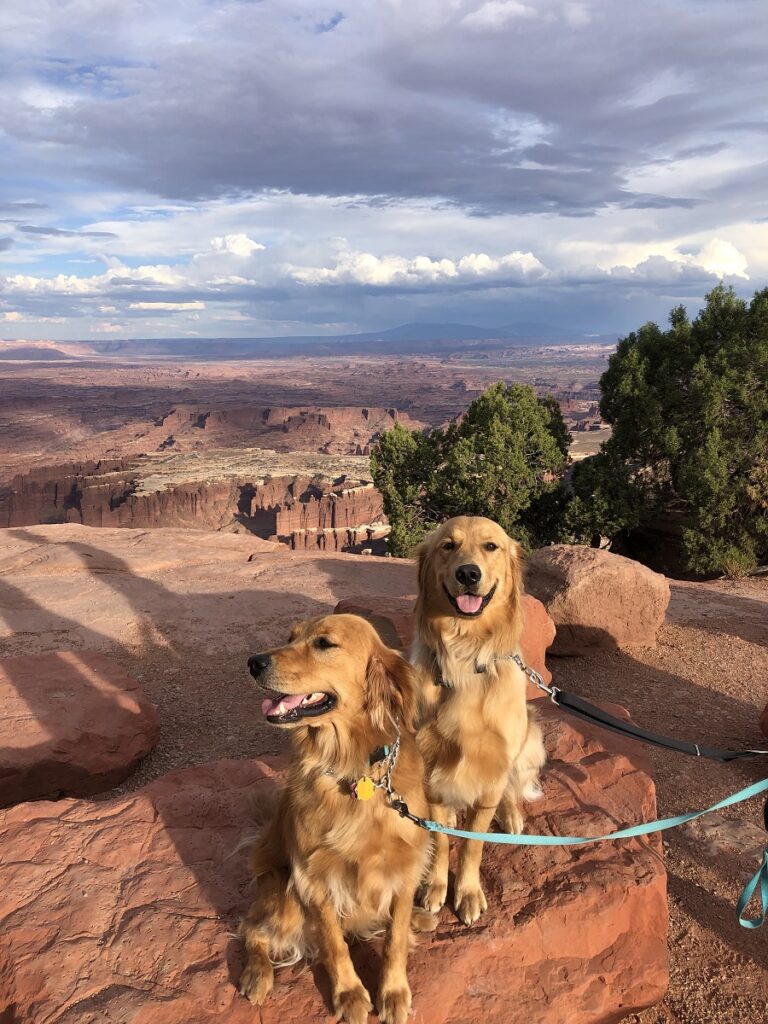 #18 Create Extra Space for Your Dogs Road Trip by Adding a Rooftop Car Carrier
by Nikki at Inspired Routes
This is Kai and Kona, two Golden Retrievers who love road trips! They're brother and sister, both age 2. They've traveled their whole lives, so they know what to expect when in a vehicle.
Something to consider, especially when traveling with large dogs, is how big they are and how much space they need to be comfortable, especially if you're taking a long road trip. We have an RV and a small SUV. When we take the SUV both dogs completely fill the back (what would be the third row and way back). That means that packing can be extremely limited!
Our children are also typically in the car, so that means very little space to store suitcases or overnight bags. Investing in alternative storage is a great way to give your dog(s) more space in the vehicle, and it's much more cost-effective than buying a big vehicle!
A car carrier that sits on top of the vehicle and attaches to the rooftop rack is a great solution. Alternatively, you could get a hitch-mounted cargo carrier for the back of your vehicle, too. Consider how big of items you'll need to pack if you have the equipment to attach them to your vehicle, and how each functions before buying. 
#19 Select Your Gas Station Stops with Your Dogs Safety in Mind
from Ladona at Walking The Parks
Before we started taking road trips with our dog, my criteria for a gas station stop was that it had a high potential for clean bathrooms and fountain soda. Now, the number one thing I look for is a big green space a little away from speeding cars. Oh, how life has changed with Charlie!
I'm also super cautious getting out of the truck with her to avoid other dangers such as high traffic or unleashed dogs. Check the ground around you to make sure there are no poisonous liquids. It's hard to tell the difference between a spilled soda and antifreeze which can be deadly.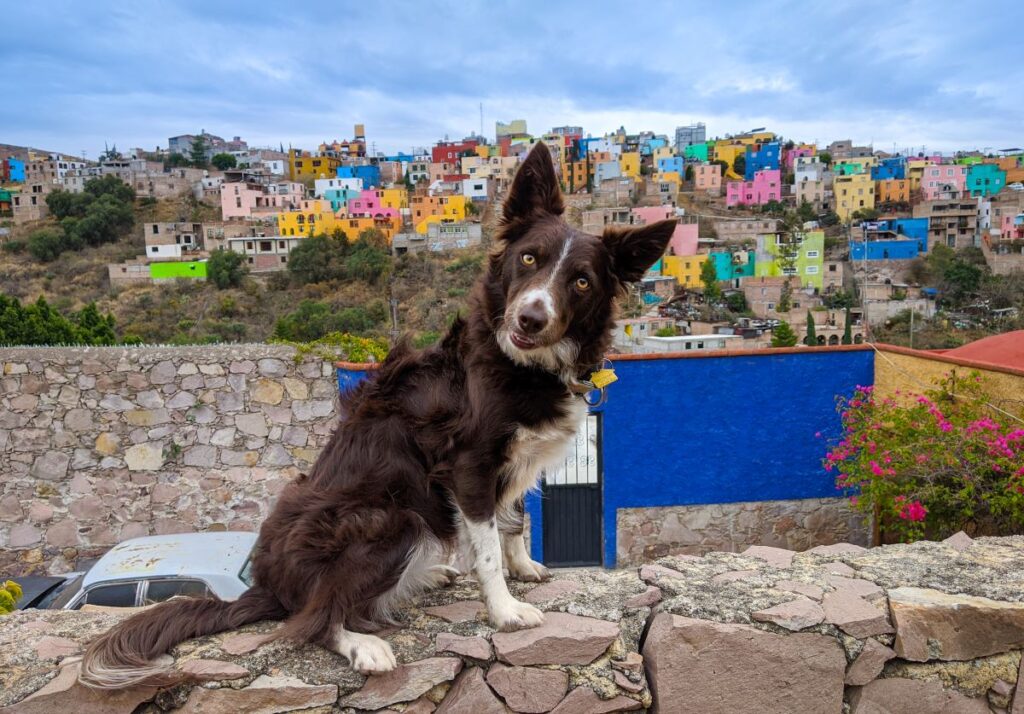 #20 Use Apps to Find Dog-Friendly Places When on Your Road Trip
from Staci at Gator and Nothin
This is Merci! She is a six-year-old border collie that travels full-time with my husband and me. She loves hiking, backpacking, and camping with us. Finding dog-friendly places on the road can be challenging, we have been turned away from places with Merci before. Over the years, I have found a few apps that make our travels with her easier!
BringFido – This app is a great resource for finding hotel accommodations in a specific area and includes information about the pet fee. It also has a section for finding dog parks and pet-friendly restaurants.
iOverlander – This is one of my favorite apps for finding campsites that are dog friendly. I like that this app is crowd-sourced, so in the comments, there are usually photos and detailed information about the area.
AllTrails – I love hiking with Merci, and this app has 'dog-friendly' search criteria to find trails. It will also give you a good idea of leash laws.
#21 Carry a Dog First Aid Kit on Road Trips
by Ladona at Walking The Parks
Just as your kids get scraps and cuts, so will your dog. A small first aid kit with dog-friendly equipment is a must-have on any road trip with your dog. You can make your own kit, or easily purchase a small premade bag ready to tuck into your suitcase. Make sure you include a tick remover as well as bandages and antiseptic for your adventures.
After we returned from our 3 weeks traveling with Charlie, I asked Brad if it was worth the extra effort required to take her along. I got a resounding YES. A road trip with your dog feels like you brought a bit of home with you.
We hope these tips for your road trip with your dogs help you plan your next successful adventure!