The North Fork area is Glacier National Park's gateway to a raw wilderness where nature has not been tamed. While you'll find the most visited parts of the park modernized with paved roads, campgrounds, lodges, and restaurants, North Fork Glacier National Park is untouched.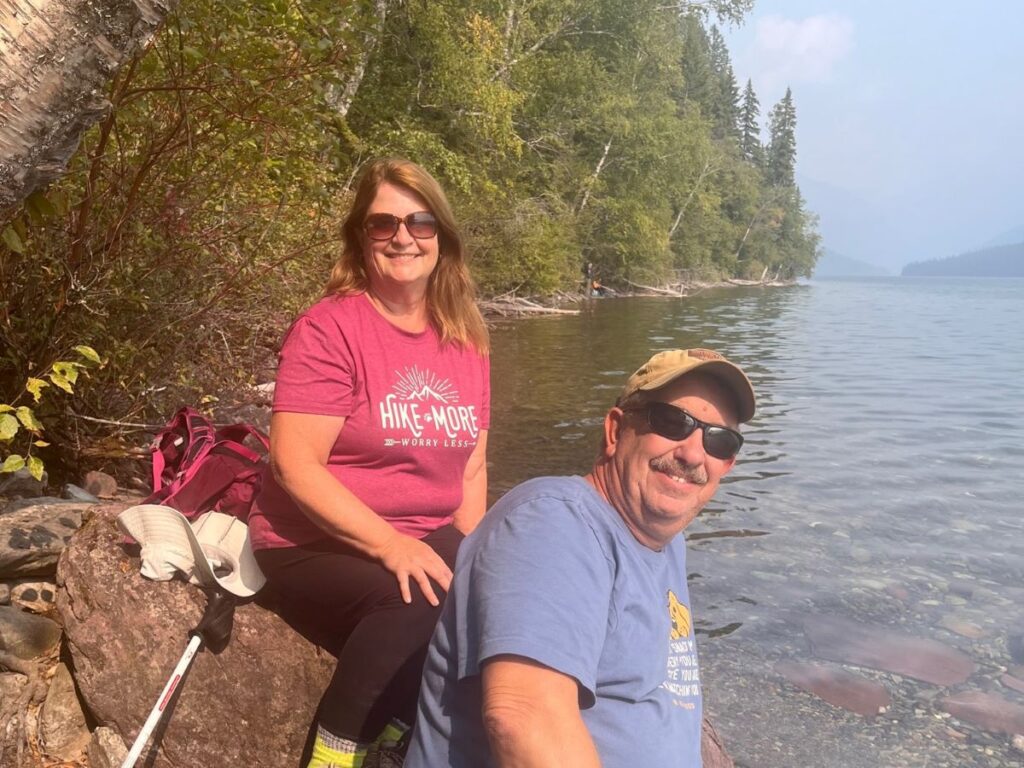 Glacier is one of our favorite National Parks so Brad and I returned for a fall visit. Brad hiked backcountry in the North Fork Area years ago so I wanted to see what everyone was talking about. We were thrilled to find the North Fork uncrowded and gorgeously wild.
Here's what you need to know to plan your trip to Glacier's North Fork Area and the surrounding community of Polebridge Montana.
About North Fork Glacier National Park
The North Fork Area is in the NorthWest corner of Glacier NP, butting up against the Canadian border. Glacier's North Fork entrance station is about 1 mile from the rural community of Polebridge.
In the North Fork area, you'll experience a National Park like no other. It is the place for adventure.
Wildlife is abundant, the quiet is beyond compare, and the views are stunning.
The primitive campgrounds are natural and spacious, ready for you to relax far away from the rest of the crazy world.
Awe-inspiring lakes are accessible by car where you can kayak or just chill for the day.
You'll find dozens of gorgeous day hikes.
Or you can take off for several days to hike through the backcountry enjoying remote campsites and trails that lead deep into the park.
Important Things to Know Before You Go to North Fork
A trip to North Fork Glacier National Park is not for everyone.
First off the roads really suck. Once you pass the Polebridge Ranger Station you will experience miles of single-lane, rutted, dusty messes. There are sharp turns with limited room (often no room) for passing. While the park permits vehicles up to 21' on the roads, you'll find it tough to maneuver anything larger than a pickup truck.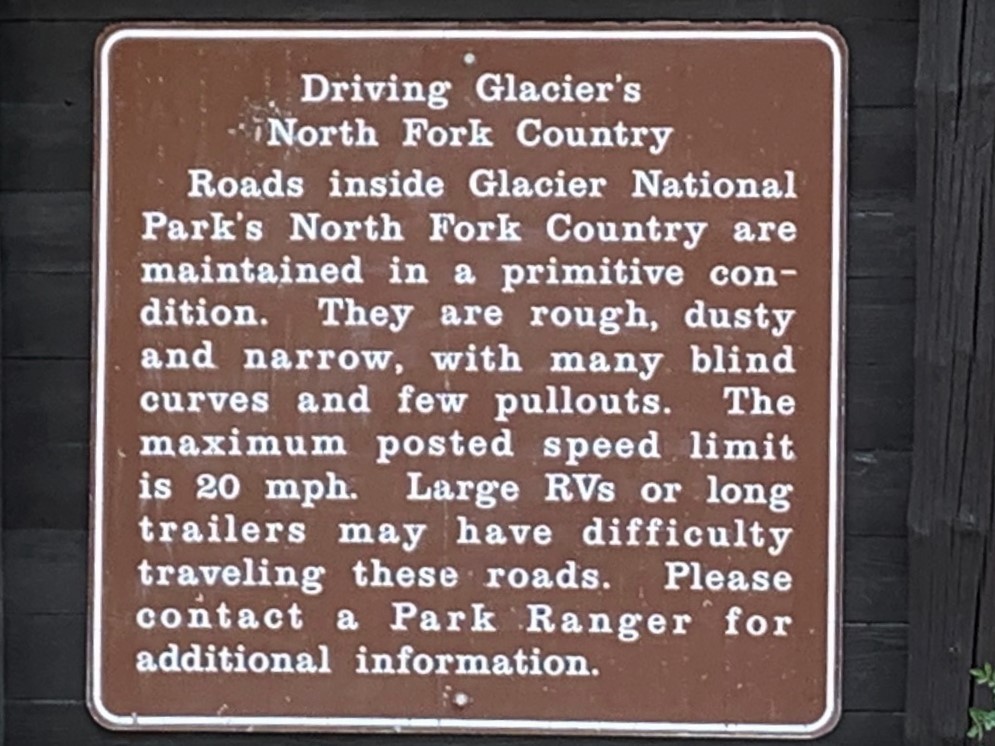 Your last bit of civilization is the tiny village of Polebridge, just outside the Polebridge Ranger Station. (More on that visit-worthy town below!) After that, you'll find limited drinking water, no roadside service if you blow a tire on one of those deep ruts, and very few other people.
And did I mention bears? This isn't your local zoo, it is Glacier National Park which is home to 300 grizzlies and 600 black bears living freely on the land. Carrying bear spray and using safe food storage choices are not optional here.
Getting to North Fork Glacier National Park
There's a lot of confusing and incorrect information on the internet about how to get to the North Fork Area of Glacier. The confusion comes from the two roads on the map, the Outside North Fork and the Inside North Fork Road. Years ago you could take either road.
Significant flood damage to the Inside Road resulted in a section being closed to car traffic. I confirmed with Ranger Stanton in October 2022. He provided me with a recently updated map, the red shows the closed area. He said there has been working on bridges in the red section, but it is only open to hikers and bike traffic.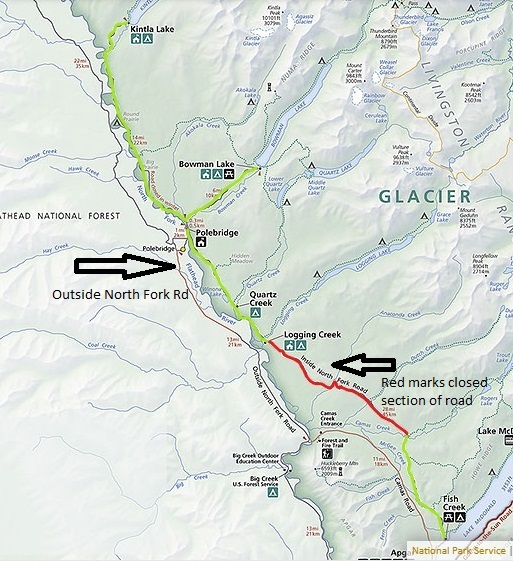 That means you cannot get to the North Fork area from Going to the Sun Road via the Inside North Fork Road. The only way to get there is via the Outside North Fork Road, which is all outside of Glacier National Park.
About The Outside North Fork Road to Polebridge Montana
The outside North Fork Road will take you to the Polebridge Ranger station where you can enter the park. You might need a vehicle reservation to enter, so don't make this trek without checking the requirements first. More on that is below.
This road is usually in good condition during the summer. The first ½ of your drive is on a paved two-lane road. After that, the road is wide with a gravel and dirt surface that will slow you down. Although usually in good condition, heavy rains can make this section rough and dry weather will leave it very dusty.
This scenic road follows the outer edge of Glacier National Park through the Flathead National Forest, with a dead end at the Canadian Border. You don't need to drive to Canada though, the entrance to Glacier National Park is right behind the village of Polebridge.
Once you pass through the Polebridge ranger station you will drive the open section of the Inside North Fork Road to get to campgrounds, lakes, and trailheads.
About The Inside North Fork Road
The Inside North Fork Road can be quite challenging to drive. It was constructed in 1901 and is the oldest road in the park. The dirt and gravel road is prone to flooding and rutting. I've seen many reports of flat tires and broken axles so consider the capabilities of your vehicle. There are also stories of getting stuck in the mud after heavy rainfall.
For that reason, the Glacier Rangers recommend that you have high-clearance 4-wheel drive. Per the NPS site: "Vehicles over 21' and/or trailers are not permitted on any roads in the North Fork, with the exception of private horse trailers accessing the Bowman horse corral." They also warn you to be prepared to change your own tire as blowouts are a common problem. AAA is a long way away!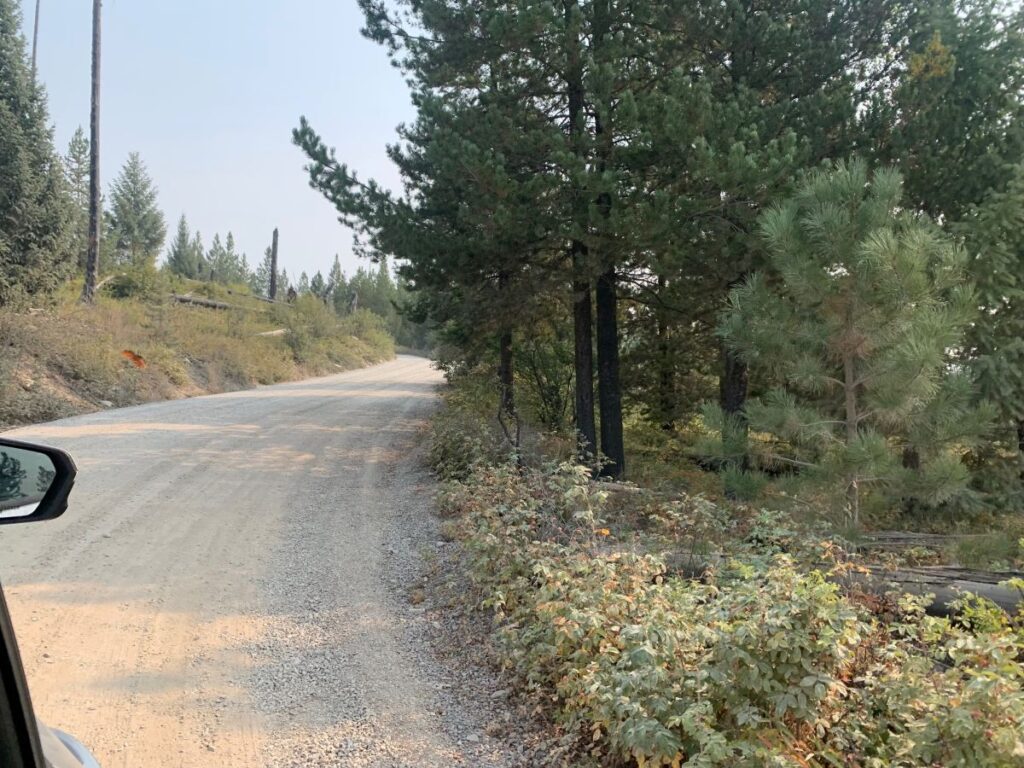 What did we experience while driving on the Inside North Fork Road? We were lucky it had been dry and only had to dodge large ruts and dust. The cautious driving of our youngest daughter kept our 4-wheel drive SUV from getting stuck in the deep ruts. I was glad we left our pickup with the slide-in camper at Apgar Campground as the road was bone-jarring most of the ride. I could just imagine food and dishes bouncing all over the place.
However, the scary part was the single-lane blind curves that were prevalent most of the drive. Several times we found ourselves nose to nose with another vehicle and very little room to maneuver past each other.
About Your Vehicle Reservation for Glacier's North Fork Area
To avoid the overuse of the limited space and resources in the North Fork Area, a vehicle reservation system was implemented in 2022.
During peak season from July into early September, you will not be able to enter most areas of Glacier National Park without a vehicle reservation pass. And Going to the Sun Road requires a reservation starting in May. There is a high demand for passes and most days sell out far in advance. So as soon as you think you are going to vacation in Glacier, go online and get your passes.
As luck would have it, our arrival in mid-September meant we didn't need a reservation. However, I have heard from many travelers that there is high demand for these tickets in July and August so make sure you plan ahead.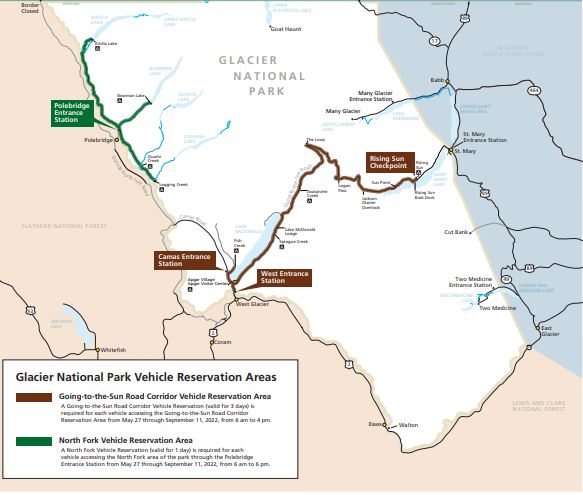 Places to Visit in North Fork Glacier National Park
There are 4 key destinations, reachable by your vehicle, in the North Fork Area, and each is the base for camping, picnicking, boating, and hiking.
Bowman Lake
Kintla Lake
Quartz Creek
Logging Creek
Each is accessible from the Inner North Fork Road after you have passed the Polebridge Ranger Station. So let's take a look at each one: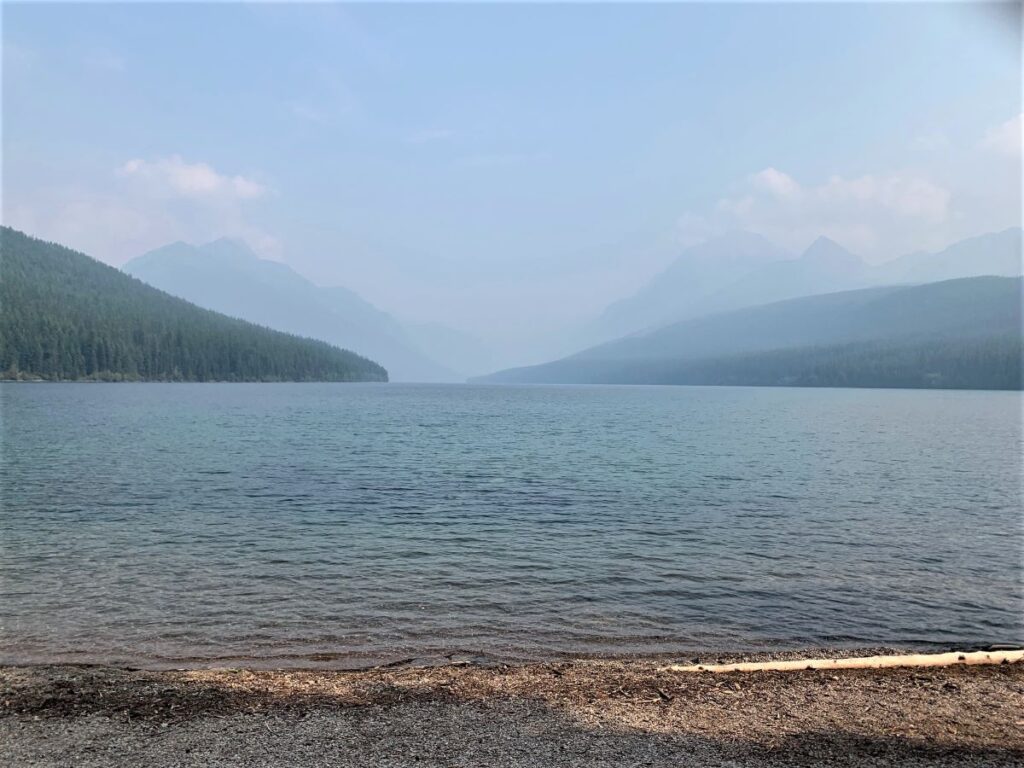 #1 Bowman Lake: The Busiest and Largest Remote Area in Glacier's North Fork
It is well worth the driving challenge to visit Bowman Lake. It is gorgeous. The 7-mile-long lake is framed by steep mountains that open in the center as if welcoming you to explore.
Bowman Lake is the most popular spot in the North Fork area. The most obvious reason is that it is the easiest to get to. The road to Bowman starts right inside the park gate and is about 6 miles long. It will take you 20 to 30 minutes to drive in dry weather. The road is no better than any of the roads in this area. It is dusty and rutted with narrow blind curves.
Use the day-use parking lot if you are planning to hike, boat or picnic. You can't park by the lake, although you are welcome to stop and drop your gear before parking. And please don't park in the campground, leave those spots open for incoming overnight campers.
Day Hiking From Bowman Lake
While there aren't any easy day hike trails from Bowman Lake, following the first few miles of the Bowman Lake Trail is the perfect way to spend a few hours of easy hiking. The trail along the NorthWest side of the lake is fairly level. Even though it follows the lake, direct access to the lake is limited due to a sharp drop-off. However, we took advantage of an opening about 2 miles in and found several large boulders where we could take in the amazing view.
If you are up for a full day of hiking, then Bowman Lake has a lot to offer.

Akokala Lake is an 11.6-mile round trip moderately difficult hike ending at a beautiful small lake. Or you can hike to Quartz Lake as a 13-mile loop. Or hike only to Lower Quartz Lake for 7 miles RT. There's a lot of elevation gain either way so plan for a long hard day of hiking. Many choose to make the loop and backcountry camp along the way.
Back Country Hiking and Camping
The real appeal of hiking from Bowman Lake is the wide range of backcountry opportunities. The two hikes above can be turned into backcountry camping trips. However, continuing down the Bowman Lake Trail leads to the deep backcountry where you can camp your way to Goat Haunt or take a long circle back to Kintla Lake.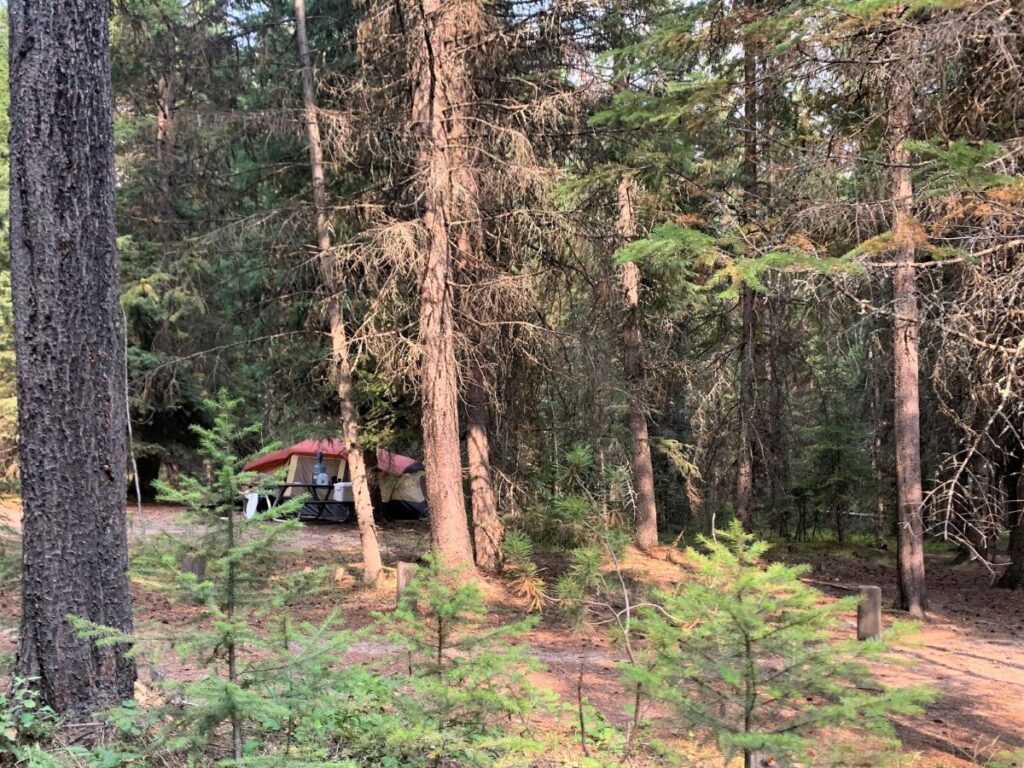 Camping Bowman Lake
Bowman Lake Campground is a tent campers' dream, with 48 large shaded campsites. It's a short walk to the lake. All the sites are first come first serve so you need to arrive early in the day to claim a spot. On summer weekends all sites are usually full and hard to get to. Amenities are limited here, this is a semi-primitive campground where you can get away from it all. Most likely your cell phone won't work either.
The campground opening dates are dependent on weather, but usually, it opens in mid-May. Through September 8th, potable water, vault toilets, and a dump station are available in a central location. After that date, the water is shut off in preparation for winter. If the weather allows, Bowman Lake Campground will stay open until October 31st before closing for the winter.
While intended to be a tent campground, you could easily camp here in a campervan or a truck camper. You'll need a high lift and good suspension to traverse the wild road. And well-secured contents inside will avoid a mess when you open your camper doors!
Get more information about camping in Glacier in our guide to Things You Should Know Before Camping in Glacier
Water Activities at Bowman Lake
Kayaking and Canoeing are popular on Bowman Lake. Visitors also like to bring inflatable boats and rafts. Small motors, under 10hp, are allowed on Bowman Lake but have more inspection restrictions than non-motorized boats so are usually avoided.
Yes, people do swim in Bowman Lake. However, it is fed by snow melt so is pretty cold all summer long.
#2 Kintla Lake, The Most Remote Front Country Campground in Glacier
Just a few miles from the Canadian Border, you can truly get away from it all at Kintla Lake. It's also the most remote spot in Glacier National Park that is accessible by car. Because it's so far out of the way, not many people wander this far so you can enjoy a quiet day.
Kintla Lake is surrounded by mountains making the view from any angle photo-worthy. While the South side of the lake was part of a 2003 fire, you'll see that nature does an amazing job of recovering.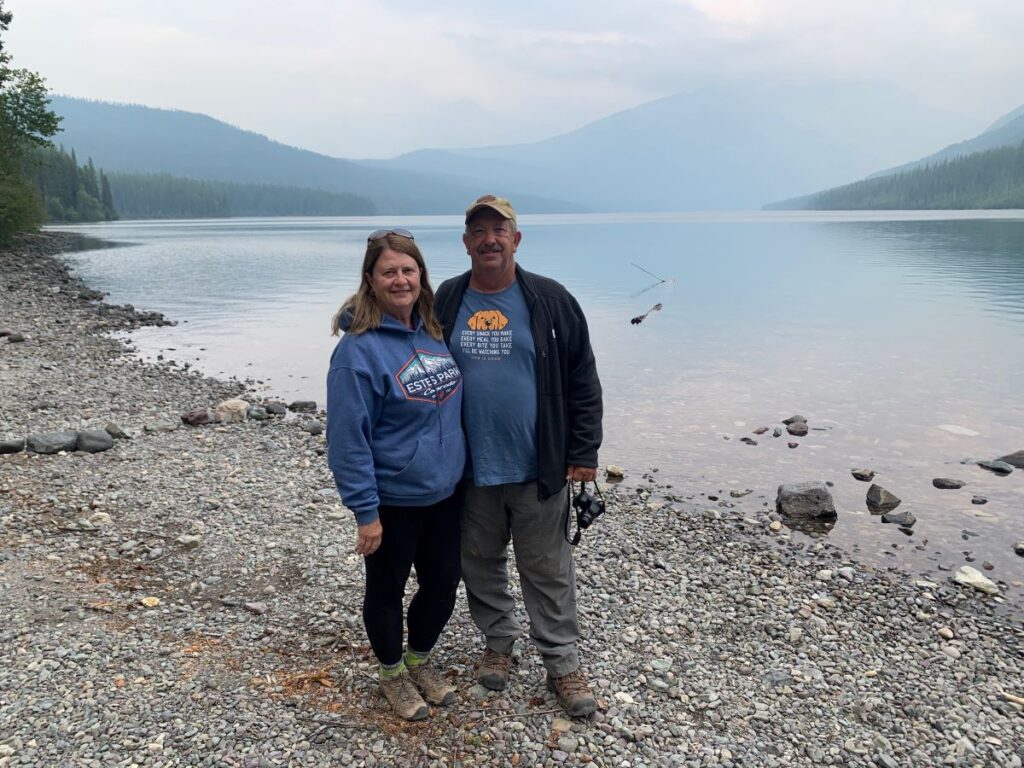 The drive from Polebridge is 14 miles and plan an hour of travel time. While that might seem intimidating after experiencing the rugged road to Bowman Lake, long sections of this road go through meadows, which makes it much easier to navigate. However as you near Kintla Lake the road gets rough, extremely narrow, and has many super tight curves.
Day Hiking from Kintla Lake
An in-and-out hike along the North edge of Kintla Lake is a great day hike. If you choose to go to the end of the lake, it's a long 13-mile hike. However, the trail is just as enjoyable if you only hike a portion of it, allowing you to set your own distance goal. The trail is fairly flat with some rolling hills so not very difficult.
Back Country Hiking and Camping at Kintla Lake
The Kinta Lake Trailhead connects to some of the most isolated backcountry trails you will find anywhere in the US. Backpackers can complete a loop to Bowman Lake or hike Boulder trail for an in and out to Goat Haunt.
For backpackers who want a real adventure, it is possible to hike across the park ending up in Many Glacier at the end of a week or so of hiking and camping. Other hikers head North into Canada when the Canadian border is open.
Camping at Kintla Lake
Kintla Lake has a small campground with 13 shaded tent campsites. Most campsites have a filtered view of the lake and are large and comfortable. You could easily spend 3-4 days chilling here!
Potable water is available from a hand pump during the summer, but I'd suggest you bring drinking water along just in case there is a disruption.
The campground at Kintla Lake opens around Memorial Day. In early September it changes to primitive status, which means the water is shut off for winter. If the weather allows the campground will stay open until Halloween.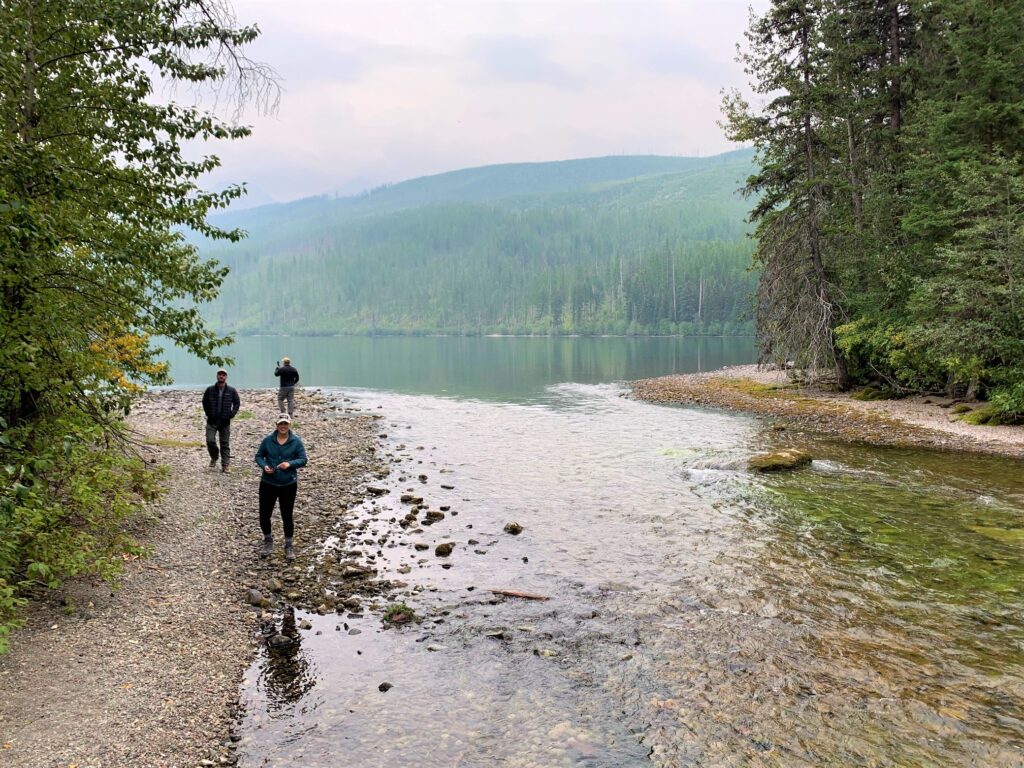 Water Activities at Kintla Lake
While non-motorized boats are welcome on Kintla Lake, not many people explore the lake by boat. If you kayak or canoe, this is a great place to pack a lunch and float away from it all! With a backcountry camping permit, you can canoe the 8 miles to the end of the lake, camp at the backcountry site there, and then return the next day. You're only challenge is the potential of a very windy day!
You'll find families enjoying the beach area, but not many are brave enough to enter the frigid waters to swim. More likely you'll encounter someone fly fishing from the shore.
#3 Quartz Creek, The Smallest Campground in Glacier National Park
If your goal is to feel like a wilderness badass while enjoying the comfort of having a vehicle nearby, Quartz Creek is the place for you. There's not much going on in this part of the North Fork area, which is kind of the idea of camping here. However, I wouldn't suggest making the arduous trek to Quartz Creek unless you plan to camp.
It's a 6-mile drive from Polebridge on a rough dirt road to Quartz Creek campground and trailhead. This road tends to get extremely muddy in the early summer or after a rainfall making it harder to traverse.
Day Hiking from Quartz Creek
Unless you plan to hike the full 7 miles (14 mi RT) to Lower Quartz Lake, the trail following the creek is fairly unexciting. There is limited access to the creek and few interesting views along the way. Most of the trail is in thick brush and heavily shaded. All I can think of are bears and mosquitoes when looking at this path.
Back Country Hiking and Camping from Quartz Creek
The Quartz Creek Campground is much more interesting as a starting point for long backcountry hiking and camping. From here you can do a loop around the Quartz Lakes or travel on to Bowman Lake and connect with many of the trails that take you deep into Glacier National Park.
Camping at Quartz Creek
The campground at Quartz Creek is extremely rustic with only 7 tent sites. The sites are spread out with trees and brush between so you'll have lots of privacy. This campground is primarily used as a starting point for backcountry hikes. So if you are looking for a place to completely unplug, this campground is perfect.
Other than a pit toilet, there are no other amenities here. Make sure you pack enough drinking water for your stay.
#4 Logging Creek
Logging Creek Campground is just a couple of miles down the road from Quartz Creek. And both are very similar in their distinctive remote and primitive locations.
Day Hiking from Logging Creek
Hiking along Logging Creek to Logging Lake is an easy day hike for families. The 4.5-mile trail is fairly level and the lake is a pleasant destination for a picnic and playing in the lake.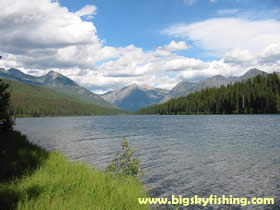 Back Country Hiking and Camping from Logging Creek
If you are looking for a pleasant and easy backcountry adventure, then continue along the trail to Logging Creek where you'll find 3, nearly lakefront, remote campsites. According to Big Sky Fishing, it's worth packing in a small float raft to fish for bull and lake trout in Logging Lake.
Camping at Logging Creek
There are 8 large campsites in the Logging Creek Campground of the North Fork. Solitude best describes camping here, it's common for the campground to be fairly empty. There is no water and only pit toilets available for you to use so come prepared for a rustic experience.
More Things to Know About Camping and Hiking in the North Fork
Here are a few more tips and things to know about North Fork Glacier National Park.
Getting a Permit for Back Country Hiking and Camping in Glacier National Park
Demand is extremely high for backcountry campsites. Glacier starts taking applications for sites on March 15th. The earlier you get your request in, the better. You can also walk into the Back Country office the day before your hike where rangers will work with you to create an itinerary. If you are flexible and arrive early in the morning, they can probably get you set up with permits. But no guarantee you'll be able to hike the area you planned.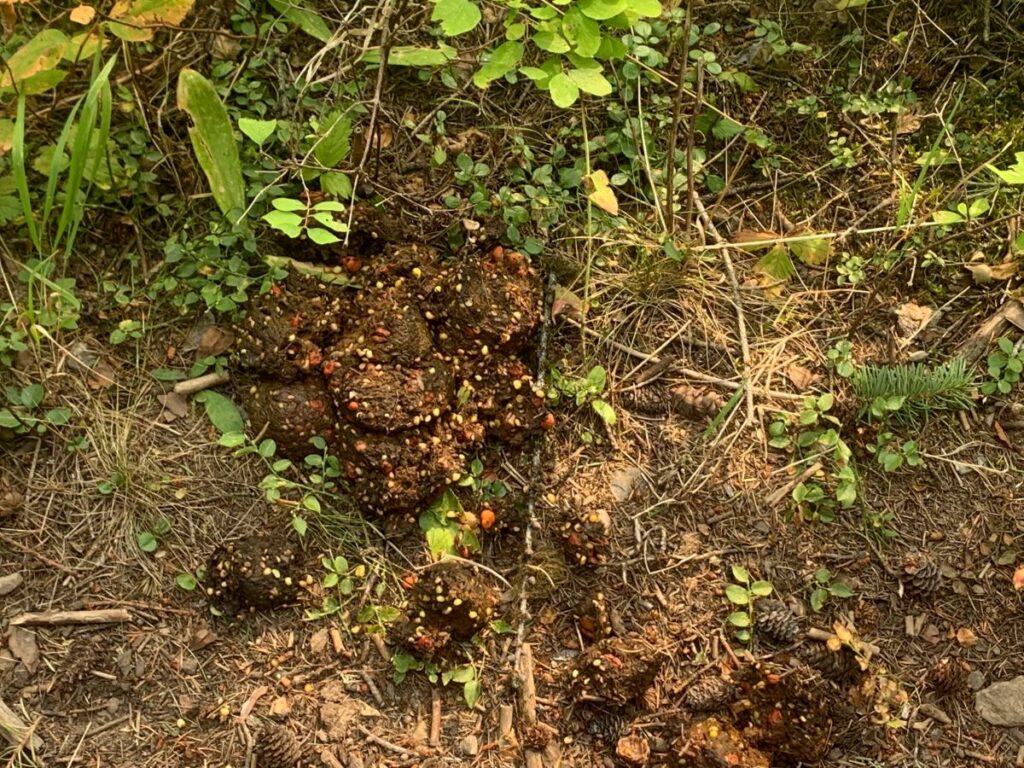 Bears, Wolves, and Other Wildlife
There are over 70 mammals that make Glacier National Park their home. You will most surely be entertained by small critters like chipmunks, squirrels, and pikas when you visit the North Fork Area. And deer might wander through your camp. You can get a printable color mammal checklist here.
While larger and more exciting animals like bears, moose, elk, and mountain lions live in the North Fork Area, spotting one is a little harder. Generally, they prefer to stay away from people.
On our recent trip, we didn't see any larger animals, although we did come across fresh bear scat on the hiking trail around Bowman Lake. That was enough to send us all into song to let Mr. Bear know we were nearby. Meeting a bear on a narrow trail is not on my personal wish list!
Wildlife Safety Tips for the North Fork Area
In this remote area of the park, the wildlife is very active. And because they don't encounter humans often they will wander the same hiking trails you follow. The lakes and streams you enjoy are also their primary water sources. So be smart and be safe.
Keep Your Distance from Bears and Wolves: The Glacier Park Rangers advise keeping at least 100 yards away from bears and wolves. That's the length of a football field! That doesn't mean if you see a bear in the distance you should move closer to get that 100-yard photo. Bears often react with aggression if they see someone moving into their personal space. (And I'm pretty sure no one has explained that 100-yard rule to them.)
Use a Telephoto Lens: Since it is advised that you keep at least 25 yards away from other wildlife, a telephoto lens will help you get amazing close-up photos. However, keep in mind that wildlife is unpredictable so if an animal is acting uncomfortable with your presence, move away slowly.
Carry Bear Spray and Know How to Use It: You can purchase bear spray in the sporting goods department of most stores in Montana, including Walmart. It's a little pricey so if you only need it for a couple of days, you can rent a canister at Apgar Village for less.
Keep a Clean Site: Put away all food when you are not eating at your picnic or campsite. Food should be stored out of sight in a hard vehicle or in bear-proof containers. Wash your table down and dispose of any dishwater away from where people will be gathering. This is not only to keep the scary bears from joining you for dinner but to also avoid habituating smaller wildlife to human food.
Are there Toilets and Drinking Water Available?
Bring enough water with you for your whole stay. During the summer months, you will probably find safe water pumps at Bowman Lake and Kintla Lake. However, that water supply could break and it's a long way back to get water. In the fall those water sources are shut off and drained in preparation for winter. Water in the lakes and streams are only safe to drink after proper filtering.
Pit toilets are available in the 4 rustic front country campgrounds. Surprisingly you'll also find a few pit toilets along the major backcountry hiking trails. Check the trail map for those locations.
Can I have a Campfire in Glacier National Park?
Campfires are usually allowed in designated fire pits in the spring and early summer. But by mid-summer, fire season has begun and it's common for campfires to be banned. Make sure you bring an alternative source to cook your meals.
Are the Mosquitoes a Problem in North Fork?
One word for the mosquitos in Glacier National Park: Aggressive! Bring your repellant and be prepared to avoid mosquito bites when hiking. You can also find tips for keeping mosquitos away when camping here.
Are Dogs Allowed in North Fork
Yes, dogs are allowed in some parts of the North Fork area of Glacier. Pets are allowed in Glacier's 4 front country campgrounds as well as the picnic area at Bowman Lake. However, because of the risk to wildlife in the park, pets are not allowed on hiking trails. They are also not allowed in the water or on the beaches. One little twist, you can take your dog with you in a boat on any of the lakes.
Where Can I get a Boat Inspection?
It's important to plan for the required inspection of all watercraft. Glacier National Park (and all of Montana) are fighting to keep invasive species out of their waterways.
If possible, get your inspection at the Apgar Boat Ramp before you head north. When the Polebridge Ranger Station is open, they will also complete inspections but their hours are limited and you don't want to get up North to have to turn around. Be aware that all floating devices except really simple inflatables like babies' swim rings must be inspected.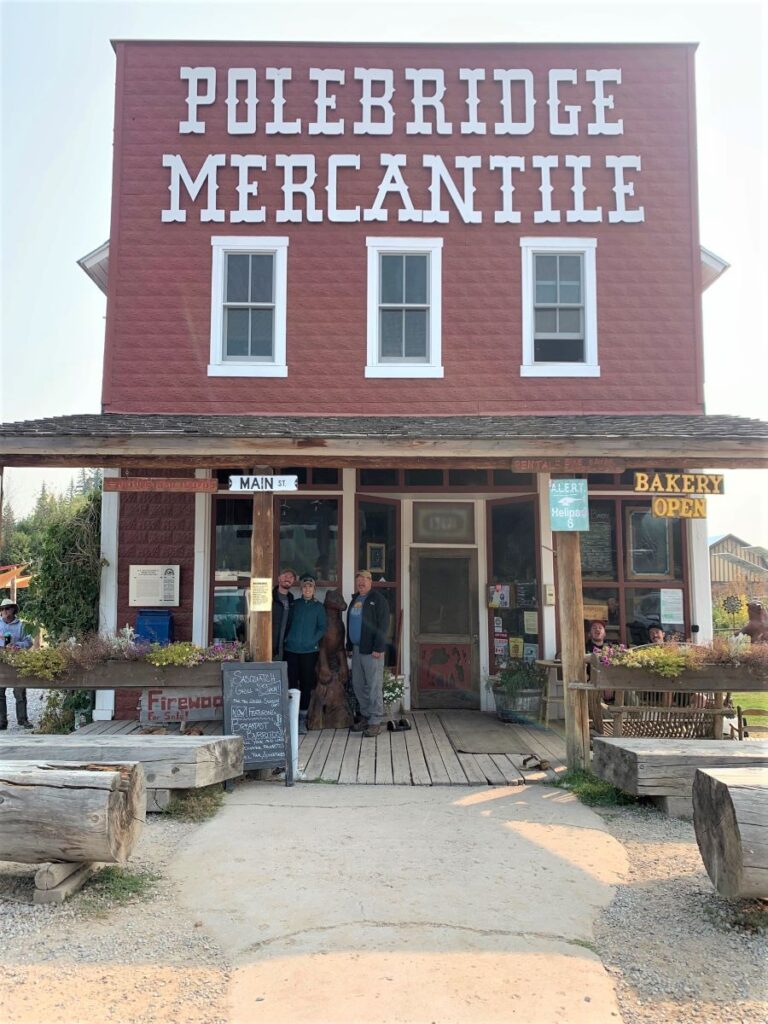 Visit The Community of Polebridge Montana
Many Glacier visitors go north just to visit the community of Polebridge. Why? Because it is a charming rustic community wedged between the Flathead National Forest and Glacier National Park. The scenery along the drive is beautiful. Polebridge is about 1 mile outside the North Fork Ranger Station so you don't need any permits to visit this rural community.
Worth the drive alone is the Polebridge Mercantile, famous for its baked goods. Yes, people drive several hours just to eat their huckleberry bear claws. And after treating ourselves I fully understand why. Yum!!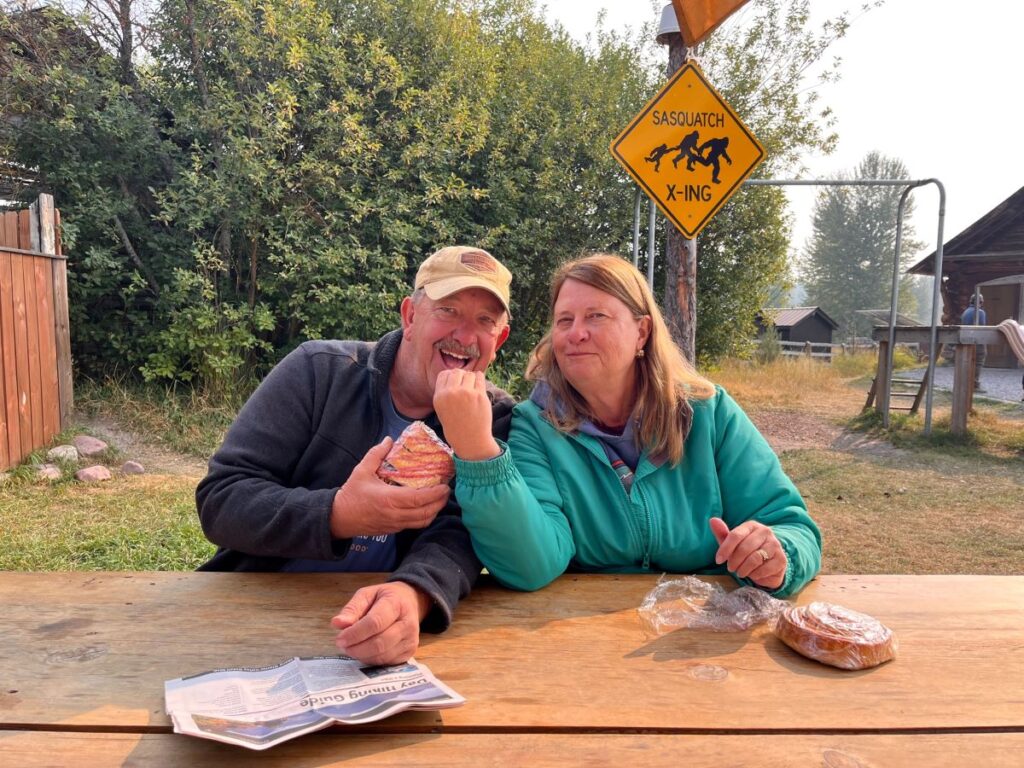 At the Polebridge Mercantile, you can also rent bikes and rafts to take into the park. And they have 4 rustic cabins available for rent.
While in Polebridge you can enjoy lunch or a beverage at the Northern Lights Saloon or the Home Ranch Bottoms. Both locations have a local vibe and a great history in this community that promises to make your adventure quite interesting.
Where to Stay if You Don't Camp inside Glacier's North Fork
Hotels and Cabin Rentals
One of the things we love about the North Fork Area is you won't find any hotels or fast food chains. That does make it a little more challenging to find a place to stay if you are not a camper. West Glacier has a few more choices for lodging including cute cabin rentals. The Great Northern Resort is the major hotel near the entrance. Check cabin and hotel availability in West Glacier Here. If you are looking for a larger selection of really cool places to stop where you'll also find restaurants and other amenities check out hotels and cabins in Columbia Falls Montana.
Additionally, there are 4 cabins at the Polebridge Mercantile. There are also a handful of private rentals available in the Polebridge area through VRBO and Airbnb. Just keep an eye on the "miles to Polebridge Center" in the listing and remember those are rough road miles that take a lot longer to travel.
Flathead National Forest Dispersed Camping
Does driving up to the North Fork without a camping reservation makes you a little nervous… what if there are no campsites open? Don't worry… the Flathead National Forest is open to dispersed camping. According to the NFS "Dispersed camping is free, and permitted almost everywhere on the Flathead National Forest."
If you've never tried dispersed camping before, We've found some amazing campsites by just driving into a National Forest. Here's a helpful overview of dispersed camping for first-timers.
Flathead National Forest Cabins
The Forest Service has 6 cabins adjacent to Glacier National Park that can be rented in the North Fork Area. Some are rustic, some are pretty sweet. All have amazing locations. You can complete your rental on Recreation.gov.
Ben Rover Cabin
Ford Cabin
Hornet Lookout Cabin
Ninko Cabin
Schnaus Cabin
Wurtz Cabin
Last Thoughts About North Fork Glacier National Park
With a little bit of preparation, such as packing plenty of supplies and making sure your vehicle can handle the rough roads, it's totally worth making a trip to the North Fork Area.
As a day trip, we suggest you spend the day at either Bowman or Kintla lake enjoying a scenic picnic lunch and taking short day hikes. If your schedule allows for several days, with a little planning enjoy backpacking into the deep wilderness. Or if your goal is to "chill out" then a few days at one of the rustic front country campsites are just the ticket.
We hope you enjoy your visit to North Fork in Glacier National Park!
Looking for more information to Plan Your Glacier Vacation?
Things to Do in Glacier National Park for the First-Time Visitor
The Best Hikes in Glacier National Park