Creating a list of things to do in Capitol Reef National Park was the last thing on our mind.
Capitol Reef National Park was park number 3 on our Crazy 5 Utah National Parks in 5 Days Road Trip. As I developed our itinerary I seriously considered skipping this park. I mean, look at the map. It's really out of the way. And unlike it's Southern Sisters no one ever talks about Capitol Reef. Would it really matter if we skipped this park?
But I knew I'd regret not taking advantage of an opportunity to check this park off our list. Yes, a check mark on a piece of paper is a very lame reason to visit, but it was ours and we'll own it.
So imagine our surprise when we discovered the amazing things to do in Capitol Reef National Park. We knew we were in a special place as we drove into the park. The colors in the the sandstone and limestone layers of rock towering above us were beautiful far beyond our ability to describe.
As we traveled through Capitol Reef we finally understood that this park is like no other and could easily be a vacation all by itself. Lesson: Don't do what we did and fail to take a Capitol Reef National Park adventure seriously. We almost missed one of Utah's very special places.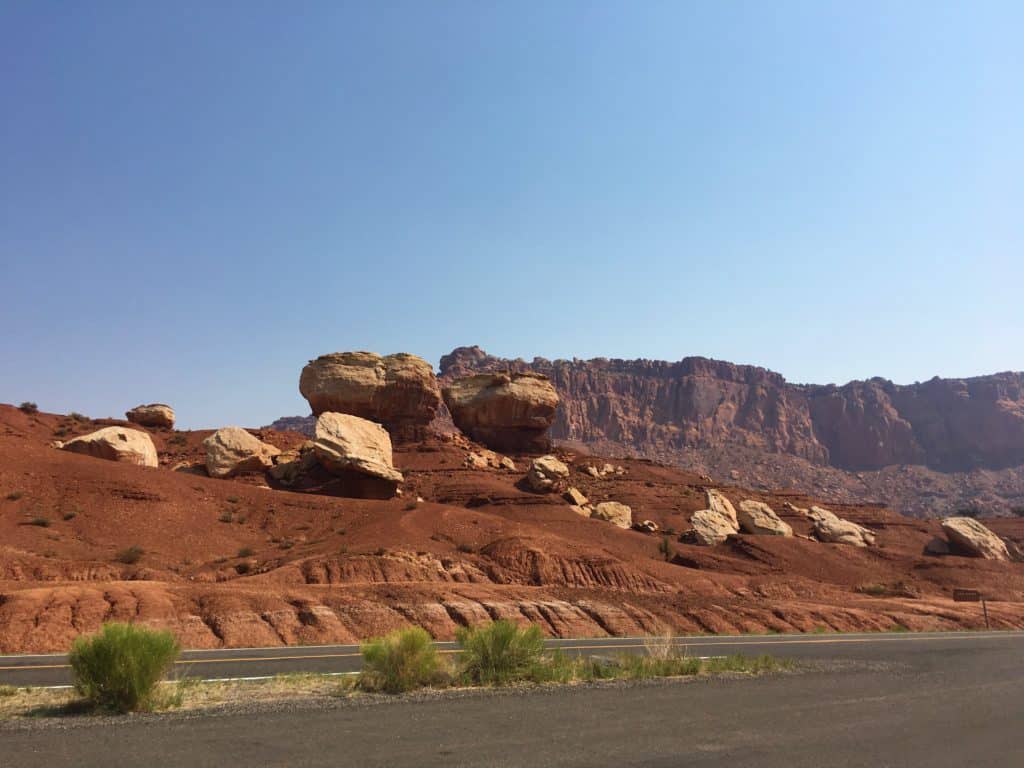 Because you are obviously smarter than we were and are now planning your trip, here is our list of 6 things to do in Capitol Reef National Park that any first time visitor MUST have in their plans:
#1 Watch Movie "Watermark" at the Visitor Center
The reason Capitol Reef National Park exists is the Waterpocket Fold. Geologists call it a "wrinkle" in the earth's crust. But at 100 miles long and 7,000 feet high "wrinkle" seems like a pretty tame term. The simple description: one side of the "wrinkle" has been thrust up into the air 7,000 feet higher than the other. Throw in 15 million years of erosion, and that my friend has created a lot of interesting geological features.
To truly appreciate the wonders that you see as you explore the park, your first stop should be the Visitor Center. And their feature movie "Watermark" should be on the top of your things to do in Capitol Reef National Park list. It's only 20 minutes long and well worth the time. (You'll also want to make a potty and water stop here as there are not a lot of other facilities in the park.)
#2 Get Up Close and Personal with the Waterpocket Fold
Evidence of the Waterpocket Fold can be seen from the road everywhere in the park. For a very simple hike hop off Rt. 24 to Sunset Point. It's a short hike to an overlook that gives you an amazing view of this geological wonder.
Our favorite is the Grand Wash Trail where you can walk through canyons and follow the Narrows where the walls tower high above you. This 4 mile round trip hike is fairly level making it easy for most everyone's hiking skill. Just avoid the heat of the day in mid summer as there is no shade when the sun is high in the sky.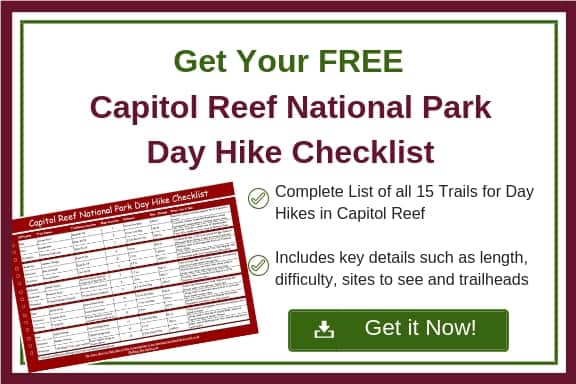 #3 Look for Outlaws
Rumor has it that Butch Cassidy's gang holed up in these canyons. So as we explored the Grand Wash area, we had fun imagining their life on the run. (I have a video of Brad acting out a scene from the movie with this canyon in the background that is pretty hilarious!) Butch's namesake, Cassidy Trail, just off Grand Wash Trail takes you to a beautiful view and Cassidy Arch.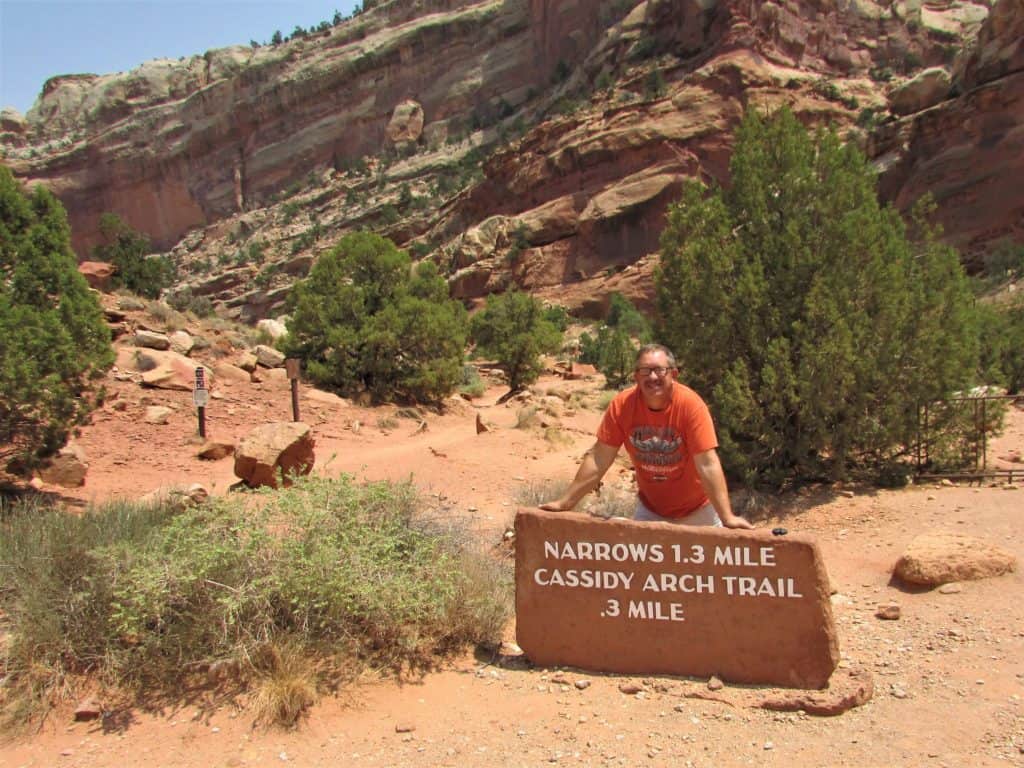 If you are here for a longer stay, there are several outfitters in the area that will guide you on horseback through some of the canyons. Talk about an experience right out of an old movie!
---
For more day hikes that take you on a great adventure check out this post: 5 Super Easy Day Hikes in Capitol Reef National Park
---
#4 Relax in Historic Fruita
Imagine the contrast of those magnificent rock desert sculptures to the oasis we found along the Freemont River. The early Mormon settlers must have thought they found paradise when they found this lush land with abundant water in the middle of the desert.
The Fruita Historic District includes orchards. At the turn of the 20th century, fruit production was the primary source income for this small community. Today the orchards continue to be home to a wide variety of fruit trees. When they are in season families are welcome to pick fruit for a small fee.
Here you will also find a restored schoolhouse, the Gifford house and barn, and a blacksmith shop that demonstrate early life in this area. Part of the Gifford house is now home to a bakery where you can purchase pies and breads. We grabbed a loaf of sourdough bread to add to our picnic lunch menu.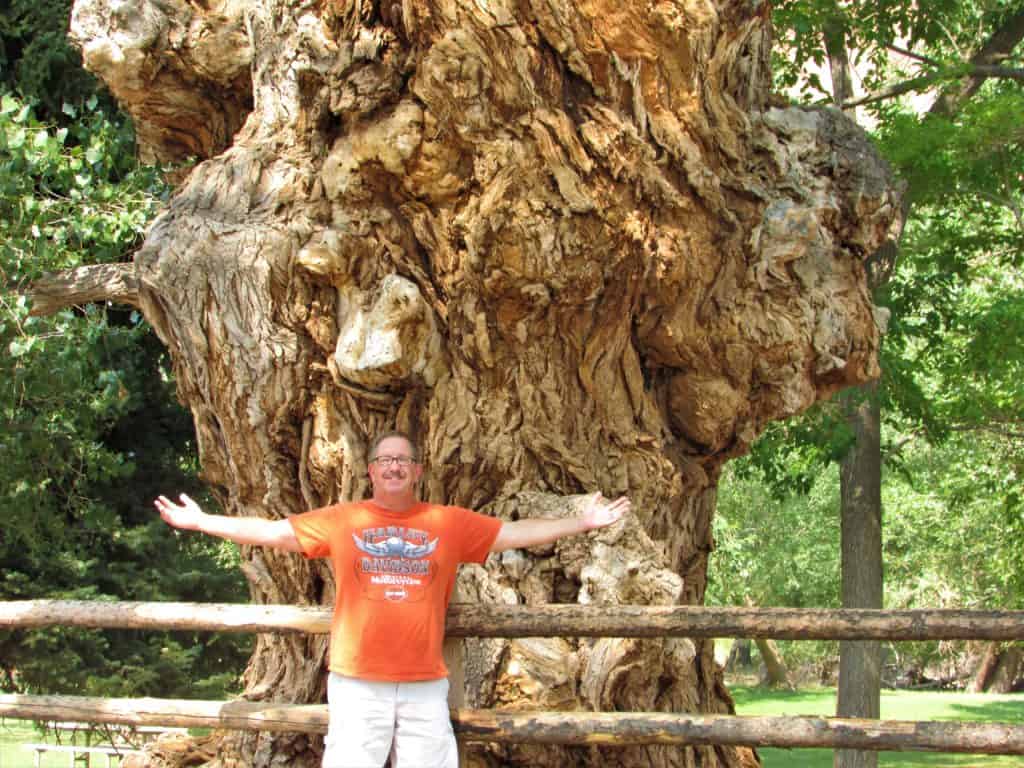 The large shaded park with humongous cottonwood trees was our favorite stop. We ate a delicious lunch of peanut butter and jelly on that fresh bread. Then stretched out under a tree for a short nap.
#5 Check out the Capitol Reef Petroglyphs
Petroglyphs, created by Native Americans around 700-1,400 years ago, can be seen in several places in Capitol Reef National Park.
The easiest to reach is right along Rt 24. The parking lot is well marked so you'll find this site easily. Here a boardwalk has been built so you can examine the rock art closely.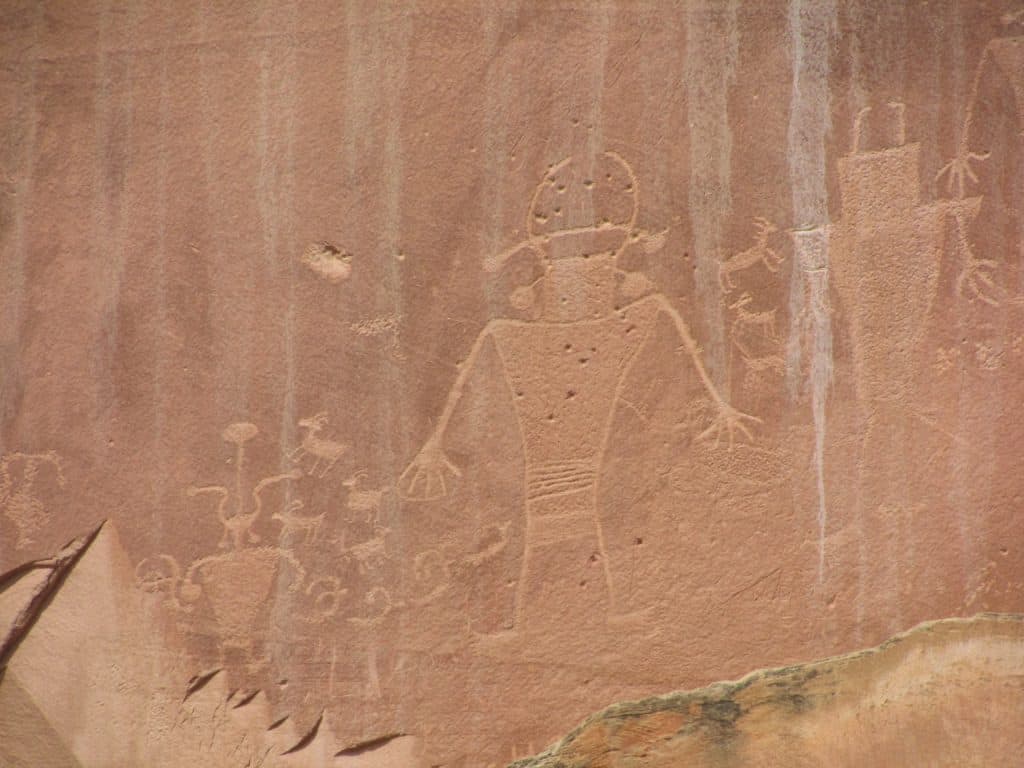 There are more impressive Capitol Reef petroglyphs along the Capitol Gorge Trail. This one takes a little bit of hiking to find. The trail isn't difficult so it's well worth the hike. You'll also discover a place where early frontier explorers carved their names in the stone.
#6 See More Stars Than You Can Imagine
Capitol Reef National Park is an International Dark Sky Park which means the star viewing is amazing. Spread out a blanket after sunset and you will see a sky show like no other! Night sky charts are available at the visitor center. You can also join a ranger led moonlight hike. Check in at the visitor center for times and meeting locations for one of these memorable hikes.
And There are so Many More Things To Do in Capitol Reef National Park!
I hope, like us, after your first trip you'll be ready to head back for more. This list will keep you busy for days but it barely scratches the surface of possible adventures!
Don't forget to save this to your Pinterest vacation board so you have it handy when planning your trip. And we'd love if you'd share in the comments your favorite things to do in Capitol Reef National Park.