When you think about a National Park Vacation, what's the first image that comes to mind? Amazing views of mountains and canyons? Adventurous hikes? Wildlife encounters? For me it's quietly enjoying nature. So let's get this right out in front…
There is nothing quiet and serene about entering Zion National Park!
As the 5th busiest park in the United States, with about 5 million visitors expected this year, the place can be a madhouse.
That said, Zion National Park has people moving down to a science. From March through November no cars are allowed on Zion Canyon Scenic Drive. Why you ask? Image being in one of several thousand cars crawling down that simple 2 lane road. Yuk!
The Amazingly Efficient Zion Canyon Shuttle Saves the Day
The Zion Canyon Shuttle was started in 2000 to eliminate all the nasty stuff that comes along with the intense traffic: like accidents, pollution, traffic jams, etc. I love a well-organized system and this one gets 5 stars from us.
Zion National Park was stop 2 on our Utah National Parks Road trip. Our favorite resources while on this Crazy Road Trip to Visit 5 Utah National Parks in 5 Days was first the Moon Utah Travel Guide to help us find interesting spur of the moment side trips as we traveled from park to park. For our Zion visit, we loved Lonely Planet's Zion and Bryce Canyon for getting into the nitty gritty details.
If you are planning to wander the gorgeous state of Utah we highly recommend that you check both out.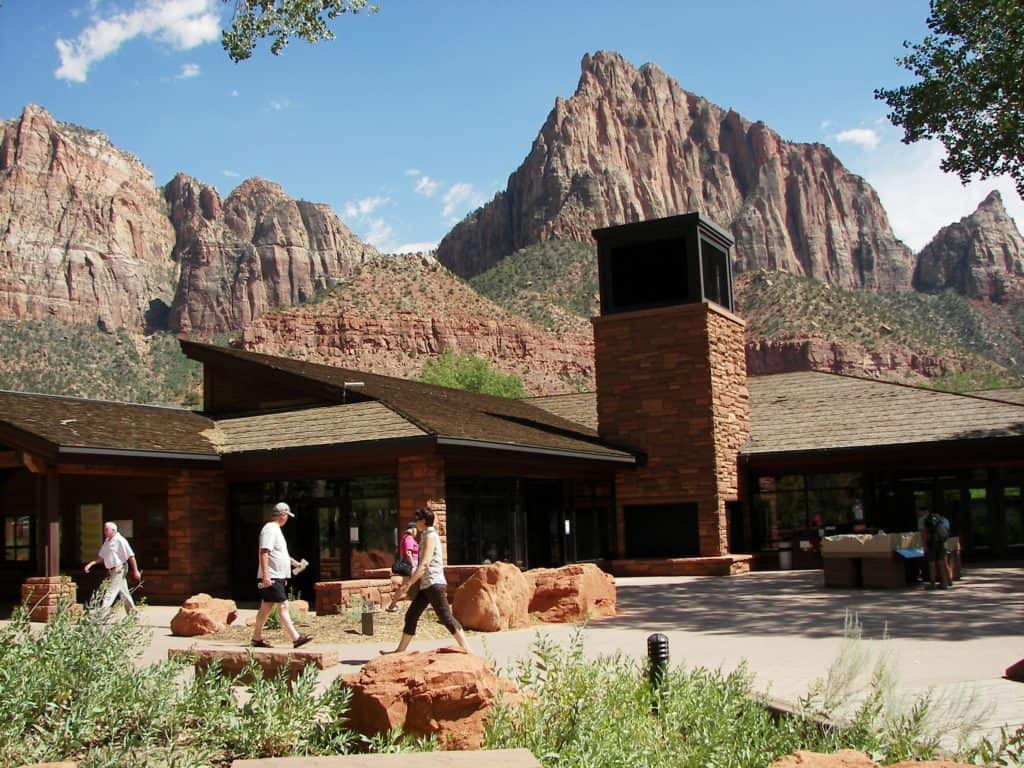 Before we dive into the nitty gritty of the Zion Canyon Shuttle, let me cover how to get there.
Highway 9, The Zion Mt. Carmel Highway is the only way into Zion Canyon, the most popular section of Zion National Park.
If you arrive from the East, the drive along Zion Mt. Carmel Highway is one of our favorite scenic drives that I wrote about in more detail here.
And the last stop on this route is the Visitor Center where you can board the Zion Scenic Drive Shuttle. If you arrive from the Southwest, you will come through the gateway town of Springdale. You'll find the Zion Park Shuttle right inside the South Entrance.
Parking Can Be an Adventure of Its Own
Parking at the visitor center is at a premium because it's so close. It's also free. So being a little bit stubborn, we circled the large lot with fantasies of nailing a free parking spot. After 20 minutes of circling, we decided daylight was burning and we better head out the entrance to find parking in the town of Springdale.
We were lucky and found a spot right outside the park entrance. In hindsight, we should have just paid the $20 to start with!
---
Discover More Information on Zion National Park: Zion Mt. Carmel Highway – A Magnificent Way To Enter The Park and Are You Crazy Enough to Visit 5 Utah National Parks in 5 Days?
---
So here's how parking works in Springdale. Along the main drag (Rt. 9) and down Lion Blvd there's a lot of street parking. If you have an RV, you will need to turn down Lion Blvd for over-sized parking. There are also a few small parking lots along the way. Street and lot parking will run in the $20-30 range for the day.
It's unlikely you will find free parking. Street parking in residential neighborhoods is by permit only and enforced. Although that seems like a lot of money I have to remember when we go to Chicago for a day, we pay $35 to park for a day of shopping or $20 for a Bulls game. My advice is to suck it up and just go for the paid parking spaces.
Springdale City Shuttle Service
The city of Springdale runs the free Springdale Shuttle Service for those who park or have a hotel in town. It runs during daylight hours, runs often, drops and picks up right at the pedestrian entrance to Zion National park and is incredibly easy to use.
If you happen to park close enough to walk into the park the pedestrian entrance is right behind Zion Outfitter. You just cross a small bridge over the Zion River and enter the park on foot or bike.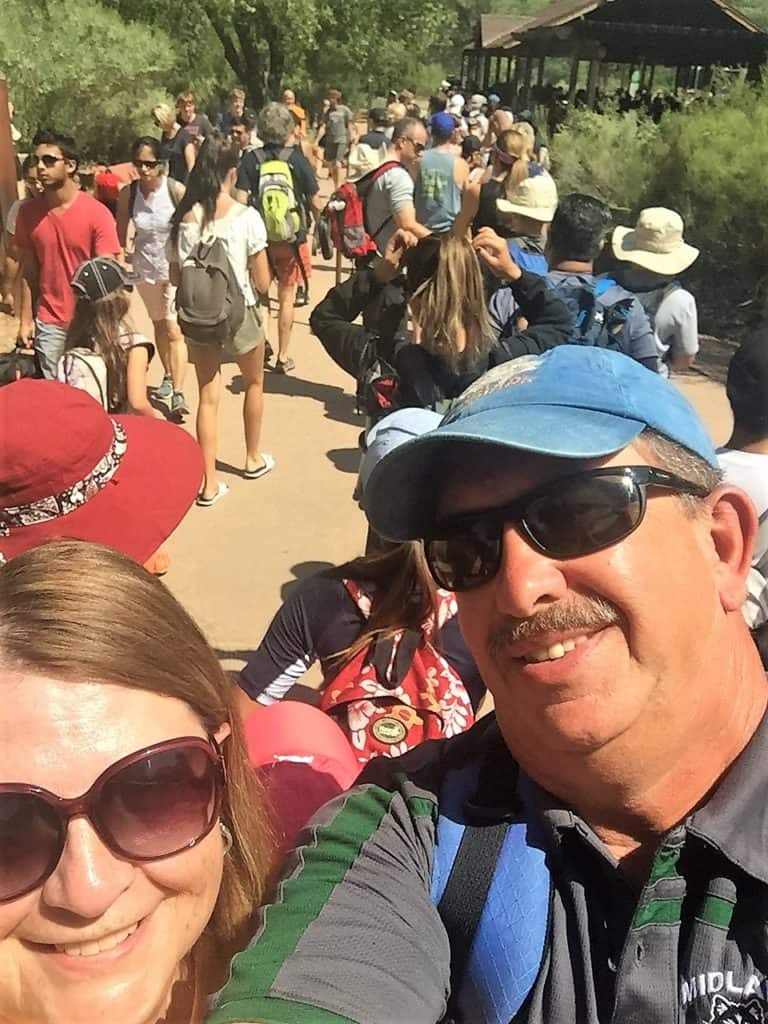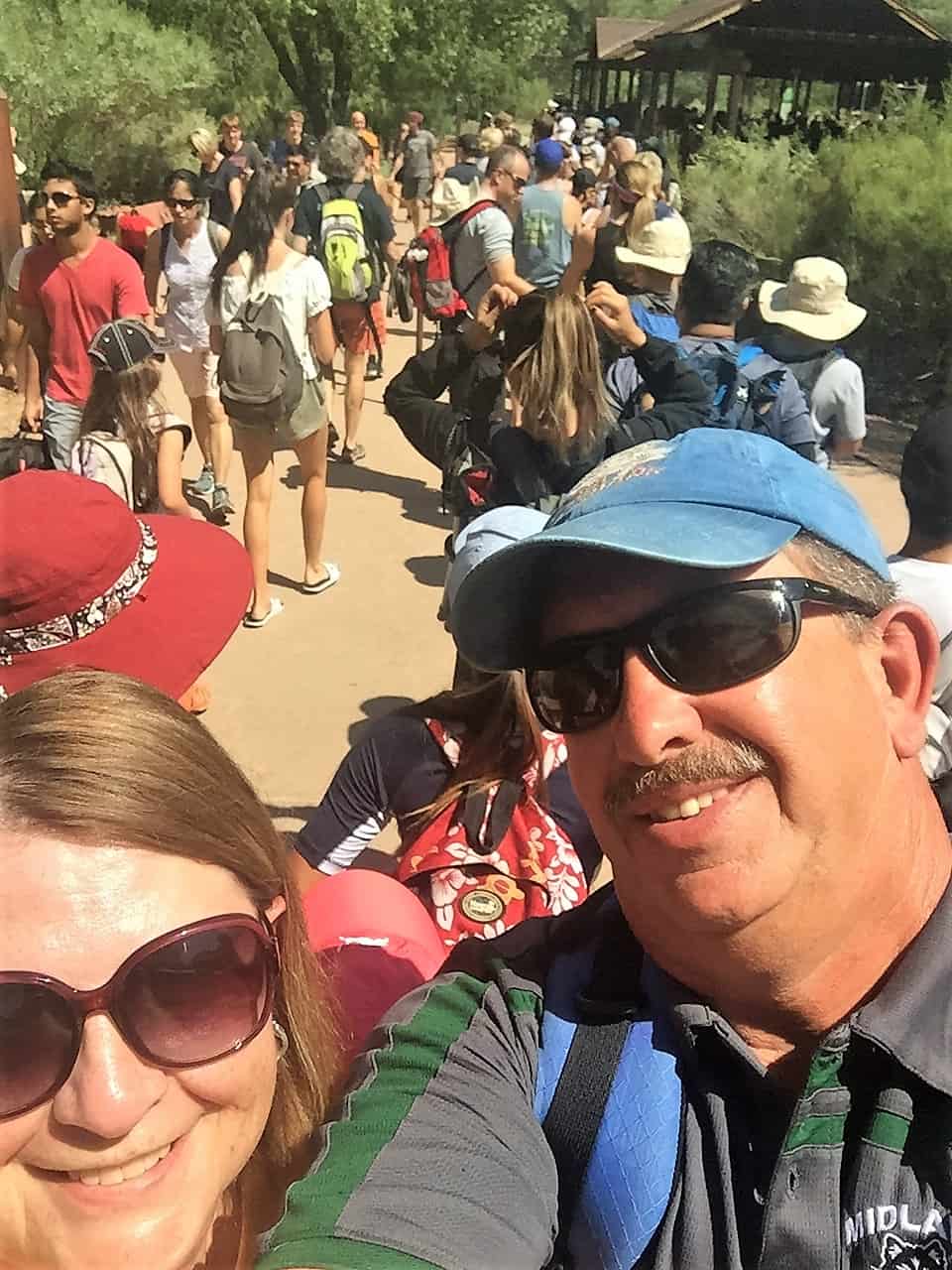 Catching Zion Canyon Shuttle
The main Zion National Park shuttle bus stop is just inside the South Entrance, across from the Visitor Center. It's a busy place. The waiting queue experience is a bit Disney-esque. With shade and nice restrooms nearby, the line for the shuttle weaves through ropes under an awning. Zion really has their act together.
There were non-stop buses coming into the loading station. And we found plenty of staff directing people and loading buses. The line moves quickly. Even so, there are a lot of people anxious to get into the park and at 10:30 am on an August Monday our wait was about 20 minutes.
Be Prepared for a Long Day in the Park
Load your pack for a full day. Once you get on that Zion shuttle bus, you won't want to waste time coming back to your car. Good news is that there are water bottle refill stations throughout the park so you can save a little weight. Make sure you have plenty of snacks and your lunch in tow!
---
This trip made me realize I seriously needed a new backpack for day hiking. Check out our post where I compare the Top Day Packs for Women.
---
Where are the Zion Shuttle Stops?
The Zion National Park Shuttle route takes you to 9 different stops, each with an adventure to share. Check out the Zion Shuttle Route map. Here are a few highlights:
We rode the Zion Canyon Shuttle to the very last stop (stop #9 on the Zion shuttle route map) with plans to spend our day

hiking The Narrows

. We have included a detailed post on this hike that you won't want to miss!
The first shuttle stop is the Zion Human History Museum. I'd suggest saving that for the end of your day when you will most enjoy the relaxing atmosphere and the air conditioning.
There are about a dozen excellent day hikes that trail-head near the various stops along the drive. If you want to see different areas of the park, check out the park day hike page for more information.
Think about lunch at Zion Lodge (Zion shuttle service stop #5).  The Red Rock Grill is a full-service restaurant providing a great dining experience. The large windows overlooking the canyon floor are amazing. Seasonally, The Castle Dome Cafe serves sandwiches, snacks and local brews on the patio.
Picnic at The Grotto (stop #6). Here you can picnic along the Virgin River in the shade of cottonwoods. Restrooms and drinking water are available as well as several great hike trail-heads.
And the list of things to do goes on. There is something worth doing or seeing at every stop along the way. So feel free to get on and off the Zion Canyon Shuttle as often as you want.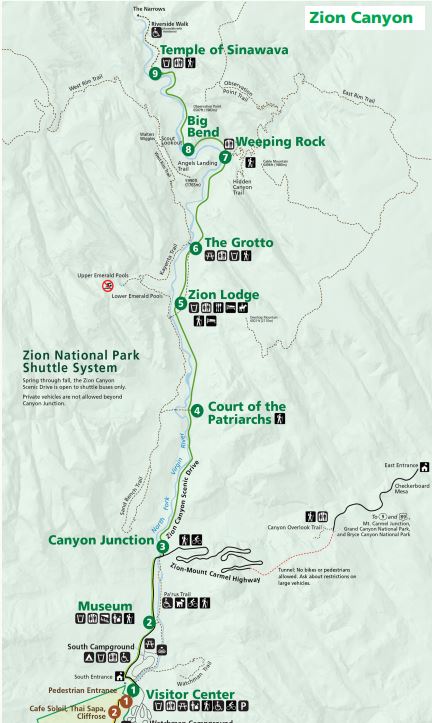 Zion Canyon Shuttle Map from Zion National Park Newspaper
The Zion Canyon Shuttle Makes it Super Easy for You!
Make sure you take note of the last return shuttle time. It varies with season and will be published by the Visitor Center Shuttle Stop and in the park newspaper. You don't want to be left behind.
Unless you are planning a long hike, you can get away with bringing one water bottle per member of your party. There are water refill stations everywhere. Of course, it's the desert so never skip a refill opportunity!
Actually, you could just show up and hop on the Zion Park Shuttle and have an amazing day without any advance planning. (I know for those of us who are planning/control freaks that sounds scary but in this case, it would really work.) The Zion National Park bus is definitely the no-stress way to see Zion Canyon.
Are you dreaming of a Zion National Park Adventure? Then make sure you save this article to your Pinterest vacation board for quick reference. And we'd love it if you would share your Zion Experience in the comments below!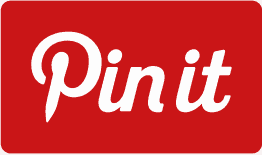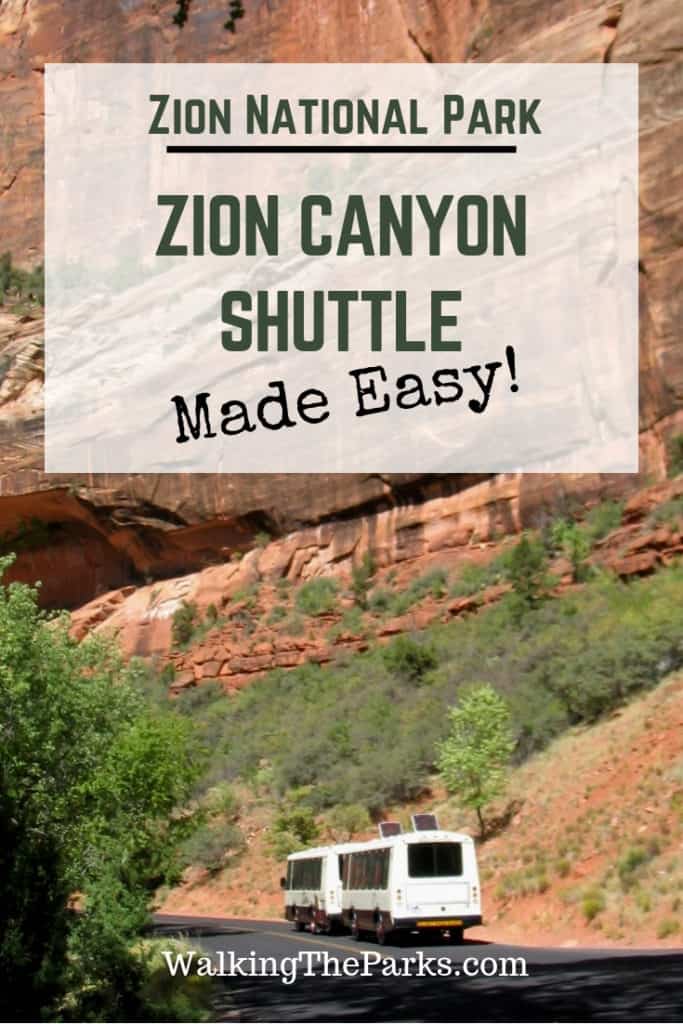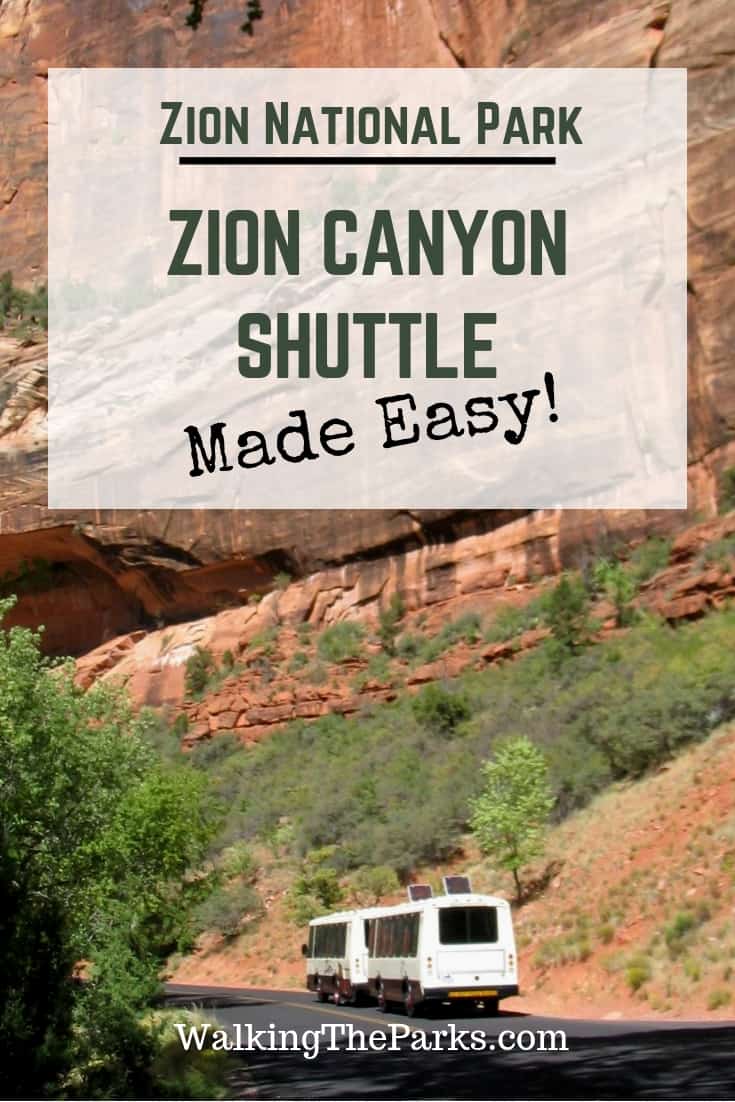 This post contains affiliate links to make it easier for you to find products I have mentioned. You don't pay any extra and in some cases I could earn a small commission.
---
The Authors: Hey, we are Ladona and Brad, avid campers and hikers. We are crazy about getting outdoors at every possible moment and have decades of experience exploring nature. Our current goal is to visit all 63 US National Parks and just completed #42. WooHoo! Our mission is to help you plan your own adventures and create memories beyond your imagination!