You might think that all flashlights are the same. While it's true they do perform similar functions. There are significant differences between the flashlight that's been rolling around your kitchen drawer and the best flashlights for hiking. Those differences could make or break an outing in the woods. Let's take a look at the best flashlights for hiking and why we rate them at the top of our list!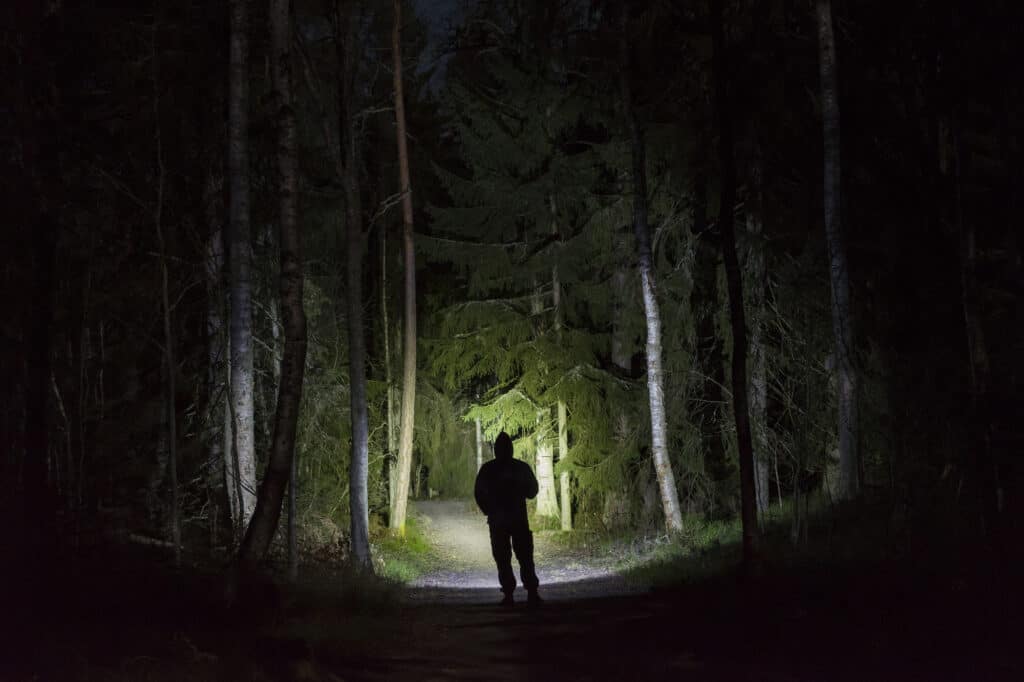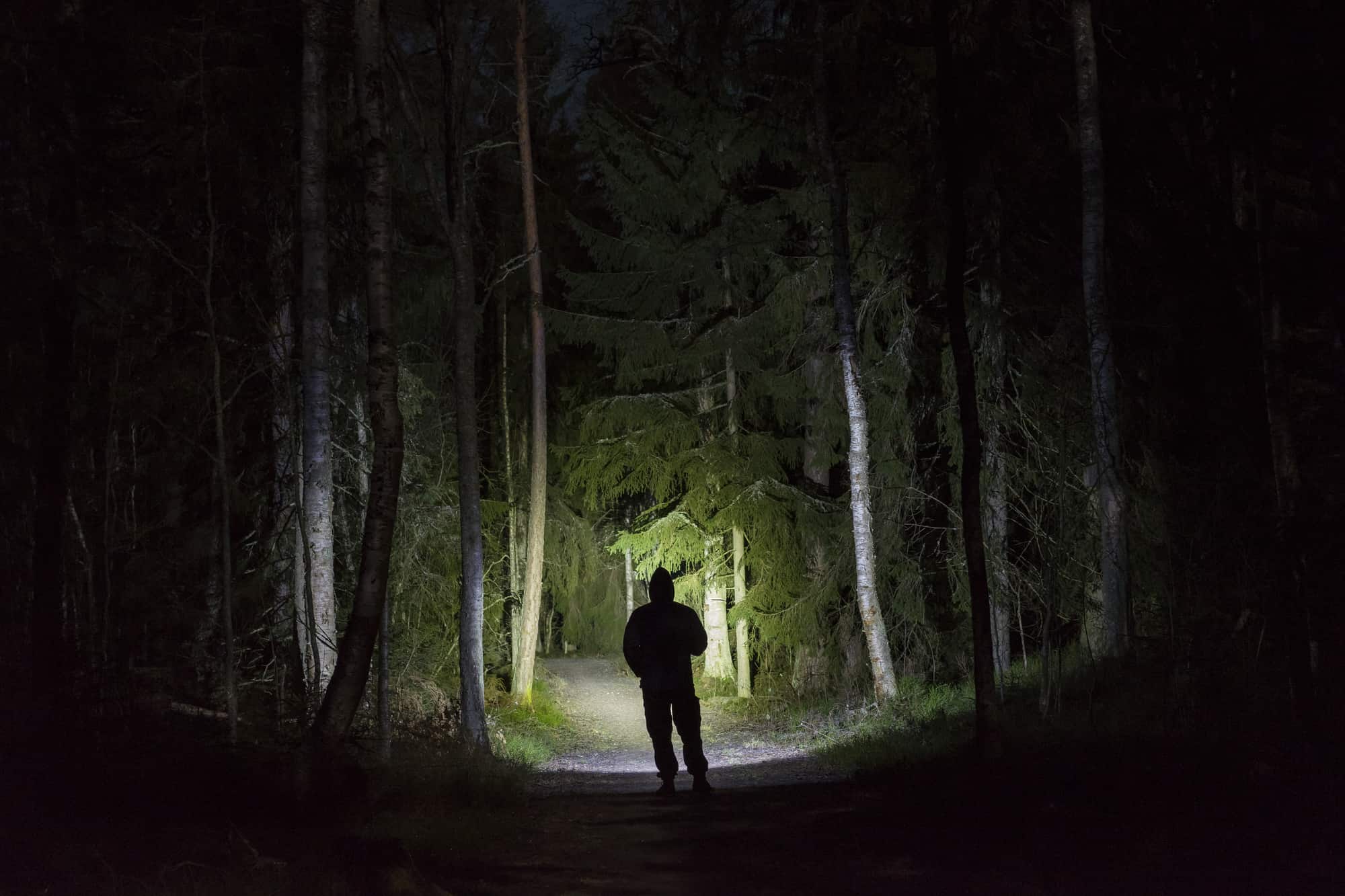 In this guide, we've reviewed 7 top-rated flashlights for hiking and backpacking and explained what makes them unique and valuable. We also discuss how much light is enough when backpacking and other factors such as battery type and beam distance that are critical in making your decision.
And to make it easier for you to shop, this post contains links to where you can get more info and purchase. We may earn small commissions from those affiliate links.
Our Top Choice for the Best Hiking Flashlight
 ✅ Our top choice is the Fenix LD30 because even at the low battery-saving light mode, you get a super bright light beam. It's very lightweight and durable, so perfect for keeping a clear view of your trail.
However, we've identified 7 amazing compact flashlights and go into detailed reviews below. I encourage you to read the reviews to find the one that truly matches your personal hiking style. Read on to see if that is the best one for you too!
Note to make it easier for you to shop; we've included links to where you can purchase these flashlights. Many of the links are affiliate links which means we may earn a small commission.
Why do you need a flashlight on the hiking trail?
You're caught out unexpectedly late after a hike, and the sky has gotten dark on you. Then you reach into your backpack and discover the only flashlight is the one on your phone. It's better than nothing, but not a whole lot! Every backpacker needs a quality lightweight and compact flashlight in their pack.
The best backpacking flashlights aren't just for emergencies. In the backcountry, you'll appreciate a bright flashlight to set up camp after dark. When you stay out to capture a view of the night stars, you need a flashlight to get back to your car.
And then there are those of us who just plain enjoy night hiking and who want a handy flashlight for when the terrain gets rough.
The Basics of Hiking Flashlights
It might seem simple, but, there's a lot more to choosing the best flashlight for hiking than finding a light bright enough to light your way when it's dark outside. Here're the features we considered when reviewing hiking flashlights:
The Type and Brightness of Light – That means how much light it puts out, the beam distance, and the beam type. Big and bold is not always the best choice for hiking. Look for a flashlight that has several light modes so you can adjust to the situation as you hike. Long gone are the old-style fragile light bulbs. Today you'll find a plethora of LED flashlights that are long-lasting and sturdy.
The Type and Life of the Battery – There are some great choices of traditional disposable batteries and modern USB rechargeable flashlights in today's best hiking flashlights. Understanding the difference in performance between rechargeable lithium batteries and disposable AAA batteries is essential as it impacts more than how long your flashlight will stay lit.
The Weight and Size – Well, you are hiking, and every ounce counts when you are carrying it on your back during the day. However, the lightest flashlight isn't always the best, and it may not be strong enough or have other features you want when hiking.
The Durability of the Flashlight – A backpacking flashlight that breaks the first time you drop it is no good since hiking is an active sport! We looked at water resistance, impact resistance and other factors that make a flashlight durable.
The Price – Last but definitely not least, flashlights can be purchased anywhere in the price range from $10 to $200. But do you need to spend the big bucks to get the best backpacking flashlight?
After we share our top 7 list of the best flashlights for hiking, we take a deep dive into what we looked for in each of these areas. If this is all new to you, you might want to jump down and read that section before you read the reviews.
Reviews of the Best Flashlights for Hiking
Here are our detailed reviews of the best LED flashlights for hiking. Your own unique style will determine the best fit for you so we've included a lot of information to help you decide and compare.
✔

Fenix LD30 Rechargeable Flashlight
LUMENS RANGE: 5 settings 30 to 1600
DISTANCE RANGE: to 205 meters
LIGHT TYPE: Flood/Spot/Strobe/SOS
BATTERY TYPE: USB Rechargeable 18650 lithium-ion
MAX RUN TIME: 70 hours
WEIGHT: 3.7 oz
IMPACT RESISTANCE: 1 meter
WATER RESISTANCE: IP8 – 1 meter
Our Review of the Fenix LD30 Rechargeable Flashlight
The Fenix LD30 Rechargeable Flashlight is a good flashlight for hikers because it offers all the necessities: high-quality construction, virtually indestructible LEDs, and multiple light modes.
LIGHT OUTPUT: It has a maximum brightness of 1,600 lumens in turbo light mode. The Fenix LD30 flashlight features SOS signaling as well as five light modes, so you have plenty of light options to choose from no matter how dark it is outside!
Depending upon the light mode you choose, you can get a beam distance in a range of 25 meters to over 200 meters due to the design of the light optics. The ECO setting is the perfect night light mode, providing up to 70 hours of run time.
BATTERY: The Fenix LD30 is an excellent choice because it runs on an included rechargeable 18650 lithium-ion battery. We appreciate that you can use 2 CR123A batteries (not included) that are easy to carry in your backpack for backup.
And no need to worry about being surprised by a dead battery because the low battery reminder alerts you when the battery needs charged. On Eco setting, this reliable flashlight keeps shining for a whopping 70 hours.
DURABILITY: The Fenix LD30 is durable. The IP68 rating means this flashlight is completely dustproof and waterproof. You'll appreciate that it can survive water immersion of 1m deep for 30 minutes or more.
CONVENIENCE: The rugged, aircraft-grade aluminum body has a knobby finish that enhances the grip and resists rolling when you set it down. The Fenix LD 30 carries a Fenix lifetime guarantee against defects in materials or workmanship, including free repairs for 5 years.
The Fenix LD30 USB Rechargeable Flashlight is an excellent choice because of its very lightweight (3.7 ounces) and size (4.3 x 1 x 0.9 inches), making it easy to store in your backpack or pocket! We love that there are many ways to carry the Fenix LD30 with the included 2-position body clip, lanyard and holster.
PROS and CONS of the Fenix LD30 Rechargeable Flashlight
What we love:
This amazing backpacking flashlight is super bright and targets the light beam on the trail well. The Fenix LD30 has a great ergonomic feel in your hands. You'll have plenty of warning if the battery goes low; the low-voltage warning reminds you when the battery pack needs to be recharged.
The range of lighting modes is well spread out to give you plenty of options depending upon your hiking situation. As in any flashlight, when you run at the maximum brightness, anything over 1000 lumens, the flashlight will get hot. The built-in intelligent overheat protection will drop the lumens automatically for you to avoid burning surfaces.
Things to consider:
The charge time is 6 -8 hours with the included 18650 li-ion battery. The charging port is on the battery, so you need to remove the battery to charge it (charger included), which some might find inconvenient. The battery has a proprietary design for charging, so you can't replace it with any other 18650 battery other than the one sold by Fenix.
---
✔

Nitecore P20i 1800 Tactical Flashlight
LUMENS RANGE: 3 settings to 1800
DISTANCE RANGE: to 375
LIGHT TYPE: Spot/Strobe
BATTERY TYPE: USB Rechargeable 21700i battery
MAX RUN TIME: 50 hours
WEIGHT: 4.0 oz
IMPACT RESISTANCE: 1 meter
WATER RESISTANCE: IP68 – 2 meter
Our
Review of the Nitecore P20i 1800 Tactical Flashlight
The Nitecore P20i is one of those tactical flashlights that we love for hiking because it is so multifunctional and equipped with the latest technology.
LIGHT OUTPUT: It can emit a maximum brightness of 1800 lumen with a max beam distance of 375 yards. You can see practically forever in high-light mode with this brighter flashlight! There are 3 light modes and a strobe-ready mode, all available with easy single-handed operation.
Nitecore has improved one of the drawbacks of strobe illumination for hikers. The strobe light is typically accessed by cycling through all the light levels in a tactical flashlight, often resulting in the strobe when you least want it. However, in the Nitecore P20i, you have to "long hold" the mode button to turn on the strobe. You won't have to deal with the strobe mode here unless you want to.
BATTERY: The Nitecore P20i 1800 features an upgraded 21700i USB rechargeable battery pack, enabling higher efficiency output and extending run time. The built-in power indicator flashes to show the remaining power on your battery.
It only takes about 3 1/2 hours for a full charge using the USP-C fast-charge port. And finally, it's compatible with 2x CR123A backup batteries just in case your primary runs out before you reach camp.
DURABILITY: This backpacking flashlight has an IP68 waterproof rating which means it can be submerged in up to 2 meters deep water for 30 minutes. It is constructed from aero-grade aluminum alloy and has anti-impact protection to resist drops up to 1 meter high. So no worries if it drops out of your pocket while hiking.
We especially like the scratch-resistant optic lens so it won't get banged up in your pack.
CONVENIENCE: Guys with big hands might prefer the slightly longer body on the P20i. At 5.6″ long, it's about an inch longer than most of the best hiking flashlights. It's lightweight at only 4oz. And because it has 3 included carrying options (holster, lanyard, clip), this is one super-portable flashlight.
PROS and CONS of the Nitecore P20i 1800 Flashlight
What we love:
If you feel like many of these backpacking flashlights get lost in your hand, you might appreciate the extra inch you get in the PI20i flashlight. I think it is beneficial in the winter when you wear gloves. The best part is you don't pick up much extra weight in exchange. We also feel this is a very durable LED flashlight. The heavy-duty bezel gives it extra strength around the light, plus it is water-resistant, rated up to 2 meters.
Things to consider:
We wish it had at least one other brightness setting; the jump from 280 lumens to 1800 lumens skips that mid-range setting we like for hiking trails with lots of obstacles.
✔

Olight Ultra-Compact Baton 3 1200
LUMENS RANGE: 5 setting 12-1200 lumens
DISTANCE RANGE: 166 meters
LIGHT TYPE: Spot/Strobe
BATTERY TYPE: customized IMR16340 rechargeable battery
MAX RUN TIME: 33 hr low/ 20 day moon
WEIGHT: 1.8 oz
IMPACT RESISTANCE: 1 meter
WATER RESISTANCE: IPX8 – 1 meter/30 min
Our
Review of the OLIGHT Ultra-Compact Baton 3 1200
LIGHT OUTPUT: This compact backpacking flashlight is excellent if you want a powerful torch that is small enough to fit in your pocket comfortably. The OLIGHT Baton 3 1200 is equipped with a high-performance LED and TIR lens for a soft and balanced beam that delivers a maximum of 1200 lumens and a beam distance of 166 meters on the high setting. The Baton 3 has 5 lighting modes of brightness plus a strobe setting. The lowest moonlight mode works well as a nightlight in your tent.
BATTERY: It is powered by a customized IMR16340 battery pack, rechargeable via a magnetic USB charging cable that only takes about an hour to recharge. The Baton3 boasts a run time of 7 1/2 hours on the medium setting, which is what you'd likely use most for backpacking. Of interest is the moon setting of 0.5 lumens which gives you 20 days of battery life. It's not a setting you'd use while hiking, as there isn't much throw, but perfect in your tent at night for close-up lighting.
DURABILITY: The Baton3 is the upgraded version of Olight's popular S1R II. You'll find the same compact body as the S1R Baton II but with an improved anti-slip body texture for a more secure grip. It can withstand impacts of up to 1 meter in height. This flashlight is water resistant with a rating of IPX8, suitable for 1 meter of submersion up to 30 minutes.
CONVENIENCE: The best thing about the Olight Baton 3 is the tiny size. At dimensions of 2.5″ x .87″, it is smaller than a roll of quarters. And weighing only 1.87 ounces, it's about 1/4 the weight of that quarter roll. The improved dual-direction pocket clip is thoughtfully designed to provide more clip surface where it is attached to your belt or hat, which means it's less likely to jiggle around or even fall off!
Upgrade to Baton 3 PRO For More Run Time
Upgrade to the Baton 3 PRO, and you'll get a portable charging case/station. This unique case works as a power station, charging your tiny flashlight up to 3 total charges. The case is small, about the size of a child's fist, weighing about 4 ounces (without flashlight inserted), so you can easily tuck it in your pack.
PROS and CONS of the OLIGHT Ultra-Compact Baton 3 1200
What we love:
The tiny size of the Olight Baton 3 makes it a compelling choice for a backpacking flashlight where you have no desire for any extra weight. It's also well-sized and balanced to double as a headlamp just by clipping it on your cap bill, and we love tools that can do double duty!
The upgrade to the Baton 3 PRO backpacking flashlight with the unique case with a built-in power station will give you the longest battery life of any top flashlight. I'm not sure you'd want to carry that extra 4 oz for the charging case on a long hike, but if you are off-grid for a few a week or using a base camp, it would be a sweet addition to your gear in exchange for very little added weight.
Things to consider:
The most significant consideration is that you can only use the Olight battery with this flashlight. So unless you take the charging case with you, you cannot use a backup battery.
✔

Klarus E3 Wilderness Survival Light
LUMENS RANGE:2200
DISTANCE RANGE:230
LIGHT TYPE: Spot/Strobe
BATTERY TYPE: Klarus 21700 li-ion
MAX RUN TIME: 10 days
WEIGHT: 5.2 ounces
IMPACT RESISTANCE: 1 meter
WATER RESISTANCE: IPX8
Our Review
of Klarus E3 Wilderness Survival Light
LIGHT OUTPUT: The maximum brightness of the Klarus E3 Wilderness Survival Light of 2200 lumens will give you a super bright beam of light. That mode can reach up to 230 meters (754 feet). You'll be able to use this light for 19 hours on low, which is a perfect 100 lumens for hiking before needing to recharge. There are six lighting options that you can choose from depending on your needs, including high, medium, low, and moonlight modes, plus both strobe and SOS modes.
The Klarus E3 features a fifth-generation Tail Dual-Switch, an enhanced ergonomics design that is easy to activate in the dark. You can easily turn it on or off with one touch or change the mode with another touch.
BATTERY: The Klarus E3 Wilderness Survival Light is a quality flashlight with enough battery life to last up to 240 hours (10 days) and a USB charging port so you can charge it anywhere. Klarus' 5000mAh 21700 Li-ion battery powers this flashlight. It does not have an option to use other batteries due to its proprietary design, so if you need a new battery, you can order directly from Klarus.
DURABILITY: The aluminum alloy 6061-T6 is both impact resistant up to 1 meter and water resistant up to IPX8 standards, so you'll never have to worry about water getting your light wet.
CONVENIENCE: At only 5.3 x 1 x 1 inch and weighing in at 5.2 ounces, the Klarus E3 fits comfortably in your hand. We like the flexible design of the clip. Both ends of the E2 can be installed with the included 2-way pocket clip, making it easy to use and retrieve. A lanyard and holster are also included for other wear options.
PROS and CONS of the Klarus E3 Wilderness Survival Light
What we love:
We love that the low setting of this backpacking flashlight is in that sweet spot of 100 lumens which is the perfect light level for hiking. That means you can get 19 hours of power before recharging under normal hiking usage. And you'll get an extremely long battery life of 10 days using the moon lighting mode in the Klarus E3.
And if you want extreme levels of light, this is a great choice when you click it up to 2200 lumens. Hikers who like to feel like they have an excellent grip on their flashlight will appreciate the slightly longer length of 5 inches.
Things to consider:
As you know, we love the idea of carrying a backup battery which is going to be difficult with the Klarus E3 since it is a proprietary design. However, unless you are planning for an extended trip, the battery in this flashlight packs a lot of hours into one charge which is plenty for a weekend of hiking and camping.
---
✔

RovyVon Aurora A3 Mini Keychain Flashlight
LUMENS RANGE: 650
DISTANCE RANGE: 80 meters
LIGHT TYPE: Spot/Strobe
BATTERY TYPE: 260mAh lithium-polymer battery
MAX RUN TIME: 2.5 hr
WEIGHT: 0.5 ounce
IMPACT RESISTANCE: 1.5 meter
WATER RESISTANCE: IPX65
Our Review
of RovyVon Aurora A3 Mini Keychain Flashlight
LIGHT OUTPUT: This little keychain light packs a punch and is perfect for emergency lighting needs. As in any keychain flashlight, the size restricts the battery output making it a flashlight that you wouldn't use for a whole night of hiking. However, with about an hour of power on the very bright medium setting, it's great for checking out the things that go bump in the night!
The RovyVon Aurora A3 Mini Keychain 650 lumens flashlight has four different lighting modes: low, medium, high and turbo. Use this mini light as a daily flashlight or in emergencies with quick access to Strobe mode with a triple-click. The light has a memory mode, so it will return to your last setting when you turn it back on. Not only is it the perfect flashlight to hang on your backpack zipper, keep one in your car, purse or stroller.
BATTERY: The RovyVon Aurora A3 Mini Keychain has a Micro USB charging port for quick charging from almost any power source. It only takes 70 minutes to charge the 260mAH USB rechargeable Li-ion battery fully.
DURABILITY: Rovyvon has made the case with advanced anti-corrosion Aluminum Alloy(GB 6063) material which is water resistant (IPX-65), drops to 1.5 meters and scratches. It also features an intelligent temperature controller to protect the core components and the user by lowering the light level automatically when it gets hot. Last but not least, it comes with a 2-year warranty.
CONVENIENCE: This little guy is so handy. It's compact, about the size of your little finger, and doesn't take up space. And it only weighs 1/2 ounce. You'll hardly notice you are carrying it on your hike.
It clips right onto anything with its multi-directional pocket clip or hangs on your pack with a carabiner using the tail loop.
PROS and CONS of the RovyVon Aurora A3 Mini Keychain Flashlight
What we love:
This compact flashlight is so tiny that you'll hardly notice the keychain light in your pack on your hike. At the medium setting of 220 lumens, you will really light up the trail or your tent for short periods with the RovyVon Keychain Flashlight making this the perfect backup light. And for ultralight backpackers who don't like the weight of a flashlight, this keychain flashlight is what you need for quick tasks (like where did I drop the screw for my stove!)
Things to consider:
This torch is not the best hiking flashlight if you feel a need to light your trail for hours. It is intended for short hiking and camping tasks, like a potty run or checking out an unusual noise or finding something in the bottom of your pack, where you will use the flashlight for just a few minutes at a time. Also of note is that the battery is not replaceable on your own, although the rechargeable battery should last for years.
---
✔

Duracell 550 Focusing Flashlight
LUMENS RANGE: 550 lumens
DISTANCE RANGE: 100 meters
LIGHT TYPE: Se
BATTERY TYPE: 3 AAA
MAX RUN TIME: 15 hrs
WEIGHT: 5.7 oz
IMPACT RESISTANCE: 1 meter
WATER RESISTANCE: IPX4
Our Review
of Duracell 550 Focusing Flashlight
LIGHT OUTPUT: The Duracell Powerful 550 Lumen Copper Dot Focusing Flashlight is a great battery-powered torch for outdoor enthusiasts. Duracell has included 3 light modes so that you can choose the perfect one based on the situation at hand: high (550 lumens), low (100 lumens), and strobe.
The Focus feature of this backpacking flashlight lets you instantly go from a wide to a narrow light by sliding the flashlight head in and out. Use the narrow spotlight for long-distance viewing and the wide beam for large-scale illumination.
BATTERY: The Duracell 550 Focusing Flashlight is powered by three AAA Duracell batteries, which are included. This lamp provides up to 2 hours of bright light on high mode, or you may extend your battery life by using low for 15 hours. The low setting, at 100 lumens, is right in the sweet spot for trail hiking, where you can easily see up to 40 meters in front of you.
DURABILITY: The Duracell 550 flashlight is aircraft-grade aluminum and can withstand a drop from 1 meter. This great flashlight is water resistant, IPX4 rating, which means it should survive light rain without damage.
CONVENIENCE: What's great about this light is that it has a large tail cap switch for easy-to-use operation, making it perfect for quickly turning on or off without having to fumble around. I would say that one of the most compelling features of the Duracell 550 flashlight is its weight–it's very lightweight at 5.7 ounces, making it easy to carry around in your backpack when you go hiking. It fits comfortably in your hand with dimensions of 5.2″ x 1.4″ diameter.
PROS and CONS of the Duracell 550 Focusing Flashlight
What we love:
The Duracell 550 is one of the best compact regular battery flashlights we found for hiking. It gives plenty of light (100 lumens on low) for seeing the trail in the distance for safety at night with the ability to hold power for an extending backpacking trip. (15 hours of charge). With AAA batteries, it is easy to carry an extra set in your pack. And you can easily pick up more in any gas station or store.
Things to consider:
The one thing that would make this flashlight better would be a pocket clip or lanyard ring to hang on your backpack.
---
✔

GearLight LED Tactical Flashlight S1000
LUMENS RANGE: 1000
DISTANCE RANGE: 300 meters
LIGHT TYPE: Adjustable/Strobe/SOS
BATTERY TYPE: 3 AAA (optional 18650 lithium)
MAX RUN TIME: 30
WEIGHT: 6.0 ounces
IMPACT RESISTANCE: 3 meter
WATER RESISTANCE: n/a
Our Review
of GearLight S1000 Tactical Flashlight
If you have your heart set on a non-rechargeable hiking flashlight, then the GearLight S1000 Tactical Flashlight is a great economical choice. You can get 2 AAA flashlights for under $25, which is quite the deal for such a popular model.
LIGHT OUTPUT: The output of the GearLight S1000 ranges from 300 to 800 lumens, depending on what battery type you use, battery strength, and other factors. The Adjustable Focus Beam zooms in and out – From pinpoint precision to wide-open illumination, you may switch between them using the dial. This hiking flashlight comes with 3 light modes: high, medium, and low brightness levels, as well as strobe and SOS.
BATTERY: With 3 AAA batteries, this flashlight is powerful enough to help you get to your destination. When used on a low setting, it can last 10+ hours with a high-quality battery.
A 18650 battery adapter sleeve is included, but in my opinion, if you want a rechargeable battery, you get a better flashlight with one of the other flashlights in this review.
DURABILITY: We didn't test this, but GearLight claims this highly durable flashlight can survive a 10-foot drop which is probably true as it is made of military-grade aluminum. That heavier aluminum does add a little to the weight, but it still comes in at only 6 ounces with the AAA batteries. It does not have a water resistance rating, so there is no official guarantee to withstand submersion. However, it is well-sealed and works fine in wet weather.
CONVENIENCE: We like the anti-slip aluminum grip texture, and the design ensures it will not roll around. Lanyards and holsters are also included for carrying comfort.
This flashlight for hiking is a little larger than the others we selected at 6″ long and 1.5″ diameter due to making space for those 3 batteries. And we like the more prominent button for switching modes.
PROS and CONS of the GearLight S1000 Tactical Flashlight
What we love:
You'll love the price of this very sturdy little flashlight. The GearLight S1000 flashlight is well built for hiking with multiple settings, and it has a nice feel in your hand. And of course, you'll appreciate being able to easily replace the batteries and even carry backups with you on your hiking adventure.
Things to consider:
You'll find brighter max light outputs on the rechargeable flashlights, but realistically 800 lumens is a lot more light than you'll likely ever need when hiking.
Understanding the Features of Hiking Flashlights
So let's take a look at the details behind our selection of flashlights for hiking. Here's the scoop on all the features that are important in selecting the best LED flashlight.
The Type and Brightness of Light
We all know that when you are hiking or camping, it's crucial to have a bright flashlight with you at all times. The light's quality and usefulness depend upon several features that vary a lot between the best backpacking flashlight models. Let's take a look.
LUMENS: How Bright Should a Hiking Flashlight Be?
Contrary to your initial impulse, an extremely bright flashlight is not always the best LED flashlight for hiking. Why?
Because the brightest lights drain your battery faster, often giving you less than an hour of battery power. A flashlight that only lasts an hour is pretty useless to a hiker.
Brighter lights often mean a heavier flashlight due to more or heavier batteries. And we all know that every ounce counts in that backpack, so less weight is better.
The other reason is you don't need or want to be like a coastal lighthouse, lighting the trail for miles.
Unlike your traditional household flashlight, the best flashlights for hiking will have more than one brightness setting.
That means you can use lower settings that save battery power, plus you'll have a comfortable view of the trail ahead. While the LED flashlight still can provide super powerful light if you need to search a larger area (umm… like I think I heard a bear!)
Total light output is measured in lumens, a standardized measurement that all lighting manufacturers use. And you'll see we share lumens for all the flashlights we have reviewed. But what does that mean when you are making your selection?
Lumens Explained
20 to 75 lumens is what you'd find in most small convenience flashlights. For example, the little EveryBright flashlight I carry in the bottom of my purse is only 20 lumens and works excellent for close-up searches. And the Dorcy 55, with 55 lumens that I keep in the car, is perfect for checking the oil or changing a tire. Many hiking flashlights have a shallow setting, often called eco, which allows you to save battery power while doing low-light tasks.
75 to 200 lumens is the brightness of the average household flashlight. With this brightness, you can see up to 100 yards ahead. For us, that is a very comfortable range for most night hiking.
200-500 lumens is enough light to see for hundreds of yards. If you are looking for a tactical flashlight, this is the category you'll find it in. Hikers won't often need this big punch – and remember, it will drain your batteries faster too.
600-1000 lumens give off some serious light, primarily for tactical uses like caving or perhaps hiking a rough section of a trail. It's an essential emergency setting on your LED flashlight, but you probably won't use it often.
1000+ lumens are primarily used for search and rescue activities. As a hiker, you might use that higher setting if your dog disappears or you want to see over a cliff. However, it is way too much light for a comfortable walk in the woods unless you feel a need to light up the trail like a football field.
So what should you look for in lumens? You want a hiking flashlight that has:
multiple settings so you can only use the battery power you need for the task at hand.
the battery power is within the most common hiking lumen range, 75-200 lumens, with enough life to get you through the night if necessary.
and it would be a big plus if it had a lower lumens setting (eco) that would last for days.
BEAM DISTANCE: How Far Should Your Flashlight Shine?
Although the main factor, the distance the beam of your flashlight can shine depends not only on the light's lumens.
For example, A and B both have Y lumens, but you'll notice B shines xx meters farther. Why? Because LED flashlights use reflectors and lenses, similar to binoculars, to focus the light. These enhanced optics determine the final result for how far your flashlight will shine.
As a hiker, beam distance is the most critical final measurement. So don't get pulled in by a cheap high lumens flashlight. It's probably cheap because it does not have advanced optics to focus the light's distance.
FLASHLIGHT BEAM TYPE – Spot vs. Flood Light
The best hiking flashlights will have the ability to switch between a spotlight and a floodlight. This feature is very different from the one light does it all flashlight you are used to in your home. The main difference is that one has a more focused beam than the other, while the other throws light in all directions.
H5 Flood Light Pros and Cons
A floodlight is a large, powerful beam of light that can brighten a wider space like an entire building or football field. A floodlight allows you to see beyond what is on your left and right peripherals.
Spotlight Pros and Cons
Most home flashlights are spotlights intended to illuminate the path in front of you. Flashlights with spotlight beams are best for backpacking because they'll let you shine a beam of light along your path while walking.
These flashlights are also better for walking through the woods because you can identify objects in your way before it's too late. However, since spot beams have a narrower focus, you will have to move the flashlight around if you want to see what's off to the side or behind you.
What About a Zoom Function?
Some lights will let you adjust the width of the beam between the spotlight and floodlight of varying widths. This feature is also known as zooming and can be helpful if you want to see what's in front of you while lighting up your surroundings too.
Strobe Mode (tactical flashlights)
Solo hikers might like the strobe-ready feature that is popular in law enforcement. It's a non-linear strobe pattern that can cause enhanced dizzying effects, helpful if you feel threatened on the trail at night. Although not found in most LED flashlights, it is a common feature in tactical flashlights that are also perfect for hiking.
The Type and Life of the Battery
There are some great choices of traditional disposable batteries and USB rechargeable batteries in the best flashlights for hiking. Understanding the difference is essential as it impacts more than your battery life.
Battery Types
Disposable: The most common battery used in a compact LED flashlight is an AAA battery. You'll also find a handful that use AA or CR123A lithium batteries. Flashlights that use larger batteries like C and D cells are baton-sized tools that aren't the best for hiking due to their weight.
Rechargeable: USB connections are used to recharge flashlights with built-in lithium-ion batteries. The nice thing about a USB charger is you can use many different sources for power: a computer, a wall outlet, your car, a backup power bank, or a solar panel.
Rechargeable Battery vs. Disposable Battery
You will pay more for hiking flashlights with rechargeable batteries due to the cost of the battery. The higher initial expenditure for rechargeable battery packs is more than offset by the low continuing operating cost. You also eliminate dangerous waste by not using disposable batteries in your LED flashlight.
The upside of disposable batteries is that it's so easy to find spare batteries. Every gas station and drug store carries a AAA battery. In turn, that also makes it easy to have backups in your pack and car for extended trips.
A rechargeable lithium battery will also give you more consistent power across the life of the charge. While a disposable battery will start to drop the intensity of light as the battery weakens. The best way to overcome the fast battery drain is to purchase high-quality disposable batteries that tend to be more consistent during the battery life.
Run Time and Battery Life
Run time measures how long you will get optimum light output at each level of lighting. You'll usually see a chart with run-time listed for each mode, for example, 10 hrs for low, 6 hours for medium and 2 hours for high. The lower your light mode, the longer your battery will last.
Make sure the lumens are aligned when comparing run times. It's not meaningful to compare medium modes in two different flashlights. Instead, find similar lumen outputs and then compare run time. I like to use a range of 75 to 200 in my comparison as that is an output that will easily light up the trail without overlighting.
These time measures are based on a lab environment and will usually be different in a real-life backpacking trip. The most significant factor in varying run times for a single battery charge is switching between different light levels. Another factor impacting battery life is the temperature, freezing temperatures that drain a battery faster. And rechargeable lithium batteries will give you a longer run time than disposable batteries.
You will never want to run your flashlight on the turbo or super high settings for more than a few seconds. That pull of thousands of lumens will drain the battery fast. That highest light level is meant for a quick scan far off into the distance and light up the world.
Most rechargeable flashlights with a top setting of 1000 plus lumens will have an automatic drop in power after a short use ranging from seconds to minutes. This power drop saves your battery and keeps the LED flashlight from overheating from the intense light.
The Weight and Size of the Best Backpacking Flashlight
Well, you are hiking, and every ounce counts when you are carrying it on your back during the day. However, the lightest flashlight isn't always the best; it may not be strong enough or have other features you want when hiking.
Your flashlight size choice depends on how you plan to use it. For example:
Keychain flashlights like the RovyVon Aurora, which only weigh 1/2 ounce, are perfect for ultralight backpacking if you only want to use your flashlight to check around your camp or locate a missing item quickly. If you are night hiking, you'll need to use the moon as your guide. That small package can't hold a big battery, i.e., powerful enough for an extended hike in the dark.
Coming in around 2 ounces are ultra-light flashlights, like the OLIGHT Ultra-Compact Baton 3 1200. Many of these small palm-held torches make up for the smaller battery by reducing the lumens output. While it's a great way to save battery power, make sure you check the output chart.
Most high-quality backpacking flashlights will weigh 4-6 ounces and be 4-5 inches long. A lightweight flashlight should be just big enough to fit comfortably in your hand and to hold a battery that will last a long time.
The Durability of Your Hiking Flashlight
A flashlight that breaks the first time you drop it doesn't make one of the best flashlights for hiking. Hiking is an active sport and you want to be prepared for everything. So we looked at water resistance, impact resistance and other factors that make a flashlight durable.
Water Resistance is measured with the IPX rating system. Here's a chart of the ratings. If you are hiking in the rain or wading through rivers and creeks, then you'll want a higher IPX rating. The rating is based on a test environment; real-life might be different. Using this chart will help you compare other flashlights.
IPX Rating
Water Resistance
IPX2
Withstands Drips:
sprinkles or quick splash
IPX4
Resists Splashes:
light rain and splashes
IPX6
Water Resistant:
normal rain and splashes
IPX8
Survive Immersion 3 feet
(tested for 30 min)
IPX69
Survive Immersion 3 feet
plus tested for dust resistance
Impact Resistance is measured by dropped meters. The test requires dropping the flashlight multiple times onto concrete with no damage. Impact resistance measures the minimum level of stress, not the maximum, so most good hiking flashlights will withstand a lot more stress than shown in the official measurement.
Ease of Use in a Flashlight for Hiking
Controls
You'll find the best flashlights for hiking have easy-to-use switches or buttons, which means you won't have to fumble around in the dark trying to change modes or turn them on/off.
A compact EDC flashlight might require you to go through all the modes, including the strobe mode, when switching light levels. That flashing light can be annoying. The best scenario is a flashlight that remembers the last setting you used. So if you usually hike on the medium setting, it will start in the medium mode when you turn it on again.
Another great feature of a superior design is when the strobe/SOS modes are "hidden. That means you don't cycle through them when changing light levels. Instead, you activate strobe or SOS through a different clicking sequence or switch. Note this is not a standard feature but worth looking for when evaluating flashlights.
A safety lock feature that prevents the light from being accidentally turned on is a plus to avoid draining your battery in your pack.
Charging
A USB rechargeable light for hiking should include the charging USB cable in the package. Some have special charging stations.
Attachment Options
Even though you will be carrying your flashlight in your hand most of the time, it's in use. It's nice to be able to clip it to your shirt, hat or backpack for easy access. Some backpackers like a lanyard to hook it to their pack with a carabiner. A handful of hiking and camping flashlights will also come with a holster. Attachment options are nice but generally low on the list of critical features.
Shape
A knurled pattern (or bumpy finish) on the handle of the flashlight will improve your grip both when wearing gloves or when your hands are hot and sweaty. Also, look for components of the shape that will keep your flashlight from rolling around. Something as simple as a raised switch or a section with a flat surface will keep that flashlight on the picnic table.
The Price of LED Flashlights
Price is definitely not the least important factor when selecting the best backpacking flashlight. You can find LED flashlights anywhere from $10 to $200. But do you need to spend the big bucks to get the best flashlight? Rechargeable flashlights that really work will run 3 to 5 times that of a disposable battery flashlight.
If the price is of concern, look at a AAA flashlight like the Duracell 550. It's a pretty sweet hiking flashlight at a very reasonable price.
Flashlights vs Headlamps
Headlamps are miniature-sized flashlights on an elastic band. Because a headlamp battery pack is smaller than a flashlight, the very best headlamps max out around 500 lumens. For hiking, you'll often find a headlamp a great tool as it leaves your hands free for hiking poles and other tools.
There are several reasons you would want a flashlight over a headlamp:
You get a greater range of view with a flashlight. Headlamps can only shine where you are looking. So for example, if you look down to talk to your child, the headlamp is shining in her eyes, not on the trail ahead.
The bigger battery in a hand-size flashlight will hold a charge longer.
With a powerful flashlight, you have the emergency option of lighting your surroundings on the extremely bright Turbo mode.
We recommend that when you have room in your pack that you hike with one of each and use it as the situation makes sense. There is safety in carrying a backup light source.
Hey, what about flashlights for the kids?
Check out our guide to the best flashlights for kids where we share some fun and practical tips. And don't forget an LED light for your dog too. He doesn't need a flashlight to see the trail… but you sure need to be able to see him when hiking after dark.
Wondering what else you need to pack for your hiking adventure? Make sure you grab your compact binoculars. And get our complete checklist for packing for a day hike.
When you're out in nature, it's important to have a great flashlight with you. After all, when night falls and things go dark, you'll need a reliable light source in order to see where you're going.
In this article, we highlighted the 7 best flashlights for hiking. In order to find a flashlight that's right for you on your backpacking adventure, it's important to consider factors like weight, durability and light options. We hope our list of flashlight recommendations will help find the one that is perfect for you!