After my first long hiking trip, I told my husband that the best investment I had made for that trip was my new moisture-wicking sports bra. It was one of the best hiking bras ever! He looked at me with that weird look men have when they think women are bonkers.
But I know that you ladies understand how uncomfortable it is when sweat runs between the girls and builds up under them. So gross! Am I right? And talk about suffering from chafing, digging, rubbing and more. All problems when we wear the wrong underwear on a hike.
Thankfully, I've done quite a bit of research on how to choose a hiking sports bra that I can share with you. Note that this post contains affiliate links to make it easier for you to find the products I have mentioned. You don't pay any extra and in some cases, I could earn a small commission.
What to consider while choosing the Best Hiking Bra?
Sports bras, just like really great hiking underwear can make or break your day while hiking, trekking or camping. The best sports bra for hiking will do two things: Keep you super dry and fresh feeling plus fit so comfortably that you will forget you are wearing it. That means a top hiking bra will be lightweight, of good material, have antimicrobial properties, look stylish, support your boobs, be of the right cup size and so much more.
✅ Our favorite Sports Bra for Hiking is the Brooks Dare Crossback because it checks all the boxes! It is super comfortable, provides a lot of support and keeps your breasts dry on the hottest of days. We cover it in more detail below. However, every woman is a different shape and has different needs so we found 9 other sports bras that are amazing for active hikers. Read on for full reviews!
Bra Materials that Keep You Fresh and Dry
Your breasts should be outfitted with material that's breathable, lightweight, moisture-wicking and quick drying. A moisture-wicking and quick dry bra for hiking will ensure that the twins stay dry and smell-free on long hikes. While lightweight material in the best hiking bras will help you feel flexible and free.
Merino wool and bamboo materials are premium fabrics that naturally have moisture-wicking properties. Alone they generally don't provide great support so sports bra designers have blended these 2 yarns with a variety of synthetics to give you the best of both worlds. Our top choices use merino wool or bamboo.
Many hikers are a little afraid that natural materials require a lot of care, but actually natural material is easy to care for and last a long time.
That doesn't mean there aren't a couple of amazing choices with all synthetic fabrics among the best hiking bras. Creative designers have developed some of the best sports bras with breathing panels or utilizing new technology that allows fabrics to pull moisture away from your skin.
Antimicrobial Properties Eliminate the Stink
One of the reasons we like merino wool and bamboo is their natural antimicrobial properties. These fabrics are resistant to the growth of bacteria and fungi which are what make your hiking bra smelly after they get damp from your sweat. We go into a lot more detail about the benefits of merino wool and bamboo in this post about the best hiking underwear.
You will often see other fabrics that are "treated antimicrobial". Personally, I'd steer clear of any fabric that is treated with chemicals when it's going to rub against your most sensitive skin.
Quick-Drying and Moisture Wicking to Avoid that Nasty Wet Rubbing
The best backpacking bra will wick moisture away from your skin and be a quick-drying bra. Because really, who wants wet fabric tightly rubbing against your skin when in full motion hiking. If you get caught in the rain while hiking your sports bra is sure to get soaked. But even worse is a sweat soaked sports bra from hot weather hiking.
In addition to bamboo and merino wool which are naturally quick-drying, there are also a handful of fabric blends where the designers have developed just the right mix that moisture is pulled from your skin to the outside to quickly dry. Nasty stuff won't grow in dry fabric so these blends also often work well for hiking bras.
What's the difference between Hiking Bras and Sports Bras?
The best hiking bras are a subset of sports bras. But not every sports bra will work for hiking. Why?
First, you need to think about where your backpack will rub. Clasps and hooks can create sores when caught between your body and your backpack. Second, most hiking is not high-impact like running, so you have better options for a lighter-weight cooling bra because you won't need as much support.
Bras That are Designed for Comfort
Here are the most critical features to look for when selecting the best hiking bras if comfort is important to you. OK… comfort is always important when enjoying a day in nature.
Straps That Support and Don't Rub
Because you will be wearing a backpack, you want a sports bra that doesn't have strap adjustment hardware that might rub between your pack and your back. For that reason, most hikers prefer a racer-back bra style that doesn't have those adjustments.
However, I know many of you need that adjustment ability because we all know that no two sets of ladies are the same. In that case, watch for smooth finishes and try your pack on with your hiking bra before you head out.
A wide strap on sports bras usually gives more support. Look for a strap that lays flat and smooth against your skin.
Comfortable Bands
One of the most important fits in most sports bras might be the band. If it rides up and down when you are moving you are going to be super uncomfortable. The bands on hiking bras should not rub or chafe your under-bust. When ordering a bra for hiking, make sure you have measured your rib cage right under your breasts.
Don't just guess the correct size. You want a band that fits snug but doesn't dig into your skin.
You'll find the best sports bras for hiking have a wide band. That is because a wider band will provide more support and will shift less as you move.
One serious comfort consideration is a band with a clasp. Here again, because your backpack is rubbing against your back it's great to avoid those little clasps digging into your back all day. However, you might find a pullover sports bra doesn't work for you if you need extra support or you struggle with lifting that bra over your head. That's why there are athletic bras with front closures. Some bra manufacturers also do a great job of padding those clasps.
Support Appropriate to Your Activity Level when Hiking
Generally, hiking doesn't require the kind of support you'd look for if were running. There's a lot less boob bouncing going on. That means you can opt-in for lighter-weight hiking bra that breathes better.
So if you fit a smaller cup size, you will probably be most comfortable in a lightweight sports bra. For those ladies in the mid-range cup sizes (B, C) a comfy racerback styled sports bra will provide adequate support for hiking. If you wear a larger cup size, you'll likely want to move up to something with medium support.
Style and Colors
Many of today's best hiking bras are often designed with a  bit of style so as the day heats up and you start shedding layers you are perfectly fine stripping down to your last layer: your gorgeous hiking bra.
Consider wearing colors you like, and styles that have enough coverage that you'd be comfortable when it's super hot and you hike with your top off. Many hikers recommend avoiding skin tone colors which tend to look like you are naked when you go down to that base layer.
Budget
Back to that first 10-mile hike… I was so glad I had invested in a good hiking bra. It's worth spending a few more dollars to get a sports bra for hiking that won't leave you feeling skanky and itchy at the end of the day. It's no fun to be tugging at your straps and realigning everything while on the trail because you picked up a cheap bra.
While some of the best hiking bras can be pricey, the good news is that you don't have to spend a small fortune on a good-quality hiking bra. I've looked at a few bras under $40 here, and some really awesome bras at $60 to $90. It's worth the investment for a bra that will support you through hundreds of miles of hiking.
Best Bras for Hiking
Brooks Dare Crossback: Overall Best Sports Bra for Serious Hiking
FABRIC: 63% nylon/37% spandex
WICKING: Very High Rating
QUICK-DRYING: High Rating
COLOR: Blue, Black, Beet, Orchid, Green
STYLE: Racer Back
SIZES: 30-40, A to DD cup
PRICE:$$$
This is truly a great hiking bra. The Supportive DriLayer HorsePower fabric in the Brooks Dare Crossback turns what was designed as a medium impact bra for running into the perfect bra for hiking when you are really pushing it on the trail. You'll find yourself dry and comfortable all day in one of the best hiking bras. The bottom band is fully integrated into the sports bra, offering support where you need it and smooth, chafe-free comfort. 
We also like that the molded cups not only give support but provide shaping. As you know many sports bras smash the girls flat so it's pretty sweet to look good when you feel good on a hot sweaty trip. Seams have been minimalized to reduce chaffing. The superior moisture-wicking material will keep you dry and free of boob sweat all day. This sports bra is available in a huge range of sizes to fit most hikers.
---
Smartwool RacerBack: Best Merino Wool Blend Bra for Hiking
FABRIC: Shell: 85% Nylon, 15% Elastane; Liner: 68% Merino Wool, 21% Nylon, 11% Elastane
WICKING: Very High Rating
QUICK-DRYING: High Rating
COLOR: Blue, Orchid, Navy, Black
STYLE: Racer Back
SIZES: XS, S, M, L, XL
PRICE:$$$
This thermo-regulating, moisture wicking Bra from Smartwool is the best of both worlds. It is made from a blend of nylon, elastane and Merino wool. First, the soft Merino wool liner snugs up next to your skin where it keeps you warm when it's cool and cool when it's warm. Nothing beats merino wool for naturally managing moisture and preventing body odor.
The outer layer knit cups of these racerback bras have been engineered to give you the shape and lift that merino wool by itself would be unable to provide. And you'll love the wide straps that will provide overall support without digging into your shoulders. The smooth back of the Smartwool sports bras won't cause any rubbing if you are carrying a heavy backpack. Seamless means there won't be any chafing under your arms as you move on the trail.
Whether you're out hiking, camping or trekking, this Racerback sports bra will quickly become one of your favorite sports bras.
---
Under Armour Crossback: The Top Cost-Effective Hiking Bra
FABRIC: 87% Polyester/13% Elastane
WICKING: High Rating
QUICK-DRYING: High Rating
COLORS: Assorted
STYLES: Crossback
SIZES: XS, S, M, L, XL
PRICE: $
Cost-effective support is what we get from the Under Armour Mid Crossback Sports Bra. With so many colors to choose from you'll want to grab a couple of these sports bras for hiking.
Made entirely of polyester, this sports bra provides strategic support for medium-impact activities, while still feeling as soft as ever. The built-in cups are soft and breathable and really help to keep the nipples out of sight. And if you want to travel light the bra features removable cups. The 4-way stretch construction allows you to move better in all directions. Under Armour's proprietary fabric – HeatGear – is one of those specially designed for moisture-wicking and fast dries. This sports bra will be perfect as a backpacking bra!
---
Boody Racer Back: The Softest Bamboo Bra for Sensitive Skin
FABRIC: 80% rayon made from bamboo, 20% spandex
WICKING: Very High Rating
QUICK-DRYING: Very High
COLORS: Black, Black/Silver
STYLES: Racer Back
SIZES: XS, S, M, L, XL
PRICE: $$
I love the feel of bamboo-based fabrics against my skin. Eco-friendly, sustainable and thermo-regulating, bamboo is a plant that's naturally available in large amounts and easily replenishable. Bamboo fiber is also naturally hypoallergenic and perfect for sensitive skin. Bamboo is a perfect material for a natural moisture-wicking bra.
The Boody Racerback Sports bra with 4-way stretch provides medium support for hiking, gym workouts and active weekends. These hiking sports bras are available in sizes from XS to XL, this amazing hiking sports bra sits well around the bust and shoulders and leaves you feeling soft and silky. Racerback bras are available in sizes ranging from 30A (XS) to 40C (XL). You'll be happy to tuck this comfortable bra into your hiking gear.
---
Northface Bounce-B-Gone: Best Sports Bra for a Super Cool Back
FABRIC: Body and liner: 85% polyester, 15% elastane, Back panel: 88% recycled polyester, 12% elastane with FlashDry™-XD
WICKING: Moderate to High Rating
QUICK-DRYING: High Rating
COLORS: Gray and Black
STYLE: Vented Racerback
SIZES: XS, S, M, L, XL, XXL
PRICE: $$
I'm sure you know that feeling of a wet back after a hot day of carrying your pack. That's why you'll love the back venting in the North Face Bounce-B-Gone Bra. North Face's FlashDry technology ensures the fabric wicks away boobsweat from your skin and dries quickly.
This medium impact sports bra is called Bounce-B-Gone for a reason: it will provide a really comfortable level of light support on very technical or active hiking trips. You'll notice the slightly higher neckline and the wider chest band, both of which help provide that extra support.
---
Beyond Yoga Lift Your Spirits: The Best Hiking Bra that Supports without Compression
FABRIC: 87% Polyester, 13% Spandex
WICKING: Med to High Rating
QUICK-DRYING: High Rating
COLORS: Assorted Colors Avail
STYLES: Racerback
SIZES: S, M, L, XL, also 1X-3X plus sizes
PRICE:$$$
This Beyond Yoga SpaceDye Lift Your Spirits Bra might just be the softest bra you've ever worn. If you are looking for the best sports bras that won't rub in all the wrong places, this buttery fabric is just what you need. And best of all the 4 way stretch fabric support every movement as you are hiking. The fabric is moisture-wicking to keep you dry on hot trails and the seams are offset so your pack won't rub.
This sports bra is stylish enough to be worn solo on a hot day and even has UV protection. It comes with removable cups so you can adjust the fit to your own comfort level.
The Lift Your Spirits Bra is also available in Plus Sizes, providing full support for gals on the move.
---
IceBreaker Merino Sprite: The Perfect Merino Wool Bra for a Smaller Bust
FABRIC: 83% Wool, 12% Nylon, 5% Elastane
WICKING: Very High Rating
QUICK-DRYING: High Rating
COLORS: Wide Assortment
STYLES: Racerback, Single Center Strap
SIZES: XS, S, M, L, XL
PRICE: $$
Perfect for smaller busted gals that want a slim fit, the Icebreaker Merino Sprite Racerback Bra is so lightweight you'll love wearing it. We love the lack of a side seam and wide armhole openings which will prevent underarm chafing. The single back strap allows for a wide range of movement. The merino wool ensures moisture will be wicked away from your skin and that it will dry super quick. Because of the limited coverage and support, this is not one of the best sports bras for busty women.
---
Champion Motion Control: Best Hiking Bra for Large Breasts
FABRIC: 88% Polyester/12% spandex; power mesh: 84% nylon/16% spandexnylon|spandex|polyester
WICKING: High Rating with Double Dry Technology
QUICK-DRYING: Moderate to High Rating
COLORS: Navy, Black, Red, White
STYLES: Racerback with Front Zipper
SIZES: 34B to 42DD/40DDD
PRICE: $$
There is so much to love about the technology behind Champion's Motion Control Zip Sports Bra for bustier ladies. Let's start with the most important feature and that is it provides incredible support without bouncing through the proprietary Motion Control Cups. The cups are designed to reduce vertical, lateral and front to back movement, all without underwires to dig into your sweaty body as you are hiking. You'll appreciate the low-profile adjustable straps to ensure the perfect fit. Sizes are available for D cup, DD cups and DDD cups.
Then to make it a perfect sports bra for larger chested women, the fabric is based on Champion's Double Dry technology so it wicks away sweat and dries quickly during a hot hike. Note the power-mesh sides and racerback crisis cross straps keep the air flowing across your back.
And I know the purpose of the front zipper is to lock and load the girls for extra high-impact support. But all I can think about is how easy that zipper will make it to slide that sweaty hiking bra off after long hiking trips.
---
Reebock PureMove: Best Sports Bra for Extreme or Technical Hiking
FABRIC: 73% nylon/27% spandex
WICKING: Moderate Rating
QUICK-DRYING: High Rating
COLORS: Too many pretty colors to list plus basic black
STYLES: Racer back
SIZES: XXS to XXL
PRICE: $$
If you are going to be doing a bit of bouldering or technical climbing on your hike, the Reebock PureMove Sports Bra is an amazing choice. They use Motion Sense Technology, which is used by astronauts, to ensure this bra automatically adjusts with your movements. This all means you won't have to be constantly tugging on your bra as it digs into your skin from all your twists and turns.
Although the fabric blend is lacking in moisture-wicking, the built-in perforations in the front and back allow this sports bra to dry quickly so you won't suffer from sweaty boobs.  One feature we really love is smooth, cut-free edges that won't rub against your skin. This compression bra fits so well, it doesn't crush like you usually find in compression bras.
---
Patagonia Barely Bra: Best Lightweight Hiking Bra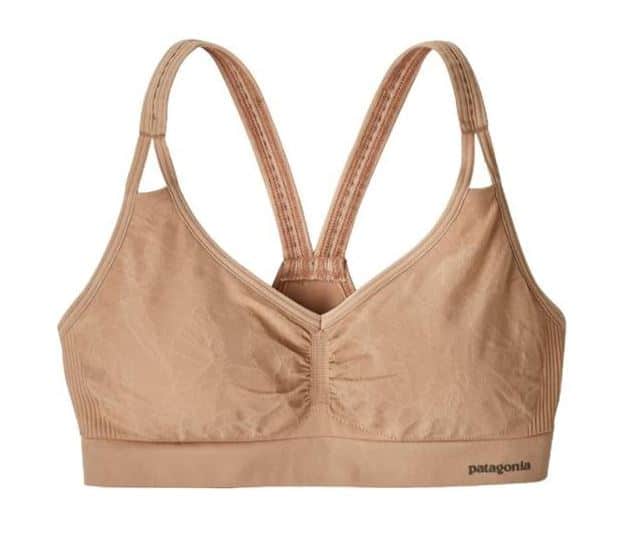 FABRIC: 86% nylon/14% elastane
WICKING: Moderate Rating
QUICK-DRYING: High Rating
COLORS: Black, Rose, Green, Umber
STYLES: Racer back
SIZES: XS to XL
PRICE: $$
This super soft and lightweight bra is made of recycled nylon and spandex that is quick drying. Patagonia Barely Sports Bras use proprietary HeiQ® Fresh for durable odor control which means you won't feel stinky when you wear hiking. This sports bra is designed with an under-bust panel that offers support for B/C cups to provide support and help to shape. Best of all this bra feels light when you are wearing it like it's almost not there.
---
So now that you've found the perfect bra for hiking, pop over to our article on selecting the perfect underwear for hiking. There is nothing worse than the skanky feeling of damp underwear all day. You'll also find my favorite selection of hiking shorts here for comfort during your hot weather adventures.
Also check out our other underwear posts: Best Men's Underwear for Hiking and for when the temps drop Best Merino Wool Base Layer for Hiking
My last bit of advice is to think about what you hate most about your current hiking bra. Is it the rub or that it digs into your skin? Do you want more support? Or do you just want to stop the sweaty, funky feeling? Because every one of these amazing women's hiking bras listed above will work wonders for you on the trail. So why not find the one that answers your most pressing need among the best hiking bras?
---
Check out our other guides to Hiking Essentials for Women:
For the perfect backpack, here's our guide to the Best Daypacks for Hiking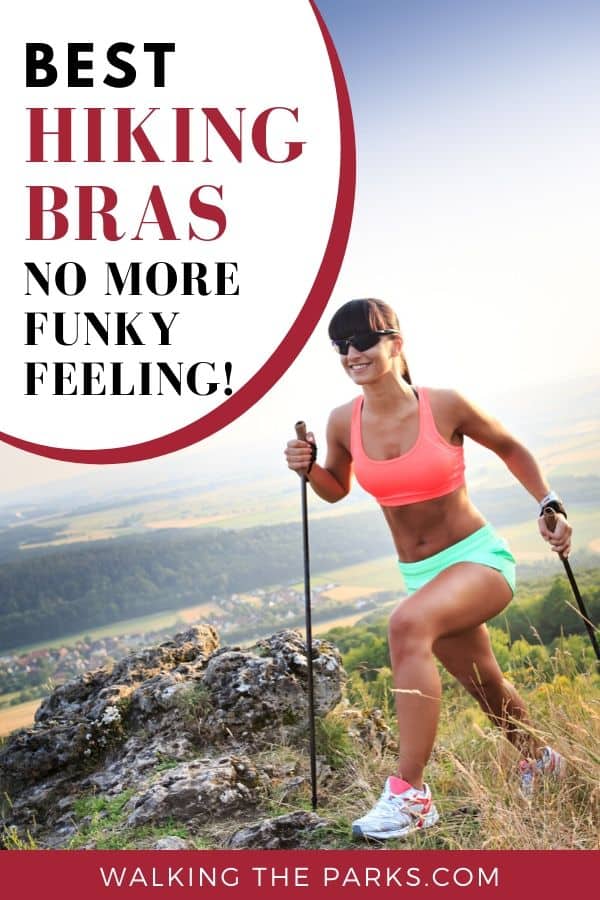 ---
The Authors: Hey, we are Ladona and Brad, avid campers and hikers. We are crazy about getting outdoors at every possible moment and have decades of experience exploring nature. Our current goal is to visit all 63 US National Parks and just completed #42. WooHoo! Our mission is to help you plan your own adventures and create memories beyond your imagination!