Brad's guy's fishing trip West to Glacier National Park culminated with an amazing hike to Medicine Grizzly Lake. As he told stories of his trip, I was very jealous that I missed the night in Cut Bank Campground and this hike.  Well, I'll let him tell the story….  Ladona
"Hey Pops, want to go on a fly-fishing trip to Montana"? What a simple way to start a trip to Glacier National Park, Montana in September. My son wanted an adventure and I had the time. After 33 years of teaching high school science, I was in my first year of retirement and I was loving every minute of "Living the Dream". It wasn't long before we sat down at the dinner table with the AAA Road Atlas and planned our trip.
Our Road Trip West
Before we ever got to Glacier, we visited Mitchell, SD, the home of The Corn Palace and Cabelas. A bit down the road we stopped at the famous Wall Drug for our cold drink of water. We paused to witness the beauty of the Badlands National Park at Sunset. Then our first night, we camped in a mom and pop campground. Driving on we experienced Custer State Park, Needles Highway, and Deadwood. They were all worth our time.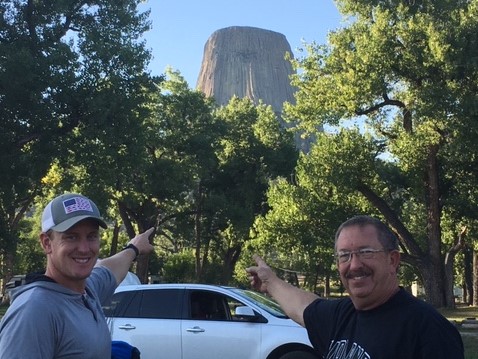 After watching Wild Bill play out his hand of Aces and Eights in Deadwood's famous #10 Saloon we drove on to Wyoming. We camped that night on the Belle Fourche River in the shadow of Devils Tower National Monument. We asked the park ranger about fishing in the Belle Fourche at this location and were surprised by his answer of "full of suckers and catfish". Always good to ask the locals for info. Falling asleep by the river was perfect.
The next day found us in Montana, re-living Custer's Last Stand. We spent most of the day at the Battle of the Little Bighorn National Monument. It was near realistic conditions as the temps soared into the high 90's. The rolling grasslands of Southeastern Montana are endless and beautiful. The park service talk describing the battle on that hot summer day is always interesting. While gazing out over the battlefield, you can imagine the troop movements described in detail,
Fly Fishing in Montana
Our main goal at this point was to be in Cascade Montana by our 3rd night. Operating out of the "Trout Montana" fly shop in Cascade we had hired two fishing guides from Lepley Creek Outfitters to drift boat down the Missouri River for some great fly fishing. Rainbows and Browns were abundant on this Blue Ribbon section of the Missouri. The guides from Lepley Creek were knowledgeable, and a joy to spend the morning with on the river. Contact Jake or Matt Halmes at Lepley Creek, I would highly recommend them.
Fall Crowds in Glacier National Park
After fishing on the Missouri we headed west to Browning Montana and St. Mary near the east entrance to Glacier National Park. Our morning adventure had put us in a tough camping predicament. As a recent retiree I had hoped that all the families with children were back at school by early September. I was wrong! The families had been replaced by retired folks , just like me! A look in the mirror and I discovered we had become part of the post seasonal wave of campers into our National Parks.
We checked Many Glacier Campground, Rising Sun Campground, St. Mary's Campground and they were all "FULL". This is a frustrating sign that you hate to see at the entrance to any campground. If that sign was not there, it was replaced by another frustrating and more dangerous sign- " Campground Closed due to Bear Activity". Well, we were in a tent and I was not going to challenge that one today.
Cut Bank Campground
Then, I remembered the signs I had seen for Cut Bank Primitive Campground on the way in on Hwy. 89. I think it was one of my greatest discoveries, and is one of the "Hidden Jewels" of Glacier Park. The entrance is an inconspicuous gravel road with a single sign. The road follows Cut Bank Creek for 5 miles and meanders back on to park property. There are only 14 primitive tent sites at the campground, no flush toilets, no potable water, no showers. They do have steel bear proof storage boxes for your food which is reassuring.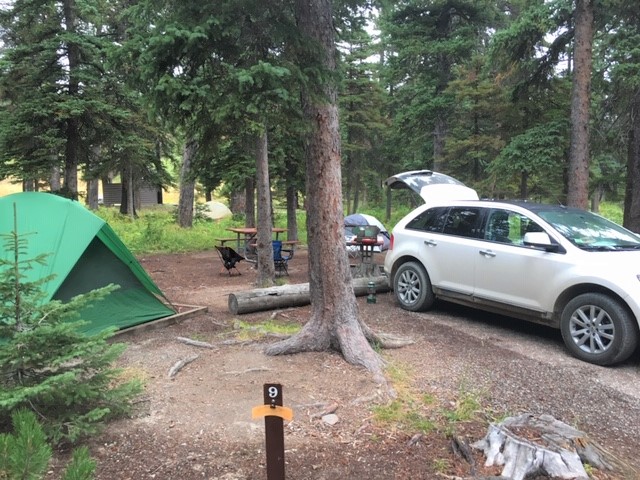 This is one of the campgrounds in Glacier where you can really get away from people. It is less traveled than any other trailhead I have been to in the park.
Glacier National Park is home to 13 campgrounds with Cut Bank Campground being the only one on the Lower-East side of the park. The campgrounds at Glacier have an online current calendar that documents when each of the campgrounds fills up each day. This is very handy as they do not take reservations. Also, campground closures and statuses are posted online.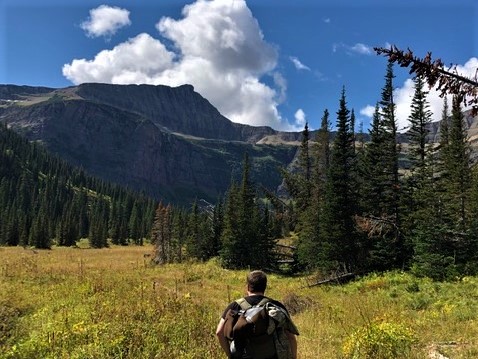 Hiking to Medicine Grizzly Lake
So our hike began as a simple creek fishing and exploration trip complete with waders and small packs. Cut Bank Creek parallels the trail for several miles and is often in view below so you can pick your pools.
It was at this point that we got the urge to hike all the way up to the lake.
This spontaneous move left us with too little water and too much weight. In retrospect old tennis shoes and shorts are much lighter than neoprene waders. Regardless, off we went on our adventure to Medicine Grizzly Lake.
This hike to Medicine Grizzly Lake starts at the Pitamakan Pass Trailhead. The trail head is located about 50 yards from the campground.
And NOW, the reason I love this hike from this campground. It covers 12.4 miles of trail round trip with an elevation gain of only 625 ft. up to the lake at 5,651 ft. This is a perfect day hike to get you into the back country without the climbing pains. Along with the beauty of the valley and mountains it also ends at a pristine lake with great trout fishing!
The mountains were beautiful in the distance as we broke in and out of the timber and into the meadows along the creek. We knew that somewhere below the mountains at the end of the valley was the lake we were seeking: Medicine Grizzly. The Blackfoot tribe gave this name to a grizzly that frequented this valley and drainage.
In the Southeastern range we could see Mad Wolf Mountain and Bad Marriage Mountain, each at an elevation of around 8,000 ft. As we walked through the conifers early on in the trek we passed a large group of family hikers with sidearms holstered on their hips. I wondered what we had gotten into here.
We continued on through areas of open meadow full of bear grass, huckleberries and thimbleberries. The willows along the creek below looked prime for moose and deer and the berries among us and above us looked prime for bear. As the grasses were sometimes shoulder high and the trail became narrow we kept a loud conversation going on between us to ensure that the wildlife were not surprised by our presence.
After four miles of hiking we came to the Triple Divide Pass Junction and trail head. It was intriguing to consider at Triple Divide Pass the watershed goes in three different directions to three different oceans as it heads down the mountains. The thought of that hike quickly passed out of my mind when calculating the distance and additionally the elevation gain to that destination.
At this junction our trail turned right along Atlantic Creek and past a small back country campsite that has room for 4 tents. Atlantic Creek campground requires permits. The Atlantic Creek camp does not offer much privacy as it sits along the trail in open view of the hikers passing through.
A Not Subtle Reminder that This is Bear Country
As we reached the six mile mark, the valley opened up into a beautiful cirque meadow at the headwall of the valley with a great mountain wall backdrop. At this point we were blessed with an open view of a very large black bear feeding on the huckleberries above us. We had a stare down until the bear determined we were not a threat and continued to gorge on the juicy berries.
We took the best pictures we could with our cell phones and I wished I had my better camera. On the other hand, I appreciated the weight difference. Choosing a good hiking camera is a major decision and there are plenty of quality cameras out there.
Eventually the bear moved into the timber leaving us wondering about his next location. This reminded me of the quote- "keep your friends close and your enemies closer". His disappearance made us a little nervous.
As we moved closer to the far south end of the lake in the next half mile I heard a thrashing and grunting on the hillside that definitely caught my attention. I had thoughts about the bear as I saw a lone tree moving abruptly along the tree line. Then we spotted him, a massive 50+ inch Bull Moose. He was doing his best to totally annihilate a pine tree. He was definitely in the rut and was demonstrating his dominance to all the bulls in this valley. It's moments like this that make you appreciate carrying binoculars in your pack.
Fishing Medicine Grizzly Lake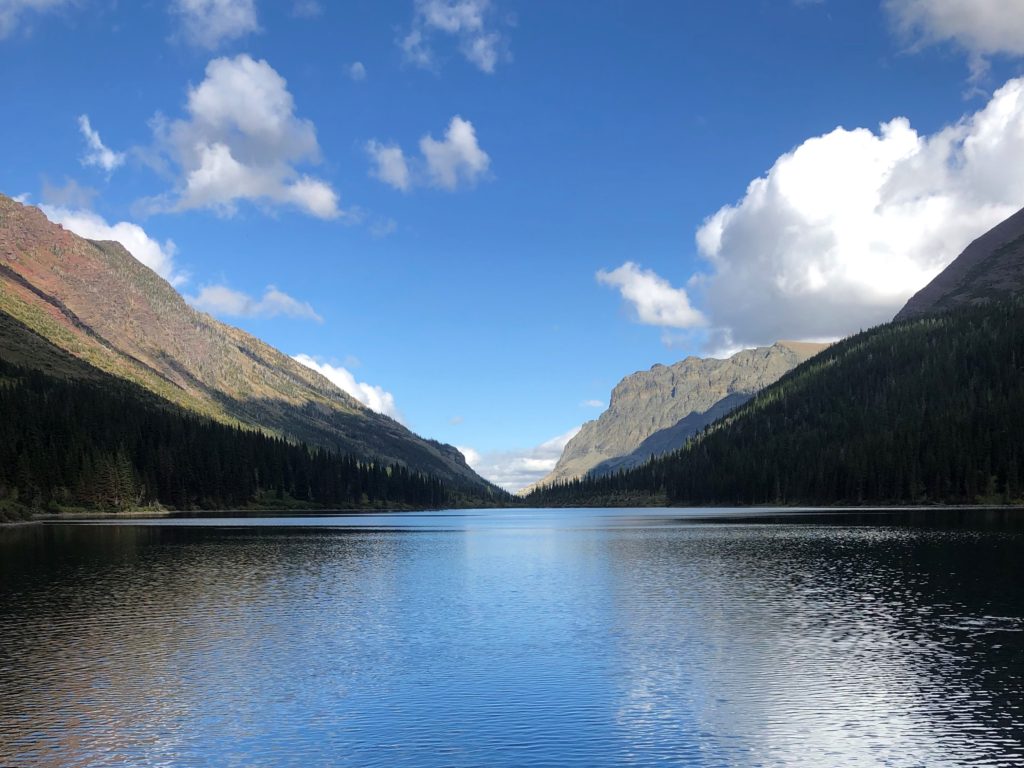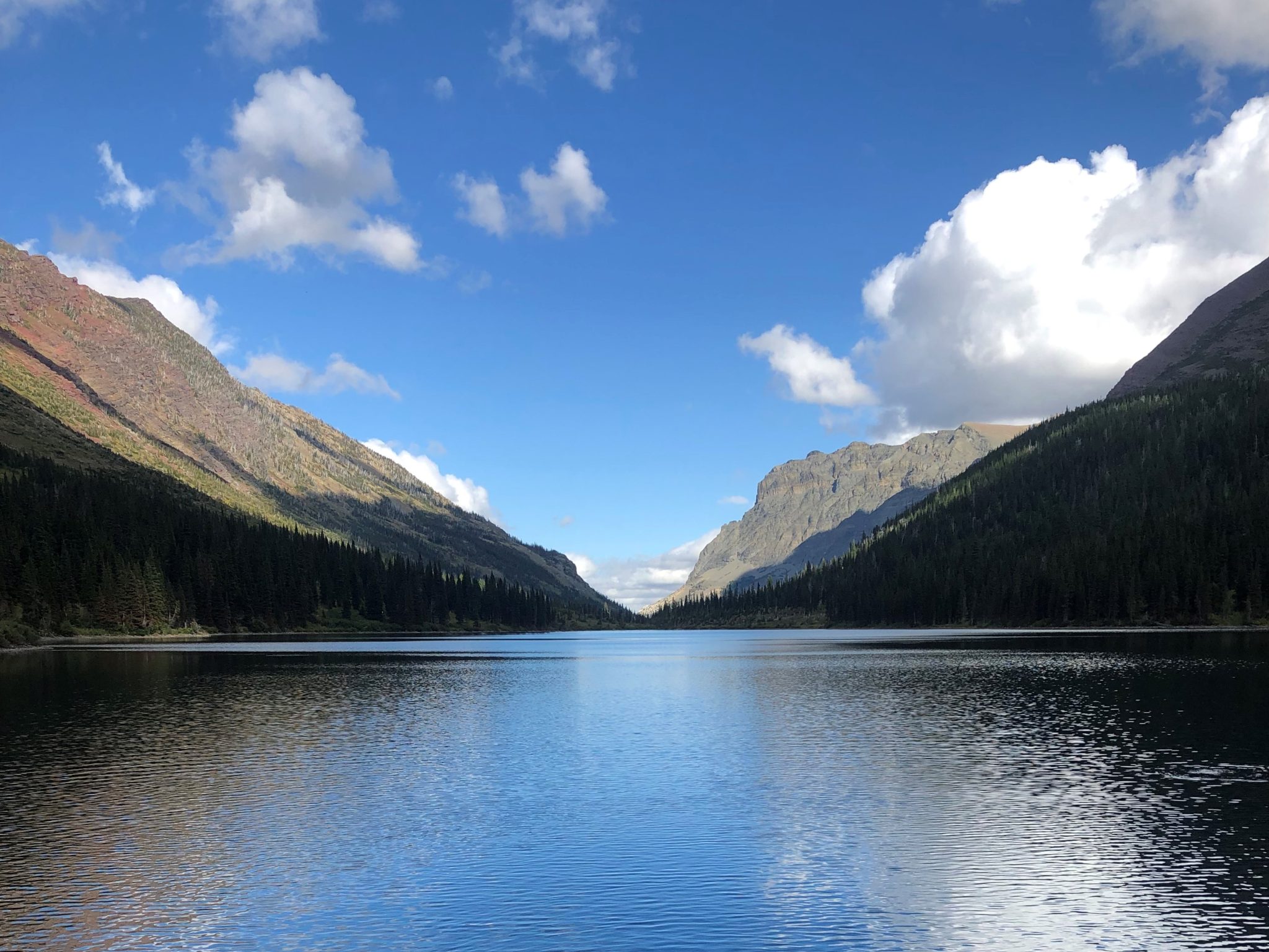 We then turned our attention to the trout fishing and hiked all the way to the south end of the Medicine Grizzly Lake. The continental divide towered above us and filled the lake with meltwater from 5 gorgeous 100ft waterfalls that cascaded down the south wall. Surrounding us at this point were Mount James, Triple Pass Peak, and Razoredge Mountain.
After the wildlife encounters and our arrival at the south shore we ate a snack, rested, then assembled the fly rods. The trout seemed to respond best to a slow sinking nymph and they were very skittish so a delicate approach was needed. The fishing was fantastic for rainbows and took on a majestic backdrop when the bull moose seen earlier came down to the lake for a drink.
A Long Walk Back To Cut Creek Campground
We headed back down the trail in the late afternoon and found we were short of drinking water. We had some military gels but would have been far better off with a water filter to draw water from the creek. Things got a little touchy for us as darkness and dehydration caught up with us near the end of the return trail. We were lucky to run into some back country campers at Atlantic Creek Campground who were kind enough to fill our water bottles.
Since we were packing out trout for our dinner, we were raucously loud as we hiked back out through the dimming light. We all had packed our hiking headlamps so we had no trouble navigating the trail, always a must have product to be in any pack. The "Life Straw" should have been there too, I found it later in our cooking pack. At this point I really missed my wife as she keeps me much more organized on most adventures and hikes. I also wondered about my two younger hiking companions and how did I end up with the fish in MY backpack? On the trek out I secretly practiced how fast I could drop my pack if I needed to!
Back at Cut Creek Camp
Back at camp, by the light of the moon, we got re-hydrated and cooked those fresh trout for dinner. It seems that always after a long hike the meal at the end of the day is just a little bit tastier and special. Sitting back in my comfy camp chair was a perfect time to reflect on the great day. And the trout were fantastic!
Being cautious of bears we put everything we had used or touched into the Bear Proof storage units provided by the Park Service. Keeping a clean camp always makes me sleep a little more soundly. When we checked our electronics that night we found we had hiked 17 miles. That's a long day for this retired guy! We all fell asleep easily, except for the nasty leg cramps. During the night I discovered that leg cramps and tight, confining, sleeping bag are not your friends.
The next morning we broke camp and headed to Logan's Pass. Here we found the crowds again and there was not a free space to park. I waded through the people in the visitor's center and wondered why I had left the solitude of Cut Bank Campground. Being a little sore, a leisurely 4 mile hike to Hidden Lake  was plenty to keep the mountain spirit going, and loosen the leg muscles. After an ice-cold adult beverage at the beautiful Lake McDonald Lodge it was time to say good- bye to Glacier Park.