The hike to Hidden Lake, Glacier National Park, delights as it delivers a stunning view of Hidden Lake with Bearhat Mountain towering in the background. Truly memorable! But what makes this hike extraordinary is the journey where you can view an abundance of natural treasures along the trail.
Almost a year later, we are still sharing stories of our finds along the trail to Hidden Lake Overlook. We truly loved this trail and highly recommend including it on any first trip to Glacier National Park. Here are a few of the things that delighted us:
A Sea of Alpine Wildflowers
I love the delicate flowers that thrive in the Alpine Tundra. With a very short growing season these plants have evolved to burst into flower and reproduce with great flourish. On our August hike Monkey Flower, Alpine Daisies and Alpine Avens were within fingertip's reach along the path.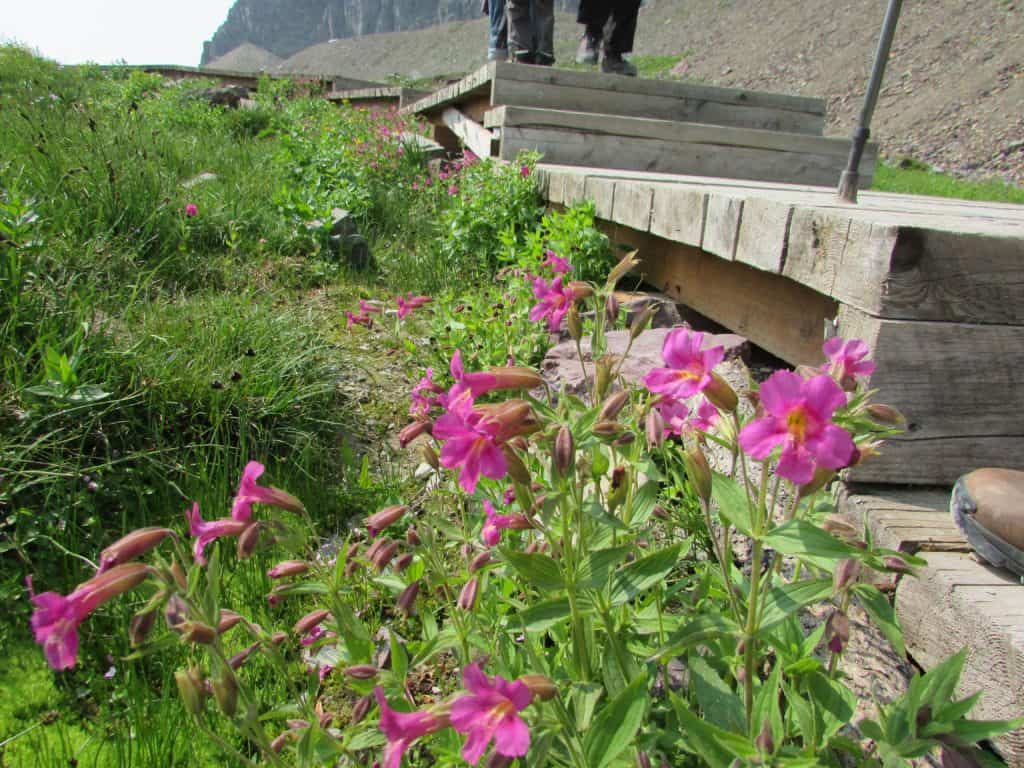 There was a small army of volunteers working along this trail cautioning hikers to not step off the trail and harm the fragile tundra. Although I do understand and appreciate the need for their work, it felt a bit intense to be watched so closely. Here's an NPS article on the wildflowers you will find in Glacier National Park. You might also enjoy browsing the book Wildflowers of Glacier National Park.
Abundant Wildlife
Almost every hiking report talks about the wide variety of wildlife along this trail. On our hike we saw: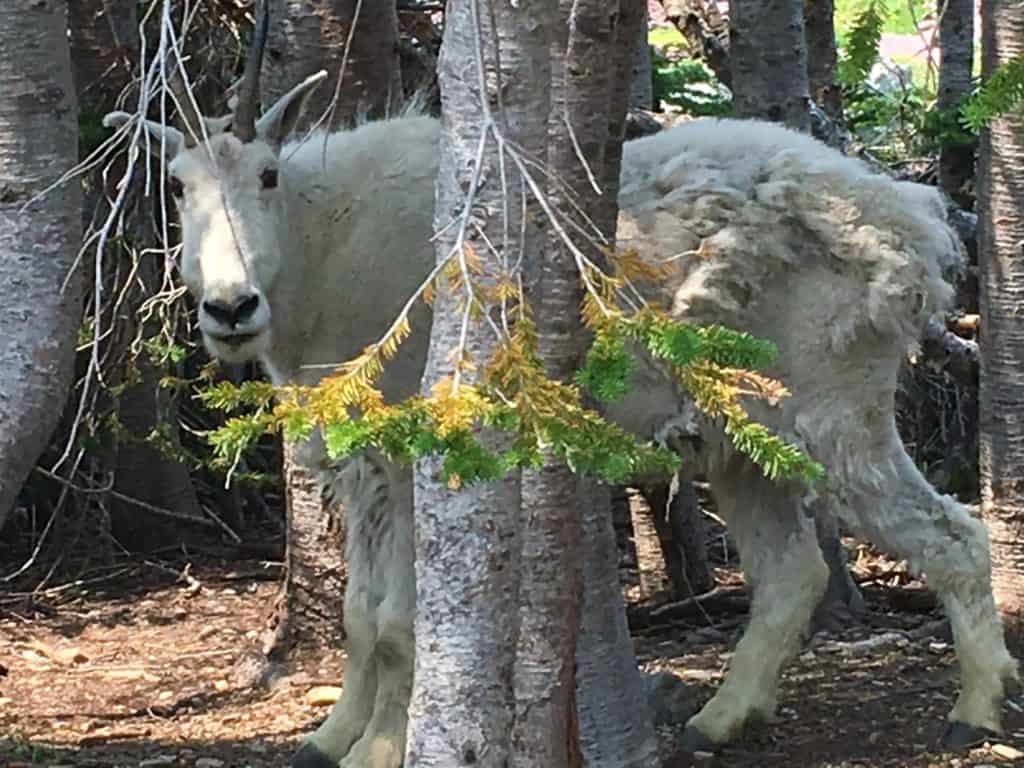 Mountain Goats that were quite entertaining, coming close to the trail to find their favorite plants to munch. Brad caught a great picture of one playing hide and seek with us.
Bighorn Sheep were all over the mountainside. It's amazing how they traverse the thinnest rock lines to rest on a narrow overhang.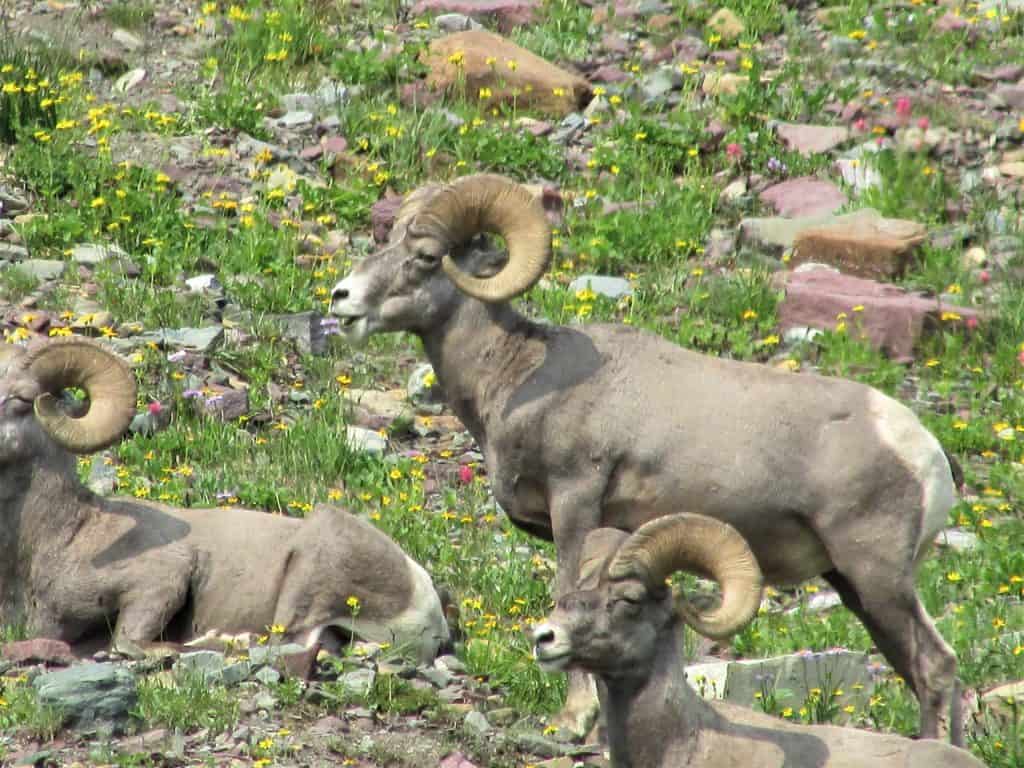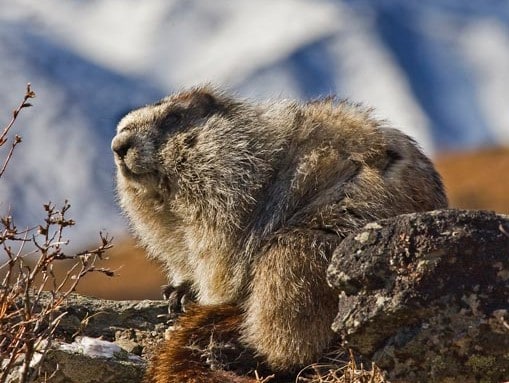 A marmot was sighted hiding against rocks. Brad tried to get a close up picture but he didn't cooperate. image courtesy of the National Park Service
Pika worked the crowd attempting to get any fallen snacks. You had to be very careful if you set you pack down to make sure one didn't try to hitch a ride! image courtesy Will Thompson, USGS. Public domain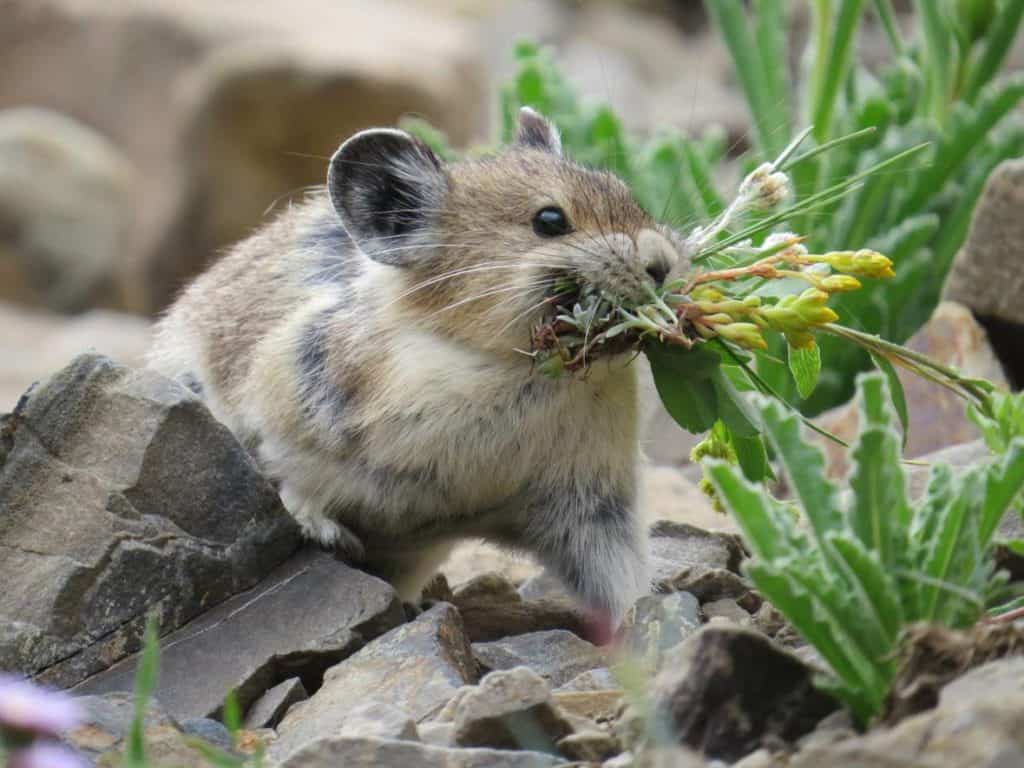 Of course, Brad was greatly disappointed (I was not) that we didn't encounter any grizzly bears. Many hikers have reported sighting these impressive creatures near Hidden Lake. The Glacier Park Rangers occasionally close the trail between the overlook down to the lake due bear activity. Just don't forget to carry your bear spray on this hike, or for that matter any hike in Glacier National Park.
Amazing Scenery
Waterfalls were plentiful along the trail as snow continued to melt. The falls here are casual, meandering water-flows, not thundering waterfalls. With much of the exposed rock along the trail a lovely pink, the flowing water brought the colors to life. And in mid-August there were still a few snowy spots to enjoy.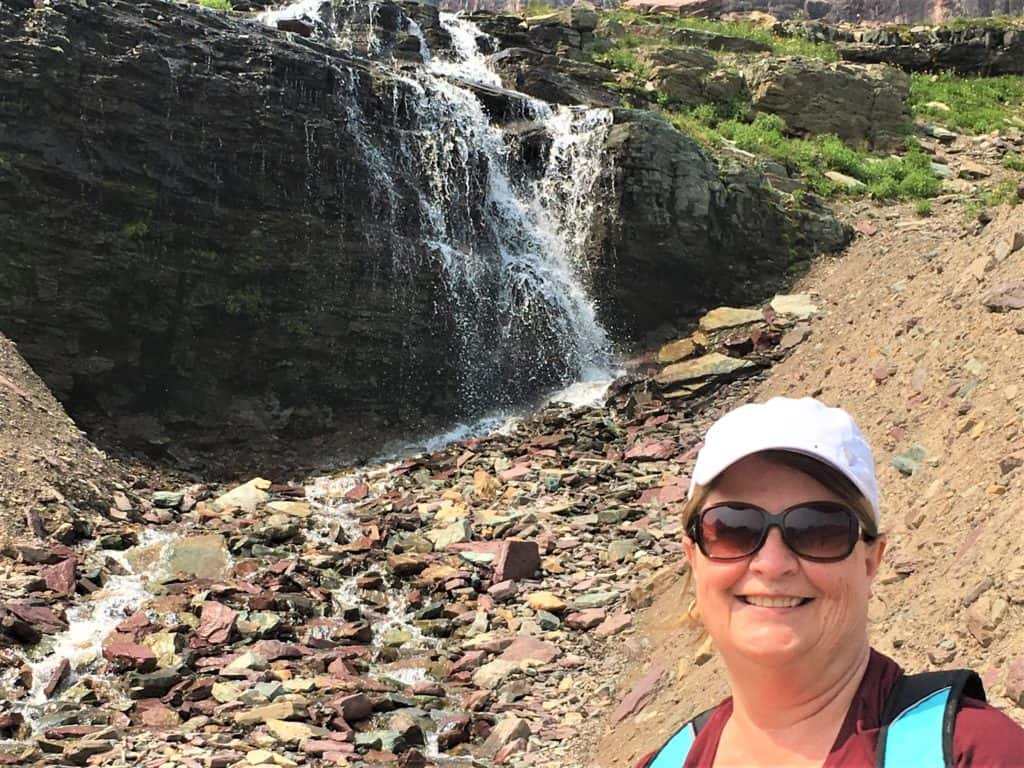 And, of course, the hike culminates in a beautiful view of Hidden Lake with Bearhat Mountain in the background.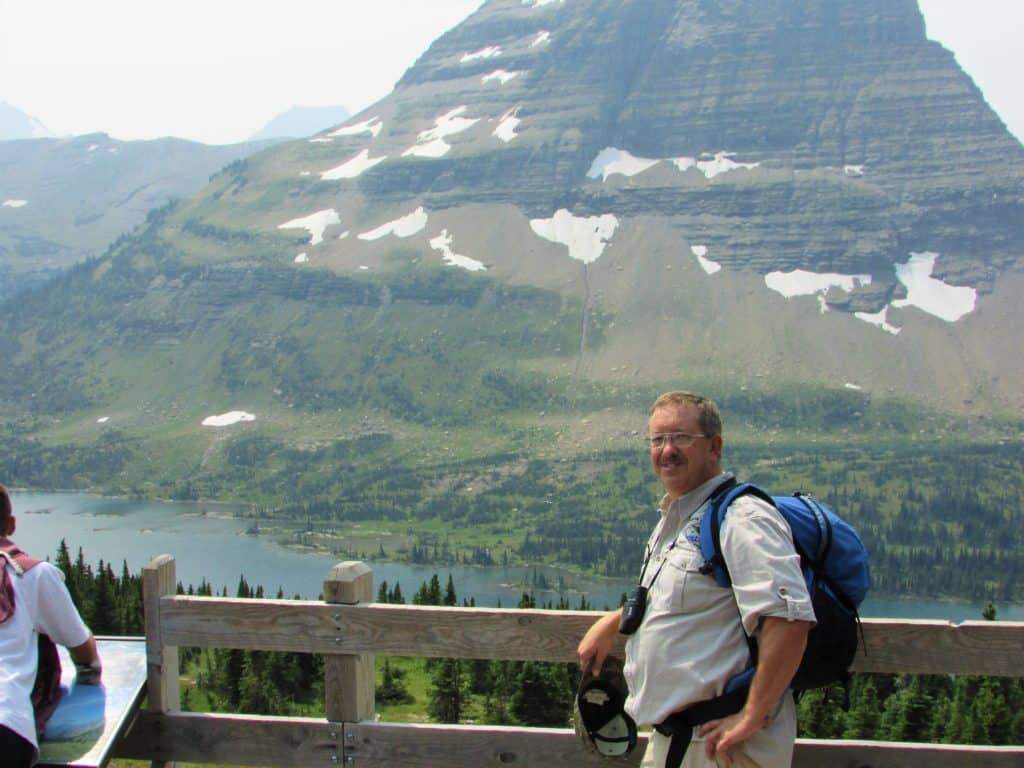 More about Hidden Lake, Glacier National Park
This highly popular trail starts right behind the visitor center at Logan Pass. Parking is a bit of a challenge here as this is a must see stop on Going to the Sun Highway. However with a little bit of patience we found a spot. You can also avoid the parking hassle by using the free shuttle service. Before you start the trail, pop into the visitor center where you will find great educational resources to enhance your hike.
The trial is 2.8 miles round trip to the Hidden Lake Overlook and 5.2 miles if you hike on to the Lake's shore. Walking to the overlook is fairly easy, starting with a paved trail to a wide boardwalk. The boardwalk protects the fragile tundra while also allowing run off to flow under the trail. This section ends with a moderate elevation gain on a dirt trail delivering you to a wonderful view of Hidden Lake.
If you choose to travel on down to the shore of Hidden Lake it will be a more difficult climb back as the trail is pretty steep. We wandered down part way to get a closer view of the many wildflowers along the trail.

Put Hidden Lake in Glacier National Park on your "must do" list.
Why? On this trail you have access that you will rarely find to viewing the Alpine Tundra biome with its abundant wildflowers. Wildlife is everywhere; you will get closer than you might on other trails. The ease of access to the treasures that only the Alpine Tundra can bring make it worth sharing the experience! If you are headed to Glacier National Park, pin this to your Pinterest Board now so you can hang on to this guide!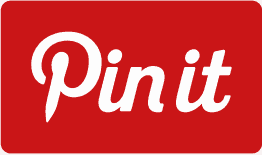 If you've hiked this trail, we'd love to hear about your experience in the comments below!
 Tips for Hiking Hidden Lake Trail
This is a fully exposed trail you will want a hat for sun protection and a jacket to reduce the impact of the wind.
Download an app for Glacier Wildflowers. Here's a free one for iPhone. It is fun to identify a few of your favorites while on the trail.

Bring binoculars

. We enjoyed watching the Bighorn Sheep as they moved along the cliffs. We also observed several hikers on a precarious trail up high in the mountains. I like to carry a small compact one like this binocular.
Take a bottle of water, there is a bit of a workout climbing stairs as you approach Hidden Lake Overlook which could leave you thirsty on a sunny day.
Bear Spray is a must. Don't fall for the fallacy that bears won't show up because of the crowds. Numerous hikers have reported seeing bears in the area on busy days.

Hiking poles

are helpful you are going beyond the overlook on down to Hidden Lake. You'll be glad you have them for the steep walk back up!
This trail is very family friendly, but make sure you talk to your kids about the fragile tundra before you start so they understand why they can't walk off the trail. Here are a couple books that would be great road trip reading for the family to get ready for this adventure:
This post contains a couple of affiliate links to make it easier for you to find products I have mentioned. You don't pay any extra and in some cases I could earn a small commission.
For more Hiking ideas while you are visiting Glacier National Park check out these other articles: