If you only do one thing in Bryce Canyon National Park, hiking Bryce Canyon Rim Trail is not to be missed. Any one of the overlooks around Bryce Amphitheater will stop you in your tracks as you look down at the intriguing shapes called hoodoos that fill the bowl. So as you can imagine, hiking Bryce Canyon Rim Trail from end to end and stopping at all 5 overlooks is an amazing experience.
Bryce Canyon National Park is a series of deep bowl shaped canyons called amphitheaters. The most popular and accessible, is Bryce Amphitheater. The rim trail around it is 5.5 miles one way. Most of it a fairly easy hike with only a 200 ft elevation change making it a great hike for almost any skill level.
What is a Hoodoo?
So what is a hoodoo? Hoodoos are the tall skinny spires you see in abundance in the canyon. You know those really cool features that we are taking dozens of photos of! They are formed by two acts of nature. First is the freezing and thawing of water that gets into the cracks. The second is erosion by acidic rain. The result over hundreds of years are deep, narrow walls called fins. More freezing and thawing, more rain and holes start to form in the fins called windows. Then windows eventually collapse leaving the side walls which are hoodoos. Hoodoos up to 150 feet tall are scattered throughout Bryce Canyon National Park. You can learn more in the National Park Services article on hoodoos.
What we Think You'll Love about Hiking Bryce Canyon Rim Trail
I'm going to dive into what makes each of the 5 overlooks special in just a moment but before I do, I'd like to share what we think you will love most about this hike.
Although obvious, it is so beautiful. And each overlook is a little different. You won't feel like "If you've seen one hoodoo, you've seen them all!" You will be amazed over and over again. We were taking as many pictures at the last overlook as we did at the first.
Other than the middle section between Sunset Point and Sunrise Points the trail wasn't crowded. If you are limited on time just do Bryce Point to Inspiration Point rather than the crowded middle section. It's only more popular because of the facilities and bigger parking lot, not because the views are better.
You can get a little creative with how you use the shuttle system and adjust the length of your hike to match your available time. Go full round trip for a lovely 11 mile hike. Or use the shuttle and you can enjoy anywhere between ½ mile to 8 miles of hiking. (I'll go into the shuttle a little more at the end.)
The feature we love most – Once you got away from the overlooks there were no railings. To sit near the edge and not have to look through a fence was a beautiful experience. Note the trail is wide so there is nothing scary for adult hikers but small children might make your heart race if they get to close!


Looking into Bryce Canyon from Rim Trail
Exploring the Overlooks Along The Rim
We choose to shuttle in to the furthest stop which is Bryce Point and work our way back. It turned out to be a perfect plan. Each of these overlooks has a parking lot so if you don't want to hike you could drive or shuttle between each one. Although you will miss an amazing walk if you do!
Bryce Point
Bryce Point is probably the best view of the full amphitheater! Here you will burn through some serious memory grabbing great photos. Bryce National Park Rangers suggest this is a great spot for sunset pictures to capture the light bouncing off the layers of colors.
From the overlook you might see back-country hikers traversing the Under-the-Rim Trail which begins further in the park and follows the same edge you are hiking along the top. This 23 mile (one way) hike is considered strenuous and an overnight hike requiring a permit.
But you don't have to go back-country to experience the hoodoos up close. From this overlook Peekaboo Loop, a strenuous 5.5 mile hike trail-heads. No worries if you want a little bit easier way to get close to the hoodoos. Wait for a few more overlooks!
---
Don't miss our other articles about Bryce Canyon National Park: Cruising Bryce Canyon Scenic Drive for Some Eye Popping Views and Hiking the Unforgettable Queens Garden and Navajo Loop Trail 
---
From Bryce Point it's only 1.5 miles of fairly level hiking to our next stop.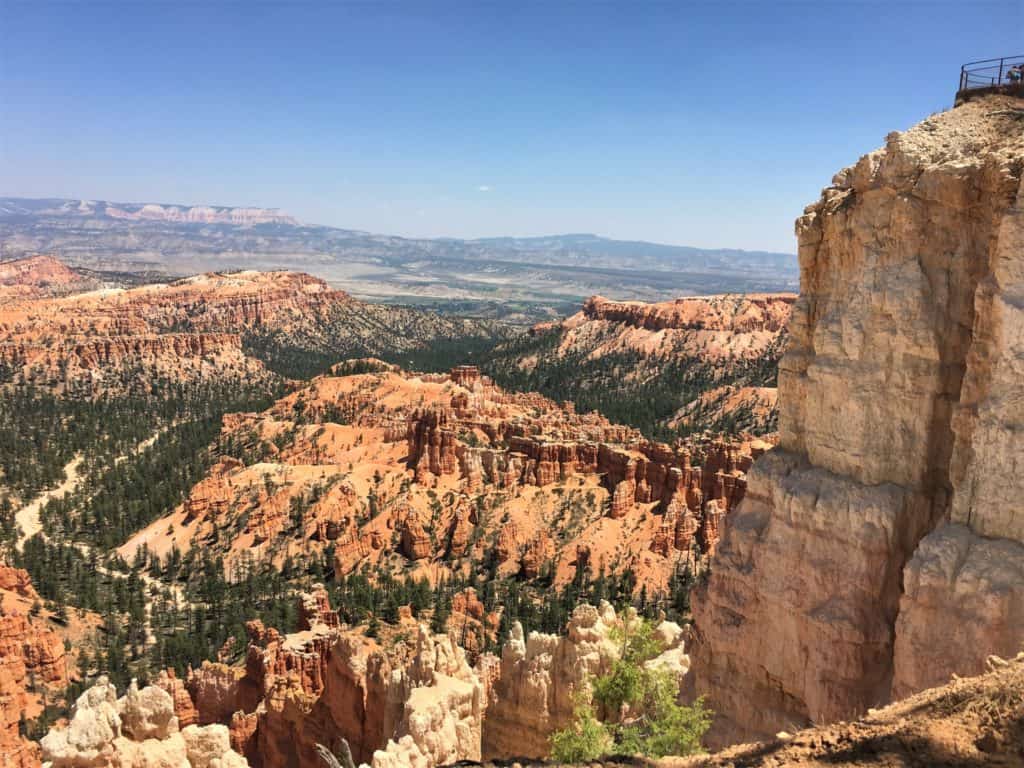 Bryce Canyon Inspiration Point 
Here the drop off from the edge is seriously straight down! There are 3 levels of overlooks at Bryce Canyon Inspiration Point where you feel like you are very much hanging over the edge of the canyon. Because of the steep drop, there are no trails into the canyon here.
The next hiking section, which is only 0.7 miles was by far my favorite due to that steep drop off. You can literally stand on the edge of canyon and see everything. Amazing!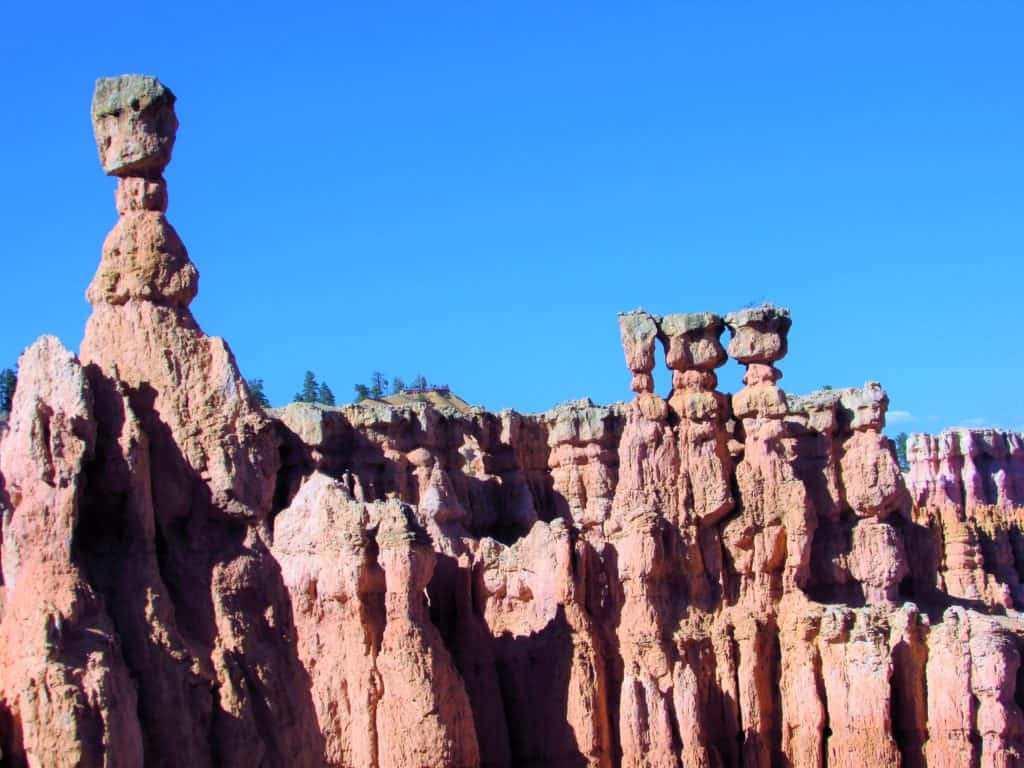 Bryce Canyon Sunset Point
Just off to your left standing alone is the famous 150 foot tall Thor's Hammer. From Bryce Canyon Sunset Point you can also see to your right the unique features of Silent City and Wall Street.
Sunset Point is one of the busiest areas in Bryce Canyon. Here you will find real bathrooms, drinking water and picnic areas. Many tour buses stop here adding to the crowds. So my advice is to relax and enjoy the hike up to this point. The ½ mile hike to the next overlook will include many of these folks.
One of the most popular hikes in the park, Navajo Loop, trail-heads here. This 1.3 mile hike is rated moderate. We decided to wait until the next stop to head down into the canyon and enjoy the combination hike of Queen's Garden and Navajo Loop.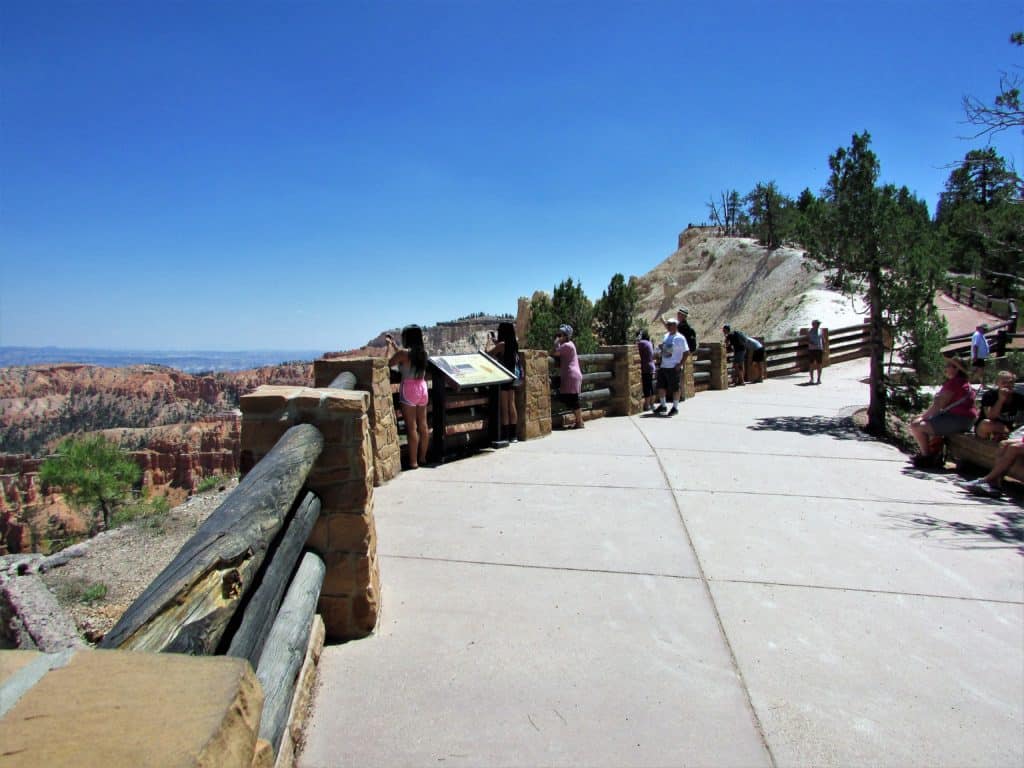 Bryce Canyon Sunrise Point
Here you have a great view of Queen's Garden. We began our hike to the bottom from Bryce Canyon Sunrise Point to see Queen Victoria. You can also see several interesting structures in the distance such as the tilted rocks of the Sinking Ship and the Pink Cliffs of the Aquarius Plateau.
The Queen's Garden Hike into the canyon of 1.8 miles is rated easy. So if you are looking for the simplest trail to get close to hoodoos this is it. Even though it is rated easy, there is still a challenging 320 ft elevation change. We observed a group of girls who said "Who thought this was easy?" as they went puffing past us.
Bryce Canyon Fairyland Point
We opted to not continue the last 2.5 miles to Bryce Canyon Fairyland Point since we wanted to take the Queen's Garden/Navajo Loop Trail. According the the National Park Service this section is a great place to see some of the wildflowers in the park. It's also one of the quietest hikes in the park. Probably less traveled because the shuttle doesn't service past Sunrise Point.
The hoodoos in the Fairyland Canyon are younger, showing less sculpting. It would be interesting to see the canyon in the making and compare to the more senior hoodoos.
Fairyland Point marks the end of the Under the Rim Trail. There is also a beautiful, although strenuous Fairyland Loop Trail here. It's a good 4-5 hour 8 mile hike that takes you close to Boat Mesa.
About the Shuttle System in Bryce Canyon National Park
When hiking Bryce Canyon Rim Trail, the free shuttle is definitely the way to go. The parking lots at each overlook were packed. The shuttle picks you up either right outside the park entrance or at the visitor center. It was so easy to park in the large outside lot and hop on the shuttle. They seemed to be running about every 15 minutes and even though we visited on a busy Sunday there was plenty of room. Note that vehicles over 25 feet aren't allowed in several of the overlook parking lots so the shuttle is so much easier if you have an RV.
How did we make it work?
We parked outside the entrance and hopped on the shuttle. The shuttle dropped us off at Bryce Point. We hiked from Bryce Point to Sunrise Point. Then we did the Queen's Garden/Navajo Loop trail emerging back at Sunset Point. There we hopped back on the shuttle to get our car. That was a pretty laid back 5-6 hour tour. You could probably finish hiking Bryce Canyon Rim Trail in under 4 hours if you wanted, but we like to chill and enjoy our hikes!
Spice it up and join the Ranger led Rim Walk.
Every day, Spring through Fall, Bryce Canyon National Park Rangers lead several rim walks. It's about a mile walk taking 1.5 hours. It's a great way to learn more about the history and geology of the park. Times vary with season so either check times at the visitor center or online here.  Then just show up a few minutes early at Sunset Point and join the group.
Notes for Hiking Bryce Canyon Rim Trail:
1. This is a fairly easy hike with lots of opportunities to relax along the way. There are even potty stops with real toilets. Super luxury.
2. If you are headed out in the heat of the day, make sure you have vented, wide brim hat in your bag. A ball cap just isn't enough in the extreme sun found here in the summer months. Although there is random shade, most of this hike is open sun.
3. Make sure you have water. Even though it is not a strenuous hike, the elevation and open sun requires hydration. There is a drinking water refill station by the restrooms at Sunset Point and near Bryce Canyon Lodge. We found all the parks in Utah to encourage visitors to be environmentally responsible by using refillable water bottles.
4. If this is the only hike you are doing, you can pack pretty light as there are plenty of stopping points along the way. But if you plan to also hike down into the canyon you will need a full pack. Check out our post 11 Things You MUST Pack for Day Hiking, but Will Probably Never Use for a list of critical pack items for any hike. I'm warning you that the canyon will call your name so better to be prepared!
5. Personally I would not take small children on this hike. The rim is right there without guard rails, and the soil is very loose sandstone. It wouldn't take much to go over. However, the lack of guard rails is what makes this hike so amazing with the completely unobstructed views so don't go writing letters to NPS to add guard rails!
6. If you're like us, guide books are a road trip staple. For this trip we loved Lonely Planet's Zion and Bryce Canyon for getting into the nitty gritty details. Another favorite was Moon's Utah for uncovering information about side trips as we traveled between parks.
If this is your first trip to Bryce Canyon National Park, don't miss this over the top hike. Hiking Bryce Canyon Rim Trail will deliver an experience to remember!
Hey, don't forget to Pin this to your vacation board before you go! And we'd love to hear from you about this hike in the comments below.
Also check out our crazy adventure to Visit 5 Utah National Parks in 5 Days. Of course one of those was Bryce National Park. Should you try it? Read on to see how it worked out.
This post contains a couple of affiliate links to make it easier for you to find products I have mentioned. You don't pay any extra and in some cases I could earn a small commission.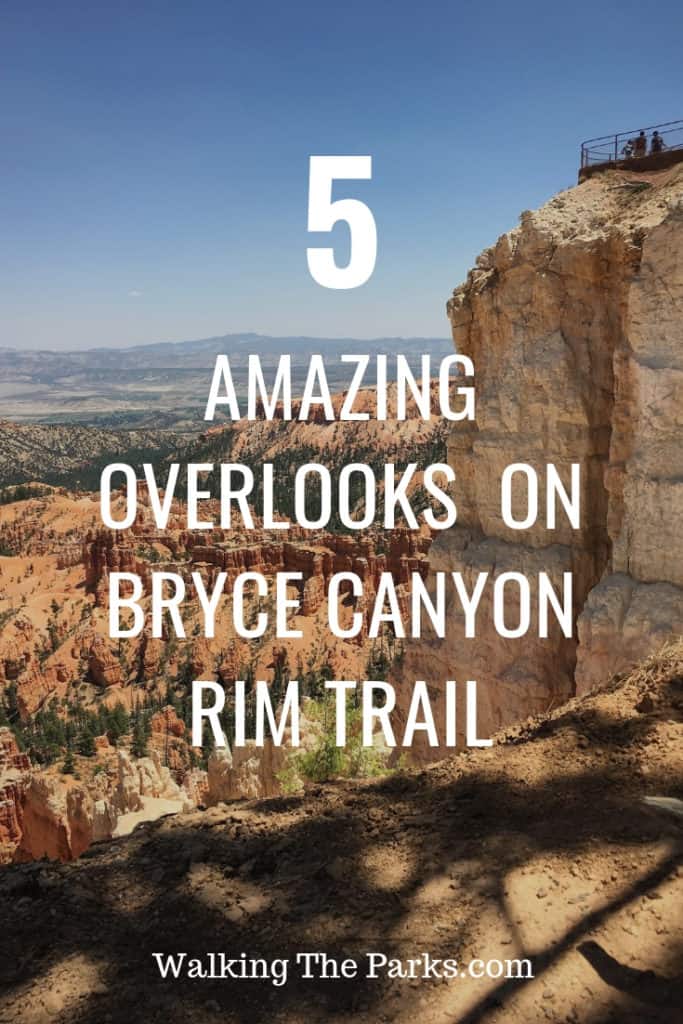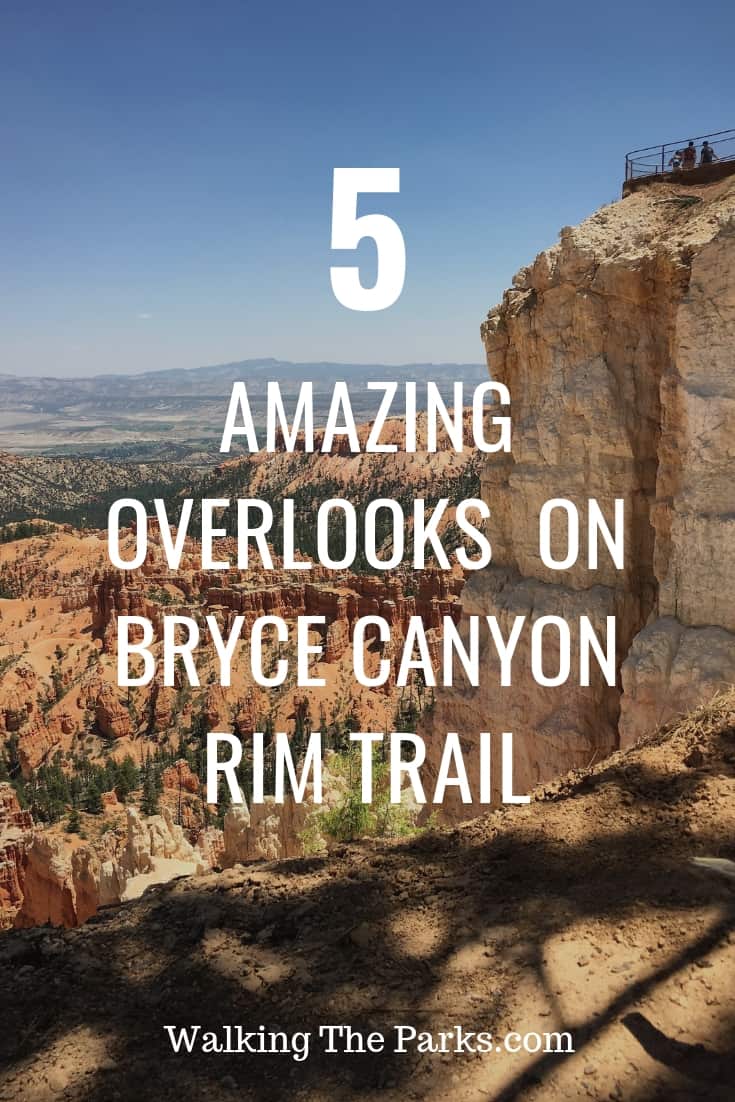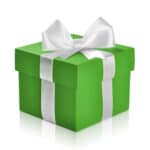 Looking for gift ideas for your favorite Hiker? Check out our Unique Guides!