You want to have amazing memories of your day in Bryce Canyon National Park, right? Here's your chance to step down into a canyon full of hoodoos, arches and other interesting shapes. Your chance to get closer to these unique formations than you ever imagined. Hike the Queens Garden and Navajo Loop Trail! It's unforgettable!
This post contains a couple of affiliate links to make it easier for you to find products I have mentioned. You don't pay any extra and in some cases I could earn a small commission.
About Queens Garden and Navajo Loop Trail
The 2.9 mile loop created by hiking a combination of the Queens Garden Trail and part of the Navajo Loop is the most popular hike in Bryce Canyon National Park for a very good reason. Get right up next to these magnificent features! The incredible images will be forever in your memory.
This is adventure combines 2 different trails. Queen's Garden by itself is an "in and out" trip from Sunrise Point. Navajo Loop is just that, a loop that starts and ends at Sunset Point. However, the paths cross and you can jump from the turnaround point of Queen's Garden Trail and then complete with ½ of the Navajo Loop trail taking you back to the rim.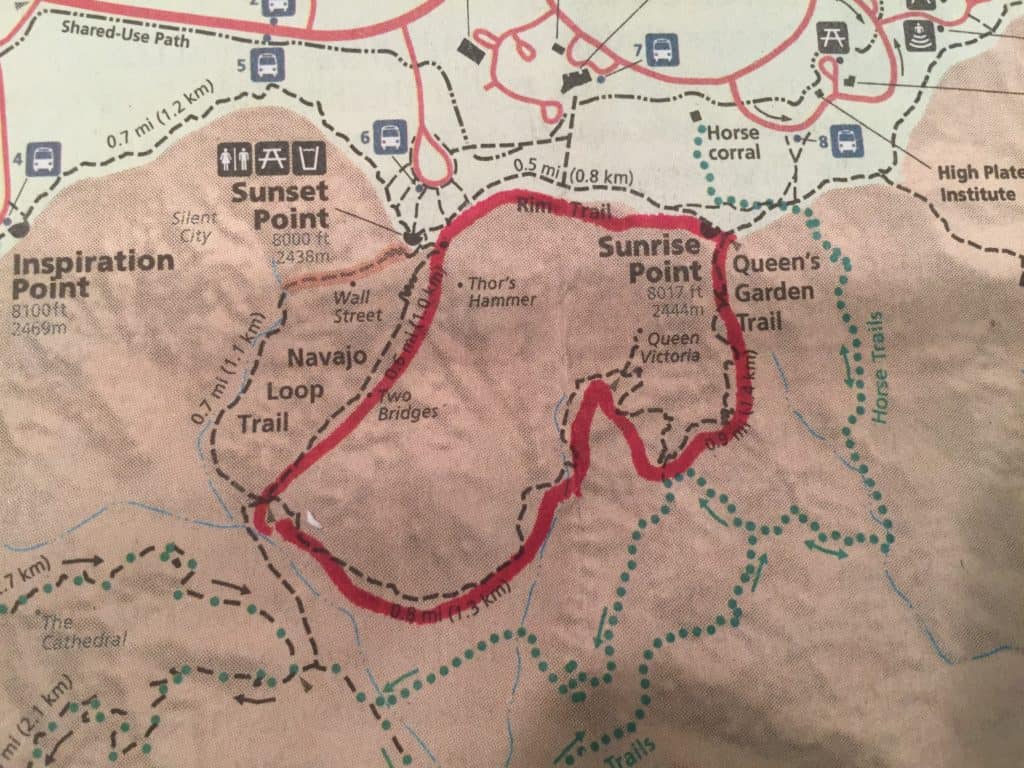 Quick Facts about Hiking Queens Garden Navajo Loop Trail:
🥾 Total Distance: 2.9 miles
🥾 Ascent: 629 feet
🥾 Difficulty Rating: Moderate
🥾 Route Type: Loop
🥾 Average Hiking Time: 2-3 hours
Queens Garden Trail
We started our hike of Queens Garden and Navajo Loop Trail at Sunrise Point. But before you head down stop to take a good look and snap some pictures from the overlook. The view here is stunning!
The Queens Garden trail is just to the left of the overlook and it is pleasant, although rather steep, walk down into the canyon and towards Queens Garden.
The Bryce Canyon rating of Easy for this hike is a bit misleading because of that short steep drop. A red flag should have gone up when we passed a group of teen girls heading out of the canyon. One asked her posse "Who said this was easy?" I later regretted chuckling to myself: "Wimps."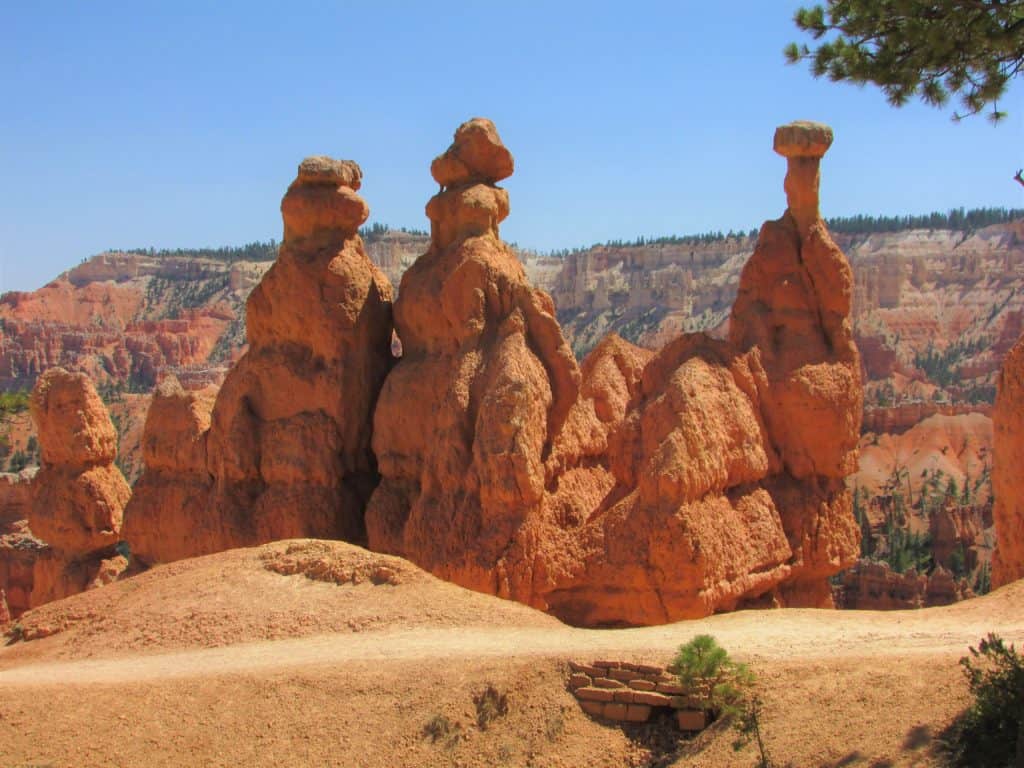 Queen Victoria and Her Garden
According to the National Park Service, Bryce Canyons Queens Garden derived its name from a group of hoodoos that look like they have been planted in a garden. One particular hoodoo is supposed to look like Queen Victoria standing guard over her garden.
Now, I'm a champion find shapes in the clouds kind of girl, but I just didn't see it. What I did see were beautiful layers of color exposed by erosion. The landscape is an interesting mix of textures and shapes. The colors blend like a soft tapestry.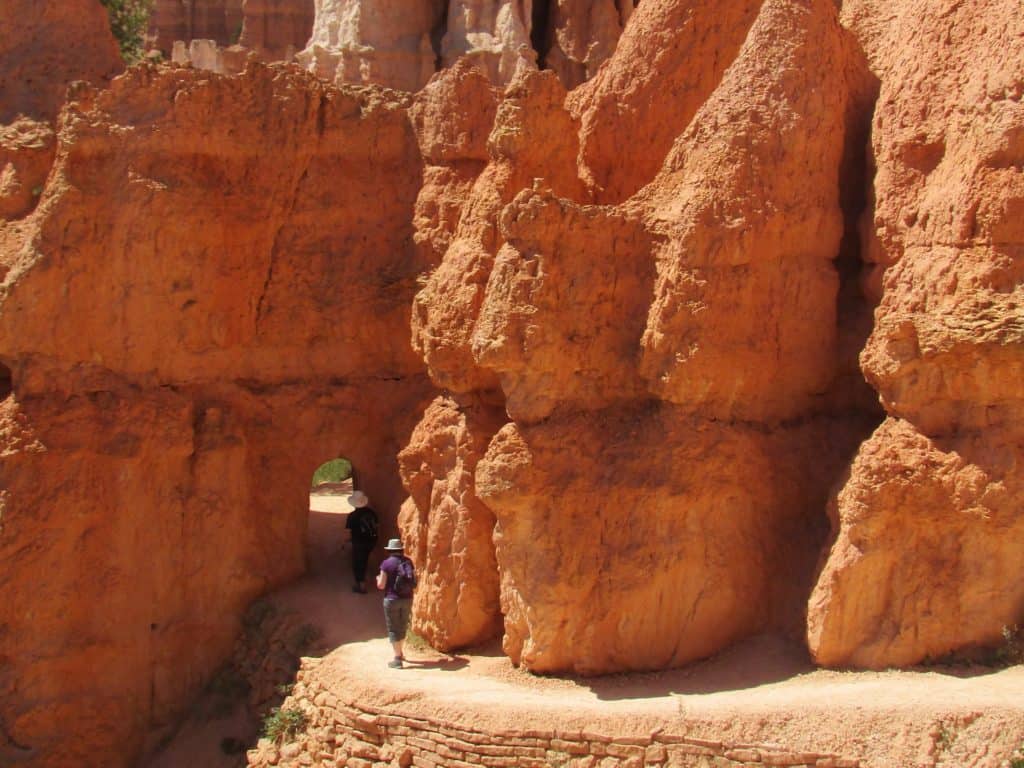 I think the coolest part of the Queens Garden and Navajo Loop Trail is walking through the small tunnel at the end of Queen's Garden Trail. Don't miss the great photo opportunity here. I took this photo from the switchbacks just prior to the tunnel.
On the other side you emerge into a small desert oasis with lush, although stunted, trees providing bits of shade as you wander through the hoodoos at the bottom of the Canyon. There is a short spur after the tunnels that bring you closer to the Queen Victoria Hoodoo.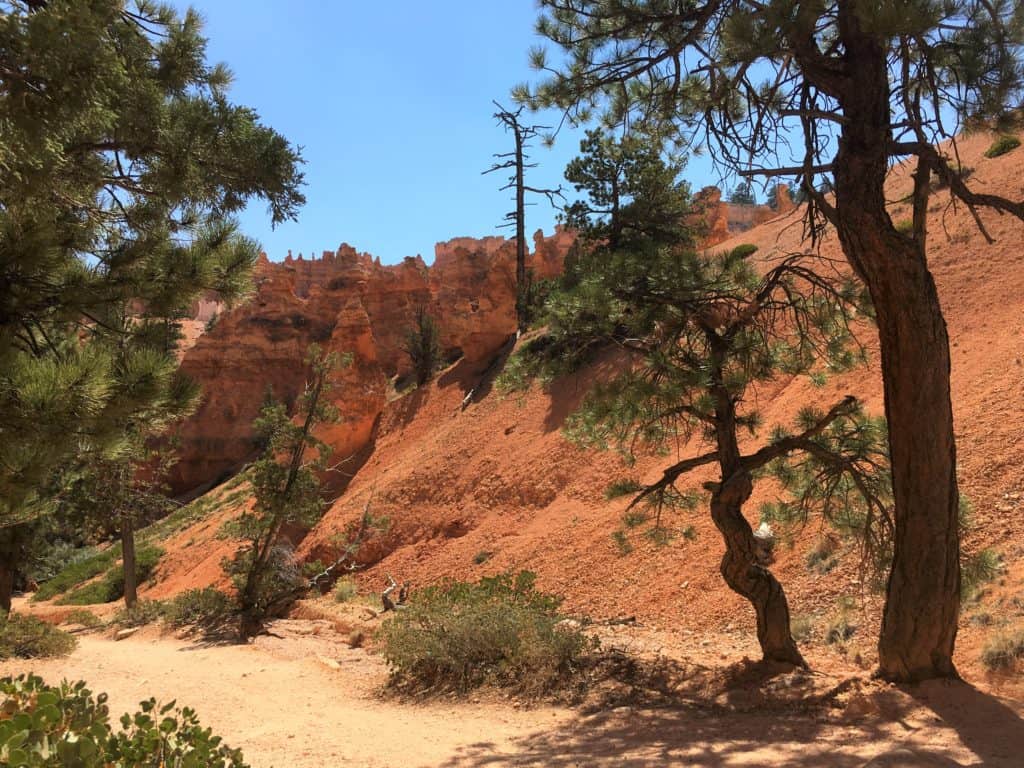 Navajo Loop Trail
After 1.7 miles you connect with the Navajo Loop. It's a true fork in the road and you must make a choice about which way you will go hiking back to the top. The good news, there is plenty of space to stretch out in the shade and think about your choice. It was very hot in the Canyon so we welcomed the break. Even though you are at a high altitude in Bryce Canyon, it is still the desert. And that August sun beats down fiercely.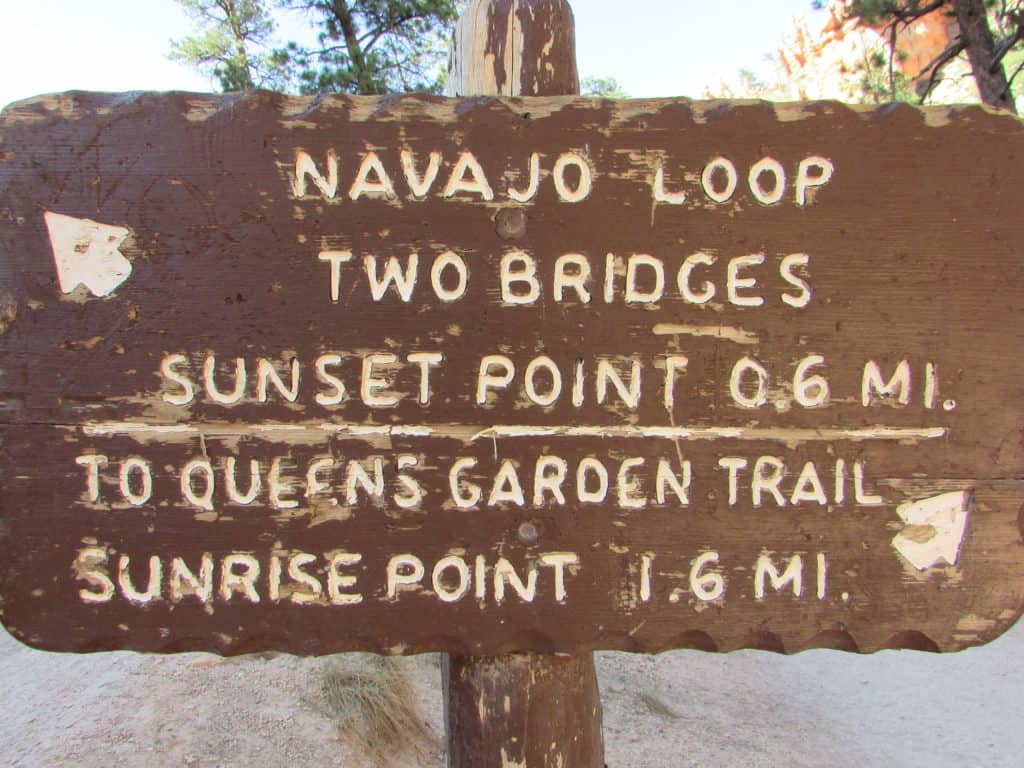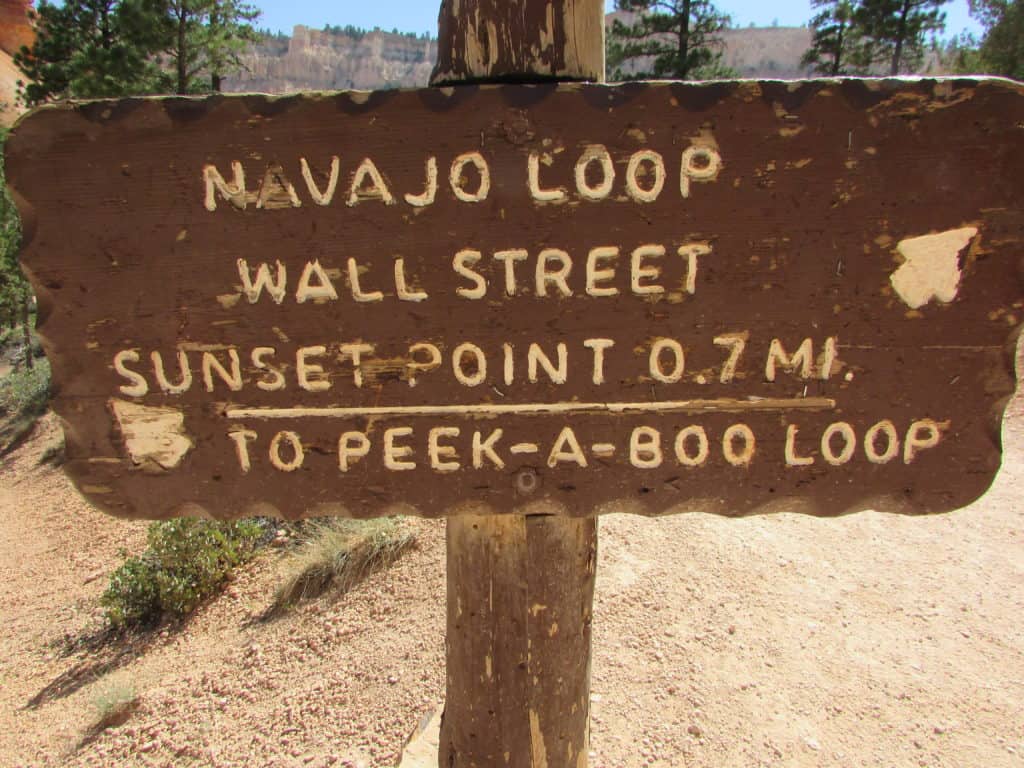 The choice of which fork to take was even more difficult because we hadn't read up on the trail in advance. (I know, that's not really like me!) There really wasn't anything in the moment to help us decide. The trail to the left wanders past Wall Street and Thor's Hammer.
After the fact, I read several reviews that claim this is the better choice for scenery. We will never know. I was intrigued by the promise of Two Bridges so we headed down the right fork.
Bryce Canyons Two Bridges Are Unique
Two Bridges are tucked back in a crevice. You have to wonder how long they will continue to survive. Erosion is very mysterious in how it creates the shapes in Bryce Canyon National Park. When will erosion cause them to come tumbling down?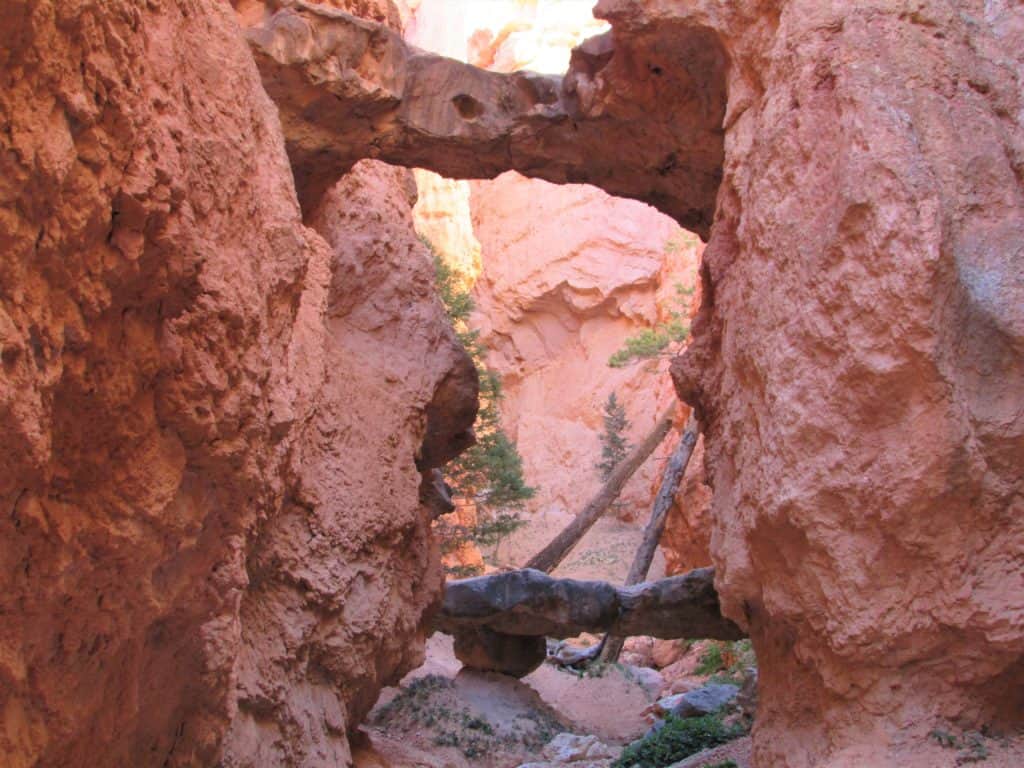 It doesn't matter which fork you take to complete Queens Garden and Navajo Loop Trail. Either way, the next half mile of hiking is a rise of over 500 feet. Now that's pretty steep. It's why the Navajo Loop is rated as a moderately difficult hike. And as you can see in Brad's short video below the switchbacks create an amazing image. A lot of thought went into making this hike work.
About ½ way up I thought I was going to die.
Not only is it a steep climb but it was a hot August afternoon. Combine that with the high altitude that challenges all mid-westerners and it was a rough walk up. However, Brad cheered me on as I stopped to rest at every turn in the switchbacks. He even shouldered my pack for a while. (I love that man!)
And as you can see I didn't die. But it was a tough go.
Suddenly you find yourself back on the Rim at Sunset Point. There are plenty of benches here to take a short break before you complete the final 1/2 mile walk along Rim Trail back to where you started at Sunrise Point. If you took the shuttle bus, you can easily pop out to the parking lot and skip this last section. But I wouldn't!
We wrote about the amazing views from Rim Trail in this post.
Lessons learned from Hiking Queens Garden and Navajo Loop Trail:
1. Definitely take this hike. Even though it is hard work, it is worth it. It's popular for a reason: It's amazing to get that close to the landscape instead of just observing from the overlooks. You will never forget the beauty after getting that close.
2. Don't take this hike in the heat of the day in August! Hit the trail early. Even then, make sure you have a vented, wide brim hat in your bag. A ball cap just isn't enough in the extreme sun.
3. Carry plenty of water! More than you would normally expect to need. There is a drinking water refill station by the restrooms at Sunset Point and near Bryce Canyon Lodge. We found all the parks in Utah to encourage visitors to be environmentally responsible by using refillable water bottles.
4. It's on hikes like this that you need to be prepared for anything. I definitely didn't plan to become overheated on this hike – but I did. Check out our post 11 Things You MUST Pack for Day Hiking, but Will Probably Never Use for a list of critical pack items for any hike.
5. Take your hiking poles, that steep hike out of the canyon of 500 feet in only 1/2 mile is a bear! Your knees will thank you.
6. If you're like us, guide books are a road trip staple. For this trip, we loved Lonely Planet's Zion and Bryce Canyon for getting into the nitty-gritty details. Another favorite was Moon's Utah for uncovering information about side trips as we traveled between parks.
Hiking Queens Garden Navajo Loop Trail in Winter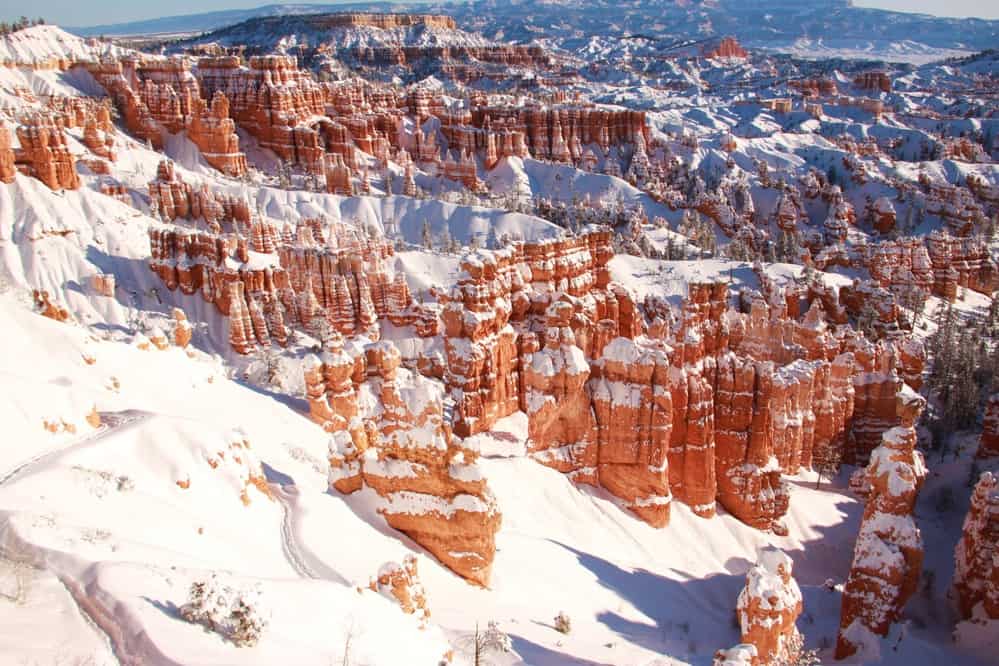 This trail is generally open for winter hiking. Just make sure you have crampons or spikes to help you navigate parts of the trail that will be icy. Imagine how majestic the hoodoos look in winter!
In winter the Wall Street side of Navajo Loop will be closed due to the higher risk of rockfall in winter but you can still enjoy the 2 Bridges Trail as we did, then either connect with Queen's Garden or do a down and up. Of course, we suggest you connect to Queen's Garden for a great hike.
Don't miss out on hiking the Queens Garden and Navajo Loop Trail. Pin this to your vacation wish board now! If you've experienced this amazing hike we'd love it if you'd share it in the comments.
Also, check out our crazy adventure to Visit 5 Utah National Parks in 5 Days. Of course one of those was Bryce Canyon National Park. Should you try it? Read on to see how it worked out. The perfect ending to this day was driving Bryce Canyon Scenic Drive, so pop over to that post for more details.