While planning your Bryce Canyon Itinerary, I'm sure you've found thousands of amazing photographs of the infamous hoodoos. However it's hard to comprehend the level of surprise and awe you will feel when you are actually walking among these unique formations. It's a bit like the difference between seeing a delicious looking bowl of ice cream and actually tasting that first bite. You will savor the experience in Bryce Canyon.
Bryce Canyon National Park is a simple park to navigate with 2 main areas. The famous Bryce Canyon Amphitheater and the 18 mile long Bryce Canyon Scenic Drive.
Let's start with the Bryce Canyon Amphitheater!
#1 Ride the Free Bryce Canyon Shuttle
Without a doubt, the easiest thing to do in the park is ride the Free Bryce Canyon National Park Shuttle around the Bryce Canyon Amphitheater. No fuss, no muss! Get on as often as you want and stay as long as you desire to explore at each stop. The next shuttle will be around, usually within 15 minutes. The shuttle stops at 4 different overlooks:  Bryce Point, Inspiration Point, Sunset Point and Sunrise Point. Here's a quick look from Bryce Point.
Each overlook has a different view of the beautiful Bryce Canyon Amphitheater full of hoodoos. It's great fun to pick out the named features, like Thor's Hammer and Wall Street, in the intriguing shapes. The overlooks are just a short walk from each stop. We carried a picnic in our pack and enjoyed it sitting on a log gazing into the canyon. However you can enjoy a great lunch or grab a snack when the shuttle stops at Bryce Lodge. You'll easily find bathrooms and water along the route.
---
Travel Tip! You can find free public wifi at the Bryce Canyon Visitor Center which is quite unusual in this neck of the woods. But you probably won't have cellular signal or internet anywhere else in the park. For that reason we like to download a couple guide books to our Kindle App for quick reference. Here's two books we used a lot on this trip: Lonely Planet's Zion and Bryce Canyon and Moon's Utah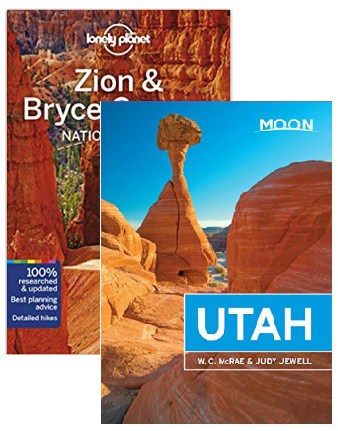 You can hop on the Bryce Canyon Shuttle from the large parking lot just outside the front gate, clearly labeled as shuttle parking. We found that a super easy way to enter the park. You can leave your vehicle in the visitor center's parking lot, but that lot was packed when we visited. Parking outside the park made a lot more sense.
You can also choose to drive this route, but why would you since the parking lots are small and crowded most of the summer. Also be aware that most lots will not accommodate campers over 20 feet. The Bryce Canyon Shuttle is a very comfy ride and free to anyone who has paid park admission running from April through October. You can check the Shuttle Service hours here.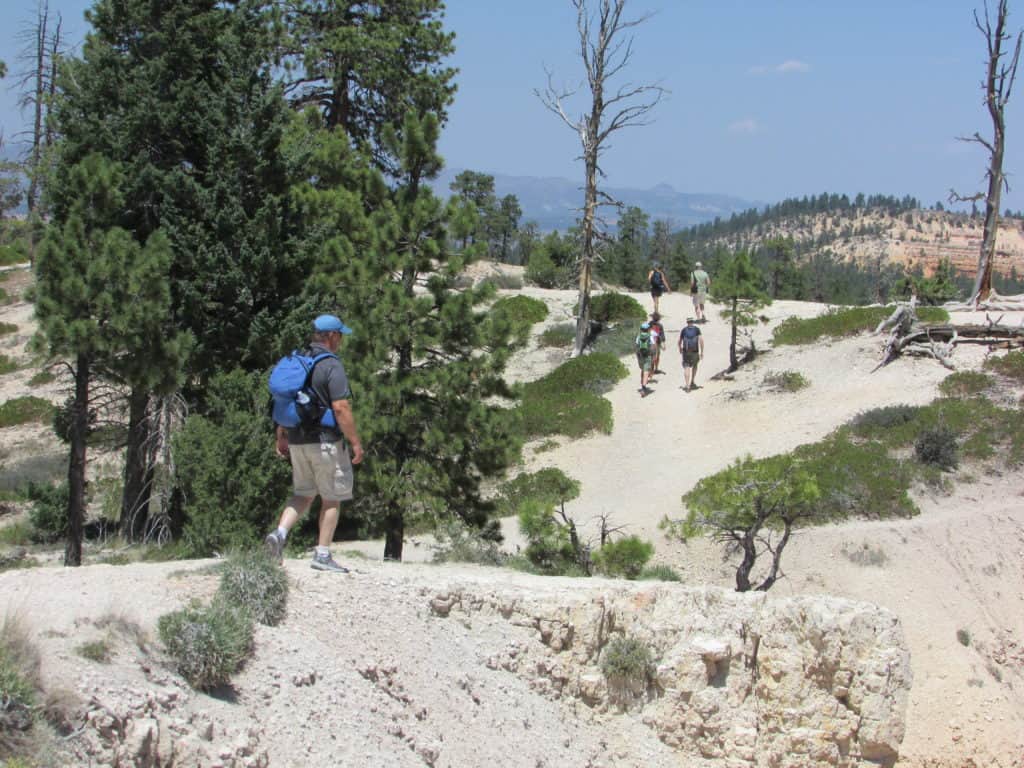 #2 Take it up a Notch: Hike the Bryce Canyon Rim Trail
The Rim Trail is our absolute favorite thing to do in Bryce Canyon. If you only have ½ day to spend here, this is the place. We shared a longer article on hiking the Bryce Canyon Rim Trail here. This is a fairly easy hike that you can keep simple by just hiking between a couple of the overlooks. This is a great way to use the shuttle system, pop off at one overlook and hop back on at another overlook! Here's a quick video of the view from Bryce Point.
The Bryce Canyon Rim Trail connects each of the overlooks. What we liked most was the ability to get away from the crowds that you find at the overlooks and view the canyon without obstructions. It's easy to walk just one section or walk the whole thing.
---
Travel Tip!  You need a great day pack for this day. Once you get on the shuttle, you won't want to go back to your car. Make sure you have water bottles, snacks, sunscreen and a hat at a minimum. This was the day that made me decide I desperately needed to replace my old bag. My back was tired after 12 hours of carrying a load! Check out this list of the best daypacks for women that I put together as a result of that very sore day.
---
#3 Kick into High Gear: Enjoy Bryce Canyon Hiking Among the Hoodoos
Now that you are on the Rim Trail it's very easy to step into the canyon and get up close to the hoodoos. There are several challenging Bryce Canyon hikes that trailhead along the Rim Trail. You can read about our awesome experience on one of the most popular: the Queen's Garden Navajo Loop here.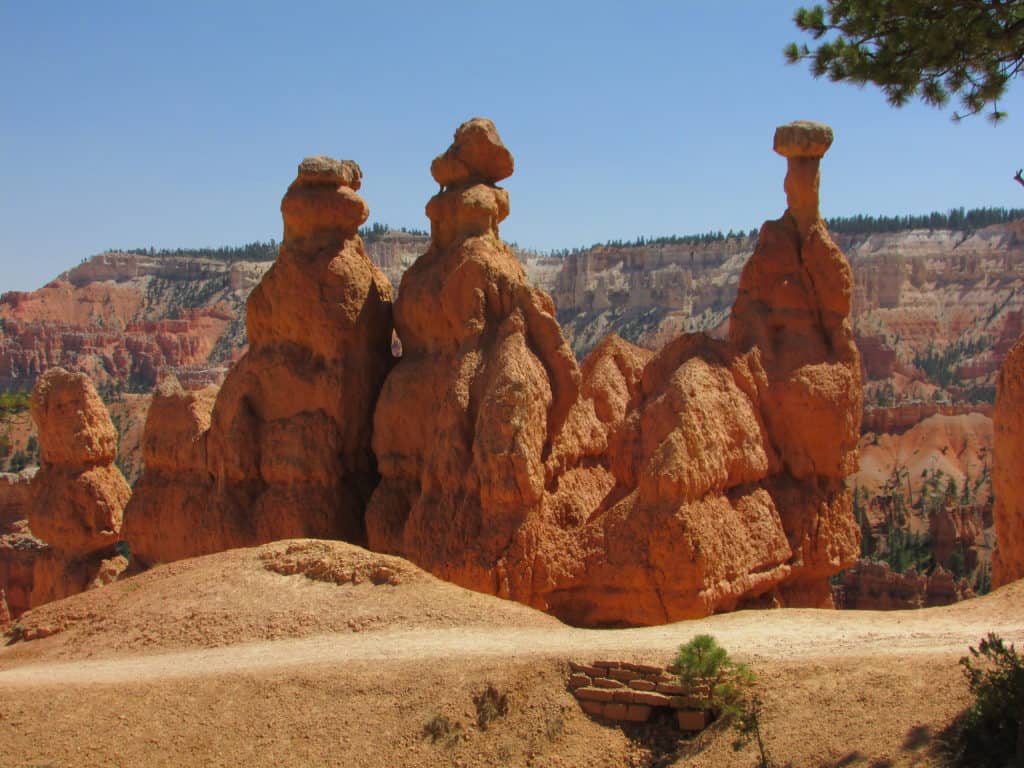 Not feeling up to a serious hike, but want to get close to some hoodoos? It's only a 5 minute hike to the first set of hoodoos on the Queen's Garden Trail. The trailhead is just to the right of Sunrise Point.
#4 Ready to chill? Cruise along the Bryce Canyon Scenic Drive
This is 18 miles of pure heavenly views. From Rainbow Point, the highest elevation in Bryce Canyon, you can see for hundreds of miles. It will bring tears to your eyes. You'll find our complete Guide to the Bryce Canyon Scenic Drive here.
In theory you can do this drive in under an hour, but why rush? Plan a little picnic at one of the overlooks and enjoy a relaxing break while gazing out over the world. We ended our day with this drive and found in the early evening the overlooks were uncrowded, often having the space all to ourselves. How cool is that!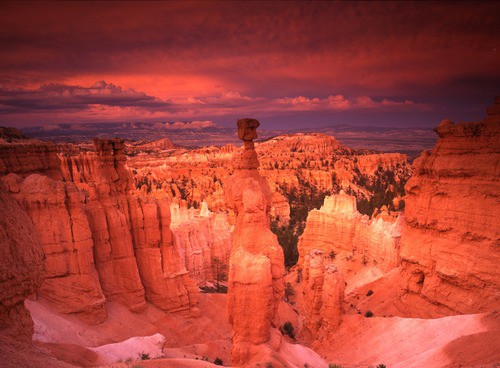 #5 Capture Stunning Sunrises and Sunsets
Sunrise Point and Sunset Point are named as such because of the beautiful images that come about when the sun is low in the sky and the light plays against the colorful layers in the sandstone. You can see both the sunrise and sunset from either point so don't be afraid to shift if it is too crowded to get a good photo at the namesake point.
The list up to here is perfect for a one day visit. If you have a second day on your Bryce Canyon itinerary, consider one of the special Bryce Canyon tours or Ranger Programs
#6 Put on your Cowboy Hat and Saddle Up for a Bryce Canyon tour!
The stark contrast of desolate land with the burning colors in the hoodoos has been used for the backdrop of several iconic westerns. So why not check out a Bryce Canyon Horseback tour through the canyons that inspired these movies? Although you are welcome to bring your own horse, if he doesn't fit in your carry on bag there is a concessionaire who leads family friendly 2-3 hour horseback trips into the canyon between April and October. You can reach out to Canyon Trail Rides for reservations and schedules.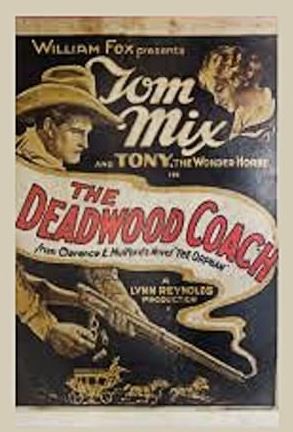 Brad always tells me I have a weird sense of humor, but tell me this movie poster from the 1924 Western Deadwood Coach, which was partially filmed in Bryce Canyon, isn't funny. Do you see it? Second billing went to Tony the Horse… not his romantic leading lady!
#7 End Your Adventure with Bryce Canyon Stars
Throughout Utah you will find the night sky beyond compare because of the incredibly dark nights. The glow of the milky way sweeping across Bryce Canyon on a moonless night will give you chills, it is so beautiful.
No place embraces the dark sky more than Bryce Canyon National Park which hosts around 100 astronomy programs each year. They also sponsor a huge Astronomy Festival in late June. To participate in one of the programs, just show up. You can get the current schedule at the visitor center.
Where to stay in Bryce Canyon National Park
Hotels in and around Bryce Canyon
The Lodge at Bryce Canyon is a gorgeous historic building with over 100 rooms and cabins. It is situated right on in the middle of the Bryce Canyon Amphitheater. You can walk out the door and enjoy hikes and views that will blow your mind.
Or take a look just outside the front entrance, in the community of Bryce Canyon City, for several really nice motels. The Bryce Canyon shuttle picks up visitors at several points throughout the town, making it easy for visitors to travel into the park.
To search for the best hotels in Bryce Canyon City, click here.
Camping in Bryce Canyon
You'll find 2 campgrounds in Bryce Canyon National Park with almost 200 camp sites. Due to the higher elevation, the campgrounds in Bryce Canyon are more temperate than those in the nearby desert park Zion. Even so, be prepared for desert camping as it can still be quite hot in the summer.
We found great campgrounds in the nearby Dixie National Forest.
The beauty of Bryce Canyon will touch your soul so make sure you leave time in your Bryce Canyon Itinerary to just stop and admire the vistas.
If you have any other suggestions to share with your fellow readers, drop them in the comments below! Let's help each other plan amazing vacations. And make sure you Save this to your vacation board so you can find it easily as you plan your Bryce Canyon Itinerary!
This post contains a couple of affiliate links to make it easier for you to find products I have mentioned. You don't pay any extra and in some cases I could earn a small commission.