We just completed one of Brad's bucket list hikes: the Highline Trail, Glacier National Park. If it isn't on your list, add it right now! Here's what you need to know so you can enjoy the perfect hike on the Highline too.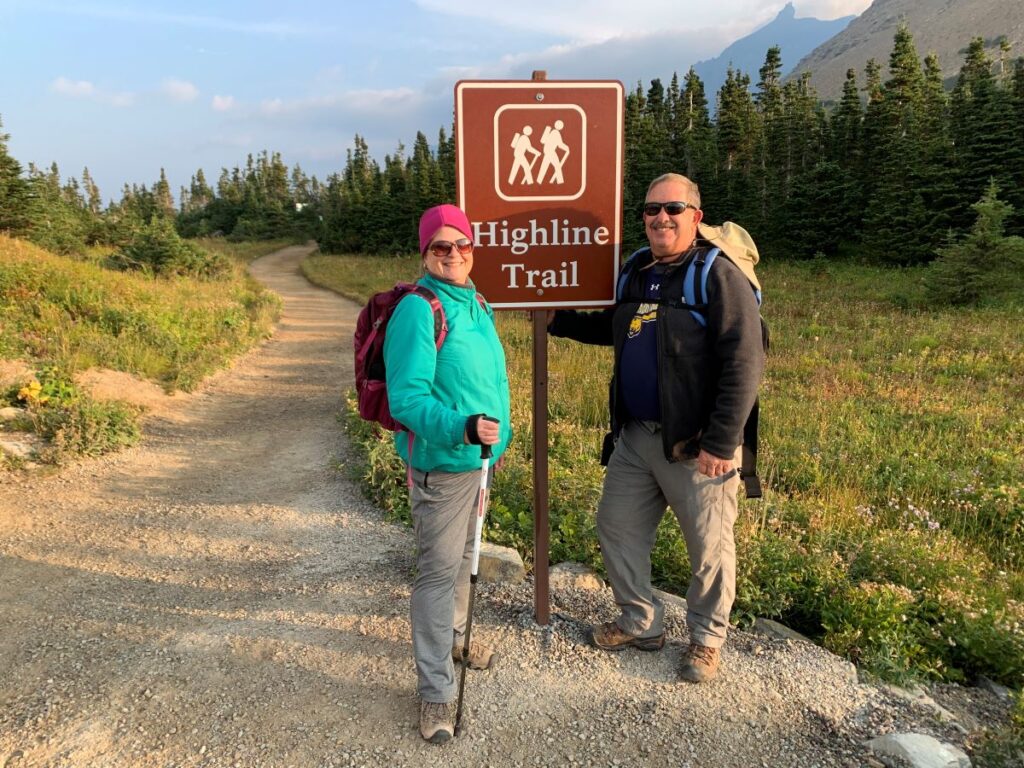 Just a heads up, this is a tough hike. But with a little planning and patience, we believe the Highline Trail in Glacier is very doable by any average hiker. We hiked the Highline in mid-September along with our daughter, Kira, and her husband Blake. It was marvelous!
What is the Highline Trail Glacier National Park
The Highline Trail is a very challenging 7.6 mile (one-way) trail that runs between the Logan Pass Visitor Center (at the top of Going to the Sun Road) and the remote Granite Park Chalet. Much of the trail follows the stunning Garden Wall. 
It is unique, starting with a narrow trail along a ridge with a steep drop-off. You've probably seen pictures of the beginning of this hike where hikers are holding onto a steel cable attached to the wall of the cliff as they cross the 4-foot wide path.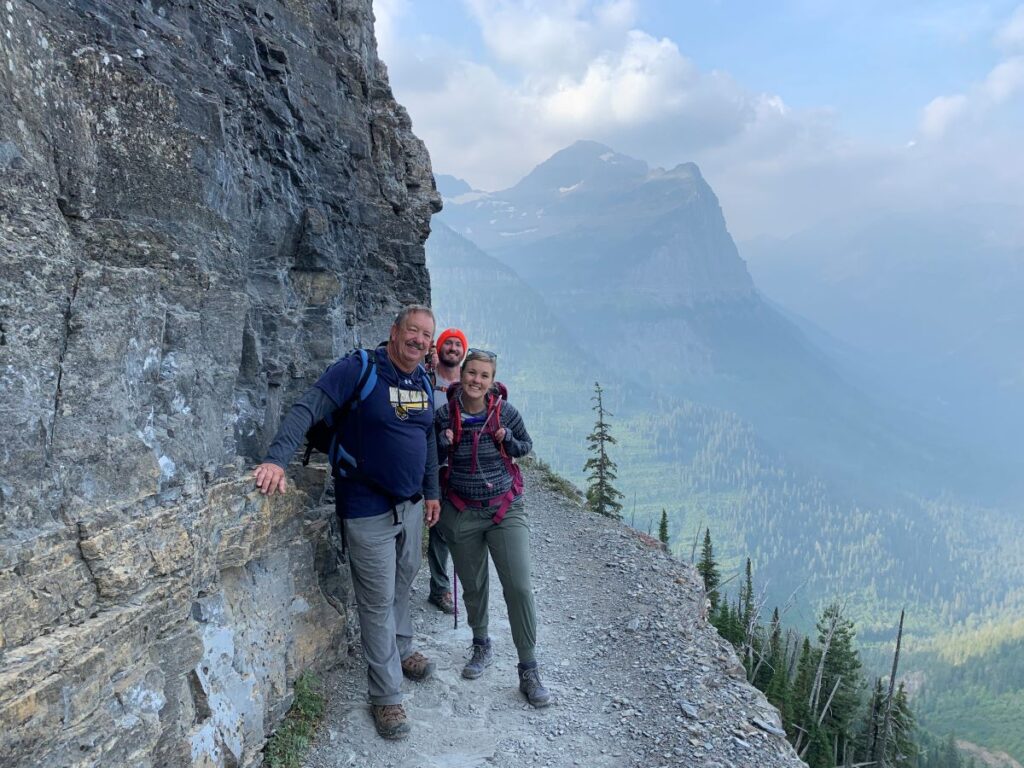 The trail travels high above the tree line where you see the most beautiful panoramic views of Glacier National Park. 
How Hard is the Highline Trail in Glacier National Park
The Highline is rated a difficult hike for several reasons. 
The narrow trail at the beginning can be frightening if you have a fear of heights. It is a straight drop-off.
That same narrow trail can be slippery when snow is still on the trail, and sometimes that can be into early July.
It's a long hike, depending upon which route you choose (more below) it will be a 12-15 mile full day of hiking.
Most of the elevation change (only 690 feet) happens in a very short section, making that portion of the route very challenging.
However, due to the limited elevation change, with a little patience, it is a hike most active people can conquer (even if you are a little afraid of heights).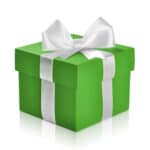 Looking for gift ideas for your favorite Hiker? Check out our Unique Guides!
Two Preferred Routes to Day Hike the Highline Trail in Glacier
As a day hike, there are 2 common routes for hiking the Highline Trail. There are a few things you should know before deciding which one is best for you. From our observations on the trail, I don't think one is more popular or better than the other. However, there are a few significant differences that will influence your choice.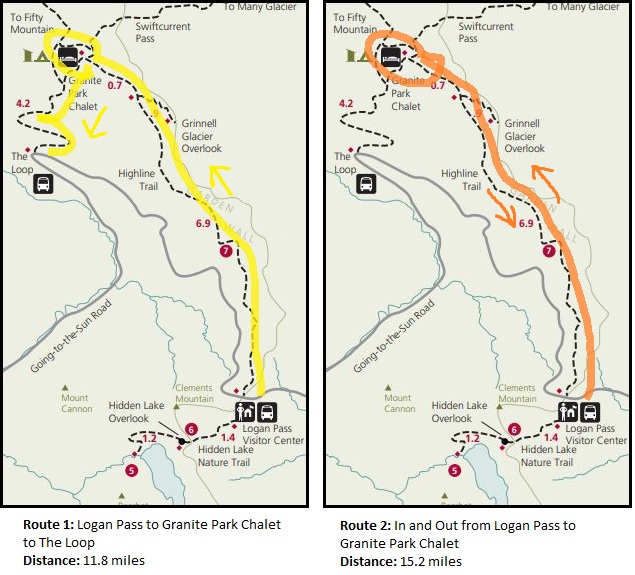 Route #1 Logan Pass to Granite Park Chalet to The Loop
This route starts at the Logan Pass Visitor Center and ends at the parking lot in the hairpin curve on Going to the Sun Road known as The Loop. This one-way route combines the 7.6 mile Highline Trail with the 4.2 mile Loop Trail for a total hike of 11.8 miles.
The Loop
The Loop is a very sharp hairpin curve on Going to the Sun Highway, where the road loops back on itself. The Loop Trail connects Granite Park Chalet with The Loop Parking lot. It is a fairly steep trail, losing almost 2000 feet of elevation over its 4 miles. It quickly drops below the treeline and passes through a lot of dense trees and brush. 
Of course, you could do this in reverse but most hikers prefer to hike this steep elevation change going down instead of up.
Using the Hiker's Shuttle
Most hikers use the free Glacier Hiker's Shuttle to travel between the parking lots at The Loop and Logan Pass. You can choose to park at The Loop and shuttle before you start your hike, or park at Logan Pass and shuttle at the end of your hike. My recommendation is to park at the loop and shuttle at the beginning of your day. There is nothing like being able to hop into your car, grab a fresh snack and take off right away after a long day of hiking. 
For our mid-September hike, we chose to take 2 cars and park at each end. By our mid-September hike, the shuttle hours were reduced to 8 am to 5 pm. I'm a slow hiker and was confident we wouldn't complete our hike in that limited window. Turned out to be the right call for us. 
I wouldn't recommend the 2-car solution during the summer as parking is at a premium and shuttle hours are longer. You'll find the shuttle a convenient solution.
Pros and Cons of Hiking the Highline Trail as a Loop
Pros of exiting on The Loop Trail.
You reduce your hike by over 3 miles.
You will likely see more small wildlife and birds on The Loop Trail.
Cons of ending with The Loop Trail
The descent on the last 4.2 miles of The Loop Trail is 2,000 feet. It's just enough decline that it can be hard on your knees. I had to stop about ½ way and wrap my knee.
There isn't much of a view on The Loop Trail. It is mostly overgrown brush and trees that block the view of the valley below.
Connecting with the shuttle back to Logan Pass can take time, as the shuttle is busy. During shoulder season, the shuttle hours are limited so we were passed by a few hikers racing down The Loop Trail to catch the last shuttle of the day.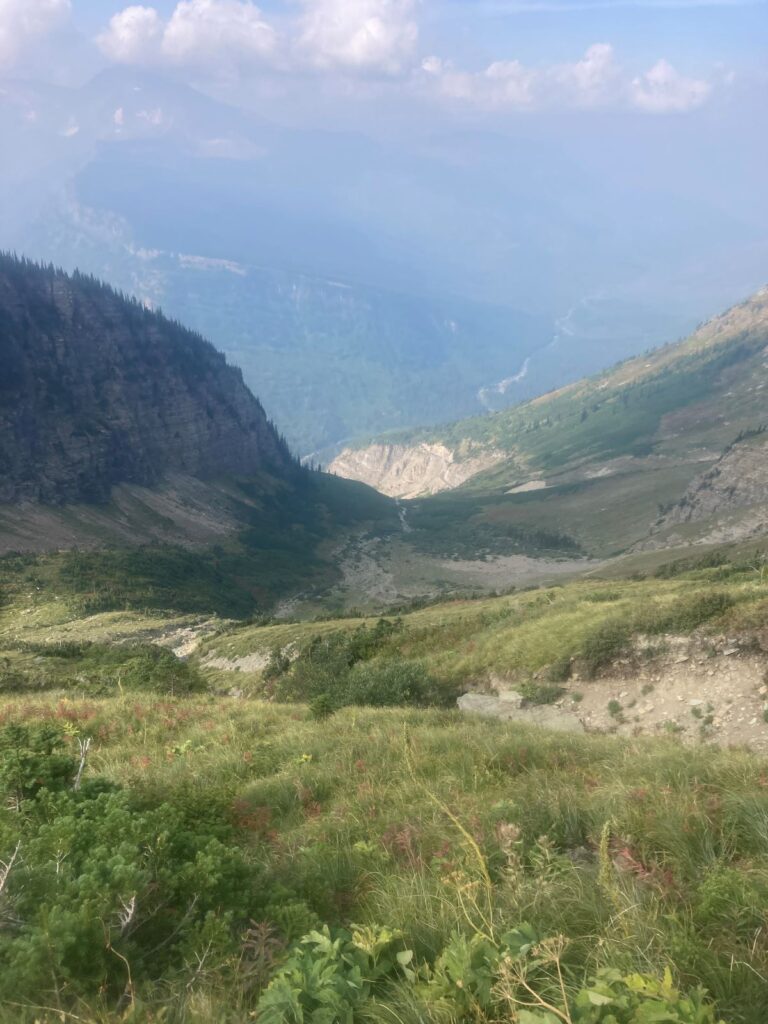 Route #2 Make it an "In and Out" Hike from Visitor Center to Granite Park Chalet
Just as popular is hiking the Highline Trail as an In and Out starting at Logan Pass. Then turn around and come back along the same trail when you reach Granite Park Chalet. It's a long 15.2-mile hike, but keep in mind that you only have one section with significant elevation change. Most of the hike will be gentle elevation changes. 
There are several reasons to use this route, but the biggest is that you can turn around at any point. So if 15 miles is a bit intimidating, turn this into a 5-6 mile hike by turning around a few miles from Logan Pass. The views are well worth it anywhere on this trail!
Pros and Cons of Hiking the Highline Trail as an In and Out
Pros of an In and Out
You can turn around any time to adjust the hike to your preferred length.
It's easier on the knees, avoiding the sharp decline to The Loop
No worries about shuttle timing, you just return to your starting point and your car.
Cons of In and Out on the Highline
You see the same views twice, although I'd argue that's probably not true as seeing a view from the opposite direction always feel fresh to me.
It's a longer hike by 3 miles.
How Much Time Should I Plan to Hike the Highline?
This is generally a 6-8 hour hike according to almost every hiking resource I checked. However, we took almost 11 hours to complete the Loop. 
Why was it longer for us? Well, first off Brad and I are slow hikers. We aren't spring chickens anymore but can hike long distances if we take our time. Second, we like to stop a lot when we hike so we can take in the view, soak up the joy of the mountains and grab great photos. That's why we are there… right?
What if You Don't Have Time for a Full Day Hike?
We discovered quite a few Glacier National Park Visitors hike just a few miles of the Highline Trail. To make this a shorter hike, you would still start at the Logan Pass Visitor Center Trailhead. 
For a ½ day hike (3-4 hours) I'd suggest you hike to the Haystack Pass where you reach the highest point of the trail. It's a great spot to take a break and enjoy the amazing scenery. For shorter hikes, try to go at least 2 miles along the trail so you can experience the beauty of the open trail after the narrow cliff section. 
Wilderness Backpacking Trips that Include the Highline Trail
If you want to include the Highline Trail in an extended backcountry hiking trip it would be fun to spend a night at Granite Park Chalet. Or you could continue from the Chalet to either Swiftcurrent Lake or head North on the Continental Divide Trail.
Backpacking into the Wilderness of Glacier National Park requires planning to reserve backcountry campsites and organize transportation. Learn more on the NPS Wilderness page.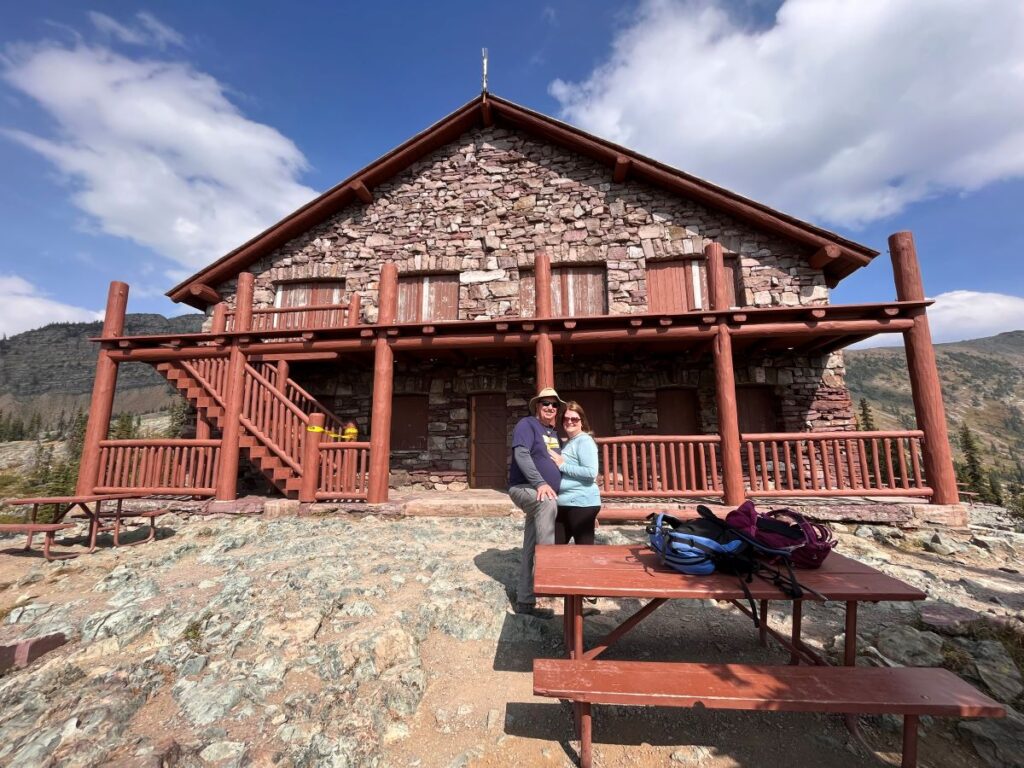 What is Granite Park Chalet
Granite Park Chalet is a National Historic Landmark that can only be reached by trail. It was built in 1914 by the Great Northern Railway to provide comfortable backcountry accommodations to park visitors. Today it is still an active, although rustic, lodge for hikers. 
Staying at the Granite Park Chalet
Reservations for Granite Park Chalet are in high demand so plan to get your spot. The 12 rooms have 2 to 6 bunk beds. And the lodge has a shared kitchen where you can prepare your meals, either from the food you've ordered ahead or that you have packed in yourself.
There is also a small retail store where both guests and hikers can purchase food and beverages. 
You'll find a mix of guests at the Chalet, some who have hiked in on the Highline trail that turn around the next morning. And others who stay several days exploring more of the backcountry hikes that fan out from the Chalet. It's the perfect choice for those who want a wilderness experience but don't like camping.
Camping at Granite Park Chalet
There are 4 wilderness campsites near the Granite Park Chalet. Those sites must be reserved through the Backcountry Office far in advance. Because of the high demand for this particular spot, there are a couple of extra rules. First, you can only stay at the Granite Park Chalet Campsite for 1 night. And second, the reservation must also include a second night of backcountry camping extending that trip.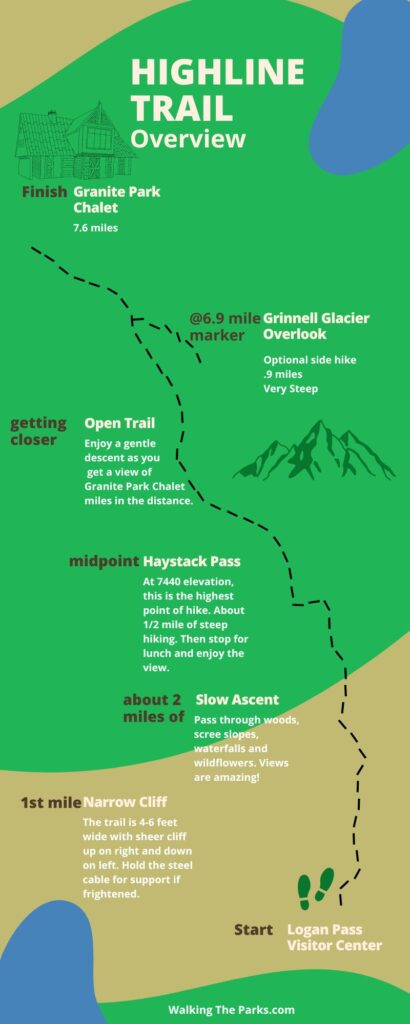 Detailed Description of the Highline Trail
Here's a closer look at the Highline Trail so you know what to expect on your hike:
The Highline Trail starts at Logan Pass and runs parallel to the Garden Wall. Since Logan Pass has an elevation of 6600 feet you have the advantage of already starting your hike at a high elevation. The trailhead is easy to find. From the Logan Pass Visitor Center follow the sidewalk past the shuttle stop and cross Going to the Sun Road. The trail is well-marked. You'll also see a sign updating about bear activity.
After a short ¼ mile walk through wildflowers you arrive at what many consider the scary part of the hike. The path is 4-6 feet wide. On your right is a wall straight up.  And on your left, the wall drops straight down. The park has installed a rubber-coated steel cable along the wall that you can hold if you feel a little nervous. In wet or icy conditions that cable would be much appreciated!
The trail makes a gradual descent and below you can see the Going to the Sun Road descending much faster than you. In the distance is an amazing view of the mountain range. You'll cross several streams, and the amount of water will vary seasonally. On our fall hike, the water was little more than a trickle.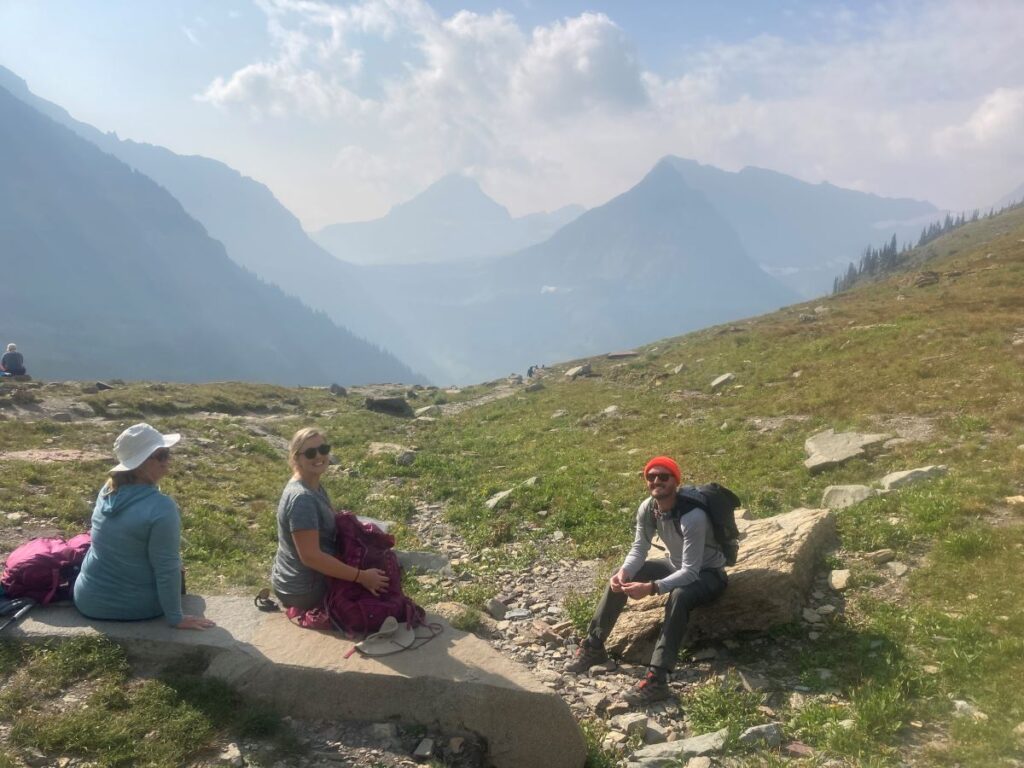 You'll pass through lightly wooded areas, open wildflower fields, and a few scree slopes (boulders on a hillside) as you approach Haystack Butte. 
Haystack Pass is the highest point in this hike (7440 ft) and it is also the midway point. The mile approaching it is a little steep but not horrible. There is a lot of open area with huge boulders here where you'll find a lot of your fellow travelers eating their lunch and enjoying the astounding view. 
After Haystack Pass the trail is an easy slow descent as you approach Granite Park Chalet. As you go around a ridge you will see the Chalet off in the distance. Looks are deceiving though as it's still over 2 miles away the first time you spot it!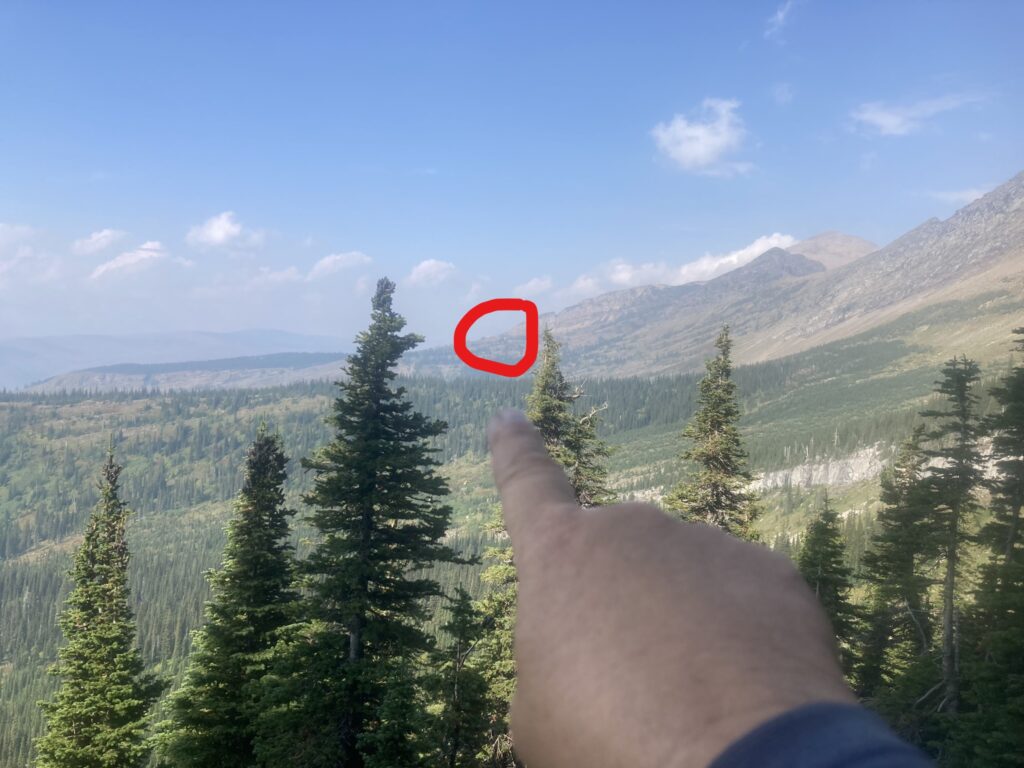 At the 6.9-mile marker, there is a trail to the right to the Grinnell Glacier Overlook. Although it's only a 0.9 mile trek, it's also very steep. So we chose to skip the side hike. Many fellow travelers told us it was well worth the extra effort. 
And then you are at Granite Park Chalet! If there is room, sit on the front porch and enjoy the view before you finish your hike.
What is the Garden Wall in Glacier National Park?
The Garden Wall is a geological formation called arêtes. That means 2 glaciers came together and through erosion created a ridge. So the Garden Wall in Glacier is a long ridge with a steep wall. Both the Highline Trail and Going to the Sun Road follow the Garden Wall between Logan Pass and The Loop.
You might find some references to the Highline Hike as The Garden Wall Hike because the trail parallels the wall. While on the Highline Trail you can access the peak ridge of the Garden Wall in 2 places. The Grinnell Glacier Overlook Trail (mile marker 6.9) and through the Swiftcurrent Pass.
The Grinnell Glacier Overlook Trail from the Highline
Many hikers of the Highline take the short 0.9 mile side trail to the Grinnell Glacier Overlook. It's a very steep trail with 970 feet of elevation gain. However, the view of Grinnell Glacier from the ridge of the Garden Wall is one of the best in the park.
Reaching the Garden Wall at the Swiftcurrent Pass
Just as you approach the Chalet, there is a well-marked trail to the right that will take you to Many Glacier. If you just follow it 0.8 miles you'll reach the Swiftcurrent Pass that sits on the ridge of the Garden Wall. Again the views are amazing. And during the summer wildflowers will be abundant.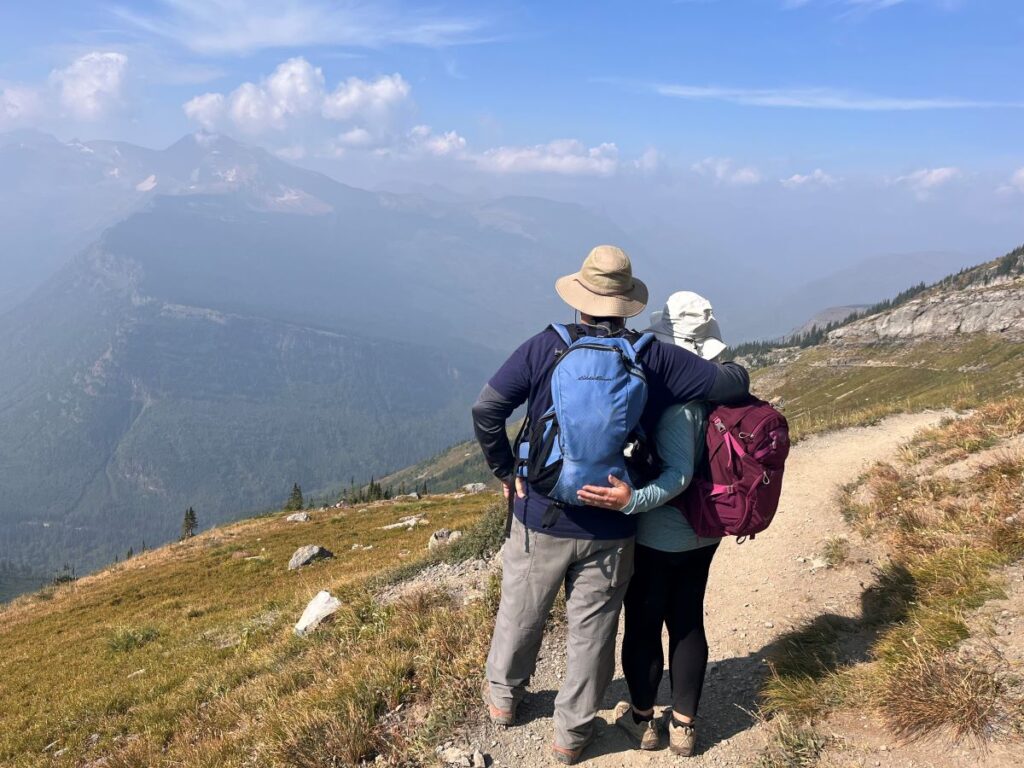 Best Time to Hike the Highline
Let's take a look at the best time for hiking the Highline. Patience is going to be important on this hike because of its immense popularity.
Best Time of Day to Hike the Highline
If you are parking your car at the trailhead, the best time of day to hike the Highline Trail in Glacier is to start early in the morning. The parking lot at both Logan Pass and The Loop will fill up quickly. Many hikers will come into the park at 5:30 am to avoid needing a Going To the Sun entry pass. That gets them to Logan Pass around 6:30. 
The problem with such an early start is occasionally the trail is fogged in. No worries, just take your breakfast and chill for an hour or so until the sun burns off a few of the clouds.
For our mid-September Highline hike, we left our campsite in Apgar around 6:15. We parked car 1 at The Loop with plenty of parking available. But by the time our car 2 arrived at Logan Pass (7:10 am) the lot was 80% full. We made a potty stop, which took forever because everyone else had the same idea, hitting the trail at about 8 am. By that time there were zero parking spots available.
Using the hiker's shuttle will remove a lot of worry about getting a parking space. Just make sure you have checked the schedule. Also, be prepared to wait in long boarding lines during peak hours.
Best Time of Year for Hiking Glacier's Highline Trail
Early July to Mid September is the best time to plan your hike on the Highline. 
Due to snow coverage, Going to the Sun Road usually doesn't open for the summer until late June or early July. Until that road is open you don't have access to these trailheads.
Planning your hike for September brings cooler weather. Since most of the Highline Trail is in full sun, cooler weather is welcome. But… mid-September can also bring snow. The week of our September hike brought perfect hiking temperatures in the 60s and 70s. A week later it snowed at higher elevations. It's unpredictable.
Wildlife on the Highline Trail
Are there Bears on The Highline Trail?
Yes, there are grizzly bears on the Highline Trail. I chickened out the first time we started a partial hike on the Highline. Needless to say, Brad was not happy. At the trailhead, there was a big sign about recent active bears on the trail. We walked as far as the narrow ledge and I just knew I didn't want to meet a bear in that section.
Ok, so maybe I overreacted. But it is critical that you carry bear spray with you on this hike. Make noise as you walk so you don't surprise a bear that may be crossing the trail. The good news is that the Highline is well traveled so you'll also have other hikers making noise as they go.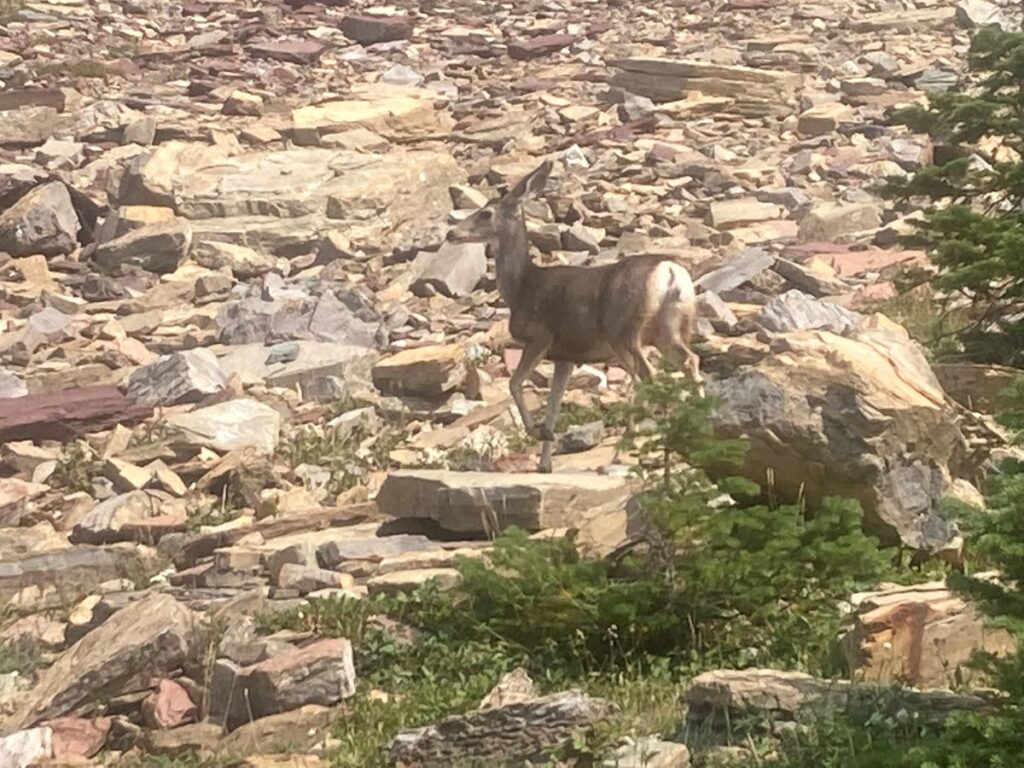 Other Wildlife you Might Encounter on Glacier's Highline Trail
Even though the Highline is a very busy trail, wildlife is still abundant. In addition to bears mountain goats, big horn sheep, marmots, and deer are commonly observed.
During our day on the Highline Trail, we saw several whitetail deer, a marmot, a coyote, and a few ground squirrels. The coyote was tracking the deer which was a little sad to think about. And, the squirrels were looking for a free lunch.
What to Bring when Hiking the Highline
Here are a few things to make sure are in your backpack before heading out on your hike:
Backpack – Get one that has good support and can carry a gallon of water. We cover our favorite daypacks for women in this guide.
Drinking Water – There is no potable water on this trail. In season, you can usually purchase additional water at Granite Park Chalet. But it's better to not count on it, just in case their inventory runs out.
Bear Spray – You can rent in Apgar Village if you don't want to buy a canister. Make sure it is close at hand and you know how to use it!
Hat and Sunscreen – There is very little shade on this hike. And because of the higher elevation where the air is thinner, you'll burn easier.
Layered Clothing – Temperatures will change a lot throughout your day of hiking. You'll be most comfortable if you can take your clothes off and on. We started with winter hats and gloves and were down to shorts by mid-afternoon.
Food – This will be a long day of hiking. Bring high-energy snacks to keep you going! We gathered some unique hiking lunch ideas here.
Rain Jacket – Mid-afternoon rains are common in the mountains during the summer.
Binoculars – I almost took these out of my pack to reduce weight. I'm so glad we had a pair. The views are amazing. Check out our guide to lightweight hiking binoculars here.
Hiking Poles – If you plan to include The Loop Trail or a side trip to Grinnel Glacier Overlook you will appreciate hiking poles on the steep elevation.
Snow – Ice Cleats – In early July and again in late September snow and ice will still be on portions of the trail. Slip a pair of cleats over your boots and you will feel much more secure walking on the narrow sections. Here's a guide to our favorite ice cleats.
Other Things to Know Before You Hike Highline Trail in Glacier
Going to The Sun Road Requires a Reservation
The Highline Trailhead is only accessible from the Going to the Sun Road which requires an advance reservation ticket during peak season and hours. If you can't get a reservation you have a couple of other options. Since reservations are only required for a specific time window each day, option 1 is to get in the park very early before reservations are required for entry. The other option is to park at the St Mary visitor center and ride the hiker's shuttle to the Trailhead.
During peak season from July into early September, you will not be able to enter most areas of Glacier National Park without a vehicle reservation pass. And Going to the Sun Road requires a reservation starting in May. There is a high demand for passes and most days sell out far in advance. So as soon as you think you are going to vacation in Glacier, go online and get your passes. For details check out our detailed Guide to National Park Reservation Requirements.
There is a Vehicle Size Restriction on Going to the Sun Road
Notice that tight curve at The Loop? Well, there are more tight spots along the way. For this reason vehicles over 21 feet long and wider than 8 feet aren't allowed on Going to the Sun Road. Another good reason to plan to use the shuttle!
Plan for No Cell Service in Glacier National Park
Cell service is spotty and very random in Glacier National Park so it's safer to plan your trip with the expectation of never connecting. That means downloading maps and passes to your phone so you can access them. We also like taking a photo of maps at trailheads. 
Weirdly enough, as we approached Haystack Pass everyone's phones started going off. At first, I found all the alert dinging annoying. But later when I realized we were going to be late picking up our dog from the kennel, I was grateful for the ability to text them. (Check our guide to dogs in Glacier National Park.)
High Altitude Sickness is a Real Danger on the Highline Trail
For flatlanders, like us, enjoy a day or two in the park before you try a strenuous hike at a high elevation. We spent our first day exploring the North Fork area of Glacier National Park so we could get our system used to the higher elevation before tackling The Highline.
Other tips to reduce the risk of altitude sickness include drinking lots of water, making sure you eat regularly, and avoiding alcohol. You'll probably find you need to rest more often than normal or take those steep inclines a little slower.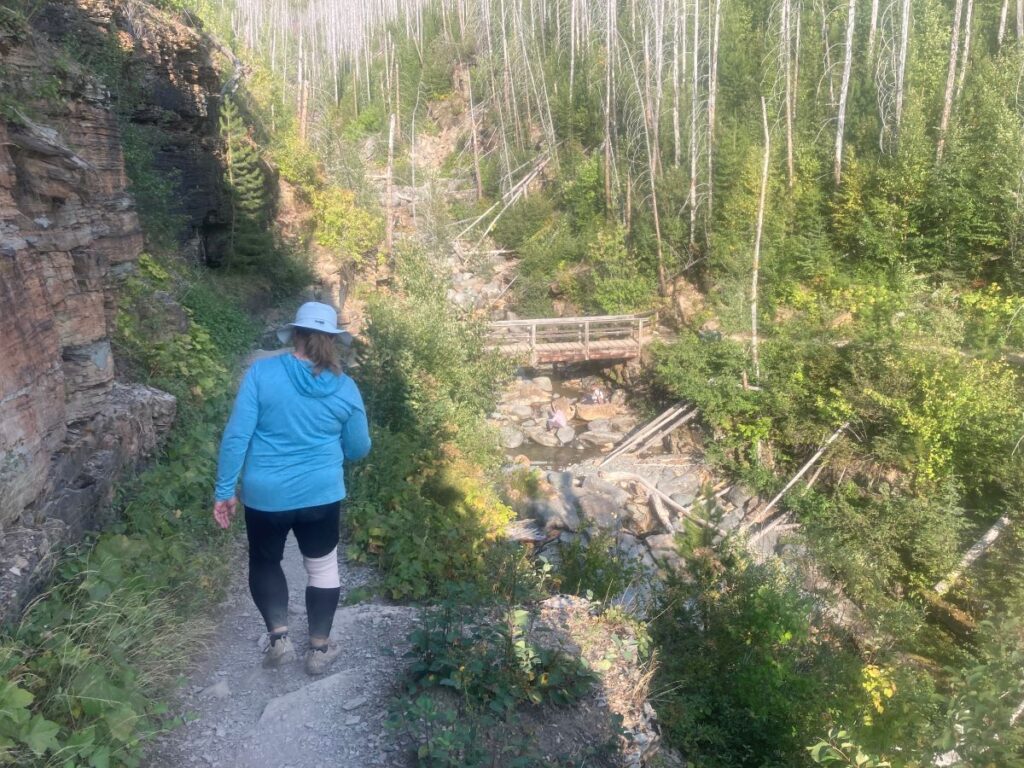 Last Thoughts on Hiking the Highline Trail Glacier National Park
There are not many hikes that I'm anticipating repeating because we have such a long hiking bucket list. However, if we have time I'd love to re-hike the first half of Glacier's Highline Trail. It was that stunning!
I hope this article on hiking the Highline Trail Glacier National Park inspires you to give it a go.
For other amazing hike ideas check out our list of the Best Hikes in Glacier National Park. And for when you are not hiking, check out our Guide to Things to Do in Glacier.