If hiking to a roaring waterfall brings much joy to your soul, consider what three waterfalls will do for your spirit. That is exactly what you will find when you hike to Ouzel Falls in Rocky Mountain National Park. To add an extra helping of relaxation, most of the hike you will travel along a lovely babbling creek.
This post contains a couple of affiliate links to make it easier for you to find products I have mentioned. You don't pay any extra and in some cases I could earn a small commission.
First Waterfall: Copeland Falls where you get 2 for the price of 1
We hiked to Ouzel Falls in August and the day was wonderful. Even on a warm August day the trail was comfortable due to the shade supplied by the forest. Just 10 minutes into the hike you will be rewarded with your first set of waterfalls, the Lower and Upper Copeland Falls. Since you are just getting warmed up you probably won't want to stay long on your way up. Keep this beautiful location in mind for that last break before you hop back into your car.
Second Waterfall: Rumbling Calypso Cascades
From Copeland Falls it is another 1.5 miles to Calypso Cascades. Now you will definitely want to take a break and take in the beauty of this spot! In August Calypso Cascades had settled down to a gentle roar so kids (and adults alike) were playing in the water. If you arrive in June the water is seriously raging through this long descent.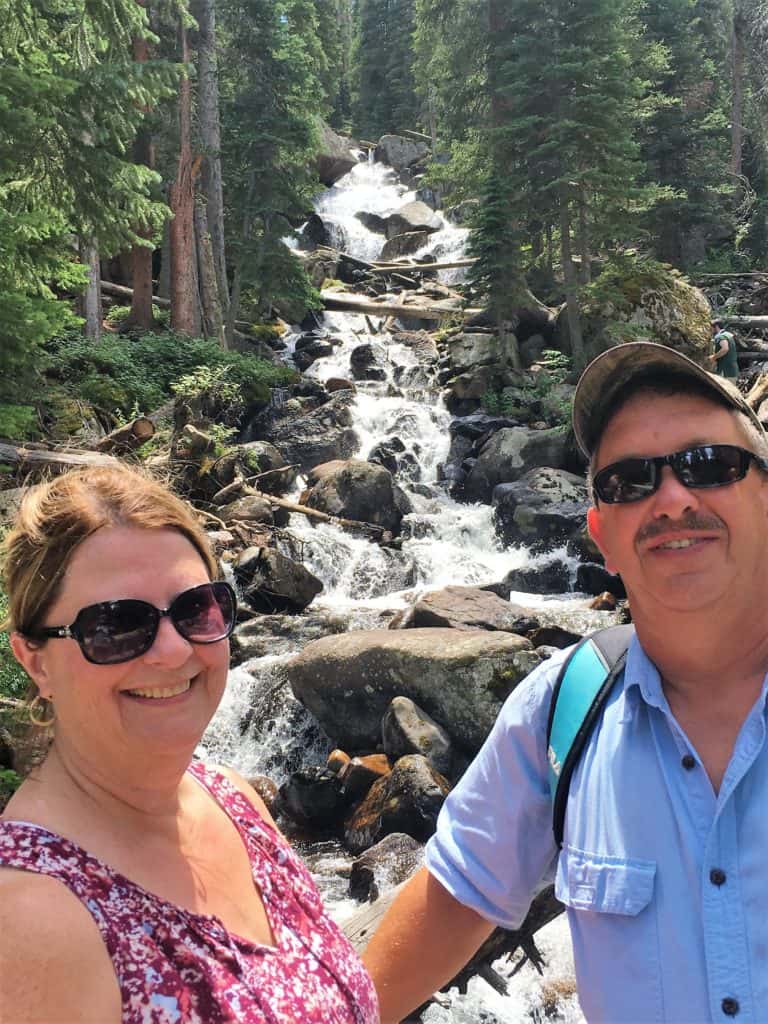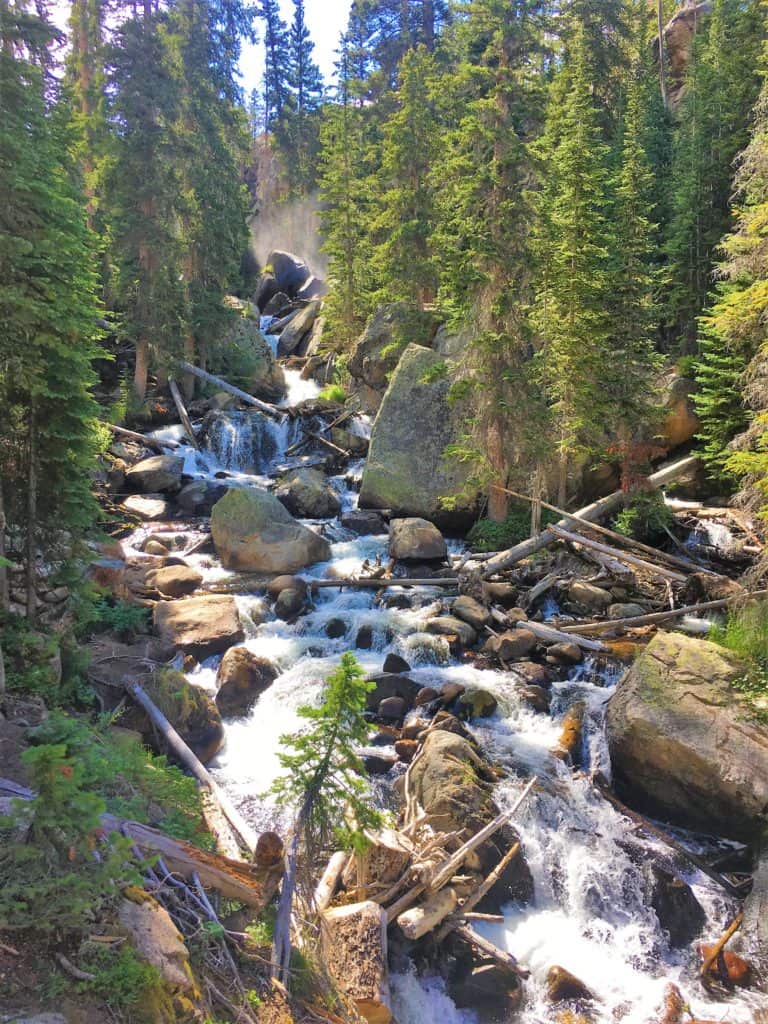 Third Waterfall: Impressive Ouzel Falls
Your last stop is one of the tallest waterfalls in Rocky Mountain National Park: Ouzel Falls. It is beautiful to watch water rush over the full 40 foot drop. We enjoyed lunch sitting on the boulders alongside the falls. You can easily imagine how amazing this spot must be through the various seasons, a giant frozen waterfall in the winter and a tumultuous powerhouse during the early summer thaw.
About the Hike to Ouzel Falls
Hiking to Ouzel Falls is a perfect ½ day hike at 5.4 miles round trip. Although rated moderate, it is a very family friendly hike. We passed many families on the trail. I suspect the moderate rating is due to the elevation gain where you have a few rather steep switchbacks. Good news is that the switchbacks are on a solid dirt path that is easily passable.
Located in Rocky Mountain National Park's Wild Basin area, this is a very popular hike. When the guide books say get there early they mean it. We piddled around over breakfast and arrived mid-morning. That meant we had to park almost 2 miles from the trail head. We hadn't planned to turn that 5.4 mile hike into a 9.4 mile hike. On the way in it didn't see like a big deal, it's a nice walk along a level wooded path. But on the way out when we were dirt tired it was not fun. Luckily a family picked us up and dropped us at our car. If you read about our hike to Rocky Mountain's Sky Pond, (read it here) you might remember that this is not the first time we relied on the generosity of fellow hikers to get back to our car.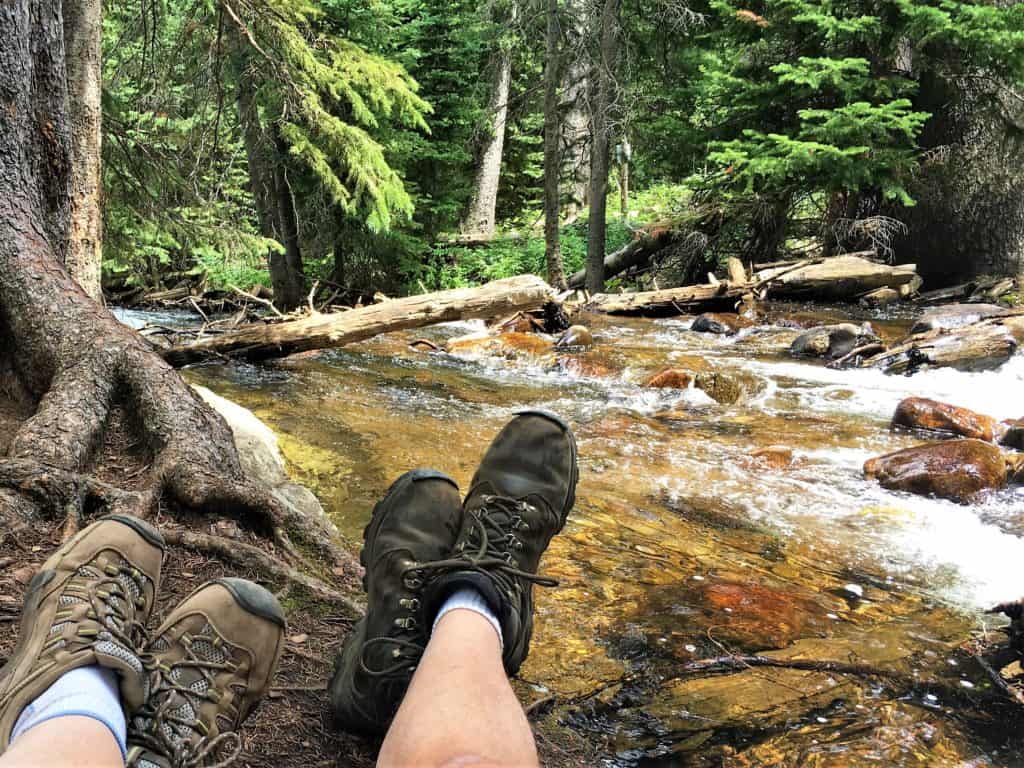 The trail follows St. Vrain Creek for most of the hike. The creek is fast flowing so you will enjoy the sounds as you walk. Never one to resist relaxing along beautiful water, we took a quick break alongside the trail.
What's an Ouzel?
Are you even a little bit curious about how Ouzel Falls got its name? For that matter, what is an Ouzel? The Ouzel, aka American Dipper, is a very unique little bird that can walk underwater. According to Audubon Society.org the ouzel "may dive, "flying" underwater and walking on the bottom, probing under stones in streambed" for insects. They are prevalent along western mountain streams. Brad, a bird aficionado, was excited to see one along the trail but disappointed he wasn't able to get picture. Here's a recording of their song that is able to be heard above the sound of moving water.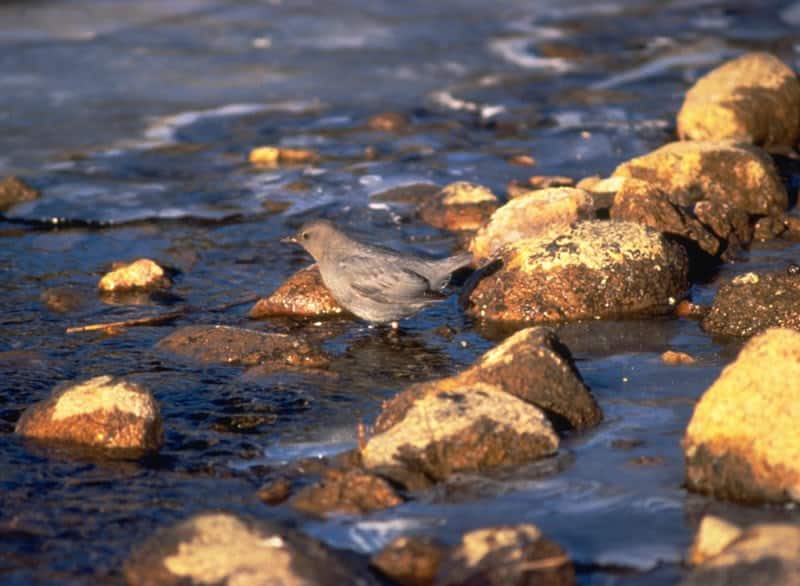 If you are headed out to Rocky Mountain National Park, please include Ouzel Falls in your Must Do list. Also Pin this post to your Travel Pinterest board so you don't lose the information. This is very unique hike with not one but three awesome waterfalls that you won't want to miss. If you have already hiked Ouzel Falls, please share your experience in the comments below. We'd love to hear your story.
Tips for Hiking to Ouzel Falls
Here is a Link to Rocky Mountain National Park Wild Basin map for directions.
There are several other interesting hikes in the Basin that you might want to explore while in the neighborhood.
Get there early, especially on the weekend, to get a parking spot.
Plan for a couple strenuous sections of switchbacks with your hiking poles, water and snacks.
Allow plenty of time to relax by the falls. That's what it's all about, right!
Use precaution for ticks, such as wearing a hat, as you are under trees most of the hike. I like to spray my socks and ankles with a natural insect repellent like Repel® Plant-Based Lemon Eucalyptus Insect Repellent.
Looking for more hikes in Rocky Mountain National Park? Check out these great resources.
---
Looking for other things to do in Rocky Mountain National Park? Here are our top articles about the park:
And Here are our Favorite Day Hikes you'll want to Check Out if you Love Sky Pond: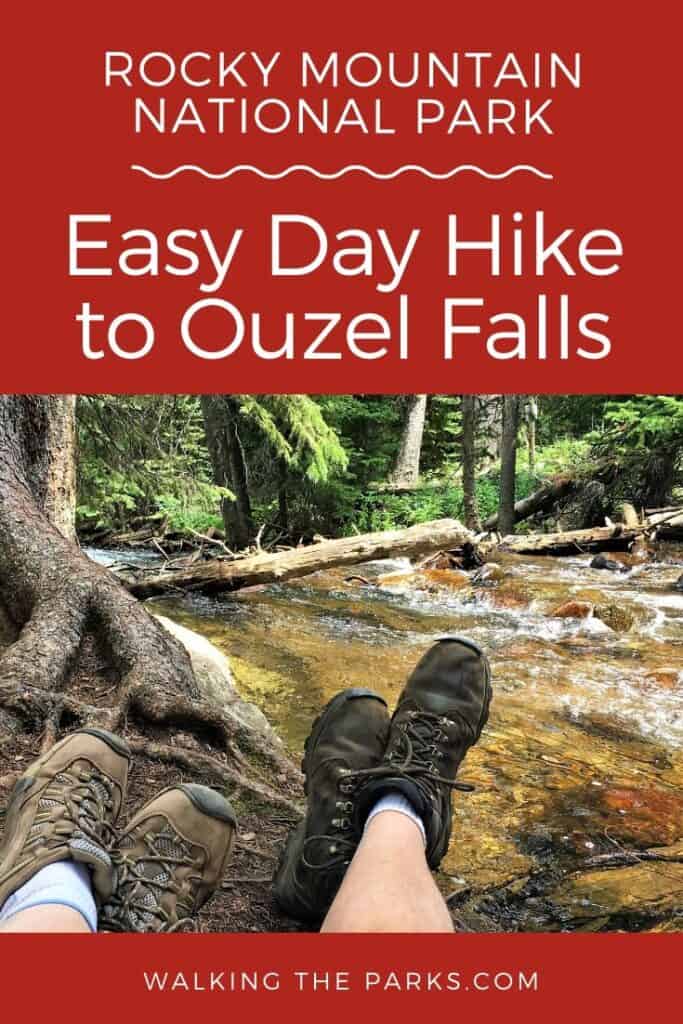 Don't Let the Planning Overwhelm You!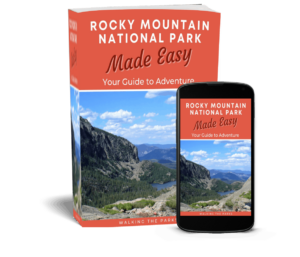 Plan your perfect trip to Rocky Mountain National Park!
Check out our complete digital Guide to Rocky Mountain National Park. This is written specifically for the first time visitor to make your trip planning easy! Over 90 pages of things to do and see on your adventure. Plus get pro tips for planning your adventure.
Start planning immediately with Digital Download!
---
The Authors: Hey, we are Ladona and Brad, avid campers and hikers. We are crazy about getting outdoors at every possible moment and have decades of experience exploring nature. Our current goal is to visit all 63 US National Parks and just completed #42. WooHoo! Our mission is to help you plan your own adventures and create memories beyond your imagination!