Over the past few years we have seen a huge trend on the trail of women wearing leggings when hiking. I've always liked the durability of a good, high quality, pair of hiking pants or shorts but… wow those ladies sure looked comfortable. So I set out to discover what makes the best women's hiking leggings. And to also answer the question: Are hiking leggings for women really any good on the trail.
Without a doubt the top reason women want to hike in leggings is they are super comfortable. Leggings and hiking tights stretch and twist with your movement. They don't bind or dig into your skin. That's why so many of us practically live in leggings.
BUT… when it comes to leggings for hiking there are some things you need to seriously consider. Otherwise you risk rashes, stinky privates, torn pants, and overall an uncomfortable feeling by the time you get off the trail. What started out as the most comfortable hiking pants ever… can quickly turn into a hiking nightmare story.
As always, this post contains affiliate links to make it easier for you to find products I have mentioned. You don't pay any extra and in some cases we could earn a small commission.
There are Three Types of Women's Leggings
Yoga leggings which are what you love for everyday comfort. They stretch and fit so well. However they are not always the best choice for hiking. We'll talk about why in just a moment.
Base layer leggings and tights. Think long underwear… only much better.

Women's base layer leggings and tights

are often attractive enough to be worn as your bottoms, but really designed to be layered under more durable pants for winter warmth.
Hiking leggings designed specifically for long hikes. These leggings have all the comfort features of Yoga Leggings, except they are much more durable to survive whatever nature dishes out (rather than your yoga mat or couch). They wick away sweat to keep you comfortable and have many features that make life easier on the trail
What Materials are used in Womens Hiking Leggings?
If someone wants to sell you a sports leggings made of cotton, turn around. Although cotton is soft and comfortable to the touch, as you move and sweat, bacteria will build upon your clothes, leaving a smelly wet mark. Also, its fiber isn't mold-able, meaning that it won't adjust to your workout rhythm.
Consequently, your choice should always be oriented to fabrics with sufficient elasticity, durability, and breath-ability.
Polyester vs. Nylon vs. Merino Wool in Hiking Leggings
Women's hiking leggings will be a blend of several fabrics to take advantage of their best characteristics. The predominant fabric will be either Polyester, Nylon or Merino Wool. So which should you pick? Well… that depends.
Polyester is quite easy to find in the best women's leggings for hiking because of its strength and elasticity. It will resist constant use without deforming or discoloring. It dries quickly in contact with water as it doesn't absorb liquids.
Plus, its fibers are tight enough to filter out UV rays (but, wait, that's no excuse for forgetting your sunscreen at home!). Polyester breathes so any sweat on your skin will dry quickly.
Nylon is similar to polyester in its most attractive characteristics. It's flexible and adapts to your movements. At the same time, Nylon is cheap and durable. Nylon will wick away moisture to the outside surface where it will dry faster.
Polyester and Nylon are both super durable.  For that reason, the top hiking leggings for women will be either Polyester or Nylon blended with something super stretchy like elastane or spandex.
Merino Wool is without a doubt our top choice for a base layer. But not so much if you are using your leggings as you only layer for hiking. Merino wool is breathable, comfortable, and lightweight. This fabric is as soft as cotton.
The problem with Merino Wool leggings for hiking is the durability factor. When exposed to the rougher elements on the trail, the fabric just doesn't hold up. So we recommend saving these for cooler weather base layers. You can discover more in our Guide to Merino Wool Base Layers.
What features to look for in hiking leggings
Since we've come this far, it's time to focus on making a decision to cover your lower zone properly.
Comfort
Our research in womens hiking leggings started with a desire for comfort, so let's look at those critical features first.
Easy range of motion – During a hiking or camping trip, you'll need enough mobility to jump obstacles, climb, or run. Don't let your leggings limit you! Try it before you go out: hopping up and down, doing squats, or walking at an athlete's pace around the room.
Gusseted crotch – What is a gusseted crotch? Well most pants have 2 seams, one from front to back and one up each leg, that meet right between your legs. With a gusseted crotch an extra piece of material is incorporated into the design so the seams are not going through your private area. Hence no rub!
Not only will this make your pants more resistant after wearing them several times, but it will also save you trouble down there. Protect your female friend as much as you can.
Flat lock seams – This is very important. This type of sewing reinforces the union of the patterns, which grants it extra quality and resistance. It also gives the trousers a cleaner finish, with no strange fabric bulges to distract from the aesthetic contours of your legs.
Best of all, flat seams will slide smoothly along your thighs as you hike instead of raw fabric edges rubbing against your thigh. Nothing worse than road rash between your thighs.
Waistband – The waist band is one of the things we love most about yoga pants, right! The wide stretchy band allows easy freedom of movement without constriction across your tummy. Well that's also exactly what we love about hiking leggings too.
High waistbands tend to be better for hiking because then your backpack sits easily against the fabric across your lower back. Lower waistbands tend to get pushed down by your pack and then your tugging up your pants all day which is exactly what you were trying to avoid.
Moisture-wicking/quick drying
Unlike hiking pants or shorts that allow air movement between your skin and the fabric, leggings and tights are snug against you. Even though that's what makes them most comfortable, that closeness can become a nightmare if the fabric is wet. Moisture-wicking and quick drying properties will pull that dampness away from your skin and allow it to evaporate.
That means no stinky, gross feeling at the end of your hike.
This is especially important in summer hiking leggings. It also means less abrasion of the fabric against your skin. You don't want that fabric that started as feeling super soft to turn into a brillo pad during your hike. Many hiking clothing brands have developed special fabrics uniquely designed to wick away moisture. Make sure you are watching for this critical feature.
Water Resistance
Water resistant hiking leggings mean that the outer layer will resist absorbing water from the outside. For example if it is pouring rain, the rain will roll right off. Nylon is one of the best fabrics for natural water resistance. Other fabrics often have a treatment applied to help repel rain and snow.
While this is a really great trait, watch out for fabrics that don't have a mechanism for breathing like moisture wicking properties or venting. Otherwise you will trap in all your heat and sweat.
Wind resistance
Your leggings must fit your skin to protect it and guarantee freedom of movement. That's why the fabric and stitching finish must be resistant to the outside.
Sun Protection
Thin fabrics also won't protect your legs against the harmful rays of the sun. Most of our top choices have an UFP Rating of 50+ which is the top rating.
Durability
Choosing the best hiking leggings for women does not have to depend on the brand or the high price to make them quality. Make sure the stitching, fabric, and overall polish look strong and flexible enough to follow in your footsteps.
Pockets
I insist, girls. Pockets matter. You'll need them to keep small things on hand during the trip. A lot of womens hiking leggings with pockets feature zippered pockets (top choice!). The most important pocket is one that fits your phone because you are going to want a whole lot of pictures as you traipse through the wilderness.
Here's our choices for the Best Hiking Leggings for Women
After all that research, we narrowed our list of the best women's leggings for hiking to this small group. We're pretty sure you will love all of them!
✔️ Overall Best Women's Hiking Leggings: Arc'teryx Oriel Legging
REVIEW OF ARC'TERYX ORIEL LEGGINGS
The Oriel Leggings are sleek and sweat-wicking, perfect for outdoor climbing, hiking, or just chilling around. Specifically designed to withstand the rigors of rock climbing, you just know Arc'teryx Oriel Leggings are going to be the most comfortable and durable leggings for hiking. The highly abrasion resistant stretch interlock of nylon and elastane fabric will survive brushes against rocks and brush.
They're also the stretchiest pants you'll ever wear. These endurance leggings also offer a high-rise fit complete with stretchy mesh lined waistband that repels moisture in all conditions, allowing you to move comfortably and confidently. Because of the lightweight breathable fabric, these might also be the best hiking leggings for summer!
PROS:  Because they stretch every direction you won't feel any bunching or rubbing while on the trail which means total comfort for you. We also love the placement of the pockets lower on the thighs which was intended to accommodate a climbing harness. But for a hiker it's great to not have your hands brushing your pockets as you hike while still having easy access to your phone and maps.
CONS: Although the fabric is not water resistant, it is lightweight and breathable. That means they will stay comfortable if you pull a pair of rain pants over top if you get caught in a serious storm.
✔️ Best Leggings for your Money: Eddie Bauer Women's Trail Tight Leggings
REVIEW OF EDDIE BAUER TRAIL TIGHT LEGGINGS
When you're looking for a pair of hiking leggings that can keep up with all your high-energy adventures, look no further than Eddie Bauer! These rugged and durable pants boast odor control technology to eliminate pesky odors by wicking away sweat in the fabric's weave. Moisture-wicking fabric is also used so your skin stays dry even after long hours on the trail.
The stretchy waistband provides extra comfort while wearing a backpack or heavy loads; think about how uncomfortable it would be if they dug into those sore spots at different times throughout an extended hike! Plus, these tough trousers are made from Coolcore™ Fabric which accelerates perspiration evaporation – keeping you feeling fresh out there on the trails daylong.
PROS: Not only are these pants are a perfect balance of style and comfort, they are extremely affordabile. They will keep you cool even in the hottest weather on or off trail!
CONS: The side pockets might be too small if you have a larger cell phone. But we do love that those pockets have a secure zipper so it's a bit of a toss up. We'd love to see these in even more colors since once you put these leggings on you will want more.
✔️ Best for Rough Trail Leggings: Fjallraven Abisko Trekking Tights
REVIEW OF FJALLRAVEN ABISKO TREKKING TIGHTS
These are the best women's hiking tights for a really tough trail. We love that the Fjallraven Abisko Trekking Tights are designed for serious hikes with the fabric reinforced at knees and rear for extra protection in rough terrain and when sitting down on damp ground. The durable fabric blend is moisture wicking and breathable so perfect for warm days as well as cool weather.
You'll love the variety of colors and sizes available. And the selection of pockets in these hiking leggings is every woman's dream. The large map pocket on the right thigh is big enough to really hold your maps. Then you have several options for storing your phone or other little gear.
PROS: These are the best hiking leggings if you love to bushwhack and boulder, they will withstand most anything you throw at them. And at the same time keep you cool and comfortable.
CONS: The main challenge with these pants might be the price as they are on the high end. However if you are like to live on the wild side it is well worth the extra bucks. They probably aren't the most fashionable women's hiking tights with the reinforced knees, but when you wear them everyone will know you are serious about your trekking!
✔️ Look Great On and Off the Trail: Backcountry Green Mountain Trail Tights
REVIEW OF BACKCOUNTRY GREEN MOUNTAIN TRAIL TIGHTS
Give your legs the freedom to explore with these stretchy Green Mountain Trail Tights from BackCountry. Crafted out of soft and durable blended fabrics, these leggings are perfect for all day hiking or running errands in the city.
With two thigh pockets and a rear zippered pocket, you'll keep your necessities safe and close by without any pesky belt loops getting in the way. These leggings feature breathable, moisture wicking fabric, plus a flattering fit that keeps you active all day long. Now you can take on every adventure confidently!
These are the perfect hiking tights for times you want to be able to go from the trail to meeting friends for drinks. They look good and will keep you fresh feeling all day.
PROS: We love the quick dry leggings for hiking and the well done flat lock seams which will keep you comfortable all day. Check out the design on the legs for a little fashion touch. You'll also love the seriously wide range of sizes available.
CONS: Although an amazing pair of tights for a full day of hiking on regular trails, these are not designed to withstand the abrasion you would get on in rough terrains.
✔️ Waterproof Hiking Leggings for Summer Fun: KUHL Transcendr Leggings
REVIEW OF KUHL TRANSCENDR LEGGINGS
Made of durable soft-shell fabric that has built-in stretch panels for extra flexibility you'll be comfortable on the trail in the Kuhl Transcendr Leggings. Best of all no worries if a storm blows in because there is a C6 durable water repellent (DWR) finish to shed moisture. This high-rise fit with an internal drawstring waist provides more coverage and security during high-stretch activities.
The envelope pocket securely stores your phone at the right thigh where it won't bounce during strenuous movements. The fabric is designed with a UPF 50+ rating that shields against harmful UV rays and the reflective trim catches the eye in low light.
PROS: The light-weight, breathable fabric make these the perfect summer hiking leggings. We especially love the water repellant finish which will resist rain as we all know summer usually brings an afternoon rain when hiking. These leggings combine everything you love about the stretchabilty of yoga pants into leggings meant for the trail.
CONS: Intended for warm weather comfort, these are probably not the best leggings for off trail hiking, the lightweight fabric isn't intended to withstand extensive bouldering and brush.
✔️ Best Hiking Leggings for Hot Days: Mountain Hardwear Chockstone Rock
REVIEW OF MOUNTAIN HARDWEAR CHOCKSTONE ROCK TIGHTS
Mountain Hardware makes a great pair of leggings for hiking trails that easily shift to a fashionable look for camp days. The 4 way stretch fabric moves with you for all day support. They are durable with supple CORDURA® fabric knit accent panels in just the right places.  The moisture wicking fabric will keep you dry and odor free.
Made from durable fabric woven with UPF 50+, these have got your back in case of sunny weather. The high waist offers full coverage and is perfect for running or a day hiking the trails because of its mobility, yet is also flattering for fashion-conscious women.
Throw them on for a comfortable fit that won't let you down, thanks to pull-on construction made from the breathable stretch material. You'll appreciate the easy zip thigh pocket so you can tuck away things like keys securely.
PROS: These tights were designed to move with you, from the gusseted crotch to the 4 way stretch fabric. We think you'll find them incredibly comfortable after moving all day. But what we like most is that they look just as great off the trail so you can pop into a restaurant or store and feel confident that you look great.
CONS: Some may find the zippered thigh pocket odd placement as it sits pretty close to the knee although we liked that it was out of the way when your arms are swinging. Even though the fabric is abrasion resistant that will get you through normal trail brush and and rocks, you probably wouldn't find them tough enough for serious off trail hiking.
✔️ Best for Cold Weather: BALEAF Women's Fleece Lined Water Resistant Leggings
REVIEW OF BALEAF FLEECE LINED LEGGINGS
As temps drop in the fall and early winter, you'll love the Baleaf Fleece Lined Leggings. Designed for weather that dips below 40 degrees, the soft fleece inner layer will keep you warm. The fabric is DWR treated to repel water if you get caught out in the rain or snow.
To make sure you look sharp these leggings feature a tummy control high-rise waistband with gentle compression. There is a small zippered pocket on the back and 2 deep pockets on each thigh that are perfect for storing your phone and maps.
PROS: The perfect hiking leggings for weather in the 30 to 40 degree range where you aren't quite ready for snow pants, but want a little more warmth than you get from regular leggings.
CONS: While great for a long day of hiking, keeping you warm and dry, these are not meant for rough trails.
✔️ Top Choice for a Little Looser Fit: Columbia Bryce Canyon Hybrid Jogger
REVIEW OF COLUMBIA BRYCE CANYON HYBRID JOGGER
If you're too self conscious for the snug fit of leggings, take a look at the Columbia Bryce Canyon Joggers. Although officially athletic pants, the close fitting cut of these is perfect for the gal looking for the comfortable stretch of leggings but not ready to bare every curve.
The Columbia Onmi-Shield technology to shed moisture is one of our favorites for on the trail comfort. That feature plus the breathable design will keep you dry and comfortable all day.
You'll love the two deep zippered hand pockets that are ready for securing your gear. The waist band is wide and stretchy like you'd find in yoga pants for extra comfort.
PROS: The comfortable feel and wind to rain protection of the fabric makes these one of our favorites for outdoor activities. And we've had incredible success with Columbia's Onmi-Shield treatments when it comes to keeping pants dry and fresh on the trail.
CONS: The adjustable waist is a great feature when you find the perfect size, but if your pants are too big it will be very annoying. So make sure you walk around in these to ensure you have a snug fit at your waist and hips.
Are leggings good for hiking?
Pros of Hiking in Leggings
Obviously comfort is the number one reason ladies like to hike in leggings. We gals love the stretchy waistband and the ability to climb or even sit down without material tugging or bunching in our private zone.
Also high on the list is leggings provide warmth when compared to the bare legs of wearing shorts. It's so easy to pull another layer over leggings that many women love them for a base layer in colder weather. On a windy trail good hiking leggings will create a wind barrier. They can also protect your legs from the harmful rays of the sun.
Cons of wearing leggings for hiking
The most serious consideration, is that MOST leggings will not withstand a tough trail. Unless you choose the right leggings, ones from materials that really work on the trail, ones that are design for the wear and tear of a hard workout you are liable to deal with torn pants.
Even worse if your women's hiking leggings don't have moisture wicking and quick dry characteristics you can easily end up with a rash in places you don't want a rash.
A significant disadvantage of most women's hiking tights and leggings is the absence of wide pockets. Yes, I understand, if you want to carry something, use your backpack, but having good pockets IS ESSENTIAL. You really don't want to stop in the middle of a slope to dismantle your bag because you don't remember where you put your smartphone.
Also consider that no leggings will take care of you from the nightly cold in the heights. Few offer protection against insects. They are like a "second skin" that sometimes mosquitoes go through to get to the first one.
That's why it's so important to understand what to look for in great women's hiking leggings.
Are hiking leggings different from yoga or fashion leggings?
Most definitely yes, there are several significant differences between hiking and yoga leggings. Hiking leggings are designed to withstand rough elements like sliding down boulders and being whipped by bushes and tree branches. They are also designed for comfort over a long period of time in adverse conditions.
The difference is first in the fabric.
Hiking leggings will use fabrics that are moisture wicking to keep you dry as you sweat on the trail.
The fabrics will be durable so they don't tear on a rough trail, and thick enough to keep you warm on a cold windy day.
We talk about fabrics you should consider and those you should avoid in the next section.
The other big difference is in the design or cut of the leggings.
You want to eliminate rubbing and chaffing that can cause a rash between your legs and thighs.
The design also needs to ensure that your backpack and the fabric are not irritating your lower back as you walk the trail. The style of the waistband and the placement of seams and pockets are important here.
In all fairness, if you are only planning a day of site seeing with short easy day hikes you are probably better off going for a pair of comfy and inexpensive yoga leggings like these from IUGA that come in over 2 awesome dozen colors and 7 different sizes. Without a doubt, you will look good and feel good. But … if you are planning some serious hiking don't waste your money on this type of leggings that won't last past your first hike.
How is the material different?
Most of the daily-use leggings are made of cotton blends. It embraces your legs without circulation problems or irritation from sweat. This is also exactly what you want in hiking leggings except… you don't want cotton.
The problem with cotton is that it doesn't dry quickly. So all that sweat it absorbs goes with you all day long. That's why your reliable sports pants should be made of tight fabric, such as nylon or polyester.
The texture is often different between yoga and hiking leggings.
Fashionable leggings are soft to the touch (because they're made of cotton). Sports leggings tend to feel lighter and more elastic, even though both might have the same thickness.
There is definitely a difference in durability and practicality
You may look cute in the first Instagram post before the exercise, but a couple of hours later, you'll have a choking feeling in your thighs. Conventional leggings won't protect you if your friends decide to jump in the lake.
Since cotton and other everyday clothing fabrics absorb TOO much water, you'll spend the whole afternoon with a puddle on your bottom. And if we're talking about high heights with sun and strong winds, these pants won't stand up to it.
Hiking leggings are designed to dry much faster than cotton (hyper-permeability, baby!). There are light enough not to get in the way while you're hard-working. You won't feel so hot because they conduct body heat more efficiently than cotton, which will help you stay at your natural temperature.
What's the difference between hiking and base layer tights and leggings?
Base layer tights are designed to keep you warm and dry by creating an insulation layer under another pair of pants. For example if you are winter hiking, a merino wool base layer like these from REI under your hiking pants would add warmth while wicking away any sweat, hence keeping you dry.
However, in this article we are focused on leggings that are meant to be worn as your primary bottoms. That means these leggings need to be more durable than base layer tights since they are fully exposed to all the elements.
That doesn't mean that in some cases these hiking leggings couldn't also double as a base layer. That is especially true if you are hiking in changing weather. For example pulling a pair of rain pants on over your leggings can be very comfortable if a storm hits.
Frequently Asked Questions:
Should you wear underwear with Women's Hiking Leggings? Although a seriously personal decision, we recommend taking advantage of the super moisture wicking features that are found in Bamboo or Merino Wool hiking underwear. Because these more durable leggings for hiking have less wicking abilities than those fabrics, you will feel much drier if you wear underwear.
Is it better to hike in shorts or leggings?  If you are hiking in the mountains where temperatures vary during the day or enjoying a spring or fall hike you will really enjoy the comfort of leggings. But if it is going to be hot all day, then a good pair of hiking shorts will keep you cooler.
What's the best material for hiking leggings? The best hiking leggings need to be more durable than everyday leggings. That means look for a blend of nylon or polyester with a small amount of spandex or elastine.
---
Looking for gift ideas for your favorite hiker? Find over 60 amazing ideas here.
Or Check out our list of 50 Unique Gift Ideas for an Outdoorsy Woman Here!
For the perfect backpack, here's our guide to the Best Daypacks for Hiking
---
It's time to hit the trail! You'll love the comfortable feel of slipping into the best women's hiking leggings as you start your day. And best of all, if you select your leggings for hiking carefully, you'll also feel amazing at the end of your hike!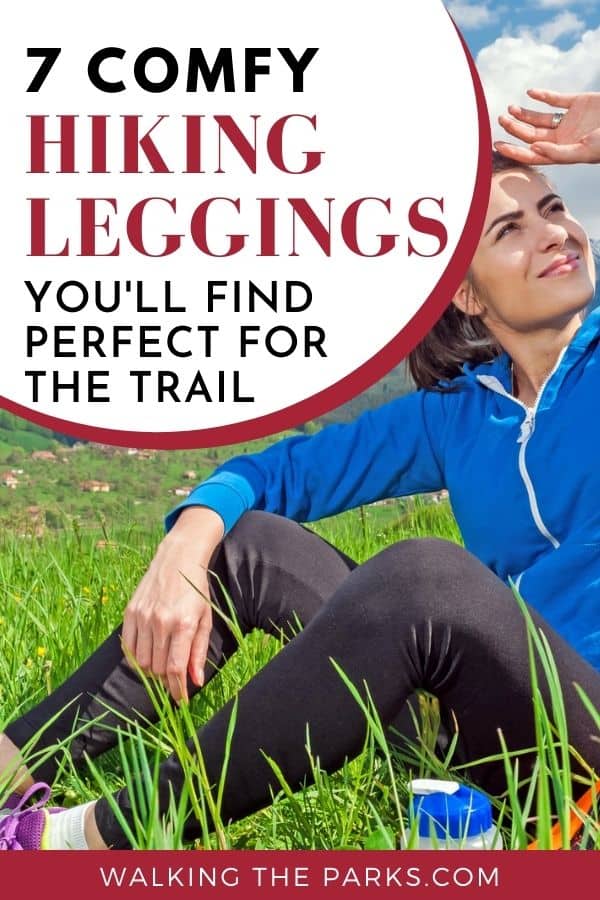 This article was originally posted on October 5, 2020. It was updated on August 20, 2021 to reflect the most current information for your convenience.