When our guest author, Akku Kumar, offered to share his story of hiking Guadalupe Peak with us, I jumped at the opportunity. On the first night of our West Texas-New Mexico Road Trip, we camped near this trailhead and watched headlamps bobbing along this trail long before daylight. Although this hike wasn't on our agenda, I was curious about what got all those hikers out of bed so early. Well, Akku completed that hike and shares his story and critical tips you need to know if you are thinking about hiking Guadalupe Peak. Ladona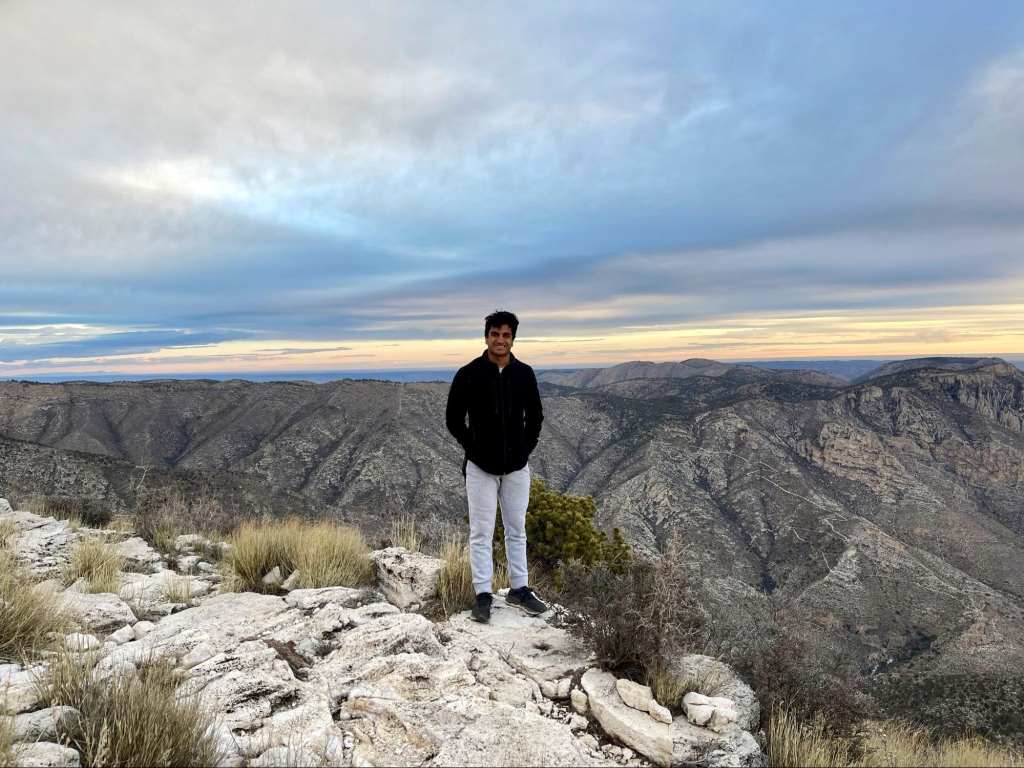 The alarm blares at 4 a.m., jolting me from a deep slumber. Resisting the urge to press snooze, I rub the sleep from my eyes and fumble for my hiking boots in the darkness. It's still pitch-black outside, but I know that beyond the veil of night, lies one of the most breathtaking sights in Texas. 
As I lace up my boots and sling my backpack over my shoulders, taking my first steps up to the trailhead, I have one last chance to back down. Maybe even get some more sleep. But there was no way I was turning back after I had come so far. I came here to see the sunrise from the top of Texas. I came here to summit Guadalupe Peak.
In this article, I'll take a closer look at what it takes to hike Guadalupe Peak and whether it's the right fit for you. I'll explore the trail's actual difficulty level, necessary gear, and potential obstacles, so you can make an informed decision before embarking on this unforgettable journey. I'll even tell you more of my own story of hiking Guadalupe Peak so that you can learn from my mistakes and understand more of what the hike is about than any guidebook could tell you.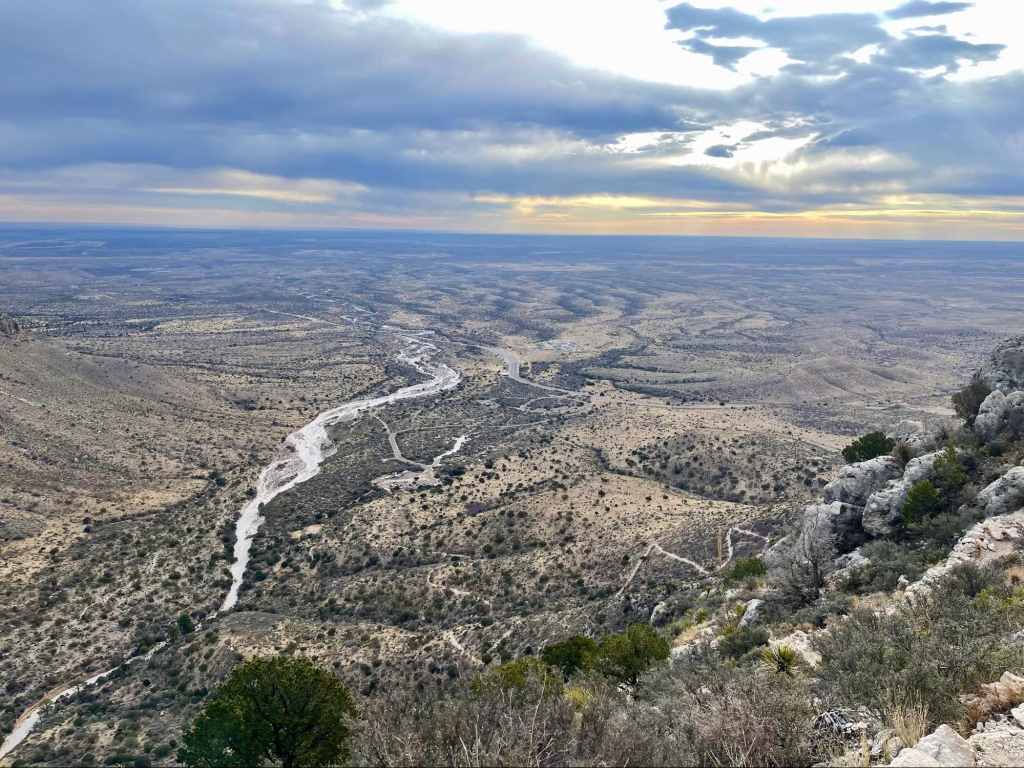 Why the Guadalupe Peak Sunrise Hike?
Summiting Guadalupe Peak at any time in the day is a feat unto itself. The highest natural point in the state of Texas at 8751 feet, this is often regarded as a perfect beginner hike for those looking to climb even taller mountains in the Rockies and beyond. If you can manage the miles of rocky switchbacks, you will be rewarded with a 360-degree view of pure, natural beauty.
Making Guadalupe Peak for sunrise, then, is a no-brainer. Yes, you will have to wake up at 4:00 AM or earlier depending on the time of year. Yes, temperatures will be significantly colder as you do the entire up-hike through unyielding darkness. And yes, you may have to walk through a mile or more of slippery ice on a four-foot-wide ledge next to a precipitous 70-degree drop. But to see the first light of day shimmer over the alien landscape of the Chihuahuan desert is a sight not to be missed.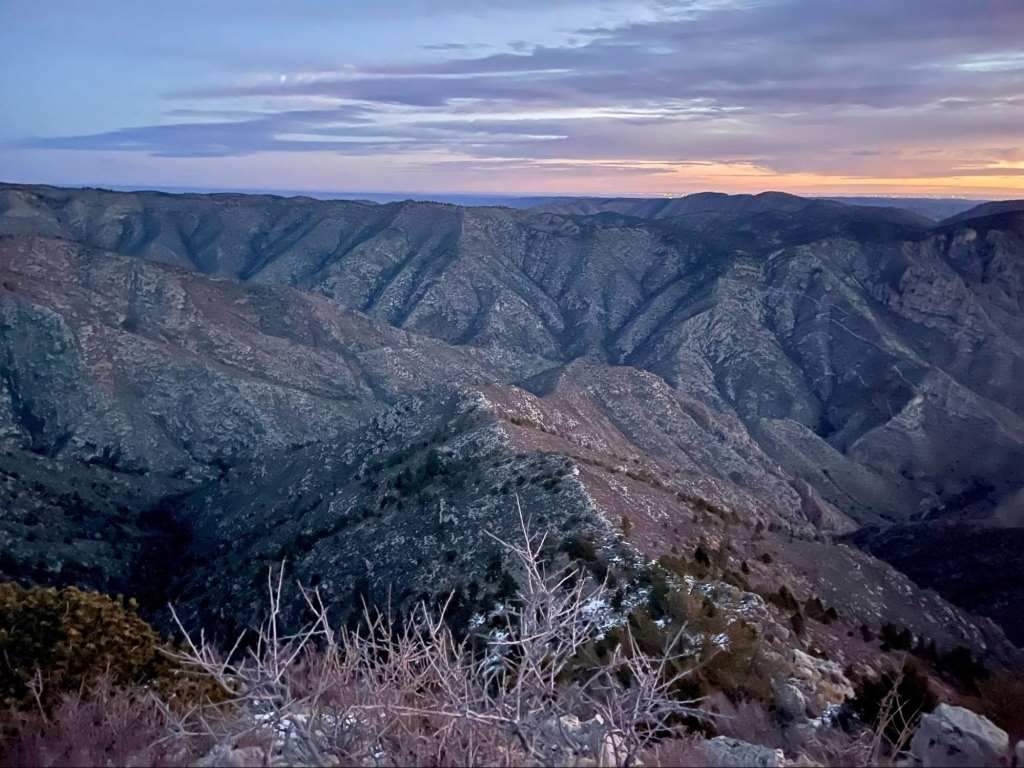 The Basics of the Guadalupe Peak Trail
To get prepared for your hike of a lifetime, let's get down to the basics. Here are some facts that you should know straight off the bat:
Distance: 4.2 Miles One Way (8.4 mi RT)
Elevation Gain: 3000 Feet 
Average Hike Time: 6-8 Hours
Trailhead and Parking Lot Hours: 24/7, Year-Round
Location: Main Trailhead Near Guadalupe Mountains National Park Pine Springs Visitor Center
Difficulty: Somewhat Strenuous
Hopefully, you've done a hike or two of this caliber before, but it's not necessary. Physically and mentally, this will be a tough hike for most people.
Hiking Guadalupe Peak
While hiking Guadalupe Peak in time for sunrise was only one part of my own road trip through West Texas and New Mexico, it was by far the most rewarding. Testing the elements with nothing but the clothes on my back and some water and sandwiches in my backpack, I took on this hike starting at 4:00 AM. In a little less than 2 hours, I was able to make it to the top.
I want to see you make it to the top, too. So let's get you prepared by dissecting the hike!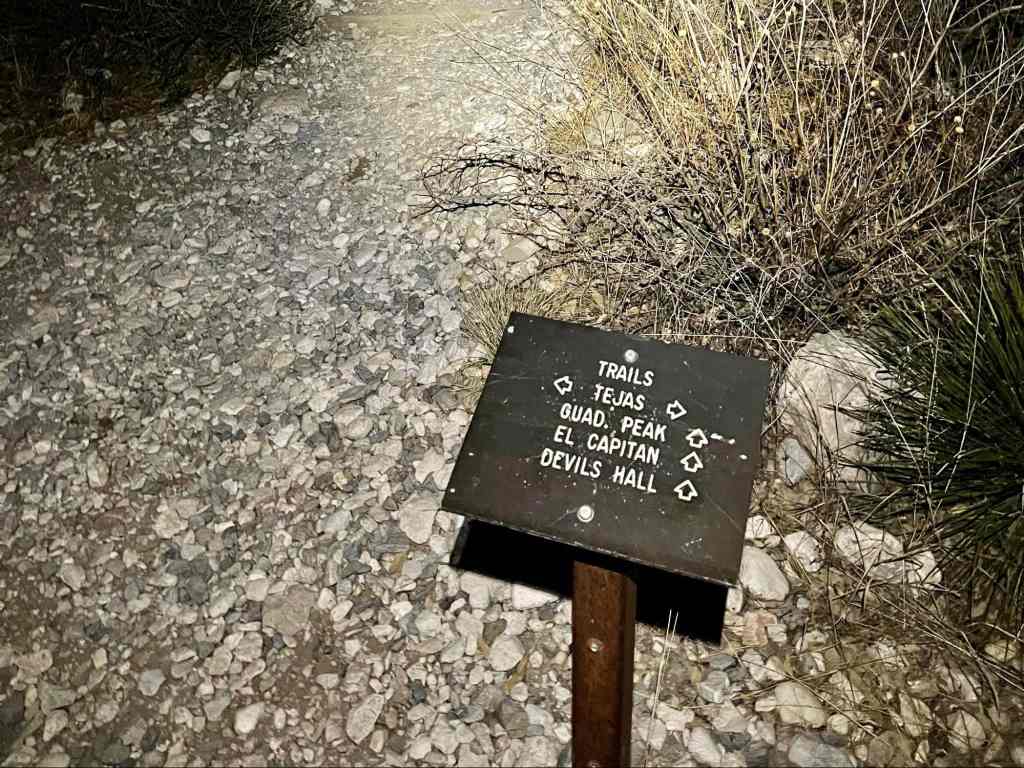 Setting Off: The First Mile of the Guadalupe Peak Trail
The trailhead is located right off the main parking area of the Guadalupe Mountains National Park's Pine Springs Visitor Center so you won't have to do much searching to find it. Also, there will probably be a few other brave souls who can help show you the way if you get lost.
As you step onto the trail toward Guadalupe Peak, you'll be greeted with a challenging start. The first mile or so of the hike is a demanding climb, with steep switchbacks and rocky terrain that can be daunting for those who have never experienced it before. The trail is rugged and requires careful footing, made more difficult by the shroud of darkness covering your way forward.
Despite the difficulty, there are glimpses of beauty all along the way. The sky will be layered with stars (probably more than you have ever seen before). And if the moon is shining, you will be able to make out the imposing silhouettes of the Guadalupe Mountains Range all around you.
This is also part of the trail that poses the most difficulty, and danger, for hikers. On the way up, you'll need to have ample stamina and endurance. Take short breaks every half mile to conserve energy. On the way down, this is where you will have to be wary about your footing. One misstep could cause you to sprain an ankle.
Leveling Out: The Second Mile
If you made it through the first mile: Congratulations! The rest of the trail is a lot less demanding. Though you are still noticeably ascending, the grade of ascent is much shallower. Most people, if they were able to make it this far, could walk up this section at a comfortable pace.
Soon after finishing the first mile, you will make a wide bend around the mountain you had been climbing. Essentially, you will now be hiking along the backside of it. With your eyes adjusted to the darkness, you'll be able to make out the deep valley covered in a thick forest just to your right. 
A number of staircases are the most challenging part of this section of the hike. In the winter and early spring, you'll also encounter some snow and ice here. You'll want to be very careful as the trail narrows to only a few feet wide in some cases. Always keep your hands out, ready to balance yourself on anything nearby in case you slip.
At this point, you probably will be in the swing of things. Since I did the trail by myself, this is where I started playing some music out loud to help me push on. If you're with a group, I suggest going at a pace that you can all comfortably still have a conversation as you walk.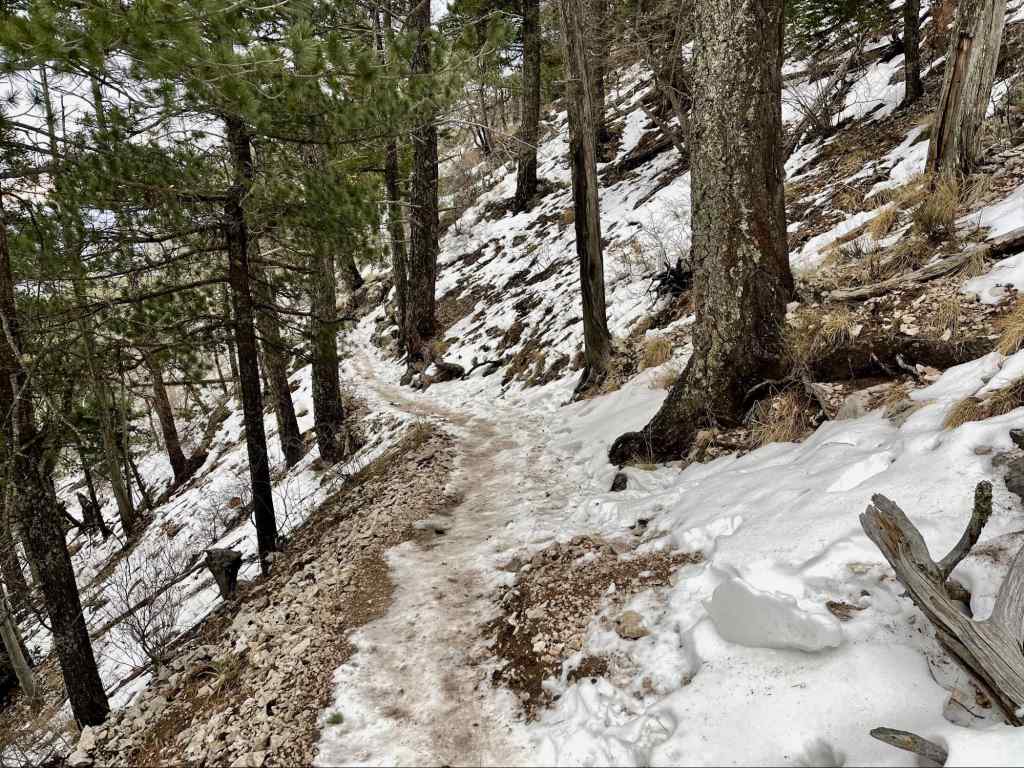 Almost to Guadalupe Peak: The Third Mile
In terms of difficulty, this is usually the easiest mile for most people. The trail only ascends a few degrees and a number of gentle switchbacks means you can gain a lot of lost time here. Go as slow as you need to on the first mile, get gradually faster on the second mile, and reach your maximum pace on the third mile.
However, that is when the trail is clear of snow and ice. When I went in early February, almost the entire mile was covered in slick ice while the trail narrowed down to only four feet. I had to navigate the foot imprints of past hikers while dealing with a meniscus injury I had gotten a week prior. Needless to say, if I was able to do it, you can too.
Either way, take some time to notice the vegetation that started to spring up around you. Towering pines make homes for birds just waking up. 50 species of cacti present both danger and beauty as their vibrant blossoms bloom over prickly thorns. Though it will still be quite dark, the sky will begin to lighten, giving color to the flowers of the Guadalupe Mountains.
Just at the end of this mile is a short trail leading to the Guadalupe Peak Campground. You will need a Wilderness Use Permit to camp here, but the views are spectacular. My one regret is not camping here for a night to see both the sunrise and sunset from the peak just a mile away.
The Home Stretch: The Fourth Mile
If you do your own research, you'll quickly find mention of Guadalupe Peak's "50-80 mph gusts." This is where you'll feel those gusts. Soon after passing the campground, the trail leads out of the valley and onto the final ascent of Guadalupe Peak. This is where you will want a jacket handy and some face and eye protection to protect from the wind.
Fortunately, I went when there were "only" 20 mph winds. It still made this last section quite difficult. You will also have to climb up almost a half mile of rocky terrain to reach the top. By the time you reach the top, you will probably be out of breath.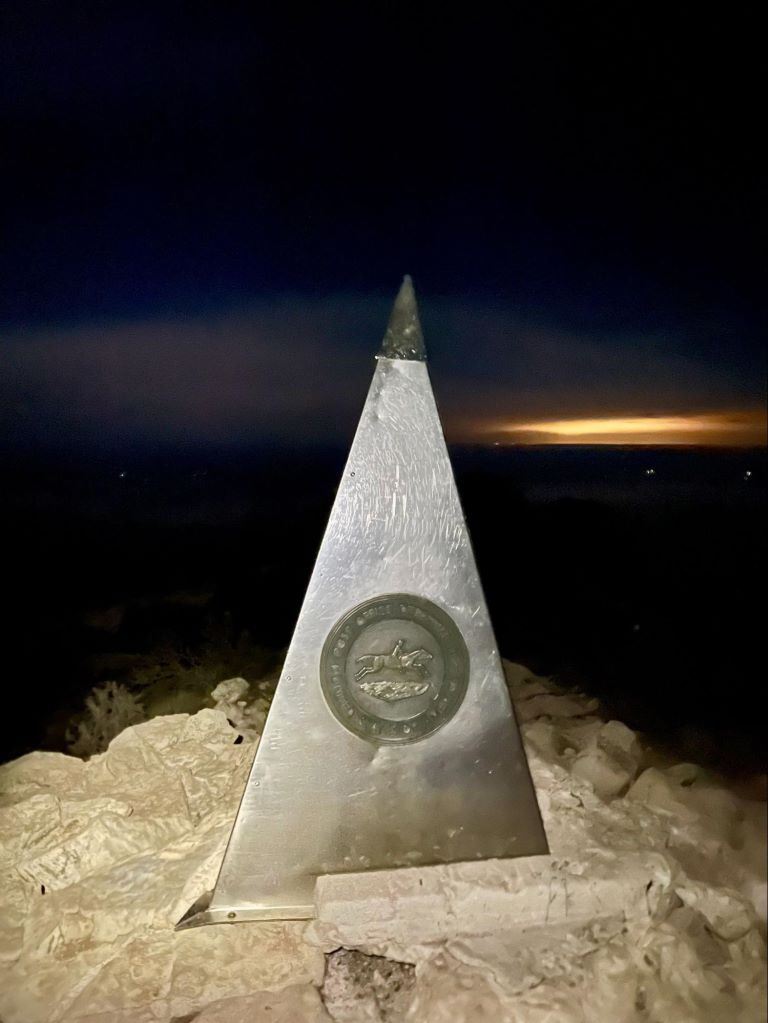 But it will all be worth it when you get to the summit. Though the winds will intensify, there is an unimpeded view out to the eastern horizon, where the sun will soon peak its head. Also, remember to take a selfie with the metal pyramid that stands as a mark of success for all those who reach the top of Texas. 
If you get there a little bit earlier than you expected, feel free to break out your snacks and chow down. Or if you get there two hours earlier or more than expected (like I did), find a little ridge down from the peak and take a nap! With your bag as a pillow and the ridge sheltering you from the wind, it can be surprisingly comfortable.
As the sun starts to rise in earnest, dousing the sky in a deep orange, set up shop on the northeastern-most ridge. This is closest to the valley you walked by earlier and completely blocks the wind. There are also several natural seats carved into the rocks, allowing you to relax while watching the sunrise.
Coming Down: What to Do After?
The hike back down will feel a lot faster. The light of the early morning will grant you gorgeous vistas as you make your way back to the trailhead. You'll still want to be careful if there's snow on the trails. You'll be more liable to slip on the way down than on the way up. 
Since you're still just starting your day, you still have time for plenty of more relaxing activities. On your way out of the park, stop by the visitor center for some cool exhibits on the formation of the Guadalupe Mountains. The park rangers can also recommend some less strenuous trails in the park, like the McKittrick Canyon Nature Trail.
I would also recommend heading up to Carlsbad Caverns. Just 45 minutes north in New Mexico, the Caverns feature the largest single cave chamber in North America. The amount of interesting rock formations through the Caverns is second to none.
Tips for a Successful Hike to Guadalupe Peak in Time for Sunrise
Unless you are at peak fitness, reaching Guadalupe Peak for sunrise is going to challenge you. BUT, I also think that this hike is a very manageable challenge for those who come sufficiently prepared. I'll highlight some of the things I've seen that you need to have to succeed on this hike:
Successful Hikers…
Are physically and mentally capable of hiking uphill at a mile-per-hour pace
Train before committing to a difficult hike with hiking specific exercises
Carry 1 gallon or more of water
Can hike up and down rocky terrain without rolling an ankle
Pace themselves comfortably without losing momentum
Wear layers that can easily be taken off and put back on
Prepare for walking in snow and ice for a mile or more
Unsuccessful Hikers…
Forget their headlamp, backup flashlight, and an extra set of batteries
Aren't mentally prepared for hiking 4-8 hours in potentially freezing temperatures
Don't bring enough water and high-energy snacks for the way up AND the way down
Get knee and/or leg pain when climbing up or down knee-high steps for an hour or more
Lack warm face and eye coverings (like a ski mask and goggles) for 50 mph winds
Bring a backpack that is unnecessarily heavy
As you can probably tell, most people who don't succeed on this hike just did not plan enough. Properly planning your clothing, gear, food, drink, and backups is essential to having a great hike.
The Ultimate Packing List for the Guadalupe Peak Sunrise Hike
To help you plan, I've crafted this detailed packing list for making it safely up and down the mountain in time for sunrise at any time of the year. This is just a minimum so feel free to bring more if you think you will need it. But be wary that you don't overpack and find yourself carrying bricks for 6 hours. If you're doing the hike as a part of a road trip, make sure to check out my extended packing guide for any backpacking trip.
Backpack
Clothing for Hiking to Guadalupe Peak
Layers are essential as temperatures and wind will change dramatically on this hike to the Peak. Here are my suggestions:
Wool or cotton short-sleeve shirt underlayer
Wool pullover or quarter zip
Fleece jacket
Balaclava or ski mask
Goggles or glasses for eye protection
Wide-brimmed hat or baseball cap
Shorts underlayer
Sweatpants or other comfortable exercise pants
Long, wool socks
Walking shoes or boots you don't mind getting dirty
Critical Gear That You MUST Have for a Sunrise Hike to Guadalupe Peak
Optional: Hiking poles
1 gallon of water per person
These items will serve you well on any hiking trip. So get the best quality items you can even if it's a bit more expensive. You don't want your backpack strap breaking halfway up the mountain!
Best Time to Hike Guadalupe Peak Trail
Spring and fall are the best time to hike to the summit of Guadalupe Peak because the weather will be milder. However, the trail is open year around. Winter brings more ice on the trail. In summer the trail will be hot because there is very little shade so get an early start.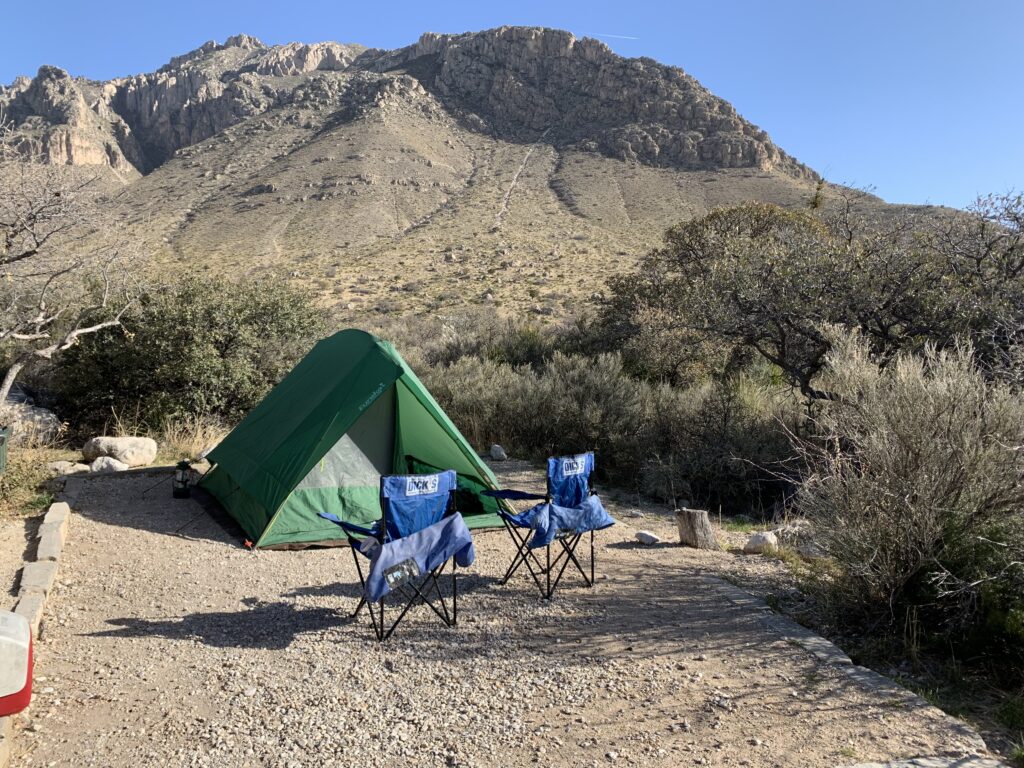 Camping Near Guadalupe Peak Trailhead
If you are lucky enough to get a campsite in Pine Springs Campground you are in a great place to kick off your hike to Guadalupe Peak. the trailhead is just steps away. The campground only has 20 tent sites and 13 RV spots. The tent sites are really nice and spacious, while the RV spots are just spaces in a parking lot. The plus side is there is a real bathroom here with flush toilets and potable water. Campsites can be reserved on recreation.gov.
A Few Last Thoughts on The Hike to Guadalupe Peak
Hiking Guadalupe Peak in time for sunrise is no easy feat. But with this guide, I hope that you've seen that anyone can do it with enough preparation and realistic expectations. So, whether you're an experienced hiker or a novice seeking an unforgettable adventure, Guadalupe Peak offers a unique opportunity to witness the beauty of nature and challenge yourself.
If you're up for the challenge, set your alarm early, lace up your hiking boots, and embark on this extraordinary journey to catch the sunrise from the majestic Guadalupe Peak. Don't forget to bring lots of water, a headlamp, and a healthy attitude. I can't wait to see you at the top!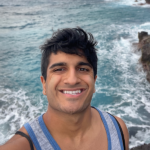 Our Guest Author
Akku is an aerospace engineering student on weekdays and a world traveler on weekends. He started The Packed Traveller to help other busy people see this beautiful world with the limited time they have. When he's not studying or planning his next trip, he can be found recording his podcast, Road Trip Revelations, or playing bass in his rock band.