Ugh, nothing worse than that nasty, sweaty feeling from damp underwear after hiking all day! And it's even worse when you're out on the trail and your panty rubs your inner thighs raw. Or the ultimate backpacking nightmare comes true… you walk for hours with a wedgie. So that begs the question, what is the best hiking underwear for women? What underwear will leave you feeling cool and comfortable after a full day of backpacking?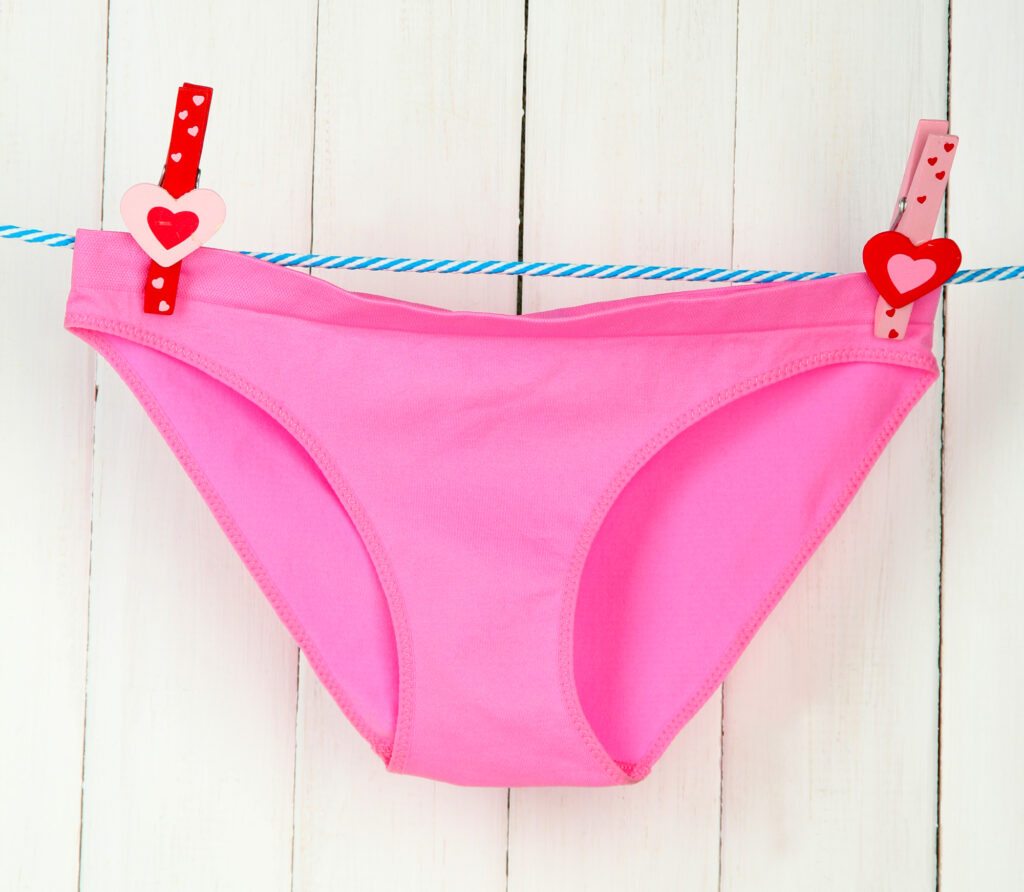 Here you will find our list of the the best hiking underwear for women. Plus we've included a detailed guide to help you select the best underwear for you, because as we all know we don't have the exact same booty to cover.
About Our Testing
I first created this list of women's hiking underwear for the 2020 hiking season. At that time, we tested over a dozen brands of women's underwear that were selected because they were strongly recommended by fellow hikers and highly rated by reviewers. These women's panties have been on the hiking trail, out snowshoeing, in the gardening and through every other sweaty outdoor activity imaginable. And each year we have updated this list, dropping underwear that has failed over the longer period of testing and adding in new hopefuls.
This year is no different! Here's our top selections for the year over year best hiking underwear for women. We dropped two off the list because although they were comfortable in the initial tests, they have not lasted. I know expecting underwear to hold up several years is a very high bar but, when you are spending big bucks to get the perfect underwear for hiking, you don't want them to fall apart.
You'll also find 4 newcomers to our list for the best women's hiking underwear. They have withstood our initial expectations for comfortable underwear for hiking and fellow hikers have also found them great on the trail. I think you'll also find them comfortable on your hiking adventures.
This post contains affiliate links to make it easier for you to find the products I have mentioned. You don't pay any extra and in some cases, I could earn a small commission.
Best Hiking Underwear for Women Overview
Here's our list of the best hiking underwear for female hikers. Below this table, you will find detailed reviews of each panty so you can see exactly why we included them in the list.
Feel free to click on the list if you are in a hurry and don't want to read the full report.
How to Select the Best Hiking Underwear for Your Body
The two most important things you want in hiking underwear is a comfortable fit and to not feel stinky and sweaty at the end of the day. Sound simple, right?
For comfortable fit we'll share a long list of features in the buying guide at the end of this post that will help you select underwear with comfort in mind. However, the number one rule for comfort is to stick with a style you know. If you already prefer a bikini fit, the start with a bikini fit, a full coverage panty, then look at full coverage panties. Otherwise you will spend the day tugging instead of enjoying your hike.
And then your choice of fabric is the biggest factor in avoiding damp and smelly hiking underwear. We have limited our list of the the best hiking underwear to fabrics that are moisture wicking to keep you cool and dry and odor resistant to keep away bacteria that cause smelly underwear. In the buying guide we'll go over in detail why you should buy hiking panties made of fabrics like merino wool, bamboo and technical synthetic blends. And we'll talk about why you should avoid cotton.
REVIEWS of the BEST HIKING UNDERWEAR for WOMEN
Best Merino Wool Women's Underwear
Merino wool is without a doubt the most natural way to find comfort for female hikers. The moisture-wicking and fast-drying properties of wool underwear for women can't be topped. The wool from these unusual sheep creates the strongest and softest wool fabric that is perfect to wear against your skin.
---
IceBreaker Merino Siren Panties
Our top pick for comfort! Available in 3 styles.
OUR RATING: 5.0
WICKING: 🧡🧡🧡🧡🧡
QUICK-DRYING: 🧡🧡🧡🧡🧡
ODOR CONTROL: 🧡🧡🧡🧡🧡
COMFORT:🧡🧡🧡🧡🧡
FABRIC: 83% Merino Wool, 12% nylon, 5% LYCRA
COLORS: Heather, Black, Grape
STYLES: Bikini, Hipkini, Thong
SIZES: XS to XL
PRICE: $$$
Our Review of the IceBreaker Siren Women's Underwear
The IceBreaker Siren Series.is primarily made of merino wool. You get all the amazing benefits of that fabric like the best moisture-wicking, quick-drying and odor control. The core-spun fibers, (which means the wool is wrapped around nylon), provide strength and structure to these panties while you only feel the softness of the merino wool against your skin.
The tiny bit of lycra gives this great hiking underwear a bit of stretch that makes the IceBreaker undies a step above the others for retaining shape and stretching as you move.
For extra comfort, the side seams have been moved forward slightly so they don't run against the seam in your outer layer. A little touch that brings a lot of comforts! The comfortable waistband will ride easily under your backpack.
PROS: With all the benefits of odor control and moisture-wicking of merino wool, these are really comfortable panties. The low-profile elastic waist and leg openings keep these from rubbing when you get sweaty.
CONS: You might hesitate a split second on the price. But being dry on the trail will convince you this women's hiking underwear is worth it.
---
SmartWool IntraKnit
New Release from SmartWool that takes their already amazing merino wool underwear to the next level. It's available in 2 styles:
OUR RATING: 4.75
WICKING: 🧡🧡🧡🧡🧡
QUICK-DRYING: 🧡🧡🧡🧡
ODOR CONTROL: 🧡🧡🧡🧡🧡
COMFORT:🧡🧡🧡🧡🧡
FABRIC: 38% Merino Wool/38% Lyocell/16% Nylon/8% Elastane
COLORS: Black, Sand, Blue, Plum
STYLES: Bikini, Hipster
SIZES: XSm, Sm, Med, Lg, XLg
PRICE: $$$
As a big fan of the whole SmartWool product line, we were very excited by the release of the new IntraKnit line. The blend of merino wool with technical fibers to add stability and stretch resulted in great underwear for women's hiking.
The merino wool ensures that you'll have a high moisture wicking and fast drying pair of underwear for those days you get a serious workout on the hiking trail. You'll also find this underwear odor proof.
SmartWool has eliminated side seams and has incorporated a smooth waistband to reduce friction areas that can rub and chafe. Note the change in direction of the fabric weave at the hips which improves the stretch of the fabric while ensuring a snug hug for comfort. This just might move up to the top of the list after a season of testing!
PROS: Interlocking knit for snug but stretchy fit. Merino wool to ensure odor resistant underwear, while staying dry and comfortable.
CONS: As in all merino wool women's underwear these are a bit pricey. The addition of synthetic yarns will increase drying time slightly, but that might be worth it for the snug fit.
---
Woolly Clothing Women's Merino Wool Underwear
Best value in merino wool underwear, these moderately priced hiking underwear are worth checking out if you are on a budget. Available in 3 styles!
OUR RATING: 4.6
WICKING: 🧡🧡🧡🧡🧡
QUICK-DRYING: 🧡🧡🧡🧡🧡
ODOR CONTROL: 🧡🧡🧡🧡🧡
COMFORT:🧡🧡🧡
FABRIC: 95% merino wool, 5% elastane
COLORS: Black
STYLES: Cheeky Brief, Bikini Brief and Thong Brief
SIZES: Sm, Med, Lg, XLg
PRICE: $$
Our Review of Wooly Merino Wool Panties
Merino underwear can be quite on the pricy side. However, Wooly Clothing has successfully designed moderately priced panties for the modern hiker. You'll love the smooth flatlock seams and soft-wrapped waistband that will eliminate chafing. And you'll appreciate the super soft material that quickly wicks away sweat while hiking.
The only thing we didn't like about this pair of women's merino wool underwear is that after a couple years of hiking trips, they started to stretch out making them ride up uncomfortably. The best way to avoid that issue and extend the life of these panties is to keep them out of the dryer and dry flat when possible.
PROS: More affordable merino wool option. Will keep you super dry and comfy.
CONS: Lack of styles for people who like more traditional briefs. After a couple of years of wear, these will lose their shape.
---
Best Bamboo Women's Panties
As far as keeping cool and dry I'm in love with bamboo. Bamboo is naturally odor-resistant making it perfect for hot summer days of backpacking. Bamboo also holds it shape well through many wash cycles. However, you will notice that merino wool fabric is a bit softer.
Boody Body EcoWear Women's Bamboo Viscose Underwear
My personal favorite, these are the longest lasting, most durable underwear from those that have been part of the past 3 years test.
OUR RATING: 4.75
WICKING: 🧡🧡🧡🧡🧡
QUICK-DRYING: 🧡🧡🧡🧡🧡
ODOR CONTROL: 🧡🧡🧡🧡🧡
COMFORT:🧡🧡🧡🧡
FABRIC: 80% bamboo viscose, 13% nylon. 7% spandex
COLORS: Black, Beige, Nude, White
STYLES: Classic Bikini, G-String, Bikini Brief, Mid Brief and BoyLeg Brief
SIZES: Sm, Med, Lg, XLg
PRICE: $$
Our Review of Boody Body Bamboo Underwear
A big shout out to Boody for covering everyone's individual underwear style in their designs with this huge selection of 6 different cuts in their women's hiking underwear. These are my personal favorites because of the combined factors of durability, moderate price and comfort on the hiking trail. If you want to avoid the premium pricing of the top quality merino wool
Everything about the design of Boody Body Ecowear screams comfort. You can start with the unique manufacturing process that eliminates pesky, rubbing side seams. And the wide no-roll waistband is super comfortable. And most important they will keep you fresh and dry on the hottest hikes.
If you are looking for something comfy, feminine, and practical this great hiking underwear is an excellent choice. Boody's is committed to providing ethically made undergarments made from sustainably sourced bamboo. Most of all I love how well this bamboo women's underwear holds up over time. These have held their shape through more laundries than any other panties on this list.
PROS: Wide variety of attractive, feminine styles that work for everyday as well as long hikes! No rubbing and chafing. High moisture-wicking and drying ratios.
CONS: Although a little pricier than the average undie, they're not crazy high.
---
Women's Bamboo Warm Sun Panties
Value priced bamboo underwear for hiking.
OUR RATING: 4.4
WICKING: 🧡🧡🧡🧡🧡
QUICK-DRYING: 🧡🧡🧡🧡🧡
ODOR CONTROL: 🧡🧡🧡🧡🧡
COMFORT:🧡🧡🧡
FABRIC: 95% Bamboo Viscose Fiber and 5% Spandex
COLORS: Black, gray, purple, skin, rouge, white
STYLES: Brief
SIZES: US Sizes 4 through 10
PRICE: $
Our Review of Warm Sun's Bamboo Underwear for Women
You'll love the wide waistband in Warm Sun's Women's Bamboo Panties that will reduce chaffing and rolling on a long hike. They are super soft to the touch and incredibly lightweight. It's hard to believe that they work so well at wicking moisture away from your skin. The little bit of spandex woven into the bamboo helps the fabric hold shape and stretch with your movements.
Overall these weren't as well constructed as the Boody bamboo panties, but even then they were really comfortable on the trail. You'll especially like the Warm Sun underwear for hiking if you like very lightweight material.
PROS: Very affordable. Extremely lightweight and soft material. High moisture-wicking and drying ratios. Large selection of sizes.
CONS: Only available in briefs, this is a lighter weight fabric than the Boody which stretches after washing so order a size smaller.
---
Best Synthetic and Technical Blends for Women's Hiking Underwear
After all those great natural fiber choices, why would anyone look at synthetic fabric? Well, there are 2 very good reasons for selecting synthetic underwear. The first is that underwear made of synthetic blends is less expensive. The second is that they have almost zero special care requirements. If you are a gal who dumps all your laundry in one load and never has time to separate your delicates then these panties are going to survive.
ExOfficio Give-N-Go 2.0 for Women
The breathable, lightweight mesh stands out for it's ability to keep you cool and dry.
OUR RATING: 4.0
WICKING: 🧡🧡🧡🧡
QUICK-DRYING: 🧡🧡🧡🧡
ODOR CONTROL: 🧡🧡🧡🧡
COMFORT:🧡🧡🧡🧡
FABRIC: 89% nylon, 11% elastane
COLORS: Assorted colors available
STYLES: Thong, Hipster and Bikini
SIZES: US Women's XS to XL
PRICE: $$
Our Review of ExOfficio's Give-N-Go Underwear for Women
ExOfficio's Give-N-Go Underwear has long been a favorite among hiking women. However, the release of the 2.0 version really took the quality and appeal of this synthetic underwear up a notch. They start with a breathable mesh fabric to allow airflow that will keep you cool on the sweatiest days. The blend of nylon and elastane gives the fabric a lot of stretch for extra comfort. And the fabric is treated with an antimicrobial to keep away odor.
PROS: We love the super lightweight fabric, it will feel like you are wearing nothing at all. These panties feature a comfortable wide waistband and flatlock seams to eliminate rubbing and chafing during an active day.
CONS: Seriously our first choice for great hiking underwear if you want to get away from natural fabrics. You may find the texture of the fabric a little unusual due to the open weave that allows the fabric to breathe, but most wearers love these after giving it a try.
---
REI Co-op Active Women's Underwear
A top choice of hikers everywhere, REI has just updated their Active Women's Underwear. You'll find 4 styles available.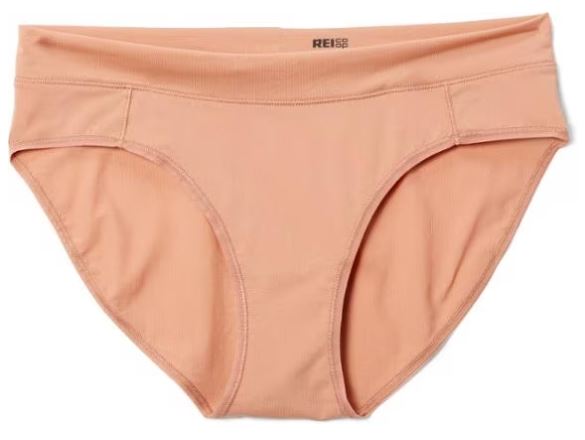 Bikini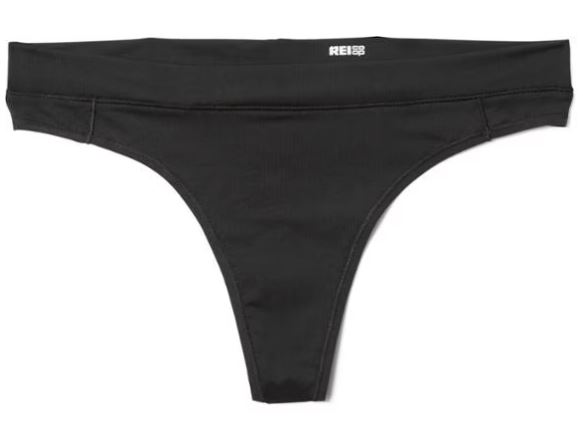 Thong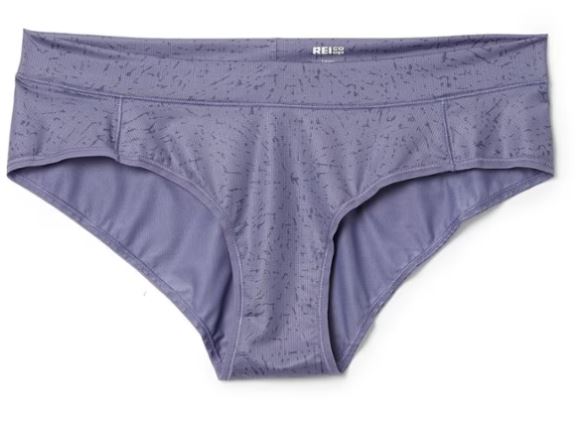 Hipster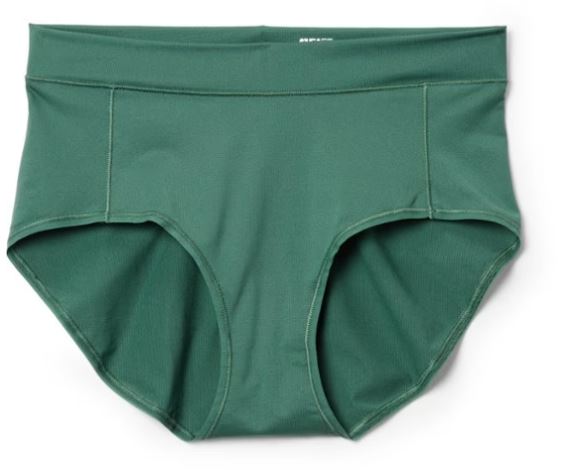 Briefs
OUR RATING: 4.2
WICKING: 🧡🧡🧡🧡
QUICK-DRYING: 🧡🧡🧡🧡
ODOR CONTROL: 🧡🧡🧡🧡
COMFORT:🧡🧡🧡🧡🧡
FABRIC: 86% polyester/14% spandex mesh
COLORS: Black, Beige, Tan, Blue
STYLES: Brief, Hipster, Thong and Bikini
SIZES: XS to XL
PRICE: $$
Our Review of REI Co-ops Active Woman's Underwear
REI Co-ops Active Women's Underwear is made from a stretchy polyester mesh. As a result, they are extremely lightweight and designed to breathe which means they will keep you dry when you are hiking. The antimicrobial treatment reduces any odors from sweaty days.
PROS: We love the lightweight seams, especially since there are no side seams to reduce chafing when hiking. As you can imagine, seams rubbing seams as you often have between your pants and your undies can create a lot of friction. This design eliminates that double seam rub that we all hate.
CONS: With heavy wear, these might not feel like they have enough structure for many hikers who want something that withstands pretty much any harsh climate because they are intended to be lightweight panties.
---
Patagonia Active Underwear for Hiking Women
This new addition to the list for the best women's hiking underwear for 2023 is pretty impressive on the comfort scale!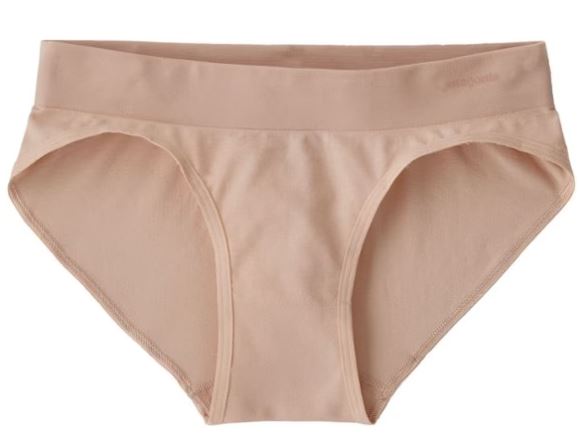 Active Hipster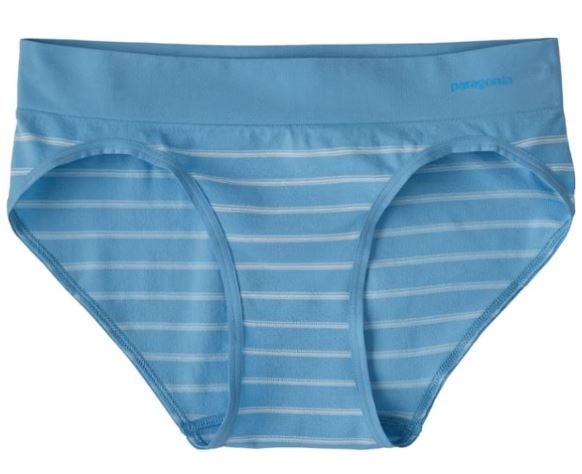 Active Brief
OUR RATING: 4.2
WICKING: 🧡🧡🧡🧡
QUICK-DRYING: 🧡🧡🧡🧡
ODOR CONTROL: 🧡🧡🧡🧡
COMFORT:🧡🧡🧡🧡🧡
FABRIC: 88% nylon, 12% spandex
COLORS: Pink, Blue, Gold, Black
STYLES: Brief, Hipster
SIZES: XS to XL
PRICE: $$$
Our Review of Patagonia Active Women's Underwear
Patagonia has made this amazing underwear for active women from a breathable, stretchy, moisture-wicking fabric with HeiQ® Pure odor control. Although they don't rate as high as a pair of merino wool underwear, you'll find these extremely comfortable during a busy day of hiking.
You'll like that they won't rub or chafe due to the seamless waistband and the single sided soft binding around the legs. This design also ensure these panties won't ride up or shift as you are moving on the trail. We are looking forward to seeing how these perform over the next year of testing.
An HeiQ Pure fabric consists of silver-based antimicrobial textile treatments that help control bacteria that cause odors. When used in the Patagonia underwear, it is a game changer among the synthetic underwear choices in keeping hikers feeling clean and odor free.
PROS: Very comfortable fit with "no chafe" design, beautiful selection of colors
CONS: Pricey
---
Reebock Seamless Women's Underwear
This sports underwear for women is an incredible bargain for hiking adventures. At only $4-$6 per pair you're looking at great panties at 1/4 the cost.
OUR RATING: 3.8
WICKING: 🧡🧡🧡
QUICK-DRYING: 🧡🧡🧡🧡
ODOR CONTROL: 🧡🧡🧡
COMFORT:🧡🧡🧡🧡🧡
FABRIC: 94% Nylon, 6% Spandex
COLORS: Huge Assortment
STYLES: Hipster, Bikini, Boyshort
SIZES: S to XL
PRICE: $
Our Review of Reebocks Seamless Ladies Underwear
Without a doubt, the Reebock Seamless Panties are not our top choice for hiking underwear for women. However, for the price they bring a lot to the table. First the seamless sides, wide waistband and smooth leg openings will eliminate rubbing and chafing. For light day hikes these just might be your best bargain on the trail.
Nylon is quick drying so they will keep you from feeling wet from sweat, although it lacks any wicking properties so you might feel a little damp down there if you are sweating a lot.
PROS: Lightweight and comfortable, these are good for easy day hikes. Amazing pricing.
CONS: You wouldn't want to live in one pair of these for days because there is no relief from odors and bacteria build up from sweaty hikes.
---
Best Cotton Blend Wicking Women's Panties
To be clear, cotton underwear is not our top choice in hiking underwear. No matter how it is woven, it is going to dry slower than any fabric. However I know many of you have allergies and sensitivities that require cotton against your privates. So if cotton is your go to, then these are great choices specifically woven to keep the active women as dry as possible.
Hanes Women's Constant Comfort X-Temp Panty
OUR RATING: 3.25
WICKING: 🧡🧡🧡
QUICK-DRYING: 🧡🧡🧡
ODOR CONTROL: 🧡🧡🧡
COMFORT:🧡🧡🧡🧡🧡
FABRIC: 60% Cotton and 40% Polyester
COLORS: Assorted multi-package
STYLES: Brief, Hipster, Bikini and Hi-Cut
SIZES: US Women's 5-9
PRICE: $
Our Review of Hanes Constant Comfort Panties
So what makes these different than regular cotton panties? Well, Hanes calls it their X-Temp Technology which is a hydro-functional polymer designed to wick moisture away. I know that sounds a bit highfalutin technology, but what I get from it is they've done something with how they weave the fabrics to improve the moisture-wicking, hence keeping you cooler and drier.
What you will like about the Hanes Constant Comfort X-Temp Panty is the wide smooth waistband that will not roll when you are in motion. The fabric in these cotton underwear is soft and comfy.
PROS: These are so cheap compared to other quick-drying panty options, generally just a couple of bucks a pair. If money is no concern, pop up top for the bamboo or merino wool options. But sometimes when you are traveling having some inexpensive undies is exactly what you need.
CONS: They come in multi-packs that don't allow you to select the colors.
---
Guide to Choosing the Best Women's Hiking Underwear
But how do you choose the best hiking underwear for you? Underwear is not a returnable item, so you can't try them on and then return them. And with every panty that doesn't do what it's supposed to do, there go a few more dollars down the drain.
So let's look at the properties involved in picking the best women's underwear for hiking to prevent chafing and the perfect sweat-absorbing underwear. It doesn't really matter if you are just out for a day hike or looking for the best women's backpacking underwear for a long trip, these are the critical features.
Moisture Wicking
Moisture Wicking is a term women's hiking underwear manufacturers throw around but what does it really mean? It means the material absorbs moisture from the skin surface. The perfect moisture wicking fabric then moves that moisture away from your skin to the outer surface of the material. The moisture then evaporates from the surface.
Fabrics, like merino wool, that can hold a high ratio of moisture are considered the best moisture-wicking underwear.
Quick Drying
Unless you're hiking in the middle of the desert, you're likely to encounter rain and streams on your hiking or camping trip. A hike in the rain is sure to leave you damp. Even worse is when you are hiking in hot weather and all those private parts sweat profusely. That is the yukkiest wet underwear yet!
So yes, lightweight and quick-drying are important when choosing hiking underwear if you want to stay comfortable and eliminate rubbing and chafing. We just spent 7 days hiking in the desert of West Texas and New Mexico and my merino wool and bamboo panties both gave an outstanding performance. I was ready to throw away everything else!
Antimicrobial Properties to Reduce Body Odor
Bikini area sweat is real! Especially if you are backpacking for days or hiking in warm weather. Undies that have antimicrobial properties reduce body odor, keep the undies fresh longer, and can be worn for days together. Synthetics like polyester and nylon are usually treated with antimicrobial chemicals so that they stay fresh longer, while bamboo, merino wool and hemp have natural antimicrobial properties.
Underwear Style and Cut
It's always safest to stick to the style of underwear you wear regularly. Then you won't be tugging and pulling on them all day when the ride is unusual. In general, there is a large selection of briefs, bikinis, boy shorts, thongs and hipsters that feel comfortable and flexible.
Many ask if thongs are a good underwear style for hiking? In some cases, yes. Thongs designed for athletic wear are very different from those for sex appeal. Hiking thongs are cut specifically so they don't shift and rub as you move.
Many of backpacking underwear we've chosen also have a matching sports bra. That definitely makes it more fun when you are living in those undies on a long backpacking trip.
Wash Care
There are no washing machines on the road. So if you're traveling for days, you might not have the luxury of washing your panties for a few days. When you're hand-washing in col or warm water, you'll really want quick-dry underwear or fast-drying underwear.
But if you want the best quick-dry travel underwear, merino it is. Synthetic dries pretty quick too. You cannot lug around a dryer on a trek. So drying your panties on a rock or string for a few hours maybe your only option.
So yes, if you're looking for quick dry, merino is the best. Merino wool is super easy to care for. If you'll have a few hours of leisure time, polyester or nylon is great too.
Comfortable Seams and Stitching
Some undies have seams running down the center of your bottom or in the front, while some have seams running across them. Those may be okay for regular days, but when it comes to hiking, they're an absolute no-no and can cause unnecessary chafing. Undies with flatlock seams or no seams are the best option for hiking underwear.
If you prefer boy shorts, then a flatlock seam or seamless is critical for your inner thighs to prevent thigh chafing. There is nothing worse that that rash between your legs when you are hot and sweaty. Most hikers will skip boy shorts to avoid the risk of inner thigh chafing.
Also, look for waistbands that don't dig into your skin. A wide no-roll band or even some with no waistband are much more comfortable. And don't forget that tag that rubs the small of your back all day. Look for tag-less or panties that have an easy-to-remove tag.
Durability of Your Hiking Underwear
This year the panties we removed from our hiking underwear list a favorite pair of merino wool panties that stretched out way too far. They didn't have enough elastic-type fibers, like spandex, to hold their shape after a year of wear and tear.
It's hard to tell if underwear will be durable by just looking at them. However if you start with high quality fabric and strong seams you have a better chance of success.
What Materials are Best for Women's Hiking Underwear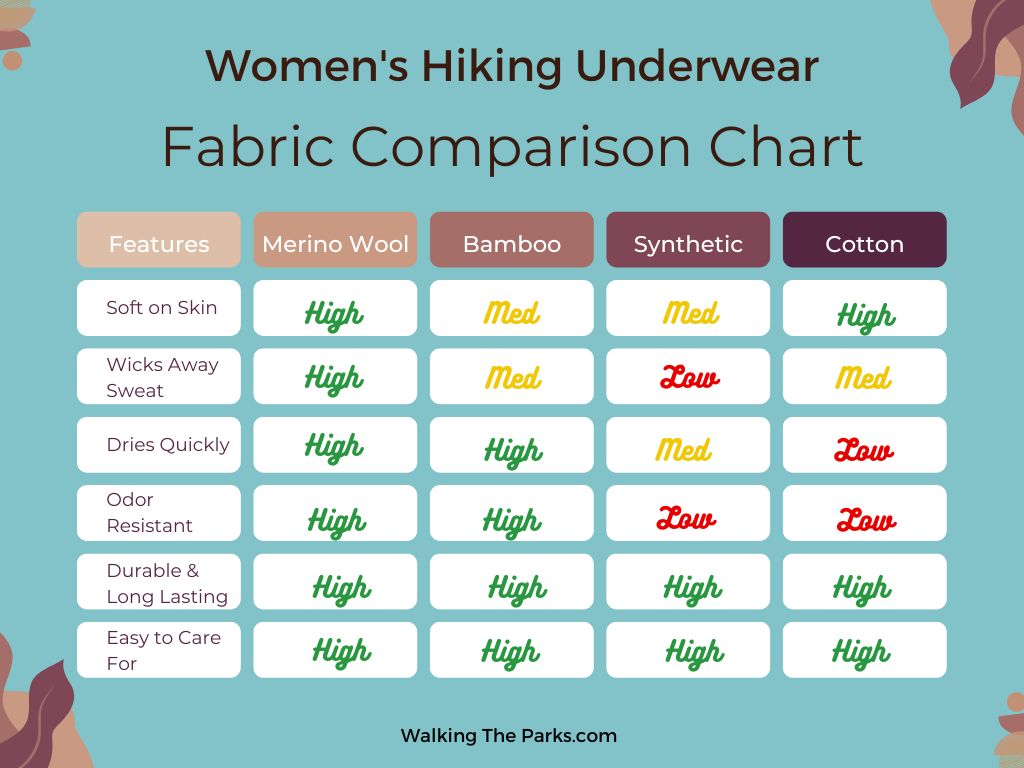 The best hiking and athletic underwear are generally made of bamboo, merino wool or a technical synthetic blend. These fabrics provide the greatest comfort when you are hot and sweaty. Let's take a closer look at each type of fabric so you can decide what's best for your undies.
Is Merino Wool Good for Underwear?
Once considered a fabric only fit for kings, today's hikers sing the praises of Merino Wool Underwear. It's the perfect fabric for hiking underwear and sports bras worn for hiking because it will keep you cool and dry longer than any other fabric. Naturally odor resistant, merino wool can be worn for days on a backpacking trip.
The wool of the merino sheep is extremely strong, long and fine. When spun it becomes one of the softest finest threads and weaves into a premium fiber you would never ever expect from wool. Merino wool is not your mama's wool, all itchy and scratchy. Women's merino wool underwear is super soft!
Merino wool has a high moisture absorption ratio so it pulls water away from your skin making it the best women's underwear for hiking. And then it breathes, allowing moisture to escape to the surface and dry quickly.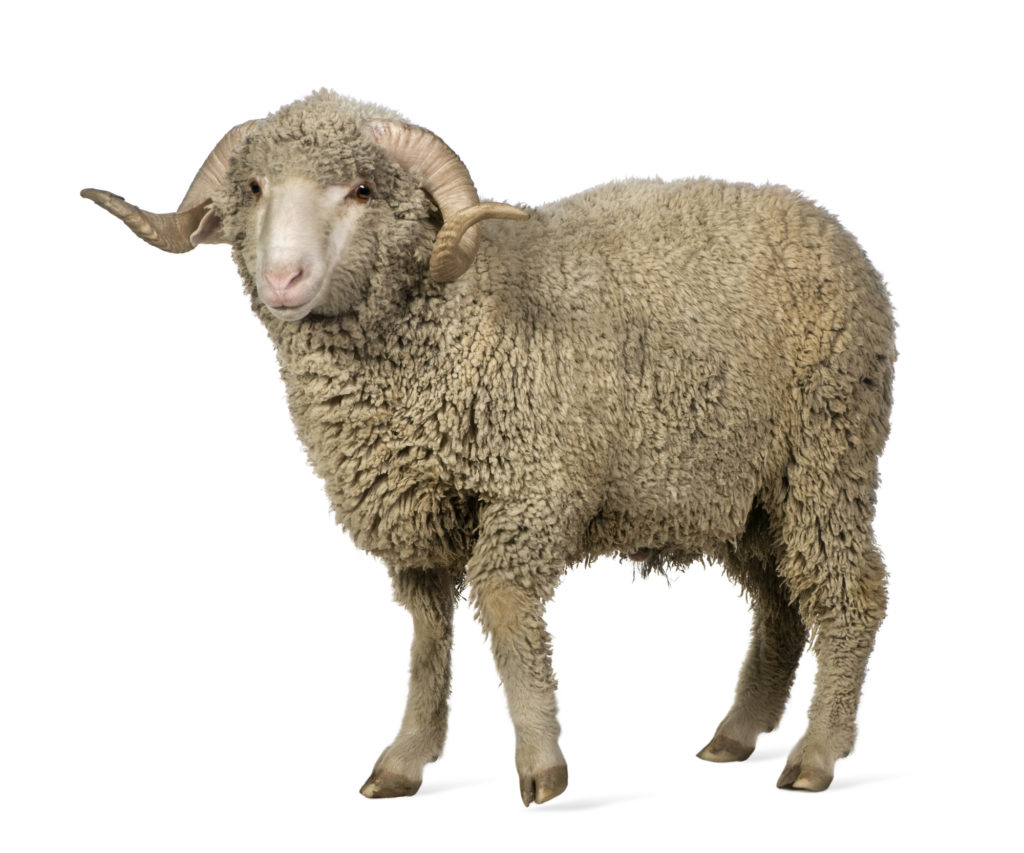 You can wash your merino wool underwear for women with your regular wash in cool water, but it is better to line dry them to maintain the life of the material. The good news is they dry quickly. So when traveling or backpacking, you can easily hand wash before bed and find dry fresh panties in the morning.
Merino wool also is perfect for base layer long underwear for winter hiking for all the same reasons! The only downside to merino wool is the price. Quality women's merino wool hiking underwear will generally run $30-$40 per pair.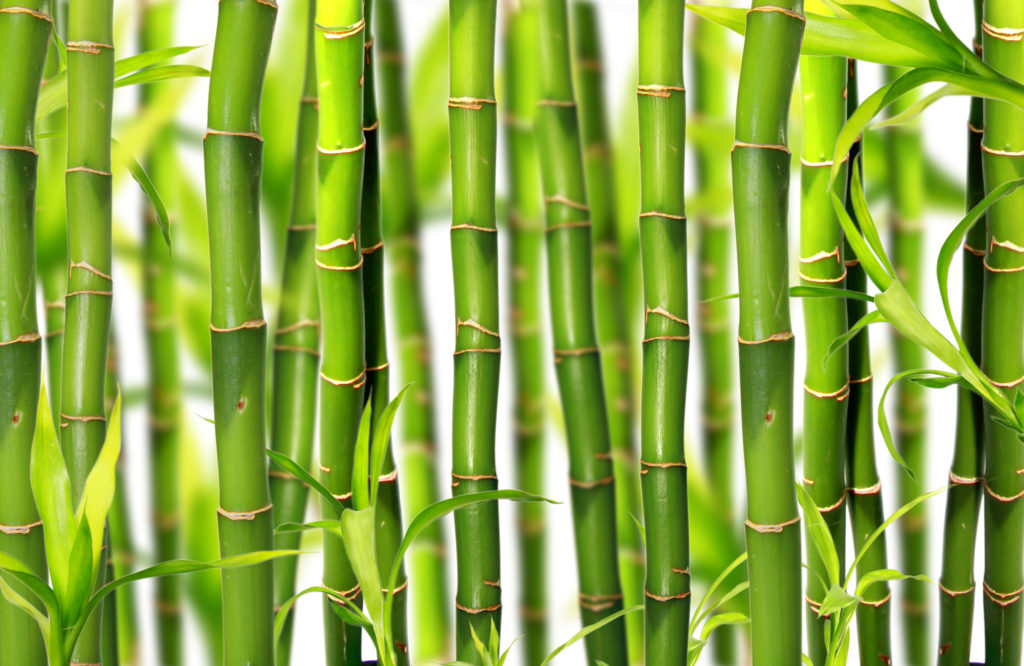 Is Bamboo Underwear Good for Hiking
When bamboo fibers are blended with stretchy fibers like spandex, you get a fabric that is perfect for hiking underwear. When bamboo is blended with a small amount of nylon and spandex it retains it shape extremely well.
You may have never considered Bamboo as a source of fabric, let alone underwear. But seriously, it is a pretty amazing choice for the best backpacking underwear. First, it's super soft, almost silk-like. The yarn that is spun from bamboo has smooth round edges which means when you run your finger over the fabric, it just rolls over.
You'll love that bamboo is naturally odor resistant because it stops odor-producing bacteria from growing and spreading in the fabric. As a result, your underwear will smell cleaner and fresher.
Most people with skin allergies, find bamboo the perfect fabric. Caution though, all bamboo fabric is not made the same. Some of the older processes for altering bamboo stalks to fabric used caustic chemicals. Make sure you select a bamboo panty that is using a non-toxic solution in the soaking step.
You'll feel nice and dry due to the natural absorbing properties of bamboo. This fabric creates amazing moisture-wicking underwear. The fabric also dries quickly so you will feel comfortable. Compare that to fabric like cotton that also absorbs easily, but doesn't dry quickly and you feel the wet fabric against your skin all day.
Bamboo fabric can be machine washed and dried at cooler temps. (Although I often forget my bamboo is in the laundry and haven't noticed any shrinkage.) That's because fabrics that have small amounts of synthetics, like polyester, blended with bamboo seem to have fewer shrinking problems.
Anti-Microbial Synthetic Fabrics for Hiking Underwear
Synthetic fabrics are usually very reasonably priced compared to natural fabrics. Synthetic underwear is also are amazingly durable, putting up with almost anything we can do to try to destroy them like leaving them in a hot dryer or snagging them in our backpack.
Nylon and polyester are perfect for women's hiking shorts because they are so durable. They will hold their shape and endure. I don't know about you, but I definitely need the lowest maintenance clothing possible!
On the downside, synthetic fabrics are not naturally good at wicking away sweat and lack antimicrobial properties. That means untreated they will be damp and stinky pretty fast. However major brands overcome this concern by designing the best women's hiking underwear with venting so it breaths and treating the fabric to make it antimicrobial.
The sportswear that is anti-microbial treated generally is either surface treated or has tiny bits of silver (or other metals) woven into the fabric. The silver releases ions that keep bacteria and fungi from growing.
So if cost and durability are your top concerns when selecting women's hiking underwear, then synthetic fabrics will be at the top of your list. We've selected several top-rated panties to share with you.
Hemp in Hiking Underwear
Hemp has been emerging in the marketplace as an all-natural source of fabrics. The high tensile strength of the hemp fibers results in a very durable fabric. Ecologically hemp production has a positive impact on the environment. It doesn't require much water, grows fast, returns oxygen to the environment at a higher rate than trees and can be easily grown without herbicides.
Does hemp fabric work well for underwear? After testing a pair of hemp hiking underwear for over a year we removed them from this list. They continued to feel stiff after many washings and when we have softer, more comfortable, underwear fabrics to choose from, these lost out.
That doesn't mean we won't try hemp fabric in the future. Hemp naturally has a high anti-bacterial property that will keep away the stink. It will wick away moisture and dry fairly quickly. All that makes hemp fabric a great candidate, someone just needs to figure out the softness factor since the fabric is in touch with your most tender body parts.
Should Cotton be Used in Hiking Underwear
You should avoid cotton in sports and hiking underwear. Cotton is super absorbent, meaning it will soak up all your body sweat quickly. You'd think that would be a great idea. Unfortunately cotton doesn't release that moisture. It holds on tight which means your underwear stays wet. That moist feeling in your panties is exactly what you are trying to avoid with the best hiking underwear.
The exception would be if you have an allergy that requires you to wear cotton. Then I'd suggest you test some of the cotton blends that have been designed to dry quicker. The Hanes Women's Constant Comfort X-Temp Panty is a good example of a cotton blend that dries faster.
Frequently Asked Questions about Women's Hiking Underwear
What is the best hiking underwear material for women?
The best material for hiking underwear is either merino wool, bamboo or a technical synthetic. The fabric should wick away moisture and be fast drying to keep you cool and dry. Plus it should have antimicrobial properties so stinky bacteria and fungi won't grow in the fabric causing odors.
Should you wear cotton underwear hiking?
Cotton underwear is not a good choice for hiking since it holds moisture which can result in discomfort and odors. If you have allergies that require wearing cottons, then look for a cotton blend that is designed to dry quickly.
Should I wear long underwear for hiking?
Long underwear is a critical part of layering clothing for cold weather hiking. Called your base layer since it sits right against your skin, look for fabrics that match the expected weather. You can find lightweight base layers for mild temps or when you will really work up a sweat and heavyweight base layers for extreme cold.
What are the 🧡🧡🧡🧡🧡 Ratings in our Reviews?
The heart ratings for each item are based on several factors. First is our own personal experience. We've been hiking and camping for years and are definitely opinionated about what we like and don't like. And we don't like things that are of poor quality or don't do the job as described. You'll never see those items in our reviews. That means you'll never see items with less than 3 🧡s.
So… The Best Hiking Underwear for Women are Pretty Amazing
As you can see, natural fabrics offer a lot more than just being sweatproof underwear when it comes to keeping you dry, comfortable and odor-free when hiking. What a gift on a hot sweaty hike! Without a doubt, merino wool or bamboo are amazing choices for the best hiking underwear for women. Even so, it's nice to have an affordable option for the best women's hiking underwear in the new technology synthetics and cotton blends. Sending wishes for a happy and dry hike!
---
Check out our other guides to Hiking Essentials for Women:
For the perfect backpack, here's our guide to the Best Daypacks for Hiking
This post was originally written Feb 9, 2020. It was most recently updated so you have the most current information.