Sky Pond Trail in Rocky Mountain National Park is one of Brad's favorites. He shared this hike with me on one of our first vacations together, and I was pretty nervous. It is rated a strenuous hike, and I had zero experience with high elevation hiking.
Well, I'm so grateful that he did! It's a hike I know that you will fall in love with; gorgeous mountain views, scenic valleys, two beautiful waterfalls, peaceful lakes, wildlife everywhere, babbling brooks along the trail, and so much more. The great majority of the hike is a comfortable hike with only a couple of challenging spots worth pushing through.
This post contains a couple of affiliate links to make it easier to find the products I have mentioned. You don't pay any extra, and in some cases, I could earn a small commission.
Sky Pond Hiking Stats
Difficulty Level: Difficult Overall. The majority of this hike is only moderately challenging, primarily due to the high altitude. The first difficult section is the switchbacks near The Loche, which quickly gains elevation, making your heart pump.
The other tough spot is climbing up timberline falls which require a bit of bouldering and may have ice and snow. In both sections, an average hiker willing to take their time can get through them.
Trail Distance: 4.6 miles (9.2 mi RT) from Glacier Gorge Trailhead
Alberta Falls .8 mi
The Loch  2.7 mi
Timberline Falls 4 mi
Lake of Glass 4.2 mi
Sky Pond 4.6 mi
This trail is the shortest route for hiking Sky Pond. If you want to add a few more miles and more features, connecting to this trail from other Bear Lake Road trailheads is easy. Just check out the map first.
Hiking Time: 4 to 8 hours depending upon your hiking skill level
Starting Elevation: 9,240 ft
Highest Elevation: 10,880 ft
Where to Find the Sky Pond Trailhead
The trailhead for the Sky Pond hike is at Glacier Gorge. This is the trailhead for multiple trails, so it is pretty busy, and there is limited space in the Glacier Gorge parking lot. The parking lot at the Bear Lake Trailhead has more room, and if you are an early arrival, you might be able to park in the Bear Lake parking lot.
However, your best bet is to park in the Park and Ride lot. You can hop on the shuttle from there which will take you right to the trailhead. We had camped in Glacier Basin Campground, a short walk from the parking lot which eliminated the need to find parking. From there, we used the Rocky Mountain National Park's free hiker's bus service to get to the Glacier Gorge trailhead.
The free hiker's bus is very easy to use. It runs from mid-May through mid-October. The Park and Ride lot is huge but fills up by mid-morning on peak days.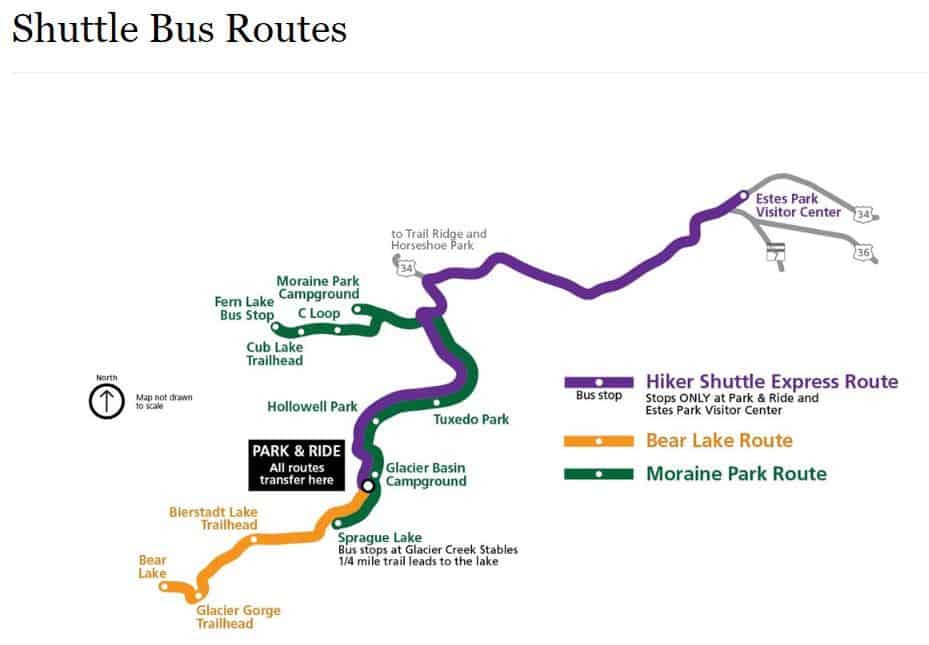 At the Glacier Gorge Trailhead, you'll find bathrooms and occasionally Park Rangers sharing information about the trails and wildlife. Rangers greeted us and immediately honed in on Brad's fishing pole sticking out of his pack. He had to dig deep to find his fishing license, and then we were on our way after a couple of friendly reminders of the rules for Sky Pond fishing.
Timed Entry Reservation for Bear Lake Road
Bear Lake Road is the busiest section of Rocky Mountain National Park. For that reason, during the summer months, a reservation system is used called the timed entry permit. To get to any of the trails in the Bear Lake Corridor, you will need a permit between 5 am and 6 pm.
Permits usually sell out far in advance so reserve your dates as far ahead as possible to avoid being disappointed.
The Trail Map to Sky Pond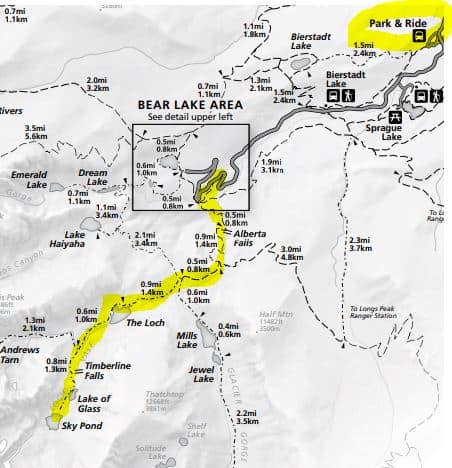 Here's a trail map showing the path to Sky Pond from the Glacier Gorge Trailhead. As you can see, there are other ways to get to Sky Pond. For example, you could start at the Bear Lake Trailhead, hike to Lake Haiyaha, and cross over towards The Loch. However, hiking from Glacier Gorge is more popular because it takes you past the beautiful Alberta Falls.
You can download this map and more trails around Bear Lake from the NPS website.
First Stop Alberta Falls
The first stop on the Sky Pond hike, just under a mile in, is Alberta Falls. To reach Alberta Falls is a worthwhile hike if you are limited on time or want a less strenuous activity. Up to the falls, the trail is wide and family-friendly.
Even though this section was busy, there's plenty of space overlooking the 30-foot waterfall drop to relax and take some fantastic pictures.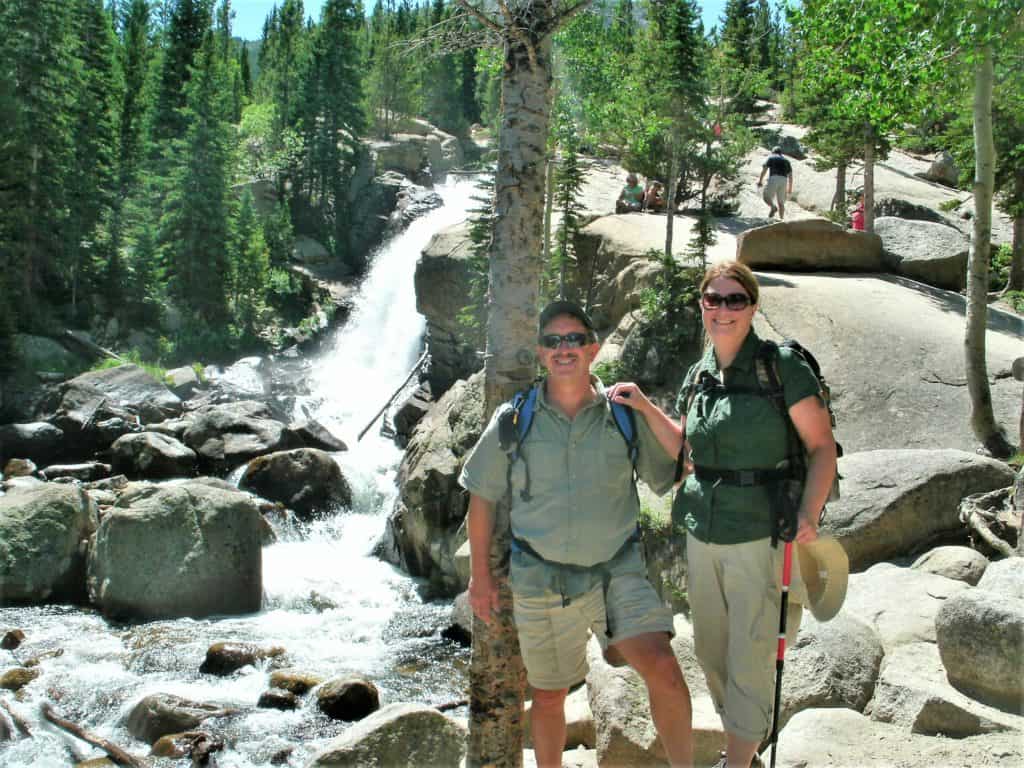 Don't be put off by the crowded hike to Alberta Falls Rocky Mountain National Park. Most folks turn back here, so the crowd on the trail drops off tremendously.
The Beauty of Loch is Worth The Trip
We continued to The Loch. One caution is to stop and check your map and the signs when you reach a trail junction. Rocky Mountain National Park has done an excellent job installing signs to assist. But it is still easy to get on the wrong trail if you don't stop and think about it for a minute. After Alberta Falls, keep following the Loch Vale Trail signs.
The Loch Vale trail weaves through the forest among beautiful trees with a fast-moving stream trailside. This lovely walk was one of my favorite parts of the hike. However, as we approached the Loch, I was huffing and puffing as the switchbacks became a bit steep with quick elevation gain. At this point, I was incredibly grateful for the hiking poles I had brought along.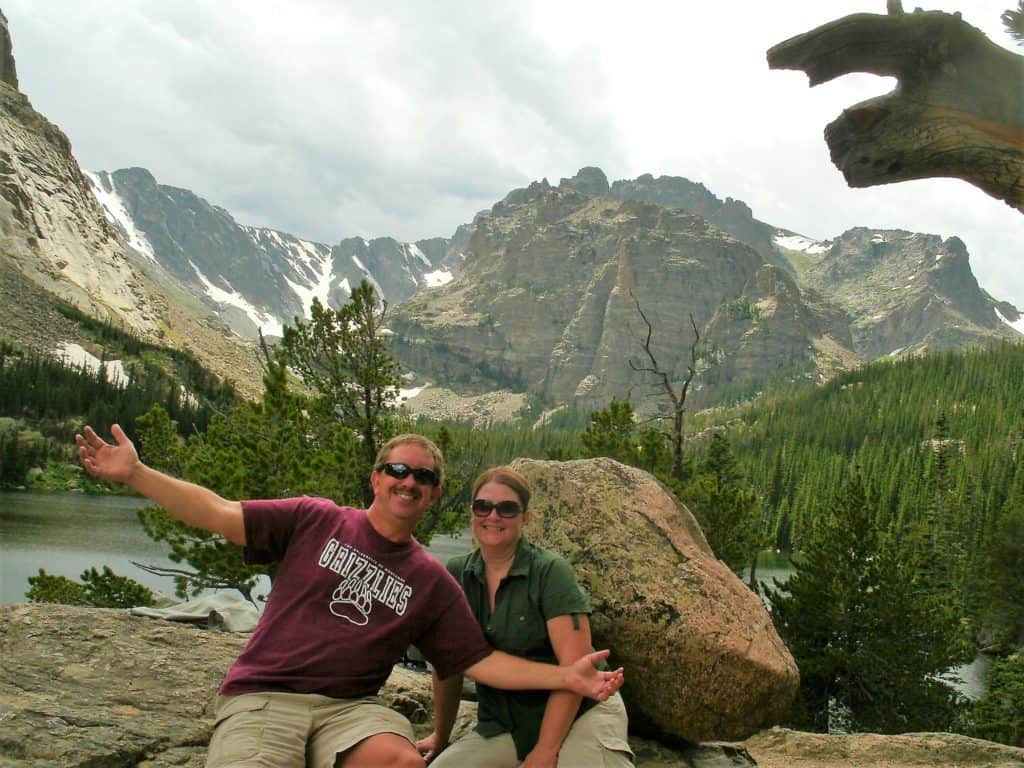 The Loch is a gorgeous lake with unbelievable valley and mountain views. We took a long break sitting on a rock, watching the birds, and just relaxing. We could have turned around here, and I would have been delighted with my experience.
The Climb UP Timberline Falls
But no! We had a goal of hiking to Sky Pond, so we headed towards the most difficult part of the trip. Hiking up the icy Timberline Falls. Yes, I do mean hiking UP a Waterfall that is covered with ice and snow.
We were lucky that August brought enough warmth leaving the waterfall climb trail passable even with some patches of snow and ice. The waterfall is ice and snow-covered for much of the year since snow can start in mid-September and stay until mid-summer.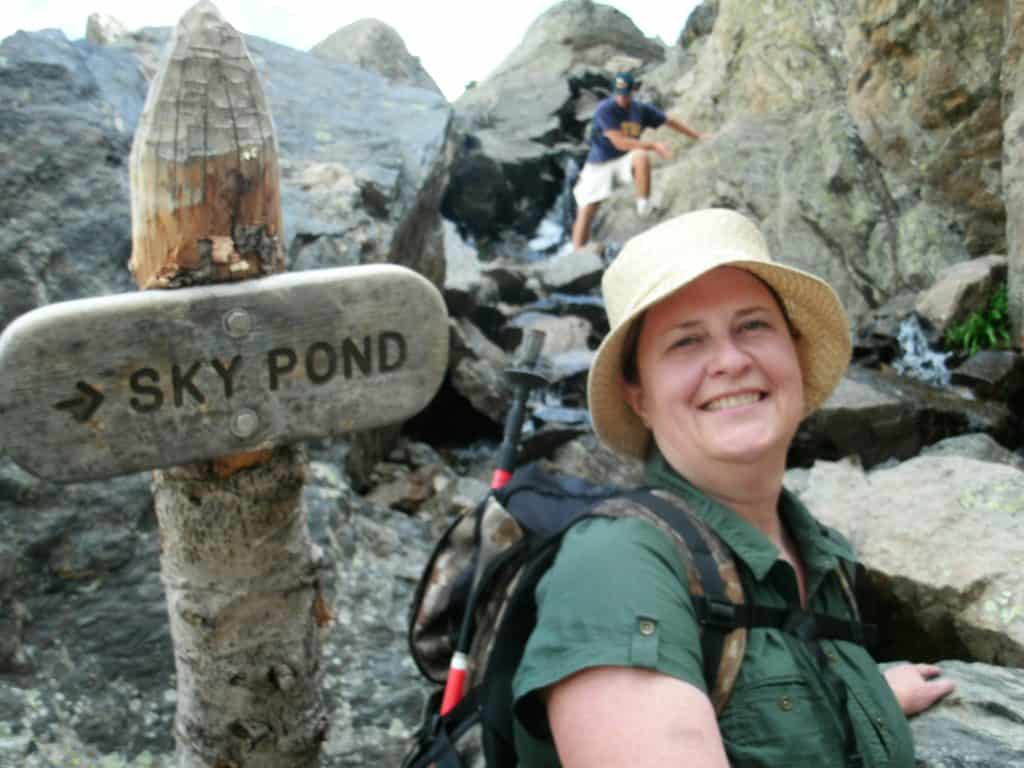 The reward was a quick break at Lake of Glass, where we came across a mama elk and her babies. After watching them eat for a bit, on to Sky Pond.
And special moments like this at Glass Lake are why we hike in the National Parks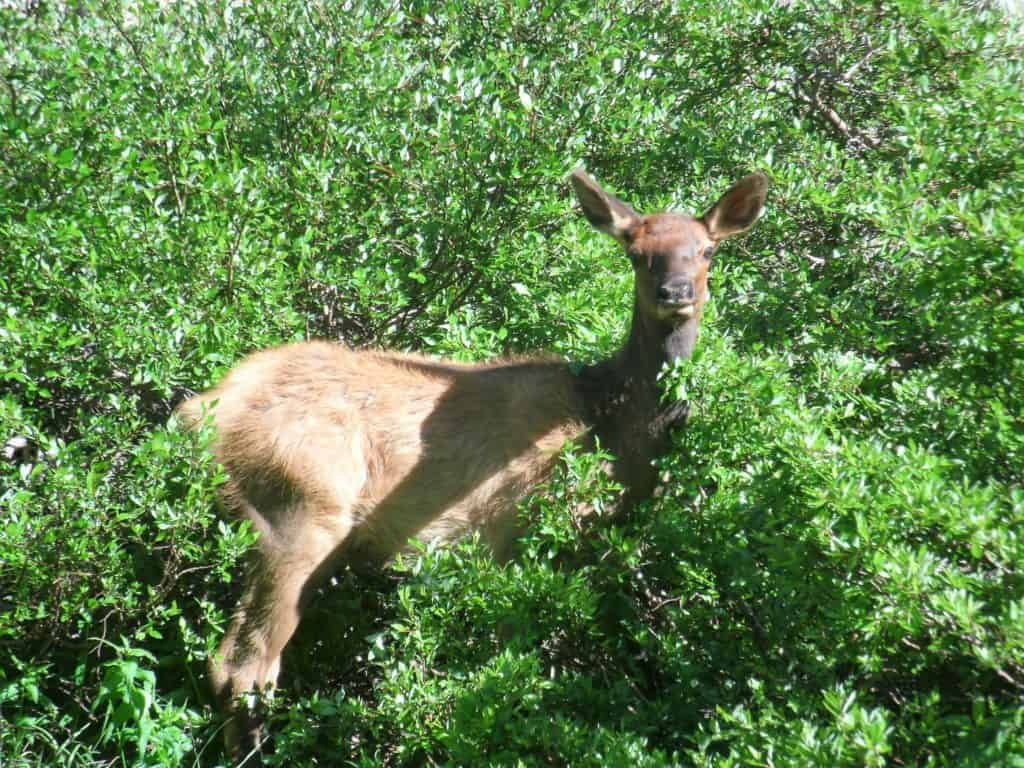 And We Arrived at Peaceful Sky Pond
We reached Sky Pond. Not many continue the hike this far, and we had the lake to ourselves for about an hour. After a great hiking lunch, I stretched out on a sun-warmed slab of granite while Brad wandered the shore and fished Sky Pond.
There are no words to describe the blissful feeling experienced when living in the moment while sitting next to a quiet mountain lake.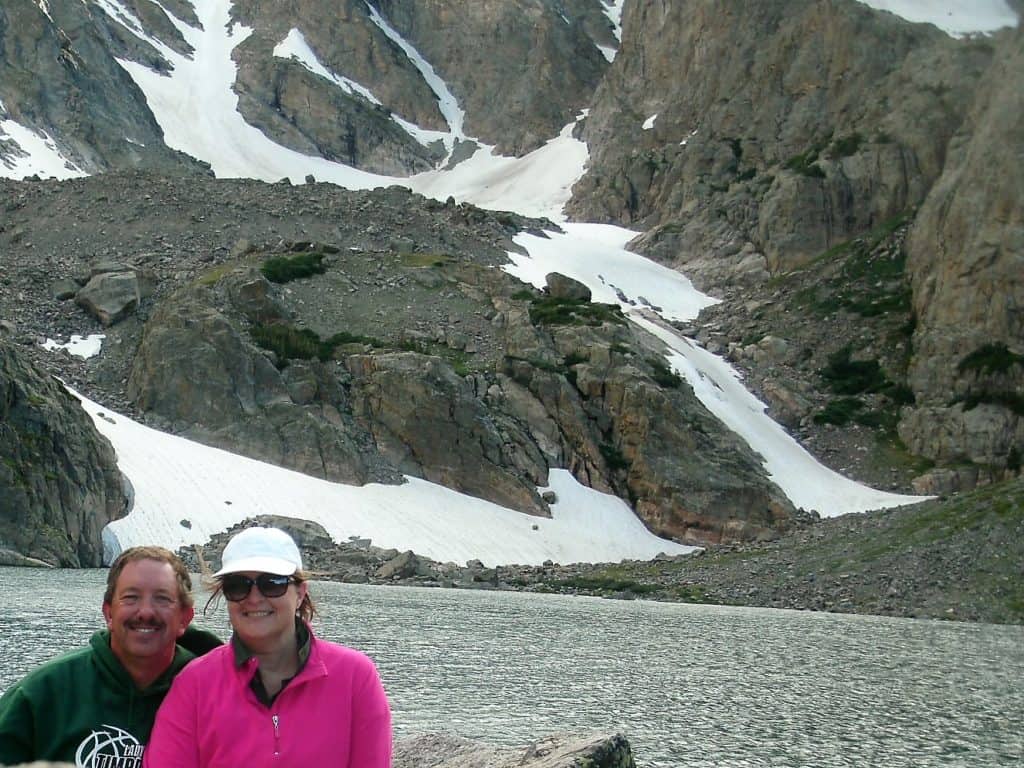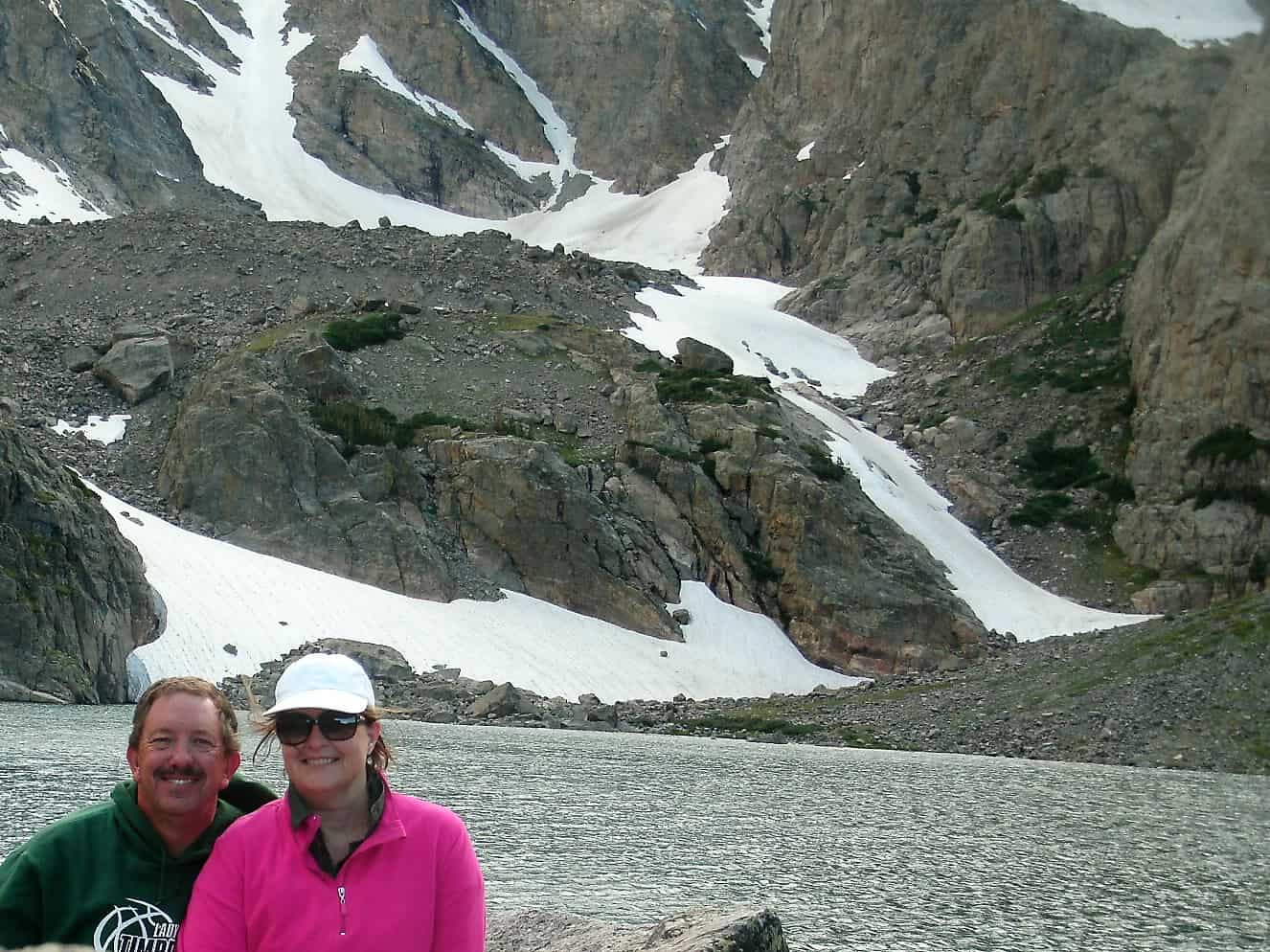 Too soon, it was time to head down the trail. As we were heading out, we met a mom taking her 2 youngsters past Sky Pond for their first backcountry camp out. I looked at her with admiration and a bit of envy. I wish I had been that self-confident at that point in my life.
Well, in Stork style, we had lingered at Sky Pond a little too long and had to pick up the pace to get off the mountain before dark. I pretty much just slid down Timberline Falls on my butt! I was so glad I brought my hiking poles which were terrific for reducing the impact when moving downhill quickly.
We arrived at the trailhead just before dusk. Remember we took the bus over to the trailhead? Well, the buses had quit running for the day. Even though we had hiking headlamps with us, the thought of hiking 2 miles in the dark to our car was a little overwhelming.
And then we found magic in Rocky Mountain National Park! A group of young people in a packed Subaru stopped and gave us a ride to our car. We were sitting on top of each other, and everyone was a little stinky from hiking. But who cares! We were grateful for their generosity.
And we were all happy to have enjoyed the beautiful day in Rocky Mountain National Park!
Don't Let the Planning Overwhelm You!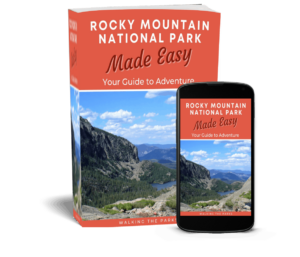 Plan your perfect trip to Rocky Mountain National Park!
Check out our complete digital Guide to Rocky Mountain National Park. This is written specifically for the first time visitor to make your trip planning easy! Over 90 pages of things to do and see on your adventure. Plus get pro tips for planning your adventure.
Start planning immediately with Digital Download!
Hiking Tips For Sky Pond Trail in Rocky Mountain National Park
Hike early! Thunderstorms with lightning are common in the summer, dangerous above the tree line. An early start lets you head back down if storms start brewing without missing the best parts of the hike.
Bring layers. The wind can be strong and cold.
Walking poles were helpful for steep switchbacks. Something simple like these works well for this level of hiking.
Pack a pair of dry socks for after you hike back down Timberline Falls. Nothing worse than the 3-mile hike back in wet socks!
The trail splits off to other destinations several times, so it would be helpful to have a map.
Throw in some lightweight over-the-shoe spikes/crampons in case the falls are icy. Something like this one works well for summer. Winter will require something more heavy-duty. We were lucky that enough rock was exposed in August that we could get up the rock. But you can't predict ice levels from year to year.
Bring plenty of food and water – You will burn some calories on this hike.
Afternoons often bring rain, so include a lightweight rain jacket in your pack.
This is a challenging hike, make sure you are physically prepared by doing hiking exercises months in advance.
For a complete list of what to take on a long day hike like this, check out this post about the Day Hike Packing List Essentials.
Frequent Questions about Hiking the Sky Pond Trail
Can you Hike Sky Pond in the Winter?
Yes, you can reach Sky Pond in the Winter. However, it becomes a much more challenging hike, and it is critical that you prepare for snow and ice on the trail. Hiking poles and traction devices are necessary for most of the path, and you won't be able to make the waterfall climb at Timberline falls without them.
If there has been recent snowfall, you should also carry snow shoes to get over the deepest sections.
The wind can be brutal in the winter, and many hikers turn around at the tree line if the wind is too severe. Don't attempt this hike in the winter without adequate safety gear, food and water.
All that said… The Sky Pond hike in the winter can be an amazing experience, and you'll likely find the parking lot full first thing in the morning on any sunny winter day with fellow hikers anxious to take on the challenge.
What is it like Hiking Sky Pond in the Spring?
Springtime for most of us is still full-on winter at this high elevation. If you are hiking to Sky Pond in the spring months, you need to plan for snow and ice. Hiking poles and spikes, as well as warm clothes, are necessary. Even into late June, snow is on this trail. And Timberline falls will be icy, requiring spikes to climb the waterfall.
How Long Does Sky Pond Hike Take?
The 9-mile round trip hike to Sky Pond can take 4 hours if you push through it and up to 10 hours if you take your time and enjoy each stop. It's really about your hiking style and your fitness level.
Those switchbacks after Alberta Falls can be a little challenging if you aren't used to the higher elevation. Also, consider the time of year as climbing up Timberline Falls in the winter when it's very snowy and icy will take longer.
What do you Need to Know About Sky Pond Camping?
The only designated backcountry campsite in the Sky Pond area is Andrews Creek. All Rocky Mountain National Park Wilderness Camping requires permits. Advance reservations are strongly recommended. Or you can opt for Rocky Mountain National Park Camping in one of the drive-in campgrounds. We chose Glacier Basin Campground because it was so close to all the great hikes in the Glacier Basin.
The biggest reason I recommend this hike to everyone visiting Rocky Mountain National Park is that you can easily adjust the hiking plan to fit your skillset or your time available for that day. You don't have to hike all the way to Sky Pond to have a fantastic day. Each of the stops along the way, Alberta Falls, The Loch Vale and Glass Lake, are beautiful places to relax.
And if you do hike Sky Pond Rocky Mountain National Park, you'll have unforgettable memories to share.
---
Looking for other things to do in Rocky Mountain National Park? Here are our top articles about the park:
And Here are our Favorite Day Hikes you'll want to Check Out if you Love Sky Pond: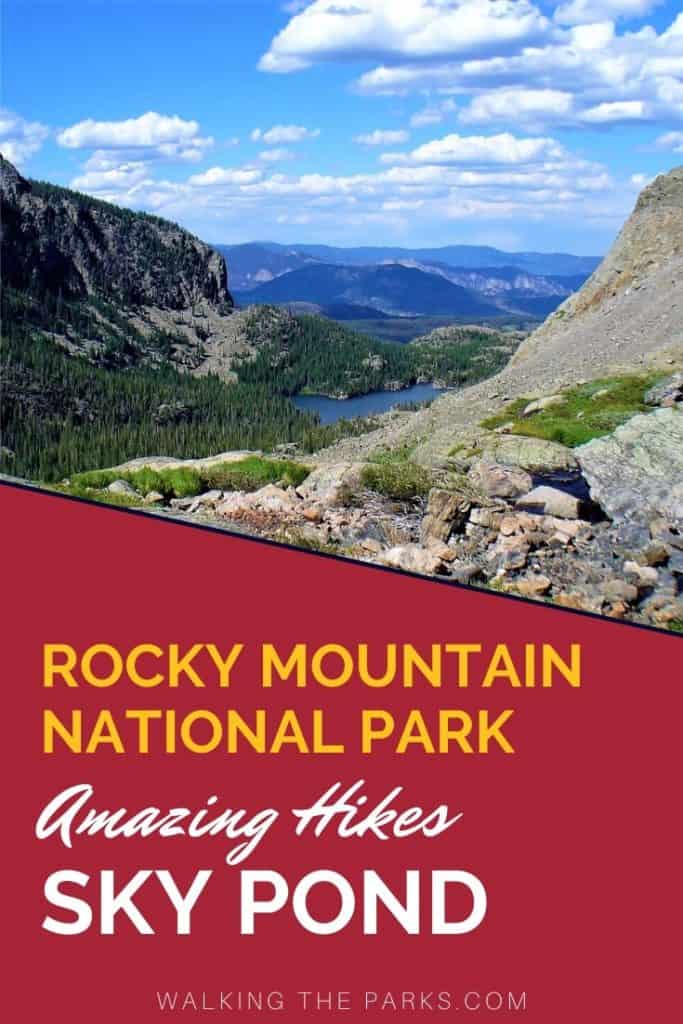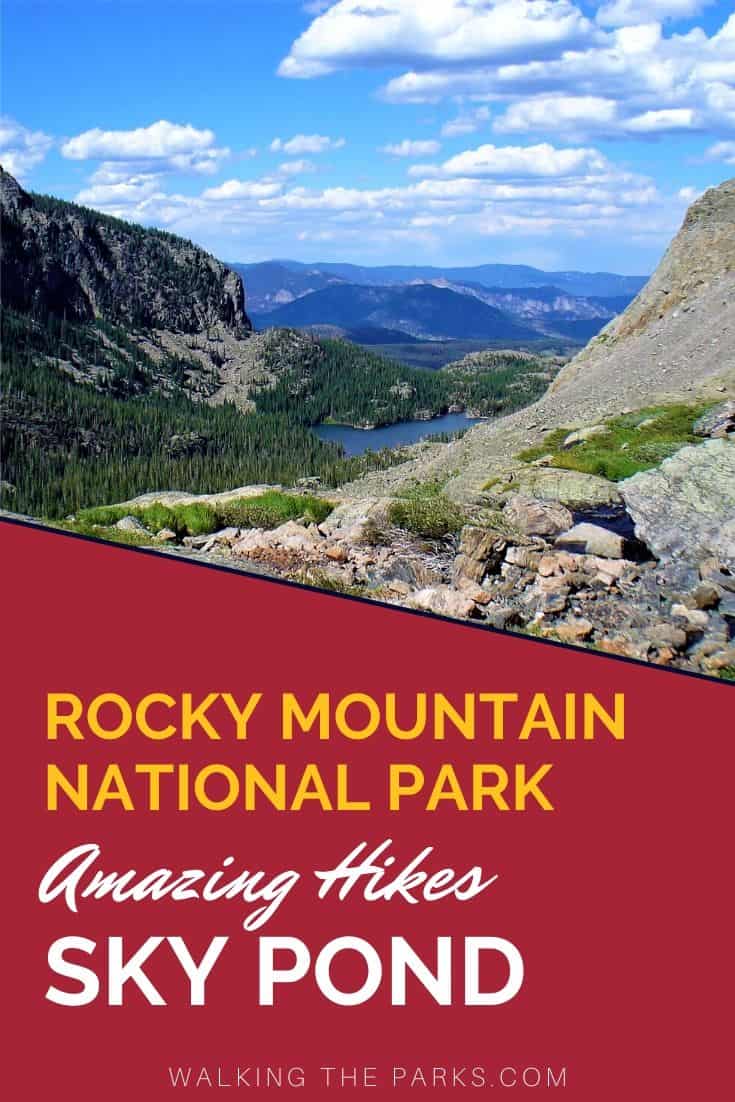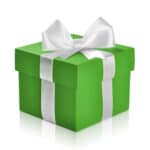 Looking for gift ideas for your favorite Hiker? Check out our Unique Guides!