Driving Going to the Sun Road is an unforgettable adventure. You'll spend the day on this spectacularly scenic mountain highway traversing Glacier National Park in Montana. From towering peaks and crystal-clear lakes to captivating valleys and majestic waterfalls, discover twenty of the best stops on Going to the Sun Road.
Best described as a white knuckle drive, Brad took the wheel for my first cruise across Going to the Sun Road. Most visitors who travel this iconic highway drive themselves. However, if you are squeamish about driving mountain roads take the park shuttle or join a tour (more about those options below). We've traveled this amazing highway many times and in this post, we are sharing the best stops on Going to the Sun Road.
About Going to the Sun Road
The 51 mile long Going to the Sun Road connects the St. Mary Entrance on the East with the West Glacier Entrance. Along the way, you'll discover a variety of hikes and photo-worthy scenic roadside pull-offs. Traveling Going to the Sun Road, in theory, takes 2 hours one way. But with all the spectacular places to stop along the way you should allow at least 4 hours. We recommend you make this a full-day adventure and include a few short hikes in your itinerary.
The Building of an Environmentally Conscious Mountain Highway
Going to the Sun Road opened on July 15, 1933. But it took two decades of planning and construction to build this 51-mile-long highway through the mountains. As you drive, imagine engineers hanging over cliffs from climbing ropes as they mapped out the road. And since much of the construction area is snowed in from mid-October until July, they were also challenged with the very short construction season.
National Parks have a unique challenge in balancing maintaining the original, natural environment of a park and providing people access. Here, the builders were insistent upon having the smallest impact on the environment possible. Even though it was a slower process, blasting through the hard rock was limited to very small charges in order to avoid damage to surrounding lands. Rock materials that were moved, were reused in other sections of the road. Bridges, retaining walls, and guardrails were all made of native materials.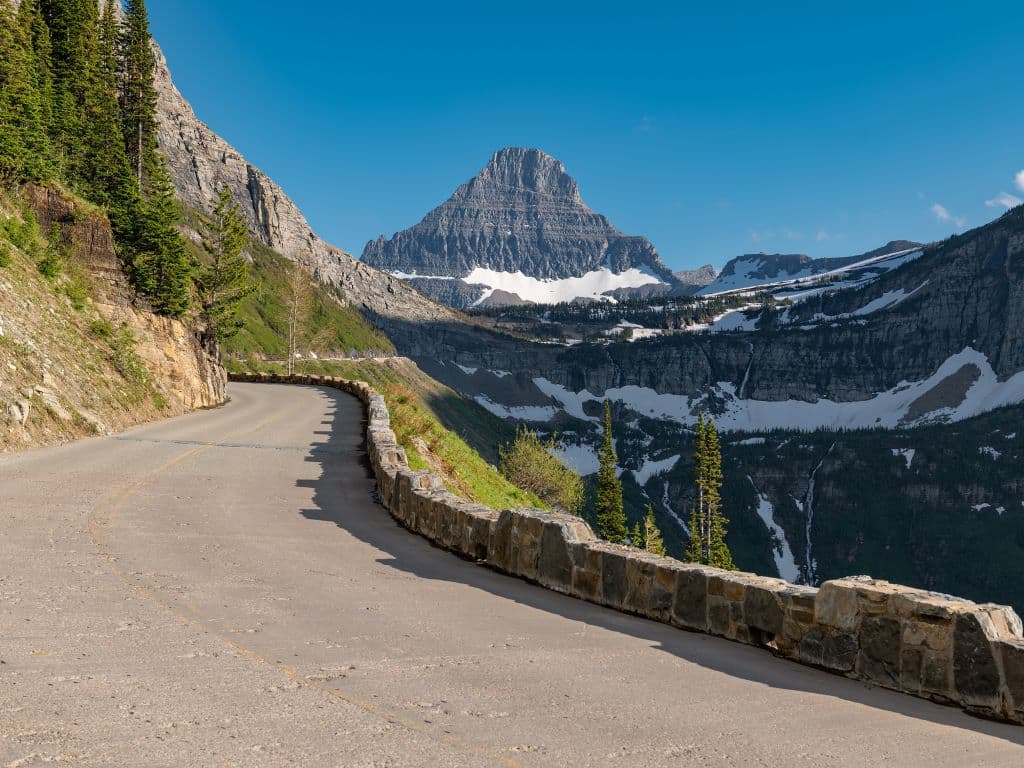 Important Things to Know Before You Go 
Best Time of Year to Travel Going to the Sun Road
Going to the Sun Road is Only Open from late June through mid-fall: Going to the Sun Road is closed for the winter due to the massive amounts of snow. Most years it is late June before the road is cleared of snow and open for vehicle traffic. In the fall the goal is to keep the road open until mid-October, but that can change if early heavy snows blow in.
Best Time of Day to Drive Across Going to the Sun Road
The best time to drive across Going to the Sun Road is in the afternoon and evening. If you are planning a long hike along the way, you'll want to start earlier. But for a casual drive, afternoons and evenings are perfect to enjoy the best stops on Going to the Sun Road.
Why? 
Early morning brings a large crowd of visitors who are planning a full day of hiking from one of the trails along this route. They will clog up many of the parking areas. So consider taking this scenic drive in the afternoon. Those early bird hikers start getting back to their cars around noon so you'll find it will be less crowded. Keep in mind that in summer it is light until 9 or 9:30 pm so a leisurely start leaves plenty of time for exploring. 
And the bonus of a late start is wildlife is more active in the early evening. I was thrilled when we stopped to watch a bear walking along the road one evening.
Vehicle Size Restriction: 
Because the road is narrow and winding there are size restrictions between Avalanche Campground and the Rising Sun picnic area. Vehicles, including the trailer, can be no more than 21 feet long and 8 ft wide. If your vehicle is too big, just plan to hop on the free shuttle!
URGENT: Get Your Vehicle Reservations Passes Before You Go!
During peak season from July into early September, you will not be able to enter most areas of Glacier National Park without a vehicle reservation pass. And Going to the Sun Road requires a reservation starting in May. There is a high demand for passes and most days sell out far in advance. So as soon as you think you are going to vacation in Glacier, go online and get your passes. For details check out our detailed Guide to National Park Reservation Requirements.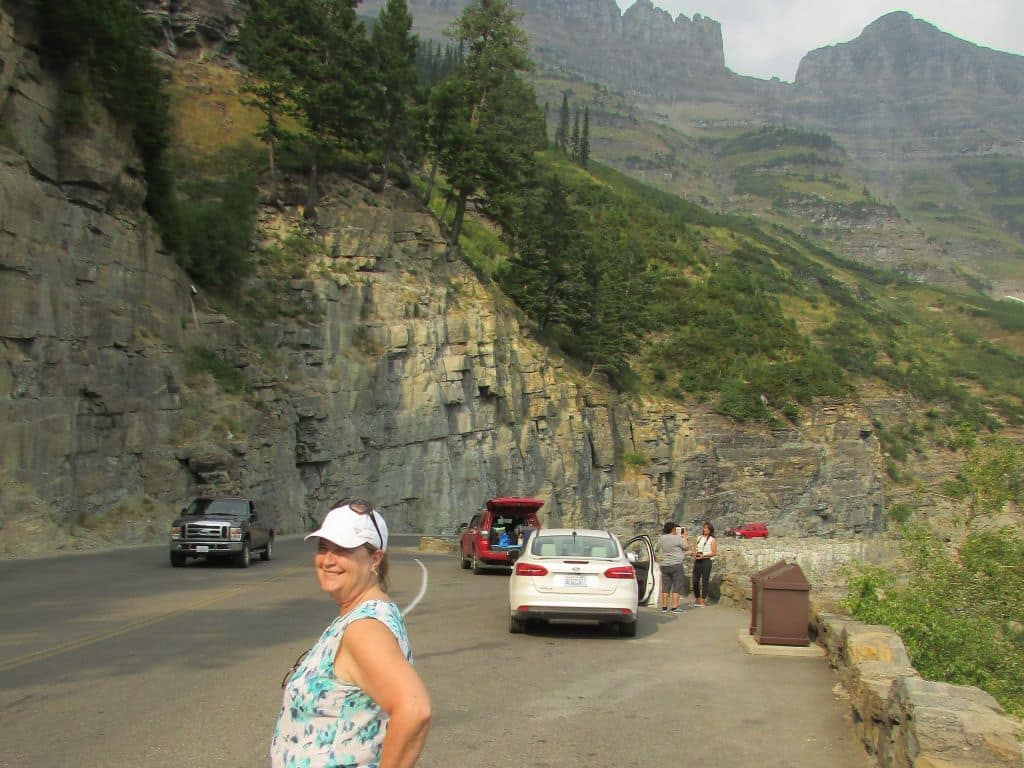 Best Stops on Going to the Sun Road
For ease of use, I'm going to cover the best stops on Going to the Sun Road starting at West Glacier and working our way East to St. Mary. If you are traveling in the opposite direction, just flip the order. We like to drive Going to The Sun Highway as a round trip, making some stops one way, and others on the way back. You'll be surprised that you discover views you missed when you are looking at them from the opposite direction!
Map of Going to the Sun Road
You can get a free printable PDF Going to the Sun Road Map from the National Park Service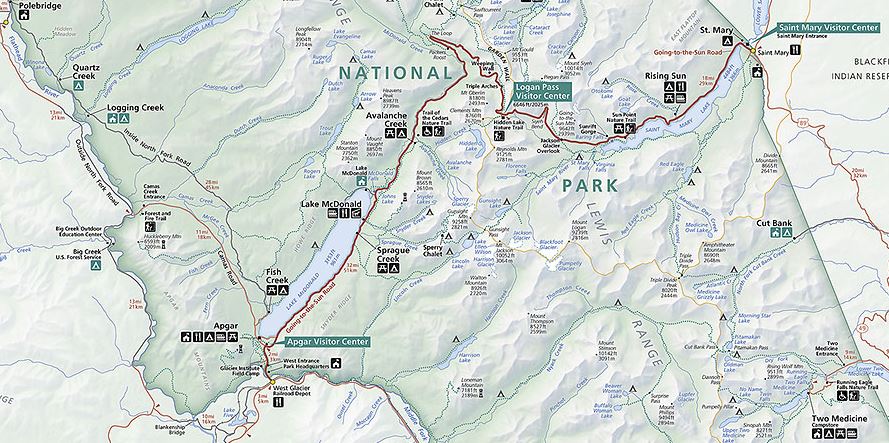 Quick note about hikes along Going to the Sun Road
In this guide, we include many short hikes so you can experience what Glacier is most famous for on your day of crossing Going to the Sun Road. We've also listed many places where you can just hop out of your car for a quick view and grab amazing photos. The perfect day is a mix of both, depending on how much time you have and your comfort level with hiking.
I've also included a few epic bucket list hikes in this list. Hikers will often choose one of these long hikes and then add an assortment of shorter stops to make driving Going to the Sun Road a full day adventure.
1 Stop at the Apgar Visitor's Center
Where: 1 mile from West Glacier Entrance. It's tucked away from the road so follow the signs to get there.
Time: 20-30 minutes.
The Apgar Visitor Center is a great first thing to do when you enter Glacier National Park. You'll find displays sharing the history of the park around the patio. Rangers are on hand to answer questions and make suggest more things to do in Glacier National Park.
It's also a good place to make a quick potty stop. You'll find bathrooms along the way but they are not very close together.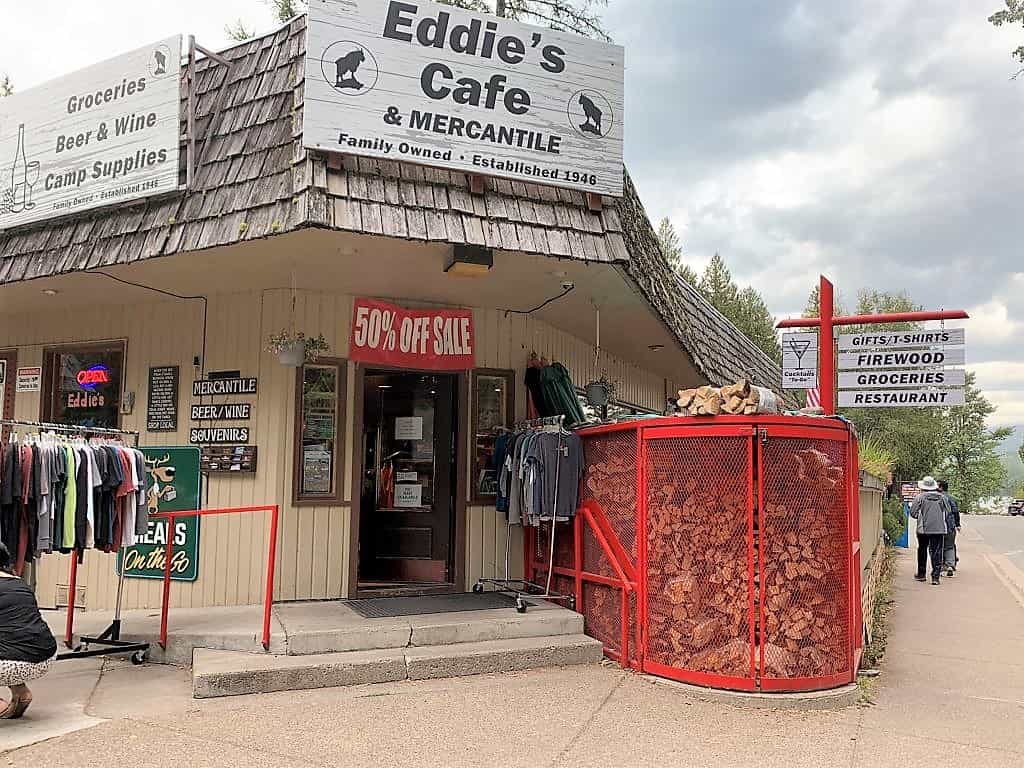 2 Stock up on Supplies in Apgar Village
Where: Apgar Village, near the Visitor Center
Time: Varies
Discover this unique village just inside the park entrance. In Apgar Village you can grab a full breakfast to start your day or a box lunch to take along at Eddie's Cafe. Don't forget to get a piece of their famous Huckleberry Pie, we love it!
In the village, you'll find gifts, t-shirts and much more at Montana House, School House Gifts, and The Cedar Tree. Each shop is unique. The Cedar Tree is famous for being built around a live cedar.
Resist the temptation to rent a bike or paddleboard on Lake McDonald or you'll find yourself spending the whole day in Apgar Village.
3 Tour Lake McDonald's Lodge, Grab a Beverage or a Meal!
Where: About 10 miles from the West Entrance, sitting on the edge of Lake McDonald. Watch for signs to get to the parking lot.
Time: Varies
Wait until you see the lobby of the historic 1913 Lake McDonald Lodge! The open log beams and hand-hewn rails will make you feel like you just stepped back in time. Enjoy the huge stone fireplace in the evening while sipping a beverage from the lounge just off the lobby. We had a delicious full-service breakfast in the lodge dining room. It's also Brad's favorite place to grab a cold beer after a day of hard hiking.
Out the back door is the beach area with boat rentals and swimming. The beach is open to the public, even if you aren't staying at the lodge.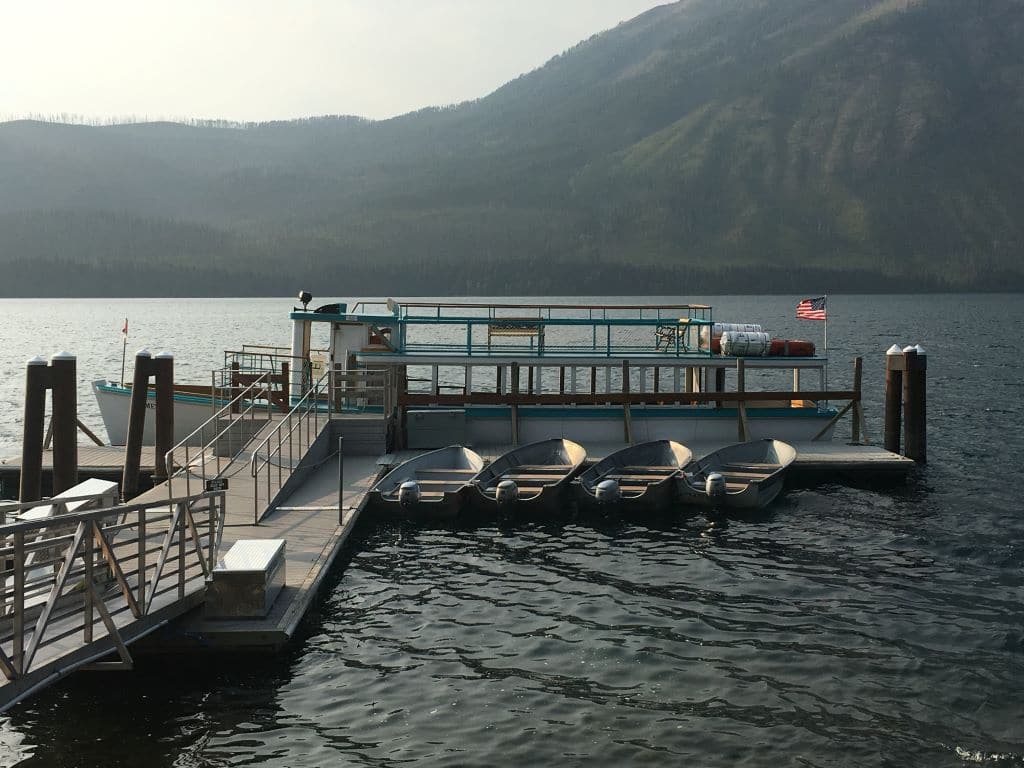 4 Relax on a Historic Boat Cruise on McDonald Lake
Where: Behind Lake McDonald Lodge
Time: 2 hours
Our favorite is the evening sunset cruise as a relaxing way to end the day. We loved the historic 1930s wooden boat. You are welcome to grab a beverage from the hotel's bar to bring along. The captain will share a bit of history and point out interesting features around the lake. And he'll throw in a few bad "dad jokes" along the way. You can get boat tour tickets at the lodge or order online.
5 Hike to Sperry Chalet: A Bucket List Hike
Where: Trailhead across Going to the Sun Road from Lake McDonald Lodge
Difficulty: Strenuous
Distance: 12.3 miles
Time: 5-7 hours
The hike to the historic Sperry Chalet is beautiful. The Sperry Chalet is the sister to Granite Park Chalet, offering overnight accommodations to backcountry hikers. There is high demand, so make reservations early if you want to sleep over. The beautiful rustic lodge also serves lunches to hikers.
The hike starts through dense red cedars and starts climbing quickly, ascending over 3,000 feet during your hike. Yes, you'll get a workout! You'll pass multiple tall waterfalls on the trail so don't forget your camera.
Along the trail, you'll still see a lot of evidence of the 2017 Sprague Fire that severely damaged this area. We happened to be on McDonald Lake and saw the lightning that started that fire so it is one that we will always sadly remember. That fire also damaged buildings in the Sperry Chalet complex, much of which has been rebuilt.
6 Trail Ride Horseback
Where: Across the Parking Lot from Lake McDonald Lodge
Time: 1 hour, 2.5 hour and all day tours
Riding into the wilderness of Glacier National Park on horseback is an experience dreams are made of. Guided rides are available through Swan Mountain Stables at their location near Lake McDonald Lodge. (They have additional stables near Apgar Village and in Many Glacier.) For horseback rides, make your reservations in advance to avoid being disappointed.
7 Hike to Johns Lake Loop
Where: About 1 mile East of Lake McDonald Lodge (mile 11.4 from entrance)
Difficulty: Easy
Distance: 1.8 mile
Time: 1 hour
This easy loop hike takes you to Johns Lake, a very peaceful lake that often attracts wildlife. If you choose to do the loop hike, you'll also pass McDonald Falls and Sacred Dancing Cascade, while on foot.
8 Explore McDonald Falls
Where: McDonald Creek near the Northern tip of Lake McDonald, accessible from a pull-off on Going to the Sun Road
Difficulty: Easy, viewable from the road
Time: 10 minutes
A favorite stop to enjoy a crashing waterfall without the need for a hike. Although the falls are viewable from the parking lot, most visitors walk down the stairway to get a close-up view. The falls occur where McDonald Creek dumps into Lake McDonald.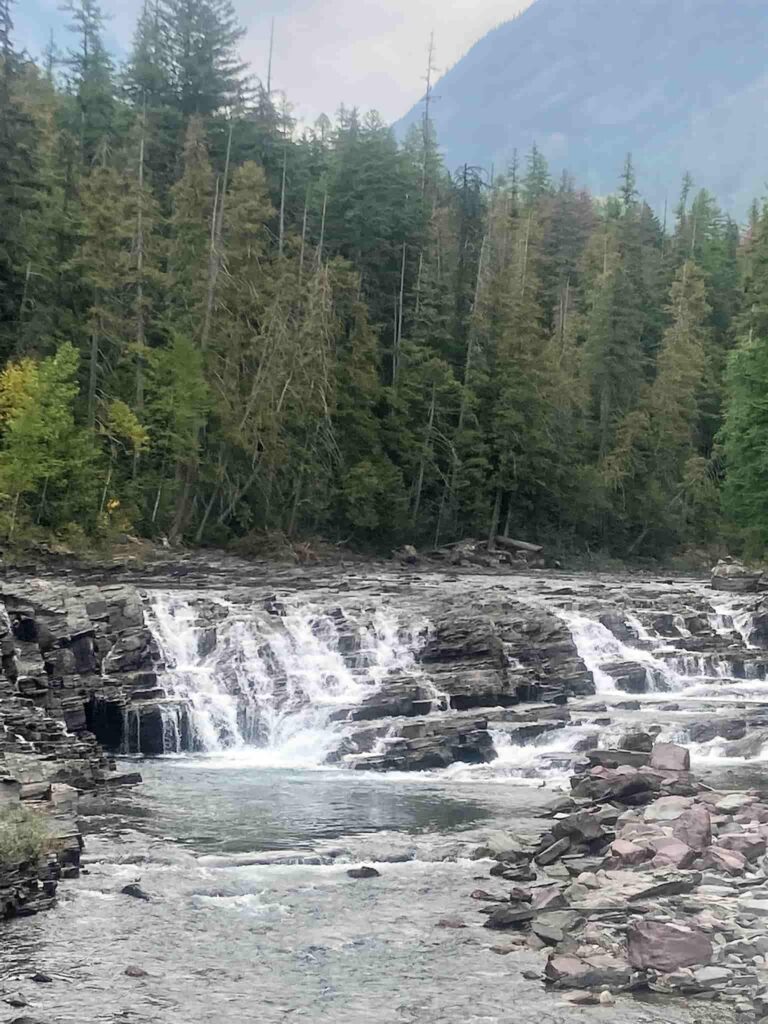 9 See the Sacred Dancing Cascade
Where: Visible from pull-offs on the left after the Johns Lake Trailhead
Difficulty: Easy
Distance: 2 minute walk
Time: 10 minutes
The best view of the cascades is from the little bridge that crosses McDonald Creek. However, you can see them from Going to the Sun Road if you don't want to take that little 2 minute walk. In the heat of the summer, you'll see a lot of people enjoying the spray from the water and traversing the boulders within the creek.
10 Walk the Trail of the Cedars: Family Friendly Short Hike
Where: Trailhead on Going to the Sun Road at Avalanche Creek (15.6 miles from West Entrance)
Difficulty: Easy
Distance: 1.0-mile loop
Time: 30 minutes
The Trail of the Cedars is a nature trail that is wheelchair accessible. It follows a boardwalk through red cedars, some of which are over 100 feet tall and over 500 years old. Under the trees, you'll find lush ferns. It's beautiful here! This is a popular trail so don't be surprised if the parking lot is full.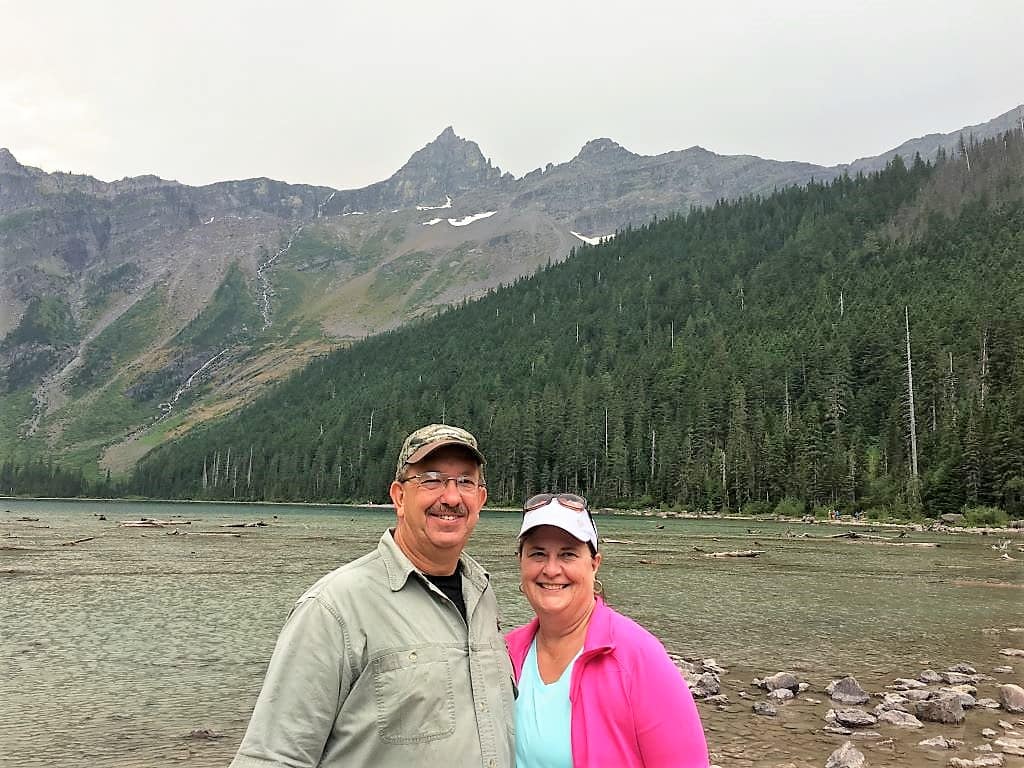 11 Hike to Avalanche Lake: Family Friendly Short Hike
Where: Shares the trailhead with Trail of the Cedars
Difficulty: Moderate (very family friendly)
Distance: 4.5 miles RT
Time: 2-3 hours
I think this is my favorite short hike in Glacier National Park. Avalanche Lake is a gorgeous lake sitting at the base of Bearhat Mountain. What we loved most was the large number of waterfalls cascading hundreds of feet down into this lake. The trail is rated moderate because of the distance, but the 300-foot elevation gain is gradual making it a very family-friendly hike. Note, this is a very popular hike so expect to share the trail.
12 The Loop
Where: About 21 miles from the West Glacier Entrance. No way you can miss this one!
The loop is a 360-degree switchback on Going to the Sun Road. Bathrooms are generally available at this pull out. However, you may want to skip stopping here in the morning as the lot will be packed with hikers heading up to the Highline Trail. But it's worth noting the feat of engineering that made this part of the road possible.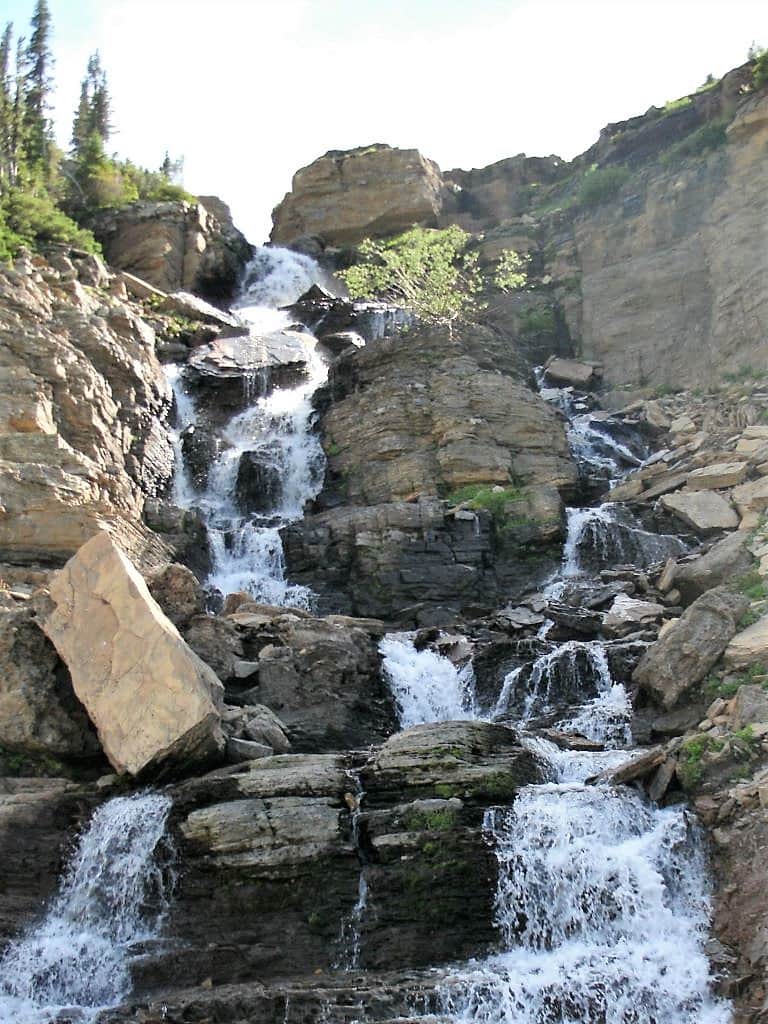 13 Haystack Creek Falls and Birdwoman Falls: Unbelievable Photo Opp
As you get close to Logan Pass, there are several turnouts with views of these to 500 plus foot waterfalls. Hop out and get a photo of your family in front of them!
Haystack Creek Falls is unique in that there is a huge culvert running under Going to the Sun Road to manage the water flow. Birdwoman Falls might be one of the most photographed waterfalls in Glacier National Park.
14 See The Weeping Wall and The Garden Wall
Where: 30 miles from West Glacier Entrance, 3 miles from Logan Pass
Time: 10 minutes
The Weeping Wall is a section of the Garden Wall along Going to the Sun Road. As you can imagine by the name, water runs down the sheer cliff. When snow melt is at its peak, the water is gushing and will splash your car. Interestingly, this long waterfall is not all natural, when the road was constructed the blasting uncovered natural springs that added to the snow melt flow. On hot days, you may see people standing under the waterfall to cool off. Be careful if you choose to participate as there is a lot of traffic here.
The Garden Wall is named for the mass of gorgeous wildflowers that bloom in the summer. However to see the burst of color you need to hike the Highline Trail as listed below. Here you are only seeing a short section of the Garden Wall.
15 Big Bend: Photo Opp
Here Going to the Sun Road makes a large turn as it winds up the mountain. Grab your camera because this is a photo you'll want in your album! The valley below is absolutely stunning.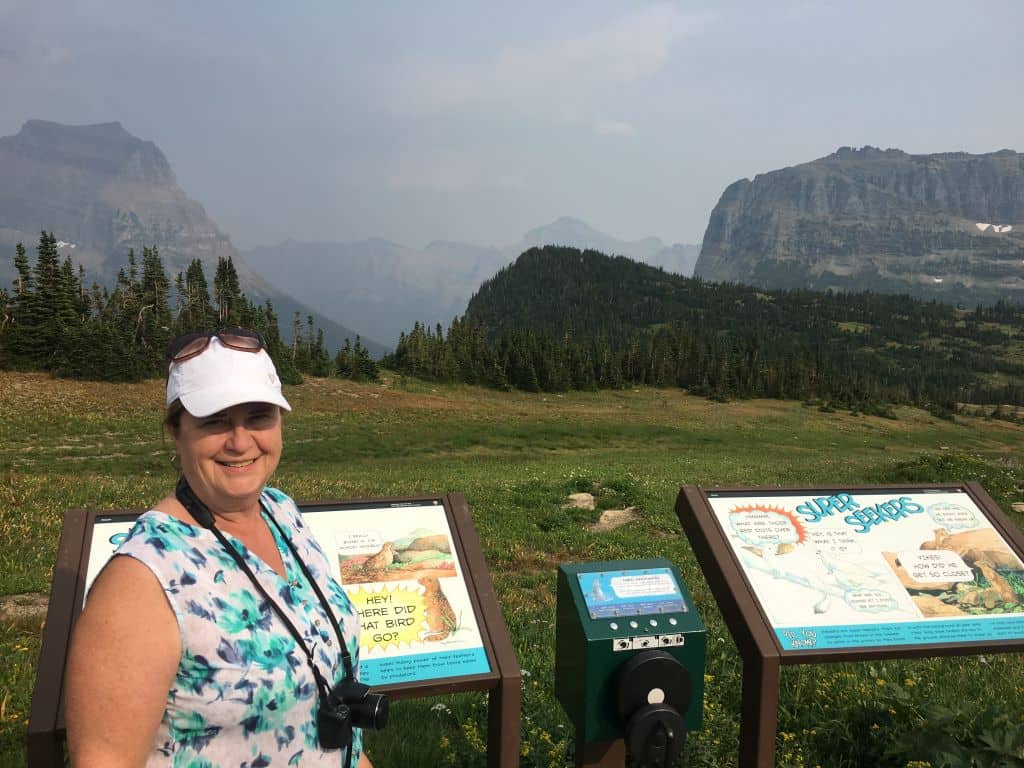 16 Stop at the Logan Pass Visitor Center
Where: Situated about ½ way on your cruise across Going to the Sun Road (31.2 miles from West Entrance)
Time: Varies
Inside the Logan Pass Visitor Center, you'll find interactive displays chronicling the geology of Glacier National Park. There's great information on the alpine environment above the tree line that you can later walkthrough. Outside, you'll discover an array of educational displays explaining the wildlife and plants that you might see as you explore the subalpine area.
While the Logan Pass Visitor Center is focused on education, it's also a critical potty stop on your cruise. You'll also find a lovely book and gift store inside the center. 
Pro Tip: The Logan Pass Visitor's Center parking lot is jam-packed in the mornings up until mid-afternoon due to hikers accessing the Highline Trail. The parking lot opens up early afternoon as hikers leave so it's best to hit this site in the afternoon or early evening.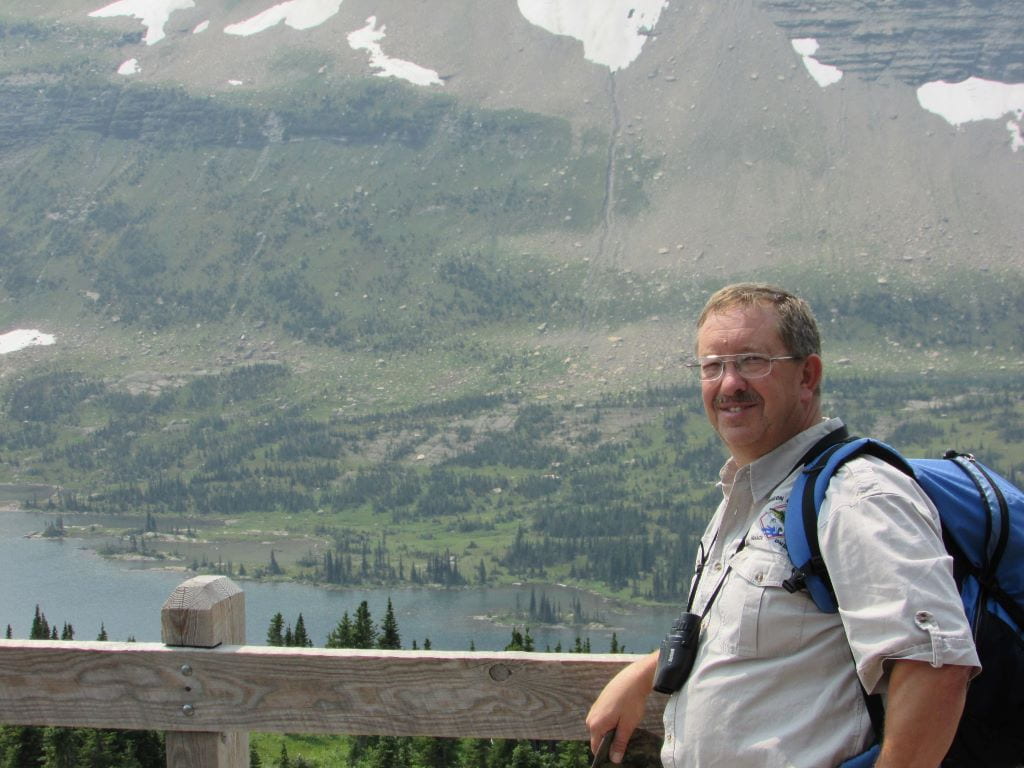 17 Hike Hidden Lake Trail
Most visitors to Logan's Pass only hike to the Hidden Lake Overlook, however, the trail on down to the lake is gorgeous.
To Hidden Lake Overlook
Where: Trailhead is behind the Logan Pass Visitor Center
Difficulty: Moderate
Distance: 2.8 mi RT
Time: 1.5 hours
To Hidden Lake
Difficulty: Strenuous
Distance: 5.2 mi RT
Time: 2-3 hours
Behind the Logan Pass Visitor Center is one of the most popular hikes in Glacier National Park: Hidden Lake Trail. This hike takes you through a stunning wildflower-filled alpine tundra. You're almost certain to see mountain goats close to the trail. Big horn sheep can usually be spotted on the nearby mountainside. And occasionally grizzly bears wander through.
Hiking to Hidden Lake Overlook
The first half of the trail to Hidden Lake Overlook is mostly paved or wooden boardwalks. The purpose of the finished trail is to keep visitors off the fragile alpine tundra. Some of my best wildflower photos were taken along the boardwalk.
You'll have a lot of company on the first half of this hike, but it's still so worth it. The Hidden Lake Overlook is a wooden platform where you can capture great pictures of the lake and Bearhat Mountain in the distance.
We rate the first half of this hike as moderately difficult because you gradually gain 460 ft of elevation. It's just enough incline to get your heart pumping! The trail is fully exposed and windy so make sure you have sun protection and a jacket.
Continuing on to Hidden Lake
Most of the crowd will turn around at the overlook. The trail onto Hidden Lake is a narrow dirt path. The first ½ mile is through a beautiful wildflower field and worth checking out even if you don't go on down to the lake. After that, the trail starts a steep descent to Hidden Lake. It's a tough climb both in and out of that valley. 
Pro Tip: Take your binoculars on this hike to get a good view of the big horn sheep in the distance. You'll also be able to watch hikers on the nearby Highline trail.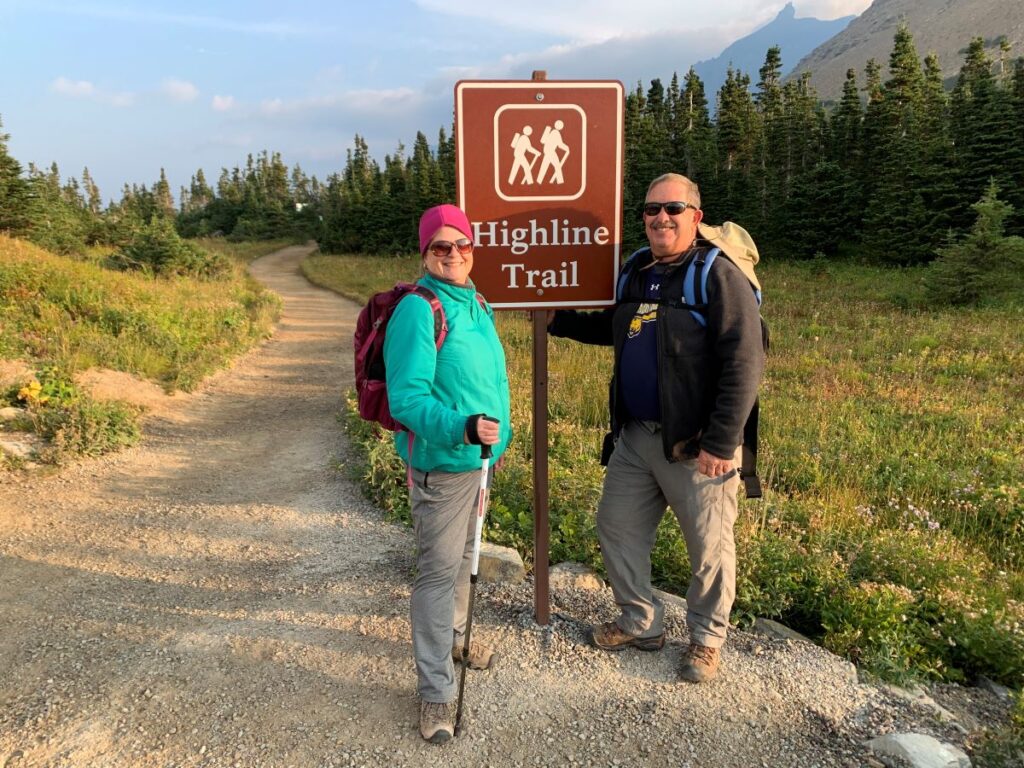 18 Hike The Highline Trail: A Bucket List Hike
Where: The Trailhead is opposite the Logan Pass Visitor Center on Going to the Sun Road
Difficulty: Strenuous
Distance: 15.2 mi RT
Time: 6-8 hours
The Highline Trail is a true bucket list hike, starting with a narrow path that drops straight down on the outside. After a short distance, the trail widens and follows the Garden Wall and The Continental Divide to the historic Granite Park Chalet. The views are amazing!
Even if you are not up for a long day hike, consider hiking the first 2-3 miles where you'll experience the best of this hike. We loved hiking the Highline Trail with our family. It's definitely in our top 5 National Park hikes because of the open expanse of scenery!
Hiking the Highline in Glacier is rated as strenuous primarily because of the distance and the initial scary narrow trail. However, it is fairly easy rolling terrain that avoids steep ascents and descents making it doable for anyone in good condition.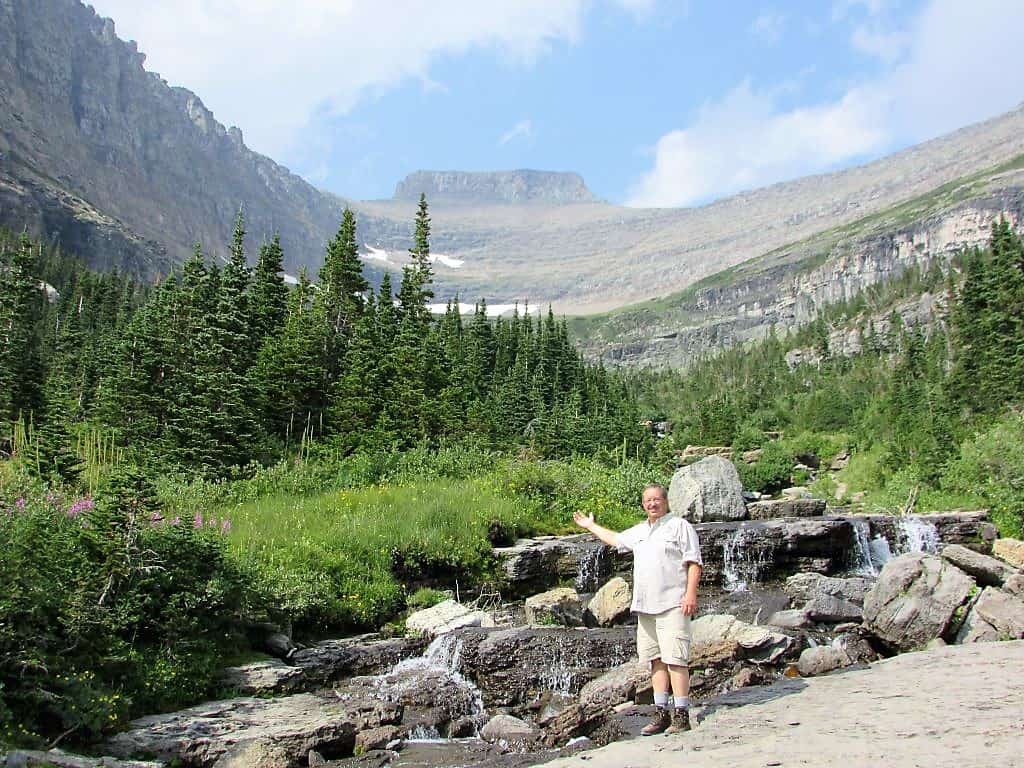 19 Take a Break at Lunch Creek
Where: Less than 1 mile East of Logan Pass Visitor Center
If the visitor's center is a bit too crazy to take a break, pull off at Lunch Creek. It's just a few steps over to the creek where you'll get some amazing photos! We thought this was one of the best stops on Going to the Sun Road.
20 Stop at Jackson Glacier Overlook
Where: Going to the Sun Road 3.4 miles west of Sun Point
The Jackson Glacier Overlook is your opportunity to see one of Glacier National Park's glaciers without hiking. While the glacier is easily viewable 2 miles in the distance, pulling out your binoculars will give you a better view.
The parking area has informative signs explaining the history and geology of glaciers in the park. This quick stop along Going to the Sun Road is a must to fully understand what Glacier National Park is all about.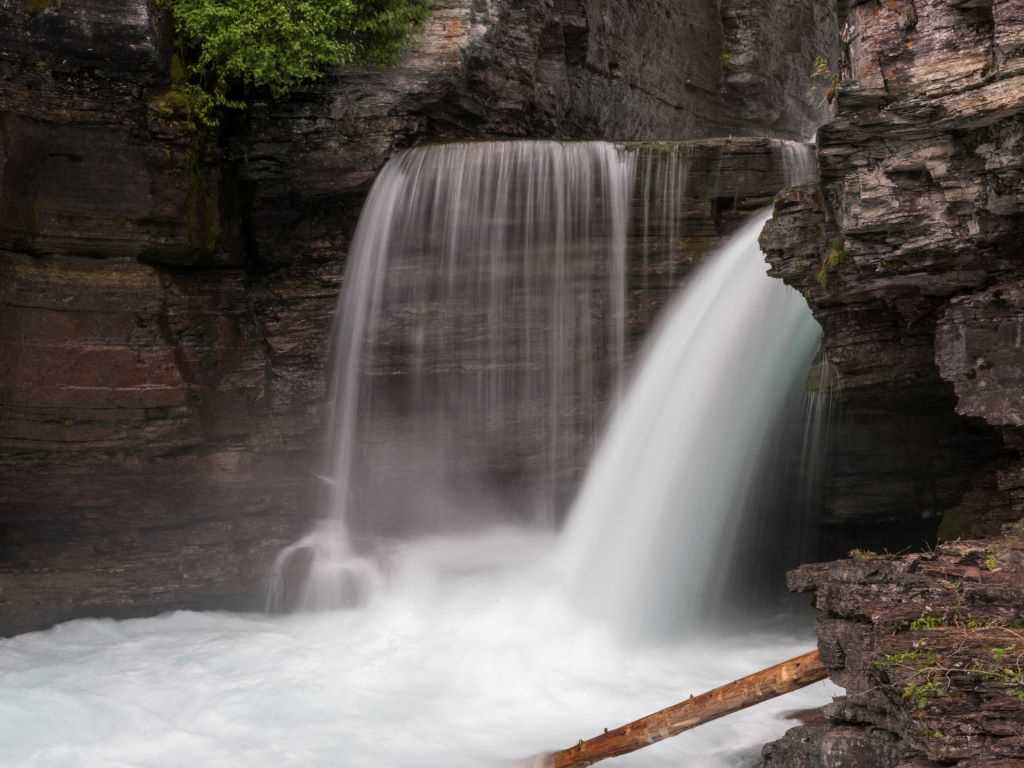 21 Hike to St Mary and Virginia Falls: Bucket List Hike
Where: St Mary Falls Trailhead on Going to the Sun Road
Difficulty: Easy to moderate
Distance: 3.2 miles RT
Time: 1.5 to 2 hours
This fairly easy hike to see 2 stunning waterfalls is a must on your list of things to do when visiting Glacier National Park. Both waterfalls are impressive on a trail with very little elevation gain. If you want a more challenging hike there are other trails that connect from this trailhead.
22 Walk Sun Point Nature Trail
Where: Sun Point Gorge Pullout, 10 miles from St Mary Visitor Center on left
Difficulty: Easy
Distance: 1.6 mile RT
Time: 45 minutes
The short hike on Sun Point Nature Trail takes you along the shore of St Mary Lake where you can see amazing mountain views across the lake. From this trail, it's just a few steps to Baring Falls. It's an easy, family-friendly hike. For a longer hike, you can connect to the St Mary Falls trail from here.2
23 Grab Lunch with a View at Two Dog Flats Grill at Rising Sun Motor Inn
Where: At the Rising Sun Motel, 5 miles from the St Mary Entrance on Going to the Sun Road
From Two Dog Flats Grill you will have a gorgeous view of Red Eagle Mountain across St. Mary Lake. In a traditional diner setting, they serve a menu of burgers and sandwiches. You can choose to dine in or grab box lunches. Or stop before cashing in for the night for an appetizer and beer.  This is your last chance to pick up food for several hours if you are cruising across Going to the Sun Road.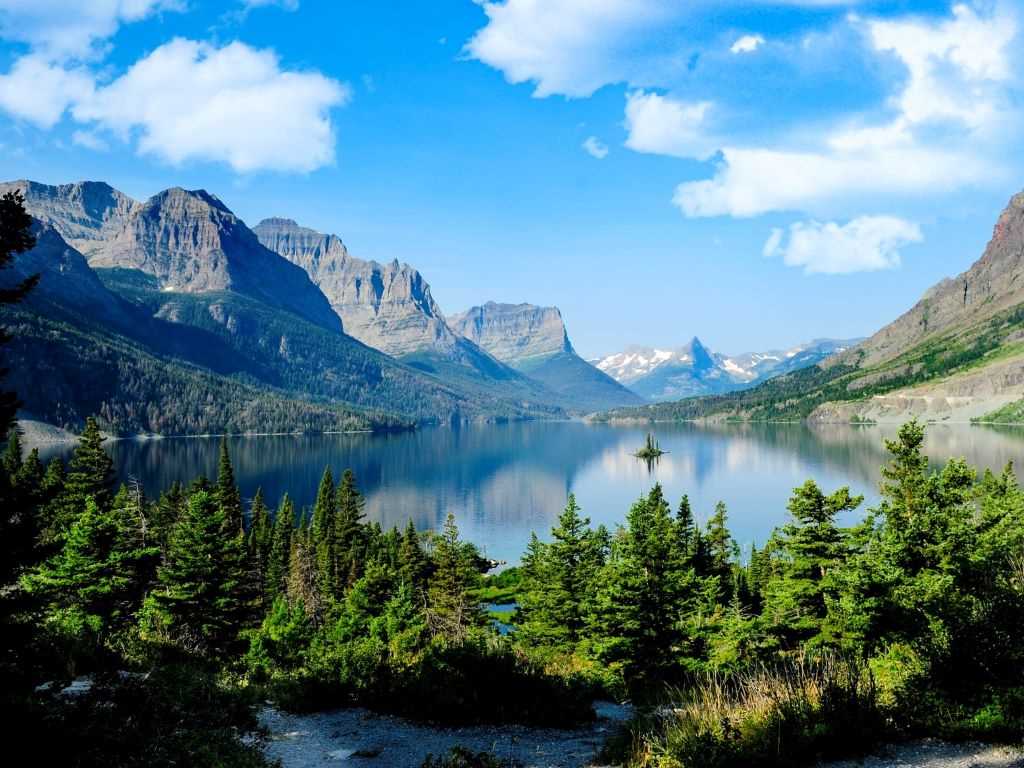 24 St Mary Lake Boat Tour
Where: At the Rising Sun Boat Dock, about 5 miles from St Mary Visitor Center on Going to the Sun Road
Time: 1.5 Hours
Ride one of Glacier's historic wooden boats on St Mary Lake. The tour cruises close to the famed Wild Goose Island. Although a tiny island, it is central to many famous photos of St Mary Lake. Enjoy an incredible panoramic view of the mountains that surround the lake. The tour also includes a 15-minute stop so passengers can get off and take a short walk to Baring Falls. (Baring Falls can also be reached on various hiking trails.)
You can order tickets in advance through Glacier Park Boat Company. Same-day tickets are also available near the dock if a cruise is not sold out.
25 Walk Beaver Pond Loop
Where: St Mary Visitor Center, near the historic 1913 Saint Mary Ranger Station on the east side of the parking lot
Difficulty: Easy
Distance: 3.5 mile loop
Time: 1 hr
Most visitors miss this hike because they are so anxious to get into the park. But it is well worth taking a couple of hours to enjoy this relaxing walk around Beaver Pond. Moose and bears are known to be active here in the early morning and evening hours. You can also take a short side trip from Red Eagle junction on the loop to reach a great view of St Mary Lake. This family-friendly hike is the perfect introduction to Glacier National Park for people who don't have an interest in more difficult hiking.
26 Attend a Native America Speaks Program
Where: Evenings at St Mary Visitor Center Auditorium, Rising Sun Picnic Area, and most Campground Amphitheaters
When: Evenings
Time: 1 hour
On summer evenings, Blackfeet, Salish, Kootenai, and Pend d'Oreille tribal members share knowledge of their history and culture in locations throughout Glacier National Park. The Native America Speaks program began in 1982 and is the longest-running indigenous speaker series in the National Park Service.
Programs are offered at St Mary Visitor Center and most campground theatres throughout Glacier National Park.
27 Stop at St. Mary Visitor Center
Where: At the East Entrance of Going to the Sun Road
Time: 20-30 minutes
The St Mary Visitor Center has extensive information available to visitors, both inside and outside. If this is your first visit to Glacier National Park, this visitor center is a place you must stop. You'll find great tools for planning your Glacier adventure and park rangers available to answer your questions.
Restrooms, a water bottle filling station, and a bookstore are located in the St Mary Visitor Center. It also includes special interactive exhibits on American Indian tribes that are tied to Glacier National Park lands. You'll find a huge parking lot so you can park and hop on the free Going to the Sun Road Shuttle.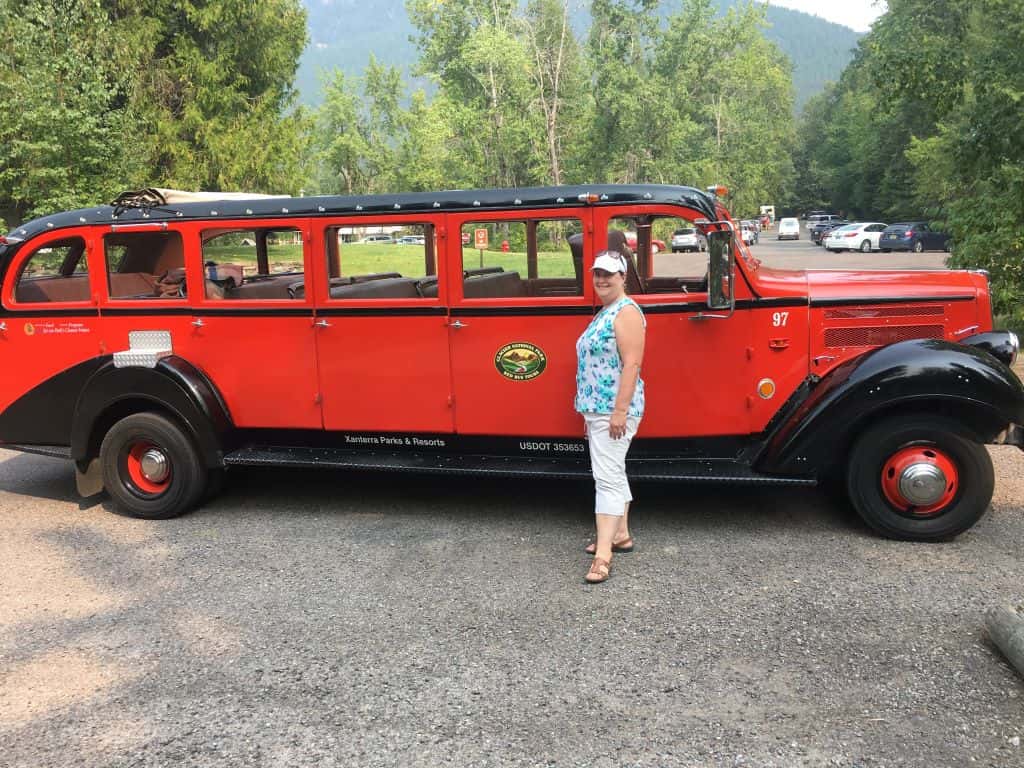 Going to the Sun Road Tours and Shuttles
Red Bus Tour
Red Bus Tours are a great way to see the park without driving. Run by a concessionaire, these guided tours in the gorgeous historic buses are seen throughout the park.
Tours of varying lengths depart from most of the major lodging choices. Pricing varies with the length of the tour. The guides we observed were pretty amazing and make a Red Bus Tour quite the adventure. Check out the Red Bus Tours web page for the most current pricing and routes that cover the best stops on Going to the Sun Road. 
Hiker's Shuttle
Glacier National Park provides a free shuttle the full length of Going to the Sun Road from July 1 through Labor Day. During the biker/hiker season, prior to all the snow being cleared from Going to the Sun Road the shuttle will run on weekends. And there is usually an abbreviated shuttle schedule for early September.
The shuttle stops at all of the major trailheads and campgrounds along Going to the Sun Road.
The shuttle from the East leaves from St. Mary Visitor Center traveling through to Logan's Pass.
The shuttle from the West leaves from the Apgar Visitor Center ending at Logan's Pass. To travel the full length you change shuttles at Logan's Pass.
During mid-day of peak weeks you will likely need to wait in queue for a shuttle. They are very busy. Also, make sure you have reviewed the shuttle service hours on the NPS website so you don't get stuck without a ride back!
This is a really great option for folks with RVs as there is plenty of parking at either visitor center. No tickets are required, just show up!
Where to Stay When Visiting Glacier National Park
Camping in Glacier
With 13 Campgrounds and over 1000 campsites, you will find the perfect spot in Glacier. Hop over to our article Things you Should Know about Camping in Glacier for all the details.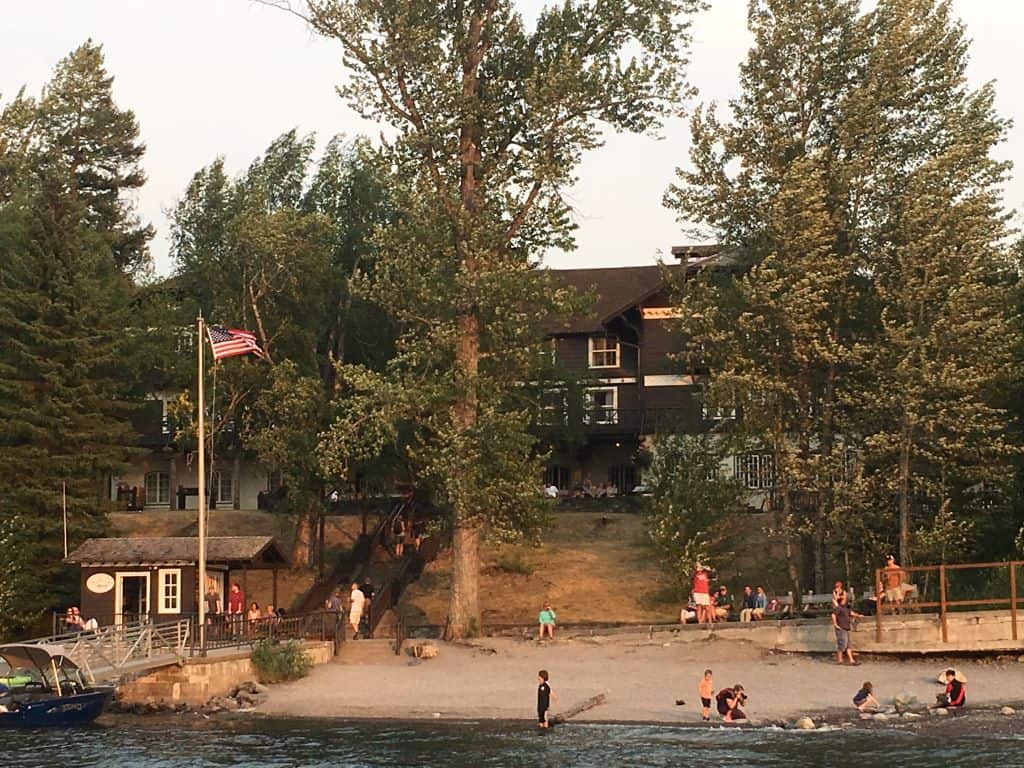 Hotels in and Near Glacier National Park
You'll find 6 hotels and motels right in Glacier National Park. Each is very unique and offers a wide variety of lodging styles. The only problem is they fill up fast, like 6 months in advance. 
Outside Glacier, you won't find many choices outside the East Gate in St. Mary's Village. Most visitors on the East Side stay in East Glacier or Browning, Montana. Check cabin and hotel availability East of Glacier NP here.
On the West Side, West Glacier has quite a few more choices for lodging including cute cabin rentals. The Great Northern Resort is the major hotel near the entrance. Check cabin and hotel availability in West Glacier Here. If you are looking for a larger selection of really cool places to stop where you'll also find restaurants and other amenities check out hotels and cabins in Columbia Falls Montana.
When is the Best Time to Go to Glacier National Park
Well, that depends upon your goals! Glacier National Park is always open to visitors. That said, access to facilities and roads is very dependent upon winter weather. And winter is very long here!
If you are like most of the 3 million visitors to Glacier National Park that want to do and see it all then your visiting window is a short 8-10 weeks. It snows a lot here!  
Peak Season is July, August & Early September
Are Pets Allowed on Going to the Sun Road?
Cruising across Going to the Sun Road is a great way to share Glacier National Park with your pet. Dogs (and any other pets) are not allowed on any of the hiking trails. But you are more than welcome to walk them on roadside pullouts and in parking lots.
Tips for Driving Across Going to the Sun Road
Pack a cooler with snacks and beverages. Then you can picnic when the mood moves you!
Altitude Sickness is real in the mountains. Don't overdo it. If you start feeling lightheaded, stop and rest. Drink plenty of fluids. Don't hesitate to go to a lower elevation if you still feel off.
Do not go without binoculars! We loved watching the bighorn sheep cross the cliffs and follow the hikers on the highline trail.
Your camera is the most important thing you can bring along!
Gas up before you go. There are zero gas stations on Going to the Sun Road.
Cell phone service is spotty at best, often totally non existent anywhere within Glacier National Park
Frequently Asked Questions about Going to the Sun Road
Are there bathrooms along Going to the Sun Road
Yes, you'll find bathrooms along the roadway. Flush toilets are available at Apgar and St Mary visitor centers and at Lake McDonald Lodge. The rest of the bathrooms are pit toilets. I've always found them to be super clean.
How scary is Going to the Sun Road
There are a few places where the road feels narrow and the drop off is steep so you won't want to take your eyes off the road.
Which side of Going to the Sun Road is better?
If you are a little bit afraid of the drop offs, then the West to East direction puts you closer to the wall. Many find that direction less scary. However, if you want the best views then try the East to West route.
Does Going to the Sun Road have Guardrails?
The guardrails on going to the sun road are historic in nature. That means that they do exist in many places but serve as a marker for the edge of the road better than a barrier to driving off.
Some of the best stops on Going to the Sun Highway are the unexpected ones. You never know where you'll find wildlife or a view that really moves you. Relax as you travel. Stop often and grab a ton of photos.