Rocky Mountain National Park is beautiful any time of the year. And anytime you visit, you are sure to fall in love with the park. However, the best time to visit Rocky Mountain National Park depends upon what you like to do and see. We will break it down for you by season in this article.
The park is open year-round, and there is something unique to see and do any season of the year. For example, when the snow is melting into creeks and streams in the spring, dozens of waterfalls come to life. When summer comes, the meadows are filled with wildflowers giving you a stunning array of colors to enjoy. As fall approaches, be prepared for spectacular leaf-peeping as well as early snows on the mountaintops. In winter, frozen lakes and pristine snow create a winter wonderland.
No matter when you visit, there is no shortage of things to do at Rocky Mountain National Park. Just make sure you get your activities planned before your trip, so you don't miss a thing!
The Best Time of Year to Visit Rocky Mountain National Park is July and August
For the whole Rocky Mountain National Park experience, you want to be here in July and August. During those months, it is possible to experience everything the park offers.
Here are our top 3 reasons to visit RMNP in July and August:
The mountain weather is cool and comfortable in the summer, with an average daytime temperature of around 70°F and a night of 45°F.
Trail Ridge Road, one of the most stunning scenic drives in the country, will be open. This road closes for winter, and it's not uncommon for it to shut down a few days in June and September with surprise mountain snowfalls.
All hiking trails will be easily accessible. Many become impassible in the winter months.
Cons to visiting in July and August?
Because July and August are when most Americans take their family vacation, they are also the busiest months of the year. The parking lots and some trails can be very busy. You will need to jockey to get your park entrance passes for the days and times you want. You'll also find campgrounds and lodging filling up fast, requiring you to make reservations well ahead.
However, unlike the crowds we experienced in Yellowstone that were overwhelming, it's easier to organize your day in Rocky Mountain National Park to avoid the craziest times in the most popular spots. With just a little extra planning, you can see everything and find some fantastic quiet places. (see One Day in Rocky Mountain National Park for a sample itinerary.)
Best Time of Day to Visit Rocky Mountain National Park to Get Away from Crowds
Peak season is always my favorite Time to explore Rocky Mountain, National Park. Here are a couple of tips to avoid crowds:
Best Time of Day to Visit Rocky Mountain National Park
It is still easy to get away from the crowds in Rocky Mountain National Park during the peak season. During the late afternoon, hikers start to thin out, and you'll find early evening is a great time to enjoy the park. Make sure you know what time the sunsets because once it gets dark, it gets really dark. Don't get caught on a hiking trail (and always carry a flashlight in your pack).
Plan Your Hikes Around the Busiest Times
The longer hiking trails, those that take at least 1/2 day like Sky Pond or the trail to Ouzel Falls, will be very busy early morning. If you start your hike on these trails mid-morning, you'll pass a lot of folks leaving and find fewer people at your destination.
Shorter hikes on popular trails, like the Bear Lake Loop or the Alpine Ridge Trail, will be the busiest between 9 am and 3 pm. Since they are short hikes, go early or late!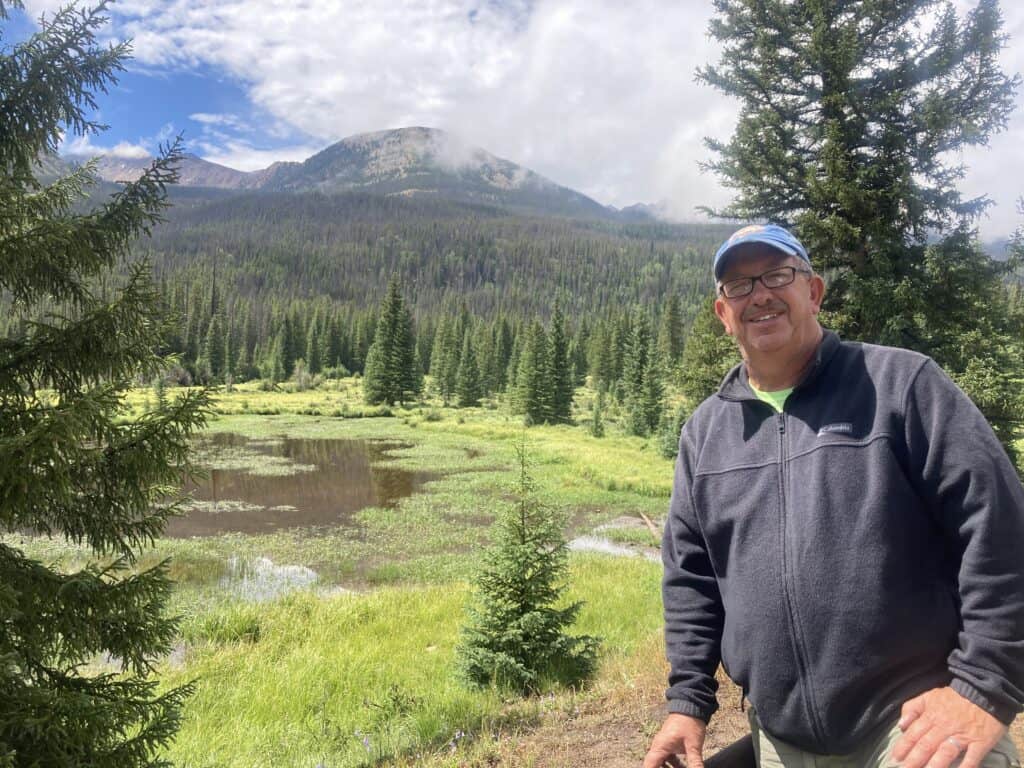 Head West For Fewer Travelers
As you cross Trail Ridge Road, you'll be surprised that most people turn around at the Alpine Visitor Center and head back to the east side of the park. They are missing unique opportunities in the Kawuneeche Valley on the west side of Rocky Mountain National Park. Wildlife is abundant in the valley, and the views of the Never Summer Mountains are stunning.
You'll find amazing hikes too. All this with very few people. We often feel like we "have the place to ourselves" when we explore the valley… even in the middle of August.
The west side Grand Lake entrance and the Kawuneeche Visitor Center are near the town of Grand Lake, which has a lot to offer visitors. There are several small towns nearby with excellent lodging and a variety of things to do.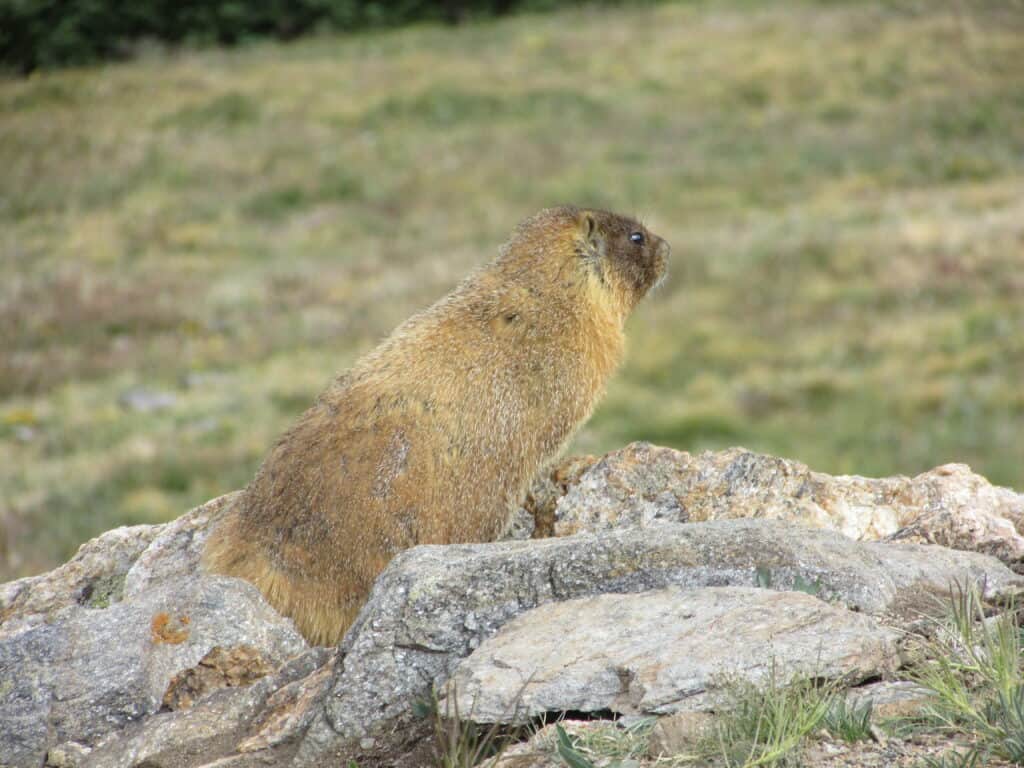 Best Time to See Wildlife in Rocky Mountain National Park
In Rocky Mountain National Park, you will see wildlife at all times of the day. Nature is all around you. However, the best time to watch many of the favorites, like moose and elk, is during the early morning or evening hours when temperatures are cooler. You may want to bring binoculars so you can safely view the critters from a distance.
There are over 60 different mammals, over 250 species of birds and a wide variety of fish and amphibians in the park. As you can see, wildlife viewing is not only about the big guys! We love to watch marmots and chipmunks frolicking among the rocks. Or you can relax next to the lakes watching the ducks float by.
Best Time to See Moose in Rocky Mountain National Park
You can see Moose through the summer and fall near ponds and streams as they feed on the tender grasses and bushes. With only 60 moose in the park, you'd think it would be hard to find one, but moose sightings are widespread.
Don't Let the Planning Overwhelm You!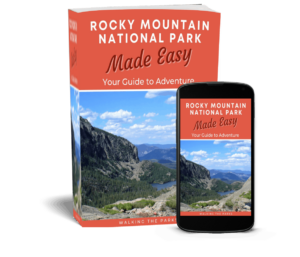 Plan your perfect trip to Rocky Mountain National Park!
Check out our complete digital Guide to Rocky Mountain National Park. This is written specifically for the first time visitor to make your trip planning easy! Over 90 pages of things to do and see on your adventure. Plus get pro tips for planning your adventure.
Start planning immediately with Digital Download!
Best Time to See Elk in Rocky Mountain National Park
With over 600 elk in Rocky Mountain National Park, it's pretty hard to miss them. Throughout the summer, they graze in the valleys. Shortly after Labor Day Weekend, elk rutting season (mating season) starts, and you'll likely hear the bugling call of the males as they vie for the ladies' attention. The elk rut will attract as many visitors as summer so be prepared for the crowds.
Best Time to Visit to See Bears
The odds of seeing a black bear during your visit are pretty low. The National Park Service estimates that around 30 bears live in the park. However, bears don't like people and will go out of their way to avoid you. Although we've been close a few times, I have yet to see a bear in the park.
Best Time to see BigHorn Sheep in Rocky Mountain National Park
The best time to see Big Horn Sheep is spring and early summer. They come down the mountain to Sheep Lakes in Horseshoe Park most spring days, somewhere between 9 am and 3 pm. Later in the summer, you might also spot them from Trail Ridge Road near the Alpine Visitor Center.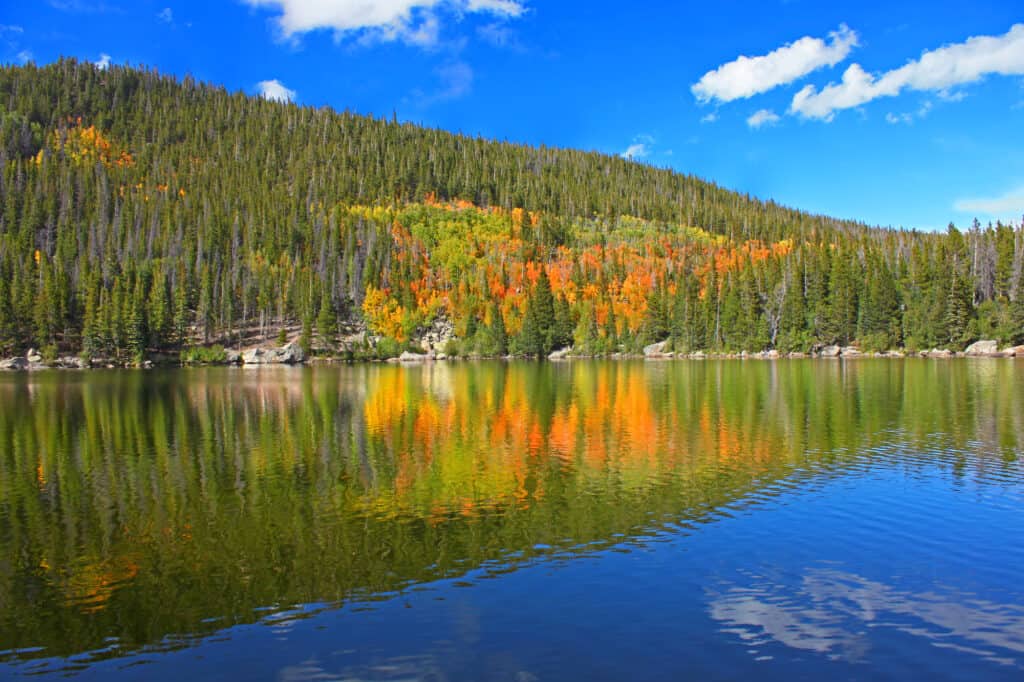 Best Time to Visit Rocky Mountain National Park for Fall Foliage
The best time to enjoy the fall colors at Rocky Mountain is mid-September through October. The fall season brings the shimmering gold of aspen trees to the park, a fall sight very different from the colors seen in the midwest or east coast. The gorgeous colors also bring a large number of visitors to fall weekends. Estes Park has events most weekends to attract more tourists.
Best Time to Visit Rocky Mountain National Park for Scenic Driving
The best time to do scenic driving and hiking is during the summer and fall seasons. Rocky Mountain National Park is home to 2 fantastic scenic drive opportunities. However, both routes cross high over the mountains and close down once winter weather arrives.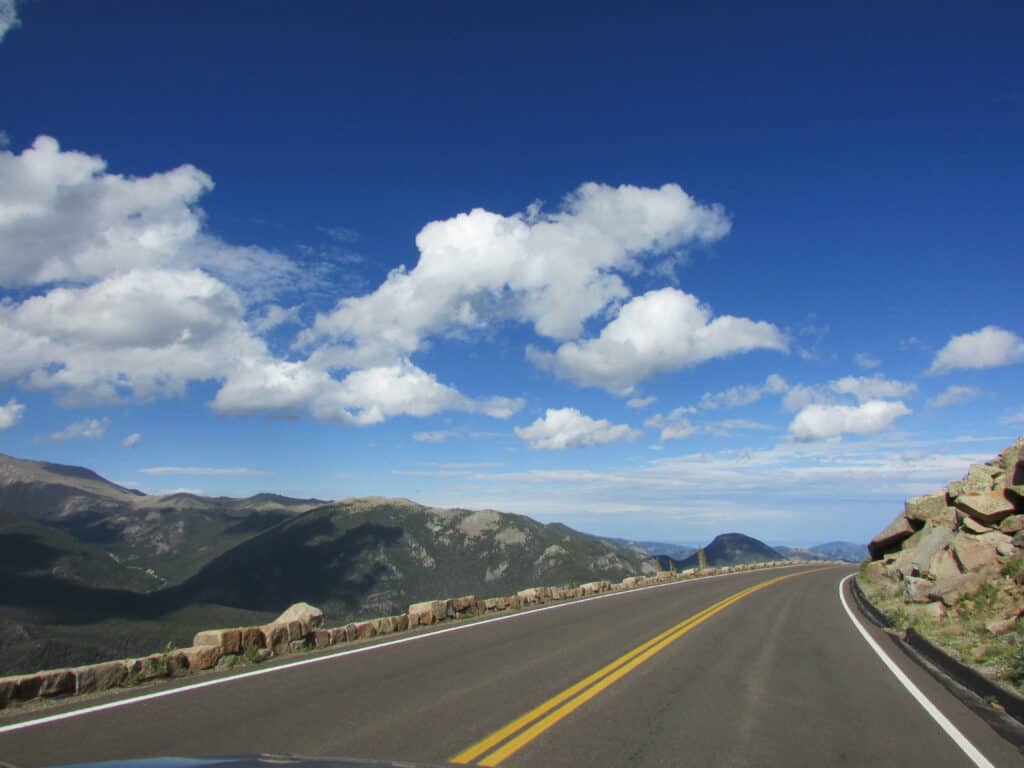 When to Drive Trail Ridge Road
Trail Ridge Road is the highest paved highway in any US National Park, summiting at 12,183 feet. It is a 2-4 hour drive connecting Estes Park to Grand Lake. You can't begin to imagine the gorgeous mountain views until you experience driving Trail Ridge Road.
Along Trail Ridge Road, you'll enjoy parking pull-offs that will provide great photo opportunities. You'll likely encounter snow into July, which the kids just love. Afternoon thunderstorms are common in the summer, so be prepared with a jacket.
It is usually open from Memorial Day weekend through mid-October. It is closed for the rest of the year because the snow becomes so deep it is impossible to keep the road clear. However, Trail Ridge Road closes occasionally after the Memorial Day opening for June snowstorms. So if this scenic drive is on your wish list, July through Early September are the best times to see Rocky Mountain National Park. If you visit in June and during the fall, you may or may not find the road open. Mother nature delivers snow on her own mystery schedule!
Driving Old Fall River Road
Fall River Road is the original road to the top if you are up for a little more adventure. It was built in 1920 to take the early automobile to the top. It's primarily a dirt and gravel road with many hairpin curves. Old Fall River Road closes for winter and is usually completely cleared of snow by July 4th and is shut down again in early October.
Best Time to Visit Bear Lake Road
Bear Lake Road will be busy all summer long. However, by implementing the timed entry system the Park Service has improved the traffic flow. If you can get a timed entry for early morning for Bear Lake you can enjoy several hiking trails that leave from the Glacier Gorge Trailhead and the Bear Lake Trailhead. You'll have your choice of strenuous hikes, like Sky Pond, or easier hikes like Sprague Lake loop and Bear Lake nature trail.
Another great summer option for easy access to Bear Lake is to camp in the Glacier Basin campground. From there you can walk to the shuttle bus and won't need a timed entry pass.
Summer evenings are beautiful around the lakes and no entry pass is required after 6 pm. It's a perfect place to take a short evening hike and then relax watching the sunset.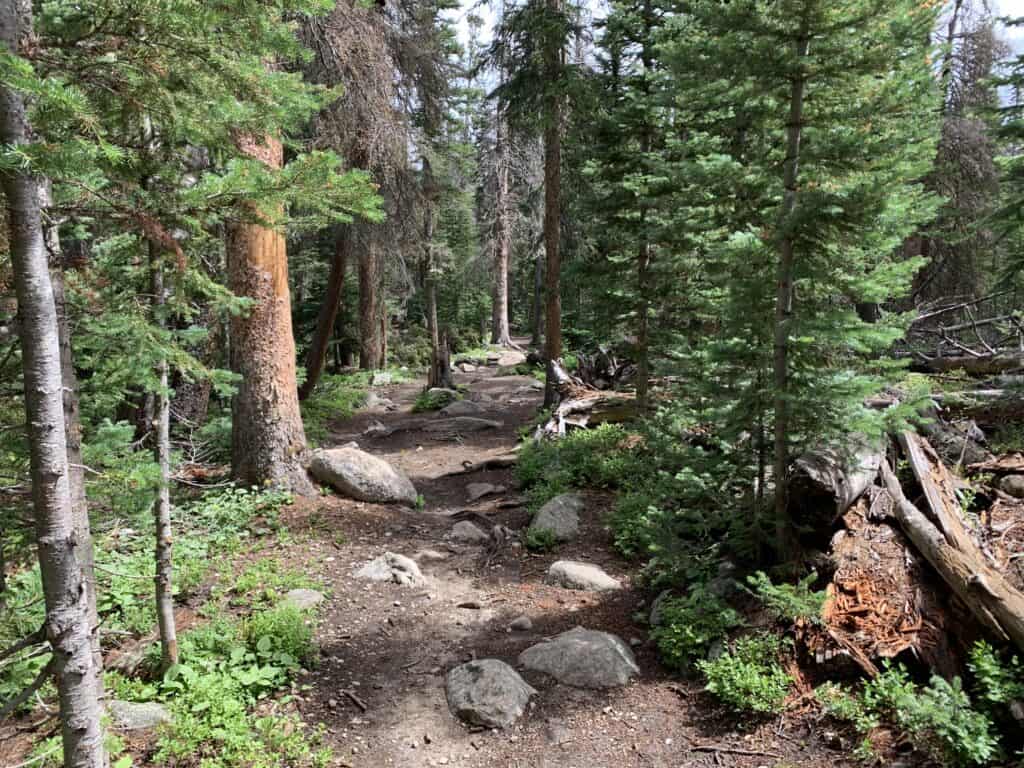 Best Time to Visit Rocky Mountain National Park for Hiking
The best times to hike are during the summer and fall months because of the perfect weather conditions. All the trails will be open, so you'll have plenty of choices for your hike.
If you want to go backpacking in the high country, you should wait until mid-June, when most of the snow is melted at higher elevations. Snow will start flying in late September, so you'll want to wrap up by then.
Winter is a popular time to hike and snowshoe in the park. In January, park rangers usually offer guided snowshoe hikes to help first-timers learn how to use the trails with snowshoes. For winter hiking, dress for the extreme cold weather and make sure you have traction devices in your pack. Trails get icy and slippery, so using crampons or ice cleats becomes necessary for safe passage.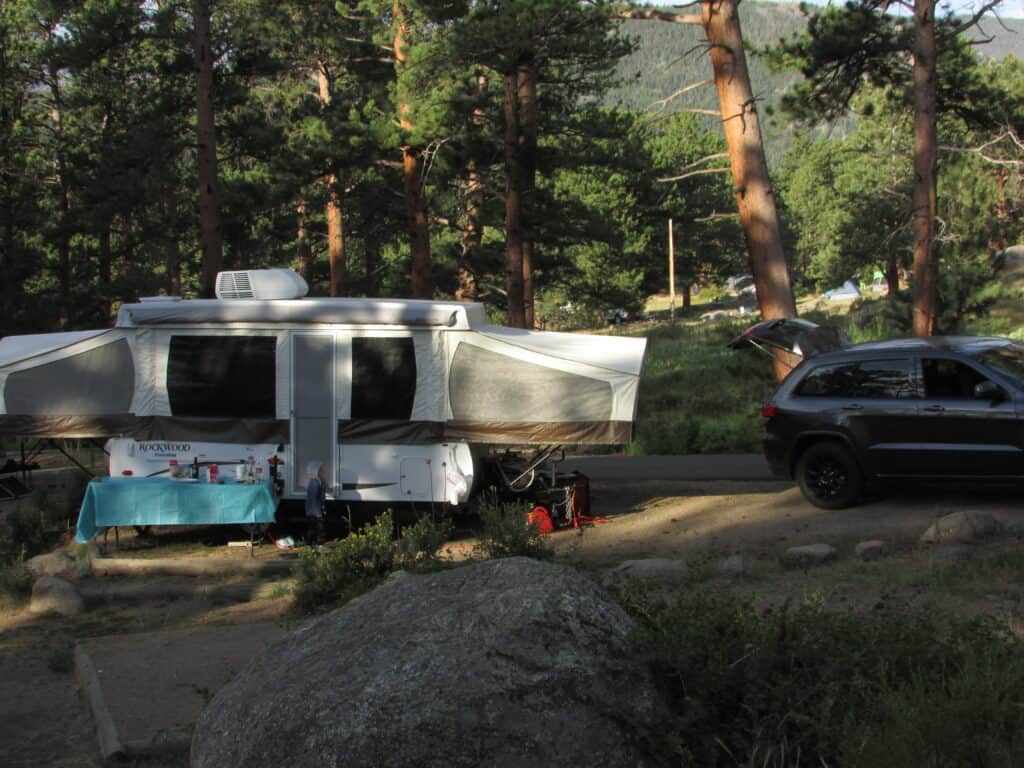 Best Time to Visit Rocky Mountain National Park for Camping
The best time to camp is in the summer when all the campgrounds are open. Night temperatures drop quickly in the fall, so only the hardiest continue to camp past September. However, if you don't mind a few feet of snow, you can camp all winter in the Moraine Park Campground with limited facilities.
Things to Know Before You Go
Rocky Mountain National Park is the 4th most visited park in the US.
With over 3 million annual visitors, the park will be busy no matter when you visit. That makes it critical to do your research before going, so you aren't left out.
Do you have your timed entry permit?
During the summer months, timed-entry passes must be purchased in advance for the busy times of the day. Make sure you plan ahead.
Altitude Sickness is a Real Thing
Rocky Mountain National Park climbs to over 12,000 feet, which means your body will have to adjust to the high altitude. Some people adjust easier than others. But everyone should plan to drink plenty of water and take it slow for a day or two before tackling big hikes.
Beware of Unpredictable Weather
The weather in Rocky Mountain National Park can change on a dime. We've been hiking in early August and had snow fall on us. More common are the afternoon thunderstorms during the summer months, so make sure you keep rain gear in your backpack. The storms blow through quickly but can be quite fierce so you should head below the tree line if lightning starts.
Winter brings a lot of snow and high winds to the Rocky Mountains. The winds are often so brutal that it's impossible to hike so it's best to check the weather forecast before winter hiking.
Planning Your Visit to Rocky Mountain National Park
Here are several articles we've written to help you plan your Rocky Mountain National Park Itinerary:
Where to Stay When Visiting Rocky Mountain National Park
You'll find a wide variety of hotels and rentals in the towns near Rocky Mountain National Park. Estes Park is the most popular place to stay, just outside the East entrance to RMNP. You can check hotel availability in Estes Park here. If you want to stay in a quieter area, then Grand Lake on the West side might be the better option for you. You can check hotel availability in Grand Lake here.
For camping, we prefer to stay in one of the 5 campgrounds in Rocky Mountain National Park. But we've also stayed in the National Forest campgrounds nearby. For more camping ideas check our Complete Guide to Camping in Rocky Mountain National Park.
A few last thoughts about the best time to visit Rocky Mountain National Park
As Brad put it this morning over breakfast… the best time to visit is when you can get there. Rocky Mountain National Park will have something for everybody any time of year and any time of day.