If you only have one day in Rocky Mountain National Park, this article will help you make the most of it. There is so much to see and do in the park that planning for just one day in Rocky Mountain National Park can be overwhelming. That's why we created a list of things for you to consider when planning your itinerary.
Our goal is for you to experience the park AND enjoy yourself along the way! As such, our advice includes some great picnic spots, hiking trails, photo opportunities and scenic drives.
Choose From Two Itineraries for One Day in Rocky Mountain National Park
Because every adventure is different, we have 2 different itineraries below. Take a look and see which one best fits your travel plans. You'll find a detailed schedule for each below:
#1 Itinerary Includes Bear Lake Corridor and Trail Ridge Road – This is my top choice for how to spend a day in Rocky Mountain National Park as you get a taste of all the most popular spots. And those spots are popular for a reason: They are AMAZING. If you haven't heard, you'll need a special timed entry pass to go into the Bear Lake Corridor during the peak season. (More on how to get that below) so start your trip planning by getting this pass that is in high demand.
One Day Itinerary Quick View
Catch the Sunrise at Rainbow Curve
Drive the Scenic Trail Ridge Road, stopping for amazing views along the way
Explore the Kawuneeche Valley and enjoy a picnic lunch
Visit the Alpine Visitor's Center
Spend late afternoon and evening exploring the Bear Lake Corridor
Enjoy a Picnic Dinner at Sprague Lake
Relax with a Sunset at Bear Lake
This is just one of many ways to fill a full day in Rocky Mountain National Park. Below we go into details and alternate ideas throughout the day so you can customize your adventure.
#2 Itinerary Trail Ridge Road without Bear Lake Corridor Pass– No worries if you can't get a Bear Lake Corridor entrance pass. You can still have an amazing time exploring Rocky Mountain National Park in one day. We'll walk you through the perfect Rocky Mountain Itinerary for one day.
URGENT: Getting Timed Entry Passes to Rocky Mountain National Park
Timed Entry Reservations are required to enter the park between May 27 and October 10, 2022. Do Not arrive at the park without your timed entry reservation because you will be turned away. And that means a lot of sad faces in your car.
There are 2 types of timed entry passes
one for entry into the very busy Bear Lake Road area. This area is where you'll find the most diverse and well-known hiking trails and alpine lakes. It is the most limited pass and the hardest to get.
one for entry into Rocky Mountain National Park in general. This pass can still be challenging to get if you want to enter during peak hours of the day. During non-peak hours before 9 am or after 3 pm, you can enter without a timed entry pass… you just won't be able to go to Bear Lake.
Don't be fooled into thinking weekdays or off-season passes will be easier to get. There is no off-season in Rocky Mountain National Parks. And weekdays in the summer months are just as busy as the weekends.
The National Park Service does a great job explaining exactly how to get a pass on their website.
Note if you can't get a pass, you can get into the park during non-peak hours of the day without one. You'll just need to adjust your schedule.
#1 One Day in Rocky Mountain National Park: Visit Bear Lake and Trail Ridge Road
This is going to be a day to remember as you visit the most popular sites in Rocky Mountain National Park!
Timed entry passes for the Bear Lake Corridor are in high demand. Shoot for an early morning pass or a mid to late afternoon pass. This itinerary assumes you visit Trail Ridge Road in the morning and arrive at Bear Lake in the afternoon. However, it is easy to flip it over if your pass is for the opposite time!
One last thought before you go through this itinerary: You can easily spend a whole day on Trail Ridge Road and several days in Bear Lake Corridor. Don't try to do it all. I call it "tasting the park". Savor every moment rather than rushing on to the next thing, and you will have unbelievable memories.
Sunrise in Rocky Mountain National Park
If you are an early bird, catching a sunrise in the park is an inspiring photo opportunity. Grab your coffee and head up Trail Ridge Road to Rainbow Curve Overlook for a gorgeous sunrise. Or if you have an early pass into Bear Lake, 2 favorite spots for a sunrise photograph are Sprague Lake or Bear Lake.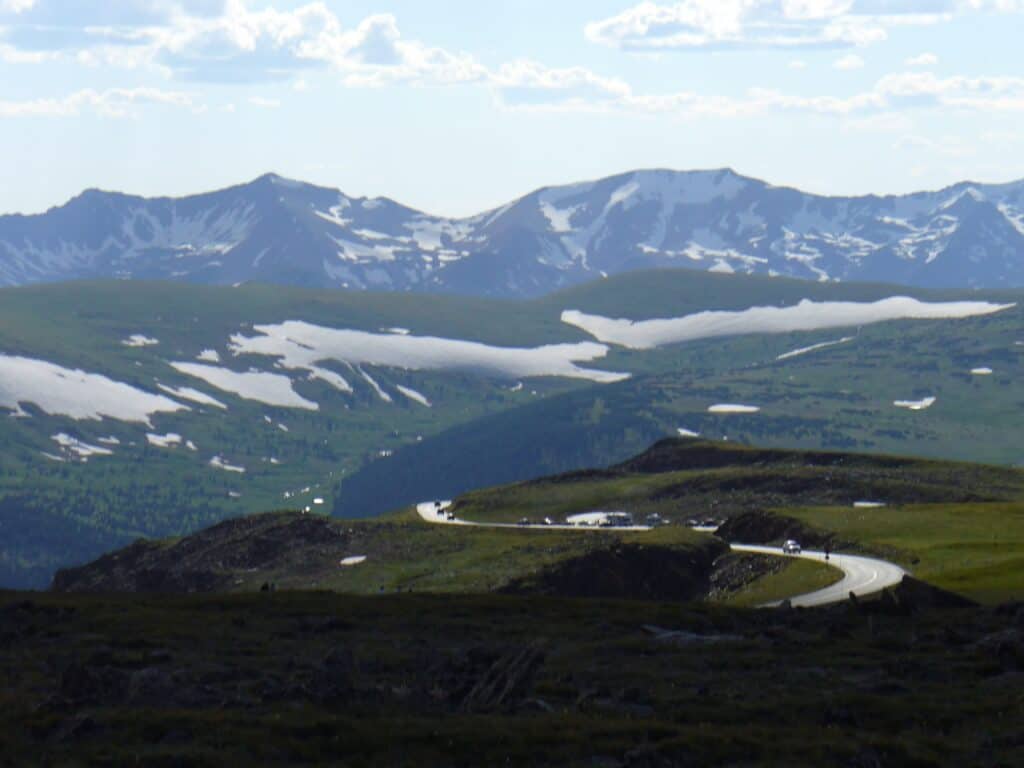 Morning – Depending upon how you enter the park from Estes Park, the first stop is either the Beaver Meadows Visitor Center or the Falls River Visitor Center. You'll find great displays and very helpful park rangers.
Take a Scenic Drive on Trail Ridge Road or Old Fall River Road
Time for the most scenic drive in the National Park System! Head to the Alpine Visitor Center, located at the "top of the world". You have the choice of 2 scenic drives to get to the top.
Scenic Drive Option 1 – Trail Ridge Road
Plan to stop often as you drive Trail Ridge Road for the breathtaking views. Trail Ridge Road is one of the most scenic drives in the country. It's called the "Highway to the Sky" because the design intentionally allows for incredible panoramic views of the mountains and the valleys. Here are a few not to be missed stops:
Many Parks Curve – This overlook is called Many Parks because it provides a panoramic view of several meadow areas in Rocky Mountain National Park – each a park in itself. Moraine Park, Upper Beaver Meadows, and Horseshoe Park meadows are visible here with a stunning backdrop of mountain peaks.
Forest Canyon Overlook – Grab your camera and your binoculars. This is your first open view of Longs Peak above the treeline.
Tundra Communities Trail – A short interpretive walk into the tundra. You'll be amazed at the life in this hostile environment above the treeline.
Lava Cliffs – If you are interested in the Geology of Rocky Mountain National Park, this shows the impact of the uplift from over 70 million years ago.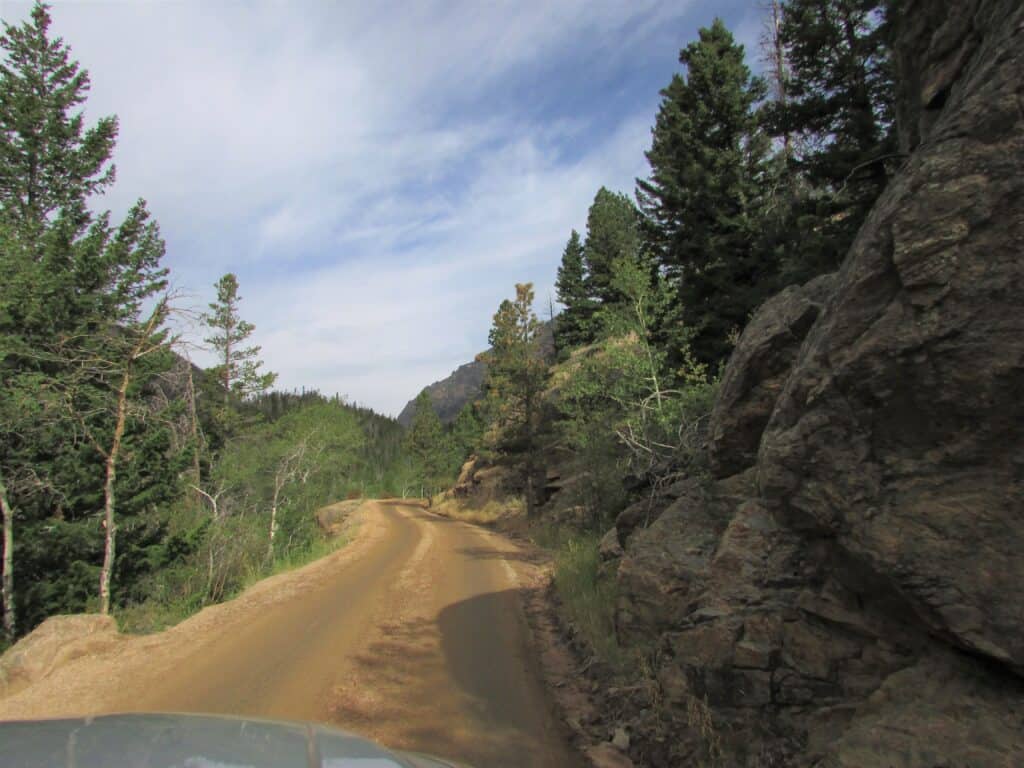 Option 2 – Old Fall River Road Up
Old Fall River Road was the first road to the top designed for automobiles. It retains its original design with steep grades and sharp turns. Because it is narrow, traffic is limited to one-way up the mountain. It's slow-moving. Without stops, the 11-mile gravel road drive will take 2 to 2 1/2 hours.
But why wouldn't you stop! Don't miss the short, easy hike to Chasm Falls. It's one of the prettiest waterfalls in Rocky Mountain National Park. The trailhead is on the left about a mile after the road turns to gravel.
Important: before you head up Old Fall River Road, make a potty stop at the Visitor's Center. Once you get on this road, there are no bathrooms until the Alpine Visitor Center and no turning back.
Old Fall River Road and Trail Ridge Road converge At the top of the world: Alpine Visitor Center.
Resist the temptation to stop at the Alpine Visitor Center right now. Midday, the center will be super packed, and cars will be circling the parking lot looking for a space. You'll have a much more enjoyable tour if you stop on your way back.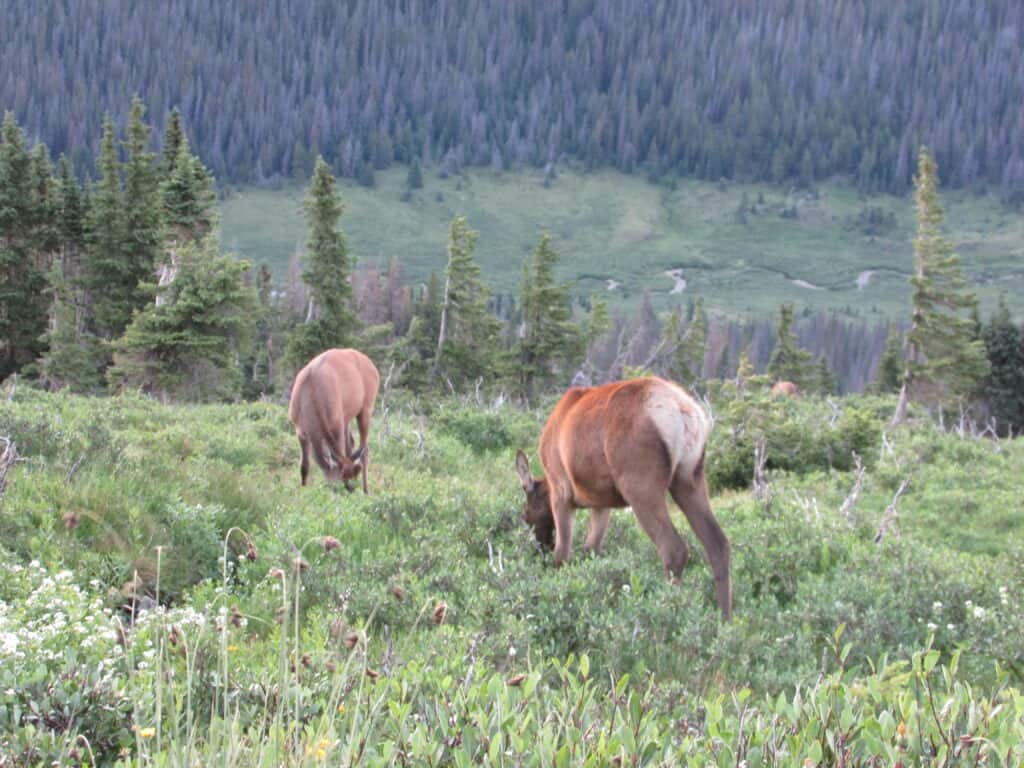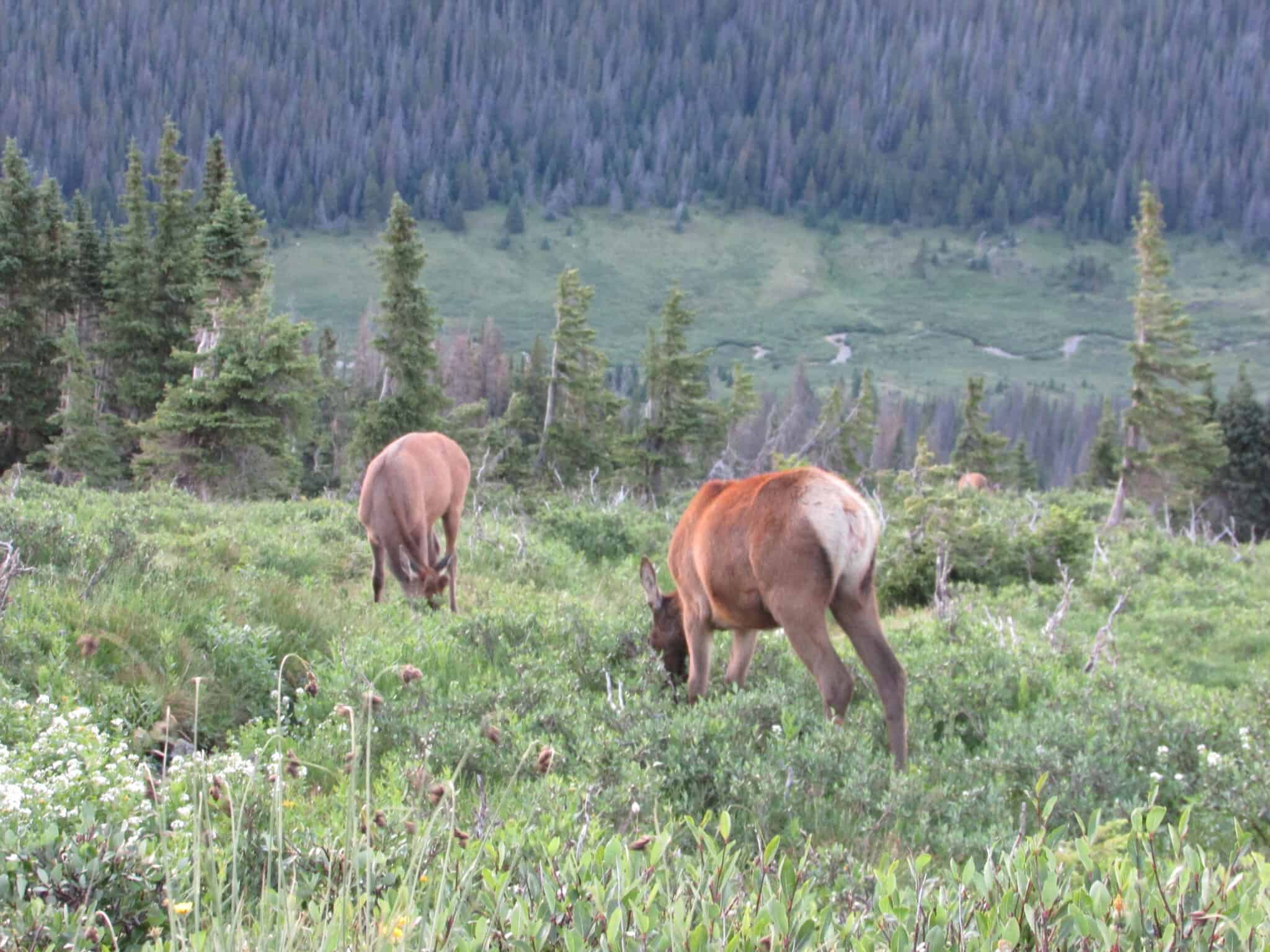 Late Morning on Trail Ridge Road
It should be late morning now, and you will start cruising down the far side of Trail Ridge Road to the Kuwaneeche Valley. You'll notice the traffic has thinned a bit as many visitors never explore past the Alpine Visitor Center. Those people are missing so much!
Just a couple of quick things to do as you cruise down into the Kuwaneeche Valley, and then it will be time to grab some lunch. Depending upon the time, pick one to two items from the list below:
Stop at Milner Pass, where you'll cross the Continental Divide for a quick photo. This pass is the invisible line across the Rockies where the rain of the Eastside flows to the Atlantic and on the West flows to the Pacific.
Pull off at the Farview pull out for a great view of the Never Summer Mountain Range.
Beaver Ponds Boardwalk – Perfect for families. You know how kids love water! It's a short, accessible stroll to the boardwalk around the Beaver Dams. You are likely to see beaver and other water-loving animals. Moose and elk are often sighted here.
Visit Holzwarth Historic Site – Take a close look at life in the Rockies in the early 1900s. At Holzwarth Historic Site, volunteers guide you through the family homestead and what became the Never Summer Dude Ranch in 1920. Guests would fish and take horseback excursions through the Rockies. The easy paved 1.2 mi trail is located on the west side near Grand Lake. It's not unusual to see moose or elk in this area. Although the trail is open anytime, the homesteads are only open mid-June to Labor Day.
Keep an eye out as the valley opens up for wildlife. Elk are often grazing here.
Where to Have Lunch on Your Day in Rocky Mountain National Park
Lunchtime will find you in the Kawuneeche Valley. A couple of lunch ideas:
Lunch in the community of Grand Lake is only a few minutes away – You'll find a variety of casual restaurants along Grand or Lake Avenue near the marina. Note you will be leaving the park, so make sure you have your receipt handy for return access.
Picnic Lunch at Coyote Valley Trail Head and Picnic Area – It's only a 5-minute walk to the picnic area on a packed gravel trail perfect for a stroller or wagon. On the way, you'll travel a small bridge crossing the Colorado River. You are only 10 miles from the beginning of the Colorado River here, and it isn't much more than a shallow creek. You'll find pretty nice vault toilets here too. After your

picnic lunch

, enjoy a short hike on this fully accessible trail through the meadows.

Never Summer Mountains view from Trail Ridge Road in Kawuneeche Valley – photo by Ladona Stork
Early Afternoon in Kawuneeche Valley and the Alpine Visitor Center
It's time to start heading back over the mountains if you have extra time on the way back and feel like working off that lunch, stop at the Colorado River Trailhead.
Here, you are near the beginning of the Colorado River. It's a relatively flat short walk to the river, and moose are commonly seen munching in the water. Follow the 7 mile round trip trail to Lulu City if time allows. It's an old 1800s miner town. There's not much evidence left, but it is fun to poke around.
The Alpine Visitor Center
Now is the time to stop at the highest visitor center, the Alpine Visitor Center, which closes at 5 pm. Here you'll find great displays about this eco-system. Don't miss the short hike along Alpine Ridge Trail, which starts right behind the visitor center. Pull-on your jacket as this 0.6 mi round trip walk will be windy!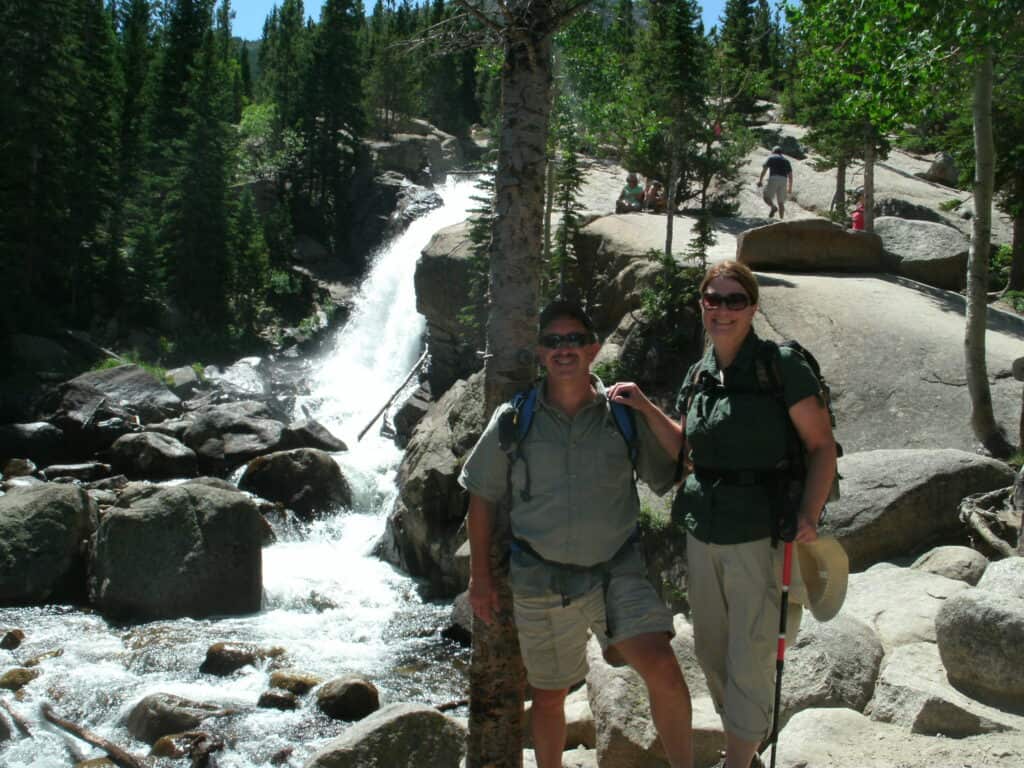 Late Afternoon – Head to Bear Lake Corridor
Cruise down Trail Ridge Road back towards Bear Lake Road. If you took Fall River Road, check out the notes above about great stops.
You've just spent a big chunk of your day sitting in your car, so the Bear Lake Corridor is your opportunity to get out and explore. The Bear Lake Area is a hiker's paradise for novices and skilled hikers alike.
For short scenic hikes and relaxing alongside beautiful lakes arriving late afternoon or early evening is perfect. Visitors doing full-day hikes come early in the day and will be on their way out when you arrive; it will be much less crowded.
Parking is tight at the trailheads, so park at the Park and Ride and enjoy the easy-to-use free shuttle bus that services the trailheads in this area.
Afternoon Hikes to Choose From
You could hike all day in the Bear Lake Corridor on trails that interconnect and take you high up into the mountains. However, you would need a whole day just in this area. So if you only have one day in the park, we suggest you enjoy several shorter hikes.
You'll love hiking to the 30 foot Alberta Falls. This family-friendly hike is under 2 miles round trip on a paved trail. The elevation gain is moderate and quite the workout. Plan 1 to 1.5 hours for this trip. This hike starts at Glacier Gorge Trailhead. (Beyond Alberta Falls is The Loch and Sky Pond Trail. If you have more than one day is our favorite day hike.)
Bear Lake is a short walk from the Bear Lake Trailhead and parking lot, so it's a perfect spot to relax. For some exercise, walk the easy 1/2 mile loop around the lake. Or for a bit more of a challenge: hike to Nymph Lake. It's about a 1-mile round trip. Or go on to Dream Lake (2.2mi RT) or Emerald Lake (3.6mi RT) if you have extra time.

Sprague Lake in Rocky Mountain National Park – photo by Ladona Stork
Dinner
Take your picnic dinner over to Sprague Lake, which has a lovely picnic area. After dinner, walk around the lake's edge on the 1-mile nature loop. Wildlife, including elk and moose, are often seen along the Sprague Lake Trail in the evening hours, so it's the perfect place to relax.
Catch an Evening Sunset in Rocky Mountain National Park
For the evening, catch a beautiful sunset over the mountains. Forest Canyon Overlook on Trail Ridge Road is a popular spot for spectacular sunsets. If you are not up for driving Trail Ridge Road in the dark, we've also seen stunning photos taken of the setting sun framing the mountains with Bear Lake in the forefront. Grab a chair and a warm beverage for your wait.
#2 One Day In Rocky Mountain National Park Itinerary: Trail Ridge Road without Bear Lake Corridor Pass
If you couldn't get a timed entry pass into the Bear Lake Corridor, here are a few adjustments you can make to the above itinerary. I assure you that there is so much to do in Rocky Mountain National Park that you will have a fantastic day!
Morning and Afternoon:
Morning – Keep the morning plan with a perfect sunrise photo opportunity and a cruise up Trail Ridge Road or Old Fall River Road.
Afternoon – Take advantage of the extra time to explore the Kawuneeche Valley by taking one of the longer hikes listed above. The Kawuneeche Visitor Center is worth adding as a stop. You'll find it just past the Timber Creek Campgrounds.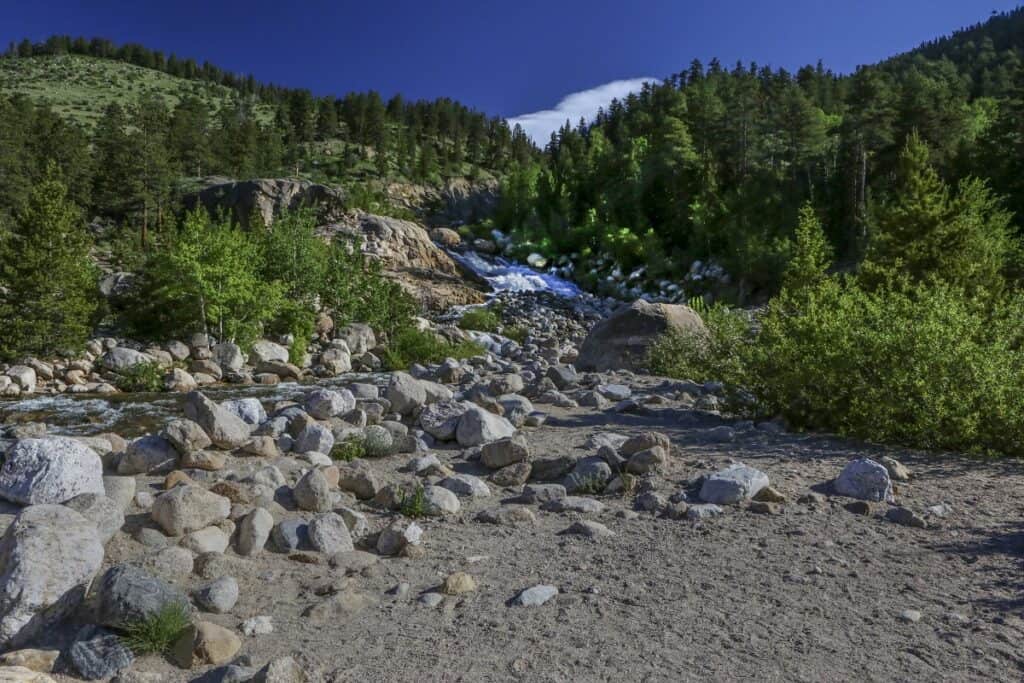 Late afternoon and evening plans in Rocky Mountain National Park:
When you return from your scenic drive along Trail Ridge Road, head over to the Horseshoe Park area. Here you'll enjoy visiting the Alluvial Fan and Sheeps Lakes.
The Alluvial Fan is a cascade of running water over huge boulders. You can hike over parts of it for a fun family adventure.
Sheeps Lakes is named after the bighorn sheep that travel to the lake daily throughout the spring and early summer. This lake is a great area to see elk and other wild animals in the late afternoon.
End your afternoon relaxing in the Hidden Valley Picnic Area for a picnic dinner.
Evening:
After 6 pm, head over to Bear Lake Corridor. You can access Bear Lake without a pass after 6 pm. Remember, when it gets dark in the Rocky Mountains, it is dark. So don't try starting any long hikes this late, and make sure you have a flashlight or headlamp with you. The short loop around Bear Lake or Sprague Lake would be perfect for wrapping up your day. Then hang around for your sunset photograph over the lake!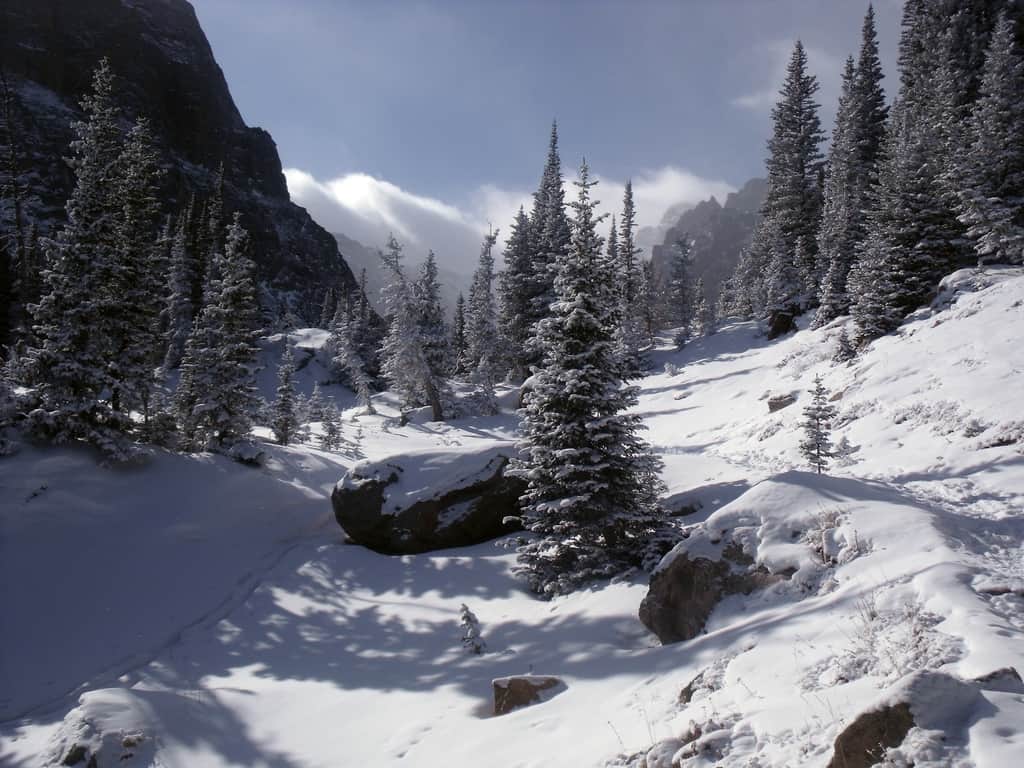 What to Do if you Only Have One Day in Rocky Mountain National Park in the Winter
Although the best time to visit Rocky Mountain National Park to see and do everything is summer, RMNP is open all year and perfect for winter adventures. If you only have a day in the park, that's still enough time to see a few of the highlights.
Trail Ridge Road will be closed due to snow and ice all winter. The closure starts mid-fall, and it usually reopens Memorial Day weekend, depending upon when plowing is complete.
Here are some ideas to fill your day when the park is snowy:
Sledding is open in Hidden Valley. Families love this adventure.
A hiking adventure in the Bear Lake area can be fun and a bit challenging. Ensure you are prepared for the cold with the right equipment and know what to wear for winter hiking. Popular winter destinations include Sky Pond, Lake Haiyaha, and Dream Lakes in the Glacier Basin.
Bear Lake and Sprague Lake are gorgeous when snow-covered; you can capture some amazing photos without the need to spend much time in the cold at both of these locations.
Essential Tips for your Day in Rocky Mountain National Park
Avoid Altitude Sickness – Make sure you drink a lot of water and snack on something throughout the trip to avoid altitude sickness symptoms. It is easy to overestimate your body's ability to adjust to mountain elevation changes. You will climb from 7,800 feet to over 12,000 feet during this day.
Watch for Afternoon Thunderstorms – Straight from the National Park Service website: "Thunderstorms are common in summer and are dangerous. Plan your day to be below treeline by early afternoon. If you see building storm clouds, head back to the trailhead. If caught in a lightning storm, get below treeline."
Don't Forget Your Jacket – It will be 20-30 degrees colder at the top than at the bottom. Plus, the wind may be extremely harsh when you reach the treeline. We tend to forget how intense the sun is at higher elevations since it gets colder. Wear a hat and sunglasses to protect yourself from the stronger UV rays.
Start with a full tank of gas – You won't find a gas station in the park, so start ready for a full day of driving.
Pack food – Bathrooms will be plentiful along Trail Ridge Road and major trailheads. But access to food or drink is very limited. It's best to carry all the food and water you need for the day. Some of the best views in Rocky Mountain National Park have picnic tables.
Where to Stay When Visiting Rocky Mountain National Park
If you are only spending one day in Rocky Mountain National Park, stay as close as you can so you can get an early start and enjoy a full day.
If you are a camper, there are excellent campgrounds in Rocky Mountain National Park. You'll also find deluxe RV Campgrounds in the Estes Park Area and more rustic camping in the nearby National Forests.
Estes Park and nearby communities are full of hotels and rental cabins. Our favorites are the river cabins along Fall River. They are super cute and right outside the gate to the park. If you want something unique, try the Stanley Hotel in Estes Park, which inspired the horror movie The Shining. Or, for a full Estes Park Resort experience, you'll be pleasantly surprised with all the YMCA offers in lodging.
Several other towns near Rocky Mountain National Park are great for lodging options, including Boulder, Loveland and Grand Lake, Colorado. All these require a little more driving but provide some unique mountain experiences.
How to Get to Rocky Mountain National Park
Most people drive to Rocky Mountain National Park. It's a bit of a drive, but it is possible to make this a day trip from Boulder, Fort Collins, or Denver. It's about 1.5 hours drive from the Denver International Airport.
My last piece of advice is to stop often and enjoy the views. Wildlife is everywhere in the park and you are certain to run into them without even trying. The mountain views are beyond compare. Wildflowers are abundant most of the summer. Without a doubt, you'll start thinking about your next visit after your one day in Rocky Mountain National Park.
---
Looking for more ideas? Here's our article on 9 Amazing Things to do In Rocky Mountain National Park for the First Time Visitor.
And if you prefer a long day hike on your day in Rocky Mountain National Park, here are a few of our favorite hikes that you can complete in 1/2 day: