Fall is the perfect time to visit Rocky Mountain National Park. The fall foliage changes the valleys to gold and there are plenty of activities for you to enjoy before winter arrives! The summertime crowds thin out after Labor Day so don't be shy, come explore the park in September or October when temperatures cool down just enough to make your experience even more enjoyable! Here's a list of 7 reasons why you should plan your fall in Rocky Mountain National Park now.
The Crowds Thin Out
Well, sort of! September total visitors to Rocky Mountain National Park run 25-30% less than the peak visitor month of July. However, the last two weekends in September can be record-breaking days if the weather is nice as they bring out a lot of folks for both fall foliage and the elk rut. Our advice, plan your visit mid-week during September and you will find the park easier to navigate.
October visitors are usually about 1/2 of September, dwindling each week as the temperatures start to drop. If you want to enjoy the park without many people in your space, bundle up and enjoy the park just before the snow flies!
You'll Love the Great Weather in the Fall
During the fall months, you can expect some excellent weather. Daytime temperatures near Estes Park and Grand Lake are usually in the 60s and 70s while nighttime temperatures will cool down to about 30 degrees Fahrenheit. It's generally fairly dry in the fall with sunny days that make for some awesome outdoors time.
Of course at higher elevations the temperature will be cooler with often a 20-degree drop at the top of Trail Ridge Road so make sure you have a jacket handy. By mid-October it's not uncommon for snowfalls to close both Trail Ridge Road and Old Fall River Road for the winter. At lower elevations fall snowfall usually melts quickly so you can still get out and enjoy the day.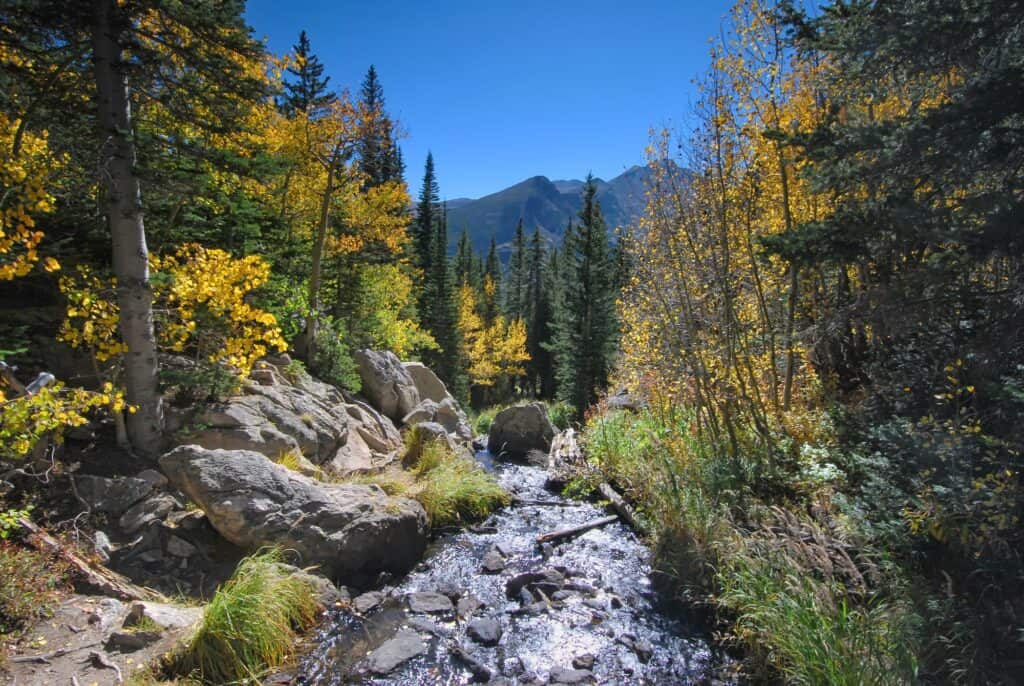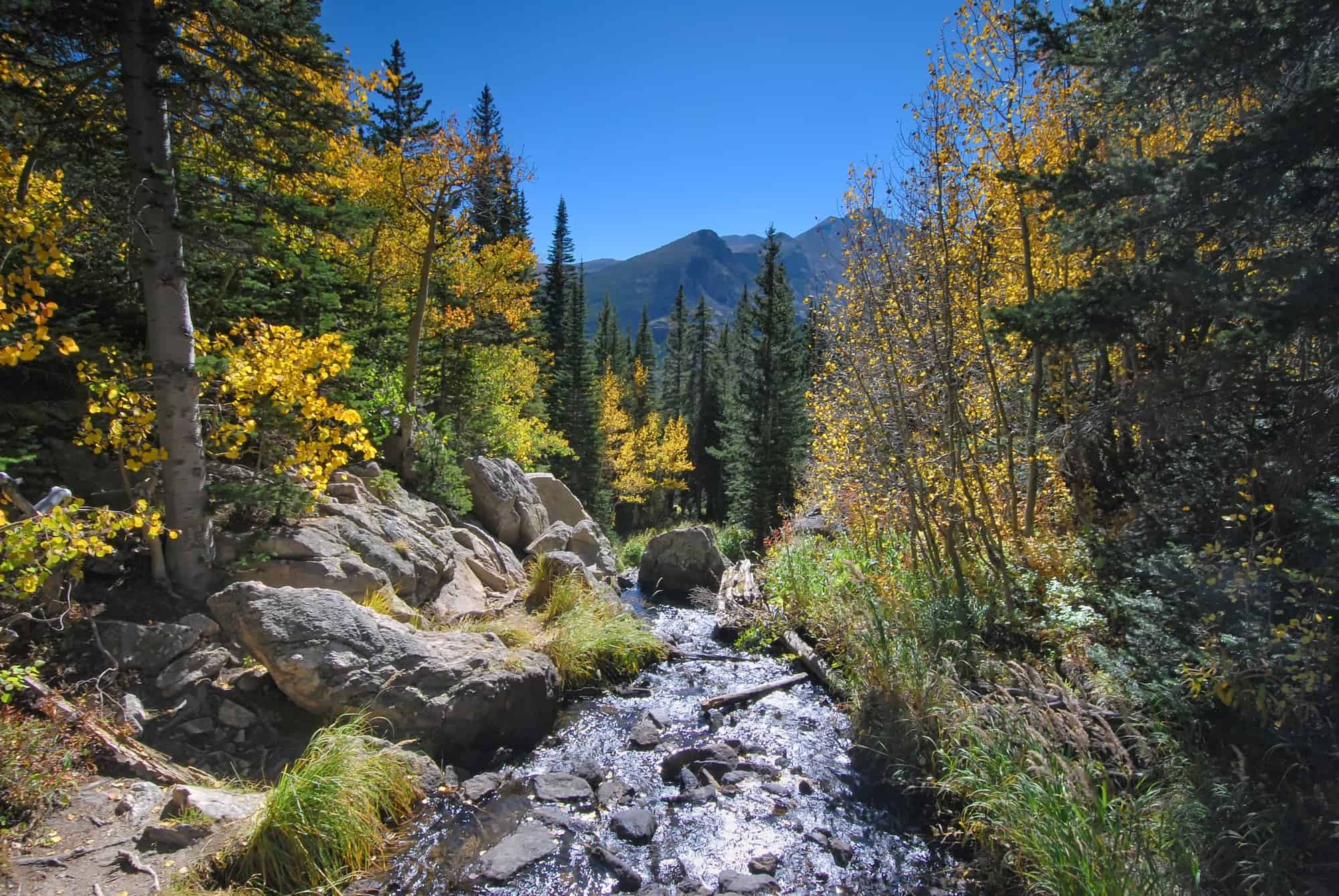 RMNP Fall Foliage Turns the Mountains Gold
The aspen leaves start to turn yellow in September and peak in early October. It's a must-see if you never have before! The color change starts high in the mountains and throughout the month progress down to the lower elevations as temperatures drop. That means the fall foliage change lasts longer than it does in the flatlands.
Check out our article on where to find the best fall color in Rocky Mountain National Park before you visit. The park is perfect in the fall for a scenic drive along Trail Ridge Road where you can see valleys filled with golden aspen. Or walk among the aspen trees on an amazing day hike. Our favorite is to catch the reflection of the color change in one of the gorgeous lakes. Your photo of bright yellow leaves with the mountains in the background will be one you will frame!
It is impossible not to feel more energetic when surrounded by fall color. The bright colors contrast the blue sky and make your visit even more enjoyable.
Fall in Rocky Mountain is Great for Wildlife Viewing
Elk are Very Visible
A mating herd of elk is one of the most spectacular wildlife encounters in Rocky Mountain National Park. With over 600 elk in Rocky Mountain National Park, you are almost guaranteed to see several herds in a fall visit. During the Rocky Mountain elk rut, which occurs from late September through October, the bulls are very territorial of their harems and can get quite aggressive. You'll hear the bugling of the bulls as they claim their mating rights. It's quite an amazing sound that you'll never forget.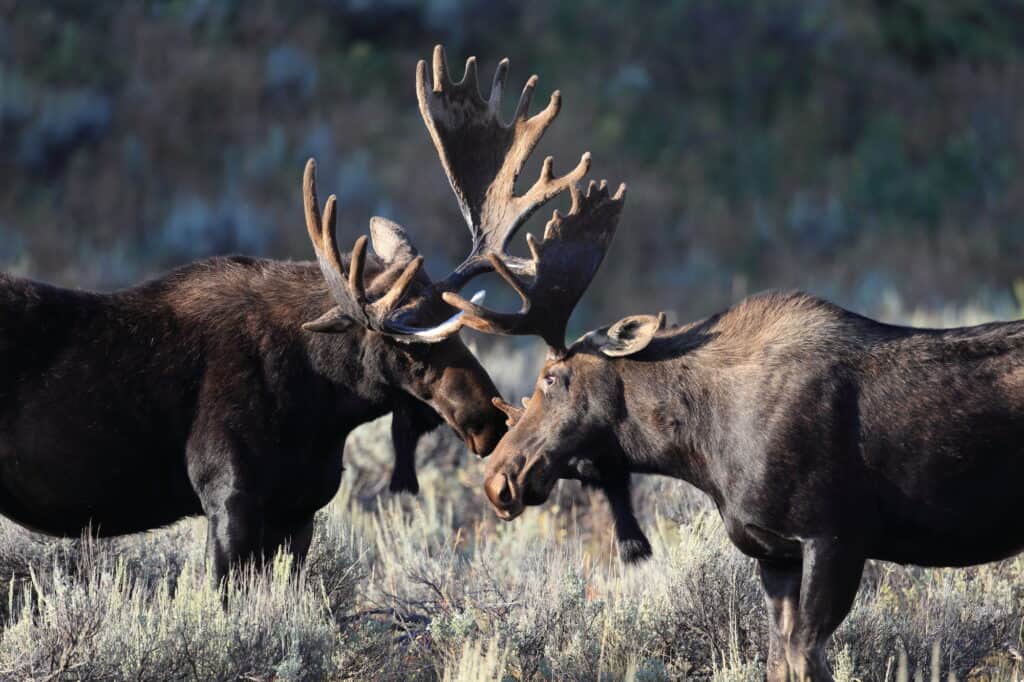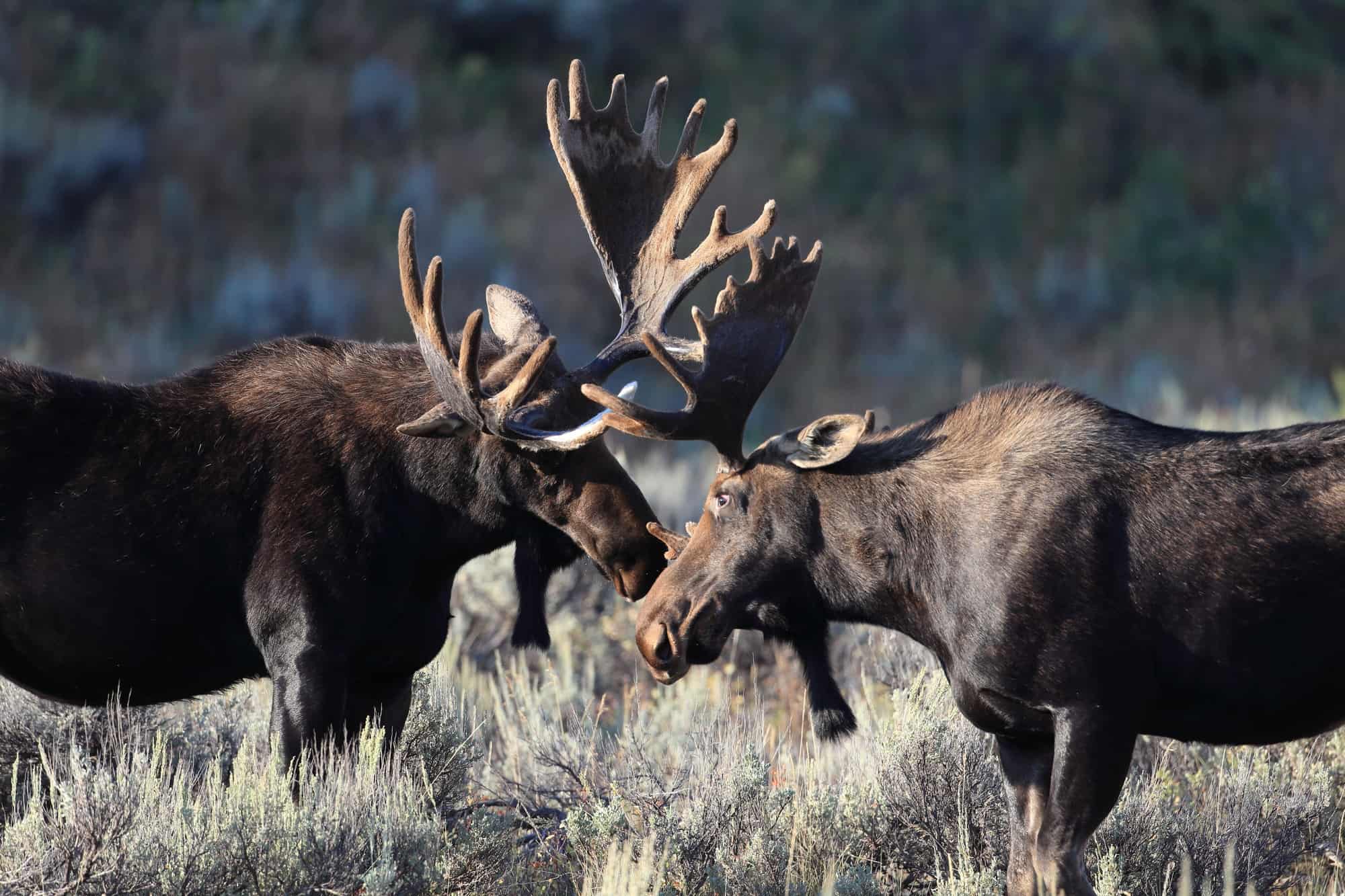 Seeing Moose and Mule Deer in Fall
Elk are not the only wildlife that are more active in the fall. Moose and Mule Deer are also in the rut during September and October. With only 60 moose and a couple hundred mule deer in Rocky Mountain National Park, you will have to work a little harder to encounter them. But don't be surprised if you see a few! Bull moose, known for their huge antlers, come down from their summer home at higher elevations to join the cows in the low marshlands. Look for moose along streams and ponds. Mule deer like to graze on shrubs so look for them in open meadows.
Getting a Peek at Bears and Mountain Lions in the Fall
Other wildlife like RMNP bears, coyotes and mountain lions are shyer and while still active in the fall are less likely to be seen. The wildlife in Rocky Mountain National Park is just as beautiful as the landscape.
Fall Hikes in Rocky Mountain National Park
Imagine walking through a golden forest of aspen with red and orange shrubs lining the trail. And then you climb above the tree line to a view of golden valleys with gorgeous mountains in the background. That's what fall hiking in Rocky Mountain National Park is like.
What are the best fall hikes in Rocky Mountain National Park?
The best fall hikes in Rocky Mountain National Park are the ones that lead you through the golden aspen forest to a spectacular views. Hikes to Alberta Falls, Bear Lake or Ouzel Falls are gorgeous. You really can't go wrong hiking any of the trails in the park. The summer favorite hikes will look different in the fall with the change in foliage.
How to Prepare for Rocky Mountain National Park Fall Hiking
The cooler temperatures, that drop low in the evenings do mean you need to pack layers in your backpack. A fall hike might start comfortably in a t-shirt while the sun is shining, but you'll be wanting your fleece as soon as the sun drops below the tree line. As Rocky Mountain National Park moves into mid-October the chance of snow increases. That means most hikers throw a bit of winter gear into their packs like gloves and microspikes.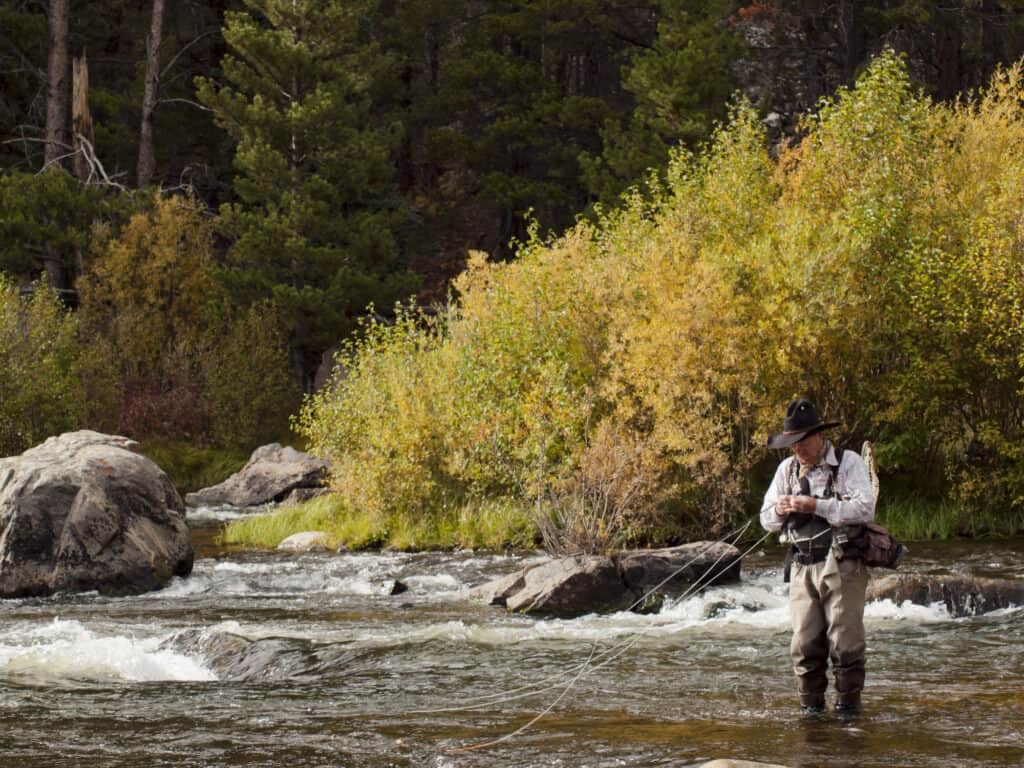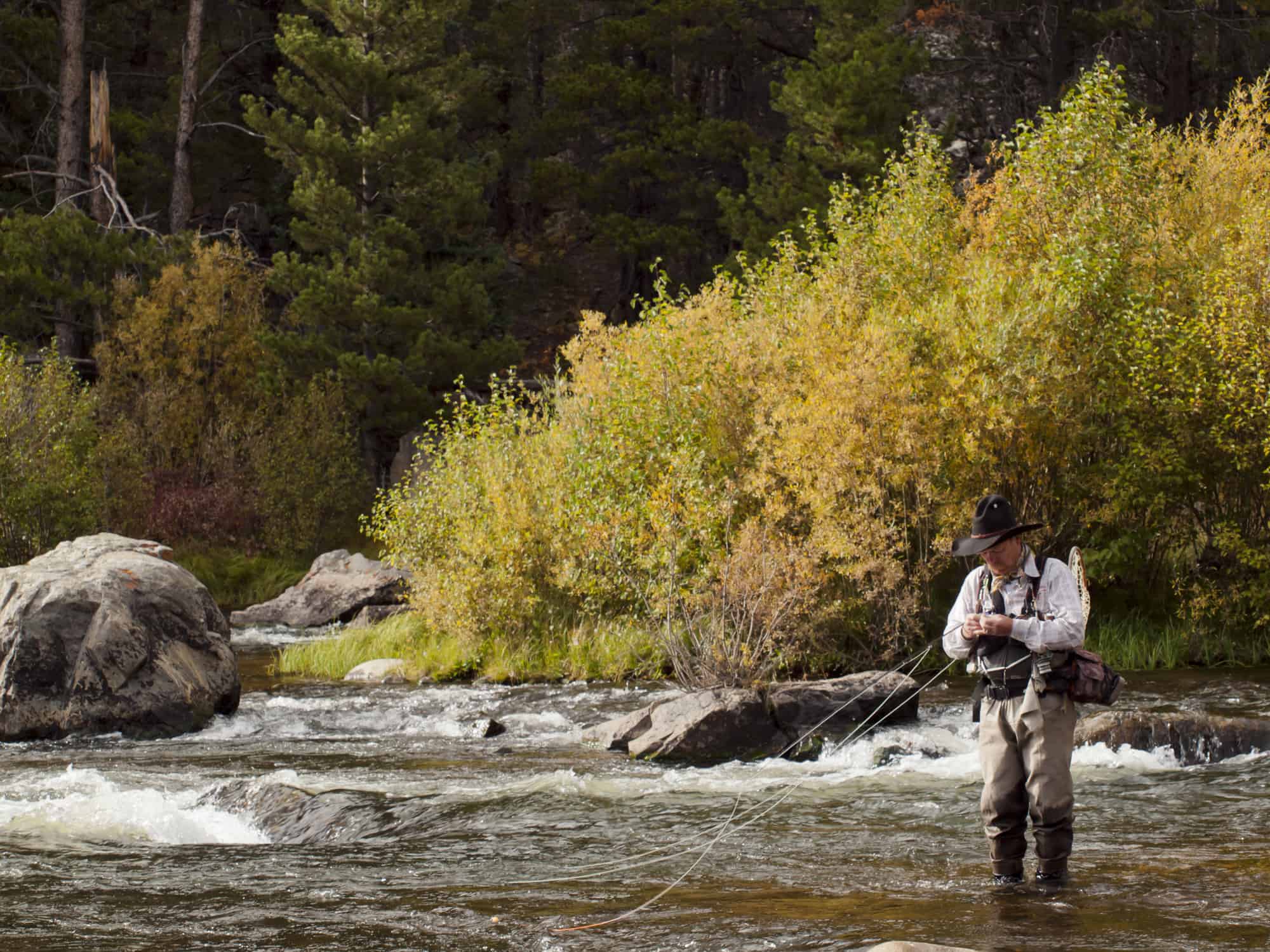 Fall is the Perfect Time for Fly Fishing in the Rockies
As the fall temperatures cool down, so do the fish! Fall is an excellent time to head up to Rocky Mountain National Park for some fall fly fishing. According to Colorado Outdoors Magazine, the trout in the Big Thompson that runs through the park are hungry in the fall and fishing is great. Rainbow, brown, brook and native cutthroat trout all thrive in the Moraine Valley giving you an opportunity for a perfect catch.
Fall Festivals in Estes Park
With a half dozen different fall festivals in the Estes Park area, you will have plenty of entertainment during your visit. You'll love the Elk Fest, a family friendly weekend of live music, food and bugling contests. Or try the Autumn Gold Festival of beer, brats and bands. You can find more information about the Fall Festivities on the Estes Park Events Calendar.
Planning Your RMNP Itinerary
Here are additional guides to help you plan your trip to Rocky Mountain National Park. It's my favorite National Park, any time of year! 
Fall is the perfect time to visit Rocky Mountain National Park in Colorado. With a variety of activities, amazing weather and beautiful scenery you will not want to miss out on all that this park has to offer. Fall in Rocky Mountain National Park offers something for everyone. So don't wait until next year before visiting these breathtaking surroundings!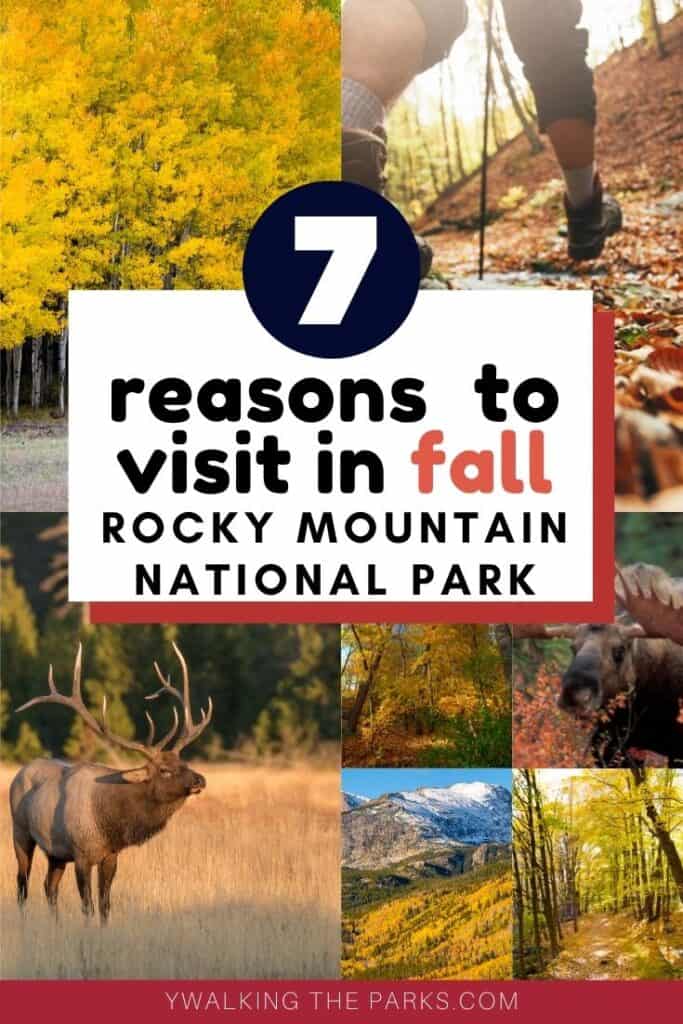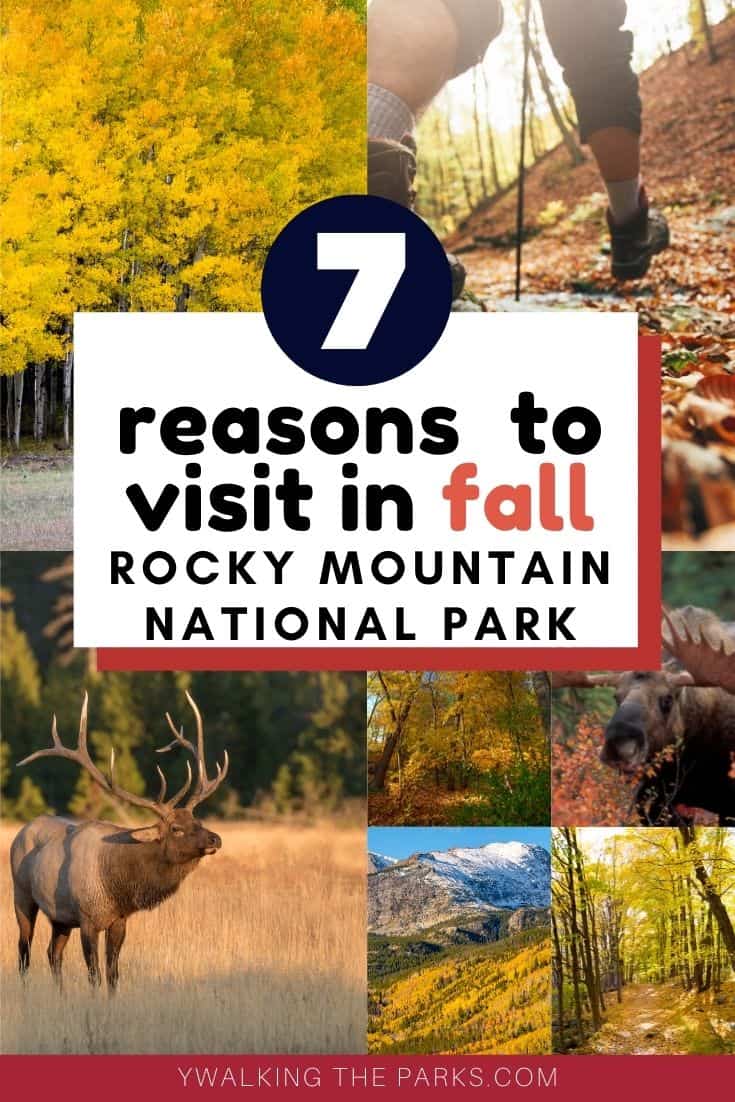 Don't Let the Planning Overwhelm You!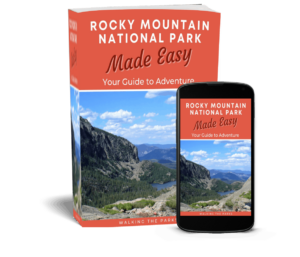 Plan your perfect trip to Rocky Mountain National Park!
Check out our complete digital Guide to Rocky Mountain National Park. This is written specifically for the first time visitor to make your trip planning easy! Over 90 pages of things to do and see on your adventure. Plus get pro tips for planning your adventure.
Start planning immediately with Digital Download!