Thinking about visiting Great Basin? At first look, you might wonder if it is worth it. But once you dig into the cool things to do, you'll be more than ready to make the trek. Here's an itinerary for 1, 2 or 3 days of visiting Great Basin National Park. Each day will let you experience a park that is like no other!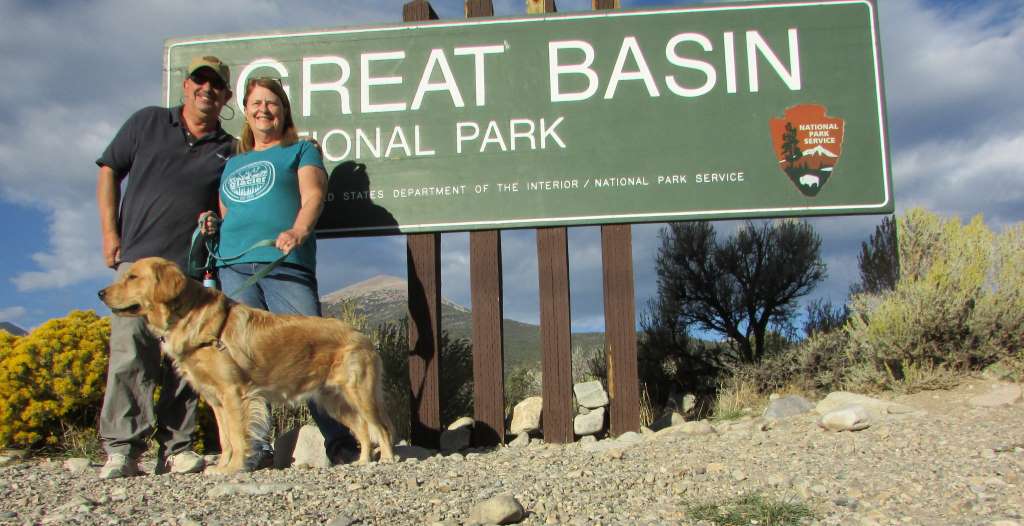 A road trip to Salt Lake City for a wedding turned into the perfect opportunity for us to visit Great Basin National Park. We almost skipped it, because Great Basin is so far out of the way. But in the end, the desire to check Great Basin off our bucket list won. I'm so glad we made the trip! Great Basin was a beautiful and relaxing end to a 3-week road trip. We explored and camped in this unique park for several remarkable days. I've included in this itinerary for Great Basin a combination of the most popular things to do and a few places that are almost secret places to explore.
About Great Basin National Park
The sea of sagebrush throughout this desert went on for hundreds of miles as we drove to Great Basin National Park. There we were greeted by the gorgeous drive up to 13,036 Wheeler Peak. Driving through multiple ecosystems, the uniqueness of this park captured our attention.
Great Basin National Park is part of the largest United States desert of the same name. While we usually associate a desert with extreme heat, this is a cold desert. Unlike the Sonoran desert further South, Great Basin has extremely cold winters with a lot of snow at higher elevations. However, the summers are warm and dry and Great Basin will receive less than 10 inches of rain.
Because of the harsh climate, Great Basin National Park is home to several unique features that make it well worth the visit. You'll discover surprises here like Bristlecone Pine groves with craggy trees thousands of years old, a cave system with pathways stretching 2 miles, and live glaciers you might only think of as living in the far North.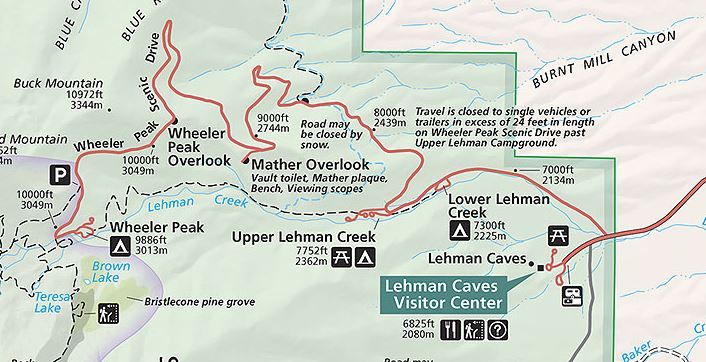 Day 1: Visitor's Center, Lehman Cave Tour, Scenic Drive and Afternoon Mountain Hike
This first day of our Great Basin National Park itinerary takes you through the most popular places in the park. It is the perfect itinerary for the first day of a 2 or 3-day visit. And if you only have one day in Great Basin National Park this is the best way to see the top sites.
Stop 1: Great Basin Visitor Centers
There are two visitor centers in Great Basin National Park. Both are worth exploring, with a variety of educational displays, to learn more about the park's history, geology and other features.
The Great Basin Visitor's Center
The first visitor center you'll encounter is just North of Baker Nevada on your way into the park. It's a great bathroom break after your long drive as the restrooms are open all night. The desk is manned by park rangers ready to assist you in planning your day. The display I loved most is the piece of a 4,862-year-old Bristlecone Pine.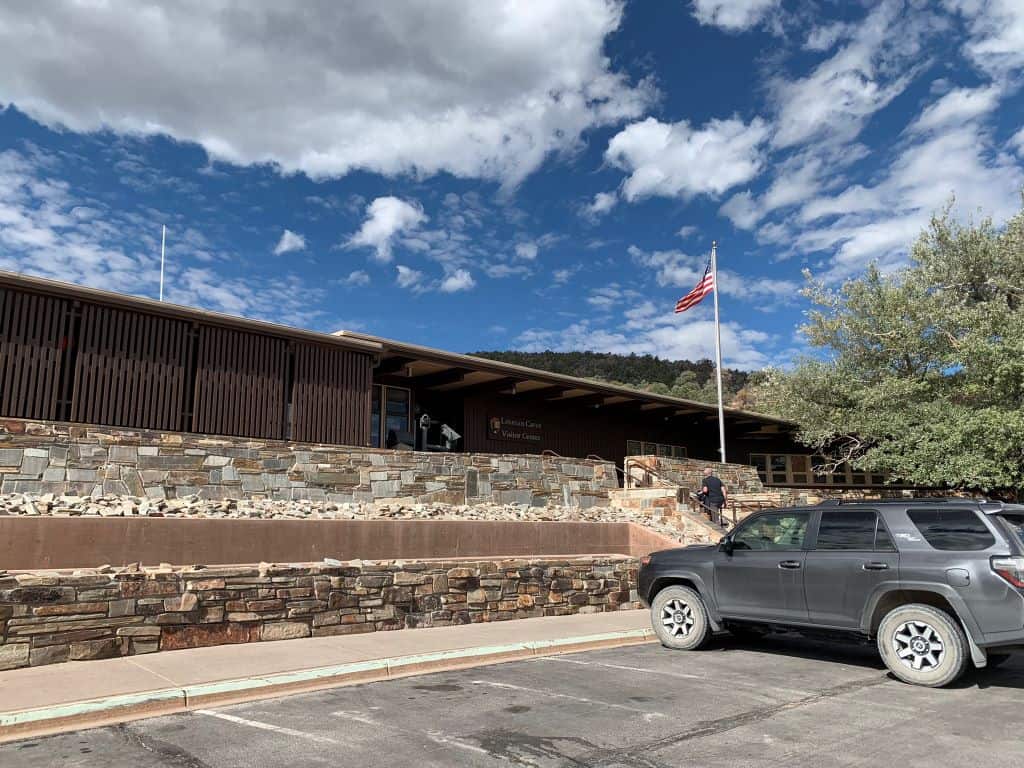 Lehman Caves Visitor Center
About 5 miles further down the entrance road, you'll find the Lehman Caves Visitor Center. Most roads through the park travel past here so you'll find it very convenient. This is where you'll check in for your cave tours. If you choose to skip a cave tour, it's well worth stopping at the Lehman Caves Visitor Center as the displays provide an excellent overview of the cave system.
You'll also find night sky exhibits that will give you tips on what to look for when star-watching. There's a café and gift shop that is open in the morning and early afternoon.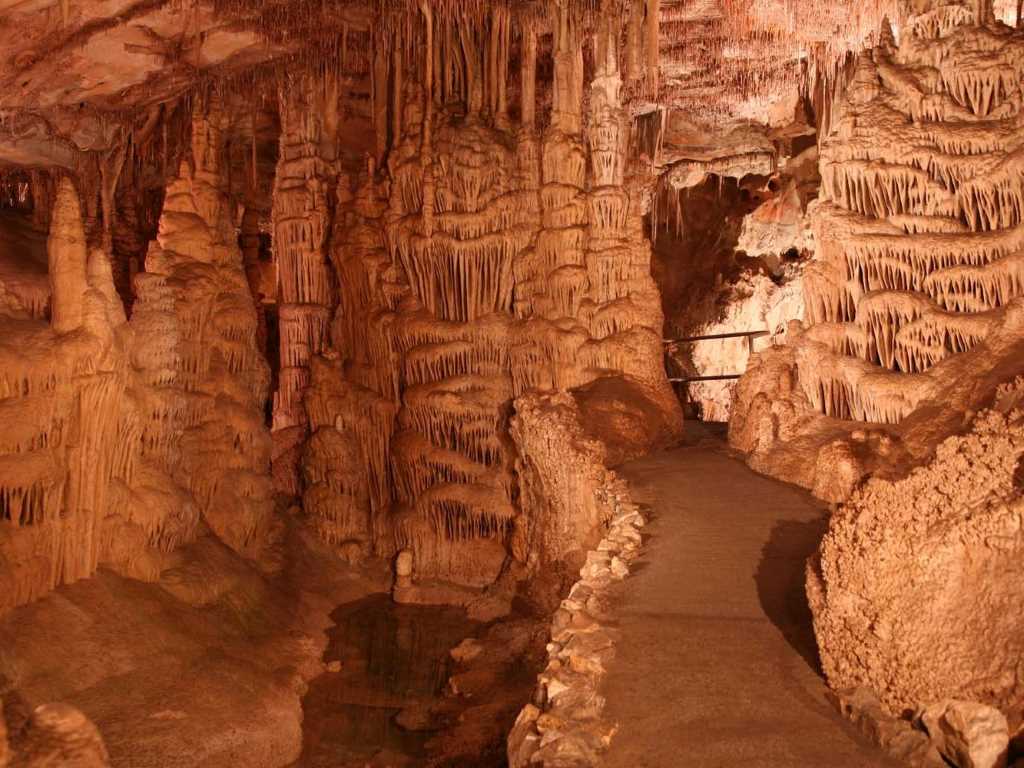 Stop 2: Tour Lehman Caves
Lehman Caves are known for its stunning collection of stalactite and stalagmite formations. Rangers lead two types of tours into the Lehman Caves. The Lodge tour is about 60 minutes long and the Gothic Palace tour is 30 minutes.
We love cave tours and were anxious to compare the Lehman Caves to our visits to Mammoth Cave and to Carlsbad Caverns earlier in the year. Sadly we were not able to get tickets for a cave tour. They are serious when they recommend ordering as soon as tickets are available, which is 30-day advance window.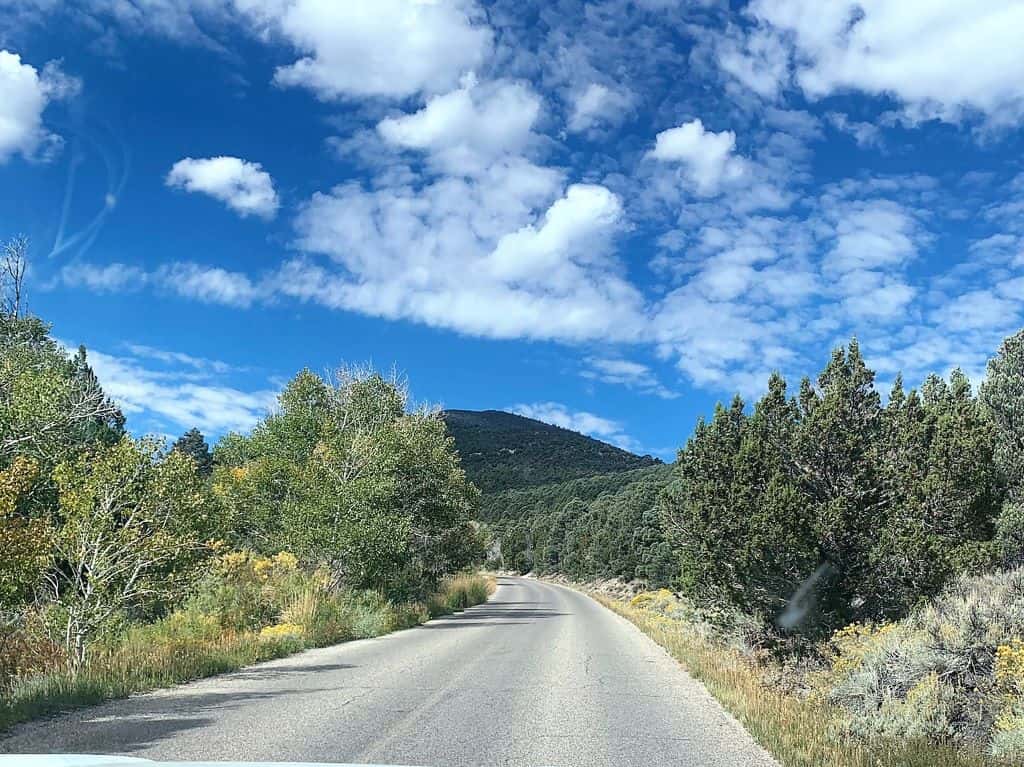 Stop 3: Wheeler Peak Scenic Drive
Cruise the scenic drive to Wheeler Peak. Don't forget to bring your picnic lunch. There are several gorgeous views from pull-offs for a lunch stop, or you can wait until you get to the top.
Wheeler Peak Drive starts right after you enter the park. It's 12 miles of steep and winding roads. It's unlikely you'll want to challenge the 35 mph speed limit. Over the course of your drive, you'll climb from 6,000 feet to 10,000 feet elevation. Unlike many other mountain scenic drives, this road in Great Basin isn't particularly scary. However, because of the steepness your vehicle, including the trailer, can't be longer than 24′ beyond the upper Lehman Campground at mile 3.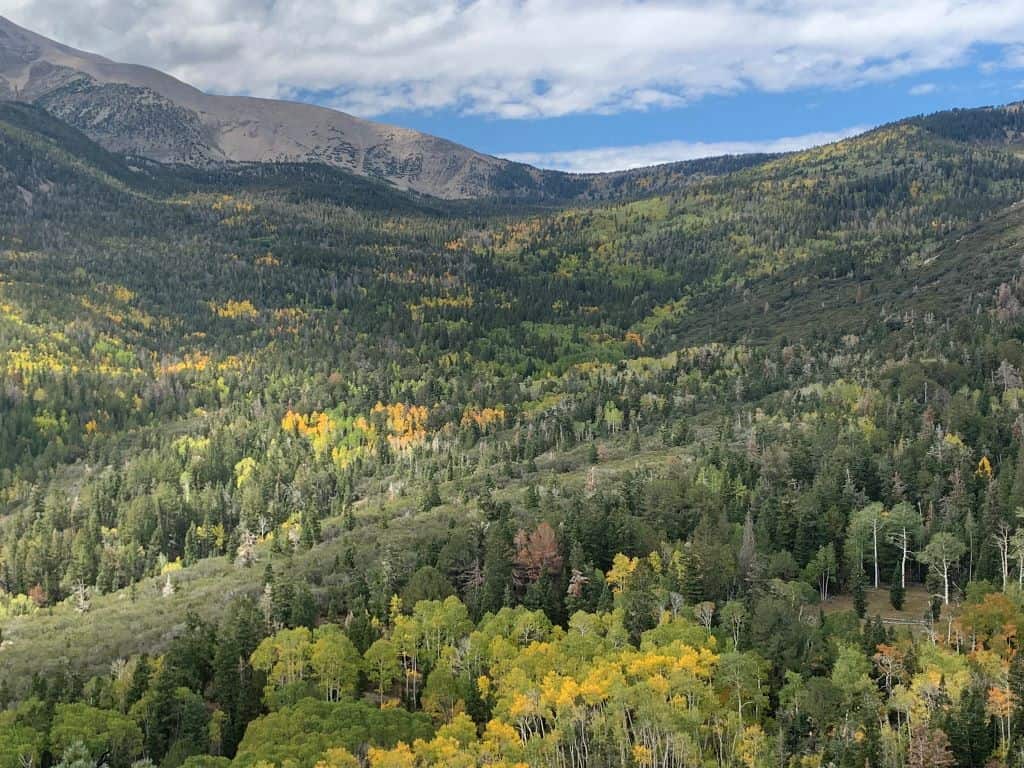 Stop at each of the pull-offs for amazing views. The Mather Overlook is equipped with a binocular stand so you can easily see the Mather Glacier. Along the way, you'll pass through multiple ecosystems so watch as the trees change. We took some amazing photos of golden Aspen in full fall color from the overlooks.
Stop 4: Take a Hike at the Top of Wheeler Peak Scenic Drive
When you arrive at the top of Wheeler Peak Scenic Drive you'll find a gorgeous day use area next to the campground. It's the perfect place to have your picnic lunch. You'll find several remarkable trailheads nearby. There are easy accessible walks as well as challenging hiking choices so almost everyone can enjoy getting out for a stretch here.
Don't overdo it on your first day because you'll be at an elevation of 10,000 feet which means you'll likely feel the effects of the altitude on your body. Altitude sickness is a real thing at this elevation! You will appreciate the very clean vault toilets near the parking lot too.
Here are 3 choices we recommend. Pick the one that matches your own skill and hiking style.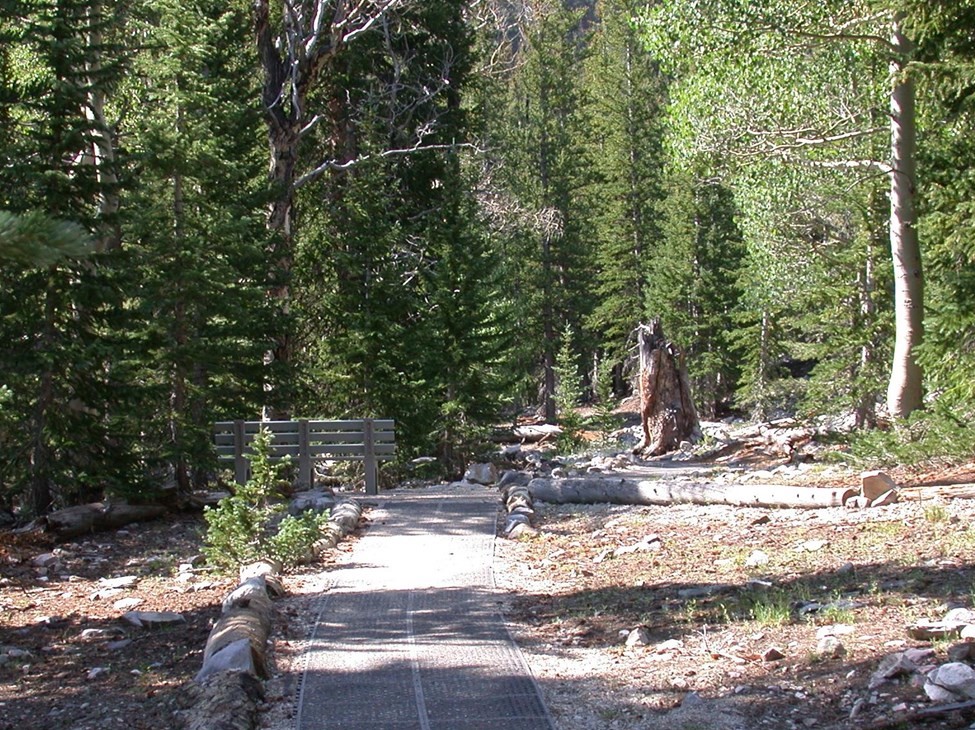 Easy: Sky Island Forest Trail: Accessible
For a light and easy walk check out the Sky Island Forest Trail, a wheelchair accessible 0.4-mile interpretive nature trail. The trail is mostly shaded by conifers and passes a cool mountain stream. Along the way, you'll find signs explaining what you are seeing. If you just want to sit and soak up nature, you'll find benches along the trail.
Moderate: Alpine Lakes Loop
For stunning views of Wheeler Peak, take the Alpine Lakes Loop Trail. We loved this hike and highly recommend it. It's a moderately easy 3-mile trail that only took us about 1 1/2 hours with leisurely stops at each lake to enjoy the view.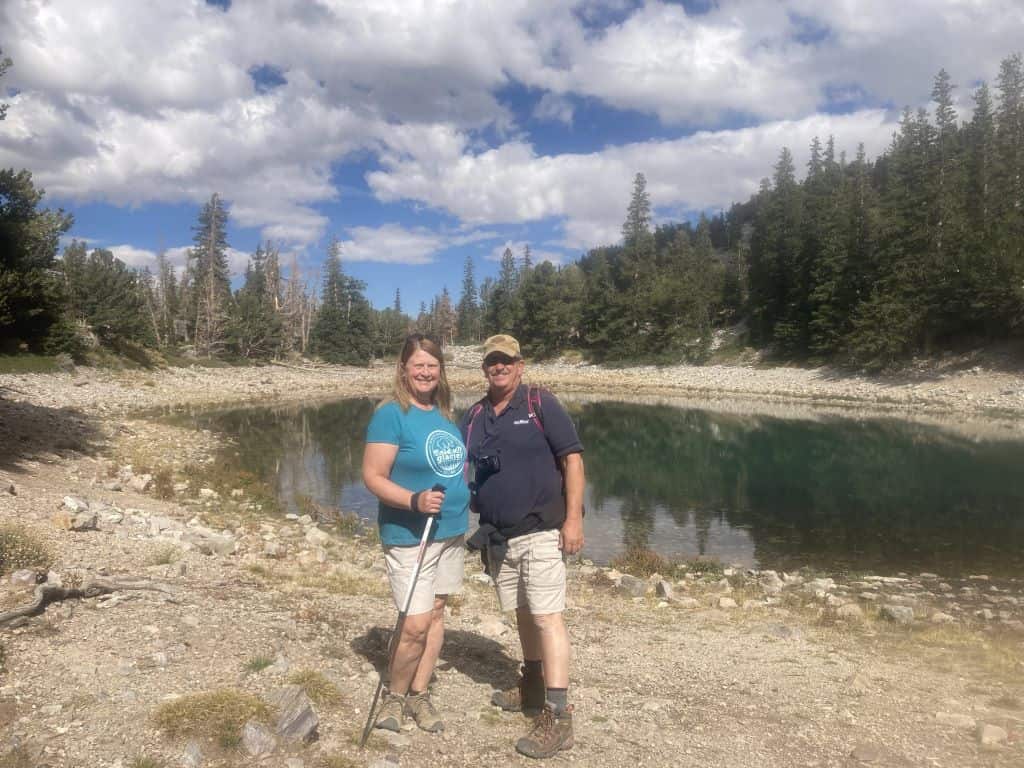 The Alpine Lakes Loop links together Stella Lake and Teresa Lake. Stella Lake is the larger of the two and often so still it becomes a mirror image of the nearby mountains which makes for really amazing photos. Near Teresa lake, the trail follows a small stream where you'll find wildflowers. We loved the well shaded trail with only a 600-foot elevation gain on the whole hike for a lazy afternoon stretch.
Strenuous: Bristlecone Pine – Glacier Trail
For a hike more challenging head out on the Bristlecone Pine -Glacier Trail. If you're up for a little workout, this 3-mile in-and-out trail (6-mile round trip) will take you to two of Great Basin National Park's most famous sites. Plan about 3 hours for this hike. A lot of hikers who like a challenge will combine this with the Alpine Lakes Loop Trail for a total workout of 9 miles and 4-5 hours of hiking.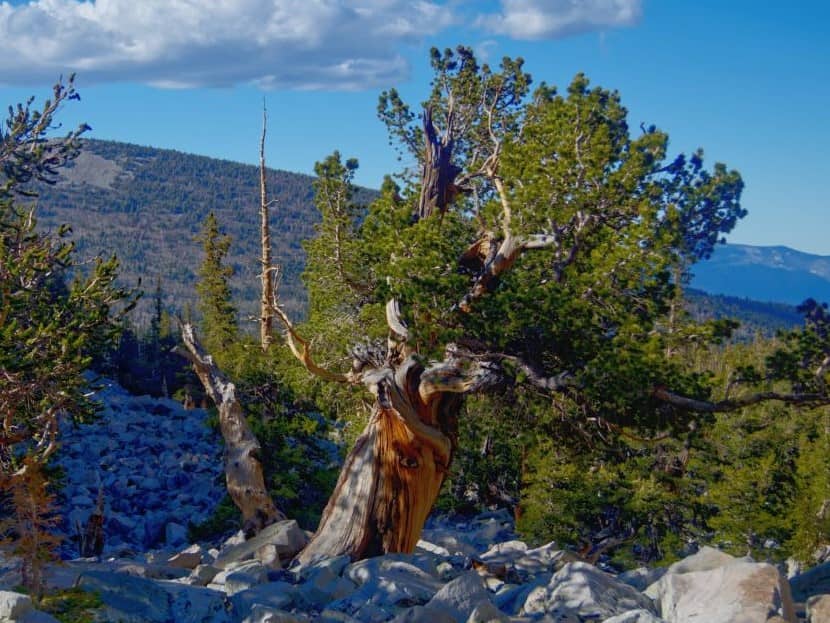 First, you'll pass through a Bristlecone Pine Grove at about the 2-mile mark. The craggy Bristlecone Pines are known to live for over 4,000 years. You'll find interpretive signs in the grove. This section of the hike is only moderately difficult, primarily due to the elevation changes. It's well worth hiking to just Pine Grove to see the ancient trees.
It's just one more mile to the Wheeler Peak Glacier. That last mile is pretty tough as it is a steep and rocky trail. Wheeler Peak Glacier is Nevada's only and one of the Southern most glaciers in the US. This is a rock glacier. When you get close, you can see the ice holding together large rocks just like mortar between bricks. You can also see Wheeler Peak Glacier from the Wheeler Overlook on the Scenic Drive if you don't want to make this hike.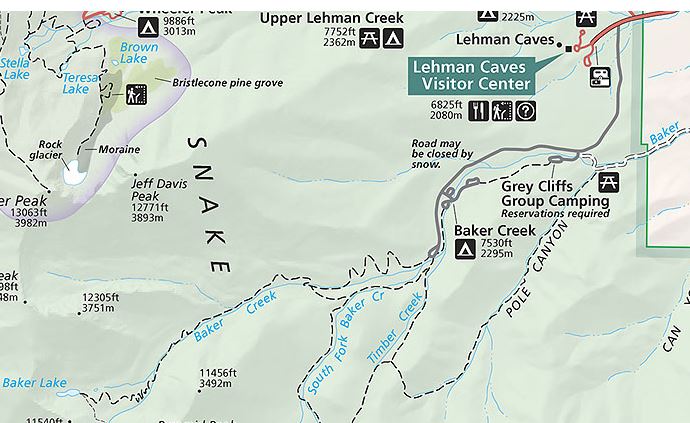 Day 2: Great Basin Itinerary to Explore Baker Creek Area
Spend day 2 exploring the Baker Creek Area. Wildlife is everywhere so have your camera ready! We camped in Baker Creek Campground and were delighted to discover this section of the park that is less famous as our Day 1 Stops, but just as interesting and beautiful. Here's what we recommend for your day 2 Great Basin National Park itinerary:
Stop 1: Take a Morning Hike.
Hiking in the Baker Creek area will take you through aspens and evergreen groves, with wildflower meadows in between. How perfect! There are several great choices in the Baker Creek area so pick one that matches your personal hiking style.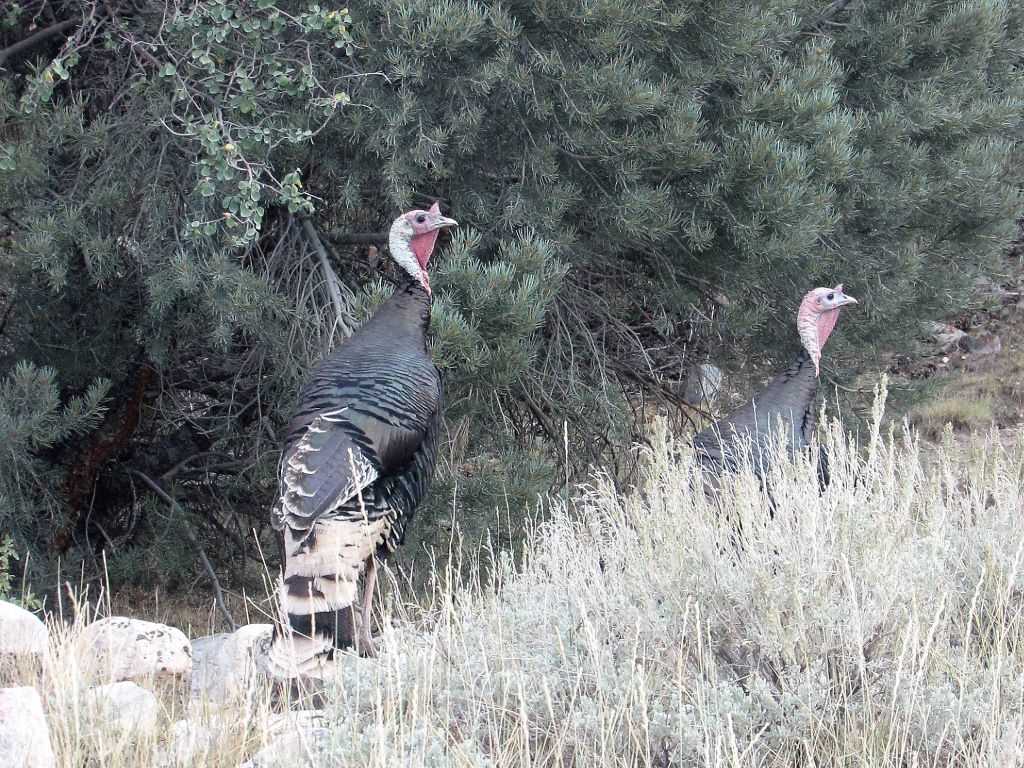 Easy to Moderate: Pole Canyon Trail
The Pole Canyon Trail is the perfect family hike to stretch before or after your lunch break in the Day Use Area. You will wander through vibrant forests and open meadows. Wildflowers are abundant and it's common to see turkeys, marmots and other small wildlife. It's an in-and-out trail so feel free to turn around at any point.
If you follow the trail to the end, it will open up into a canyon through a mountain pass. Pretty cool. Many hikers choose to loop back on the Baker Creek Trail, to make this a longer and more challenging hike.
Moderate: Baker Creek Loop
This is a pleasant 3.5-mile hike through aspen groves, pine trees and meadows full of wildflowers. You're also likely to see a lot of wildlife on this hike. The hike starts at the Baker Lake Trailhead. You'll start on the Baker Lake Trail, then loop back on the South Fork Baker Trail. It's rated moderate because of the 850-foot elevation change.
Strenuous: Hike to Baker Lake
This 5.2 mile (10.4 round trip) hike leads to Baker Lake which is surrounded by mountain cliffs. The elevation gain is 2600 feet so it's a bit of a workout, although hikers report that the incline is fairly gradual.
Stop 2: Picnic Lunch in Pole Canyon Day Use Area
The Pole Canyon Picnic Area is a lovely shaded space with grills, picnic tables and toilets. You'll need to bring your own water. It's highly likely you'll have this whole relaxing space to yourself. So bring your lunch along and prepare yourself a feast in the wilderness! Because of the remote location, make sure any fire you start in the grills is completely out before you leave.
Stop 3: Explore Upper Pictograph Cave
Spend a low key afternoon exploring the Upper Pictograph Cave area just down Baker Creek Road. You can clearly see the pictographs from the cave entrance (don't enter the cave). It's a short walk to the cave.
The pictographs are believed to be a remains of the Fremont Indians who settled in the Snake River area between 1000 and 1300 BCE. We saw similar Fremont pictographs in Capitol Reef National Park.
Stop 4: Drop a Line in Baker Creek
Drop a line in Baker Creek and see if you can catch a few brook trout or brown trout. You just need a valid Nevada fishing license which you can pick up online. Lehman Creek, Snake Creek and Baker Creek are all popular fishing locations in Great Basin. Double check regulations before you head out, especially if you are looking forward to a fish dinner.
Stop 5: Baker Archeological Site
Afternoon visit the Baker Archeological Site, a Freemont Indian village from 1200 CE. The site is about 5 minutes outside Great Basin, near Baker NV. While the excavation site has been filled back in to preserve the cultural features, we found the site's history interesting. There are self-guided tour brochures available at the entrance to the site. We only stayed about 15 minutes but are glad we stopped.
Stop 6: Evening of Star Watching
Pack up some hot chocolate for an evening of star watching in one of the darkest spots in the US. Great Basin National Park has been designated a Gold Tier International Dark Sky Park. On a moonless night, the park sky is filled with thousands of stars. The remote location combined with the high altitude and low humidity means there is a very low level of air pollution, improving visibility. Combine that with very little artificial light for miles, you'll find the darkest sky in the world in Great Basin.
We enjoyed sitting back and staring at the stars from our campsite. You can purchase a star chart at the visitor's center where rangers can give you advice on the best locations in the park to sky watch. Also, ask at the visitor center for the schedule of ranger led star watching events which happen several nights each week of the summer. And in September Great Basin hosts an Astronomy Festival.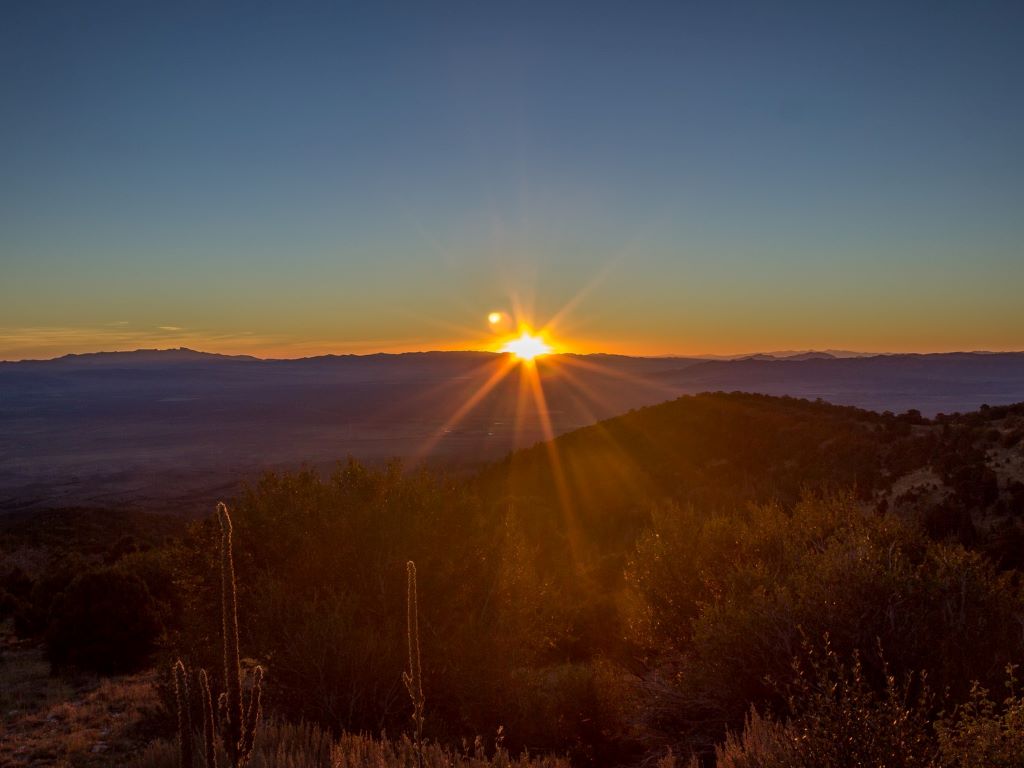 Day 3: A Great Basin Itinerary for the Road Less Traveled Spots
Stop 1: Start with a Sunrise Photo from Mather Overlook
The sunrise over the high desert valley is stunning from Mather Overlook. Grab your morning coffee and head back up Wheeler Peak Scenic Drive to capture this amazing shot.
Stop 2: Take a Morning Hike
Again, we've selected 4 different levels of difficulty so you can choose the hike that's best for you.
Easy: Mountain View Nature Trail
The really cool feature of this hike is the view of the original Lehman Cave opening. Of course, it's now gated for safety, but still open enough for bats to continue to use this entrance. This is a 0.4-mile interpretive trail just outside the Lehman Caves visitor center where you can learn more about the park. You can also download a Visitor's Guide to the Mountain View Nature Trail for more information.
Moderately Easy: Osceola Ditch Trail
Do you have dreams of finding gold in the wild west? Well, hundreds of miners tried to find their fortune in the Osceola area, about 18 miles from the park. Water to run the mining equipment was hard to find so they built a ditch from Lehman Creek to their mines. On this trail, you can see remnants of that ditch. You'll also pass through beautiful evergreens for a lovely walk.
It's about a 6-mile hike round trip, with the option to extend it longer if you are willing to climb over rocks moved by a landslide.
Moderately Strenuous: Lehman Creek Trail
Starting at the Upper Lehman Campground, the Lehman Creek Trail takes you to the Wheeler Peak Campground. It's a pretty steady climb up through all the ecosystems you saw on the Wheeler Peak scenic drive. This hike is fairly popular in winter months for snowshoeing when the main road is closed to traffic. Over 6.4 miles you'll gain 2,000 feet in elevation.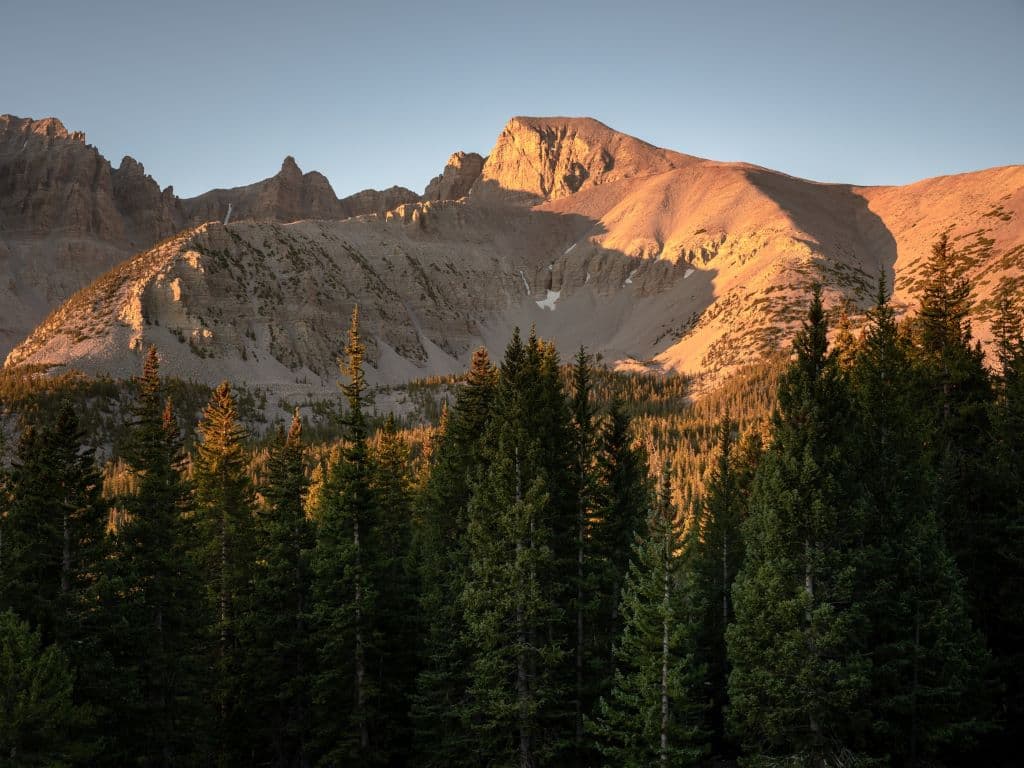 Strenuous: Summit Wheeler Peak
If you are ready for a bucket list hike, this is the day to Summit Wheeler Peak. At 8.6 miles round trip this hike is shorter than most peak summits, but the 3,000-foot elevation gain above the tree line makes it a very tough hike. Rangers recommend a very early start to avoid afternoon storms.
Stop 3: Visit Lexington Arch
Lexington Arch is a limestone archway in the Southeast corner of Great Basin National Park. Getting there can be quite an adventure. The length of the hike depends a lot on what type of vehicle you have and how brave you are driving over difficult washed out roads. Best case it's a leisurely 2.7 miles (total round trip of 5.4 miles). But you'll probably want to park and walk long before you get to the trailhead to save your vehicle.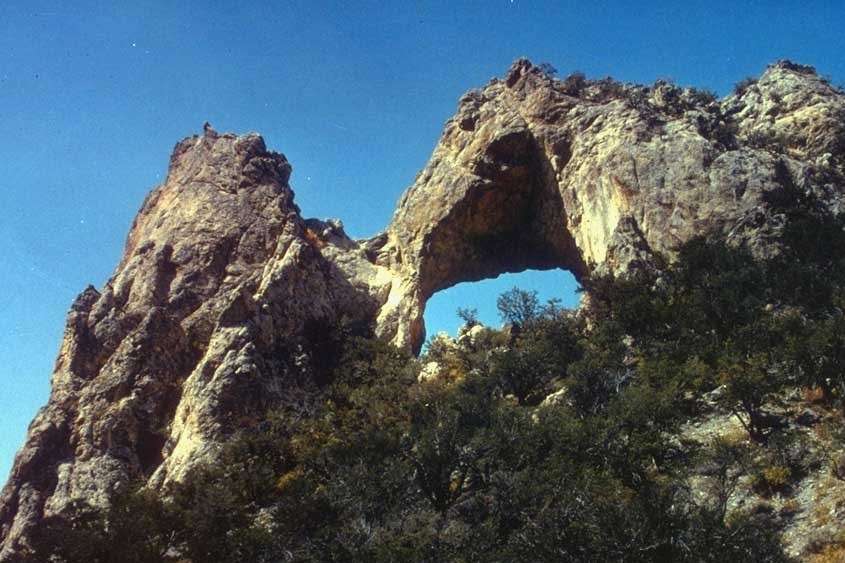 Stop 4: Grab Dinner Food Truck Style
As you drive back through Baker, stop at either 487 Grill or Sandra's Mexican for some of the best food truck-style foods.
Then pop in the Bristlecone General Store for a bottle of wine, great coffee or assorted local gift ideas. It's super cute and Brad was so glad to get a good cup of coffee here on the morning we pulled out of camp with a cold breakfast.
Where is Great Basin National Park
Great Basin National Park is located on the Eastern edge of Nevada. It's a half-day drive from either Salt Lake City or Las Vegas making it an easy side trip when visiting those cities. That's why some National Park visitors will add this park to their Utah Mighty 5 National Park Road Trip.
The gateway town is Baker, Nevada population of 36. But don't let that small number fool you. We found the cutest coffee/wine shop in town. There are food and lodging options here also. For a full-service community, you have to travel about an hour to Ely, Nevada. Even though its population is only 4,000 this small city is set up to take care of travelers with a variety of hotels and restaurants. If you have an extra day Ely is worth exploring.
How Far is Great Basin from Salt Lake City?
The 237 mile drive from Salt Lake City to Great Basin National Park can be completed in about 4 hours. But we took our time as we wandered across the desert along US 6. Be prepared for a whole lot of nothing for much of the drive. We found the ranches and small towns along the way interesting diversions to the ongoing view of sagebrush.
How Far is Great Basin from Las Vegas?
The drive from Las Vegas to Great Basin National Park is almost 300 miles and will take you about 5 hours. Most of the drive is on Highway 93 (Great Basin Highway) and wanders north through the Great Basin desert. The last 30 miles follow US 50 which has been dubbed "The Loneliest Road in America" and is an interesting road trip across Nevada all of its own.
At first look, there's not much to see but a lot of sagebrush. However, along the way, you'll find several interesting stops if you want to explore a bit, like the Pahranagat National Wildlife Refuge which is a lake side oasis for birds. You'll discover quaint small towns and even a few ghost towns like Pioche along the way.
Where to Stay When Visiting Great Basin National Park
Hotels, Motels and more… Near Great Basin National Park
In Baker, just minutes away from Great Basin lodging is limited. You'll find these 3 unique options:
The Whispering Elms Motel in Baker is a true small town, old-style motel. Even though you won't find a lot of amenities, it's clean and incredibly convenient to Great Basin National Park. And the mountain view is incredible.
The Border Inn Casino also has a motel attached. This is a one-stop does it all type of place for the full small western town experience. You'll find a restaurant, the casino, a gas station and a mini store here in addition to comfortable beds in the updated motel.
Hidden Canyon Retreat is an oasis in the desert. It's about 30 minutes South of Great Basin pretty much in the middle of nowhere. The hotel offers an opportunity to relax after a busy day in the park and is the perfect place to watch the amazing night sky from their hot tub!
To check hotel availability in Baker, Nevada CLICK HERE
If you are looking for a few more amenities then head back to Ely, Nevada which is a very comfortable community with shopping and dining options. In Ely, you'll find several major chain hotels and really cute private motels. You'll also find a couple of Nevada style casino hotels.
To search for the best hotels in Ely Nevada CLICK HERE.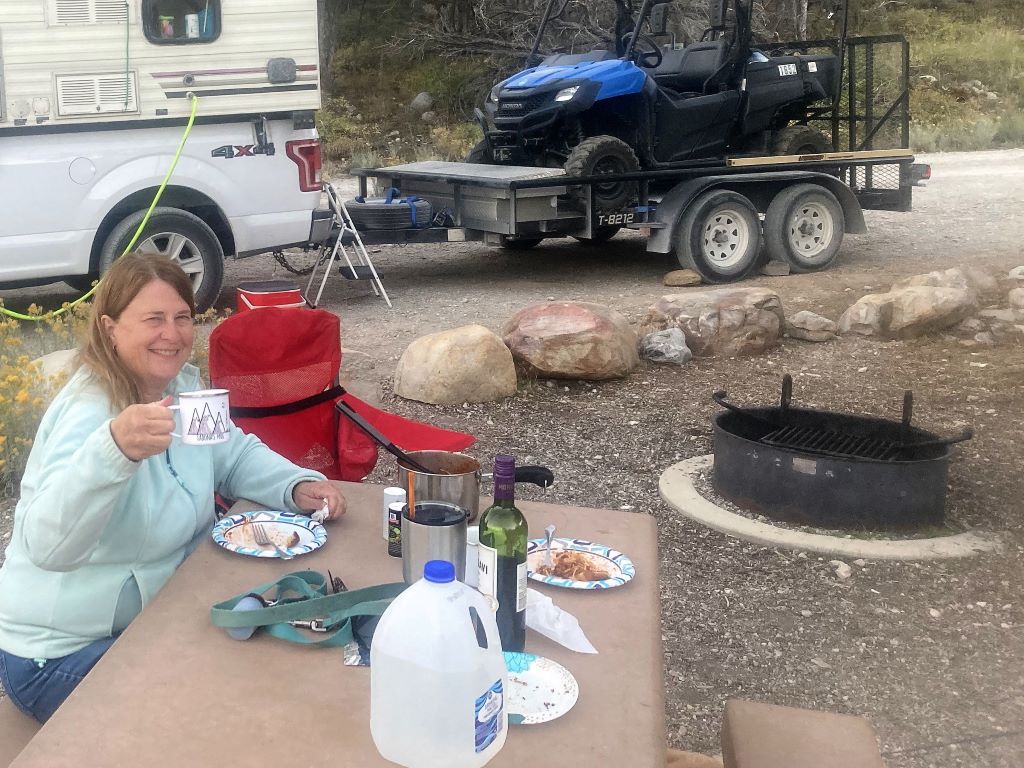 Camping In and Near Great Basin National Park
The Great Basin is the perfect place to camp. In the high desert, days have moderate temperatures and nights are cool and comfortable. Camping is the best way to enjoy the gorgeous dark sky when it lights up with millions of stars.
Campgrounds in Great Basin National Park
There are 5 campgrounds in Great Basin. There are only 125 campsites in the park and in the summer they disappear fast. Great Basin Campground Reservations open up 30 days in advance and are available for summer months.
Baker Creek – We camped in Baker Creek campground which had a large pull-through campsite and gorgeous views of the night sky. It has 37 sites and most are fairly easy for RVs to navigate. The sites are separated enough that tent campers will feel comfortable here also. First Come – First Served.
Grey Cliffs Campground – Grey Cliffs is also off Baker Creek Road. It is a 16 site tent only campground. You'll love all the shade here. Reservations recommended.
Lower Lehman Campground – Along Wheeler Peak Scenic Drive you'll find Lower Lehman Campground which has 11 sites along Lehman Creek. Reservations recommended.
Upper Lehman Campground – All 23 sites are nestled in an abundance of shade making this a very comfortable place to settle in. Reservations recommended.
Wheeler Peak Campground – If I were tent or small RV camping, Wheeler Peak Campground would be my top choice. All 37 sites are spacious and shaded. However, you can't bring vehicles that are longer than 24 feet including any trailer, past the Lehman Campgrounds due to the steep incline and sharp curves in the road. At 10,000 feet elevation, nights will be cold in this campground even in the heat of the summer. Reservations recommended.
What if campgrounds are full?
Well, apparently it happens often because the Great Basin park rangers have put together a guide to remote camping on nearby public and BLM land. We usually include a few days of dispersed camping on our road trips because it's easy and convenient. So if you haven't tried taking advantage of this free source of camping, this is a good place to start.
RV Parks Near Great Basin
There are a couple of small RV parks in Baker or head back to Ely, Nevada for more choices.
Whispering Elms Motel & RV Park
Border Inn Casino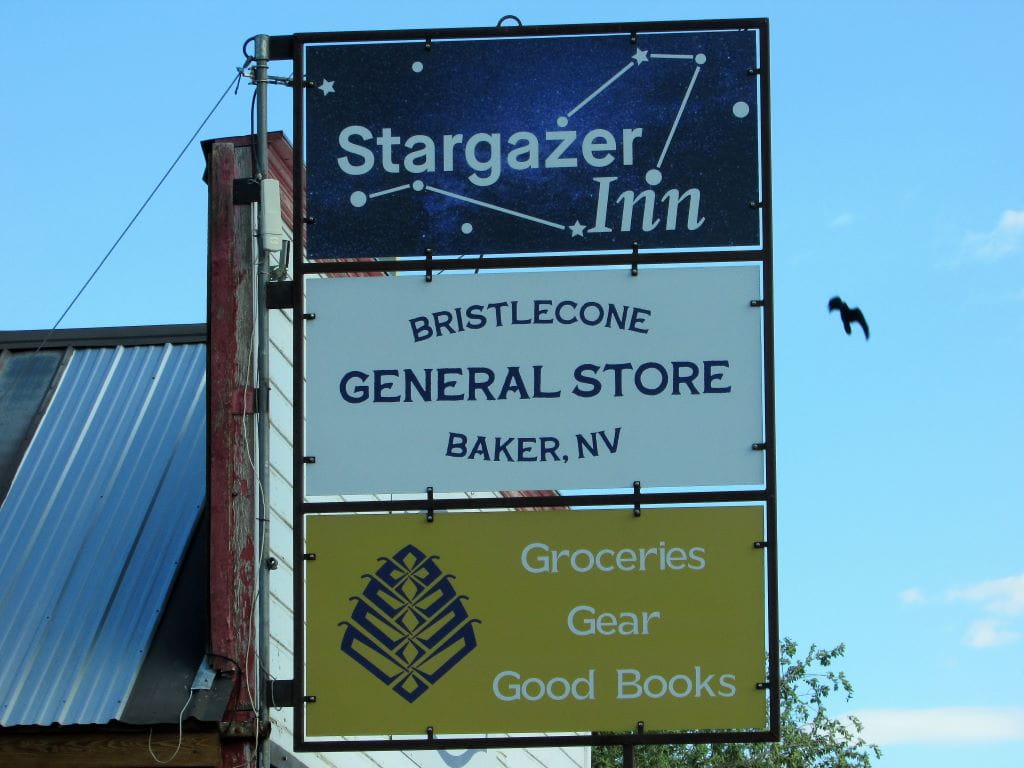 Where to Eat Around Great Basin National Park
Our advice is to pack a cooler full of food and beverages when visiting Great Basin National Park. There aren't a lot of nearby dining options but there are many beautiful places to have a picnic.
Dining in Great Basin National Park
The Lehman Cave Visitor Center is home to a café that is open for breakfast and lunch, however, it has no evening hours.
Dining in Baker, Nevada
In the nearby town of Baker, there are a couple of dining options. Keep in mind that these are small-town businesses that have limited hours and seasonality so check if they are open before you go. And have that picnic lunch as a backup plan!
Sugar Salt and Malt – Has a coffee shop and a full-service restaurant with an amazing menu.
Bristlecone General Store – You'll find a cute coffee shop inside the store with some bakery items and snack foods available.
487 Grill – A very popular Food Truck
Sandra's Mexican – A huge Mexican food menu served food truck style
Border Inn Casino – American style Diner
Dining Beyond the Park
The town of Ely is about an hour away. Even though it's a small town you'll find a wide variety of dining options. Ely provides a home for travelers crossing the country through Nevada and does a good job taking care of all its visitors.
Best Time to Visit Great Basin National Park
Wondering when to visit Great Basin? July and August are the most popular months to visit Great Basin. The later summer months bring very comfortable daytime temperatures in the 70s and night temperatures in the 50s. It's the perfect hiking weather! It's also the busiest time in the park even though Great Basin is a long drive from everywhere. Campsites, hotels and cave tour reservations can become hard to get. However, with a bit of planning a summer trip can be the best time to visit.
September and early October, which is when we visited Great Basin, had many benefits over a summer visit. First, the number of visitors is lower in the fall. Although our campground did fill before the night was over, it seemed everyone was able to find a site. During the summer months, campers often overflow into BLM and boondock. And while we encountered other explorers at the most popular sites, we didn't see anyone on the day we explored Baker Creek. The best part of visiting in the fall is the gorgeous golden color of the aspens on the mountainsides. The only downside to a fall visit to Great Basin is that services start shutting down mid-September. For example in our campground water had been shut off in preparation for winter temperatures and some bathrooms were closed for the season.
Winter is a good time to visit if you enjoy snowshoe hikes. Some roads will be closed, depending upon the snowfall. And Lehman caves are open year around with steady temperatures in the 50s.
Spring is likely the worst time for a visit. Although the caves are still open in the spring, hiking trails can be messy. Snow can continue to fall through much of the spring at higher elevations.
How Many Days in Great Basin National Park
If you are a hiker, then our 3-day itinerary will result in an amazing and challenging trip to Great Basin. If you don't like difficult hikes but are anxious to explore then you'll want to spend two days in Great Basin National Park. Of course, if you only have one day in Great Basin you can hit the most popular spots using our 1-day itinerary.
Things to Know when Planning your Great Basin National Park Itinerary
Fill up your gas tank – there is no gas in the park. You'll find a small gas station in nearby Baker, NV.
Bring food – The snack shop inside the Lehman Caves Visitor Center is only open from 8-2. We prefer to take a cooler full of drinks and sandwiches and picnic as we explore.
Altitude sickness is a serious risk in Great Basin National Park. You'll spend most of your visit at elevations between 6,000 and 10,000 feet, higher if you hike to Wheeler Peak Summit. If you feel lightheaded, move to a lower elevation. Make sure you are eating and drinking plenty of water.
Frequently Asked Questions about Great Basin National Park
When is the best time of year to visit Great Basin National Park?
The most popular time to visit is during the summer months. Early fall is a great time to visit as the temperatures are moderate, the fall colors are amazing and you'll find fewer people. The park is open all winter, but roads may be closed due to snow and ice.
Is Great Basin National Park worth visiting?
Great Basin is definitely worth visiting. There are several unique features here that you won't easily find elsewhere like the Lehman Cave system, 4,000-year-old Bristlecone Pines, and rock glaciers.
How long should I spend in Great Basin National Park?
Spend at least a full day in Great Basin to explore the highlights. It's easy to fill 3 to 4 days if you enjoy hiking.
What city is closest to Great Basin National Park?
Salt Lake City and Las Vegas are the closest major cities, each about 5 hours away. Baker, Nevada is the gateway city, although it is a tiny village. You'll find most amenities about an hour away in Ely, Nevada.
Are Dogs allowed in Great Basin National Park
Yes, Dogs can join you when visiting Great Basin National Park. Dogs are limited to exercising in parking lots, in campgrounds and along major roadways. They are not allowed on hiking trails or in the caves which makes the activities you can share limited.
Is there a Great Basin National Park entrance fee?
No, you may enter Great Basin National Park at no charge. There is a fee for camping in the park and to tour the Lehman Caves.
Can you drive through Great Basin National Park?
Yes, absolutely it is possible to have a great day in Great Basin without getting out of your car. Cruising up Wheeler Peak Scenic Drive is a must on your things-to-do list. Then take a short cruise down Baker Creek Road with the hopes of spotting wildlife.
Great basin national park is a great destination to explore the rugged beauty of Nevada. With its stunning canyons, abundant wildlife, and towering mountain peaks, there is something here for everyone. Whether you're looking for a weekend getaway or an extended staycation, this Great Basin National Park itinerary will help you plan a trip full of memories!
---
It's a long road trip, so here are a few tips to keep you happy and entertained during all those hours on the road: