Rafting near Rocky Mountain National Park is an experience you will never forget. The Rocky Mountains are home to some of the most beautiful scenery in the country, and rafting down its rivers is a great way to see it all.
While there is no rafting within Rocky Mountain National Park, there are several options within a short drive from the park. If you are vacationing here for several days, a rafting trip is perfect for experiencing the wildlife and nature abundant in the Rockies.
Where to Raft Near Rocky Mountain National Park
There are two different rivers, the Colorado and Poudre Rivers, that you can raft, depending on your skill level and how much excitement you crave. We chose the Poudre River for white water rafting near Rocky Mountain National Park because it is known for it's fun rapids.
For white water rapids, rafting Cache la Poudre River is your best bet. It's home to Class III and IV rapids. This river is easiest to reach if you stay in one of the

towns near Rocky Mountain National Park's

east side.
For a more relaxing and scenic experience, try the Upper Colorado River Trail starting on the park's west side.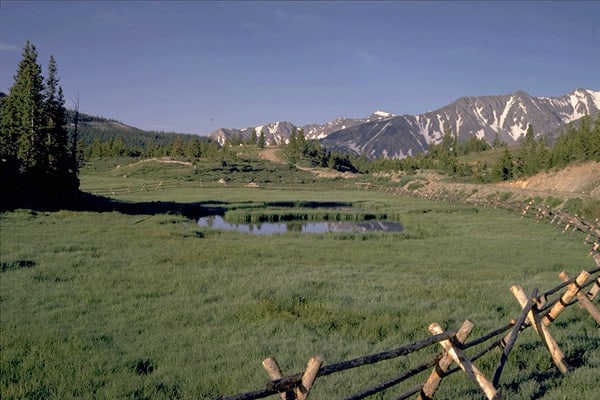 This post contains affiliate links, which means if you purchase something from one of those links we could earn a small commission.
Rafting Cache la Poudre River
The Cache la Poudre River starts high in the mountains of Rocky Mountain National Park along the Continental Divide. It travels through the Roosevelt National Forest, dropping 7,000 feet in elevation along the way. When snowmelt starts in the spring, this makes for exciting white water.
The raft-able section of the Poudre River is through the National Forest. A handful of outfitters have special permits to guide rafting trips, which we've listed below. Rapids on the Poudre River range from class II to class IV depending on the year, spring melt conditions and which section you raft.
Most outfitters offer full and half-day trips.
Location of Poudre River for Rafting
Rafting Cache la Poudre River starts about 15 miles west of Fort Collins, Colorado. That's about an hour's drive from Estes Park, just outside the East entrance to Rocky Mountain National Park. Rapid Transit Rafting offers transportation from Estes Park. Others you can meet in Fort Collins.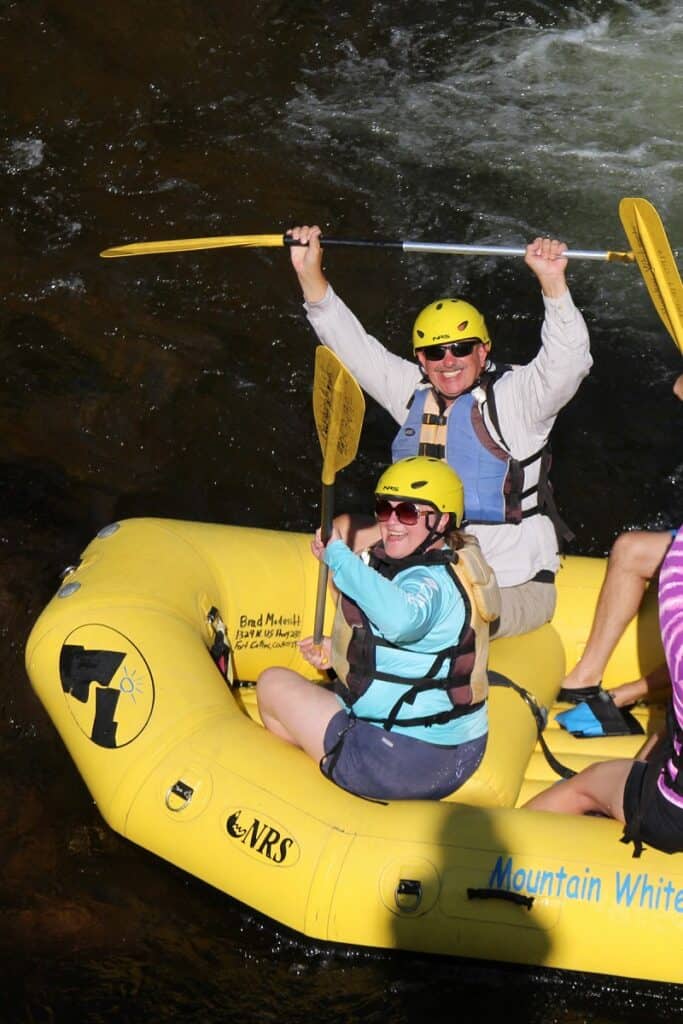 About our White Water Rafting Trip Near Rocky Mountain National Park
We booked with Mountain Whitewater in Fort Collins for an August 1st morning trip. It was an easy drive from Estes Park and on our way back to Illinois. The best part about whitewater rafting trips in July and August is that the weather is warm so shorts and swimsuits are comfortable. In spring and early summer, wear a wet suit on this trip, so you don't get hypothermia.
The downside of a whitewater rafting trip in August is lower water and milder rapids. On this late summer run, the white water was fairly calm. Although there were a couple of fun rapids, most of the trip was floating. Since I did my research and had very realistic expectations for the time of the year, we were happy to sit back and relax for most of the trip.
The scenery was beautiful, but some sections were wilder than others. The Poudre River is a busy place, so occasional homes dotted the shoreline. We also saw families picnicking on beaches.
Summer would be the perfect time for exposing kids and nervous first-timers to white water rafting. However, we are anxious to go back in the early summer when the water is fast.
The guides were excellent. They kept the trip fun and informative as well as safe. We were impressed that Mountain Whitewater had shaded dog kennels available for your use while rafting. And the Paddler's Pub opens in the afternoon for an adult beverage after your run.
Kayaking the rapids on the Poudre without a guide is also very popular. If you are ready for that level of adventure, here's a great article on River Bent to get you started.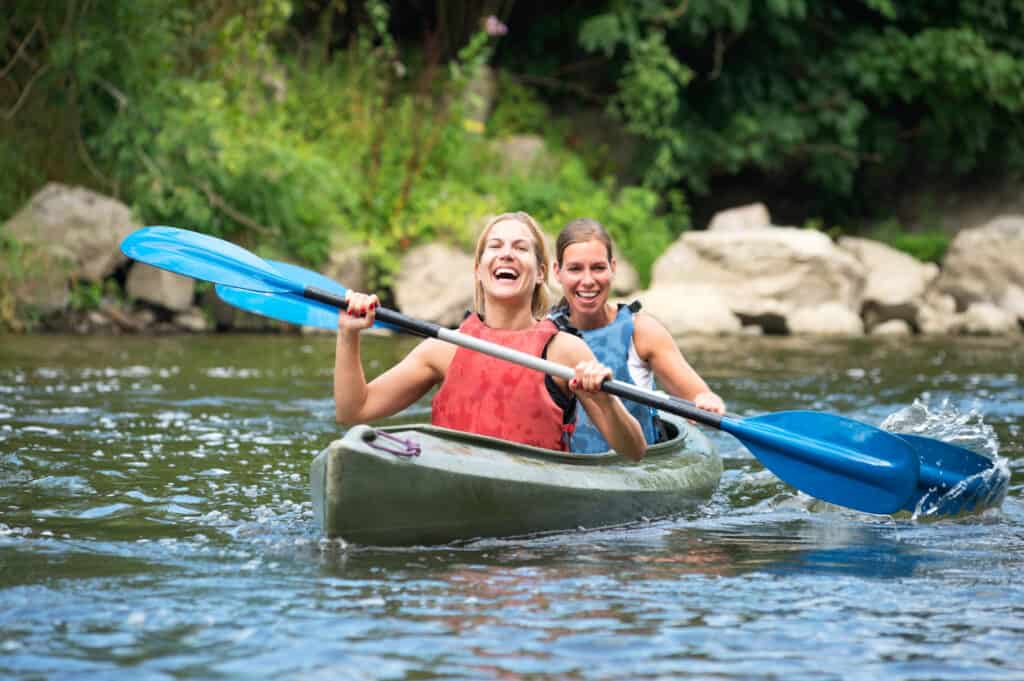 Upper Colorado River Rafting and Kayaking
Rafting the Upper Colorado River is a laid-back, family-friendly adventure. Your raft will lazily float down the incredibly scenic river with a few Class II and Class III rapids. It's the perfect way to spend a warm summer day. Don't be surprised if you see elk in the valleys or moose snacking along the shore as you raft down the Upper Colorado.
Since this is primarily a float trip, kids as young as 2 are welcome on the river.
Although the Colorado River starts in Rocky Mountain National Park, it doesn't get big enough to raft until you get a little West of the park. You can meet up with your rafting service in the town of Kremmling, about a 45-minute drive from Grand Lake or a drive across trail ridge road from Estes Park.
If you want to float or kayak Upper Colorado on your own, Colorado River Rentals rents equipment and assists with transportation.
Don't Let the Planning Overwhelm You!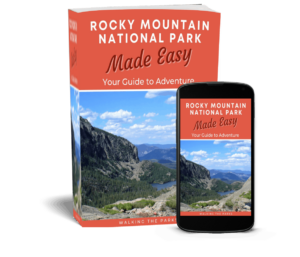 Plan your perfect trip to Rocky Mountain National Park!
Check out our complete digital Guide to Rocky Mountain National Park. This is written specifically for the first time visitor to make your trip planning easy! Over 90 pages of things to do and see on your adventure. Plus get pro tips for planning your adventure.
Start planning immediately with Digital Download!
Guides and Outfitters for Rafting Rocky Mountain National Park
To get started rafting near Rocky Mountain National Park, you'll want to use a licensed outfitter with experienced guides. Check out some of the following rafting companies to find one in your area.
Located in Fort Collins, Colorado
Cache la Poudre River Whitewater
Located in Fort Collins, Colorado
Cache la Poudre River Whitewater
Located in Fort Collins, Colorado
Cache la Poudre River Whitewater
Transportation from Estes Park
Cache la Poudre River Whitewater
Upper Colorado Float Trips
Located in Kremmling, Colorado
Upper Colorado Float Trips
Rental of Gear and Car Shuttle Service for Independent Trips
Located in Kremmling, Colorado
Upper Colorado Float Trips
Located in Fort Collins, Colorado
Cache la Poudre River Whitewater
Located in Kremmling, Colorado
Upper Colorado Float Trips
Tips for your Rocky Mountain National Park Rafting Adventure
Whitewater rafting is an adrenaline rush. But that said, anyone who can hold on tight and is willing to paddle hard should be able to whitewater.
Be prepared to get wet. You may get tossed out of the raft and get drenched – just go with it. And it is guaranteed that you will get wet from spraying water. Embrace the moment!
Wear appropriate clothes. Either a swimsuit or quick-drying shorts are perfect for summer. Because I burn so easily I prefer to wear a summer weight long sleeve SPF shirt. Spring usually requires a wet suit as that melting snow water is COLD. You can rent wet suits on your trip.
You will be required to wear a life jacket for rafting. And for some trips, helmets will also be required.
Water shoes are critical. Flip flops will be floating down the river before you go 10 yards from shore. I prefer my Teva water sandals that have velcro straps to hold them tight. They've survived several white water trips. A good alternative is an old lightweight pair of sneakers.
Align your trip type with the level of adventure you are seeking and your group's skill. Read the description and believe the suggested age range.
The Poudre River has the fastest rapids in May and June when there is a lot of snowmelt from the mountains. By July, you'll probably experience a few strong rapids, but it will be more of a float trip perfect for including younger family members or first-timers.
Don't forget the sunscreen. Even when it's chilly, the sun is strong on the water, and you will get sunburned. Look for an environmentally friendly sunscreen, I love the Alba Botanicals for myself.
Pack dry clothes and shoes for changing after.
Wildlife, including black bear and big horn sheep, are often seen on these trips. If you choose to take a camera, make sure it is waterproof and strapped to your body.
Where to Stay When Whitewater Rafting
Many of the rafting trips leave out of Kremmling or Fort Collins, Colorado. Although you can pop over to either city from Rocky Mountain National Park, you might find it easier to spend the night closer to your rafting adventure. We did our white water rafting trip at the end of our Rocky Mountain trip, so spent the night in Fort Collins at The Hilton Garden Inn which was spacious and comfortable (especially after a week of camping, lol.) 
You can check hotel availability in Fort Collins Here. Or if headed to Kremmling, check hotel availability Here. 
Frequently asked questions about Rafting Rocky Mountain National Park
What do you wear for river rafting?
In spring and early summer, wet suits are needed for river rafting because the melting snow from the mountains is cold enough to give you hypothermia. Mid to late summer, you can wear swimsuits or quick-drying shorts and tops. I prefer shorts over swim bottoms, so my bare skin isn't rubbing against the rubber seats. But you'll see a lot of swimwear so go with what's most comfortable for you.
Is there a weight or age limit for white water rafting in Colorado?
Each guided trip will have either a minimum age or weight listed with the trip. This limitation is based on the difficulty level of that specific run.
Do I need to know how to swim for rafting?
Being able to swim is helpful but not required for most trips. You will have a life jacket during the journey that will hold you up if you fall into the water. It is very common to land in the water after a big bump in the river, so expect to get very wet.
If you're going to be visiting the park for several days, put rafting Rocky Mountain National Park on your list. There are a few different options for where and how you want to go rafting, but we recommend using an outfitter if this will be your first time. When it comes to whitewater on the Poudre River or gentle floats down the Upper Colorado River, make sure you know what type of river suits you best before booking with an outfitter. Whether it's by yourself or through someone else, there's no better way than to enjoy the beauty and majesty of the Rocky Mountains.
---
Looking for more things to do while visiting Rocky Mountain National Park? Here are a few more articles that will help you plan an amazing vacation: