If you're looking to explore the stunning scenery and breathtaking wilderness of Rocky Mountain National Park, one of the first decisions you'll need to make is where to stay. Fortunately, there are plenty of options available for lodging in and around the park that can cater to various budgets and preferences – from rustic cabins to luxurious lodges with mountain views. Here's a guide to help you find your perfect Rocky Mountain National Park lodging.
In the late 1800s, visitors to Rocky Mountain National Park were attracted to the early dude ranches in the park. The dude ranches took their guests on hiking, fishing and horseback expeditions through the Rockies. One of the most popular was owned by Abner Sprague and sat next to today's Sprague Lake, a very popular picnic area in RMNP.
You won't find hotels or cabins in Rocky Mountain National Park these days. However there are hundreds of lodging options just minutes away from Rocky Mountain National Park. We share our top picks for lodging in towns near Rocky Mountain National Park in this guide.
About our Lodging Recommendations for Rocky Mountain National Park
As we continue our journey to explore every US National Park, Rocky Mountain National Park remains my top choice. We return often to hike and explore this beautiful park. (It's Brad's number 2 National Park, only after Glacier National Park.) We often include friends and family when visiting RMNP. So, in addition to sharing lodging choices that I like, I reached out to one of my best friends and to my sister, who combined have enjoyed over a dozen Rocky Mountain National Park vacations. They shared their top lodging choices. And I will be honest… they really like comfort … so I'm confident that you will love our lodging recommendations.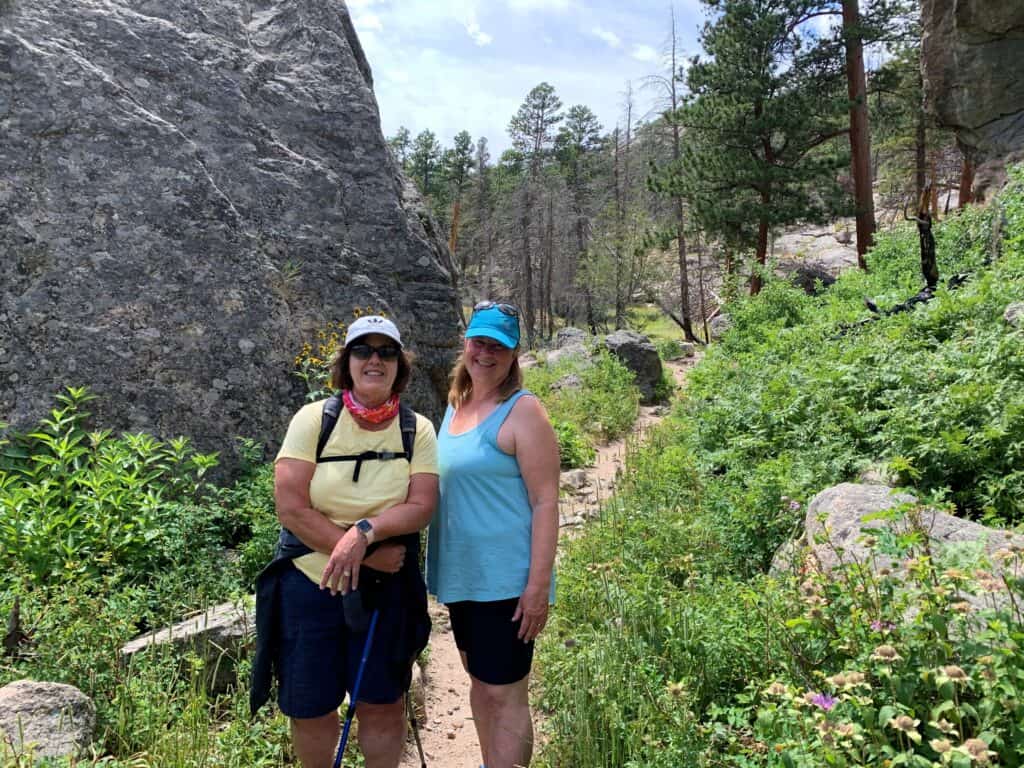 This article contains links to where you can find the places we discussed and other tips for your trip to make it easier for you to get the information you need. Some of these links are affiliate links and if you make a purchase we may earn a small commission.
Camping in Rocky Mountain National Park
If you follow us, you know that Brad and I love camping in Rocky Mountain National Park. If you wish to stay in the park, which we highly recommend, you can camp in one of the five campgrounds. Then you can enjoy waking up to the beauty of RMNP every morning! Check out our Guide to the Best Campgrounds In and Near Rocky Mountain National Park for more info on camping in the park and in the nearby communities.
East Side vs West Side
First-time visitors usually stay on the East Side of RMNP in the nearby Estes Park gateway community. Why the East Side? Because there is "more". More of the most popular hikes, more food and lodging choices, and more activities live on the East Side.
However, if you are looking for "less" then consider the West Side in the gateway communities near Grand Lake. You trade in a few of those top hikes and sites for a peaceful mountain valley.
We recommend you choose which side has the activities you want, then if you are staying for multiple days plan 1 day to cross over on Trail Ridge Road and enjoy the other side.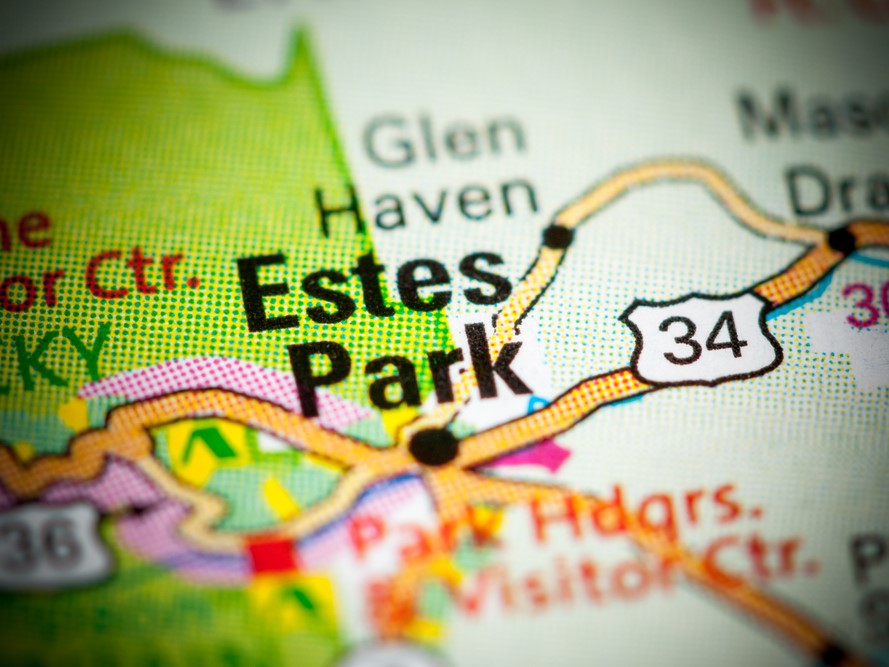 Staying near the East Entrance: Estes Park and the Surrounding Area
Most vacationers choose to make their home base in Estes Park, which is located on the East side of RMNP. Estes Park is closest to the most activities, sites, and designated hikes within the park making it a very popular launching point for a great day of adventure.
Although you will still find a lot of the expected tourist shops with T-shirts and goofy moose sculptures, Estes Park shopping has matured over the past few decades. We love to wander through the more unique stores where you'll find high-quality crafters and local artisans. A day of shopping in Estes Park can be an adventure all in itself.
With thousands of beds, there's a wide variety of lodging choices. In the valley, you'll also find amazing rentals, perfect for getting away from the busier town activity.
Within Estes Park, you'll find over 60 great dining choices from fast food to fine dining. However, most restaurants are fun and casual, where you'll feel comfortable popping in hot from the trail or in your flip-flops. Our favorites have outside dining along the river.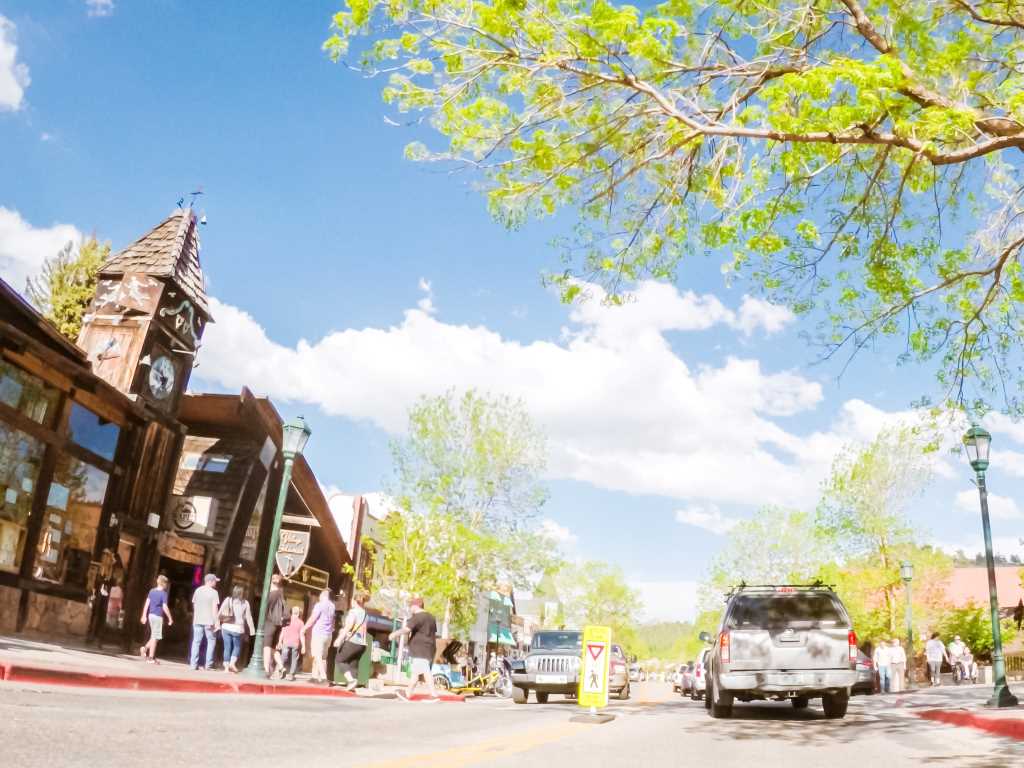 Why Estes Park is Best Lodging Choice Most Visitors
There are hundreds of hotels, motels, inns, cabins, and rentals in the Estes Park area. This is not intended to be a listing of all those lodging options. Instead, we'd like to help you narrow down the list you find to the area and type of lodging that best meets your family's desires.
Staying right in Estes Park is best for people who love being in the thick of things! Here you are just minutes from both East Entrances into RMNP. And almost every lodging option is within a 10-minute walk of great dining and shopping opportunities.
And it's near impossible to find "bad" accommodations in town. Estes Park thrives on the tourist business and the lodging owners take that responsibility seriously. But… you will pay top dollar in Estes Park. With taxes expect to pay $200-300 per night for cabins, hotels, motels, and condos. We've found that prices don't change much with the seasons either.
Along the rivers, you will find quaint cabins, some over 100 years old. Modernized, they often include full kitchens, beautiful bathrooms, and hot tubs. The river attracts wildlife so don't be surprised if you wake up to a moose outside your window.
Traditional hotels, motels, and lodges tend to be on the Eastern side of Estes and along Lake Estes. Here you'll find swimming pools and on-premise restaurants.
Don't Let the Planning Overwhelm You!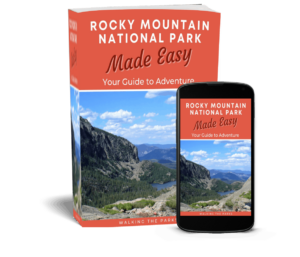 Plan your perfect trip to Rocky Mountain National Park!
Check out our complete digital Guide to Rocky Mountain National Park. This is written specifically for the first time visitor to make your trip planning easy! Over 90 pages of things to do and see on your adventure. Plus get pro tips for planning your adventure.
Start planning immediately with Digital Download!
Best Hotels, Motels, and Cabins in the Estes Park Area
Here are a few of our favorites in Estes Park (click the names to link to details).
Streamside on Fall River – My sister stayed here for a week during our last visit to RMNP (while we camped). The cabins were very spacious. Behind the rustic exterior were gorgeous interiors. The shower was huge! This is one of my top choice in Estes.
Quality Inn – Estes Park – For a more traditional motel alongside Lake Estes we like the Quality Inn – Estes Park. Ask for a room on the backside with balconies facing the mountains to enjoy one of the best views in Estes Park while you enjoy your morning coffee!
The Estes Park Resort – My best friend swears by this place, they had such a wonderful stay. The staff was incredibly attentive and the amenities are five-star. Sitting on Lake Estes you'll enjoy the luxury rooms and suites here.
For more hotel and cabin listings you can check availability in Estes Park here.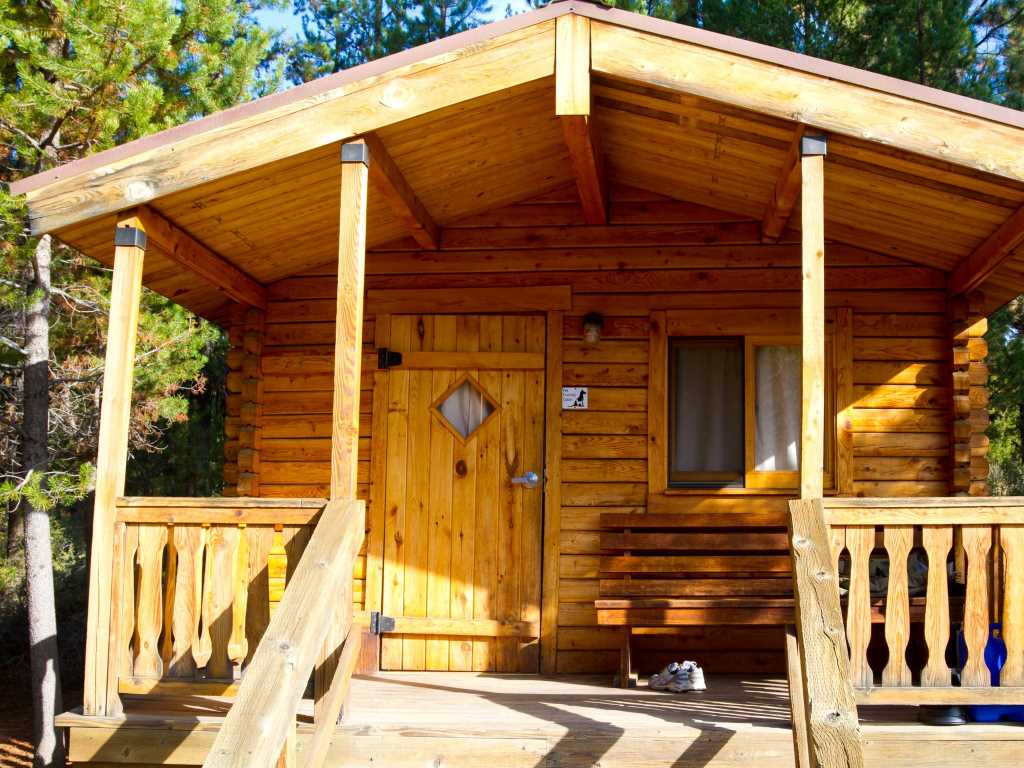 Best Rental Properties Near Estes Park
When looking where to stay near Rocky Mountain National Park, it's no surprise that there are hundreds of private vacation rental homes also available. There are a lot of incredible rentals that are privately managed. I've included links to the management companies below.
Pet Friendly Rocky Mountain National Park Lodging in Estes Park
Colorado is an incredibly pet-friendly state, and Estes Park is no exception. You'll find quite a few places to stay where your dog is welcome to stay during your Rocky Mountain National Park Adventure. And here are our Tips for taking your dog to Rocky Mountain National Park.
Here are a few top choices where your dog is welcome. Of course, make sure you check out any restrictions before you book.
Silver Moon Inn (Downtown) – For a luxurious stay just steps from all the Estes Park downtown activities we like the Silver Moon Inn. The river runs through the Inn's backyard where you can relax or enjoy a picnic. Elk often walk right through the parking lot. How crazy is that!
Discovery Lodge – This is in an incredible setting, just a 10-minute walk to downtown Estes. However, you'll find hiking trails out your back door ready to share with your pup. In addition to the great views of RMNP, we like that it is super dog friendly.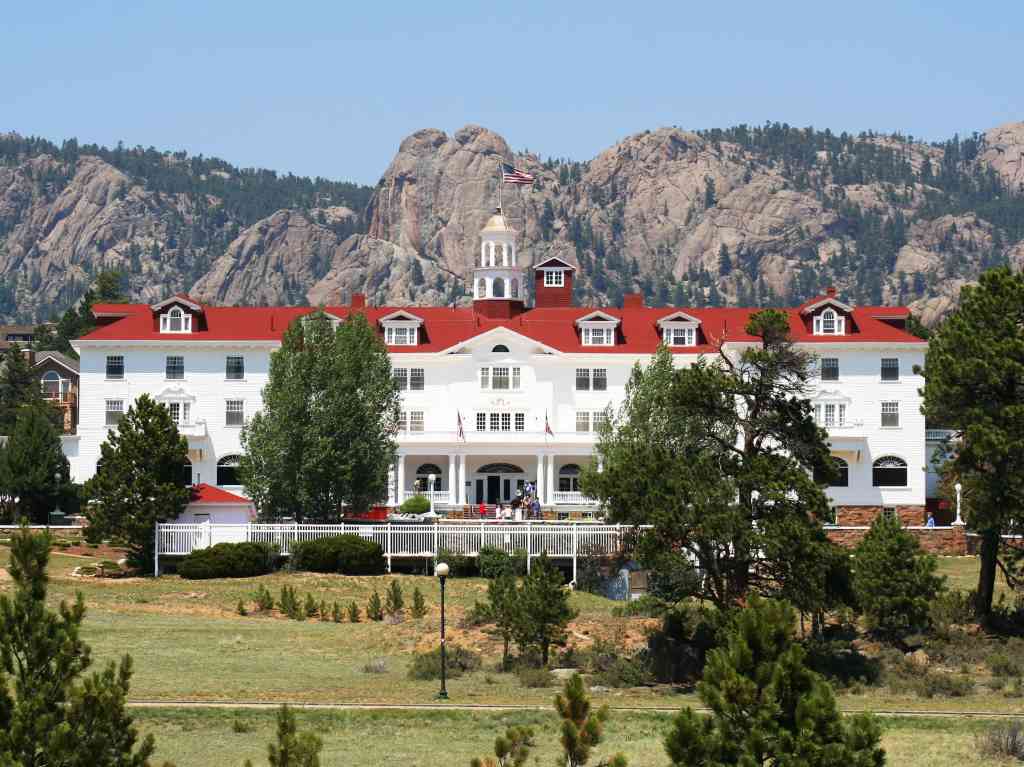 Unique Lodging near Rocky Mountain National Park
Would you like to stay somewhere with a bit of a story? Or maybe you like the unusual. We've ideas on where to stay near Rocky Mountain National Park just for you!
The Stanley Hotel Just Might be Haunted
Sitting proudly in the Estes Park valley, the Stanley Hotel has been part of the community for over 100 years. The Stanley family built the hotel for their "posh" East Coast friends with all the frills of society. In the 1970s the hotel was fully restored and is a beautiful landmark.
When you visit The Stanley you'll hear stories of famous guests. But none more important than Stephen King who was inspired by his novel "The Shining" here. It is said the hotel is haunted and they offer nightly tours where you can learn more about the history and the ghosts who make the hotel their home.
This is NOT a traditional YMCA
Surrounded on 3 sides by Rocky Mountain National Park, the YMCA of the Rockies Estes Park Center stretches across 860 acres. You can step out your door into the park. Called the basecamp for adventure, the YMCA offers dozens of activities for families, including an indoor pool, miniature golf, guided hikes, tennis courts, and yoga.
Rooms from an authentic hostel to 5-bedroom family cabins are available. All are incredibly comfortable and modern.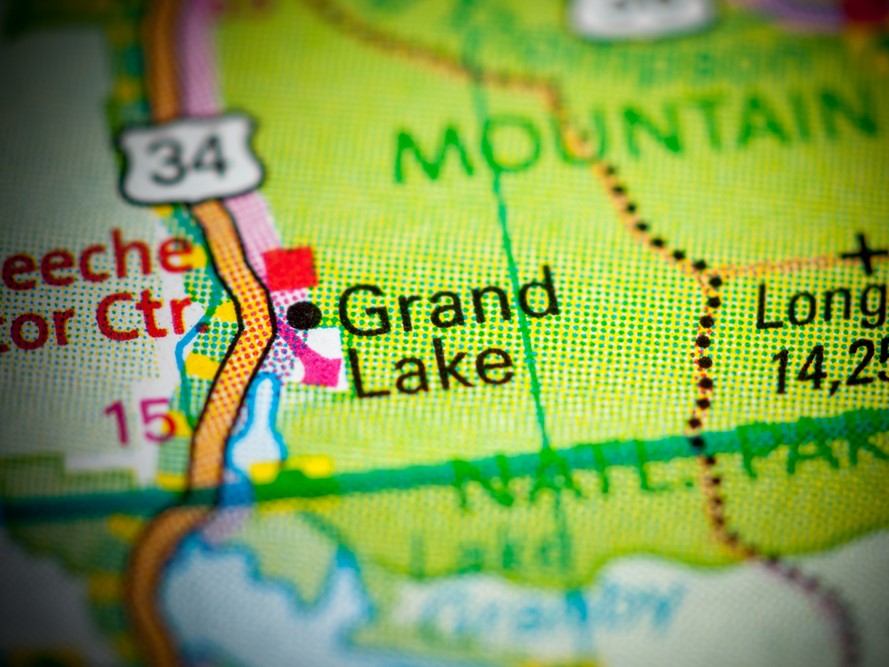 Staying near the West Entrance: Grand Lake and nearby Granby
If the hectic activity of Estes Park overwhelms you, then Grand Lake is the place to be. Although recent years have brought more tourists to Grand Lake it has managed to maintain the feel of a small town. Grand Lake is the Western Gateway into Rocky Mountain National Park.
Grand Lake is the deepest and largest natural lake in Colorado, attracting water enthusiasts all year long. Surrounded on 3 sides by RMNP, it's a great spot to boat or kayak. If fishing is your thing, ice fishing is just as popular here as summer fishing. Down the road, you'll find Lake Granby which is continually stocked with trout and kokanee salmon.
Although there are a couple of dozen really nice hotels and motels in the area, you'll find a greater ratio of cabins, lodges, and cottages on this side of the park. More room to spread out!
The folks in Grand Lake do like their food. Restaurants line the historic boardwalk or enjoy amazing lake views. Everything is slower on this side so be prepared to relax and enjoy your meal. The boardwalk has its share of quaint shops tucked in between ice cream & candy stores.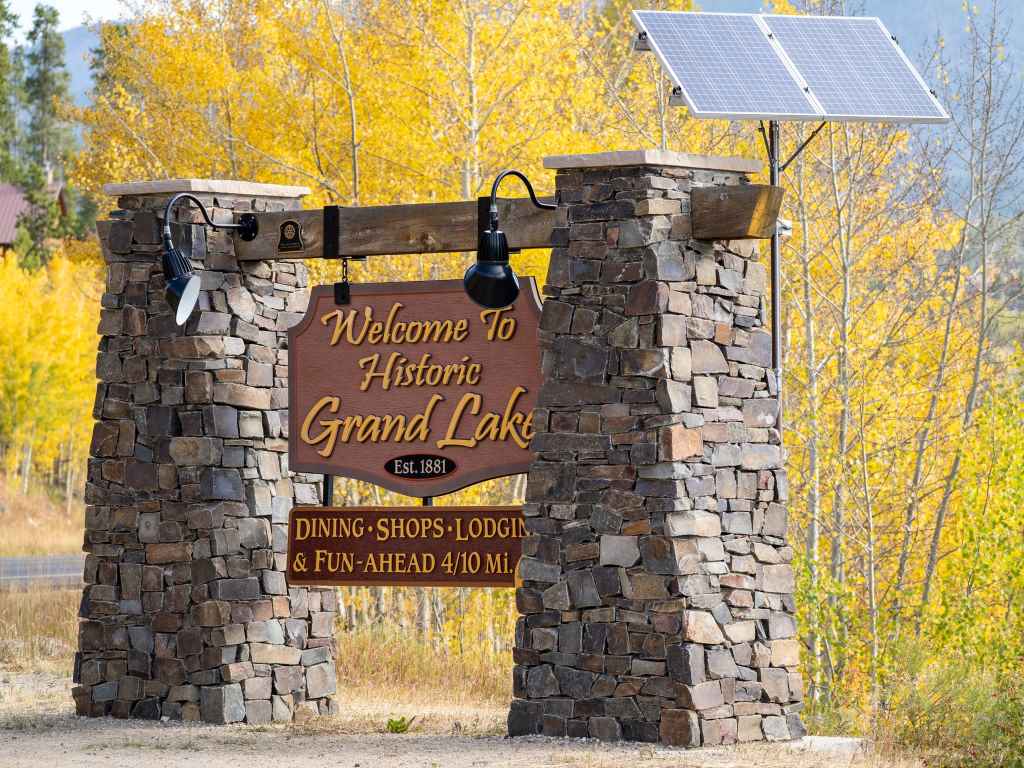 Best Hotels, Cabins, and Motels Near Grand Lake
You'll only find a handful of hotels and lodges on the West side of RMNP. What you will find instead is a plethora of cabins and private rentals. As we said, this side of the park is much more laid back so there is a lot less traditional tourist activity.
Winter and Summer, this area is full of outdoor adventure. You'll find activities from snowmobiles to fishing to boating to mountain hiking.
Western Riviera Lakeside Lodging – This is one of the most fantastic places to stay. Rooms and cabins sit beautifully lakeside in Grand Lake. It's just a short walk to downtown, or even better to mountain hikes and water activities.
The Historic Rapids Lodge – Over 100 years old, the historic lodge is a great place to stay in Grand Lake. There's a wide variety of comfortable guest rooms. You'll also find a world-class restaurant in the original dining room.
Grand Escape Cottages – These cottages are adorable! This is another perfect spot for families with 1, 2, and 3-bedroom cottages available. You'll feel very well taken care of here. And you'll be close to the village of Grand Lake.
Rentals in & Near Grand Lake
Rental properties are abundant around Grand Lake and Grandby. AirBnB and VRBO have hundreds of cabins and homes available.
There are a few private rental companies in the area that are worth also checking out:
Money Saving Tips
Lodging near Rocky Mountain National Park can get a bit pricey. To save a few dollars here are a couple of tips:
Look for a cabin or condo with a kitchen. You'll save a lot on meals which can offset some of the lodging costs.
Not interested in cooking? Then look for a hotel with an extensive free breakfast included. You'll find some yummy choices in both Estes Park and Grand Lake.
Be flexible with dates. Weekends tend to be very crowded in Rocky Mountain National Park so you will often save on weekday hotel bookings.
Check out hotels in Loveland or Boulder. Yes, it's almost an hour's drive from there to RMNP. However, you'll find major chain hotels for about 1/2 the price.
Senior Citizen? Make sure you ask for any senior discounts. You may have to call the hotel direct.
Traveling with a larger group? Multi-bedroom houses and cabins will save over multi-room hotels.
Try our lists of private rental companies that often have fewer service fees than the larger ones.
Rocky Mountain National Park Lodging Choices Further from the Park
Do you want to save a few dollars by staying further away? Or do you just want to explore away from the touristy stuff of the gateway towns? There are plenty of lodging options further from Rocky Mountain National Park.
From Boulder or Loveland Colorado to Rocky Mountain National Park
With only an hour's drive from Boulder or Loveland, you can make an easy day trip to Rocky Mountain National Park. Both are modern cities with a wide variety of cultural activities and interesting cuisine. I find Loveland to have more of a professional atmosphere, while Boulder is quite artsy.
We stayed at the Courtyard by Marriott in Loveland the night before heading into Rocky Mountain National Park a few years ago. Being so close gave us an early start on the day while providing a really comfortable and much lower-cost hotel for the first night of our trip. And you can't beat a Marriott for consistent comfort!
You can check lodging availability in Loveland Here. Or to enjoy the more eclectic culture of Boulder check availability Here.
Can I get Lodging in Denver and Visit Rocky Mountain National Park?
While on the map, it's about a 2.5-hour drive from Denver to Rocky Mountain National Park, most first-time visitors find it takes longer. The road is very curvy winding through the mountains which often slows drivers down. And it always takes longer to get out of a big city than you thought.
That said, we've had several friends happily choose to find lodging in Denver to enjoy the bigger city. Then they just made a day trip to Rocky Mountain National Park. And if you don't want to drive it there are several day trip Rocky Mountain National Park tours that leave from Denver.
Winter Park is a Great Resort Choice on the West Side of Rocky Mountain National Park
While Winter Park is well known in Colorado for its ski slopes, you'll find amazing resorts open for summer adventure. It's only about a 45-minute drive from the West entrance to Rocky Mountain National Park. Nearby you can raft the river near Rocky Mountain National Park, shoot a few holes of golf, or explore miles of ATV and OHV trails. You can check out all the Winter Park rental options here.
Frequently Asked Questions about Rocky Mountain National Park Lodging
What city is closet to Rocky Mountain National Park
Estes Park, Colorado is the closest city near the East entrance to Rocky Mountain National Park. Grand Lake is the closest city near the West entrance. Both towns but right up to the park.
Is it better to stay in Estes Park or Grand Lake?
For the easiest access to Rocky Mountain National Park it is better to stay in Estes Park where you are closest to the most popular activities. If you like to get away from it all, then Grand Lake would be a better place to stay as Estes Park is rather touristy.
Does Rocky Mountain National Park have a hotel?
No, there are no hotels inside the borders of Rocky Mountain National Park. If you want to stay overnight in the park you can camp in one of the 5 campgrounds or backcountry.
Are there cabins inside Rocky Mountain National Park?
You will see a handful of cabins inside Rocky Mountain National Park. Most are used to house park rangers and for offices. There are a few historic cabins also. However, there are no cabins in the park for visitor lodging.
How many days do you need in Rocky Mountain National Park?
Most visitors find 3-4 days an ideal itinerary for Rocky Mountain National Park. You can make a quick tour, including a drive across the scenic highway Trail Ridge Road in one day. Of course a week in the park would be amazing.
Where should I stay at Rocky Mountain National Park?
The most convenient place to stay is in Estes Park, Colorado. From there you have easy access to the park. You'll find many lodging and dining choices.
What is there to do in Rocky Mountain National Park at night?
Sunsets from Trail Ridge Road or over Lily lake are amazing. Then stay around for a night of star watching. Nearby Estes Park or Grand Lake have a multitude of activities going on at night from live music to movies.
Plan Your Dream Trip to Rocky Mountain National Park Today!
Rocky Mountain National Park is a paradise for outdoor enthusiasts and nature lovers. With its stunning vistas, towering peaks, sparkling lakes, and diverse wildlife, it's no wonder the park attracts millions of visitors yearly. Whether you're planning a romantic getaway or a family vacation, there's no shortage of Rocky Mountain National Park lodging options to suit your needs. From cozy cabins and rustic lodges to luxury resorts and hotels, there's something for everyone. Make your dream trip come true by booking your accommodation today!
For more help planning your Rocky Mountain National Park Adventure: