Colorado is home to one of America's most beautiful and visited National Parks, Rocky Mountain National Park. Millions of people from all over the world come to experience the majesty of this natural wonder each year. Towns near Rocky Mountain National Park offer visitors everything from rustic Western charm to modern city amenities. These towns are close enough to the park to make a great and convenient base camp.
In this article, we will introduce you to 12 of the towns near the park, where you can relax, dine, and indulge in a variety of outdoor activities. We've visited Rocky Mountain National Park over a dozen times and love the neighboring communities. Each one of these Colorado towns has something unique to offer, ensuring your trip to the Rockies will be as memorable as possible.
Towns Near Rocky Mountain National Park
| | City | Side of Park | Travel Time |
| --- | --- | --- | --- |
| | Estes Park | East | 8 minutes |
| | Lyons | East | 35 minutes |
| | Allenspar | East | 25 minutes |
| | Boulder | East | 60 minutes |
| | Loveland | East | 55 minutes |
| | Ft Collins | East | 75 minutes |
| | Denver | East | 90 minutes |
| | Grand Lake | West | 6 minutes |
| | Granby | West | 10 minutes |
| | Winter Park | West | 48 minutes |
| | Hot Sulphur Springs | West | 45 minutes |
| | Kremmling | West | 55 minutes |
Map of Towns Near Rocky Mountain National Park
East Gateway Towns Close to Rocky Mountain National Park
East of the Rocky Mountains you'll find some of the most populous cities in Colorado, including the capital of Denver. However, that doesn't mean you won't also discover unique communities filled with interesting things to do. The East Gateway communities are the perfect place to stay if you are only planning 1 day in Rocky Mountain National Park or staying a week because you are close to the most popular spots in the park.
#1 Estes Park: The Closest Town to Rocky Mountain National Park
Distance to Park Entrance: 3.8 mi from the center of town (8 minutes)
Local Website: www.VisitEstesPark.com
Our favorite town, closest to Rocky Mountain National Park, you can't help but enjoy the energy of Estes Park. Most vacationers choose to make their home base in Estes Park, located on the East side of RMNP. Estes Park is closest to the most activities, sites and designated hikes within the park, making it a very popular launching point for a great day of adventure.
Things to Do and See in Estes Park
Although you will still find many typical tourist shops with T-shirts and goofy moose sculptures, Estes Park shopping has matured over the past few decades. We love to wander through the more unique stores where you'll find high-quality crafters and local artisans. A day of shopping in Estes Park can be an adventure all itself.
Almost every summer weekend brings out festivals featuring local artists and musicians. It's not uncommon to encounter elk wandering down the street or see moose lounging by the river in town. Estes Park is also very dog friendly so feel free to bring your pup along if you are staying here.
A highlight of a visit to Estes Park is to take a tram ride to the peak of Prospect Mountain and enjoy a bird's eye view over Estes Park.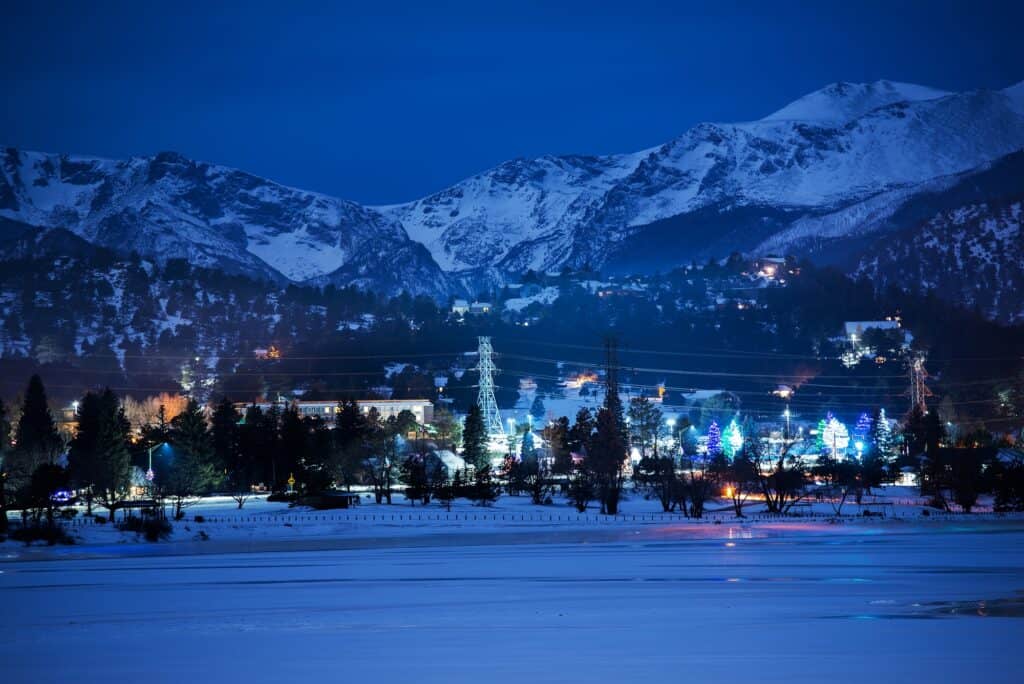 Where to Stay in Estes Park
With thousands of beds and hundreds of campsites in this town near Rocky Mountain National Park, there's a wide variety of lodging choices in Estes Park. Cabins along Fall River Road are a real treat because of their proximity to the park and the abundance of wildlife that will wander through your yard. One of the most popular and highest rated is Woodlands on Fall River with a gorgeous view of the Rockies.
Or, for a real treat, try a night in the famous Stanley Hotel. You'll also find unique rentals in the nearby valley, perfect for getting away from the busier town activity.
There are plenty of campgrounds in the Estes Park area. If you camp in Rocky Mountain National Park, it is easy to pop out to Estes Park for shopping and night life since it's the closest town to Rocky Mountain National Park. And you'll find full service RV parks in Estes Park.
Dining in Estes Park
Within Estes Park, you'll find over 60 great dining choices, from fast food to fine dining. Most restaurants are fun and casual, where you'll feel comfortable popping in hot from the trail or in your flip-flops. Our favorite restaurants have outside dining along the river. You can also enjoy relaxing at one of the four breweries!
This mountain village is a vacationer's paradise! From Estes Park, it is easy for first time visitors to Rocky Mountain National Park to build your itinerary since you are right at the gates.
#2 Lyons
Distance to Park Entrance: 24 miles (35 minutes)
Local Website: www.LyonsColorado.com
Lyons is one of the smallest Rocky Mountain towns on the east side. This town's charming main street has a few unique shops and places to stay. You could spend several hours browsing through the village of Lyons, admiring their large selection of crafts, quilts and antiques.
Things to Do and See in Lyons Colorado
Lyons is known for it's vibrant art and music scene. August brings the annual Rocky Mountain Folks Festival which fills the town with music. You'll find local artists in the shops and check out the annual Lyons Art at River Bend.
Where to Stay in Lyons
There are only a few lodging options in the small town of Lyons. The most popular spot, The A-Lodge in Lyons might have an odd name, but it is super cute. You can rent rooms, an apartment or a whole house here.
The Lyons city park has a really nice small campground with RV and tent sites.
Dining in Lyons
With 1/2 dozen delicious eateries and local breweries, you might enjoy popping over to Lyons for dinner one evening. Make sure you stop at our favorite lunch spot: The Colorado Cherry Company. The pie is fantastic, and we always stock up on their cherry salsa! Or for dinner you'll get a great meal at Smokin' Dave's BBQ.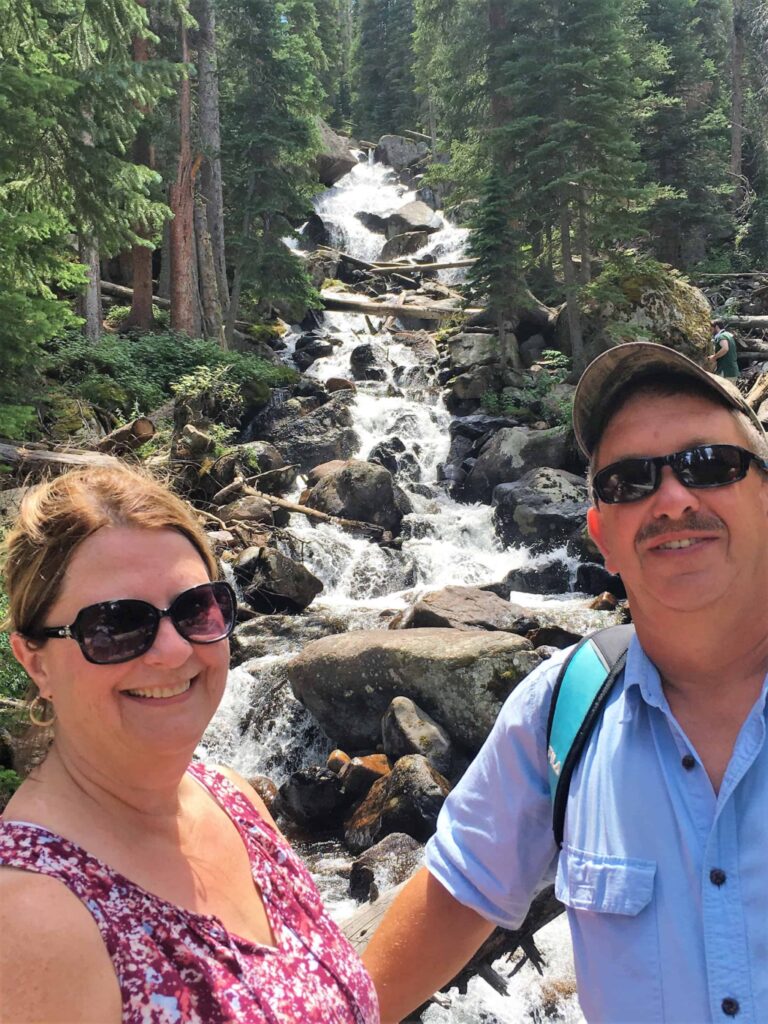 #3 Allenspark: Closest Town to Rocky Mountain National Park's Wild Basin and Long's Peak
Distance to Park Entrance: 25 minutes to main park entrance, 5 minutes to the Wild Basin Entrance
Allenspark is a charming little town located at the southeast corner of Rocky Mountain National Park, along the stunning Peak to Peak Highway.
Things to See and Do in Allenspark, Colorado
You'll find plenty of outdoor activities to fill your days in and around Allenspark. Here you are just minutes away from the Wild Basin entrance of the park where you'll find amazing hiking opportunities like one of our favorite hikes to Ouzel Falls. And for the serious hikers, the difficult trek to the top of Long's Peak starts a few minutes away.
You can't miss seeing the Saint Catherine of Siena Chapel, a gorgeous historic stone chapel, as it sits right next to the highway. You'll also pass by Lily Lake, a scenic lake with a lovely accessible trail circling it, perfect for a family picnic.
Where Stay in Allenspark
Allenspark has some of the cutest log cabin rentals in the area, that make you feel like you are truly in the wild. If you are traveling with your dog, check out the cozy Meeker Park Lodge's cabins with pet friendly options.
We camped nearby in the Roosevelt National Forest and loved the remoteness of this part of Colorado. It's a bit rustic, but the campsites a huge and forested.
Dining in Allenspark
Well, you aren't going to find much in the way of restaurants in this little town, but you can get a darn good pizza at the Rock Creek Tavern.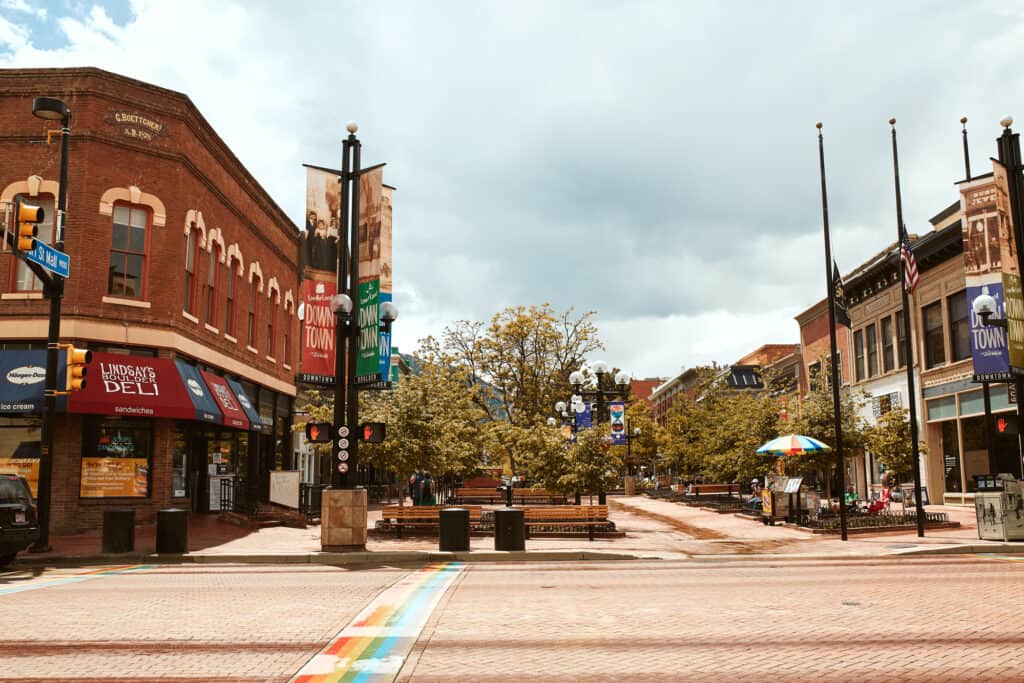 #4 Boulder
Distance to Park Entrance: 42 miles (1 hour)
Local Website: www.BoulderColoradoUSA.com
One of the most famous towns in the Rocky Mountains, Boulder is the home to the University of Colorado with over 30,000 students. This bustling community embraces the outdoors in a big way. Boulder is half way in between Denver and Rocky Mountain National Park making it an easy place to launch your adventure.
Things to Do and See in Boulder Colorado
Boulder is steeped in adventure, from tubing down Boulder Creek on a hot summer day to exploring 300 miles of hiking and biking trails. Boulder Creek Path, a scenic trail running along Boulder Creek, is perfect for walking, biking, or picnicking.
The university attracts top musical talent and is home to the classical Colorado Music Festival, an incredible summer concert series under the stars. Or check out one of the dozen of live venues with nightly music. The Pearl Street Mall is a pedestrian-friendly shopping district where you can enjoy a variety of unique shops, restaurants, and street performers.
Where to Stay in Boulder
Boulder lodging is diverse, offering dozens of accommodation options to suit your style. Stay at a historic Victorian boutique hotel like the Hotel Boulderado, located near Pearl Street. Or the unique Basecamp Boulder, a stylish luxury hotel, that is completely solar powered and within a short walk of the activities at the University of Colorado.
Dining in Boulder
The eclectic downtown offers many dining options to visitors with over 100 restaurants, coffee shops and pubs. You'll enjoy over a dozen breweries like the Mountain Sun Pub. Don't miss the Snooze Eatery, a hot spot for breakfast, with a bounty of delicious choices.
#5 Loveland
Distance to Park Entrance: 35 miles (55 minutes)
Local Website: www.VisitLovelandCo.org
Loveland, the "Gateway to the Rockies," is a charming town located just 30 miles east of Rocky Mountain National Park. As you explore this scenic destination close to park, you'll find it has much to offer.
Things to Do and See in Loveland, Colorado
Loveland will feel like home to art lovers. The city boasts 4 outdoor art parks featuring over 500 public pieces in addition to the accredited Loveland Museum. You'll discover art by local and national artists everywhere you turn, including a shopping trip to downtown Loveland where every store is locally owned.
Loveland is also close to world-class fishing, especially fly fishing on the Big Thompson River. You'll find some challenging hiking in the area. And there are several rugged trails for your mountain bike, including Devil's Backbone and Bobcat Ridge.
Places to Stay in Loveland
This city is host to all your favorite traditional hotel brands, popular is the luxurious Embassy Suites with an on site spa where you could relax in style after a hard day of hiking in Rocky Mountain National Park. In Loveland you'll also find a wide assortment of untraditional offerings among the private rentals.
Dining in Loveland
For fun and unique dining while in Loveland, head to the old Downtown Area. Don't forget to save room for desert at either Mary's Mountain Cookies or the Starlight Dessert Bar.
#6 Fort Collins
Distance to Park Entrance: 45 miles (75 minutes)
Local Website: https://www.visitftcollins.com/
Fort Collins is a little further out from Rocky Mountain National Park than you'd probably want for a base camp. However we have found it a great place to stay the night before heading into the park. Especially if you want to avoid night driving in the mountains as it is in the foothills of the Rockies. You'll wake up to amazing views!
Things to Do and See in Fort Collins, Colorado
We had the best time white water rafting the Poudre out of Fort Collins! Looking for something more relaxing? Stroll through the bustling Old Town area, with a variety of interesting shops and eateries. Fort Collins is a huge bicycling area, you'll find bike paths that take you almost everywhere.
One of the main attractions in Fort Collins is Horsetooth Reservoir, a picturesque lake that offers various outdoor activities such as boating, mountain biking, and snowshoeing during the winter. Colorado State University make Fort Collins it's home providing a wide variety of activities.
Where to Stay in Fort Collins
A busy city, Fort Collins lodging is abundant and diverse. We stayed at the newly renovated Hilton Garden Inn, which had incredibly comfortable beds and huge rooms.
Dining in Fort Collins
For a great dining experience, head to downtown Fort Collins. The old area has made a great resurgence and dining choices are amazing. We loved eating on one of the outdoor patios where we could people watch as we relaxed after our day of rafting.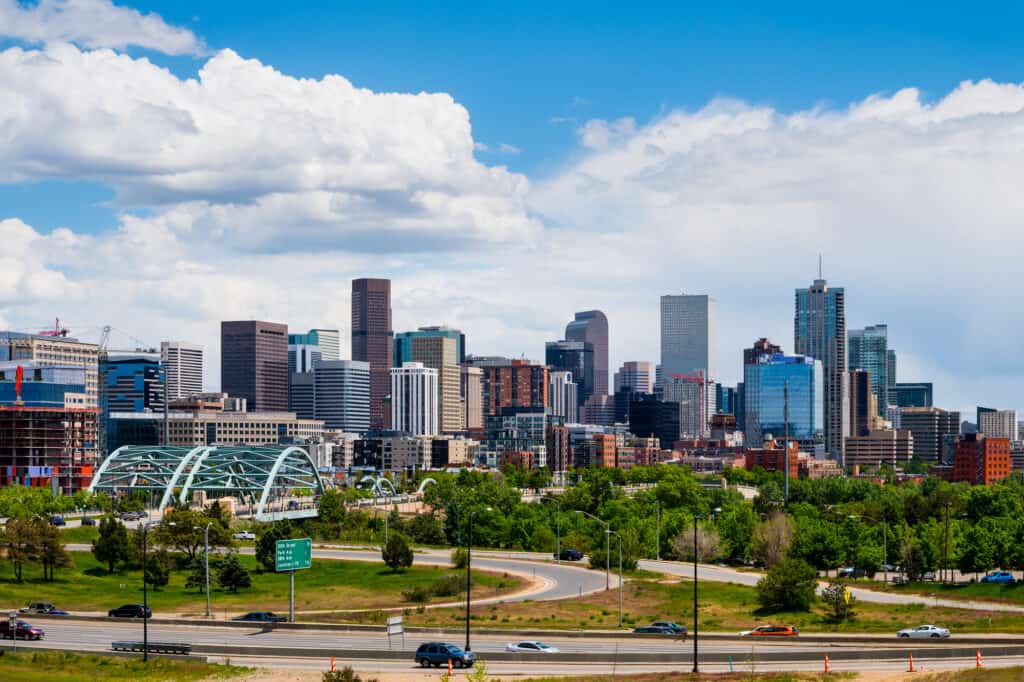 #7 Denver
Distance to Park Entrance: 75 miles (1 hour 30 minutes)
Local Website: www.Denver.org
Because of the distance, Denver might not qualify in your mind as a town near Rocky Mountain National Park. But truth is, friends who are headed to Denver for business or family events often ask if they can make it a day trip to the park. And the answer is … absolutely yes.
The big city offers a very different experience than the smaller mountain towns, and many find they prefer staying here a night or two to enjoy the urban amenities. Denver is home to the region's largest airport and many corporations making it a vibrant business center.
Things to See and Do in Denver, Colorado
Of course, you won't run out of things to do here! Few places provide as much variety as Denver. It offers world-class restaurants, sports, art galleries, museums and theater. The city is also home to a fantastic music scene with over 200 live music venues. You might even enjoy an urban hike or taking in a Rockies game at Coors Field.
Where to Stay in Denver
Hotels are plentiful in the mile high city. You can choose to stay downtown Denver and be right in the thick of things. Or head to one of the Northern suburbs, like Broomfield hotels, where you can be on your way to the park with an early start.
Don't Let the Planning Overwhelm You!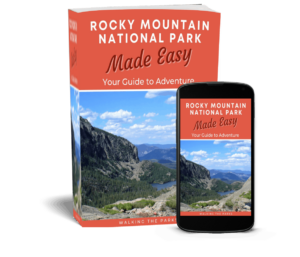 Plan your perfect trip to Rocky Mountain National Park!
Check out our complete digital Guide to Rocky Mountain National Park. This is written specifically for the first time visitor to make your trip planning easy! Over 90 pages of things to do and see on your adventure. Plus get pro tips for planning your adventure.
Start planning immediately with Digital Download!
West Gateway Towns to Rocky Mountain National Park
The west entrance to Rocky Mountain National Park, at the Grand Lake Station in the Kawuneeche Valley, brings you into a world very different than you find on the Eastside. You'll find quaint small rocky mountain towns and an abundance of friendly people far removed from the busy life of the bigger cities.
#8 Grand Lake, Closest Town to RMNP's West Entrance
Distance to Park Entrance: 2 miles (6 minutes)
Local Website: www.VisitGrandCounty.com
Grand Lake is the Western Gateway into Rocky Mountain National Park. If the hectic activity of Estes Park overwhelms you, then Grand Lake is the place to be if you want to be close to Rocky Mountain National Park. Although recent years have brought more tourists to Grand Lake, it has managed to maintain the feel of a small town.
Things to Do and See in Grand Lake, Colorado
Grand Lake is the deepest and largest natural lake in Colorado, attracting water enthusiasts all year long. Surrounded on 3 sides by RMNP, it's a great spot to boat or kayak. The Grand Lake Regatta Week is a sight to see as sailboats take over the lake with color. If fishing is your thing, ice fishing is just as popular here as summer fishing. Down the road, you'll find Lake Granby, well stocked with trout and kokanee salmon.
Where to Stay in Grand Lake
Although there are several dozen friendly hotels in the Grand Lake area, you'll find a greater ratio of cabins, lodges and cottages on this side of the park. More room to spread out!
Dining in Grand Lake
The folks in Grand Lake do like their food. Restaurants line the historic boardwalk or enjoy amazing lake views. Everything is slower on this side of the park, so be prepared to relax and enjoy your meal. The boardwalk has its share of quaint shops tucked in between ice cream & candy stores. For a relaxing lunch, check out the historic Rapids Lodge where you can enjoy lunch with an unbelievable view.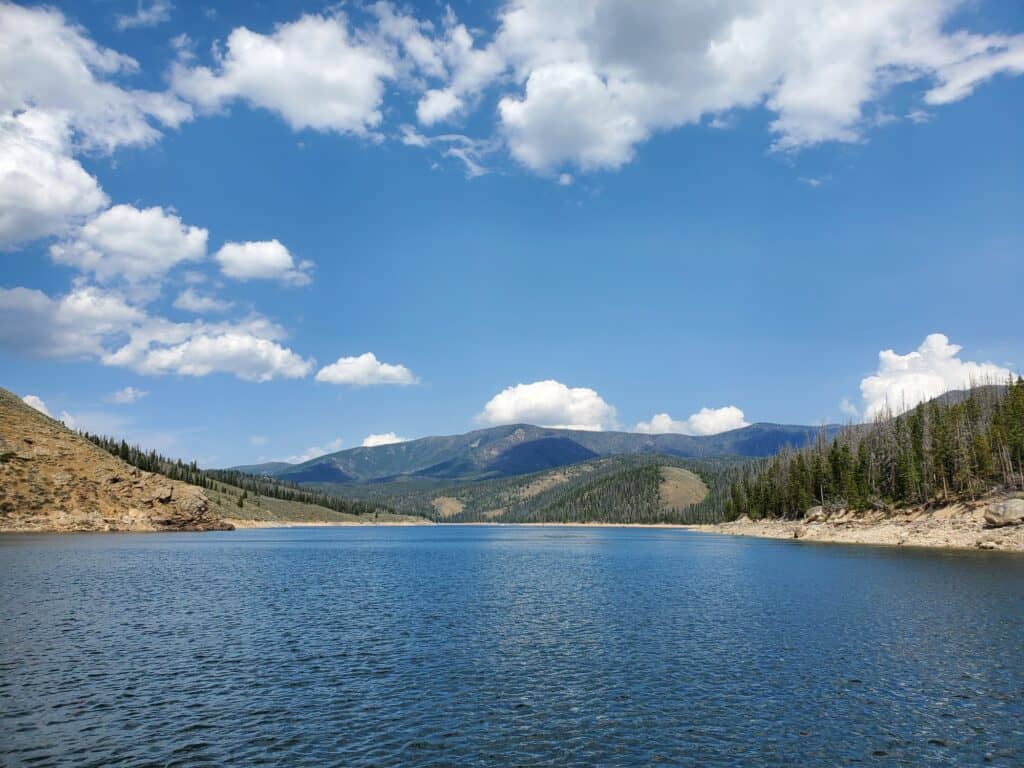 #9 Granby
Distance to Park Entrance: 6 miles (10 minutes)
Local Website: www.VisitGrandCounty.com
Nestled in the majestic Rocky Mountain Valley at an elevation of 7,935 ft, Granby, Colorado, is a pretty cool place to make your base camp. It has a friendly small town vibe that makes it a comfortable place to stay.
Things to Do and See in Granby, Colorado
Granby is a Rocky Mountain town for adventure seekers looking for more than just a few days in the park. Granby offers all the traditional outdoor activities with excellent fishing, hiking and biking opportunities. In winter, Granby shines with snowmobiling, ice fishing, snowshoeing, and cross country ski trails. The nearby Arapahoe National Forest provides more unique hiking trails, many that are dog friendly, during your summer visit.
Where to Stay in Granby
You won't find any chain hotels in Granby because all the service here is quite personal. You will discover unique ranches, cabins and rentals lining the highway at the east edge of town.
The Arapahoe National Forest offers those who truly want to get away from it all a chance to head backcountry for a night of remote camping.
Dining in Granby
For a bowl of award winning chili or just an incredible burger check out Maverick's Grille in Granby. Or wander down the old Main Street where you'll find artsy shops and restaurants occupying historic buildings.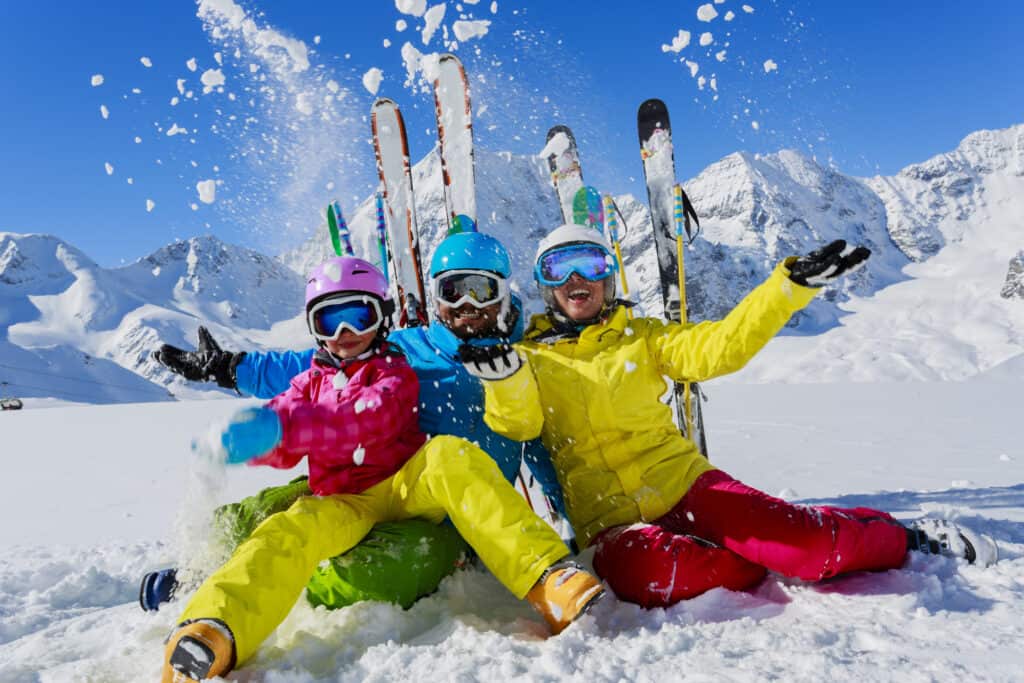 #10 Winter Park
Distance to Park Entrance: 37 miles (48 minutes)
Local Website: www.PlayWinterPark.com
Winter Park is world-famous for its skiing in the Rocky Mountains. Once you've experienced it, you'll understand why. The town has a historic, small-town charm mixed with modern amenities that bring visitors back year after year.
Things to Do and See in Winter Park, Colorado
For summer visitors to Rocky Mountain National Park, what that means is a summer playland with the type of lodging and amenities you'd expect from a resort community. Enjoy the annual Winter Park Jazz Festival or the summer evenings in the park music series. Winter Park is known as the Mountain Bike Capital because it has 600 miles of cross-country trails & two downhill bike parks.
Where to Stay in Winter Park
Take advantage of the luxury ski resorts during the off season and relax in style. Top rated Zephyr Mountain Lodge includes fully equipped kitchens in each suite. Or located in Arapaho National Forest, Fraser Crossing is a beautiful spot to spend a night enjoying a bit of wilderness in total luxury. Additionally you'll find a lot of Winter Park vacation rentals ranging from condos to cabins.
Dining in Winter Park
A quick warning that to restaurants in winter Park are only open during the winter ski season, so check their hours before you head out for dinner. We think you'll love the smoked on site bbq at The Smokehouse on Rt 40. Or pop over to Big Trout Brewery for a sandwich and a great local beer.
#11 Hot Sulphur Springs
Distance to Park Entrance: 31 miles (45 minutes)
Local Website: www.VisitGrandCounty.com
Hot Sulphur Springs is a mountain town offering what few towns can, mineral springs spas! This destination offers an authentic feel and local color, a short drive from Rocky Mountain National Park, giving it a unique charm. There's not much in this small town (population under 1,000), but the spa is pretty amazing.
Things to Do and See in Hot Sulphur Springs
The big attraction is the Hot Sulphur Springs Resort & Spa, where you can soak in therapeutic mineral water pools. The facility features 17 pools of fresh hot and all natural mineral spring water.
#12 Kremmling
Distance to Park Entrance: 45 miles (55 minutes)
Local Website: www.VisitGrandCounty.com
If you want to find a town near Rocky Mountain National park that is also in the wilderness, then Kremmling is the place for you. Here you are the edge of the Western wilderness.
Things to Do and See in Kremmling, Colorado
Kremmling is a "Sportsman's Paradise".  The Colorado River and the Blue River offer Gold Medal water for fly fishing and rapids for whitewater rafting and kayaking. You'll also find miles of ATV trails around Kremmling, as well as horseback riding and bike trails.
The town has all the amenities you'd expect from larger communities, including a decent-sized grocery store, movie theater, and unique shops.
Where to Stay in Kremmling
Most visitors to Kremmling prefer to spend their night under the stars. You'll find several RV parks and an abundance of National Forest camping in the area. However if you like a soft bed, there are a couple hotels in Kremmling.
Dining in Kremmling
The Grand Old West is the place to head for a family meal in Kremmling. The rustic building and great food are worth a stop.
Tips for Visiting Rocky Mountain National Park from these Nearby Towns
When planning where to stay near Rocky Mountain National Park, make sure to choose a town that best suits your interests and travel preferences. We've shared our favorite towns close to the park, each offering unique lodging, dining, and recreational opportunities. Here are some tips to keep in mind when visiting the park from nearby towns:
Consider the distance to the park entrance: Always factor in the distance between the town you're staying in and the park entrance when making your plans. The closer you are to the entrance the more time you'll have to explore the park.
Check for park reservations: Keep in mind that Rocky Mountain National Park requires timed entry permits from Memorial Day until the end of October. You have to grab your permit early to enter the park.
Explore beyond the park: Many of the towns near Rocky Mountain National Park have their own attractions and activities to offer. Don't hesitate to spend a few days exploring the local trails, lakes, or enjoying outdoor adventures like fishing, hiking, or biking.
Pack accordingly for varying temperatures: Due to the park's elevations ranging from 7,860 to 14,259 feet, you can expect significant temperature fluctuations during your visit. Be sure to pack clothing for all types of weather, including long sleeves, a jacket, shorts, and good walking shoes.
Fill up your gas tank before you head into the park: Driving across Trail Ridge Road is a long trip with no gas stations.
Plan your hikes ahead of time: With more than 355 miles of hiking trails in Rocky Mountain National Park, it's important to know which trails you'd like to explore before you set out. Pick hikes based on your level of fitness and the amount of time you have available.
Pack a picnic for your time in the park: While these towns closest to Rocky Mountain National Park have great restaurants, you won't find any food once you enter the park. Many restaurants offer box lunches for your day in the park.
The towns near Rocky Mountain National Park are diverse in what they have to offer, but all of them provide the perfect location for visitors who want to experience more than just a day or two at RMNP. Whether you're looking for an authentic mountain town with mineral springs spas, unique shops and restaurants lining Main Street, or access to some of Colorado's best fishing and whitewater rafting spots- these towns will deliver on their promises. Happy Exploring!
While you are visiting Rocky Mountain National Park, here are a couple of articles to help you get started with your itinerary: